The Human Spider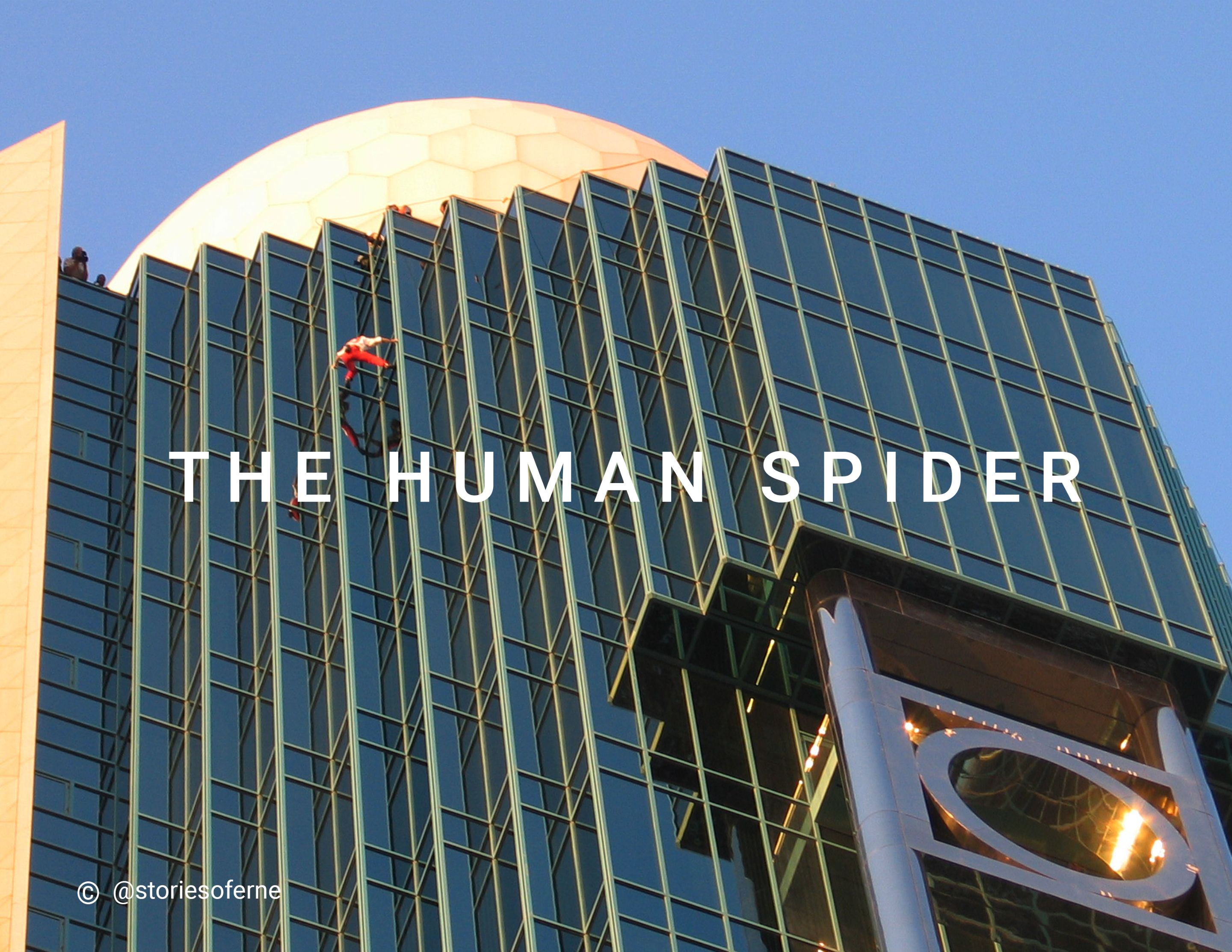 More Than Mere Places
Yes, you've read it right. Were you intrigued by my post headline?
Travel, in its fundamental sense, is a diverse subject. In reality, we've been accustomed to the notion that it's typically about the destination, isn't it? While this may have some truth to it, there are special moments when more attention is focused on a remarkable event, on an awesome experience, and on certain occasions, on a particular person of interest.
Today, I'm going to present to you one such individual - a phenomenal mortal who engraved a permanent dent on the unforgettable pages of my adventure book. I'm truly delighted to share this one with all of you.
Encountering a Rare Experience
As mysterious as life may seem, I stumbled upon this unique occurrence just by accident. Perhaps, the universe must have planted me deliberately in that exact time and location without my awareness. It was a lovely, colorful, sunny day during the month of February in 2005. And while I was strolling along the bustling streets of Abu Dhabi, the capital of the United Arab Emirates, I suddenly bumped into a large assembly of people.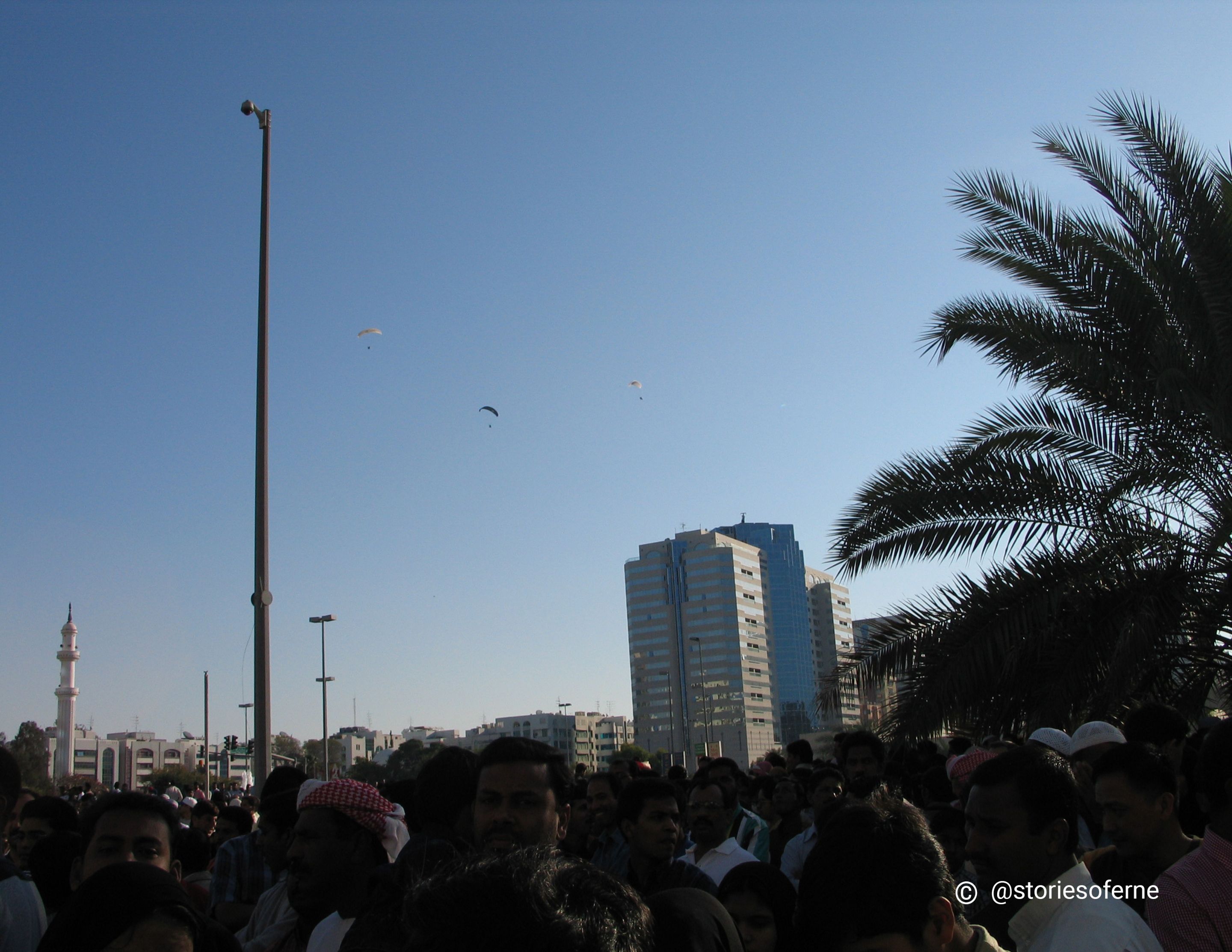 There were spectators everywhere. Without knowing what was going on, I initially thought there was an earthquake drill, road mishap, or fire alarm. And when I looked up and gazed at the bright blue sky, there were some paragliders demonstrating aerial acrobatics with their audacious maneuvers. That made me even more curious.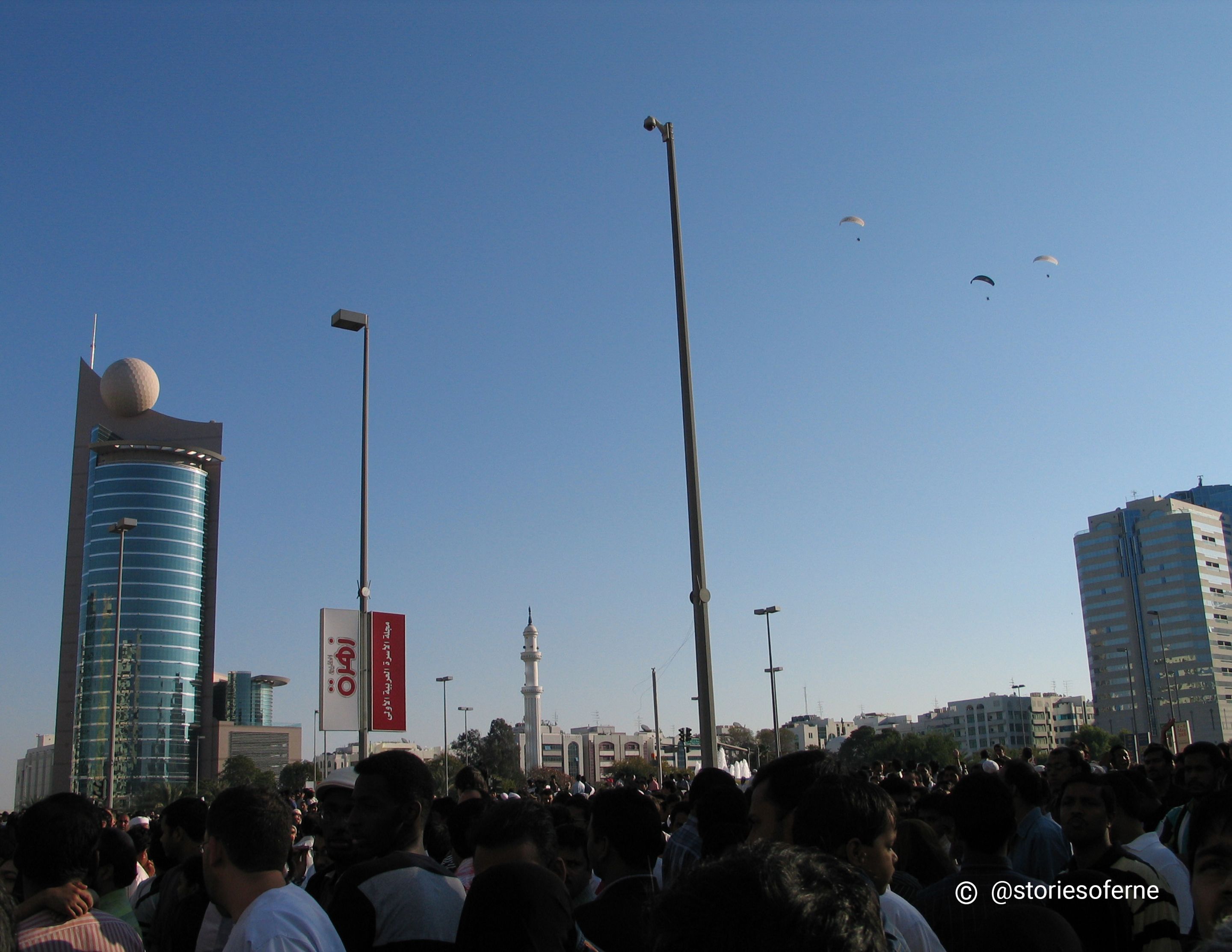 "Hey, what's the commotion all about? Why are there so many people?" I asked after approaching one of the bystanders on the sidewalk.
"A man's going to climb that building!" He replied in a loud voice while pointing his finger towards the exact area.
"Oh, wow! That explains the massive gathering here," I answered him. While searching for a suitable spot, I squeezed myself into the tight crowd to be able to view the one-of-a-kind spectacle that was about to commence.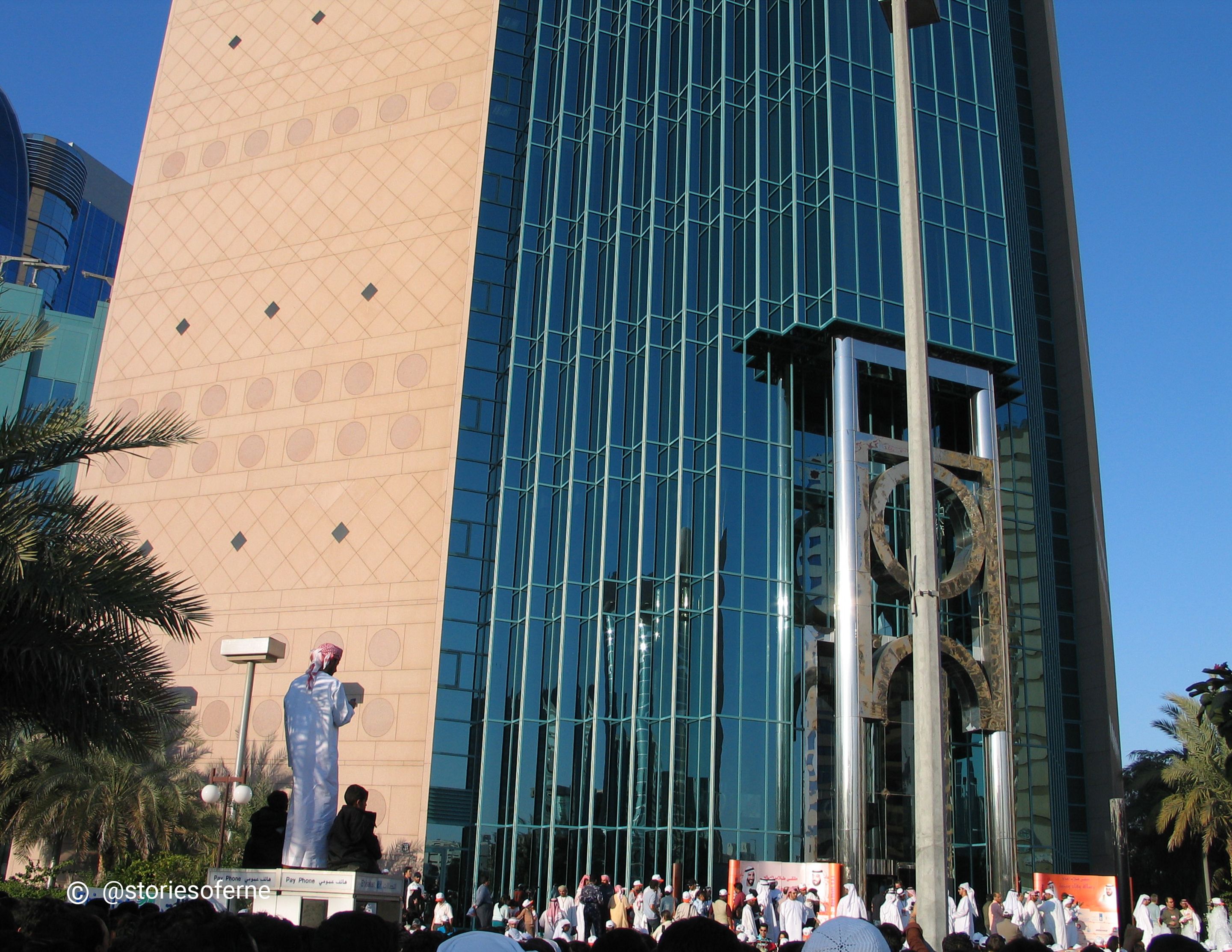 Observing my immediate surroundings, I've also noticed that there were plenty of supportive Emiratis (citizens of the UAE) scattered around the exterior facade of the Etisalat Tower (a telecommunications building) - the exact site for this public performance. This important skyscraper had a height of 160 meters (520 feet). It was like watching live filming for a grand movie scene. Hence, we were literally on the edge of our seats. As this was my very first time to experience this type of spectacular presentation, we were all there for the same purpose, eagerly waiting for the "Human Spider" to show himself and amaze us with his death-defying skill.
Who is the Human Spider?
His name is Alain Robert. He is recognized worldwide as a French rock climber and urban climber. During his numerous climbs, he doesn't protect himself with a full-body harness and doesn't use climbing gear and similar equipment in case errors happen. No safety nets are also installed below the buildings to catch him if he falls down. So, the probability for him in plunging to his immediate demise is huge.
And if you've not heard about him before, you better get ready because he's a formidable character to reckon with. Call him crazy, but nothing seems to stop his insatiable thirst for the impossible.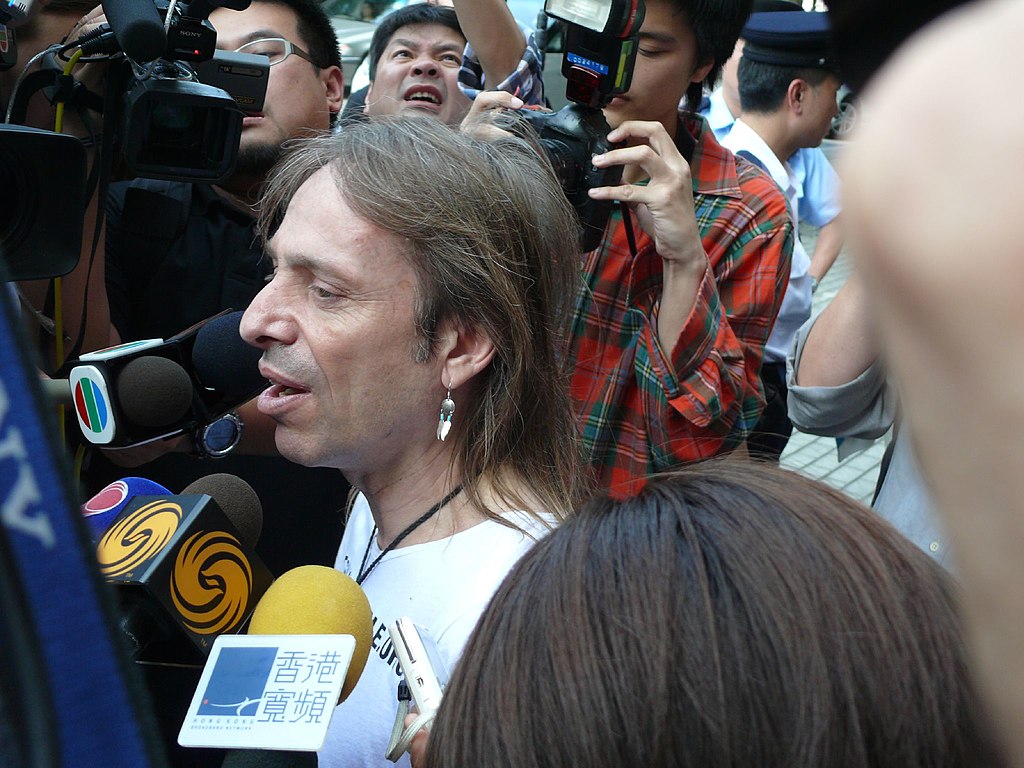 Alain Robert aka "The Human Spider" | Source
Did you know that, early in his career, he has been arrested by law enforcement personnel in different countries and on several instances because he failed to ask permission for such feats? Only in recent years that he has been granted permits for such acts as well as sponsorships from charitable donors.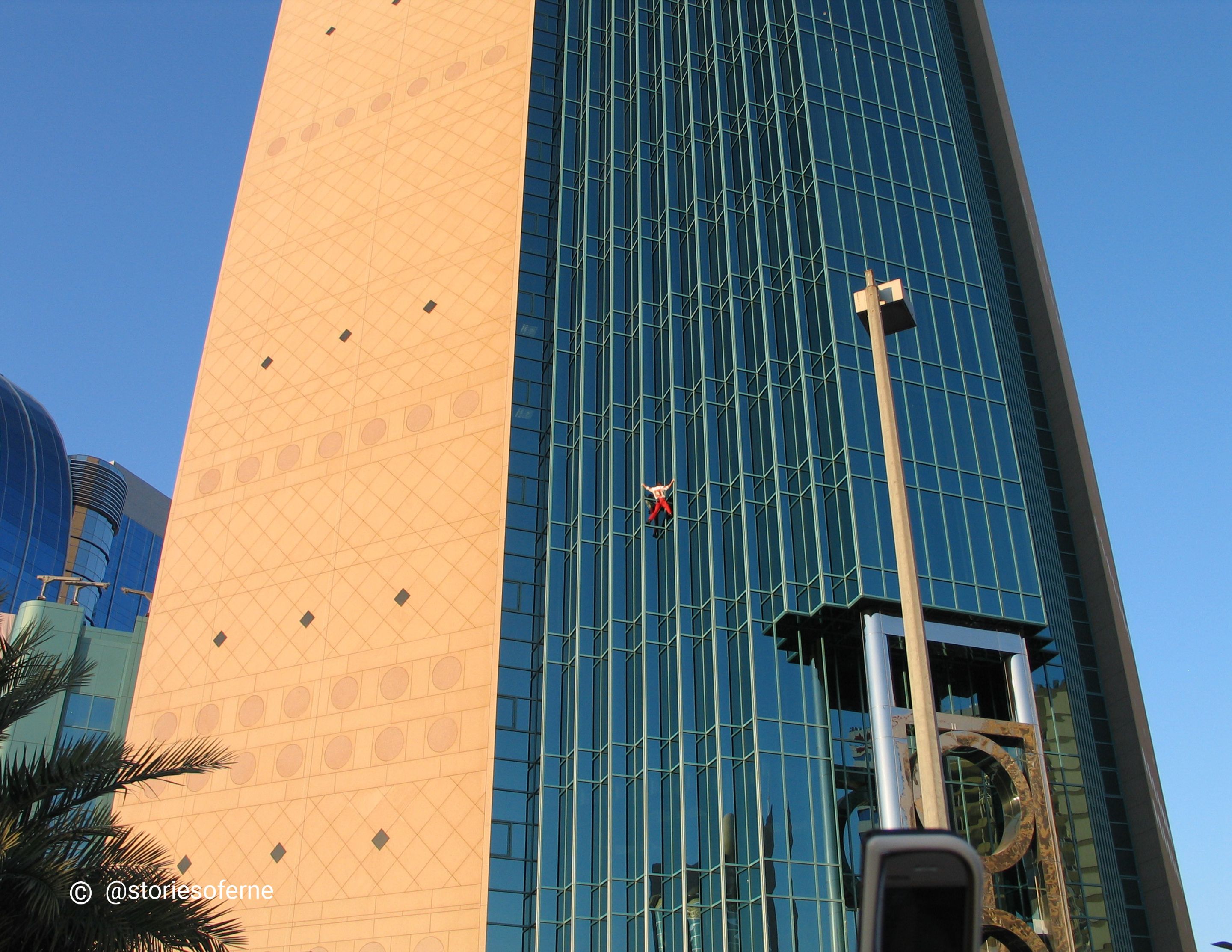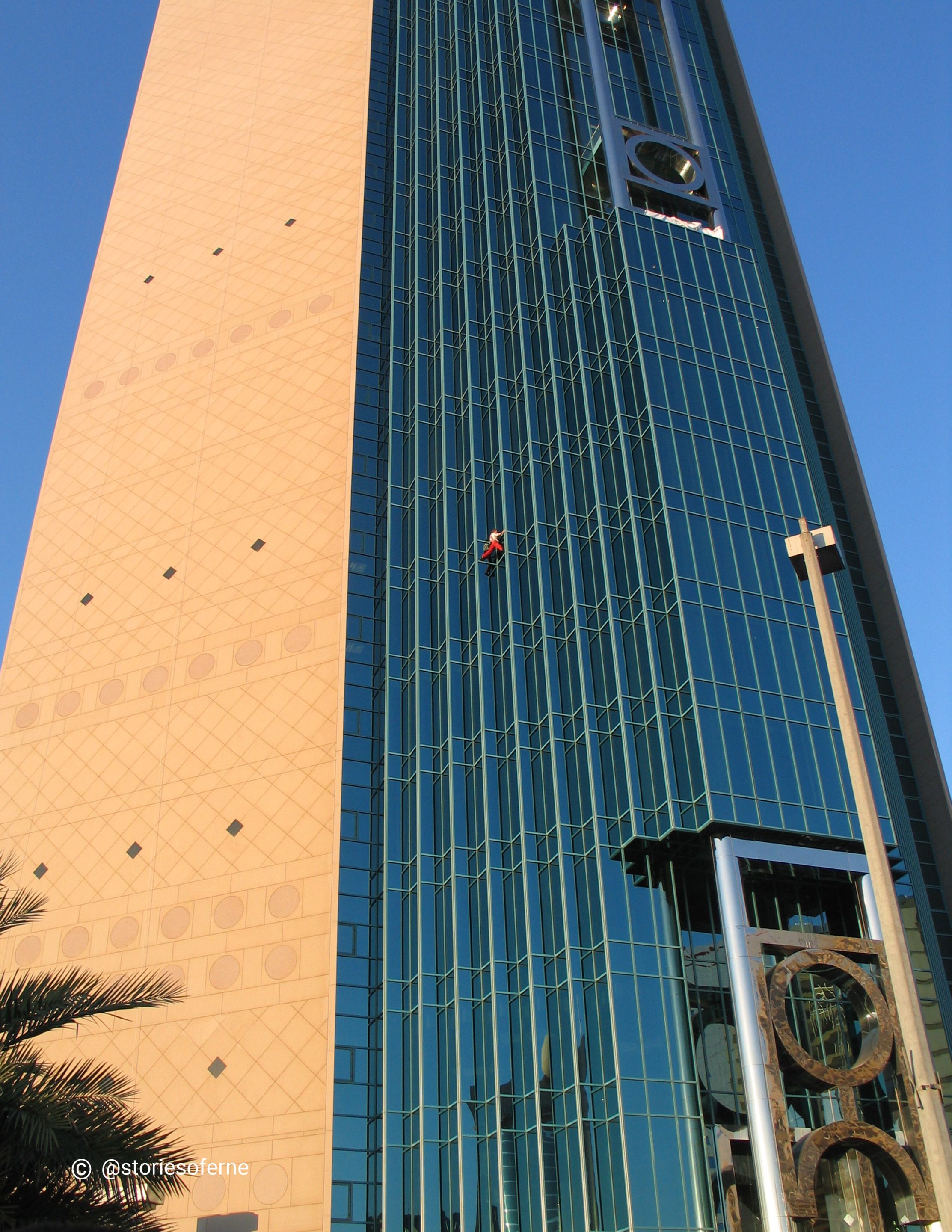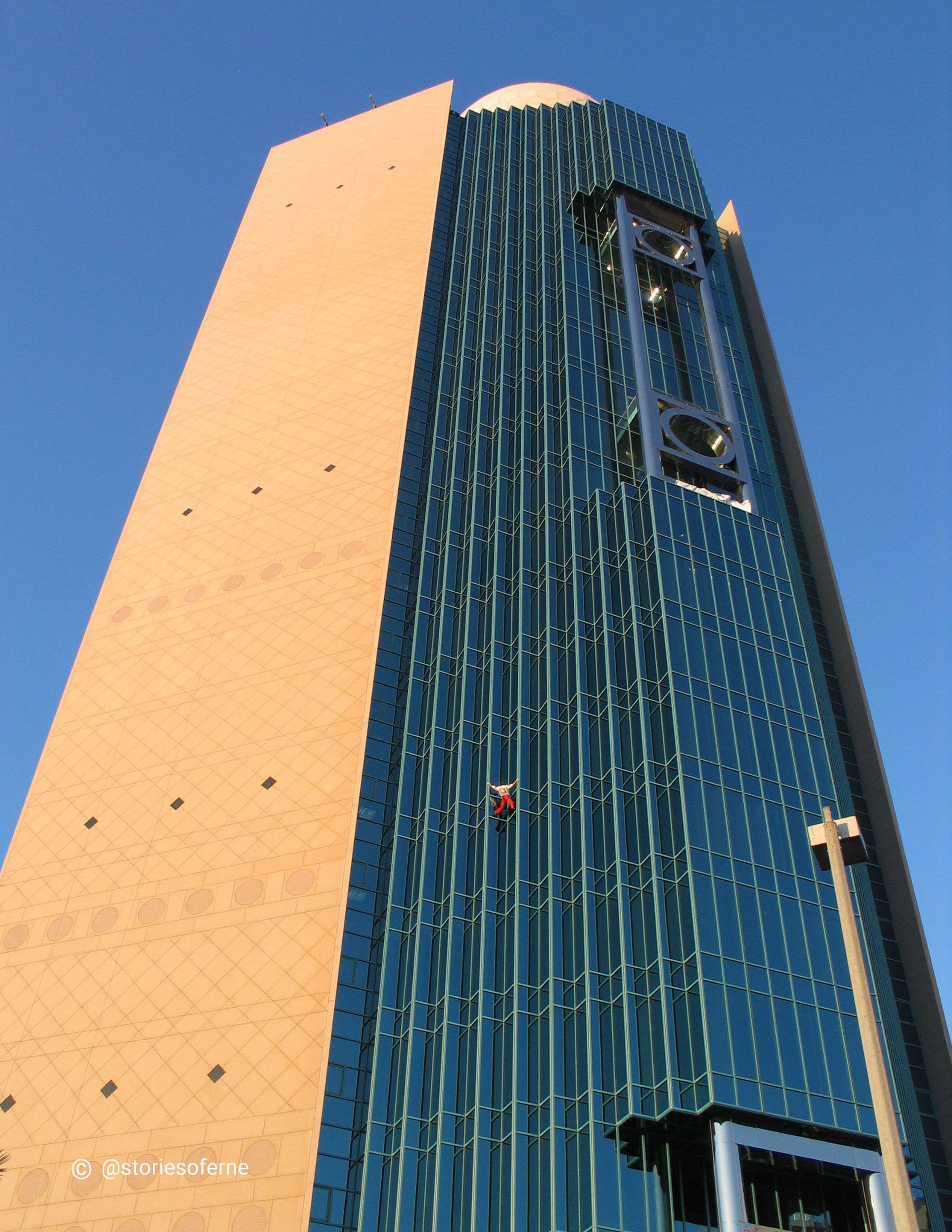 His tremendous exposure to rock climbing equipped him with the physical stamina and rigid training to survive all the challenging attempts of this extremely dangerous undertaking.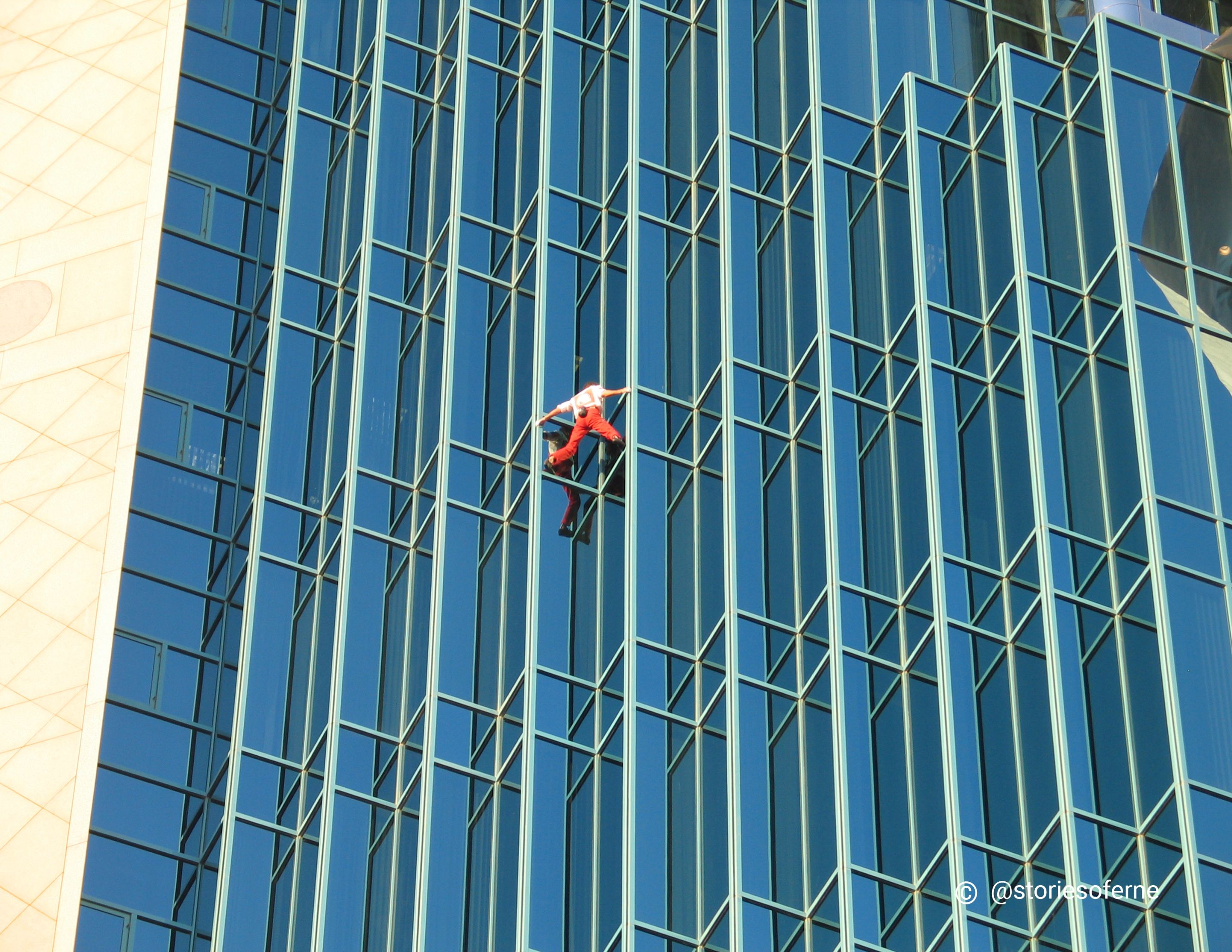 The building's outer shell of the Etisalat Tower had a cladding of smooth glass panels and polished metal frames. So, every time he slipped, we would exclaim "WOAH!!!" at the top of our voices, and feared for his life. Fortunately, every time that happened, he managed to immediately grip the necessary supports of the facade and held on.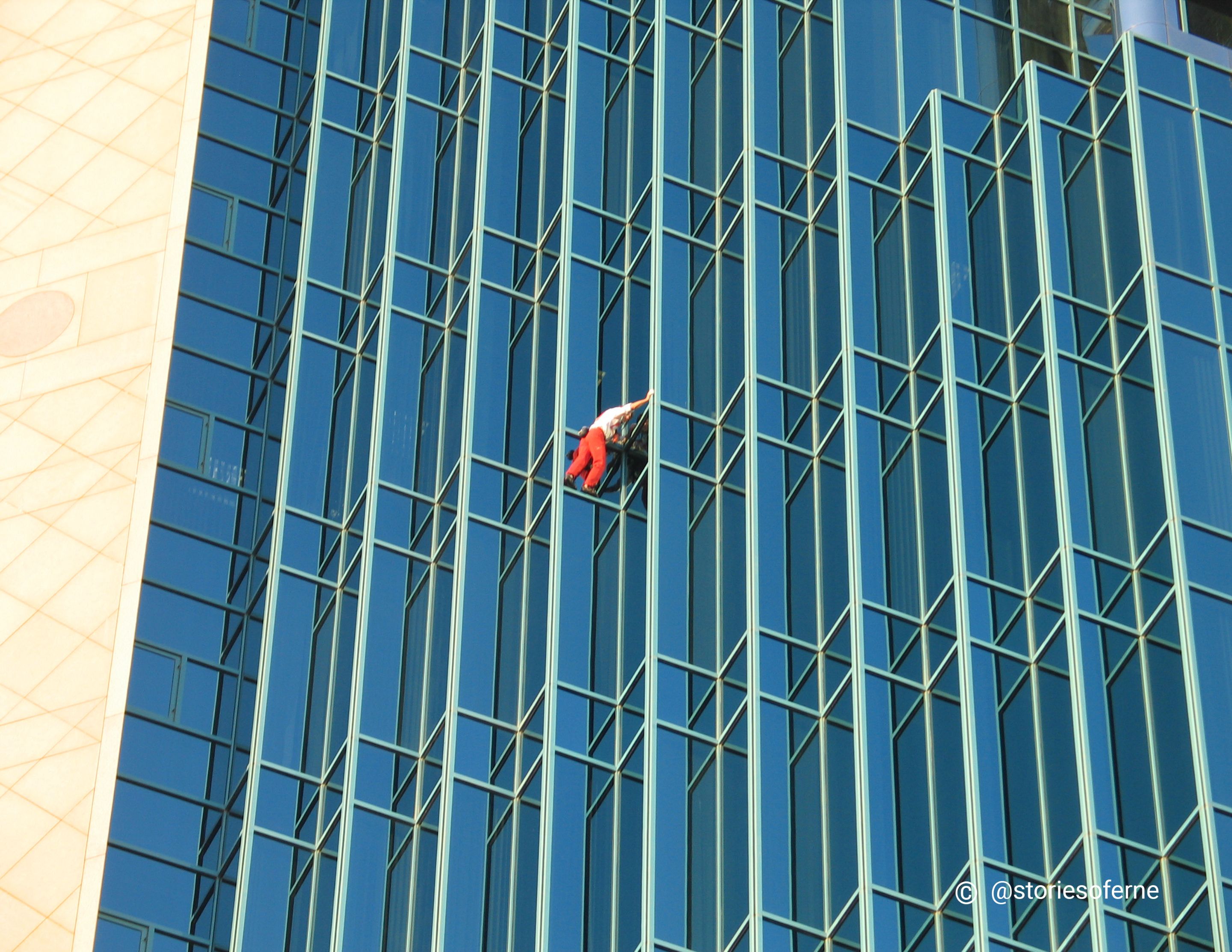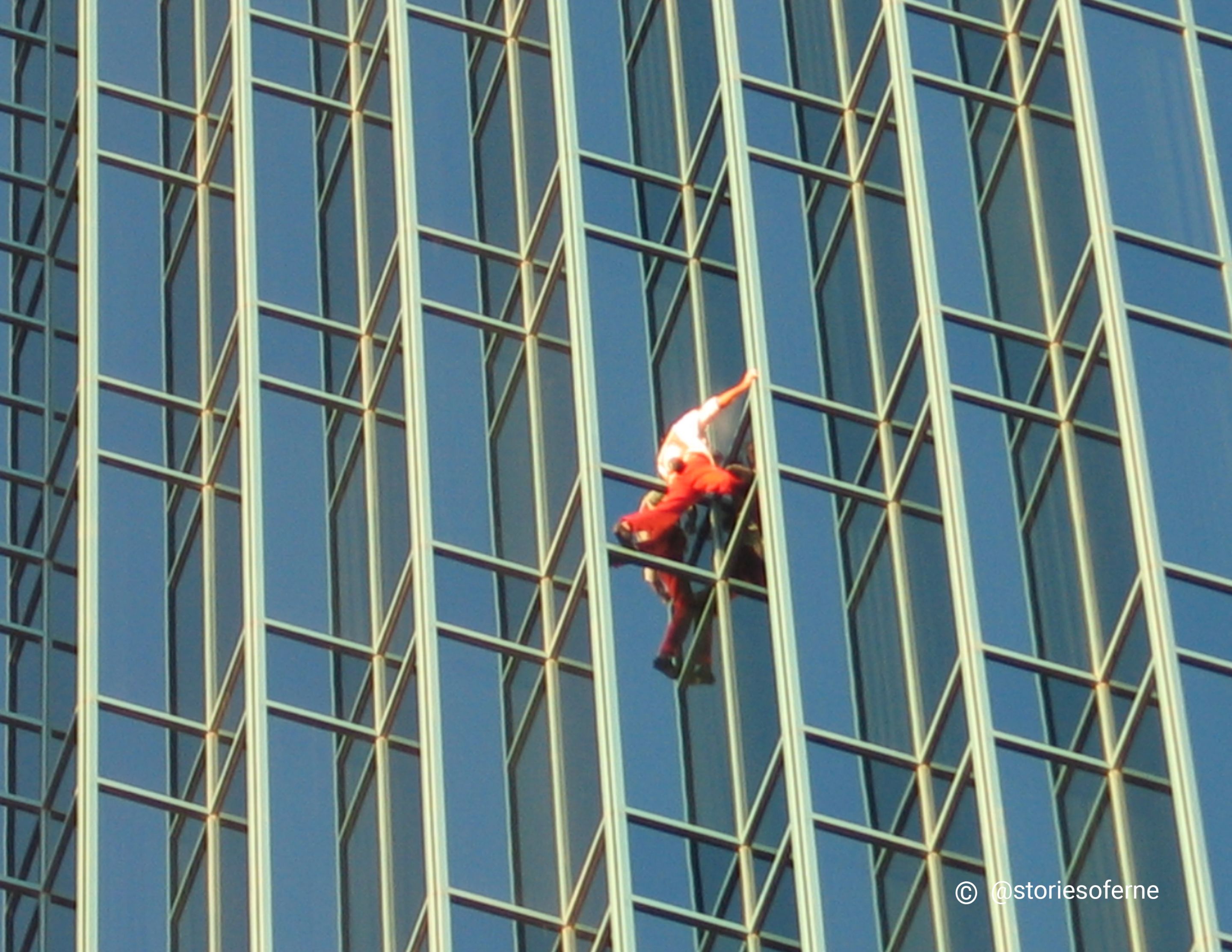 Several of his climbing escapades had no provision to pause for relaxation, and it seldom took him hours to complete the stunts. He usually wraps a small bag of climbing chalk powder around his waist to assist his hands and feet for non-slippage. Yet, during this particular climb, just picture the hot rays of the sun fully heating up the building's surfaces. That would definitely burn your bare skin to a dark toast!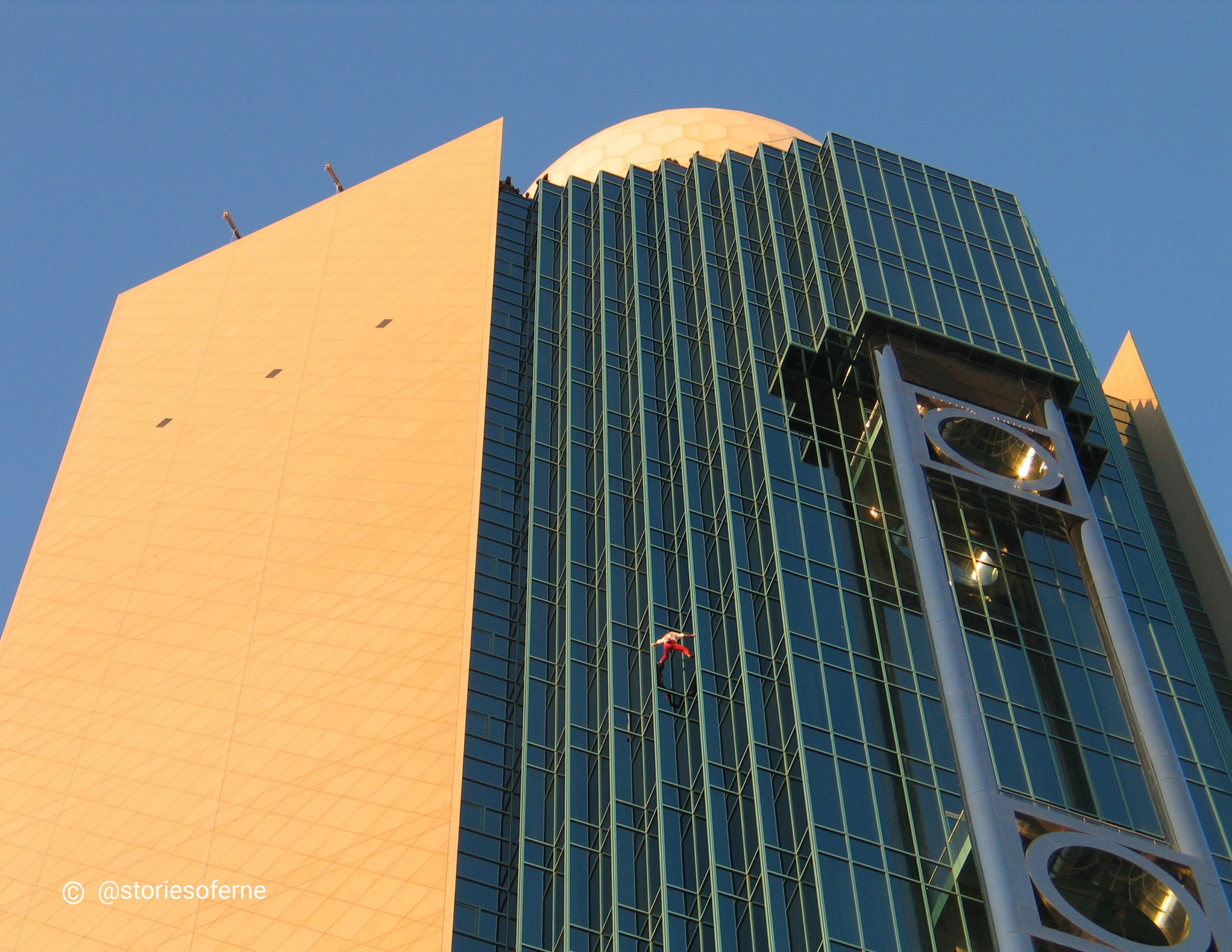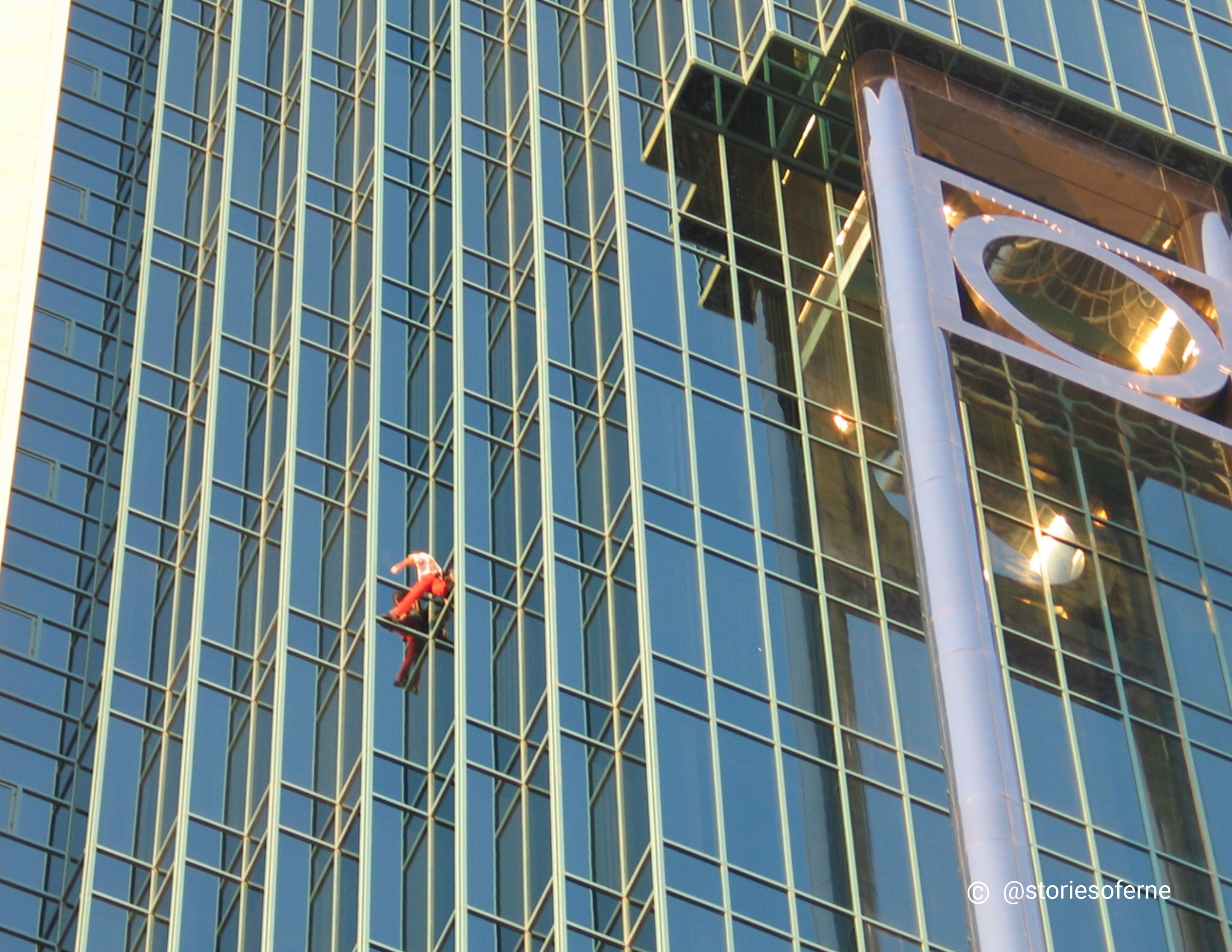 Most of the onlookers below (myself included) were holding their breath as we monitored his slow and careful ascent. Once in a while, he took quick rests to recharge his energies for the needed strength to complete his daring mission.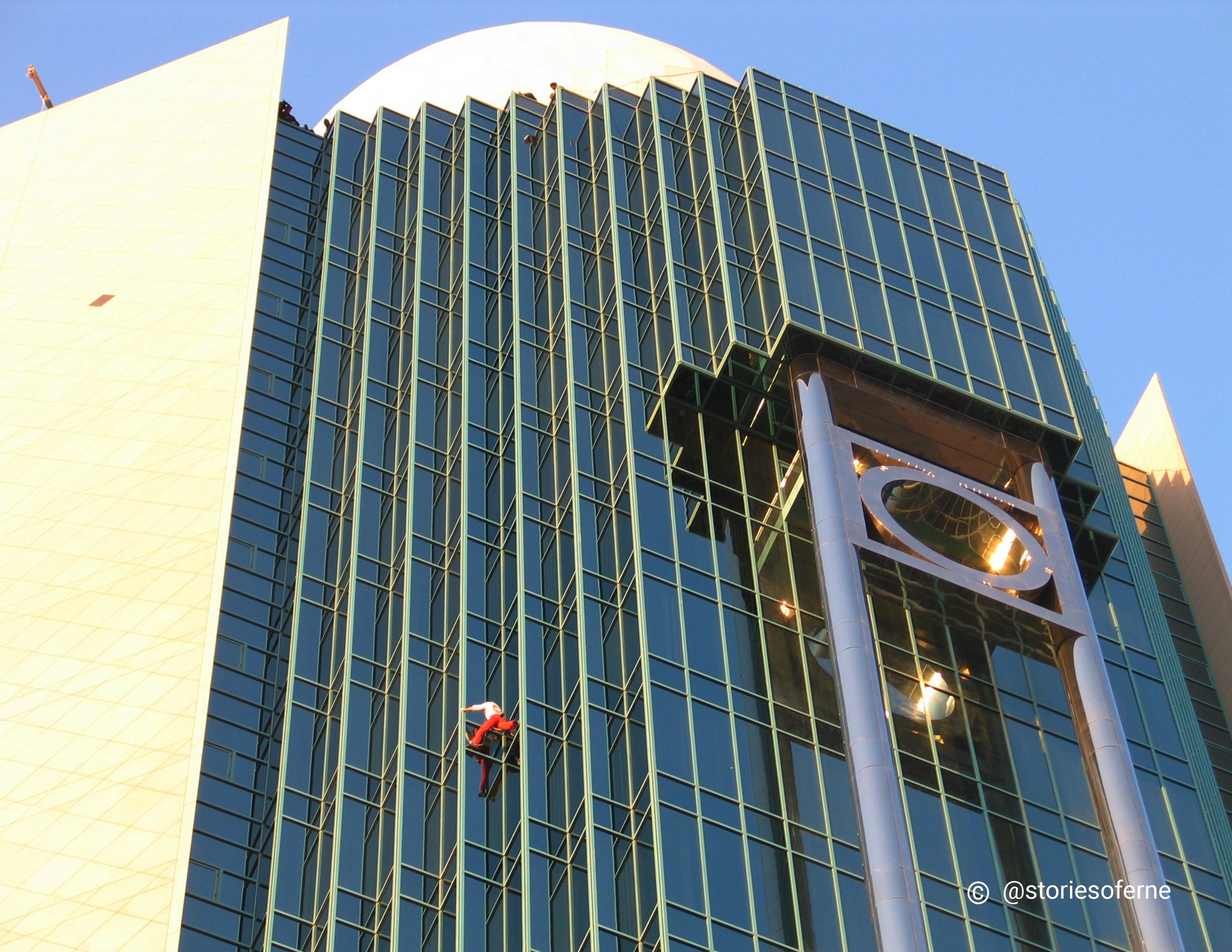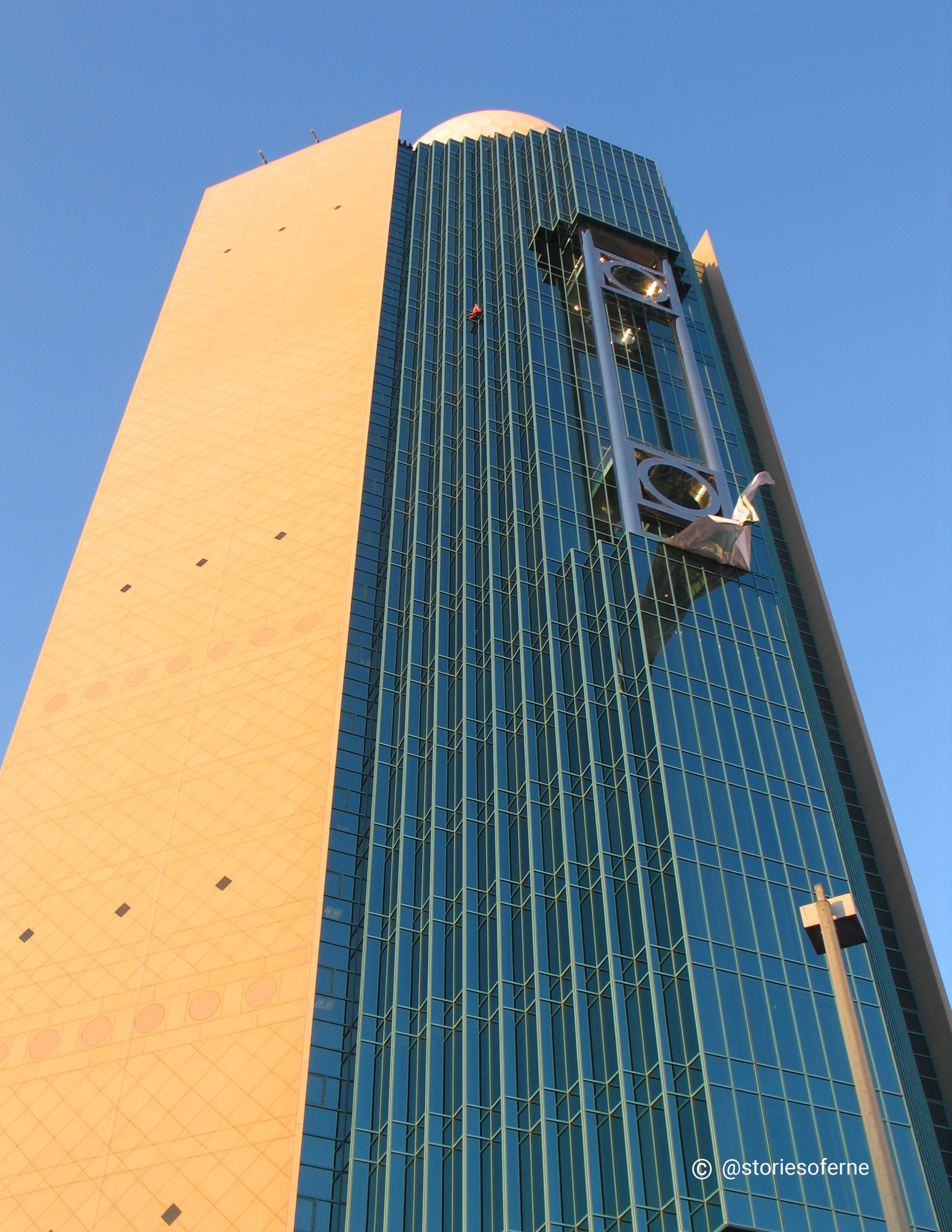 According to written records, these are a few of the major landmarks (in random order) across the globe that he has successfully climbed:
| BUILDING | LOCATION | HEIGHT |
| --- | --- | --- |
| National Bank of Abu Dhabi (NBAD) | Abu Dhabi, UAE | 173 meters (568 feet) |
| Lloyd's Building | London, England | 95 meters (312 feet) |
| Burj Khalifa Tower | Dubai, UAE | 828 meters (2716 feet) |
| Moscow State University | Moscow, Russia | 240 meters (787 feet) |
| InterContinental Hotel | Bucharest, Romania | 77 meters (252 feet) |
| Aspire Tower | Doha, Qatar | 300 meters (984 feet) |
| Mauritius Telecom Tower | Mauritius | 110 meters (360 feet) |
| The Shard | London, England | 310 meters (1017 feet) |
| Tour Ariane | Paris, France | 152 meters (498 feet) |
| Cayan Tower | Dubai, UAE | 307 meters (1007 feet) |
| Esentai Tower | Almaty, Kazakhstan | 162 meters (531 feet) |
| Torre Agbar | Barcelona, Spain | 144 meters (472 feet) |
| G.T. International Tower | Manila, Philippines | 181 meters (593 feet) |
| Cheung Kong Centre | Hong Kong | 283 meters (928 feet) |
| Skyper Building | Frankfurt, Germany | 153 meters (501 feet) |
| Sydney Tower | Sydney, Australia | 319 meters (1047 feet) |
| Petronas Twin Towers | Kuala Lumpur, Malaysia | 452 meters (1483 feet) |
For a complete list of his celebrated climbs, check here.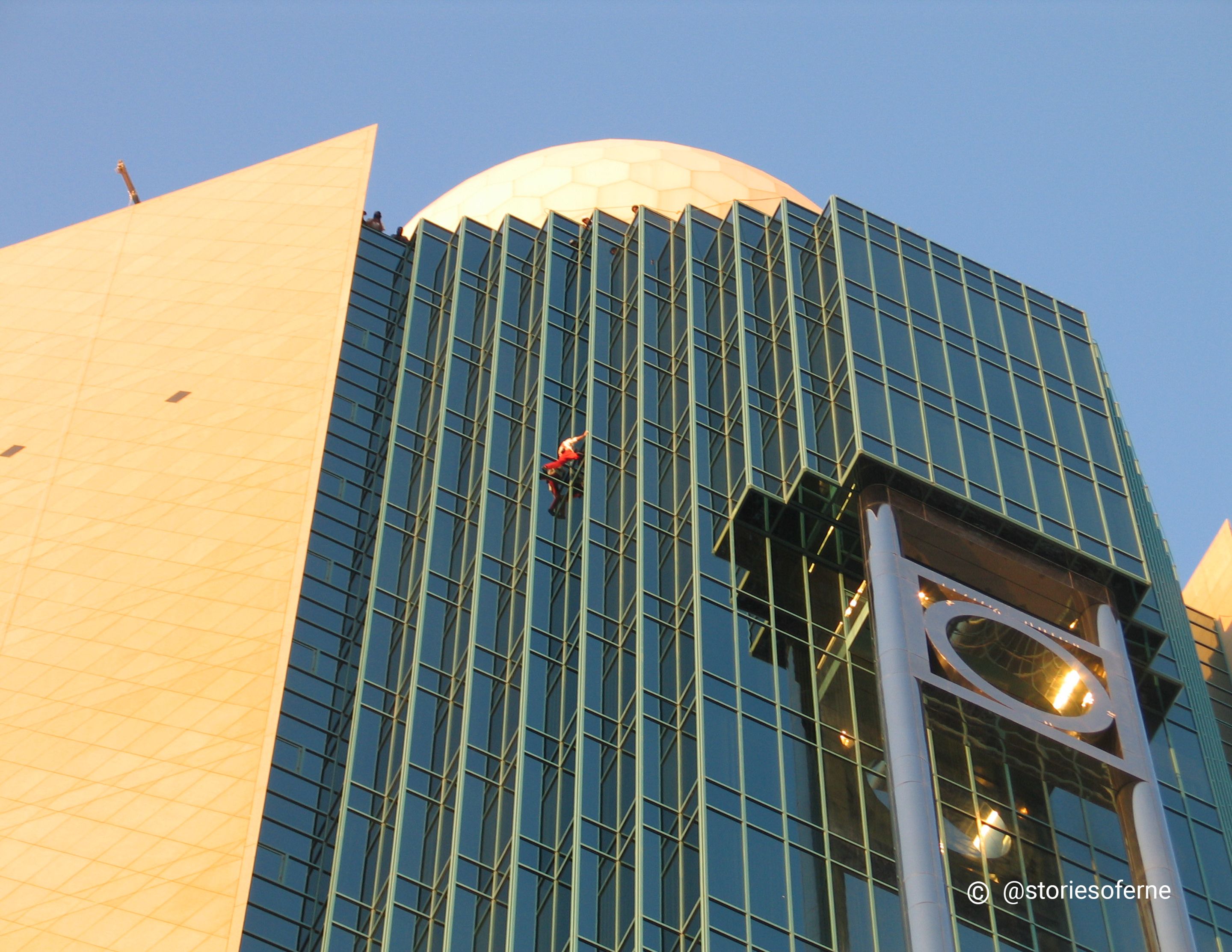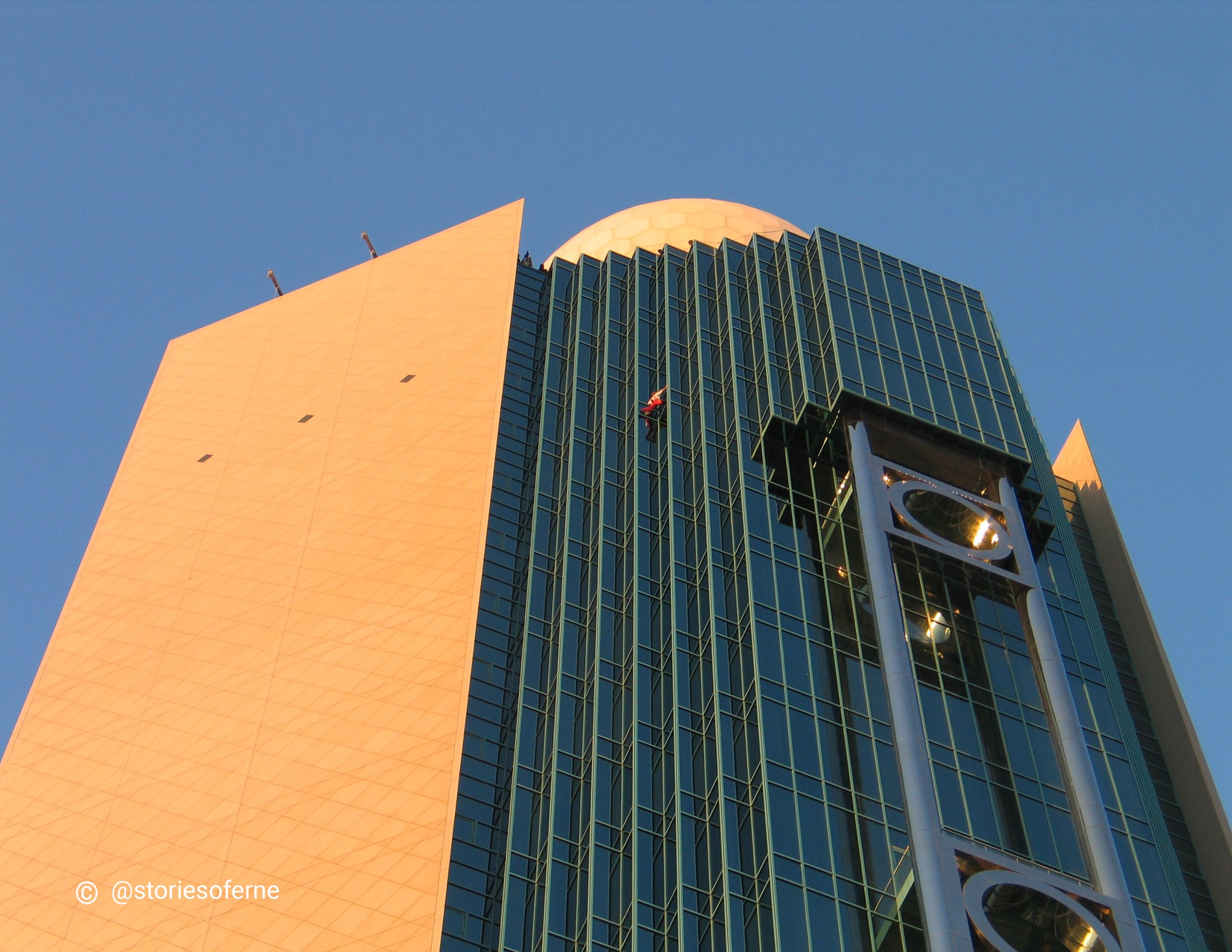 If you're interested, you can discover more about him here.
The Sweetness of Triumph
Alain Robert eventually made it to the finish line, that is on the roof deck of the Etisalat Tower (close to the ball-shaped peak), on that memorable day. If I'm not mistaken, it took approximately 45 minutes or so for him to accomplish his unimaginable feat. I was not able to capture a photograph of him on the top floor, yet I could certainly imagine the immense joy that he must have felt in his heart for that glorious conquest. Here's my last photo of him just a few meters away from his goal.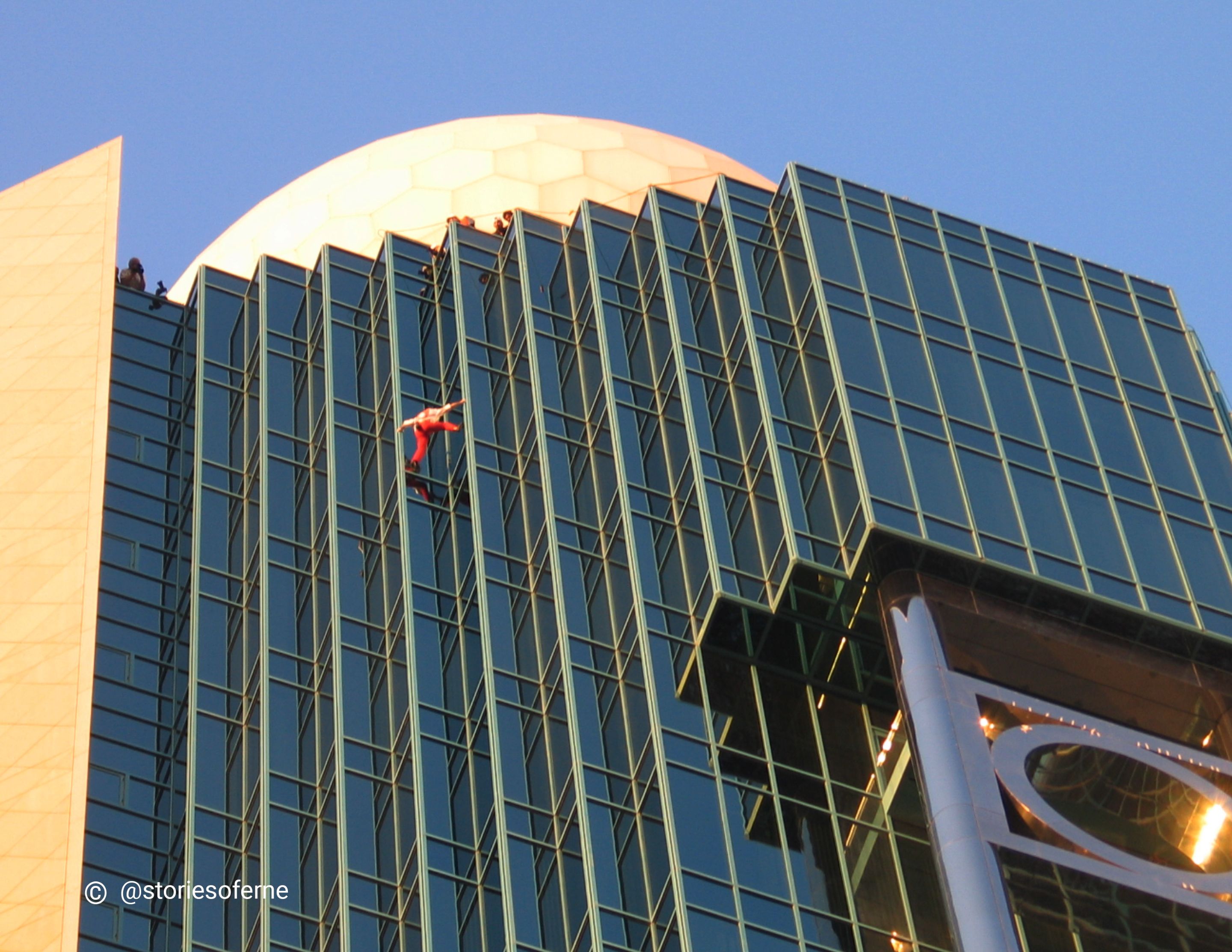 Never underestimate the power of determination. What I witnessed during that marvelous episode was truly exceptional, yet was merely a fraction of what man can successfully execute, given the perfect conditions. Of course. there are other equally or even more bizarre situations that ultimately challenge the human spirit. However, with ample willpower, perseverance, and the relentless drive for achievement, anything is possible.
What about you? Are you brave enough to dare and climb skyscrapers with your bare hands like the legendary "Human Spider"? Let's talk in the comments.
#Hive, have you been here?
Experience all my travel stories on the Pinmapple Map.
---


STORIES OF ERNE
Architect | Adventurer | Lifehacker
Creator of Architecture+Design Community on Hive
Self-Expression Empowers Human Evolution™
© 2021 @storiesoferne All Rights Reserved