Reigniting My Wanderlust For Thailand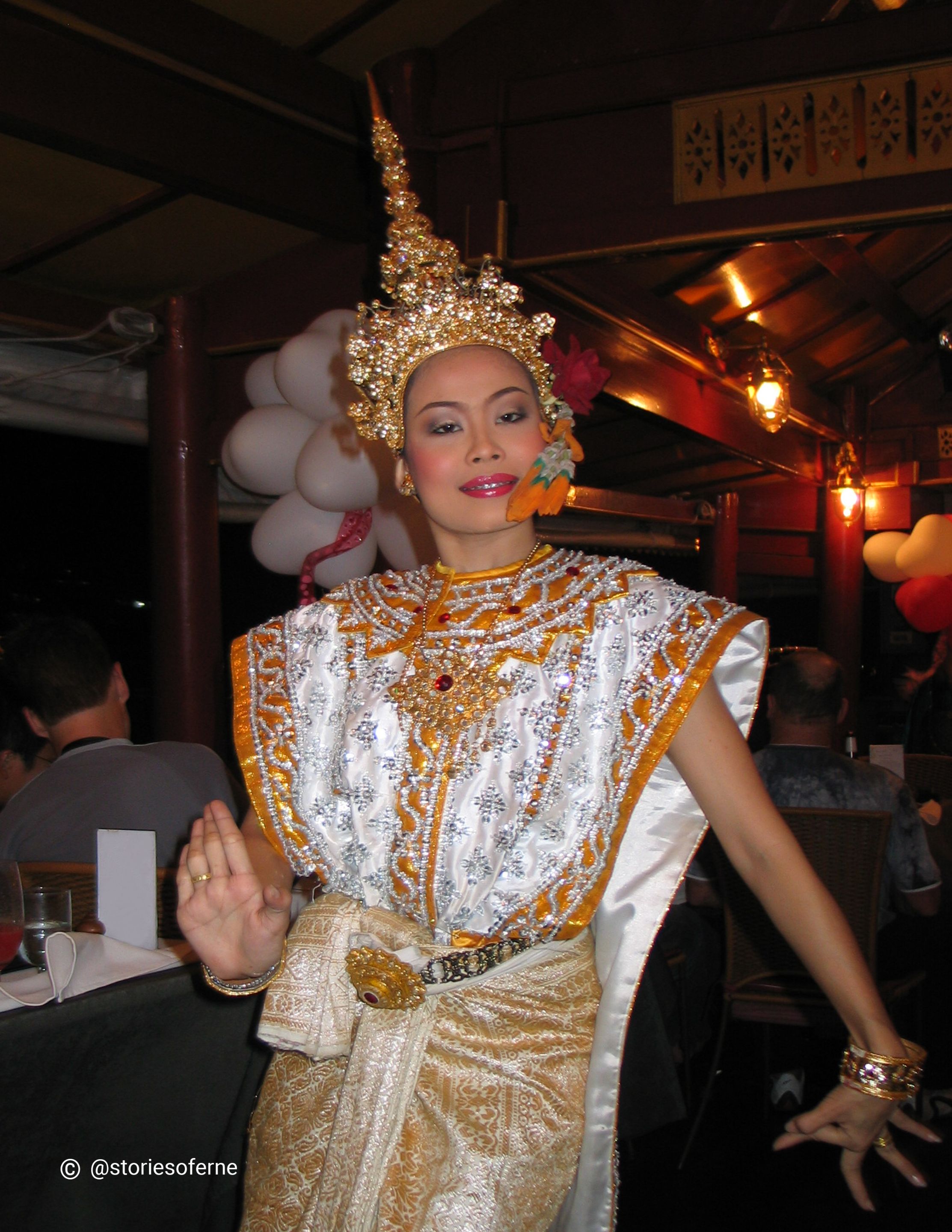 Nostalgia Triggered by a Culinary Event
"Do you miss Bangkok and the rest of Thailand?" my gorgeous date asked me as we were slurping the sweet, sour, and spicy Tom Yum Goong (Spicy Shrimp Soup), a bestselling Thai dish that was oozing with aromatic flavors on our dining table. "Wow, that was super delicious!" I answered while nodding my head repeatedly at her.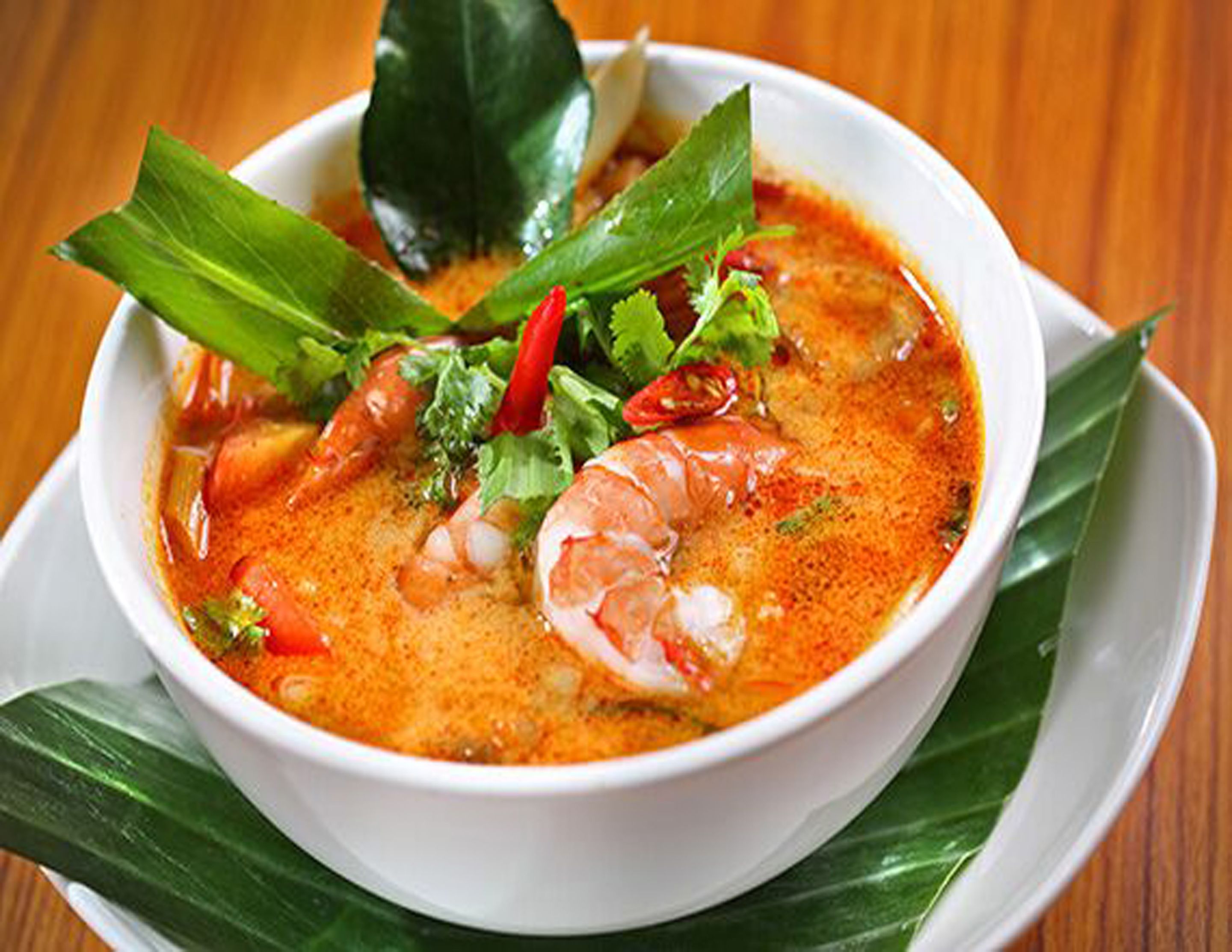 Tom Yum Goong (Spicy Shrimp Soup) | Source
Not too long ago (pre-Covid days), I was invited, out of the blue, by a beloved friend of mine to join her for a casual reconnection over lunch. We haven't socialized for a couple of years, so it was simply the ideal occasion for both of us to update each other about our lives. We decided to meet in a local shopping mall and ended up in one of the popular Thai restaurants there.
Since we were both fond of the burning sensations this particular type of cuisine brought to our taste buds, we immediately ordered some of the traditional Thai favorites on the menu like Pad Thai (Thai style Fried Noodles), Tom Kha Kai (Chicken in Coconut Soup), Pad Krapow Moo Saap (Fried Basil and Pork), Khao Pad (Fried Rice), including the popular soup mentioned earlier.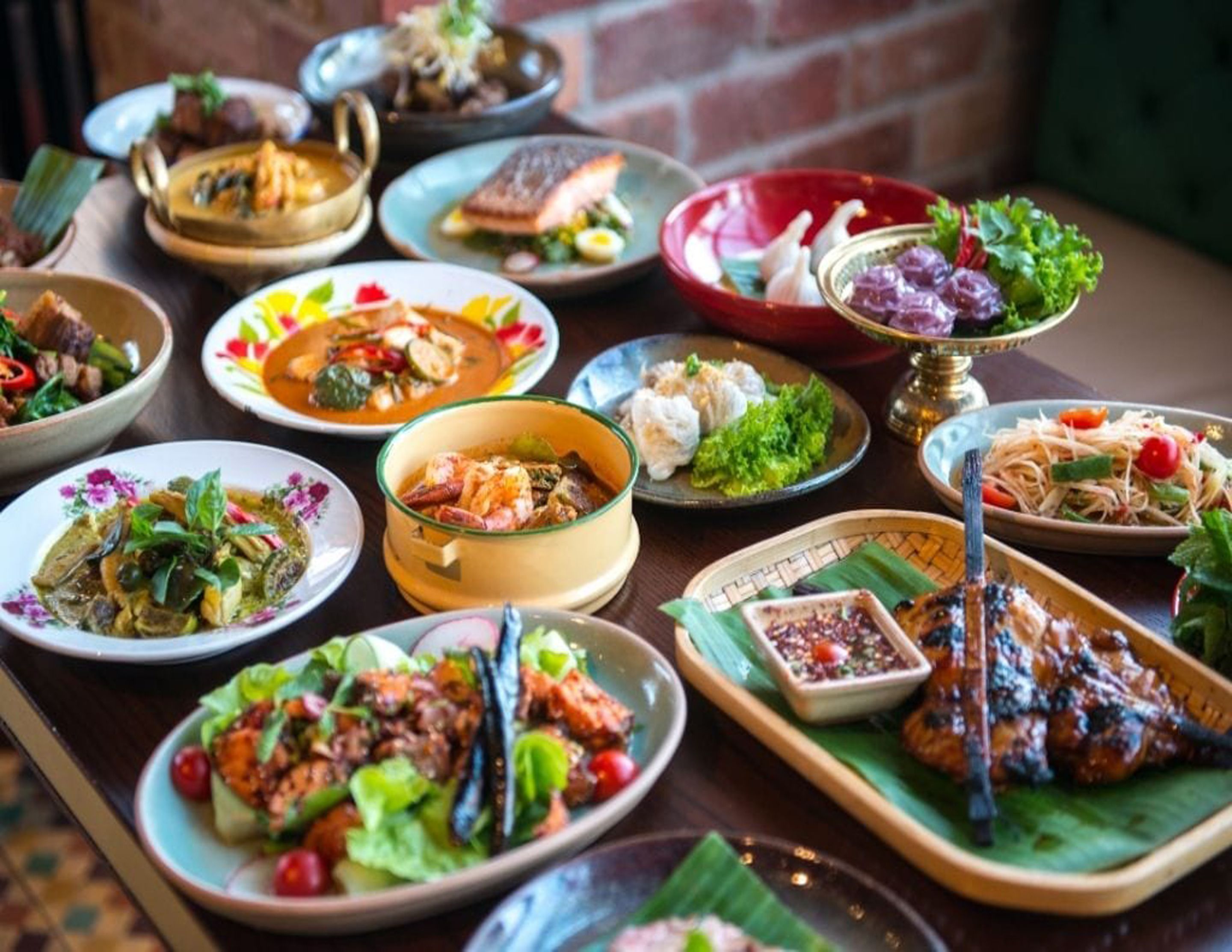 Traditional Thai Cuisine | Source
It was definitely a food fest! No need to rush, no other appointments, so we had the entire afternoon to ourselves. Plus with all the yummy treats at our fingertips, who couldn't resist? And while we were busy stuffing our hungry tummies with mouthwatering appetizers, main courses, and dessert, we also exchanged tales, jokes, and just...a bit of gossip, lol. All of a sudden, as I was slowly savoring every single bite, crunch, and sip, my unforgettable adventures of Thailand were bouncing back and forth inside my head. Unceasing fireworks of celebrated memories were exploding here and there - I merely couldn't wait to share them with my companion. Believe it or not, it was a magical reminiscence!
Virtual Showcase of Travel Experiences
"Because you've been to Thailand a few times already, would it be possible to show me some tourist attractions and other interesting spots that you'd suggest for new visitors? See, I'm planning a trip there in 5 months with my family, so your useful suggestions would really help me," she requested as I grabbed my iPad out of my bag.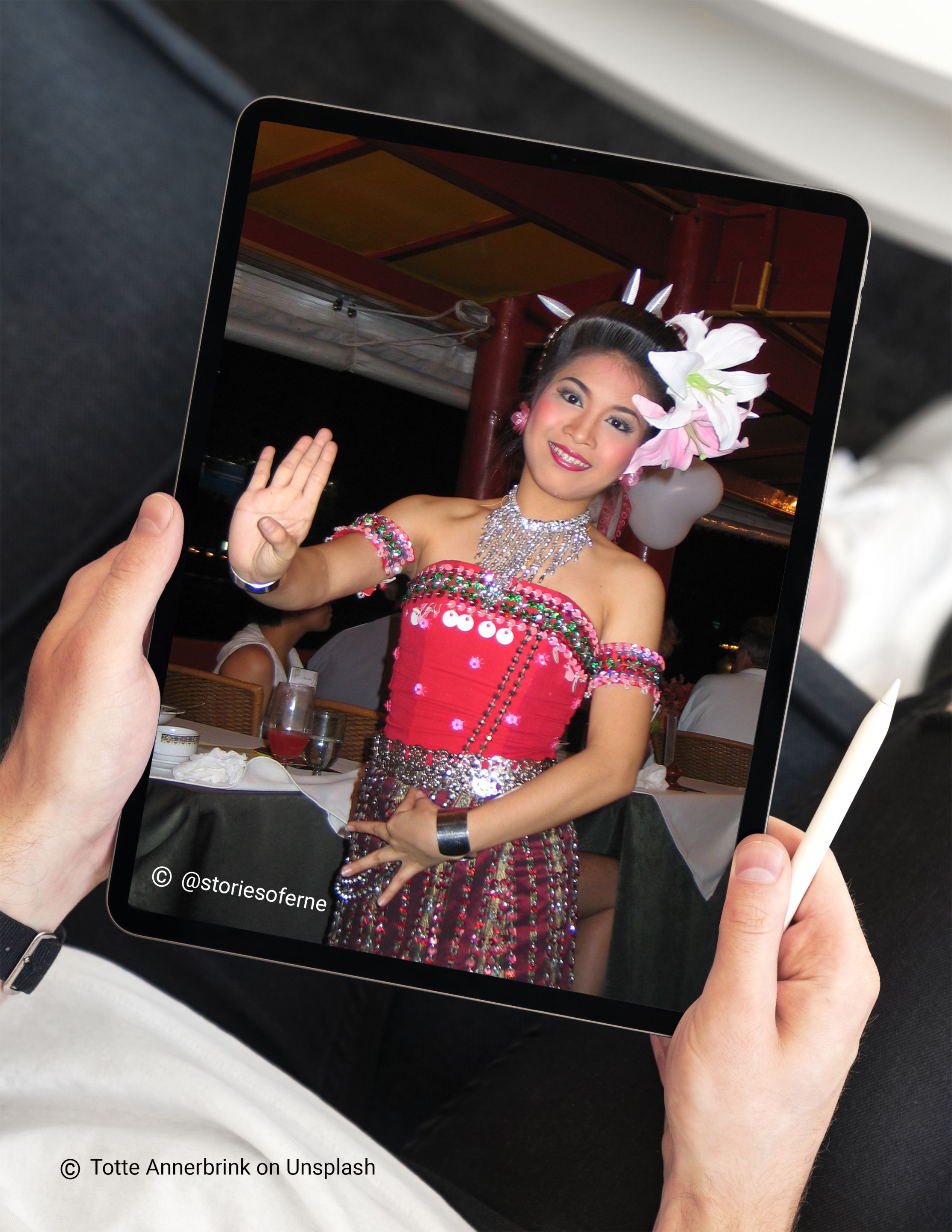 "Of course, my dear buddy, it's always an immense pleasure! Let me browse through these photos one by one while I talk to you about them, alright then?" With a huge grin on her face, she agreed, shifted her chair next to mine, and immediately directed her eyes towards the digital screen in front of us. The succeeding content of images, impressions, and narratives covering my Thailand escapades during my younger days was the meat of our conversations for the rest of that afternoon. So, here we go…
SUVARNABHUMI INTERNATIONAL AIRPORT. My portal of entry to the country of Thailand was through its capital city of Bangkok specifically their largest transportation terminal for flights. The term Suvarnabhumi is Sanskrit that means "Land of Gold".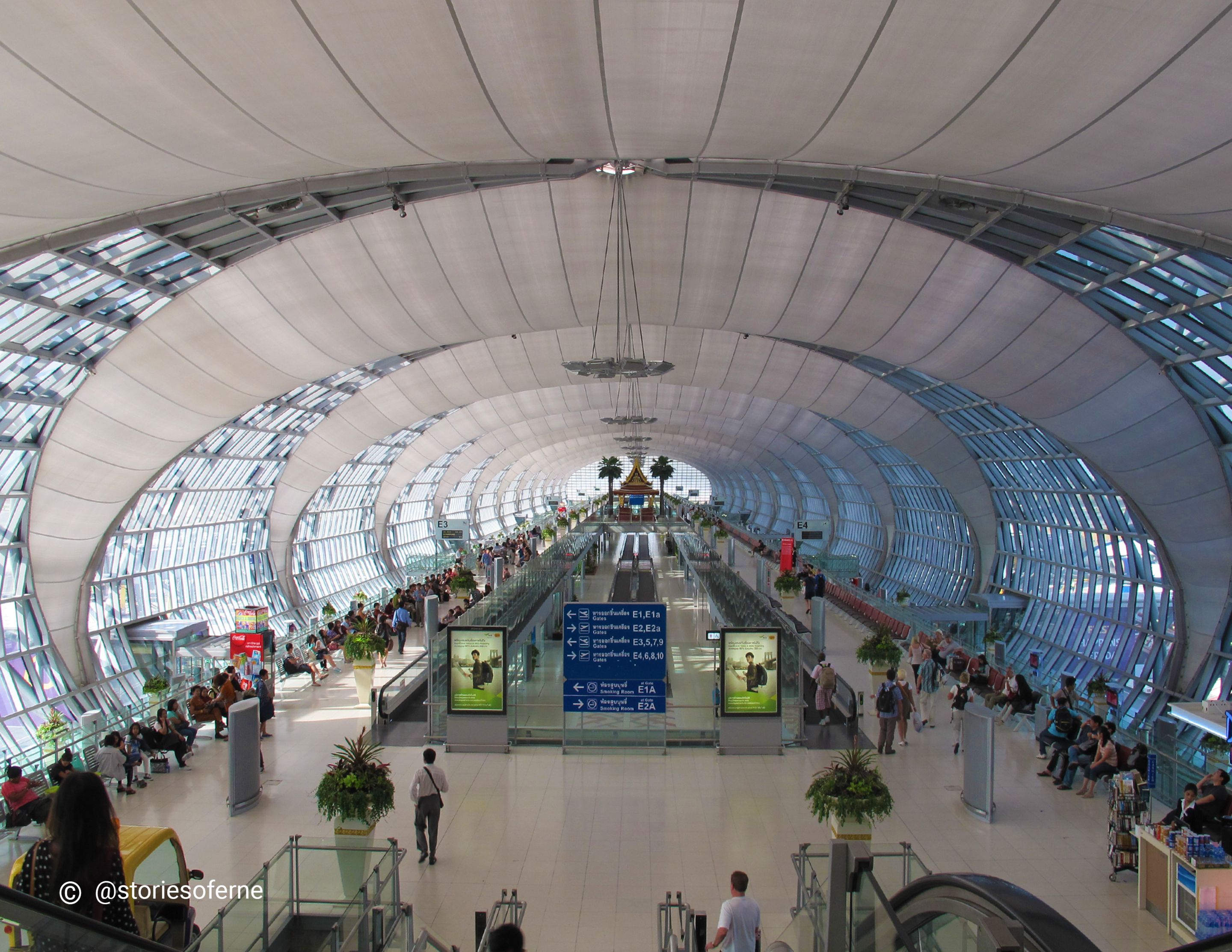 It's one of the most modern aviation terminals I've seen. The moment I arrived, my eyes were focused on the fascinating cantilevered roofs with their wavelike patterns that appeared to be floating above the concourse. Massive skylights were also installed that served to illuminate the interiors with natural daylight and provided clear views of the natural surroundings and cityscapes.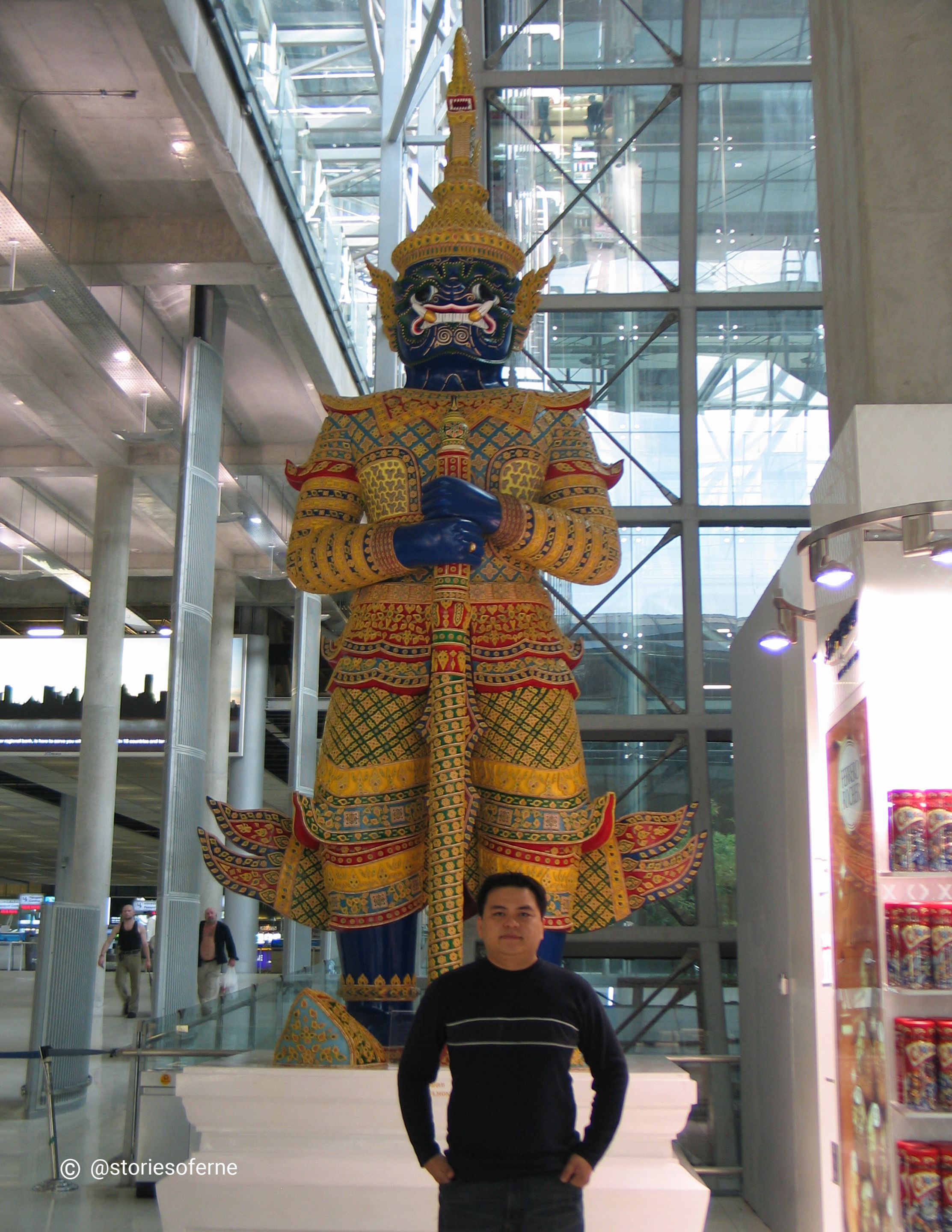 This particular airport is currently the hub for the following airline companies: Thai Airways International, Thai Smile Airways, Bangkok Airways as well Thai Vietjet Air. Being the busiest airport in the nation, it caters to international and domestic passengers plus handles cargo of all sizes for various flights during the year.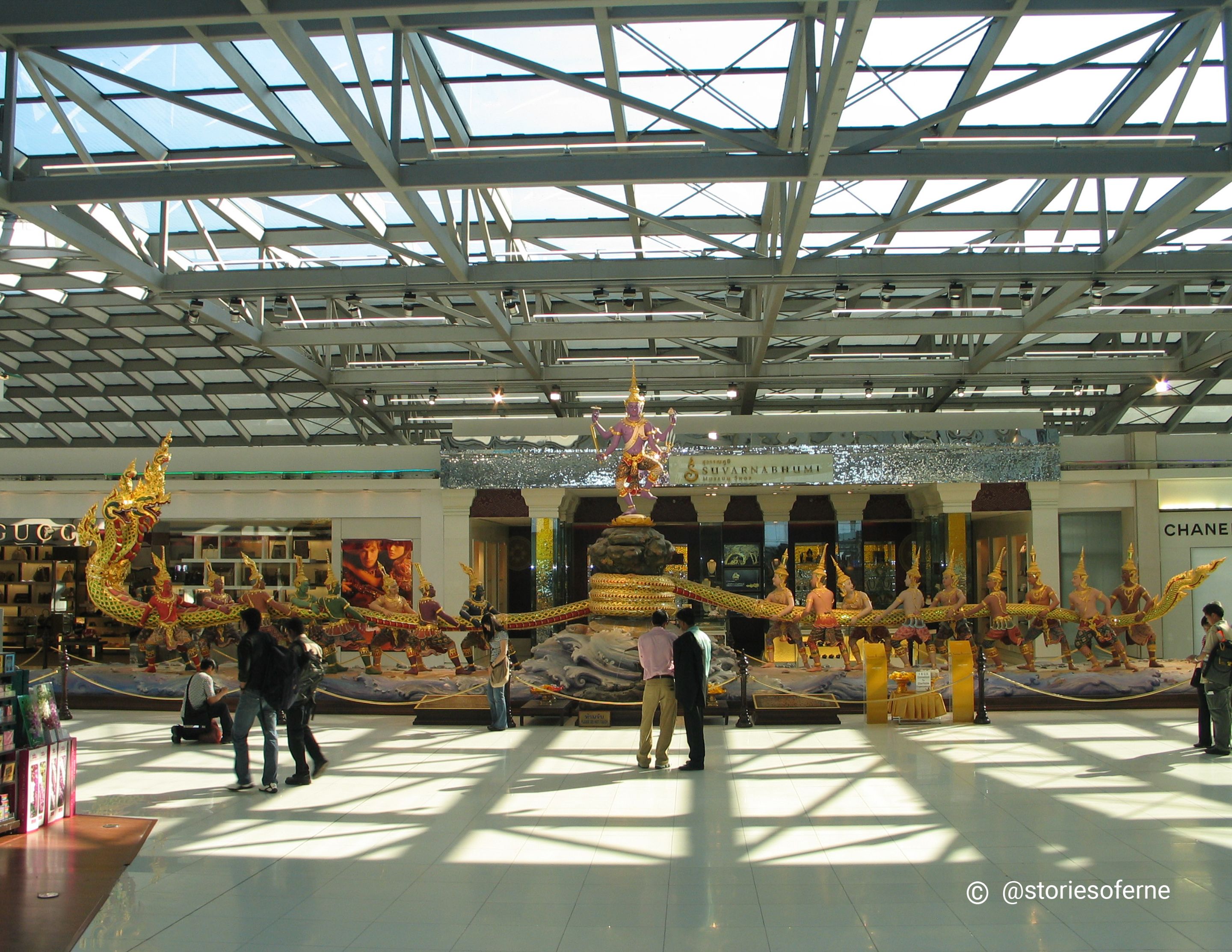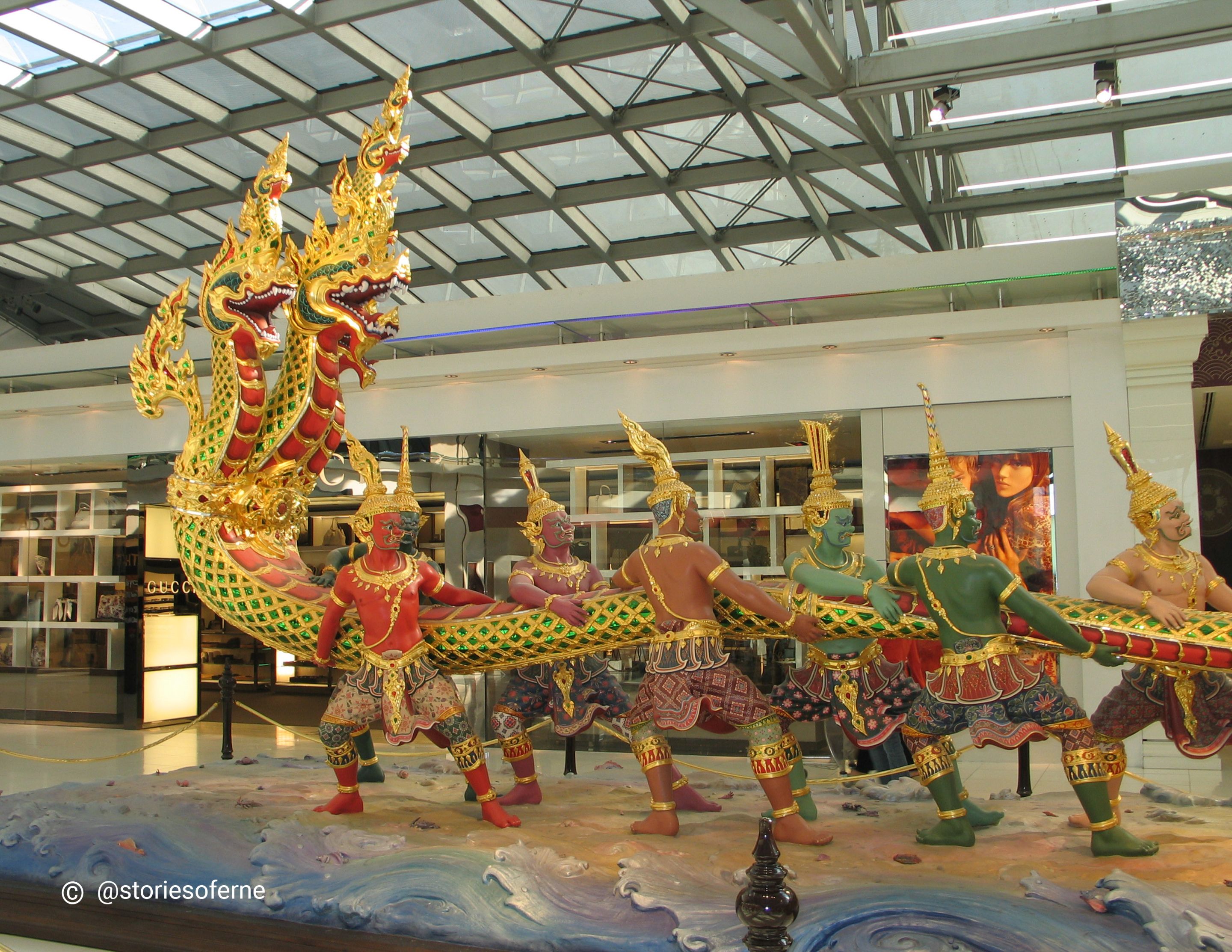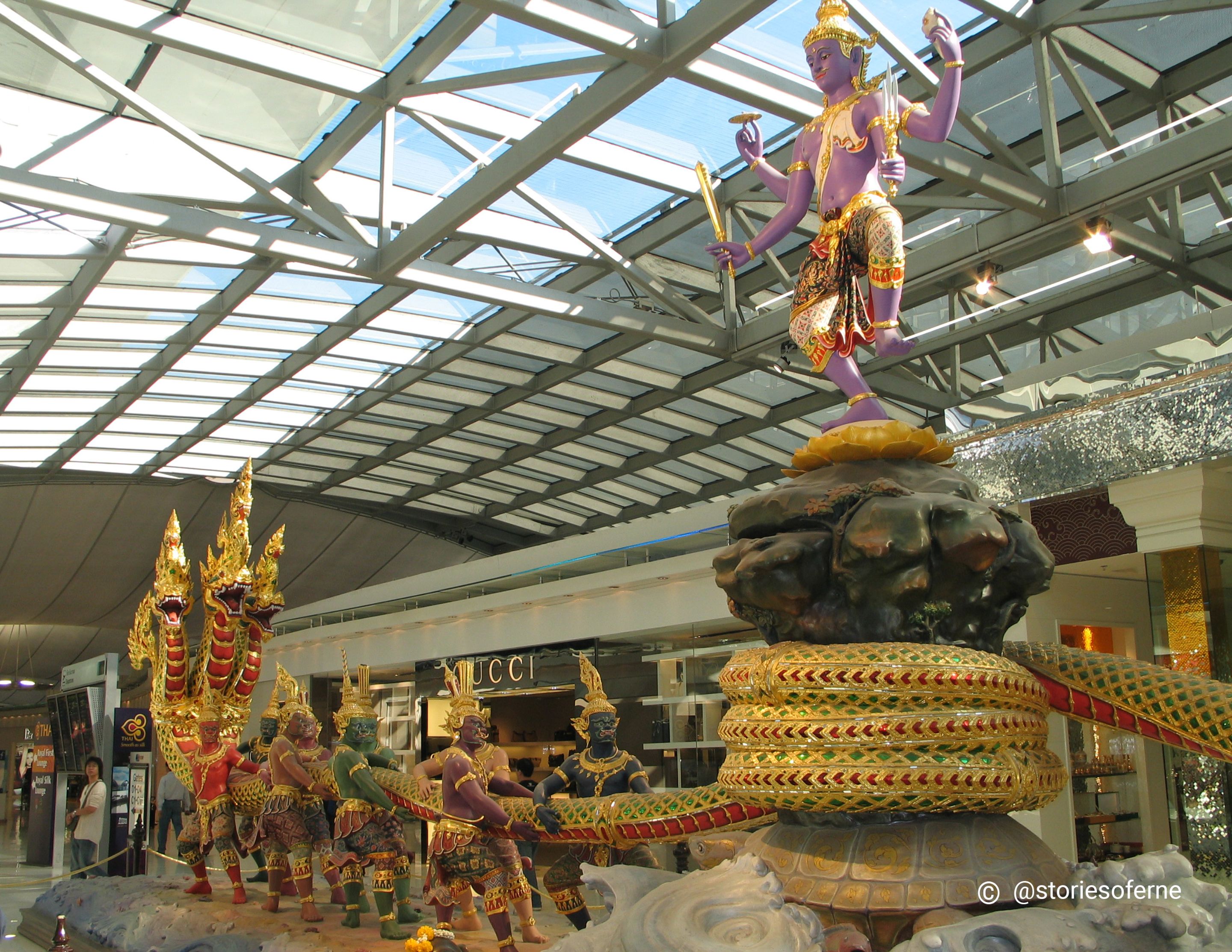 I'm not sure how true this is, but it has been said that this airport project was constructed over an old cemetery. Some building workers on the site swore to have witnessed ghosts from a discovered graveyard. As interesting as this story may seem, the hairs on my arms suddenly stood up and sent a chilling silence to both of us that instant.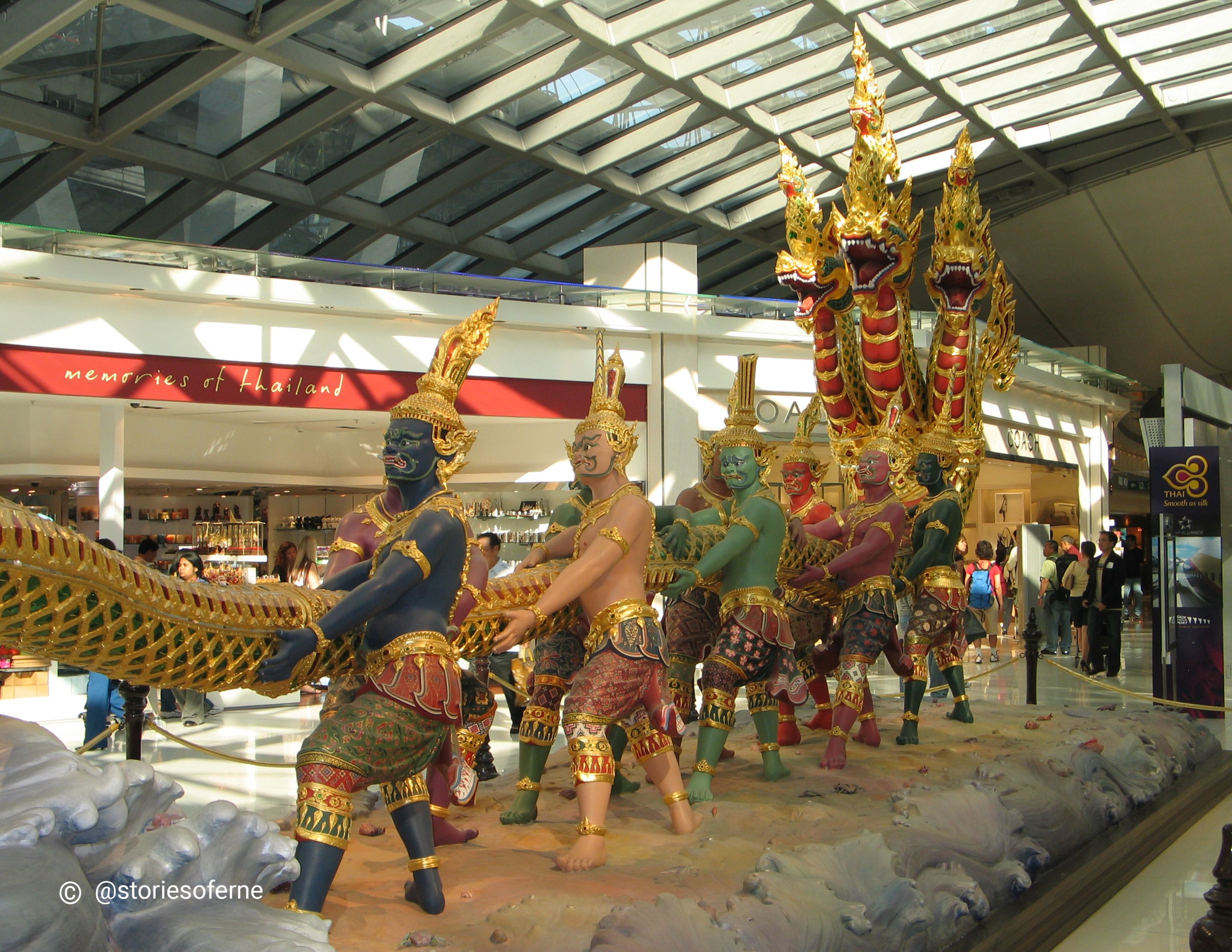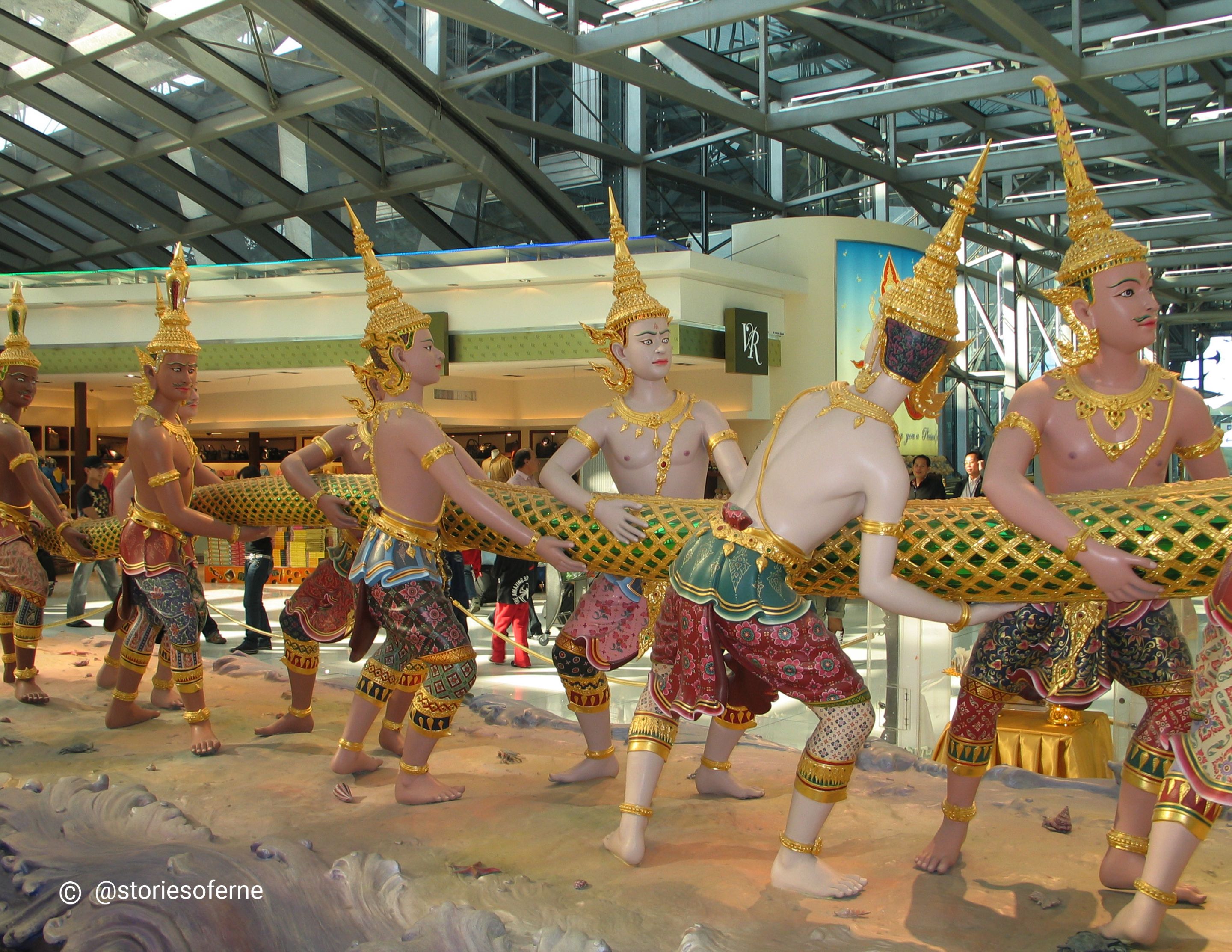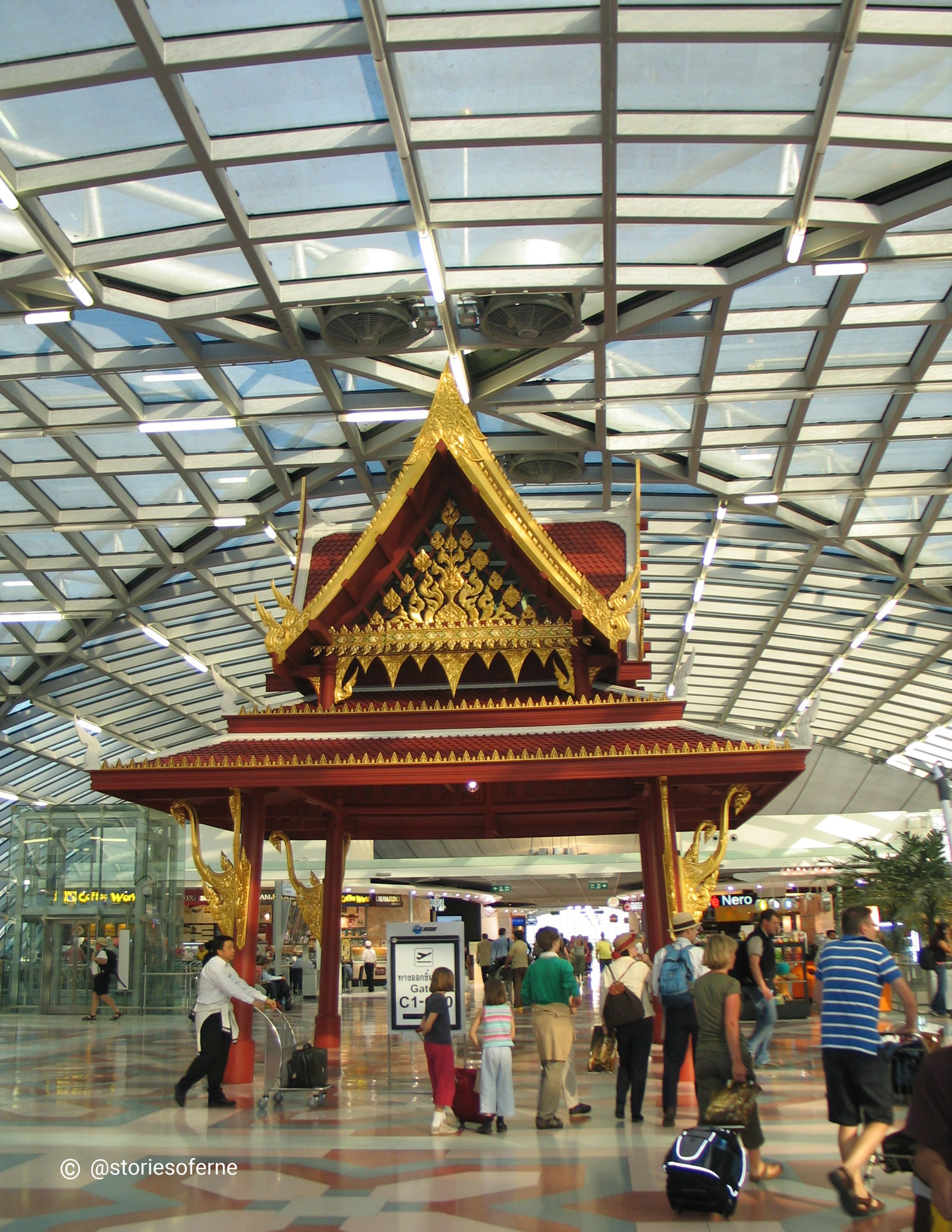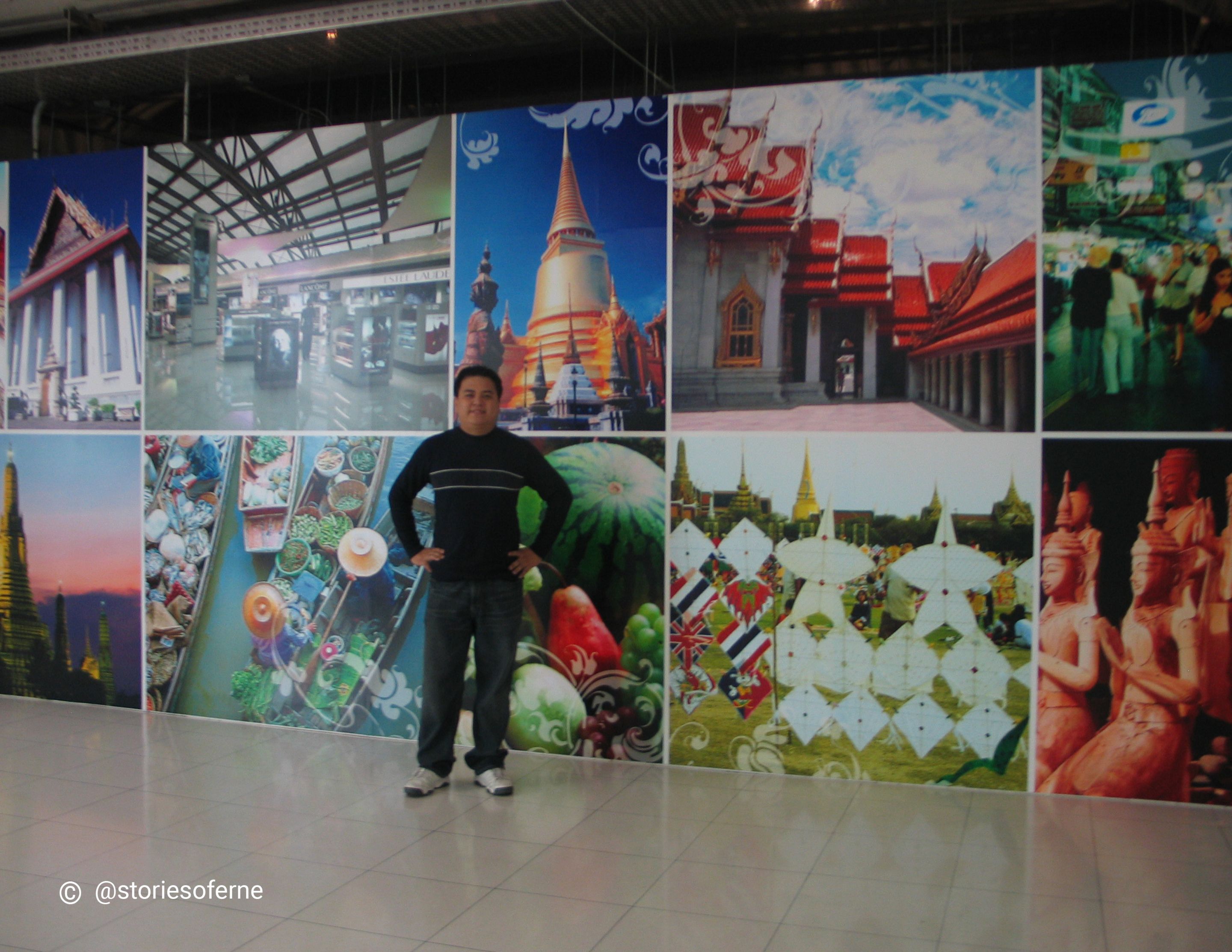 The airport's interior expanse was filled with impressive visuals, remarkable features as well as cultural artworks that captivated the senses. I took the chance by capturing lots of pictures of these pleasing elements. Amazing, right?
PATPONG NIGHT BAZAAR. Since we arrived during the evening, it was simply automatic to proceed to one of Bangkok's famous night markets, as strongly advised by our tour guides. Hence, from the hotel, we commuted on the most convenient mode of public transportation known locally as the Tuk Tuk, a 3-wheeled vehicle to explore the metropolis. With its open-air carriage, the chilly breeze caressed my face as we traversed through its busy thoroughfares.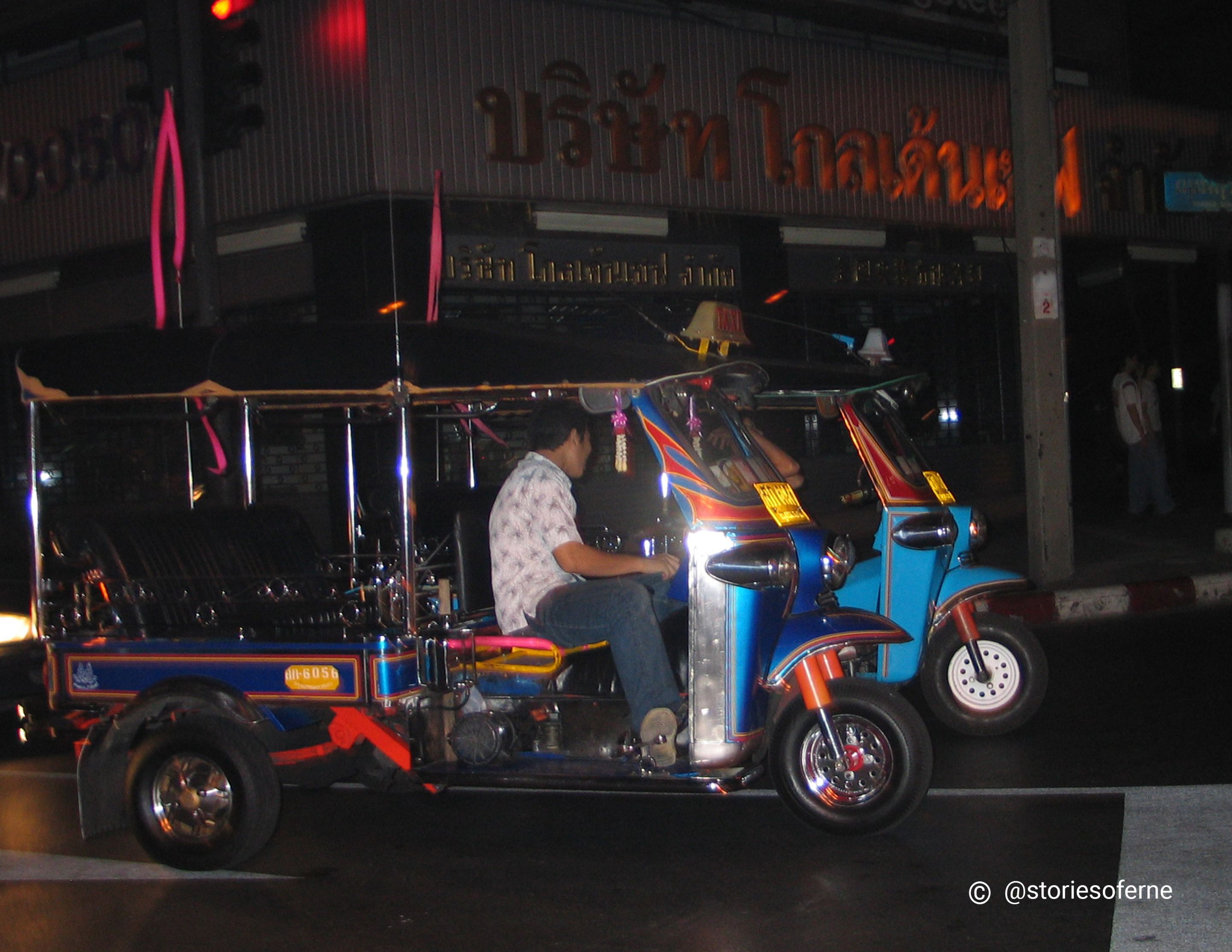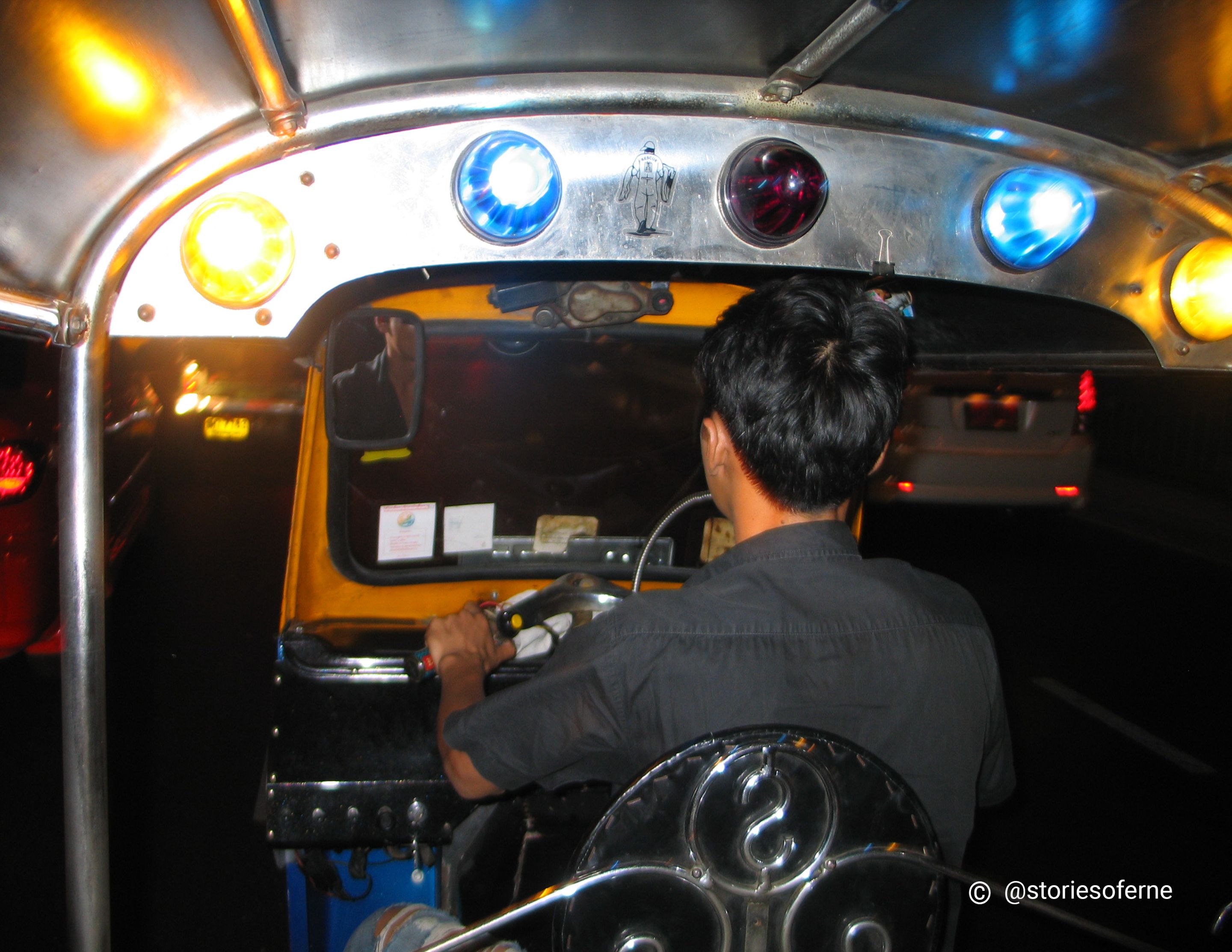 Did you know that Patpong is the city's oldest red-light district? Aside from the shopping experience, you'll be enticed by the go-go clubs, beer bars, and live shows situated alongside the numerous merchandise on sale. Out of curiosity, I was lured into one of their entertainment establishments to enjoy what was in store there. After quenching myself with an ice-cold bottle of Heineken, I was surely pumped up and ready - not to check out the beautiful girls - but rather, to continue with my retail therapy on the roads outside. Hmmm, what were you thinking, huh? haha.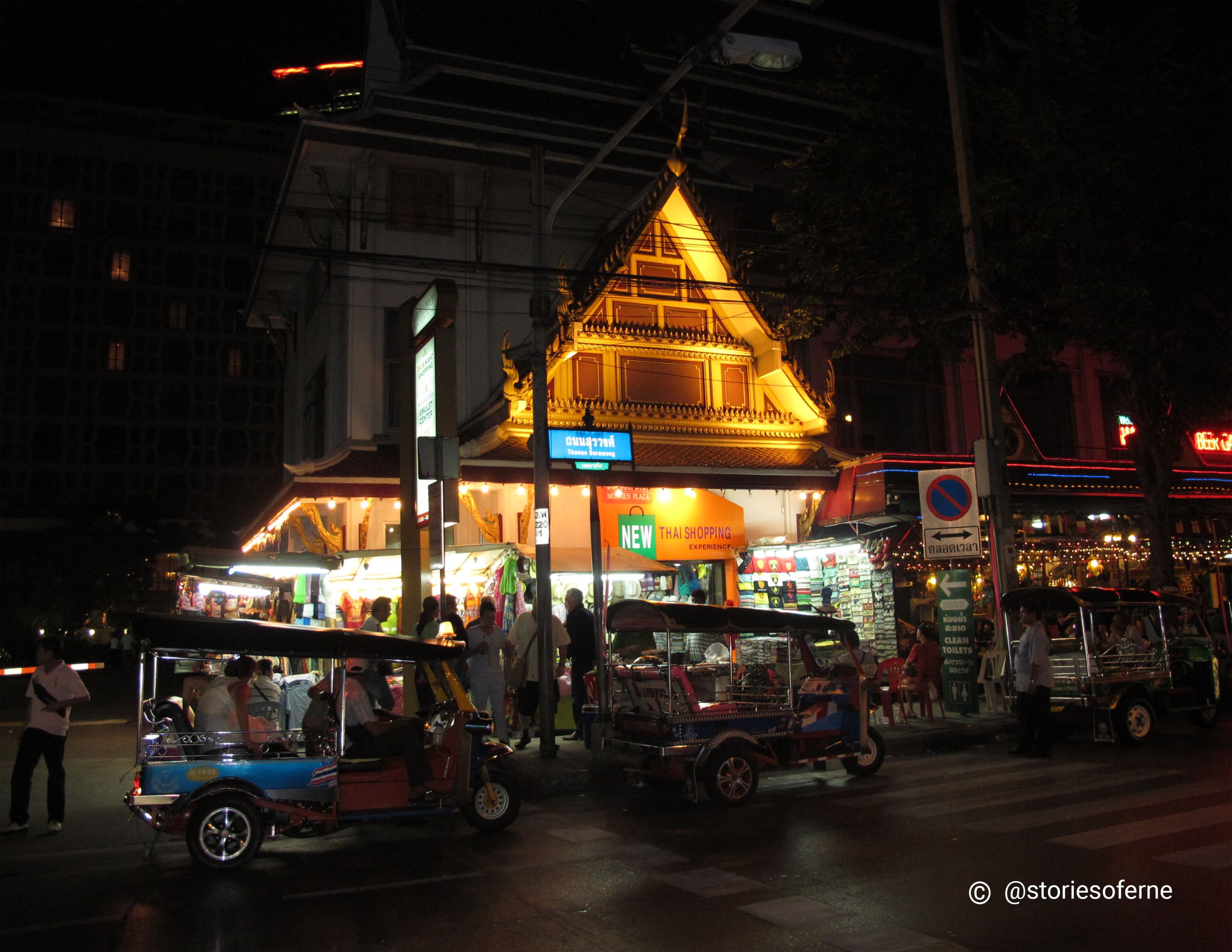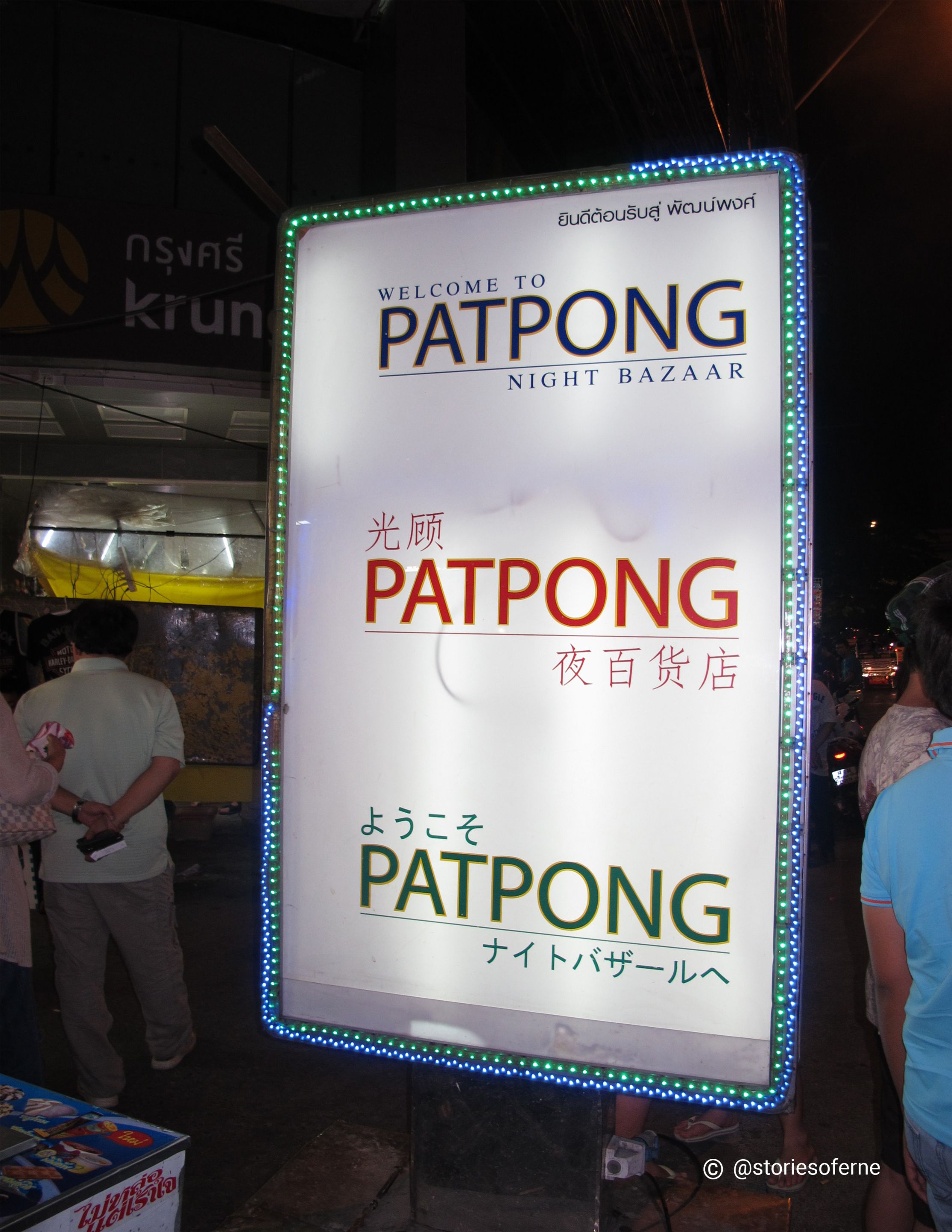 There was an assortment of items displayed on the outdoor stalls. Just name it - you can find almost anything there. From clothes, bags, furniture, watches, shoes, fabrics, hats, knick-knacks, belts, jewelry, upholstery, artworks, gadgets, this thriving location was truly a wealthy haven for shoppers. I purchased plenty of souvenirs that evening, especially the hand-made bags that never failed to attract me - almost filed for bankruptcy, lol.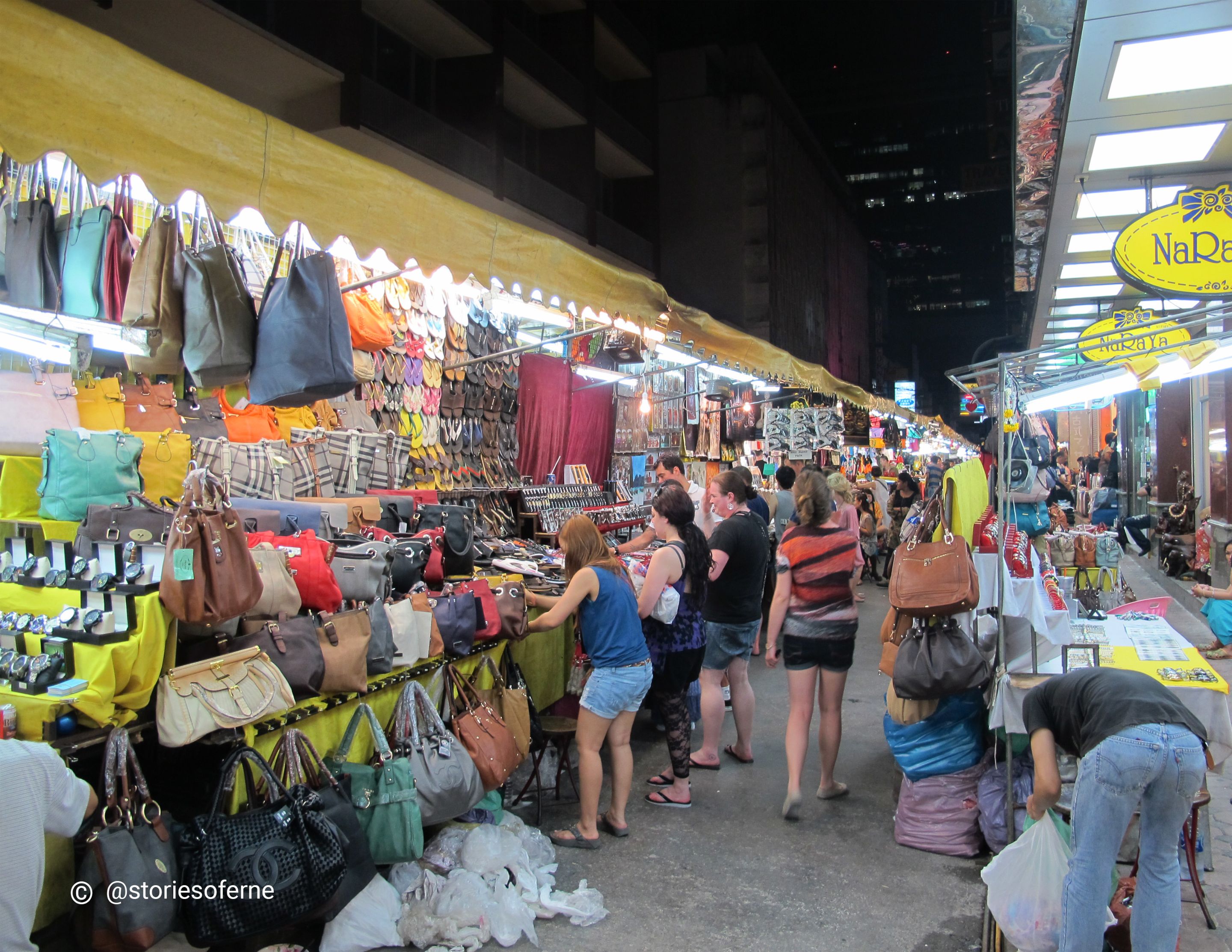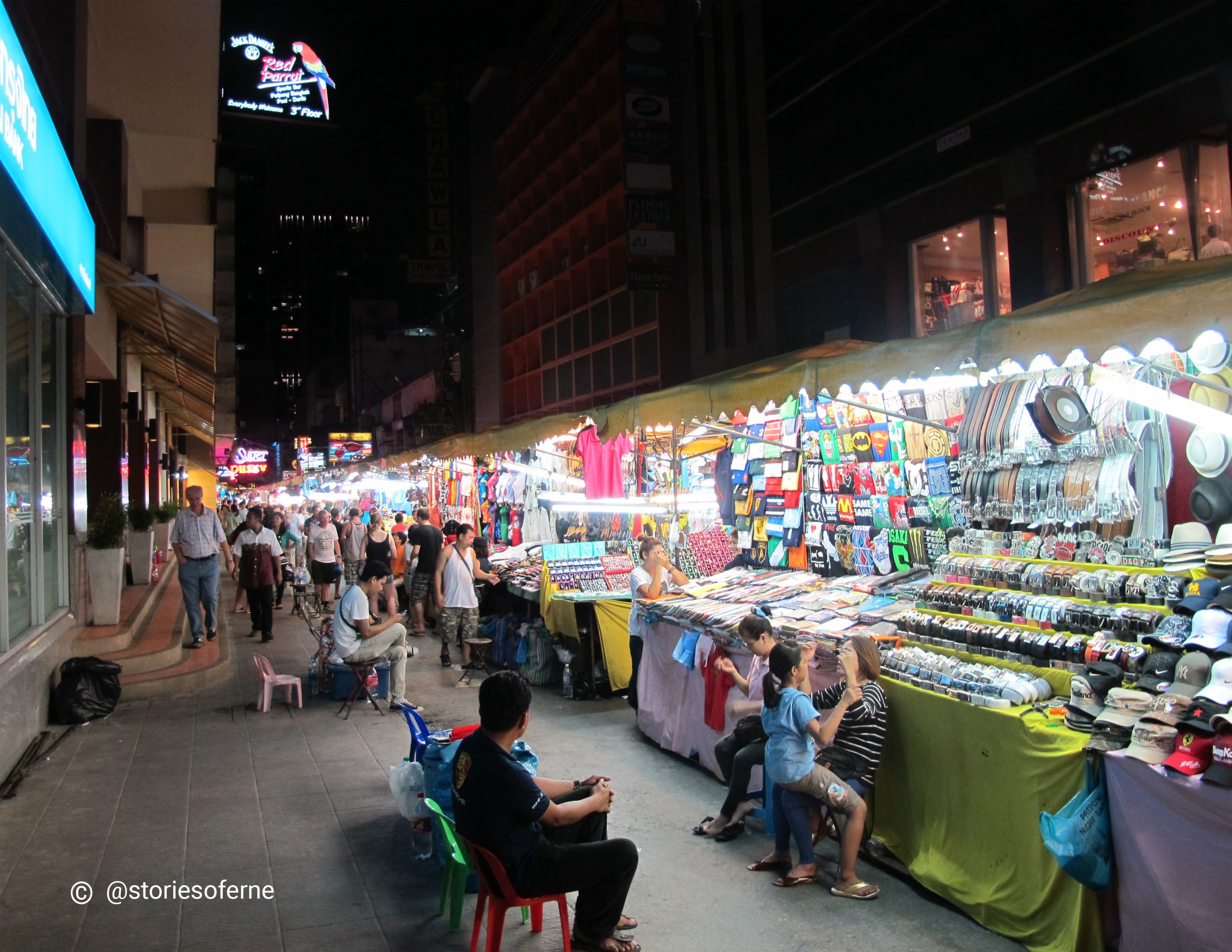 Aside from the vast amount of commodities at your buying pleasure, local delicacies were likewise abundant, especially the street food variety. I nibbled some of their delicious Thai snacks, drank their refreshing fruit juices until I bumped into this sidewalk stall with a peculiar product.
"Do you recognize this stuff? Have you seen something like this before?" I asked my date while using my fingers to zoom in on the digital image.
"OMG! Yuck! Are those cooked insects and fried worms? I can't believe what I'm seeing here as I had the impression that they were only rumors. They're real after all and heard that they're surprisingly yummy! So, did you eat some?" She uttered as her eyes continued to bulge with one hand covering her mouth in disbelief.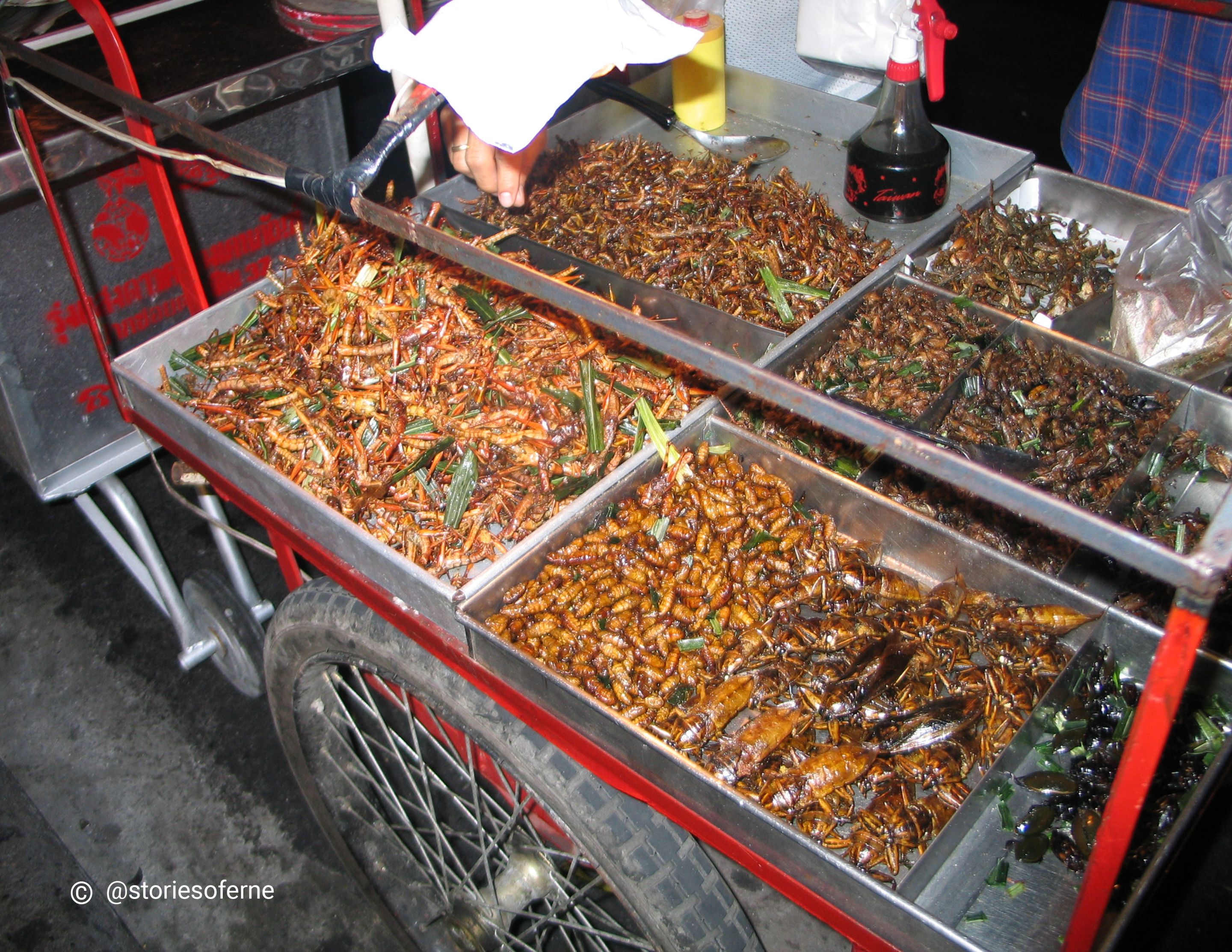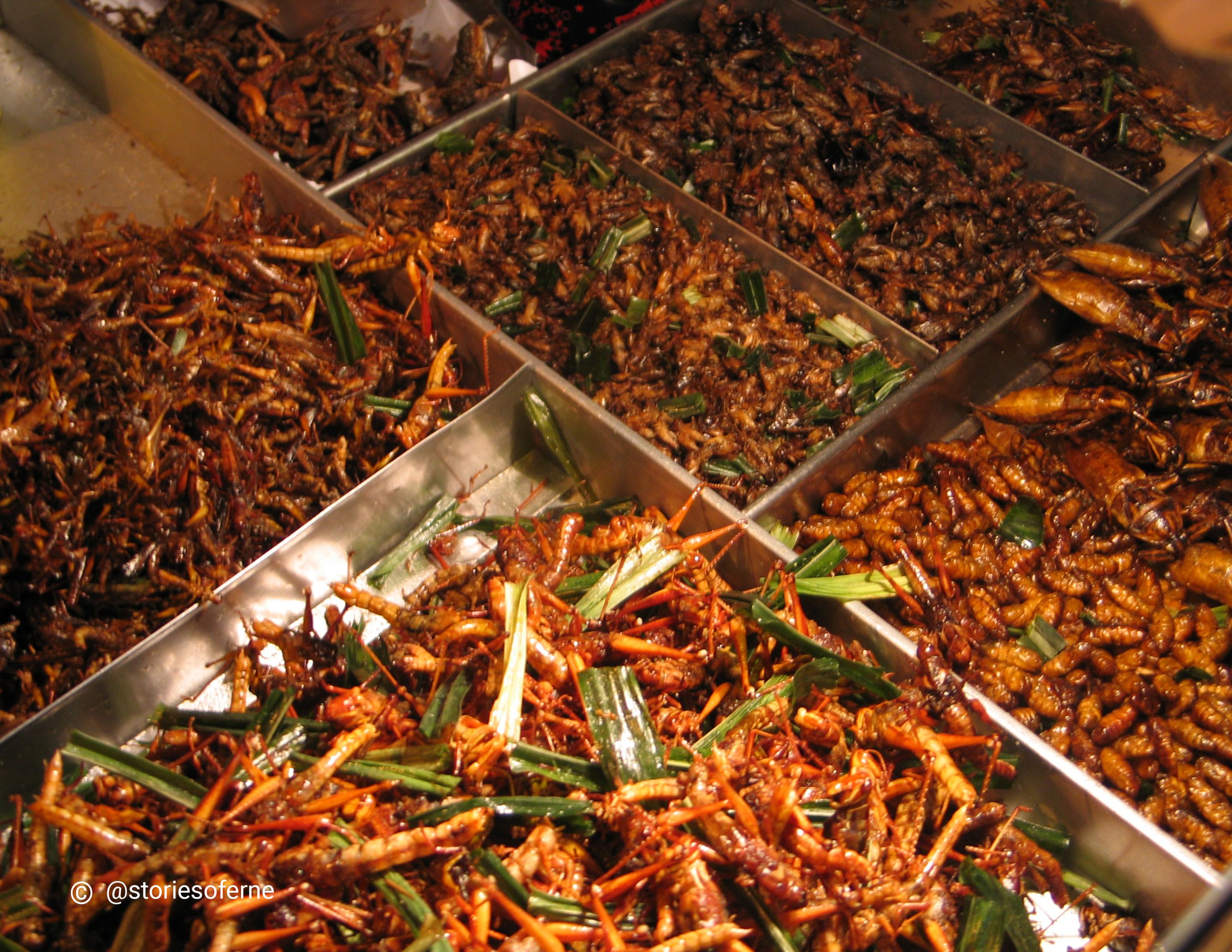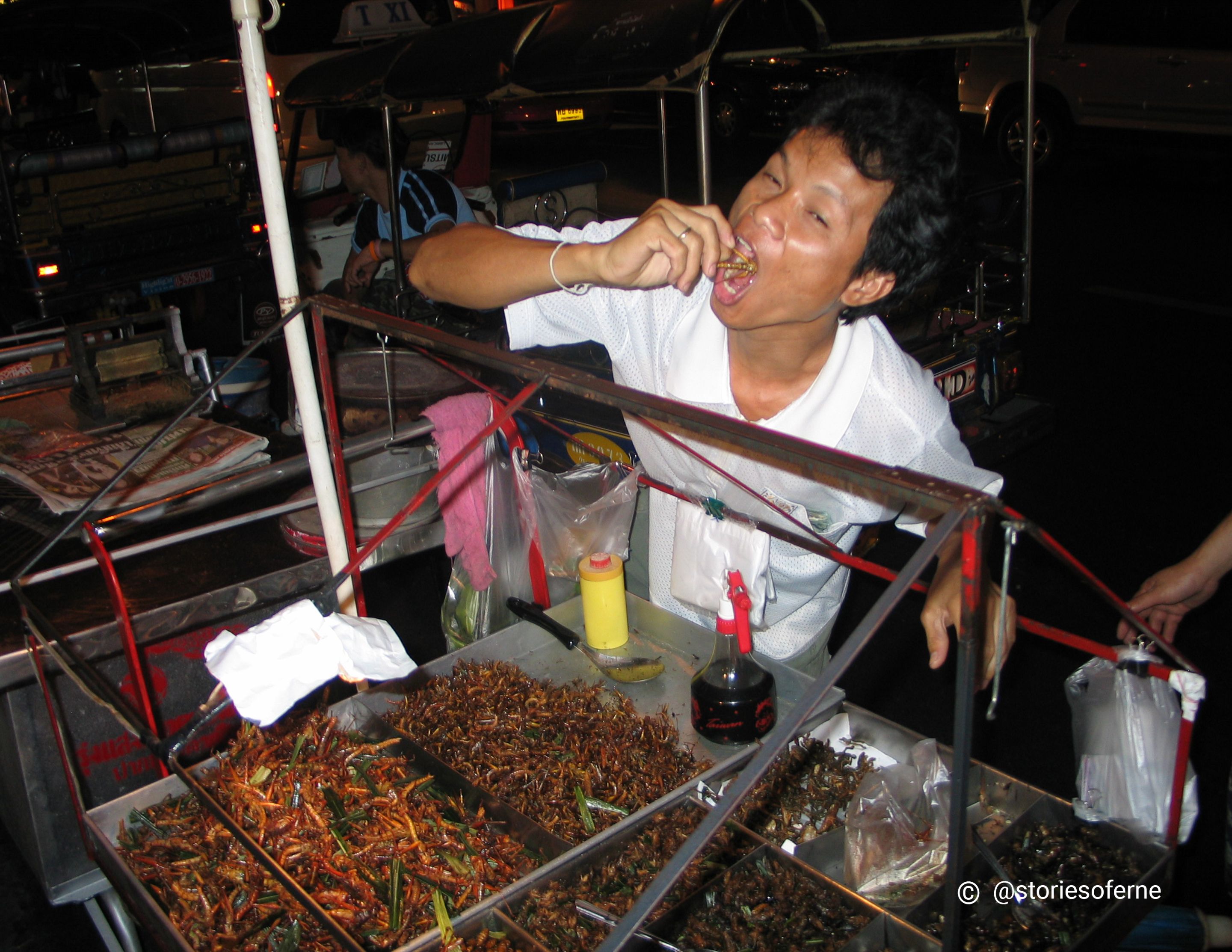 I answered yes, but didn't elaborate on the details further since it was already obvious that she was disgusted. Swiping the iPad's screen to the left, we proceeded to the next photograph right away.
GRAND PALACE. It was a sunny day the following morning, and our hired Tuk Tuk was already stationed at the hotel entrance, waiting to transport us to our next destination. We were heading towards a spectacular complex of buildings situated at the heart of Bangkok.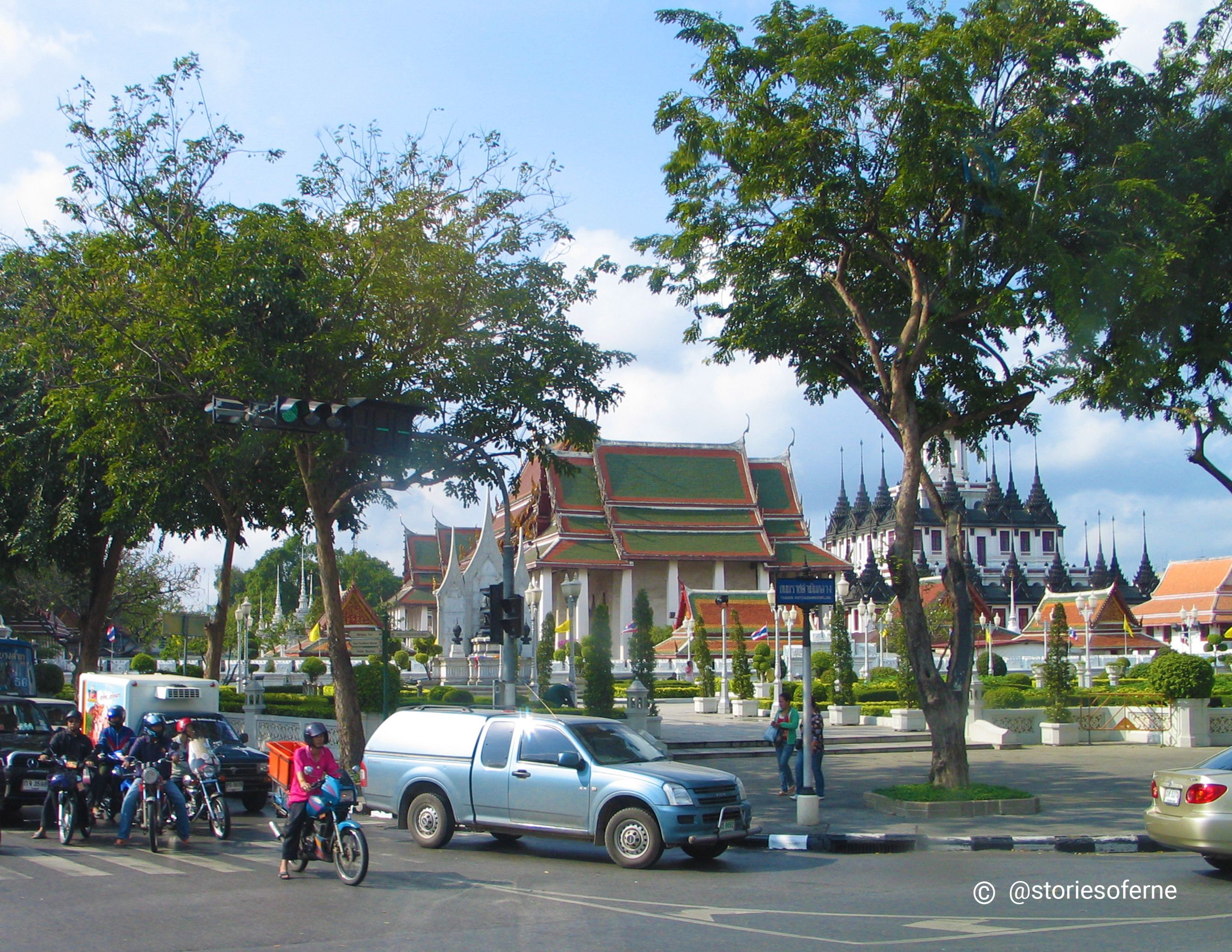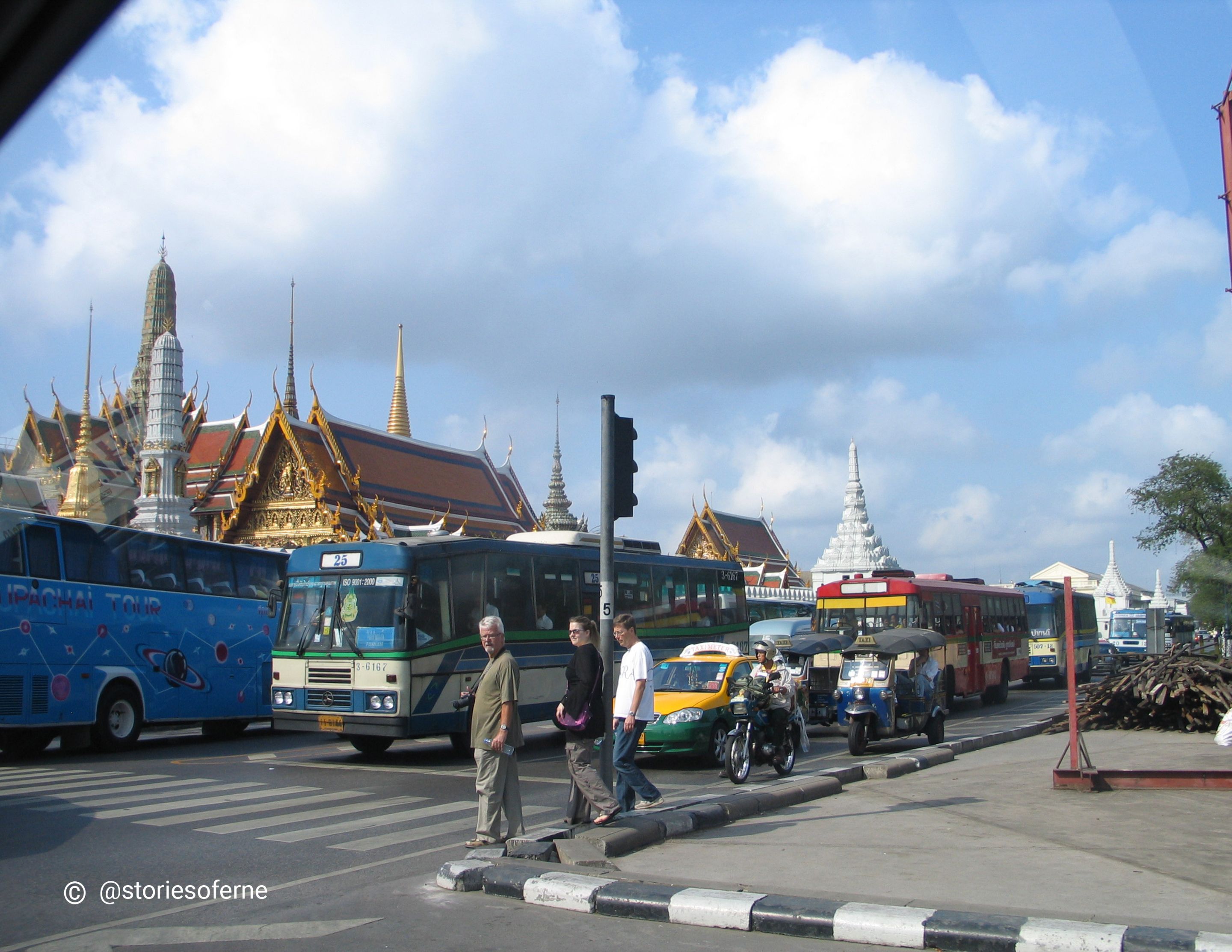 The Grand Palace has been the official home of the Kings of Siam (currently Thailand) since 1782. This royal estate consisted of not just one structure, but rather, was composed of several edifices, temples, lawns, pavilions, courtyards, and halls.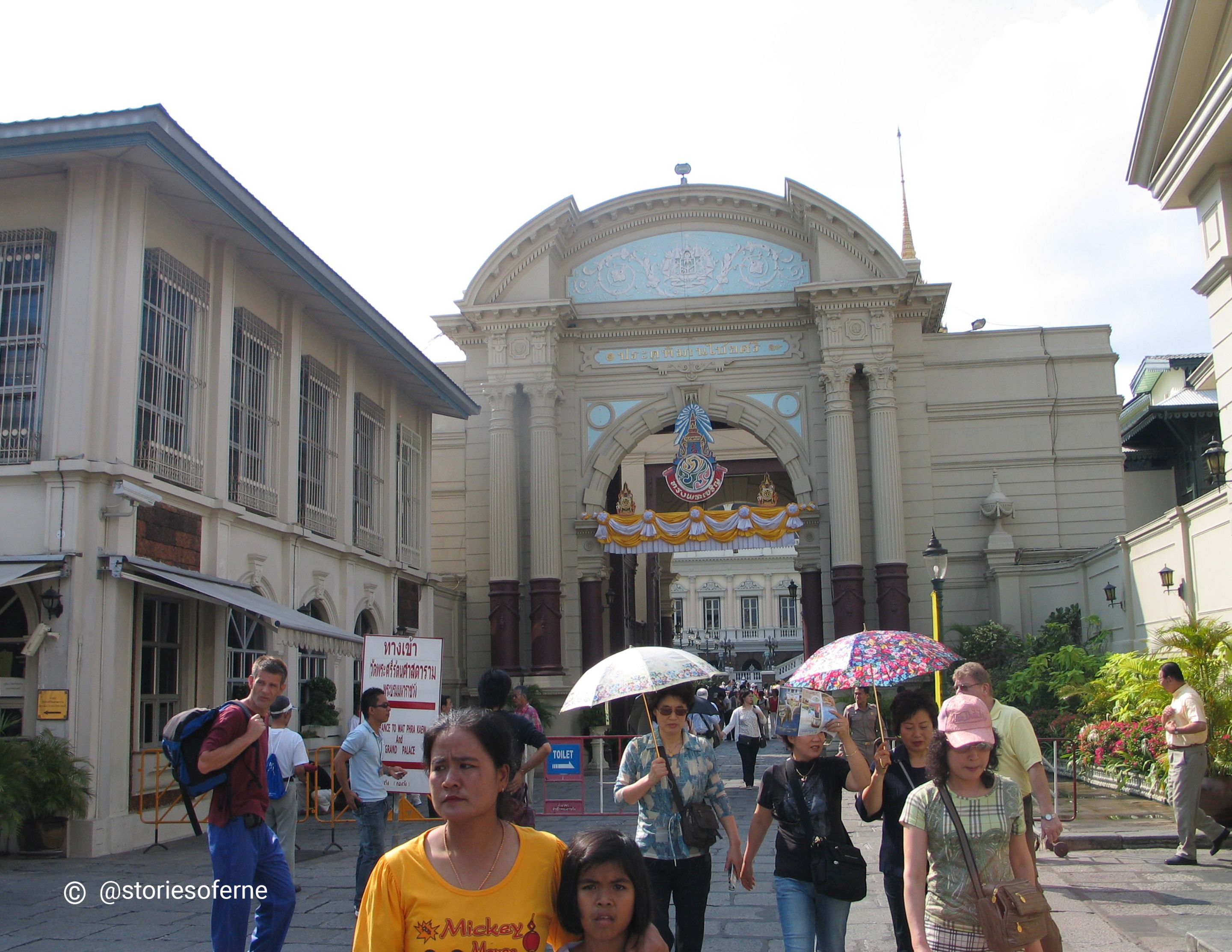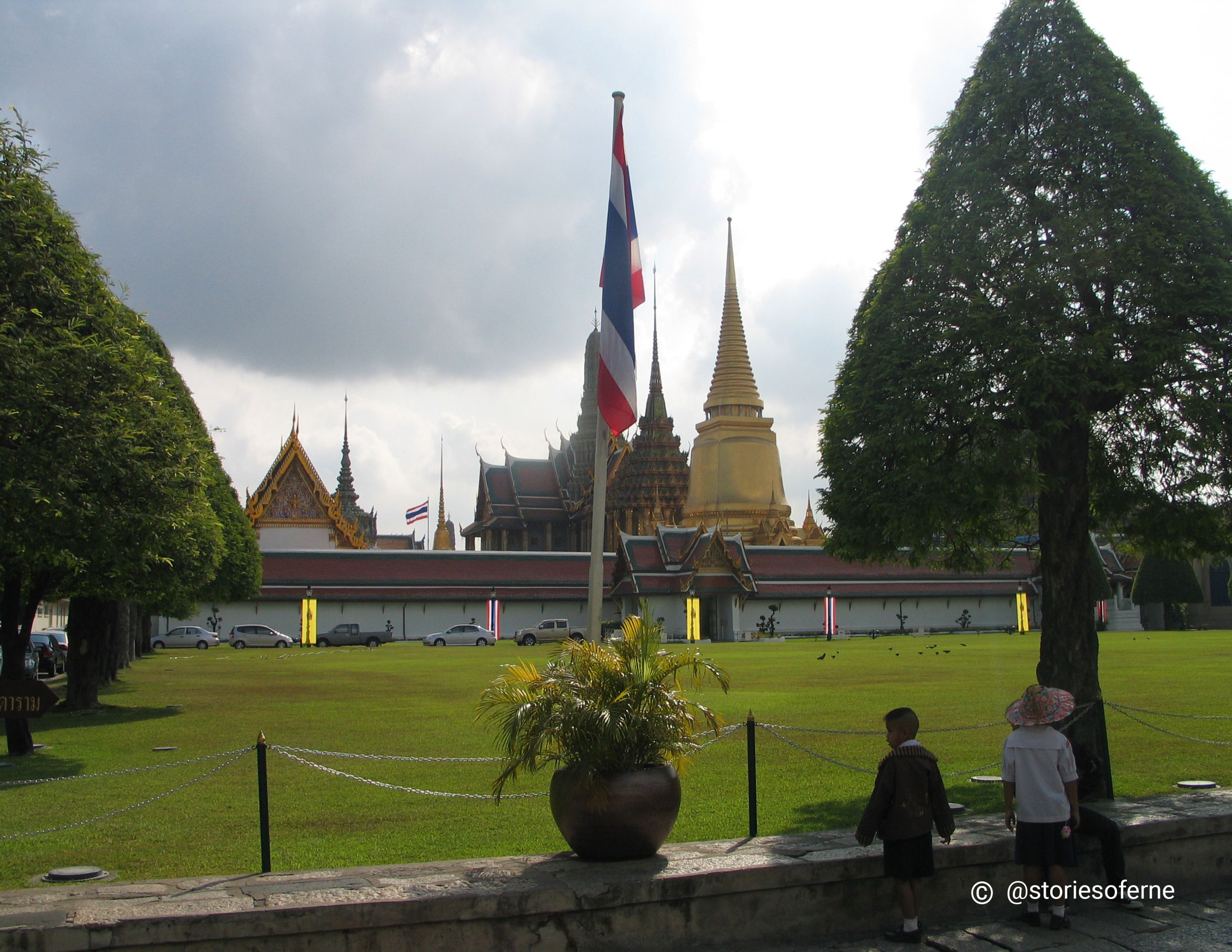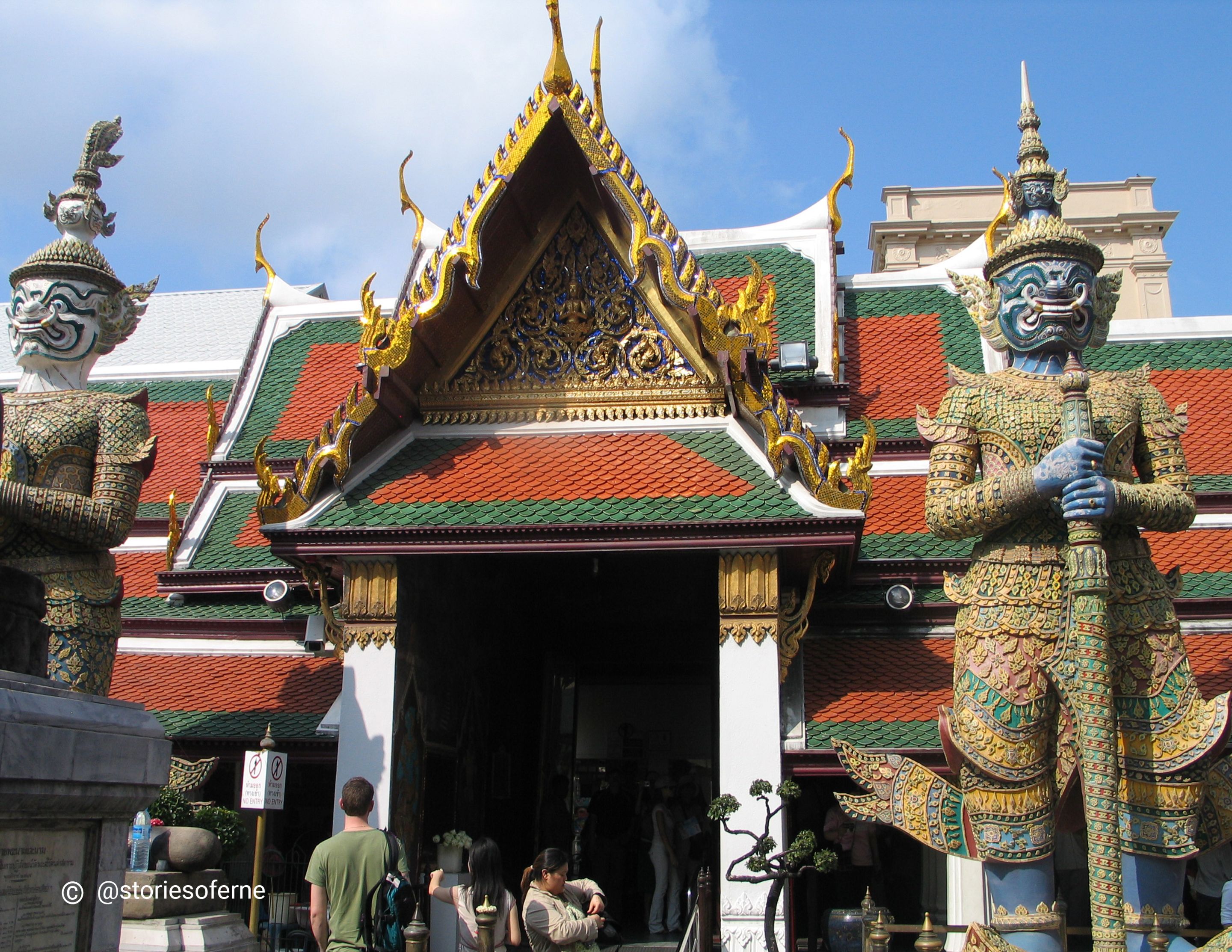 For a newbie like me during that time, you'd most probably get lost in the maze of landmarks within this complex. We were grateful that our friendly tour guides were always there to point us in the correct direction. No worries, the journey inside proceeded smoothly as we were in good hands.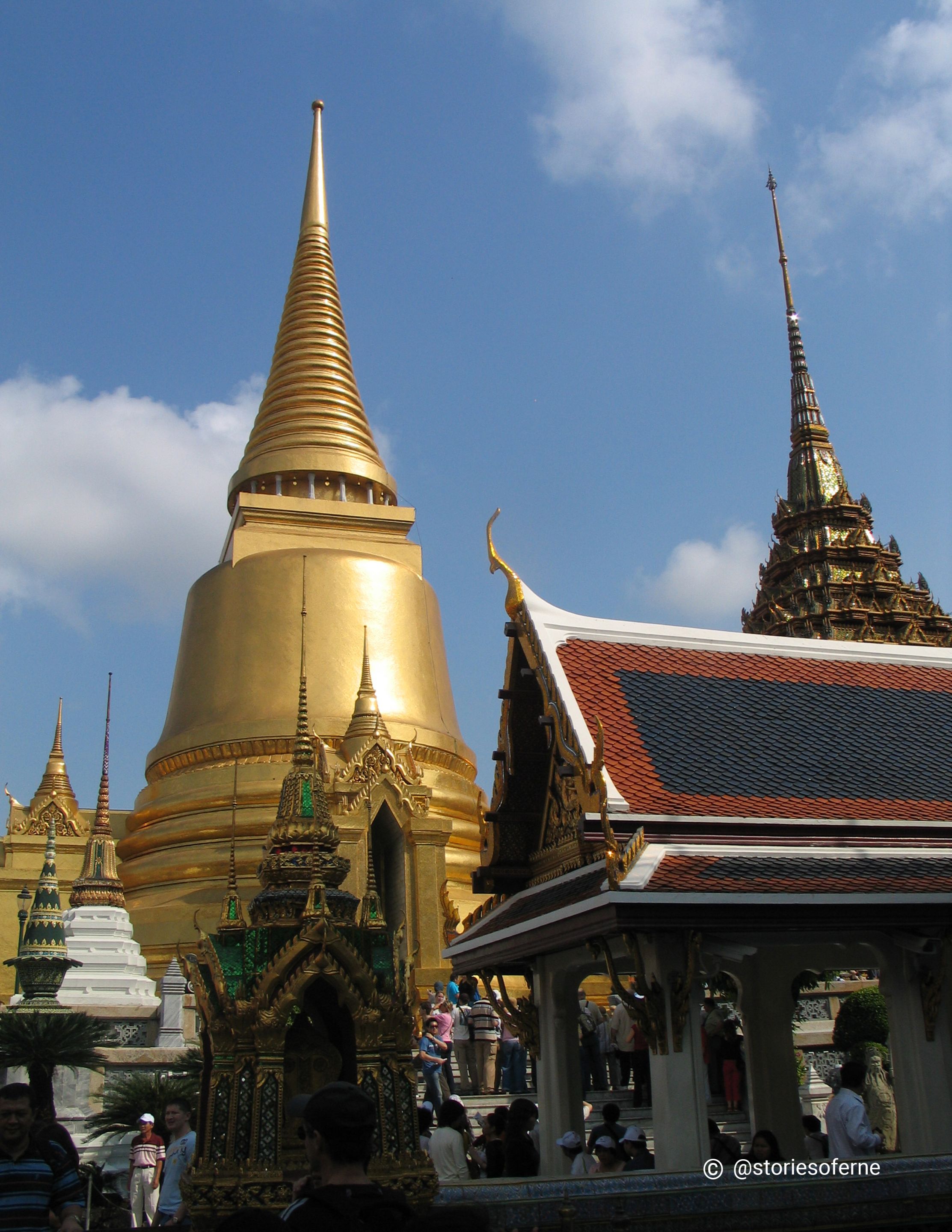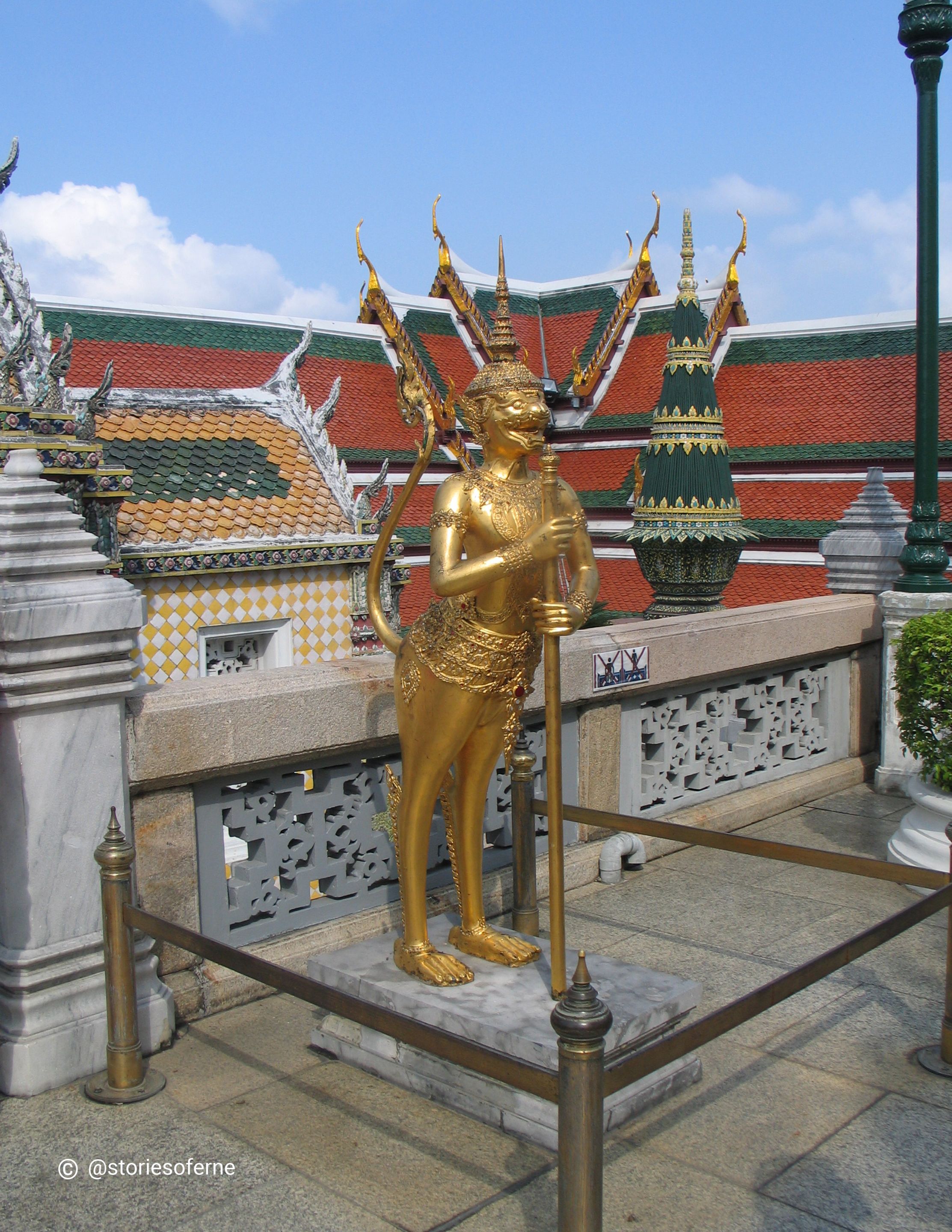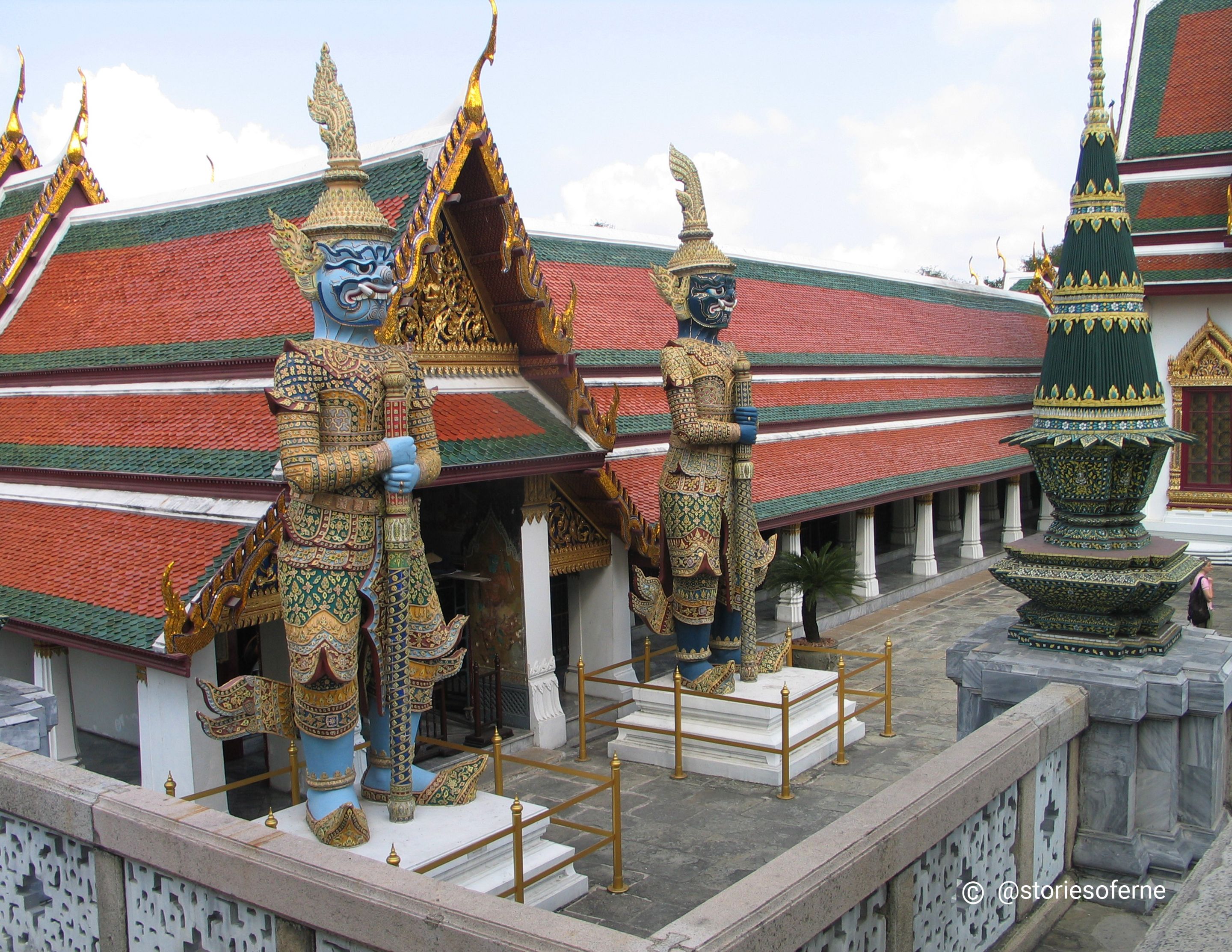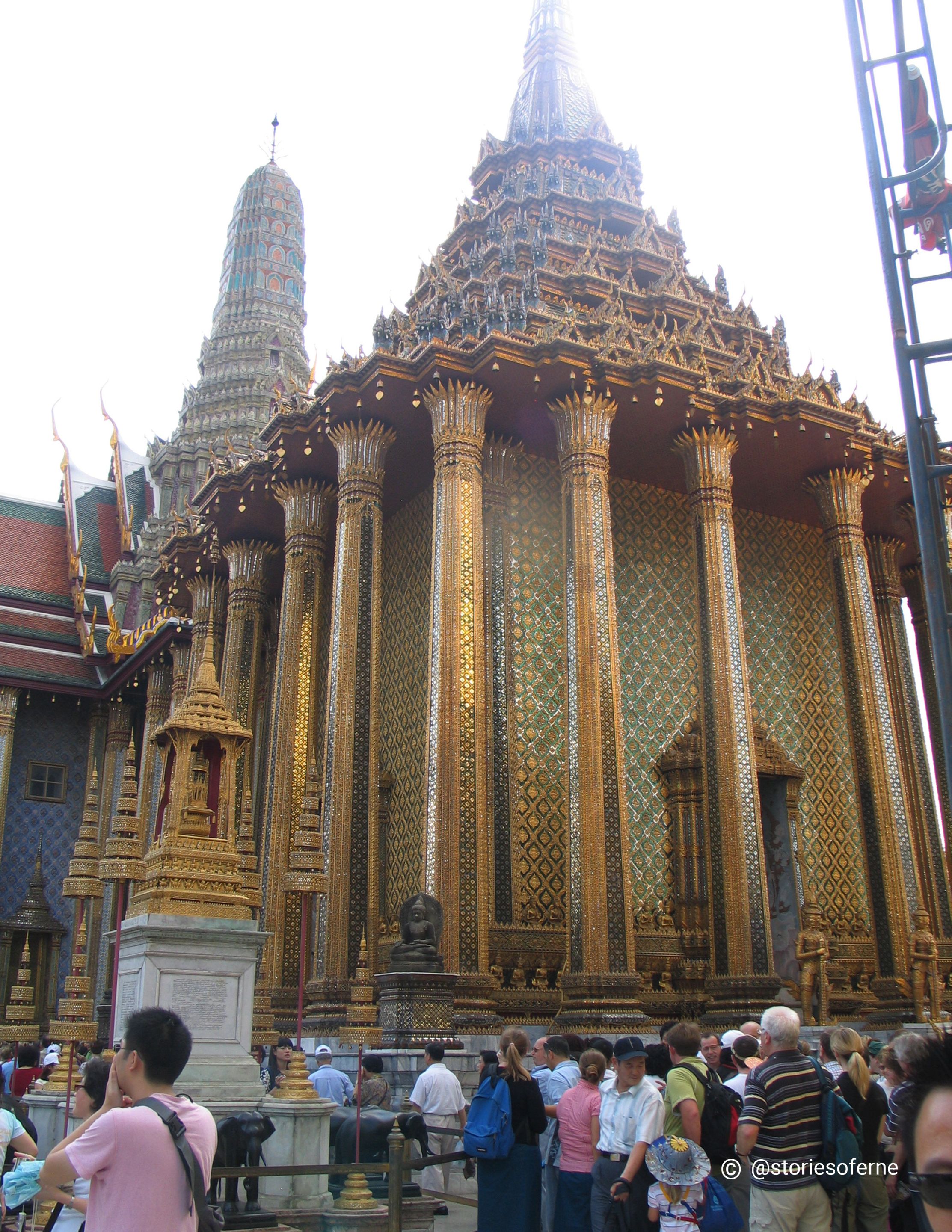 Because I've already traveled to Cambodia, particularly in the city of Siem Reap, the scaled model of Angkor Wat was a familiar sight. With its distinctive towers, I moved closer to investigate more of the intricate presentation.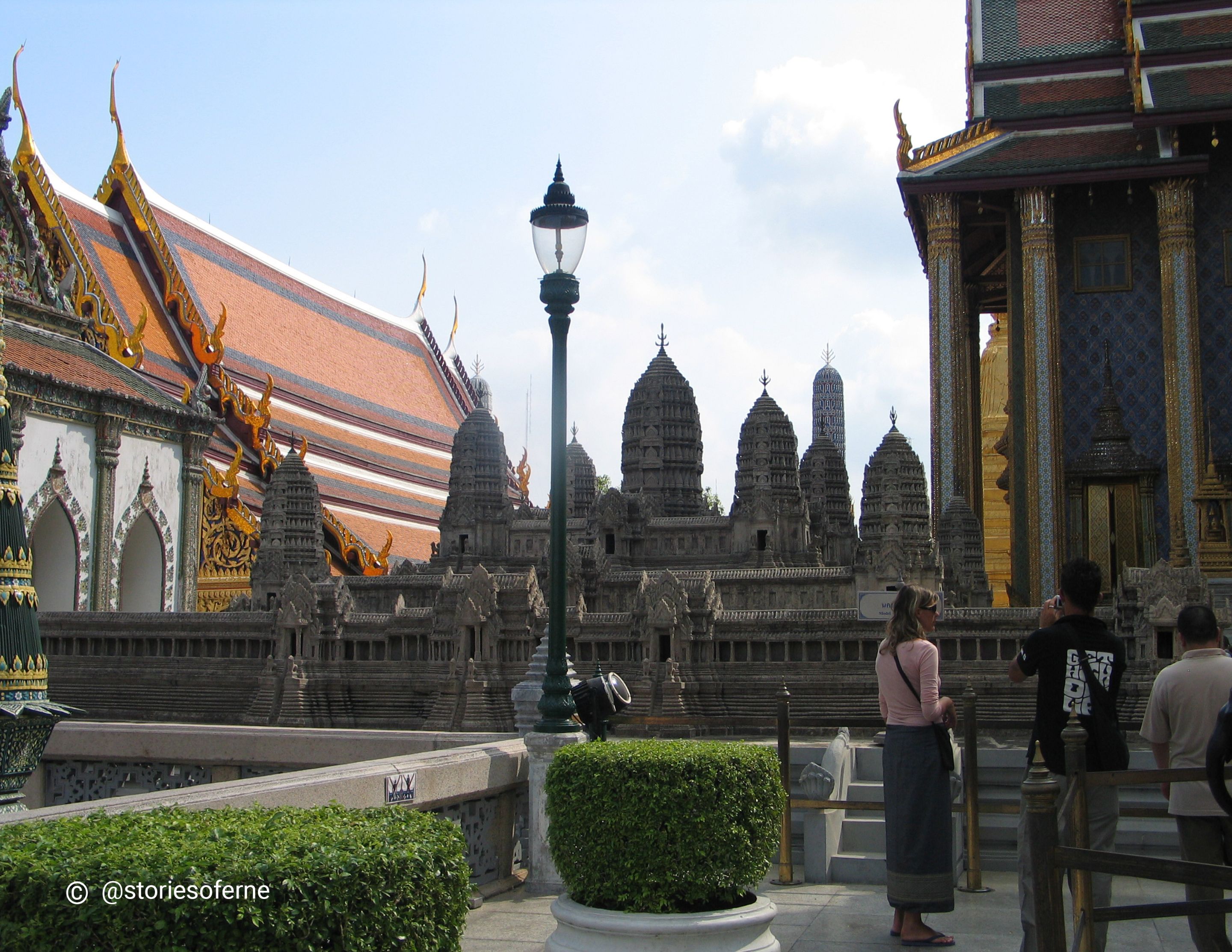 If you're a keen observer, you'll notice that the architecture of the Grand Palace is characterized by the Eclectic Style. Why? The presence of asymmetrically built environments was due to their organic progress consisting of additions, renovations, and modifications contributed by successive Thai monarchs ruling over a span of 200 years. Isn't that interesting?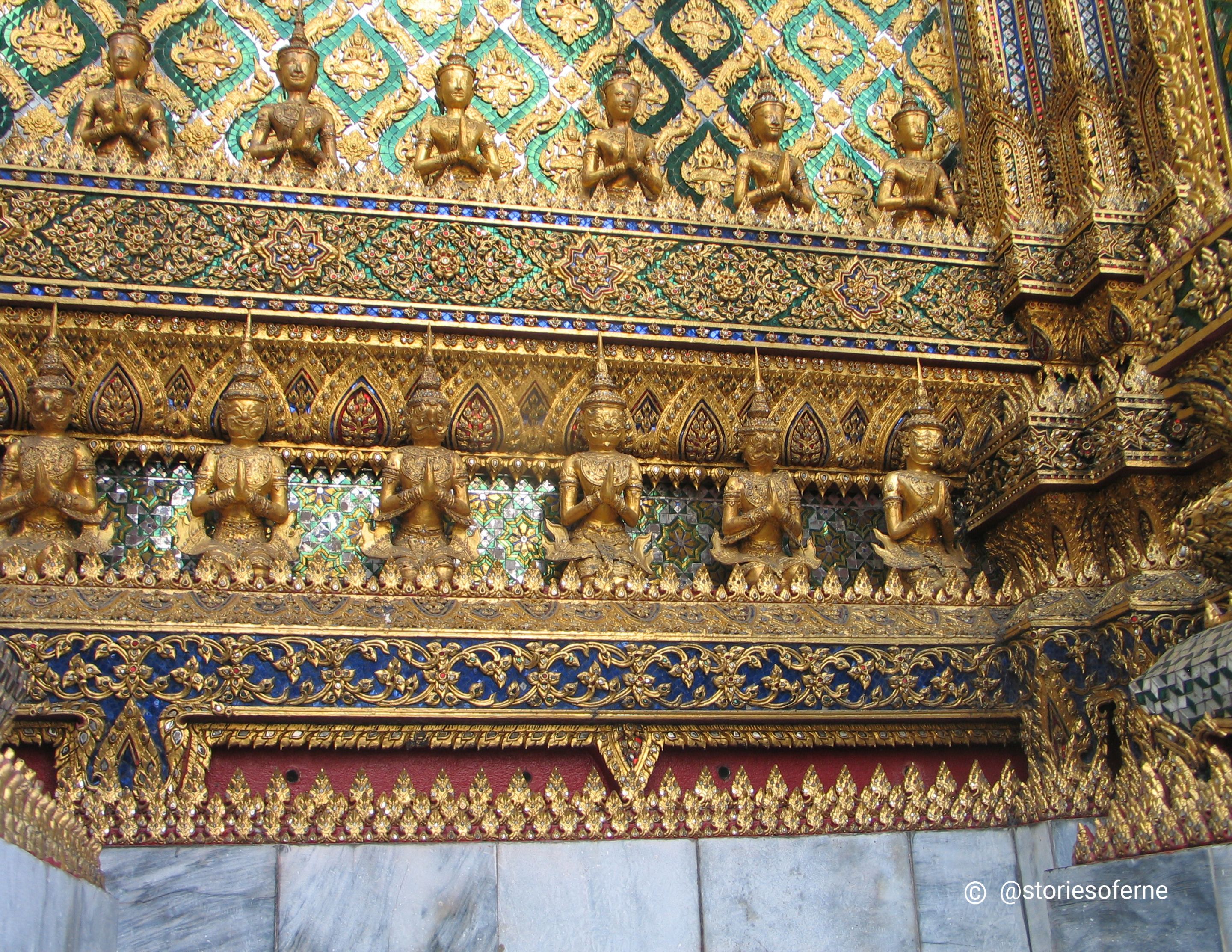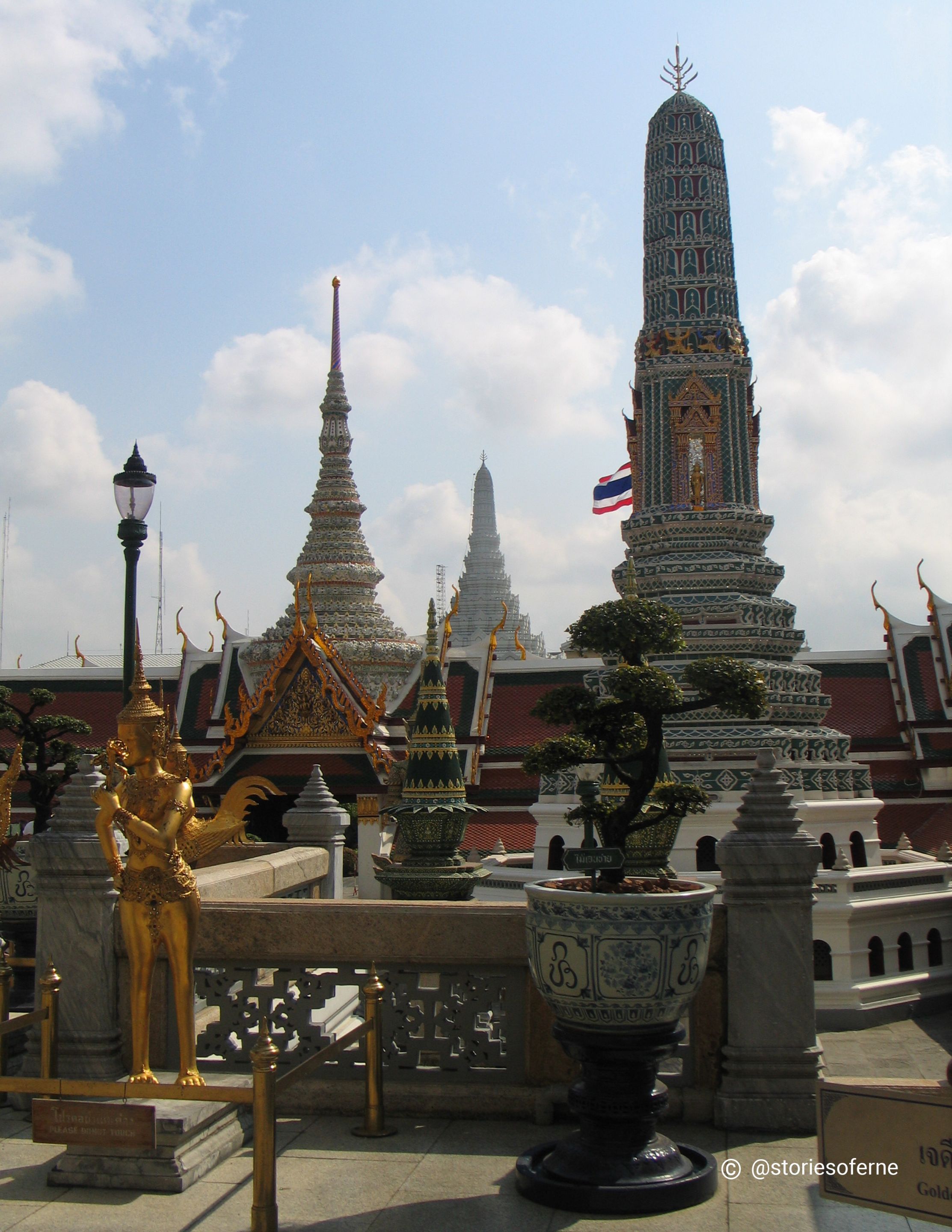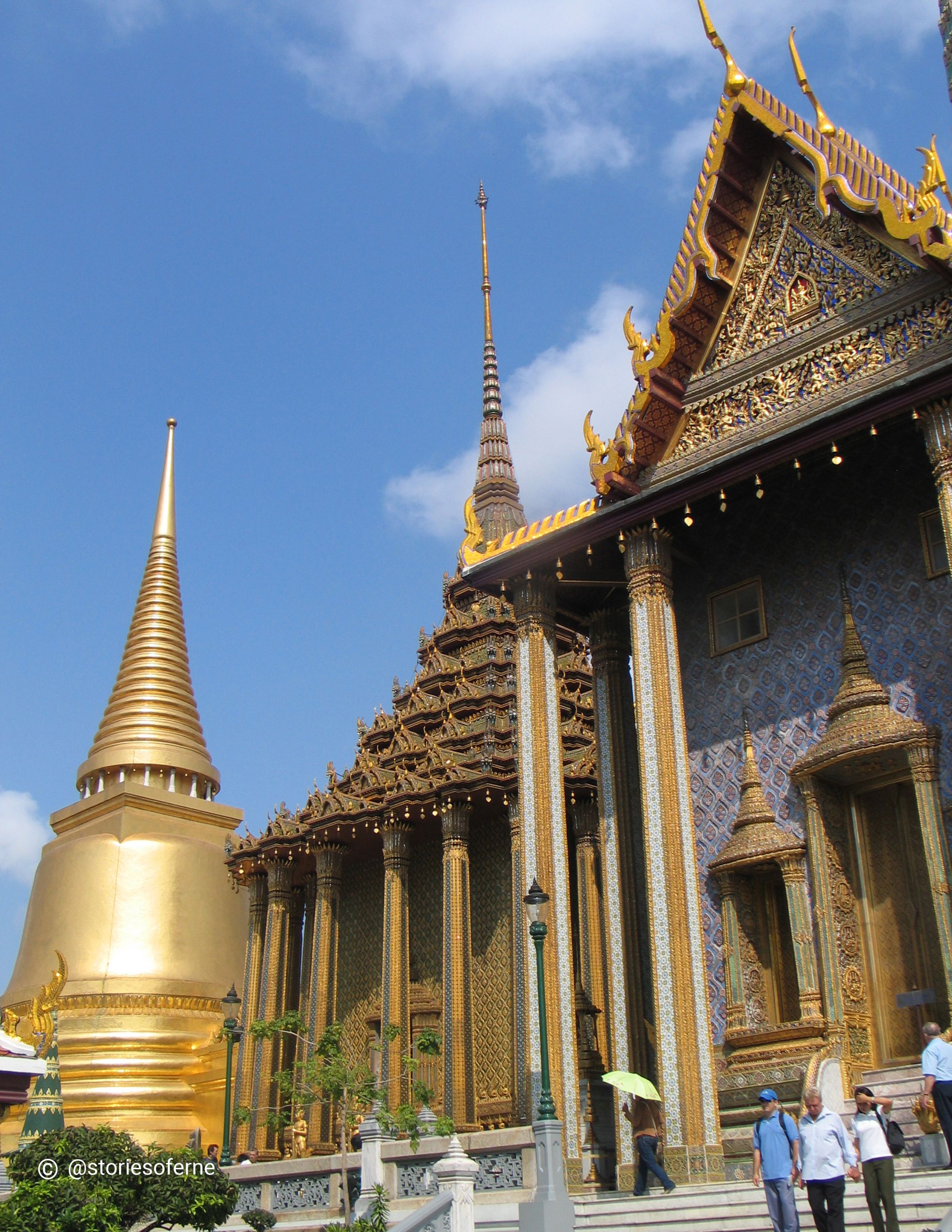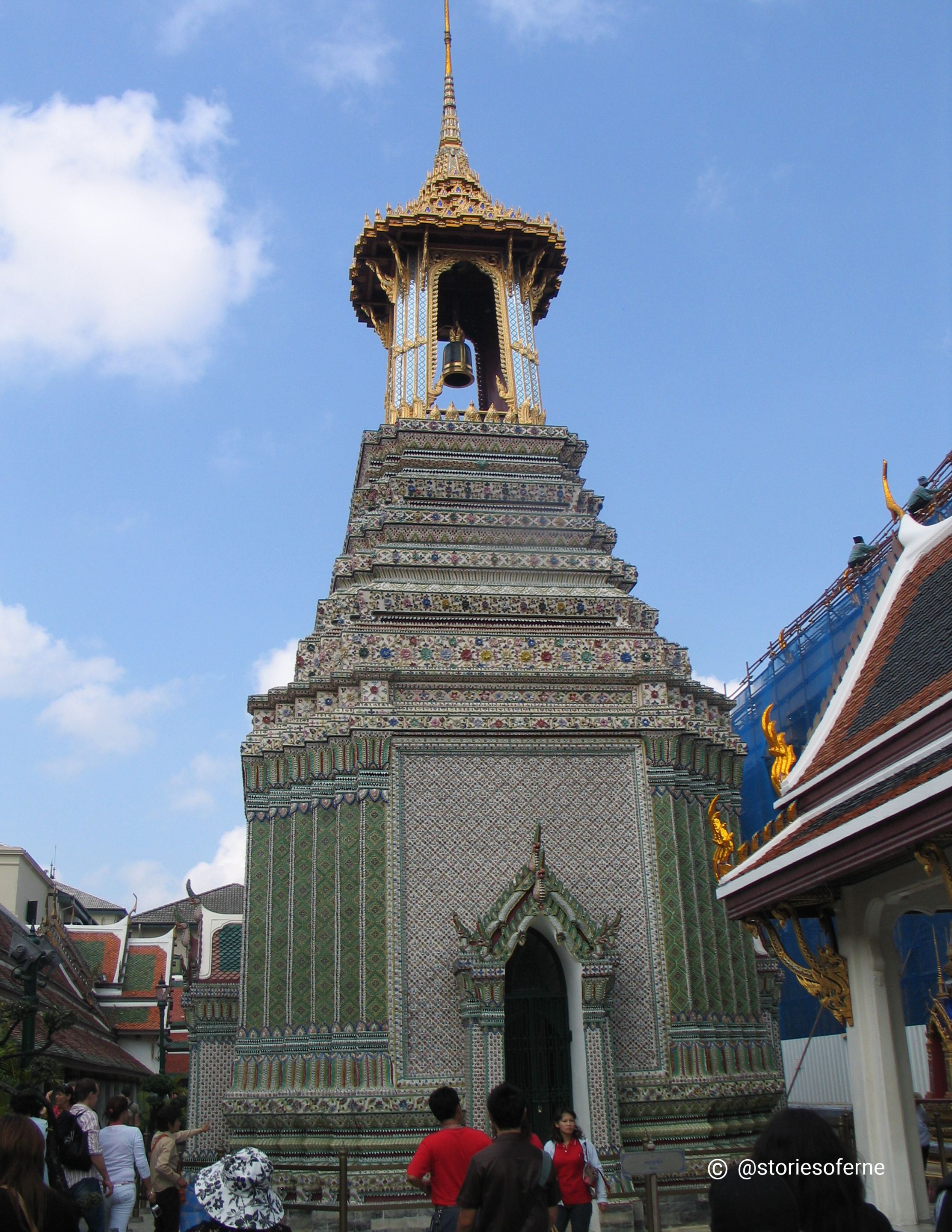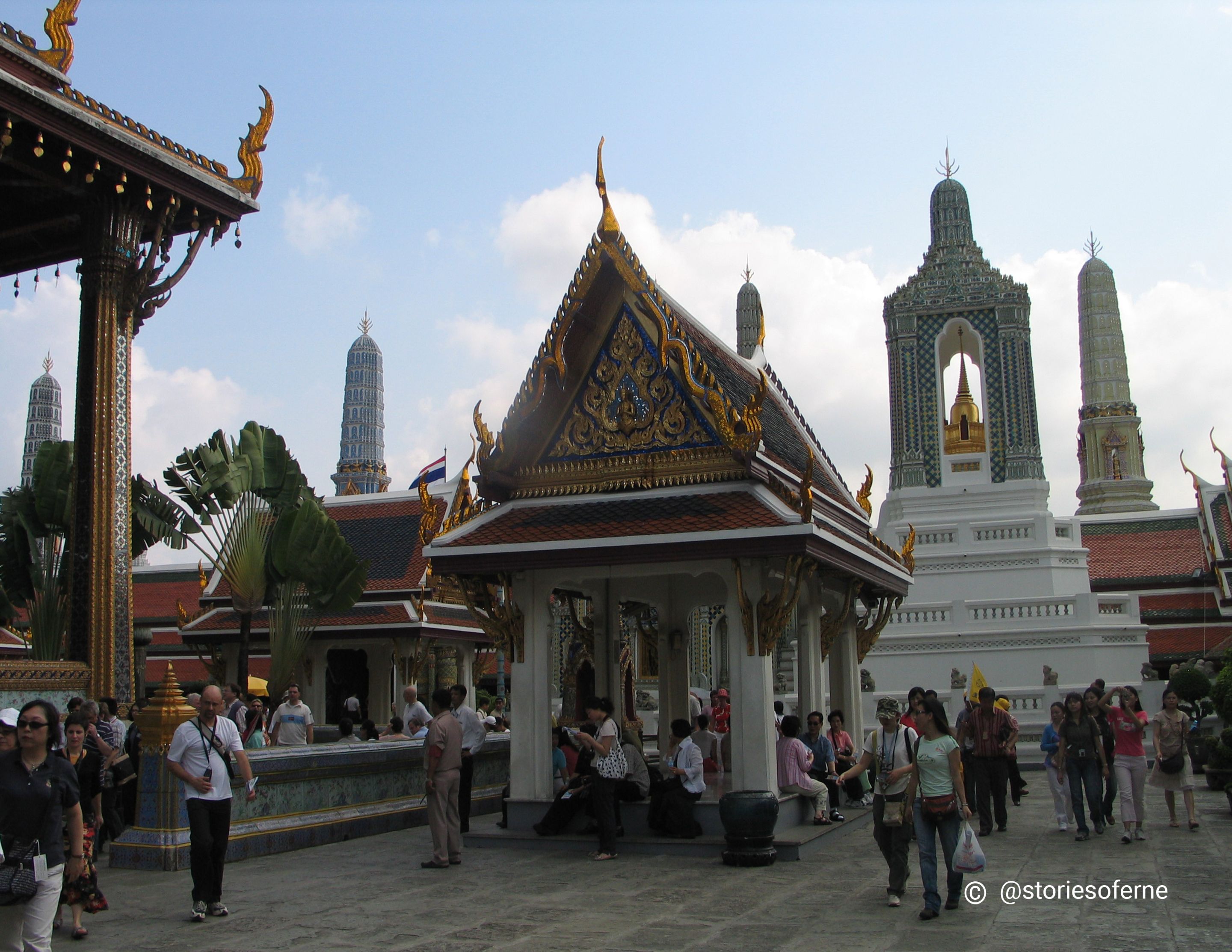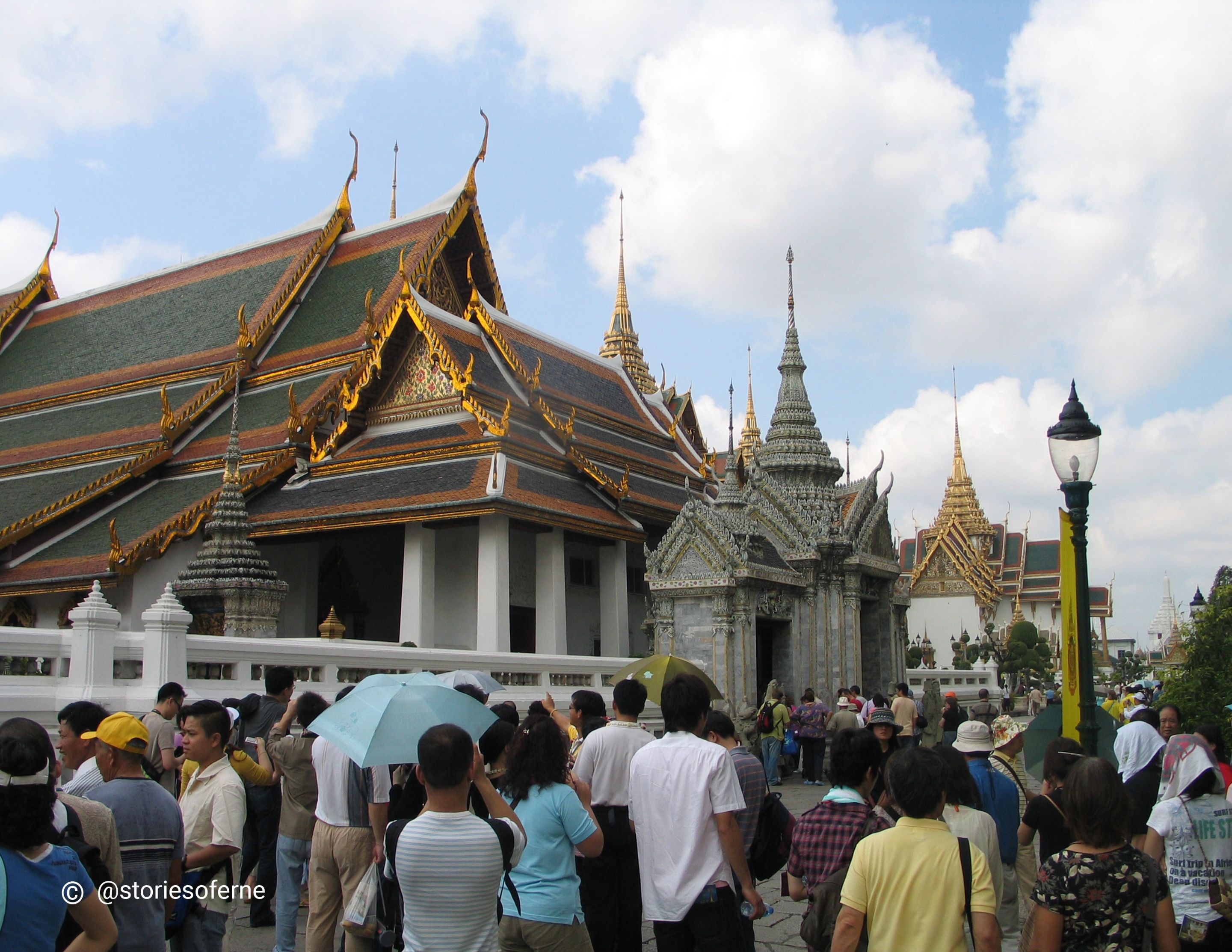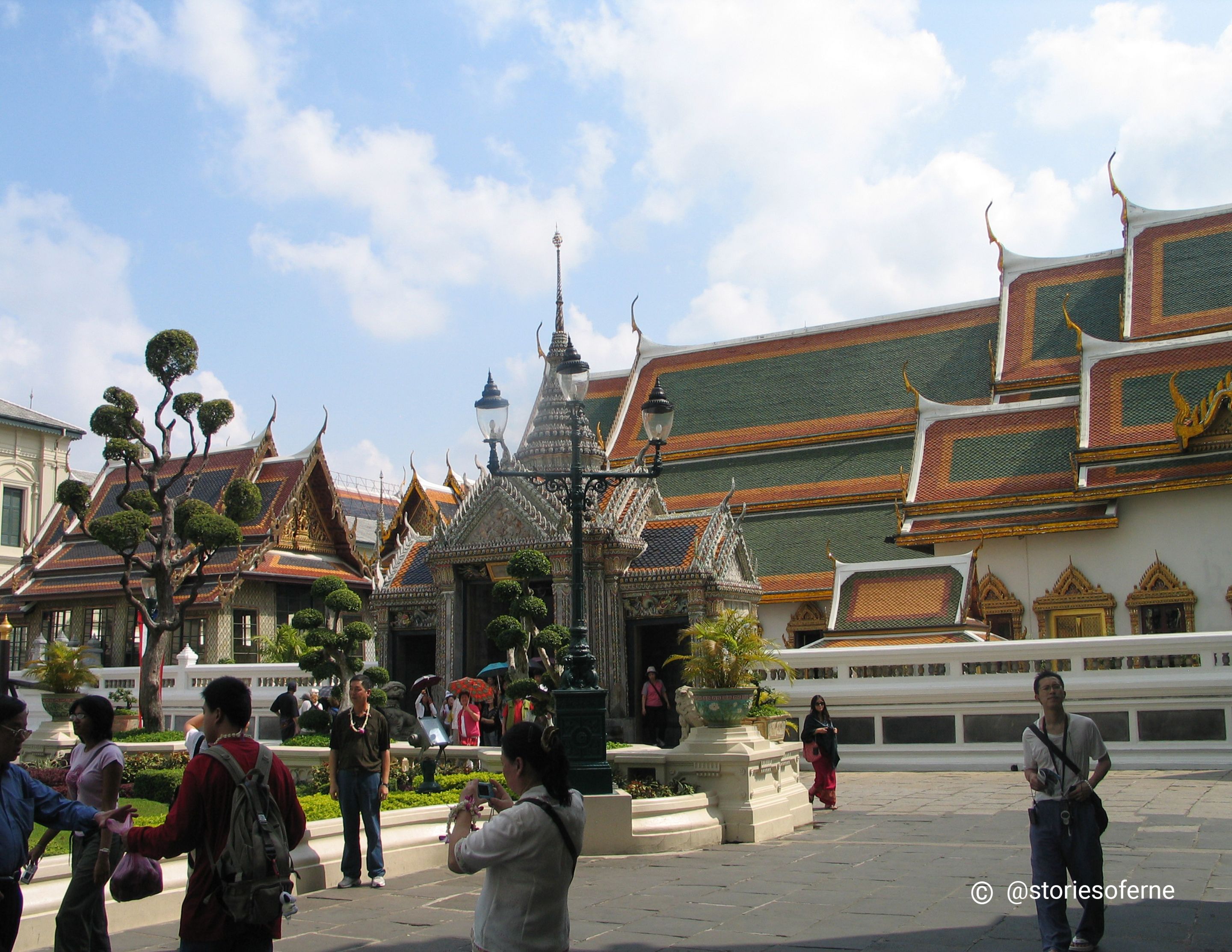 This highly esteemed residence of royalty is partially opened to locals, tourists, and foreign visitors who wish to learn more and be amazed by this heritage site. Though it's accessible for the public, the royal offices are still fully operational in their working duties.
DINNER RIVER CRUISE. One of the most romantic experiences I've tried was sailing along the Chao Phraya River at night while enjoying a scrumptious meal. After spending the whole day at the Grand Palace, this was a promising way to relax, unwind, and recharge for the evening.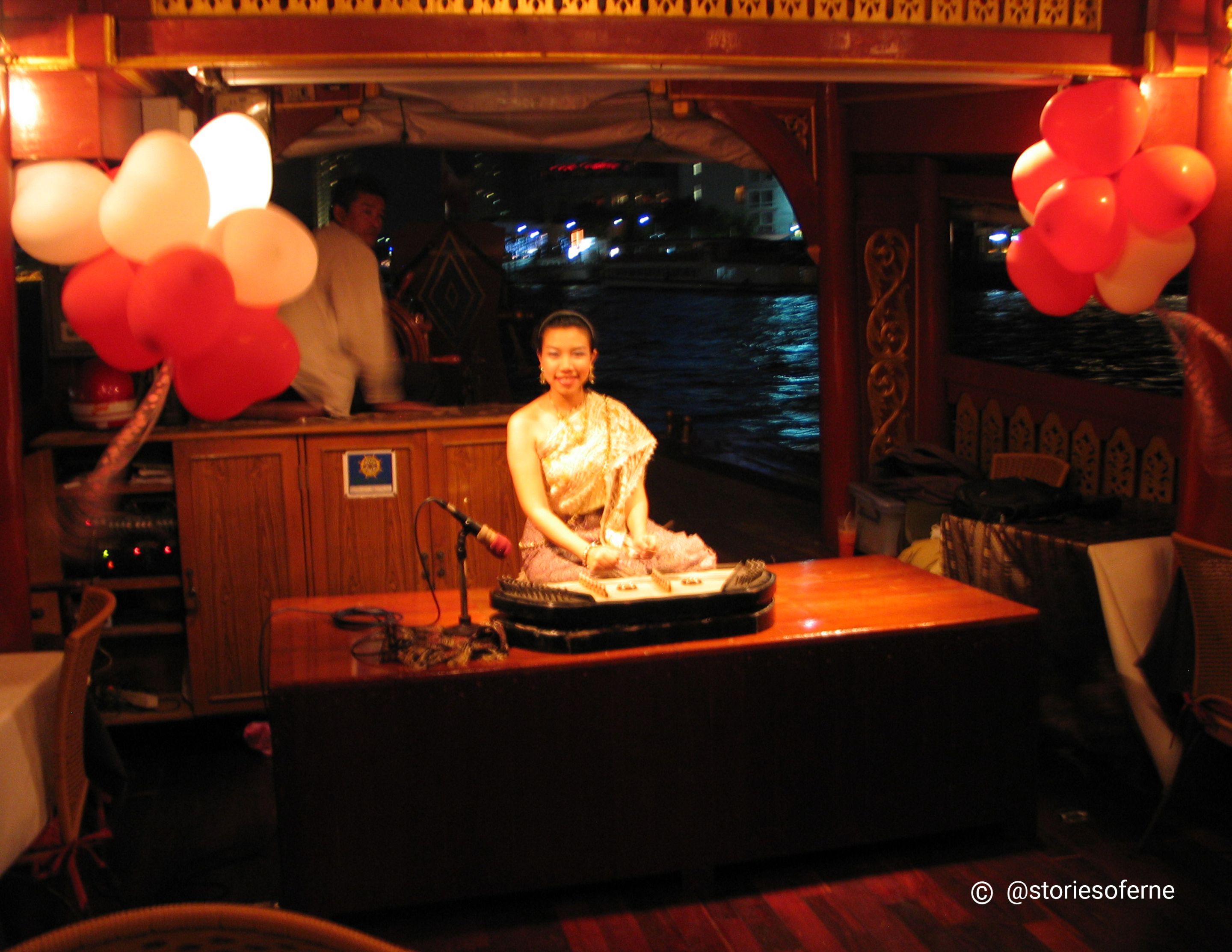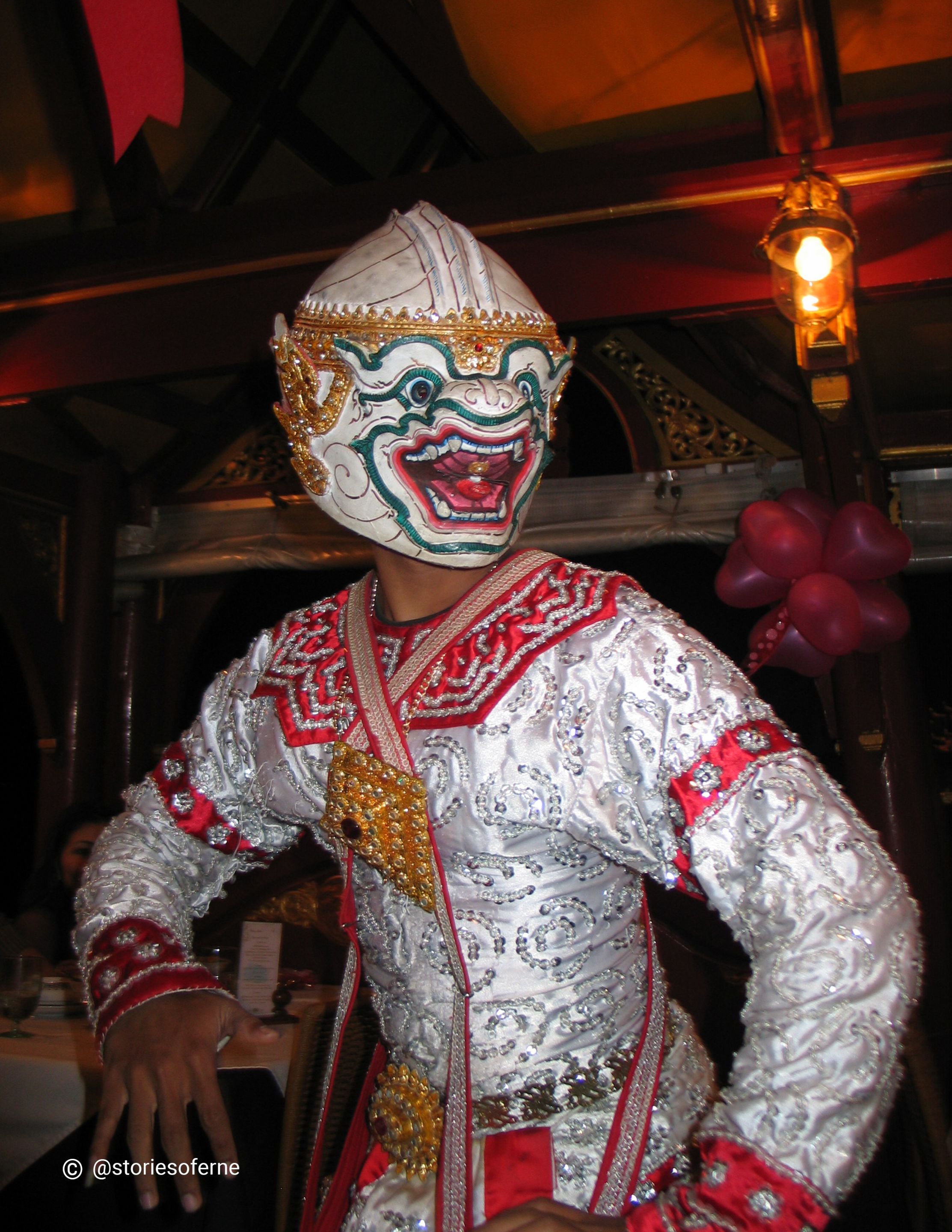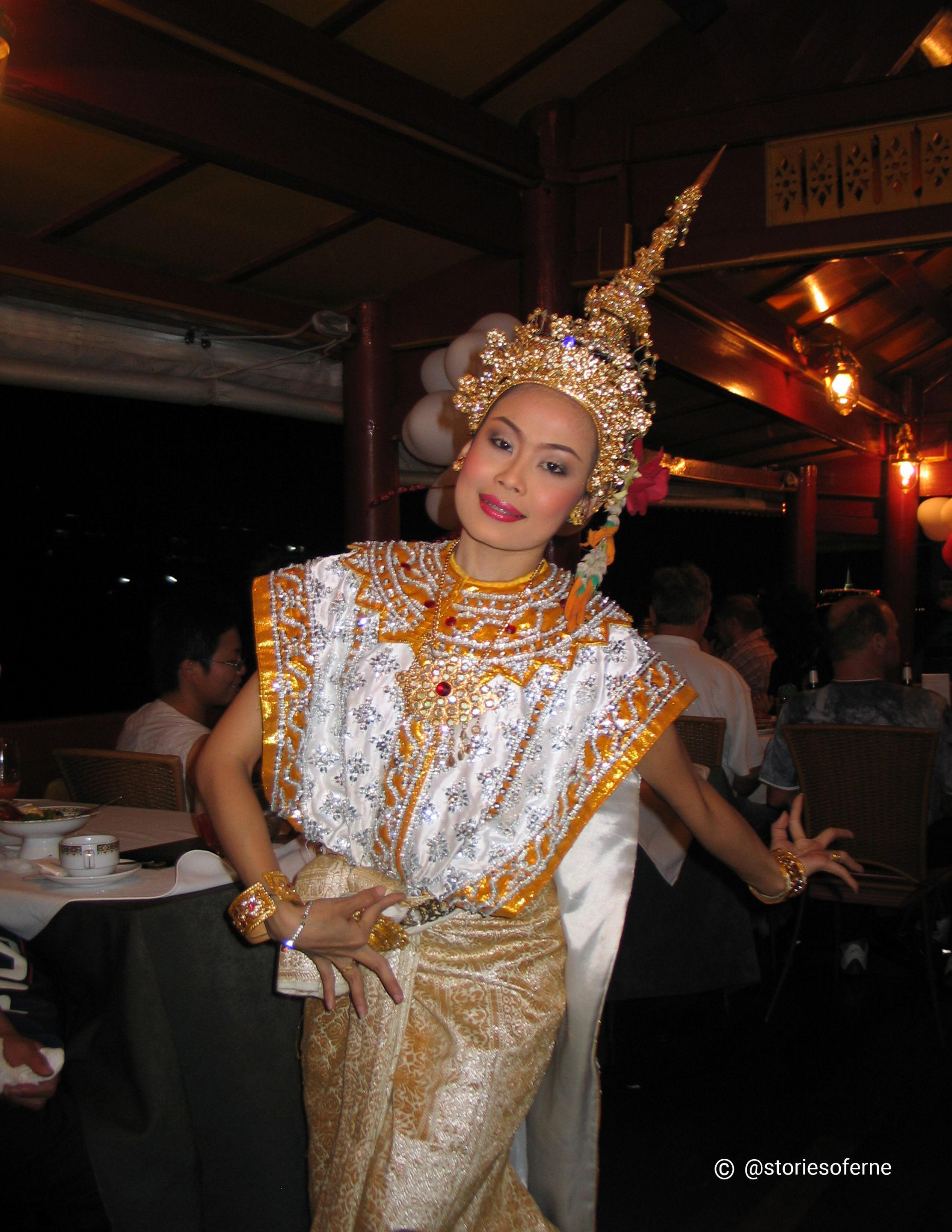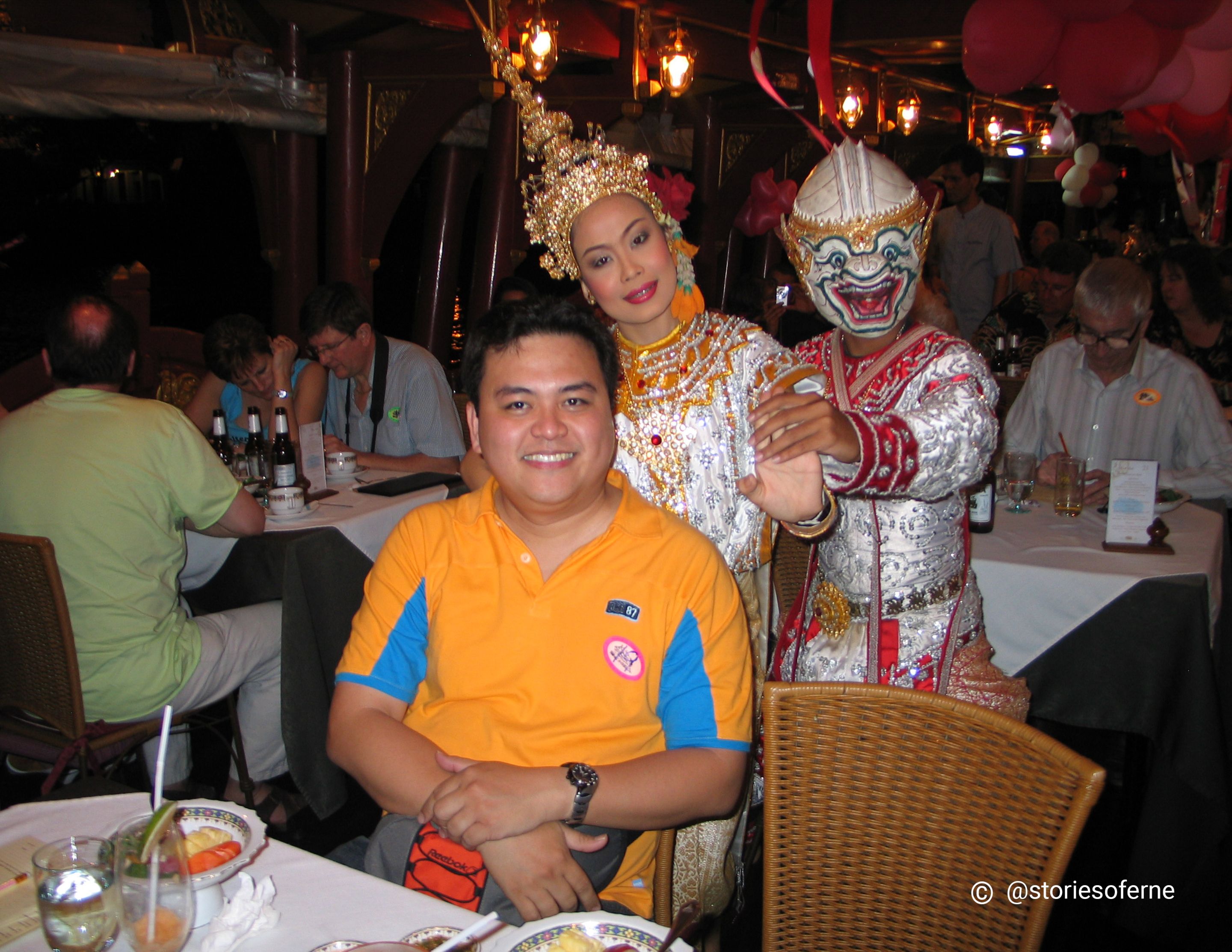 While inside the enormous boat, we were serenaded by their local musicians, entertained by their cultural shows, and served authentic Thai dishes. No wonder I fell in love with their traditions.
FLOATING MARKETS. The next day felt like landing in an alien world the moment I reached one of Bangkok's floating markets. Other countries have their own versions of floating markets, but nothing compares to Thailand's originality, creativity, and local flavor. It's for these basic reasons that these special tourist attractions have become global celebrities.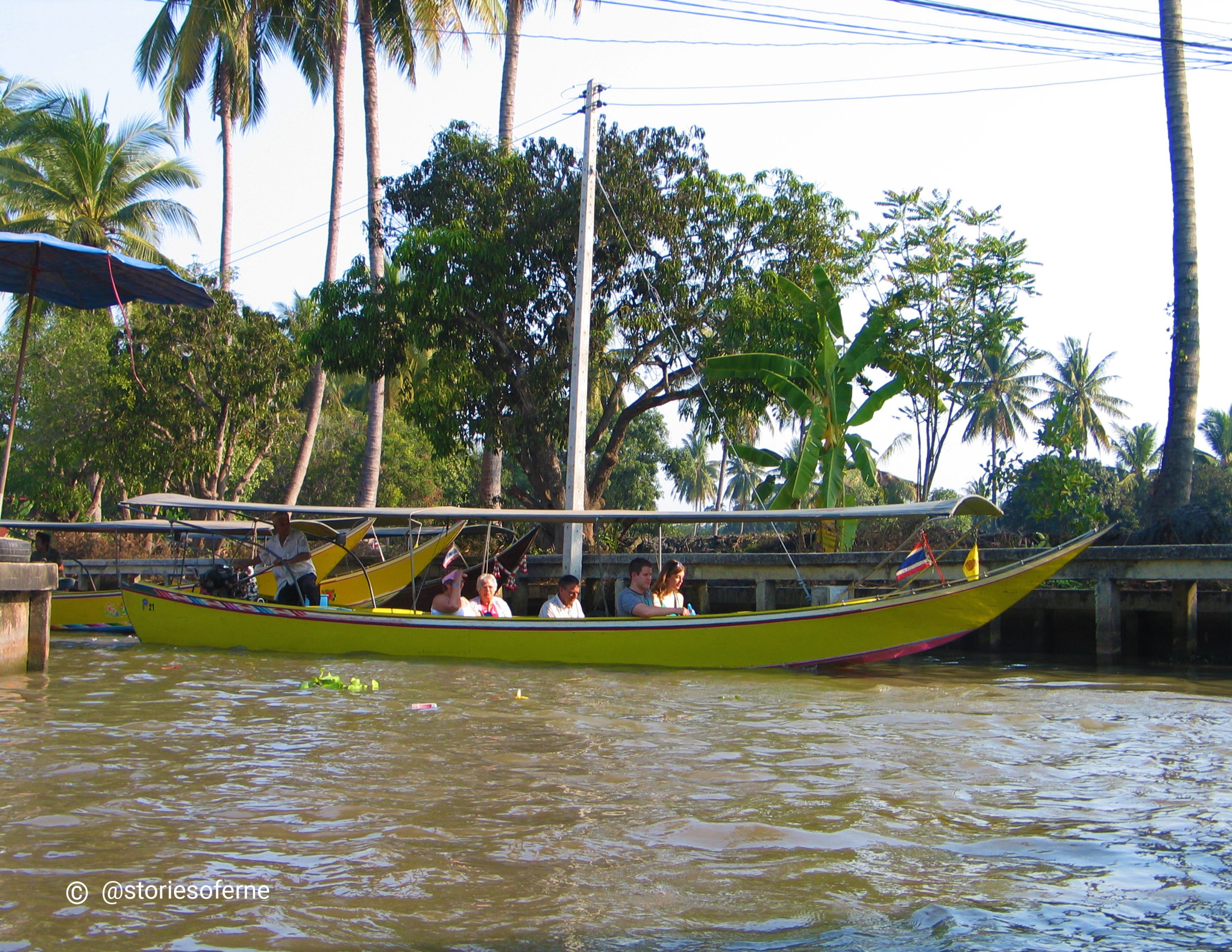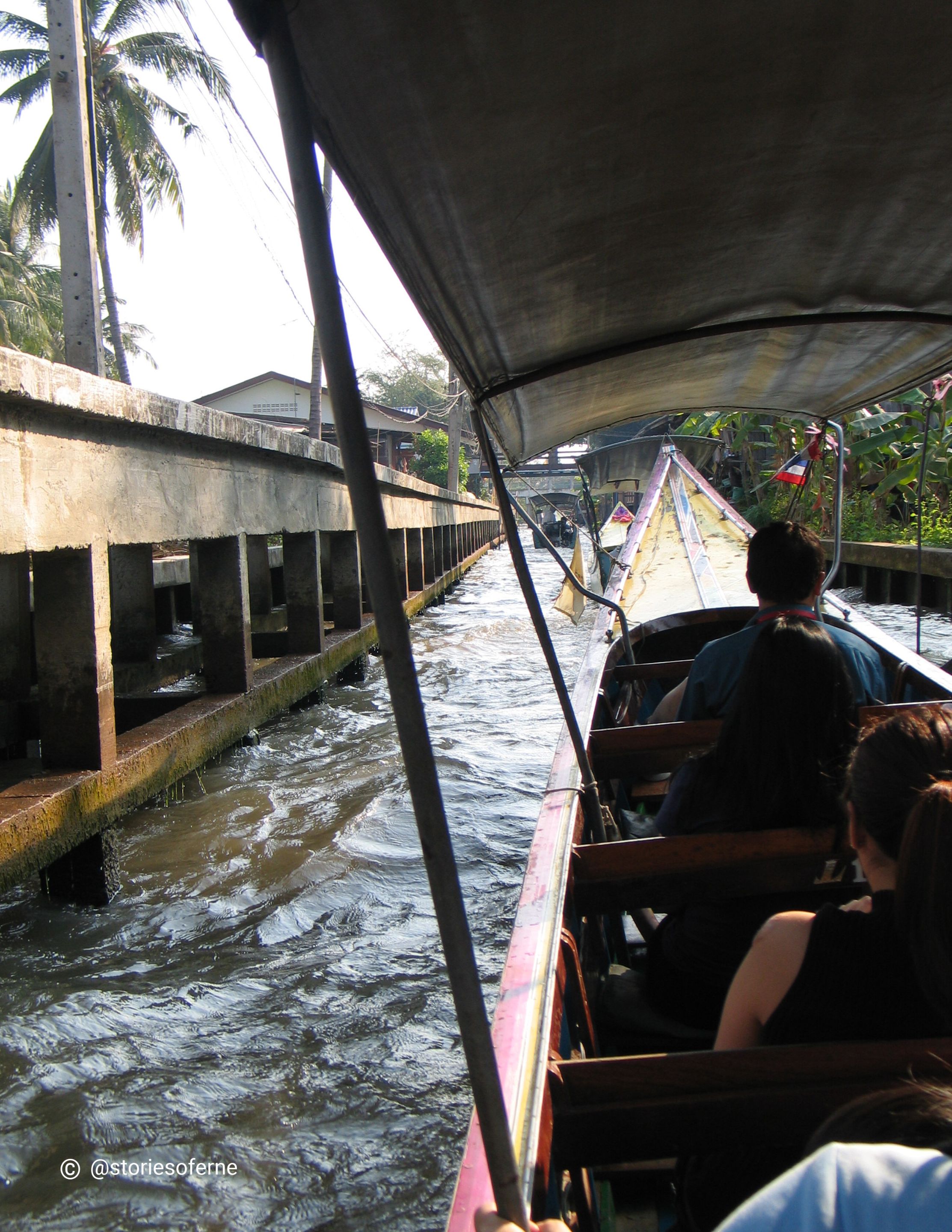 Even the boat ride going to the destination was a thrilling adventure in itself! We had to board these extremely slim canoes and pass through narrow canals with roaring waves of muddy water to reach this exotic trading place. Because of the murky aquatic habitat, I firmly gripped the boat's edges as we sped through the waterways, hoping that no weird organism or wild animal would suddenly creep towards us and reveal its face on the surface. Indeed, my wild imaginations were killing me!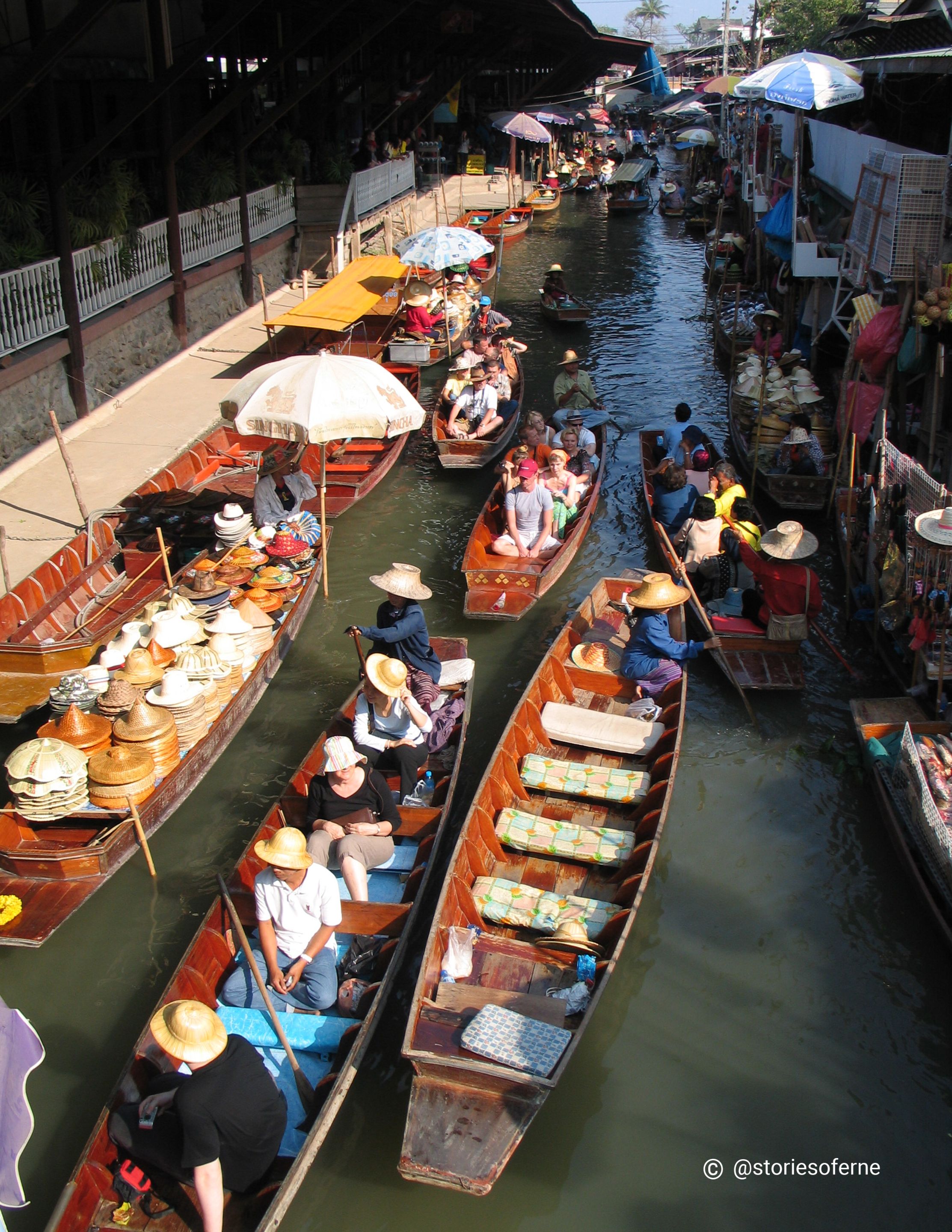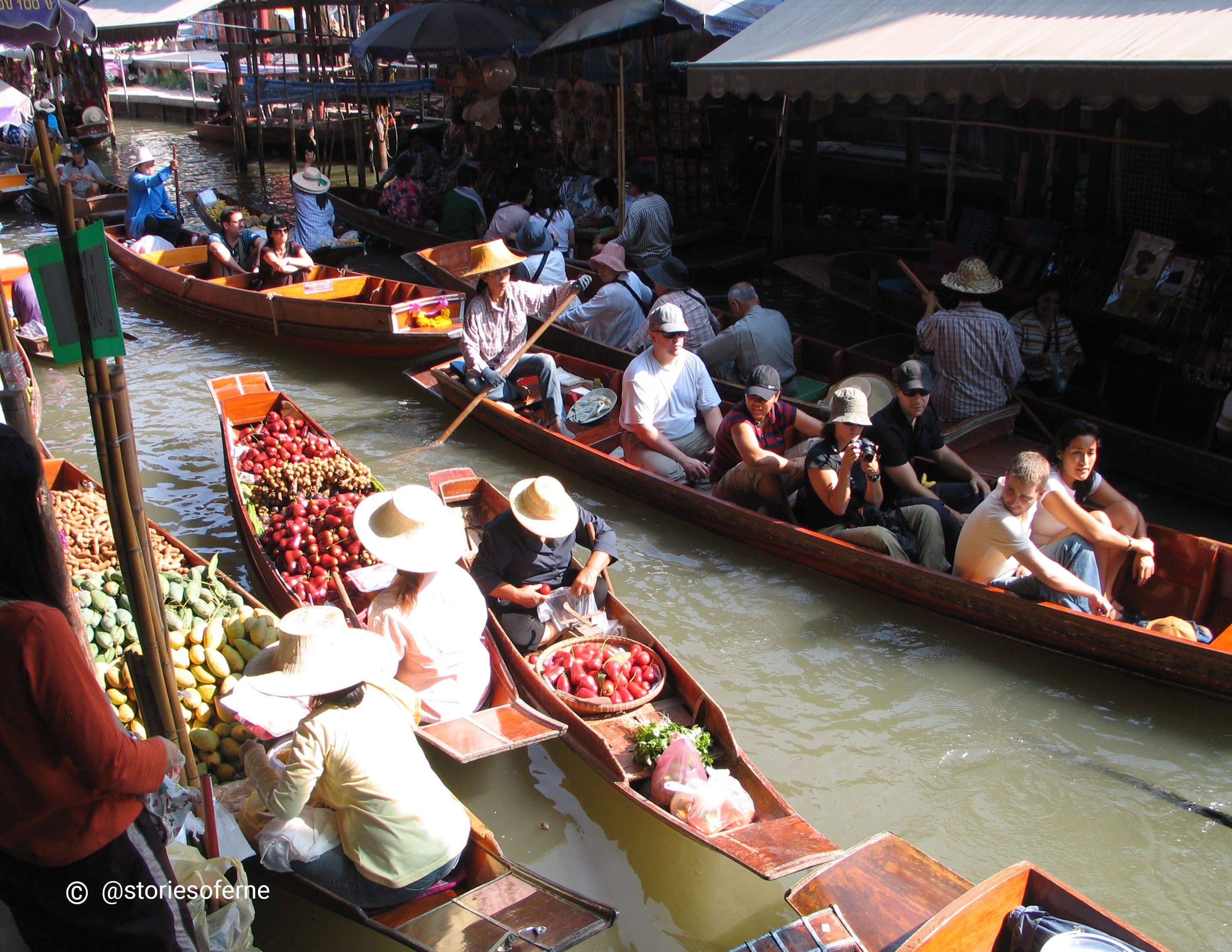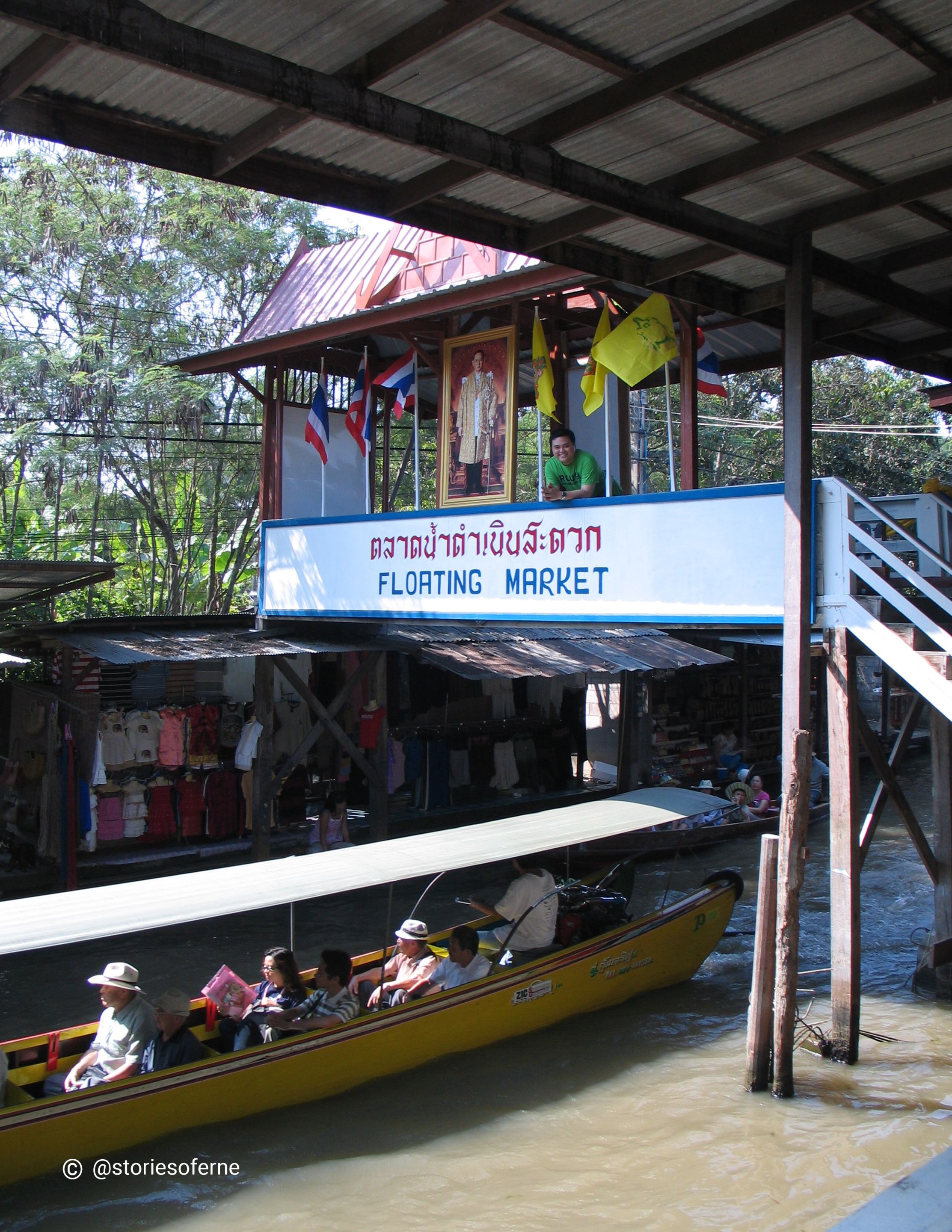 Anyway, as soon as we arrived among the crammed streams of boats filled with vendors selling their abundance of food, wares, and goods, our fears were laid to rest. Time to shop, rest, and eat again. We had our lunch there before proceeding to our next exciting destination.
COBRA SHOW. Perhaps I was joking when I said that our next stop was exciting. It was definitely not! In fact, it was more frightening than something that would make you eager. See, we were going to experience snakes - lots of them! Fortunately, these poisonous creatures were caged well and tamed properly by their professional handlers. Never have I seen cobras swaying their long bodies so elegantly with the background music.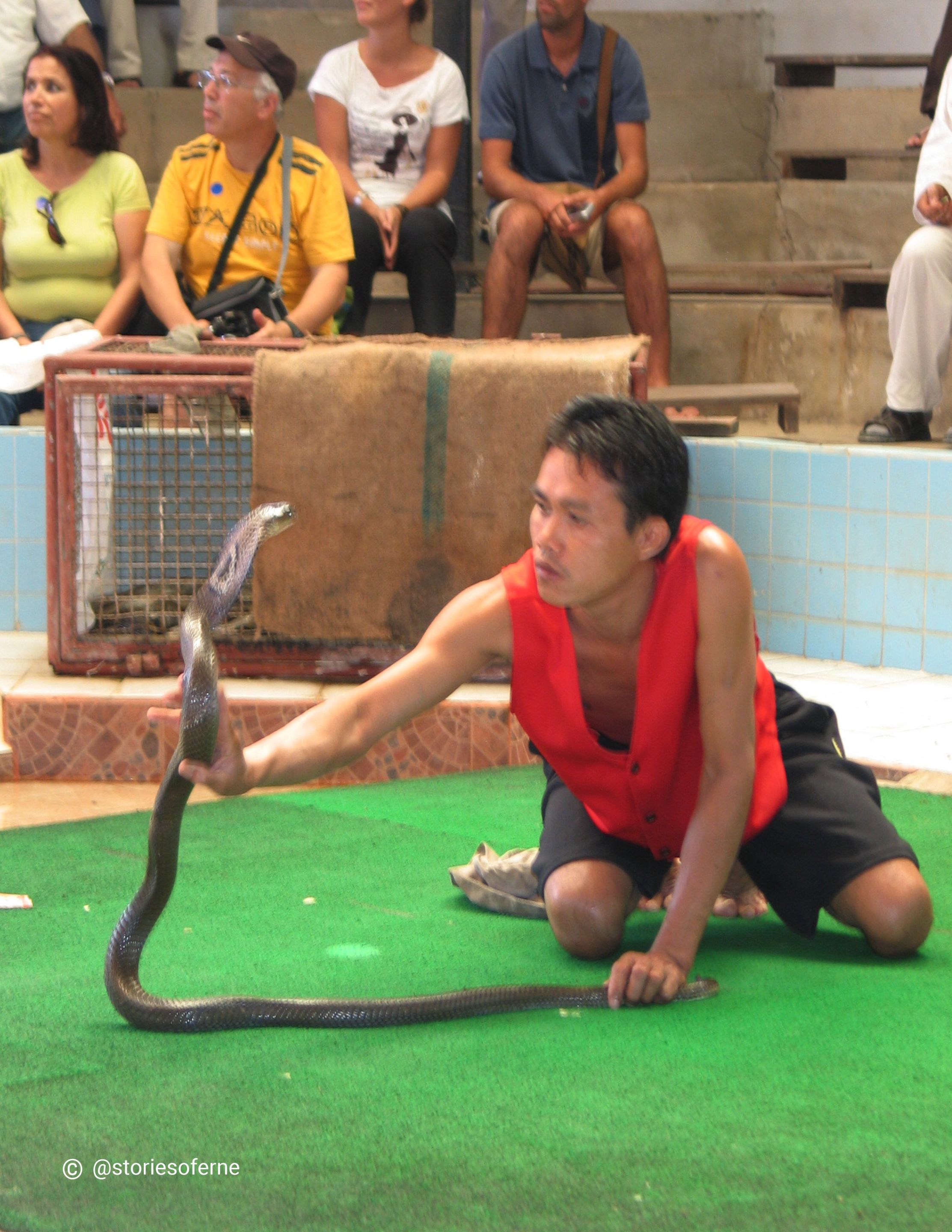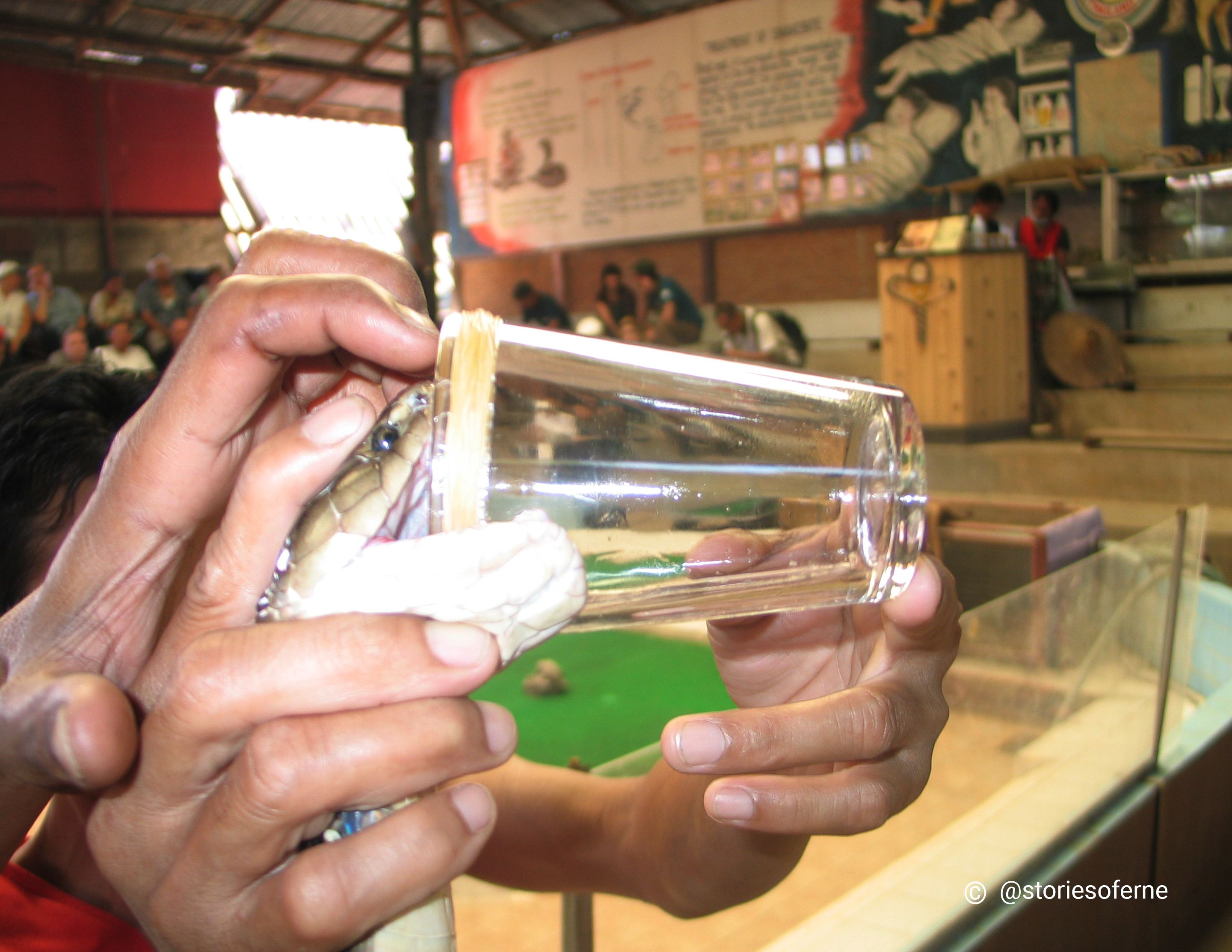 The assigned trainers even exhibited the dangerous extraction of venom from one of the snakes. Would you dare to be up close and personal while this was being done? As enchanting as the cobra show was, the activity was still quite risky. I remember watching YouTube videos sharing incidents about tourists being bitten by these snakes. Thus, be extra careful if you plan to visit such hazardous places in the future.
ELEPHANT ZOO AND PARK. Who doesn't love elephants? I was in for another fantastic treat. This was the first time I've seen our planet's largest land mammals dance like human beings! And I never thought it was even possible. My jaw dropped immediately while my posture stiffened when those moments occurred. Unbelievable!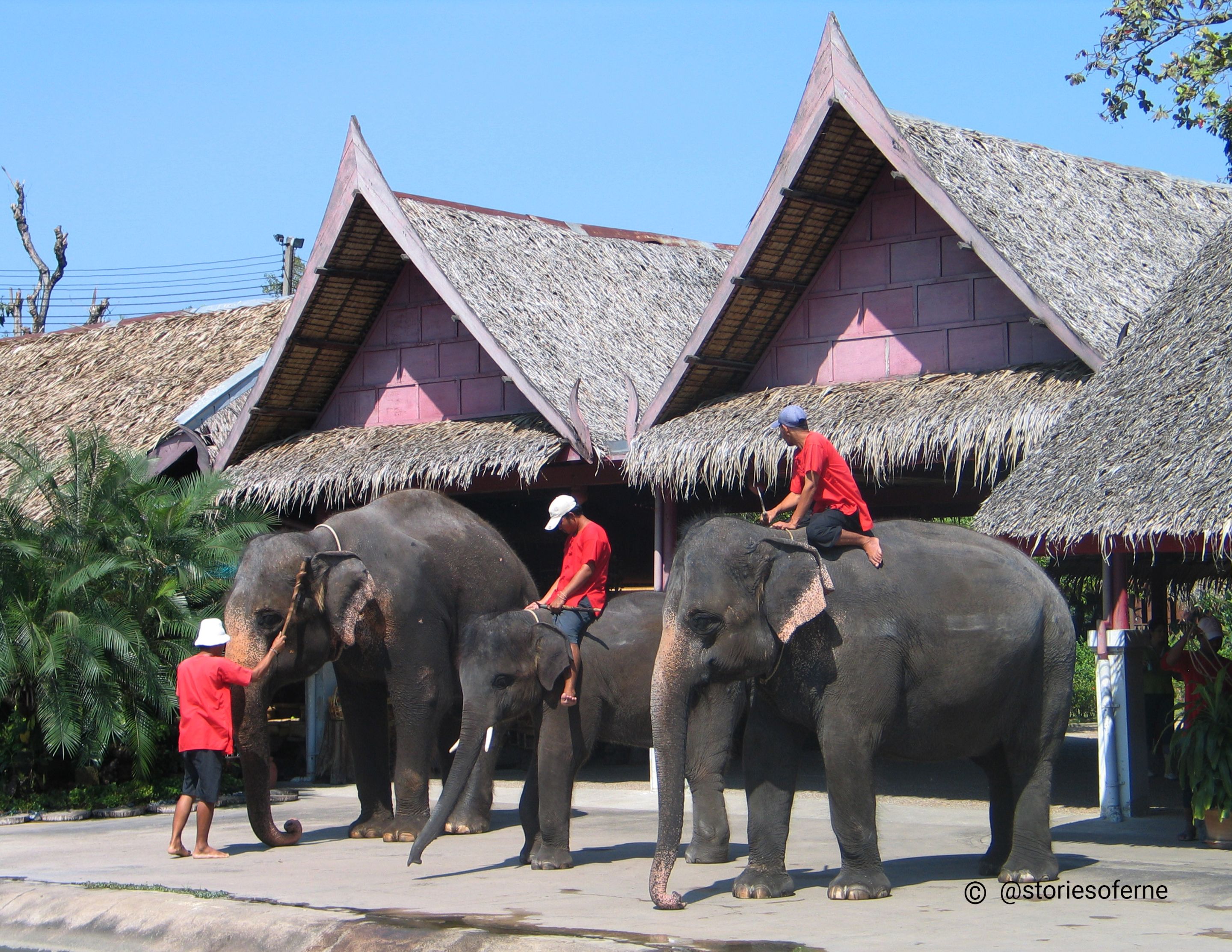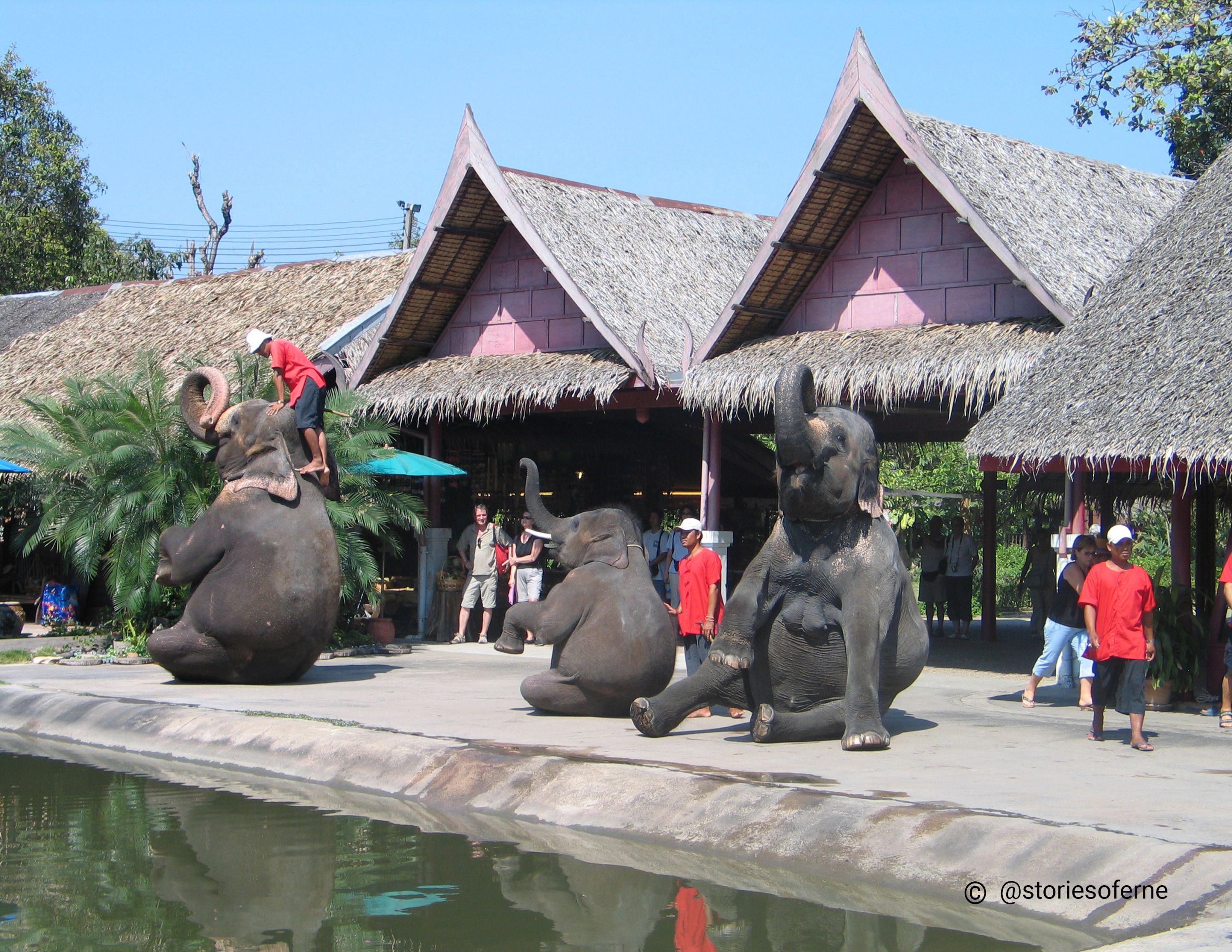 There was also a small cultural village incorporated within that location where they entertained tourists with the various traditions, lifestyles, and practices of Thailand. I was extremely moved by their awesome performance that I didn't hesitate to mark the occasion by capturing memorable pictures with these adorable people.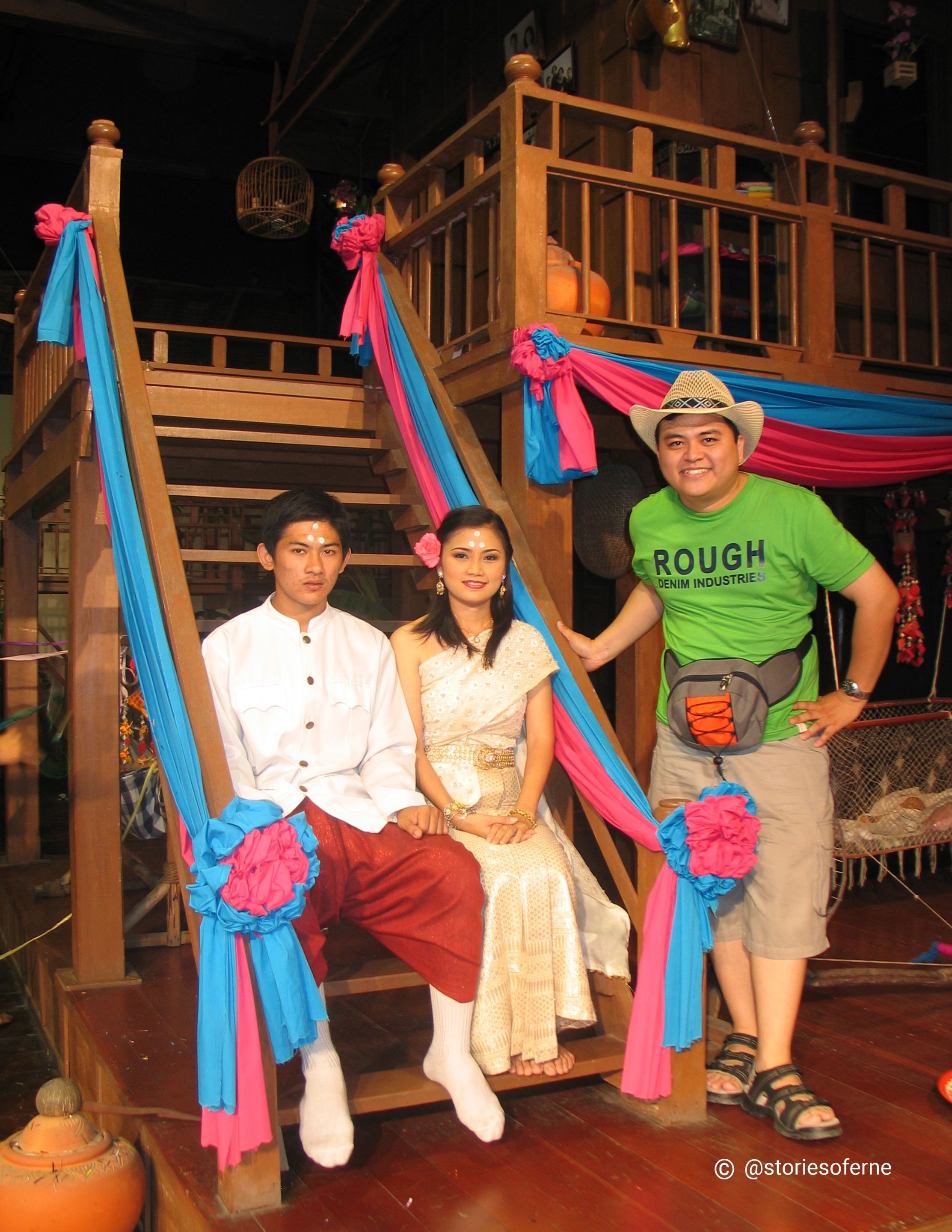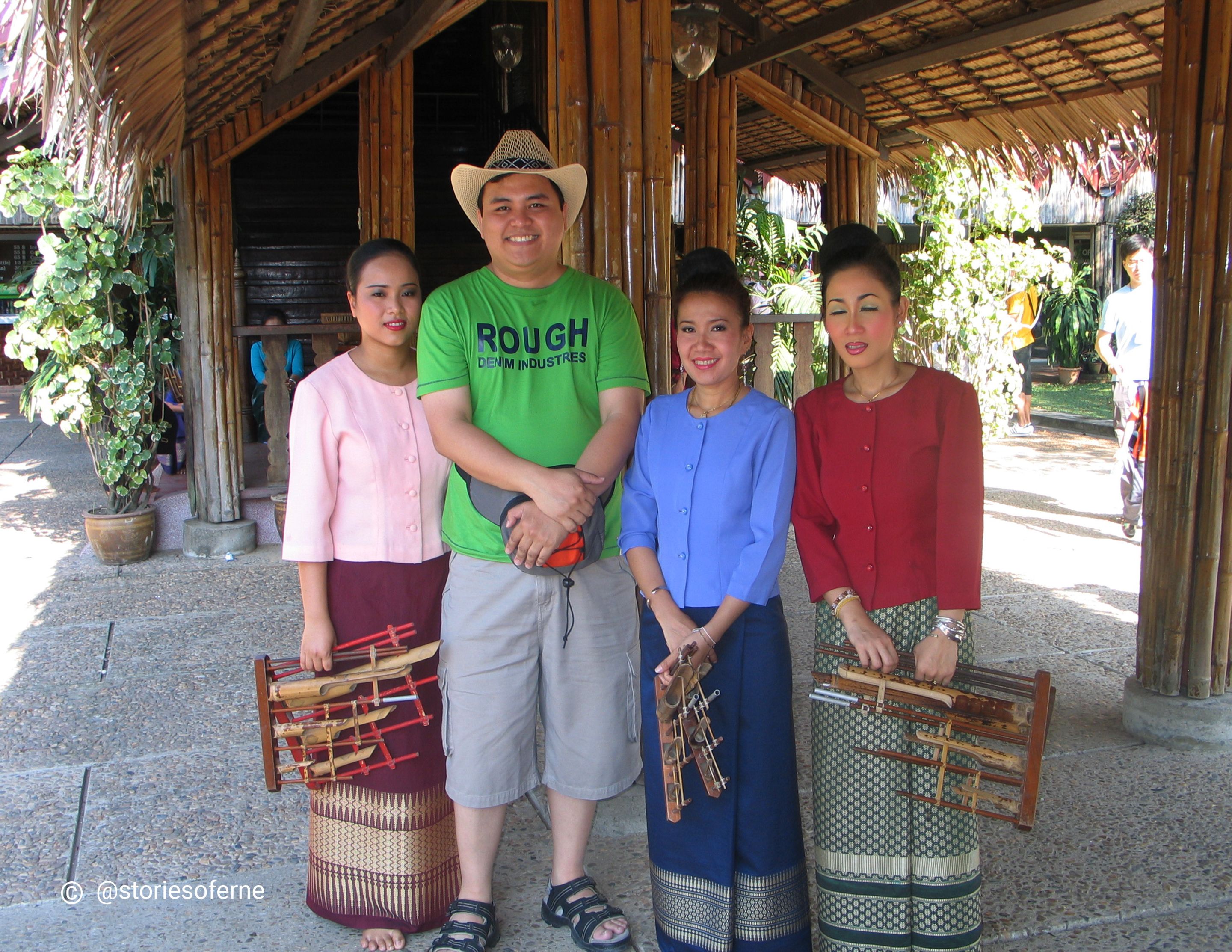 And I certainly didn't also miss the opportunity to be with our friendly animals. Since this was a rare chance of a lifetime for me to be with them in the flesh, I braved the elephant ride plus had the courage to pose for a photograph with a live one.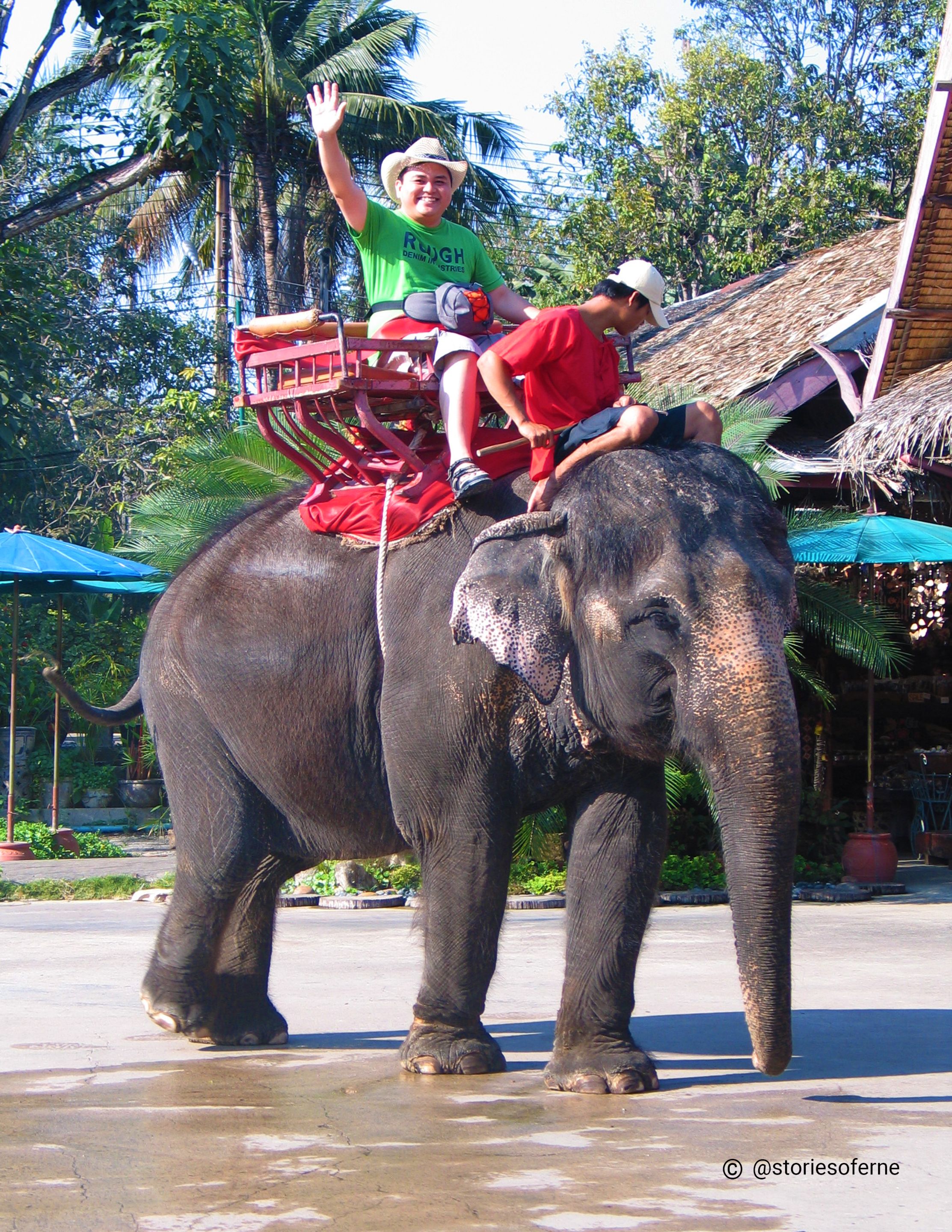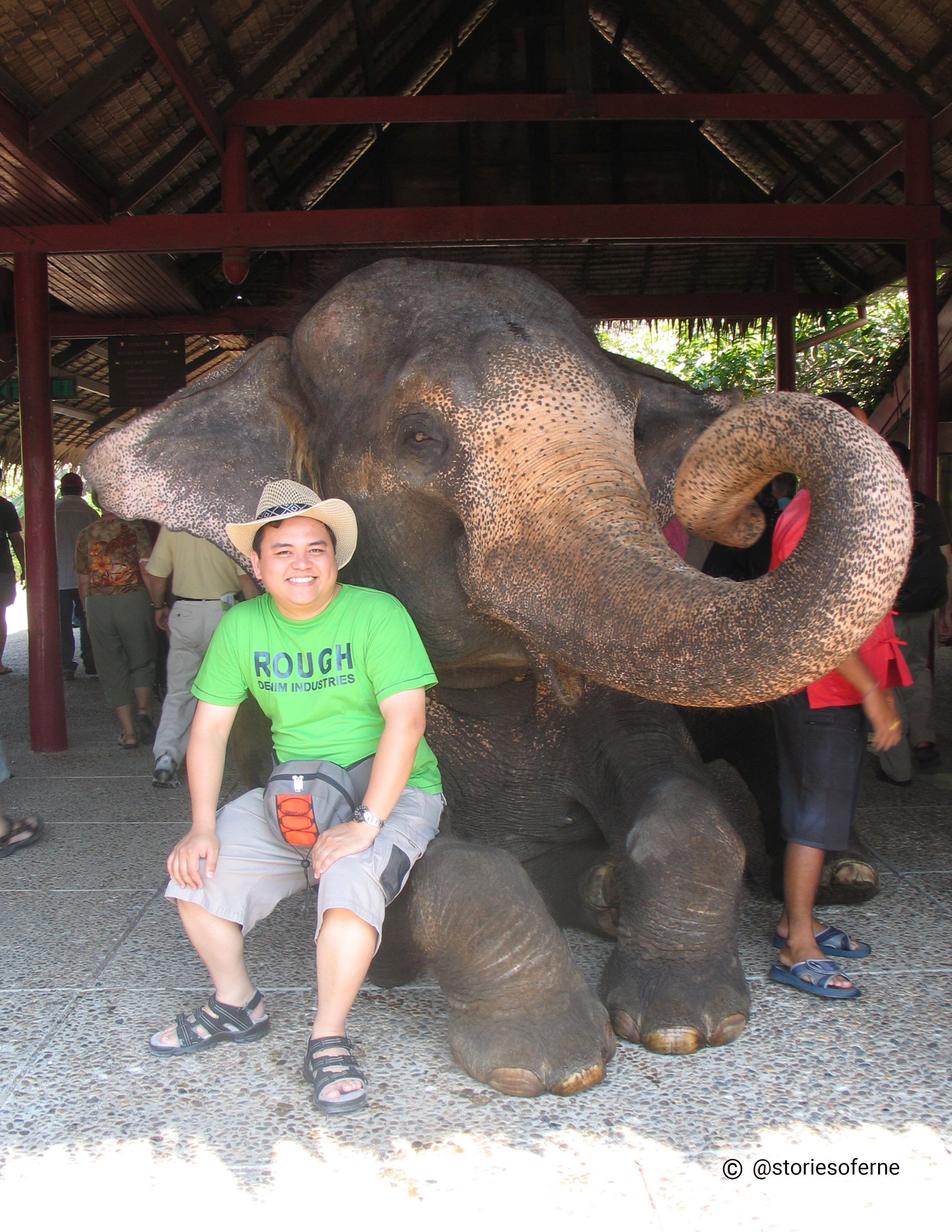 "Aren't we cute?" I asked my companion.
"Oh, wow! How wonderful for those elephants to be at home with different people. It must have taken many years for the caretakers to patiently train them to be accustomed to human beings, right? I'll definitely try that amazing experience when I get there," she replied.
BANG PA-IN ROYAL PALACE. What, another palace?! I was truly flabbergasted. This renowned property was also called the "Summer Palace" and was one of the former residences used by the Thai kings. The original estate was built in 1632 and it was abandoned for decades from the late 18th and early 19th centuries.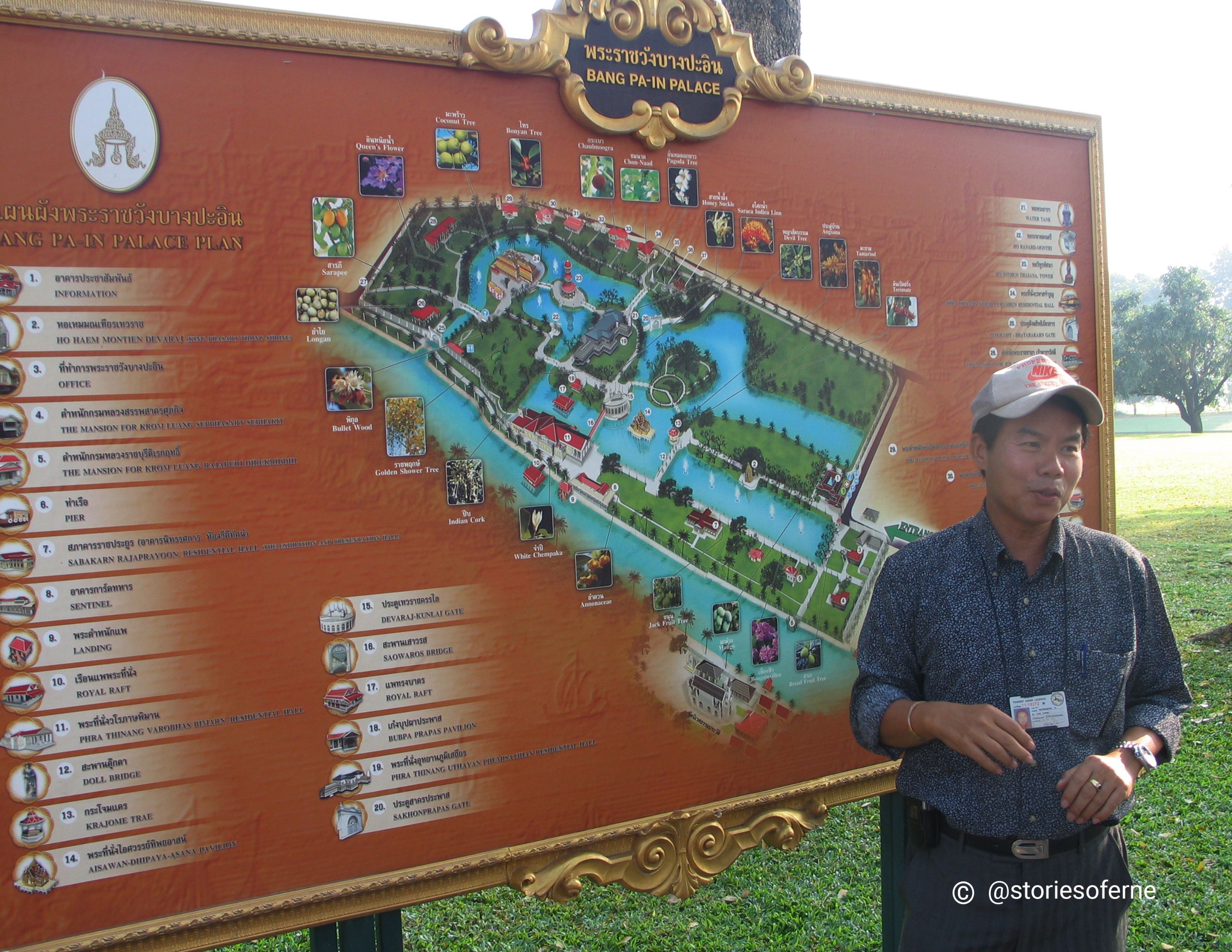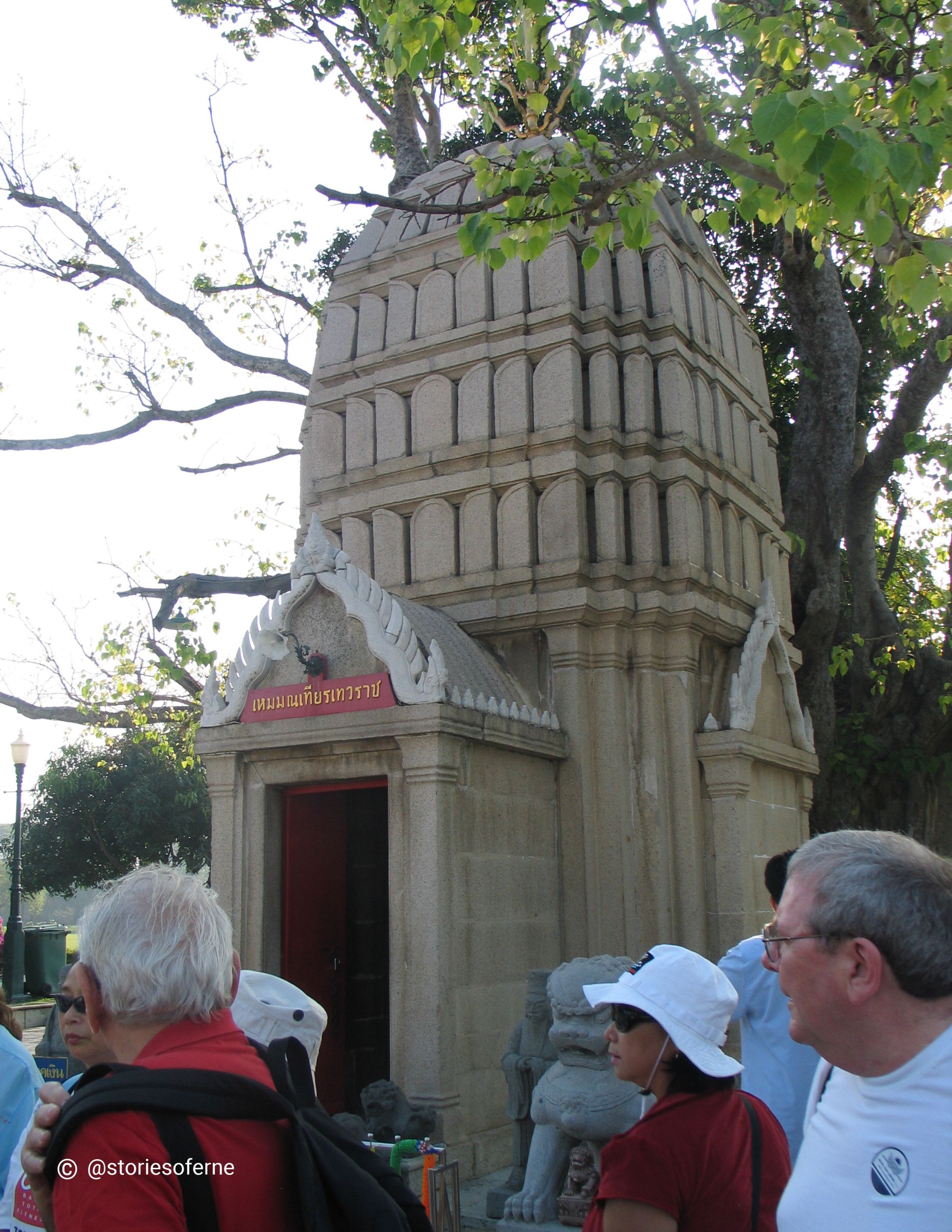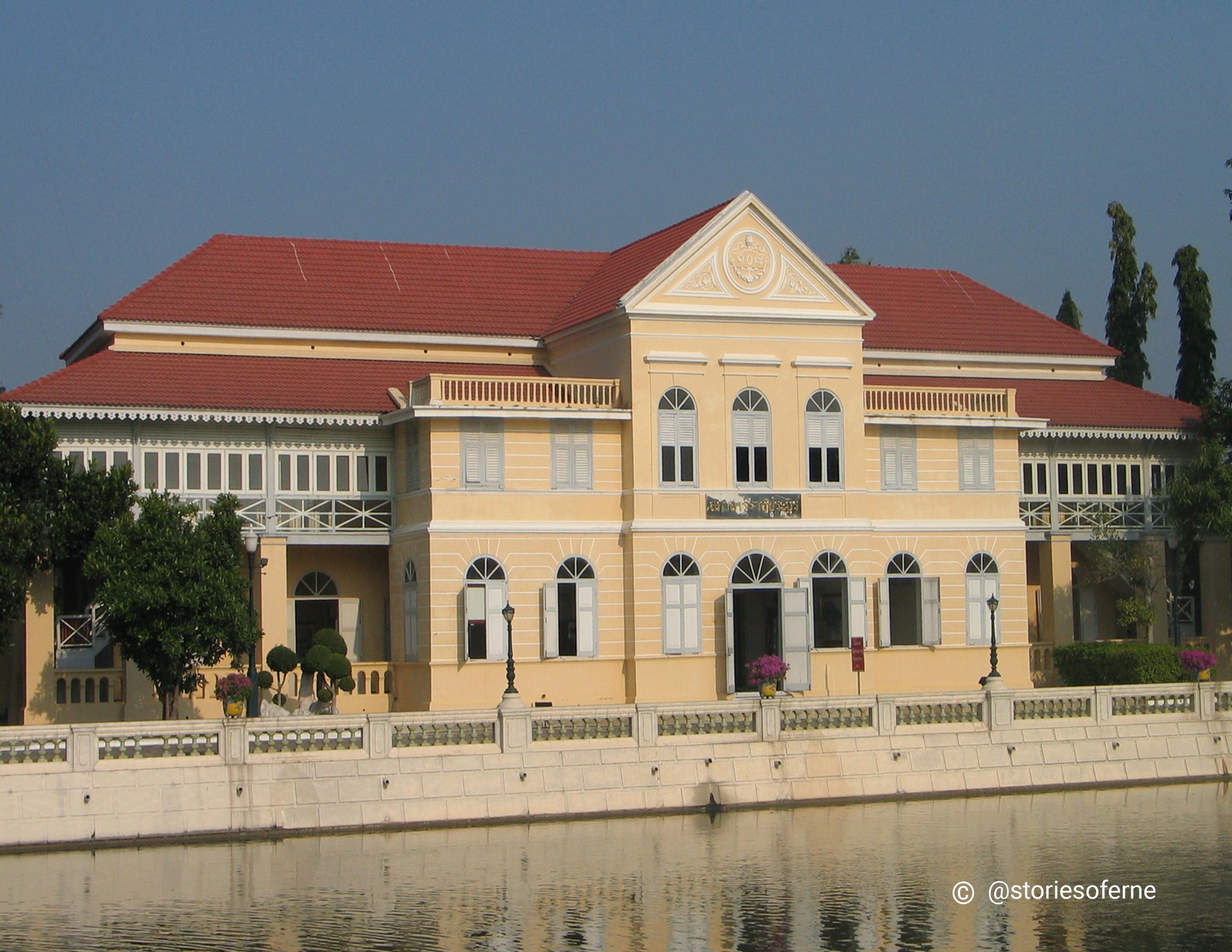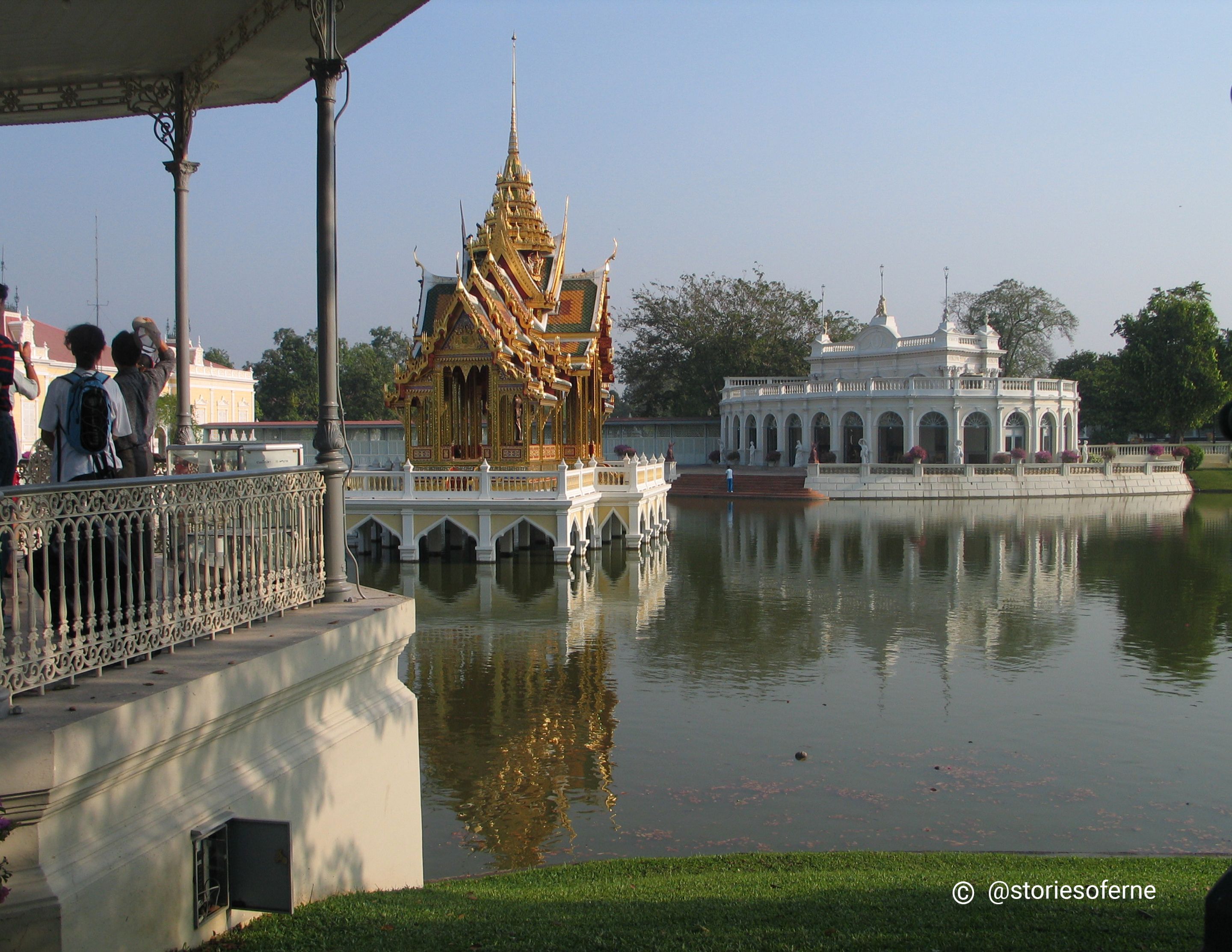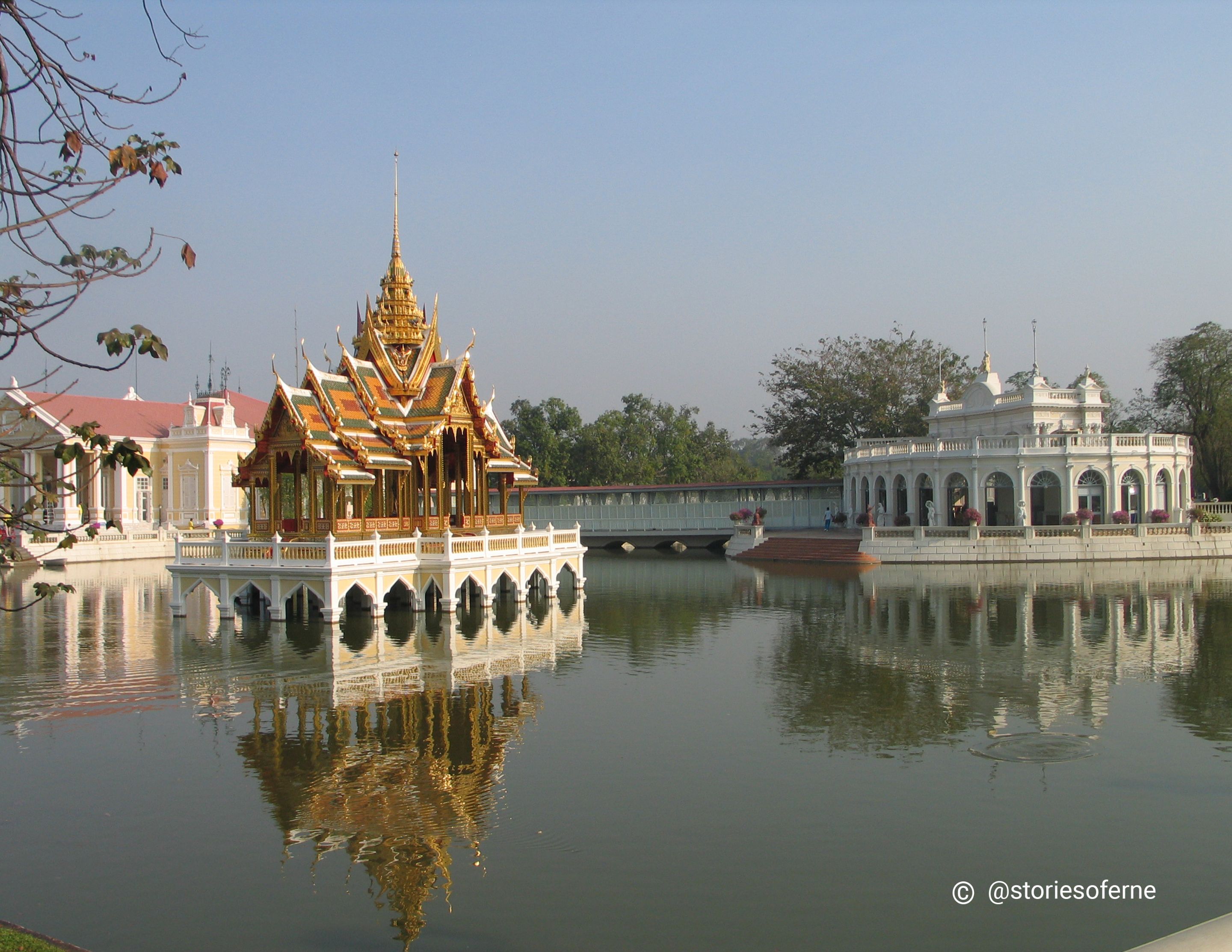 The Bang Pa-In Royal Palace was later restored in the mid-19th century. Within the vast complex were lush gardens, palaces, towers, residences, pavilions, and a reflecting pond.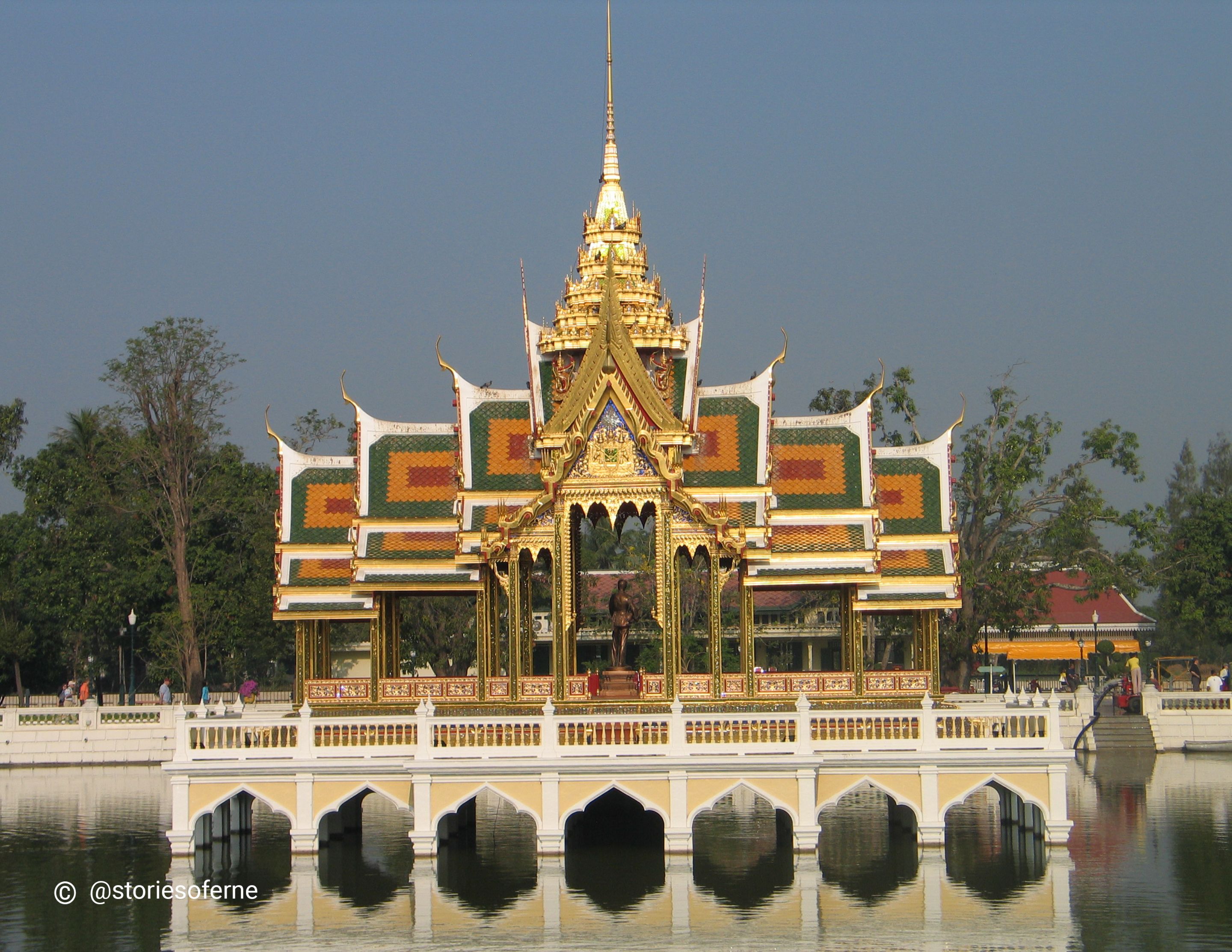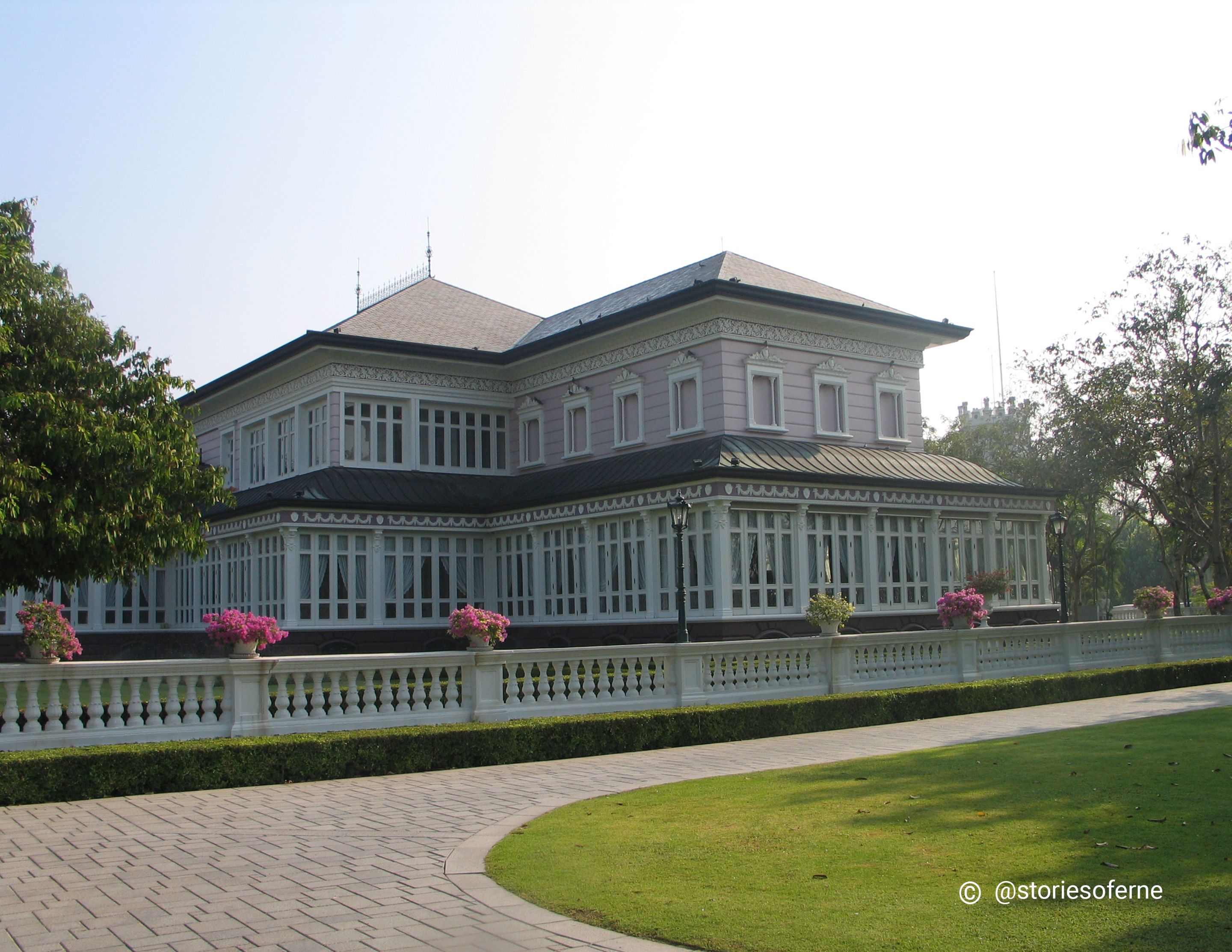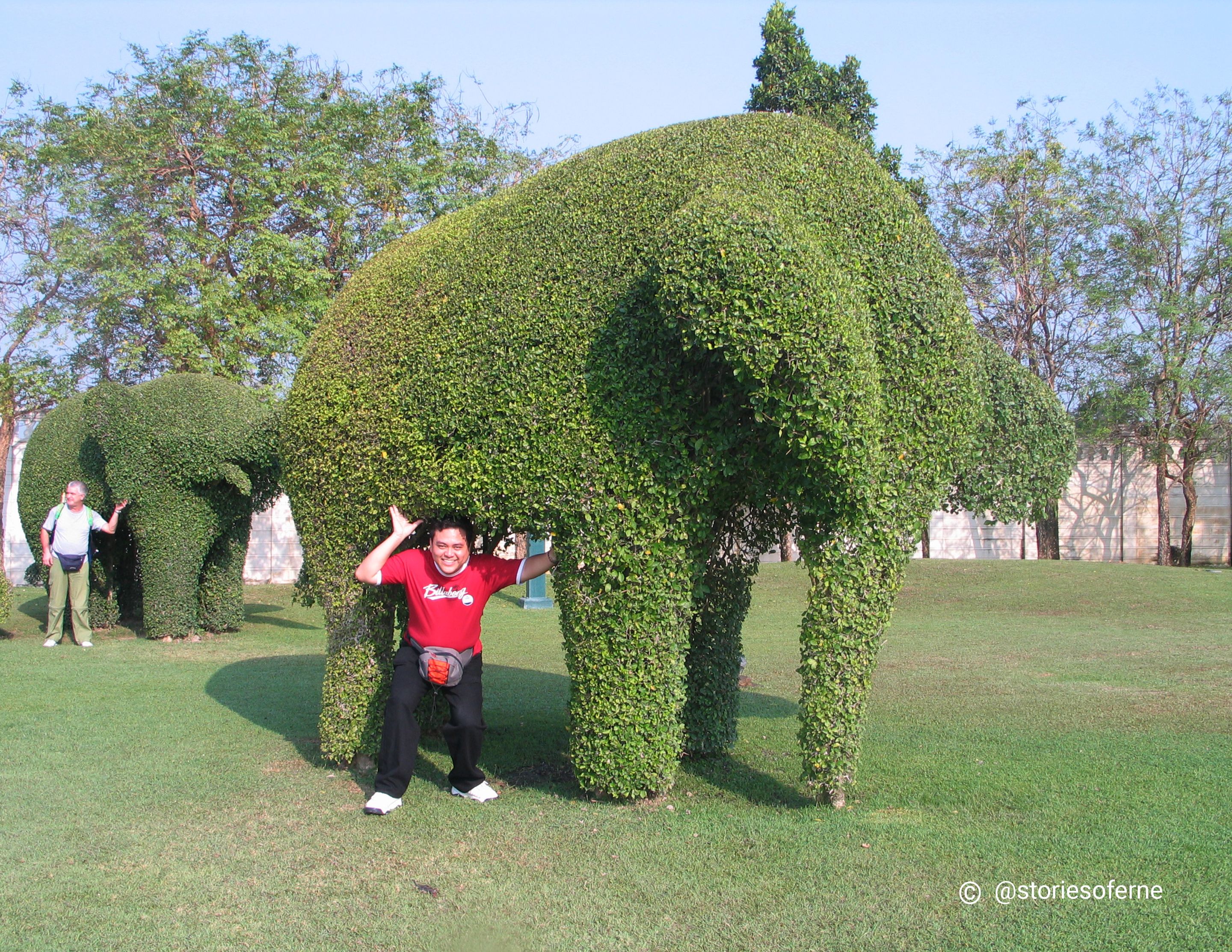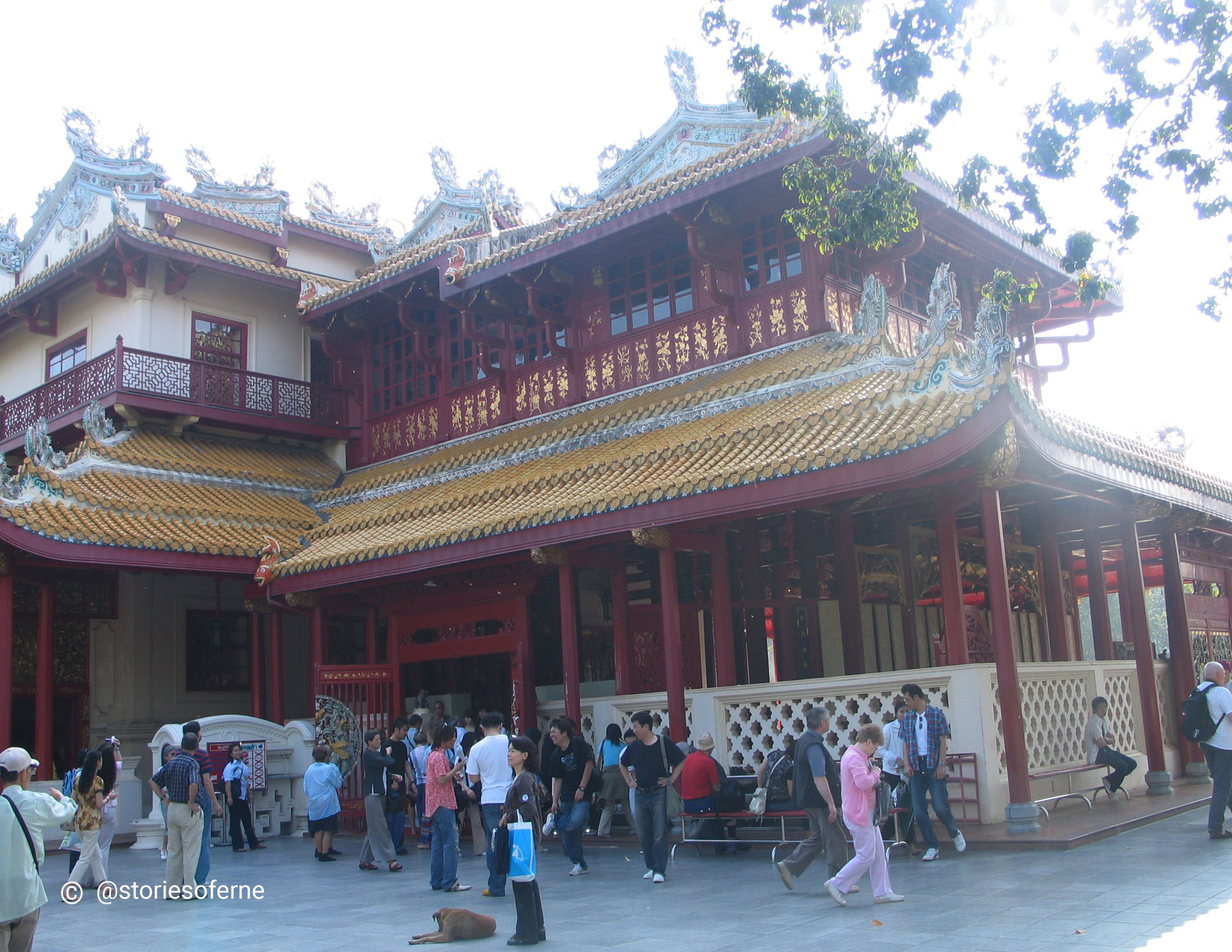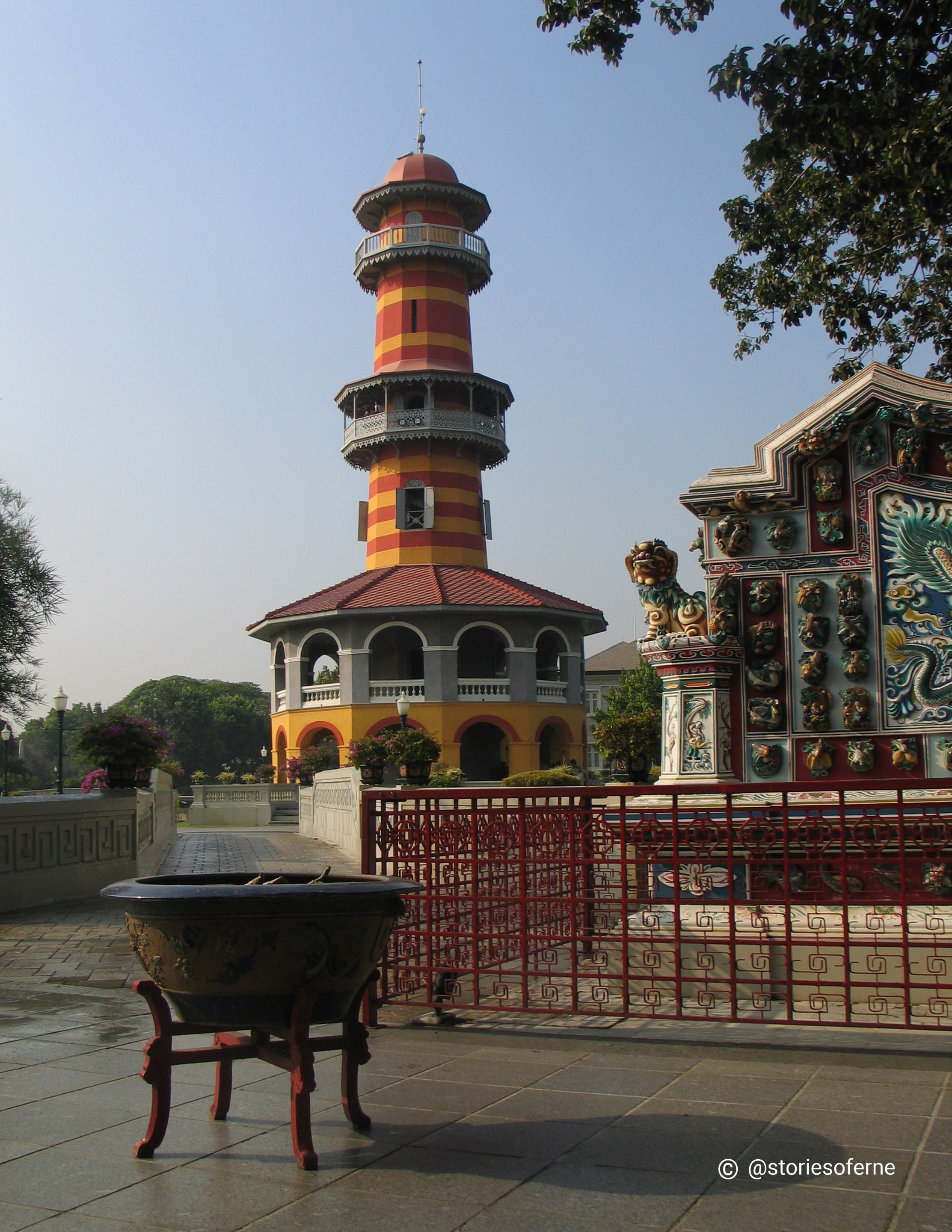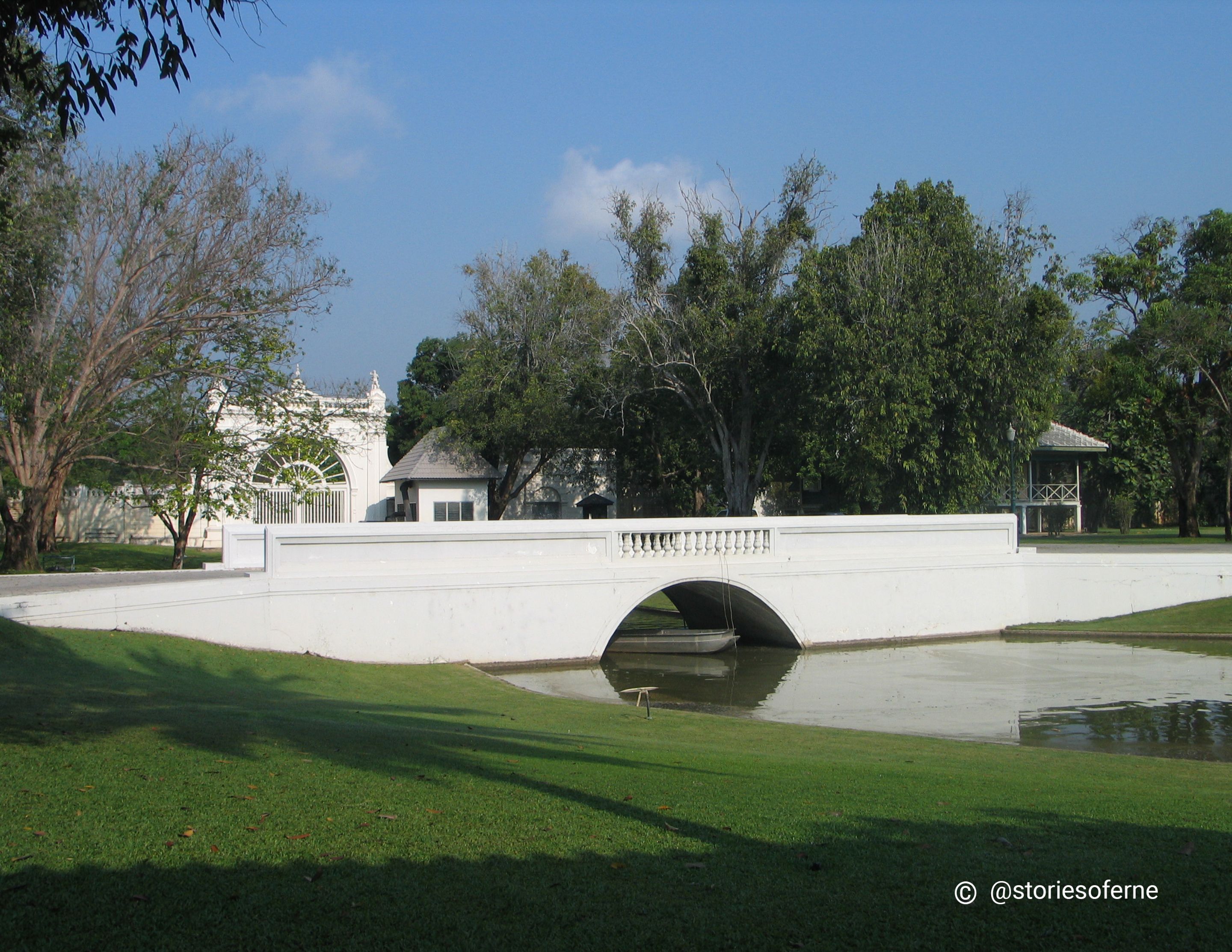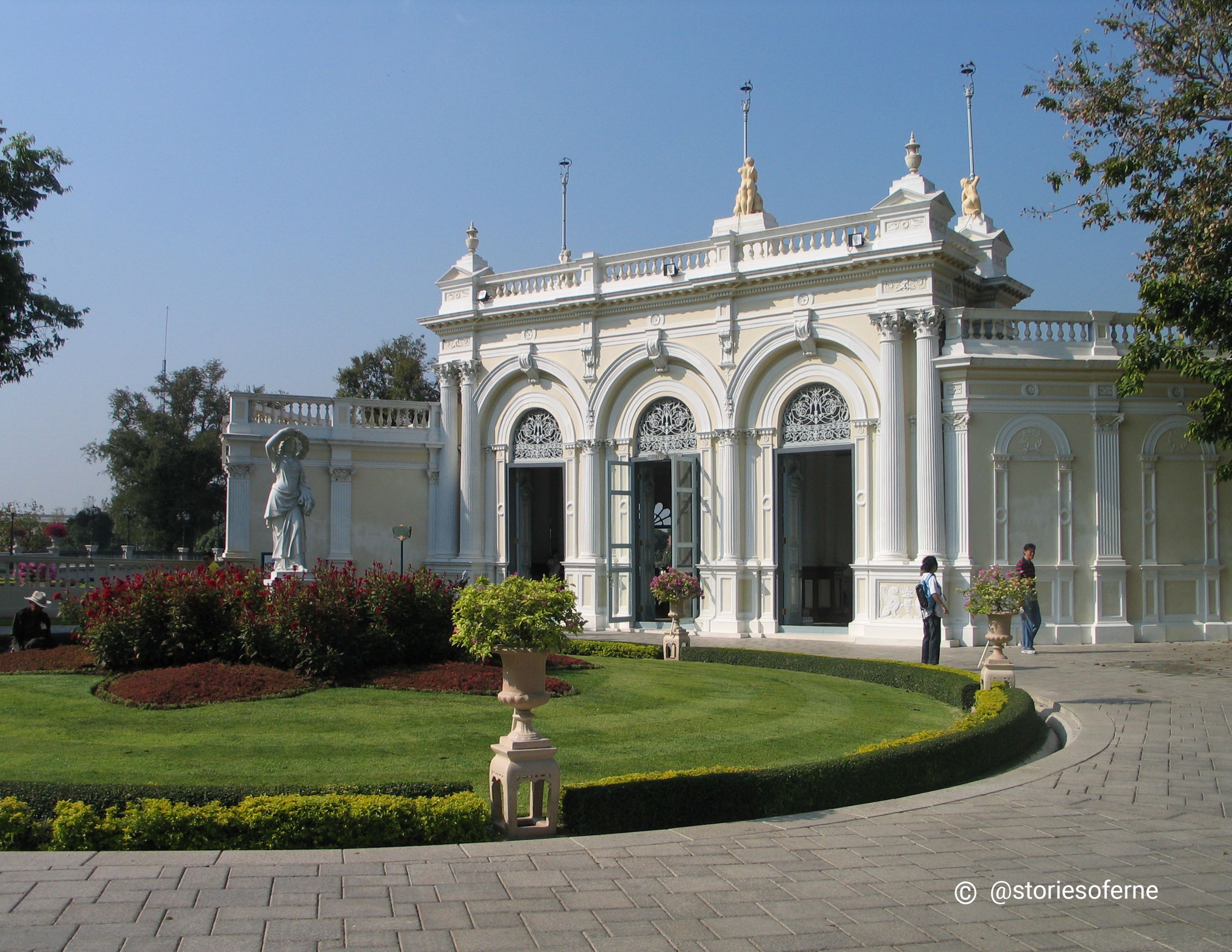 The entire royal estate was simply stunning! It was obviously well-maintained, being apparent in its cleanliness, thriving natural ecosystems, and lively surroundings. I was specifically astonished by the mirroring effect of the small lake on the nearby buildings. Its serene atmosphere transformed it into the perfect spot to meditate!
HISTORIC CITY OF AYUTTHAYA. Another Thai destination of historical significance was the ruins of the ancient city of Ayutthaya. This heritage site was one of the former capitals of Thailand before it was abandoned. Since its founding in 1350, this strategic location was believed to be much older according to archaeological evidence discovered on the site.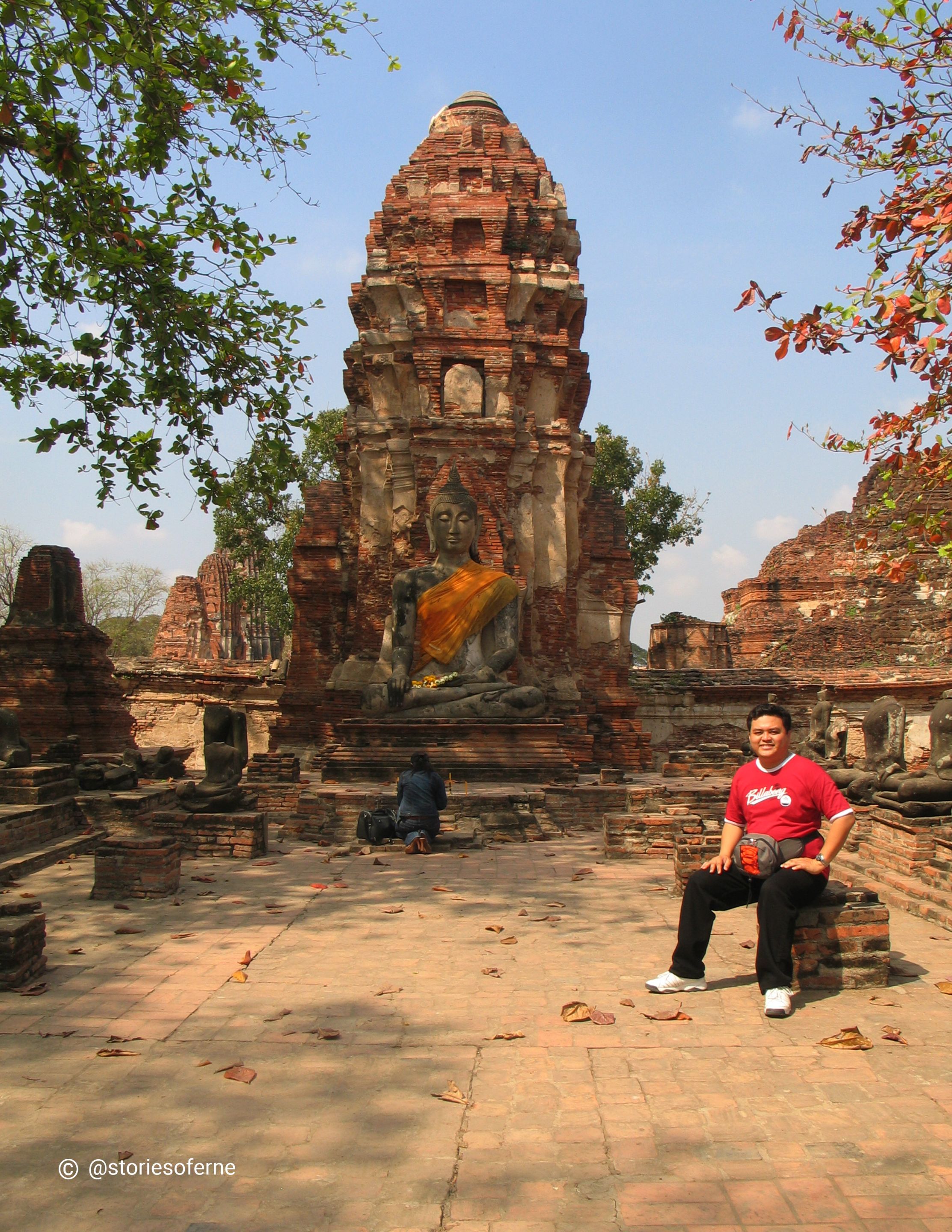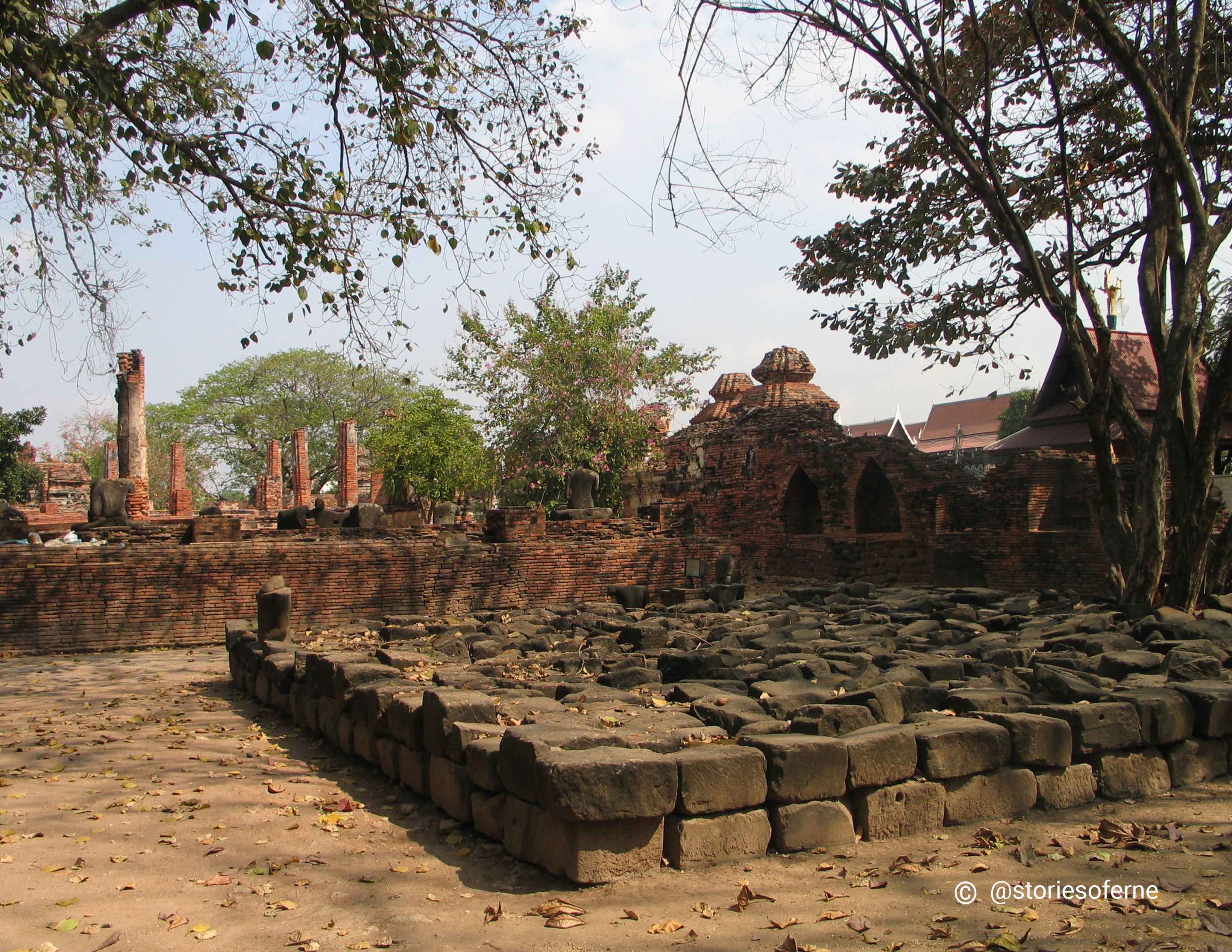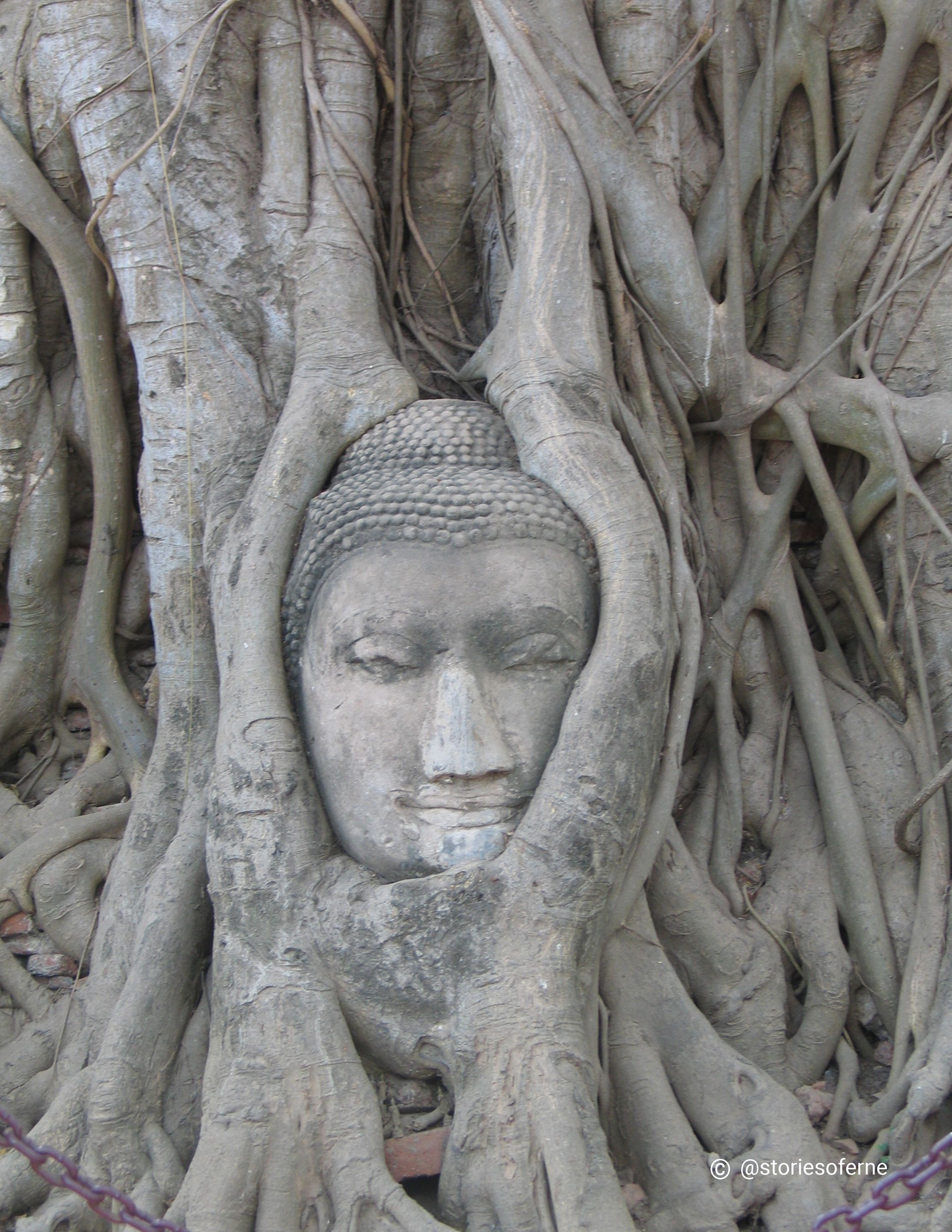 Since this historic location also housed several temples, police and similar guards were also stationed in various points to ensure that the religious artifacts, relics, and statues were not desecrated by, vandals, robbers, and abusive visitors. During my exploration, I saw to it that I followed religious norms, respected their laws, and maintained a friendly approach to the locals there.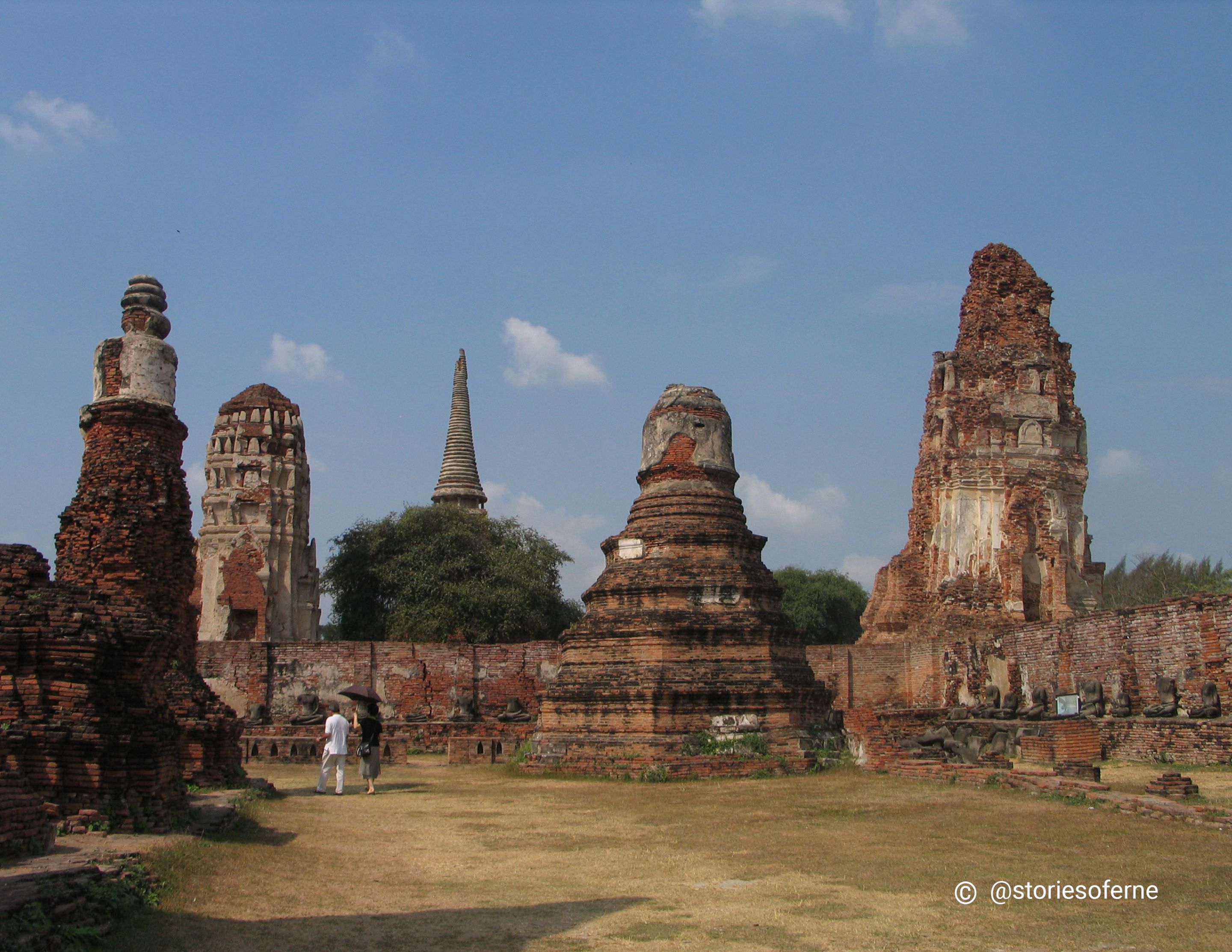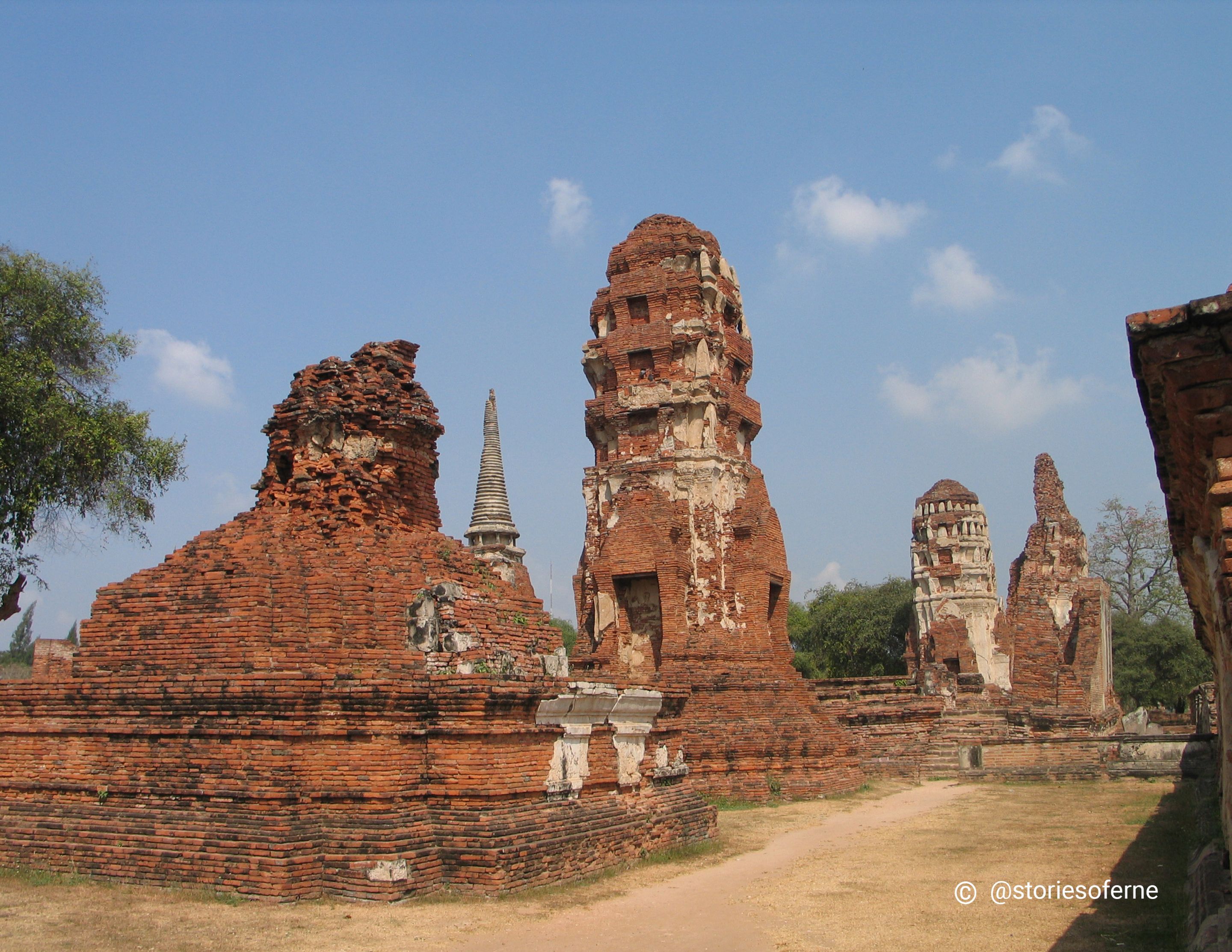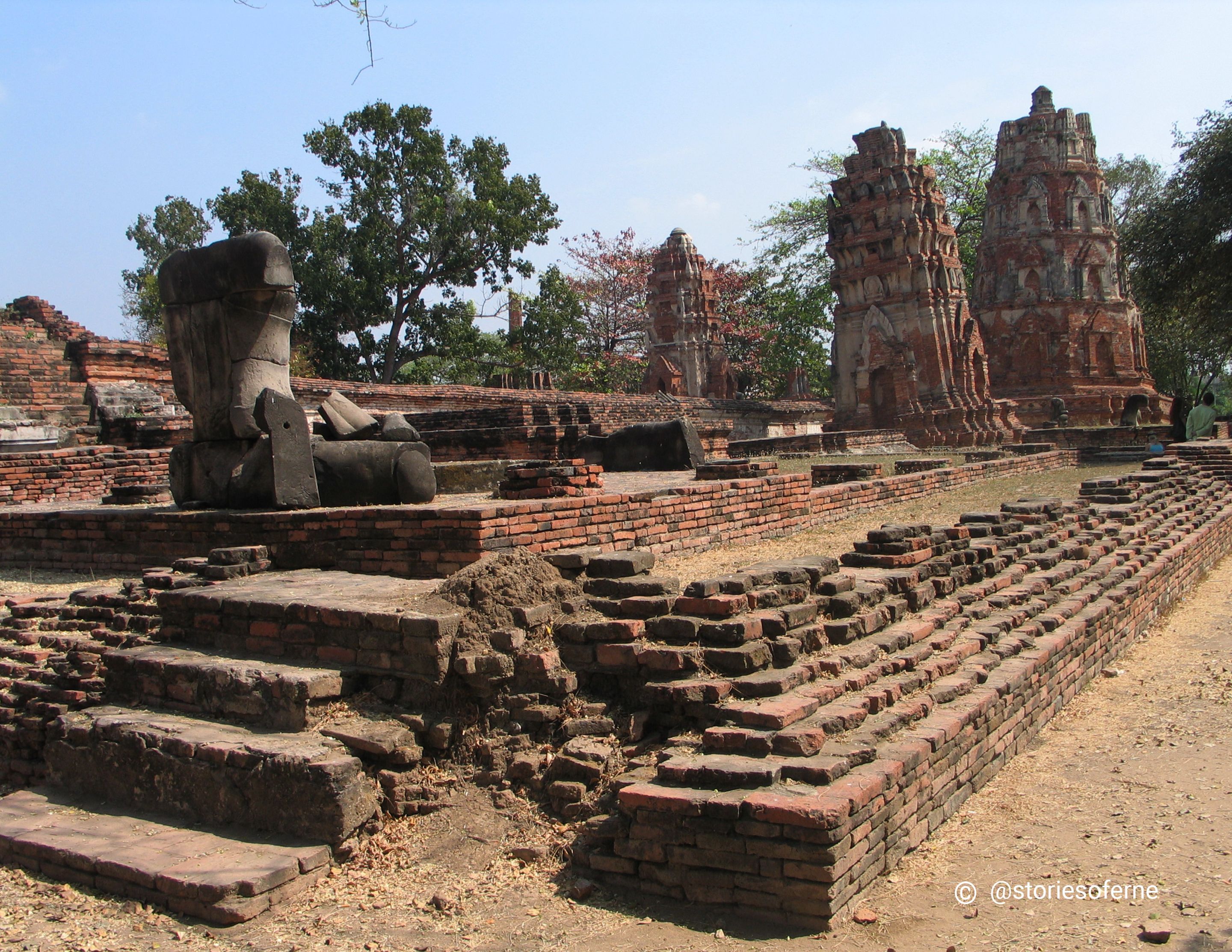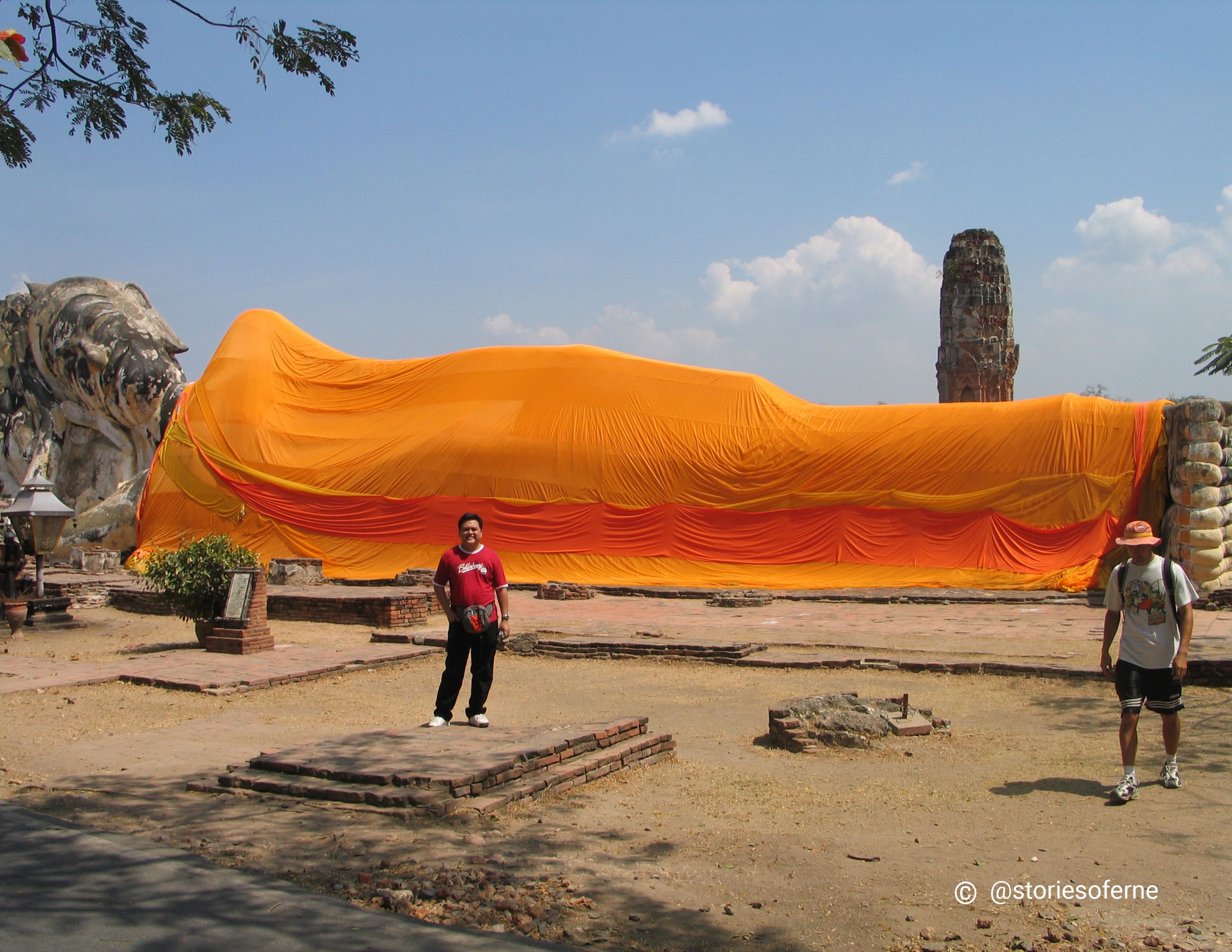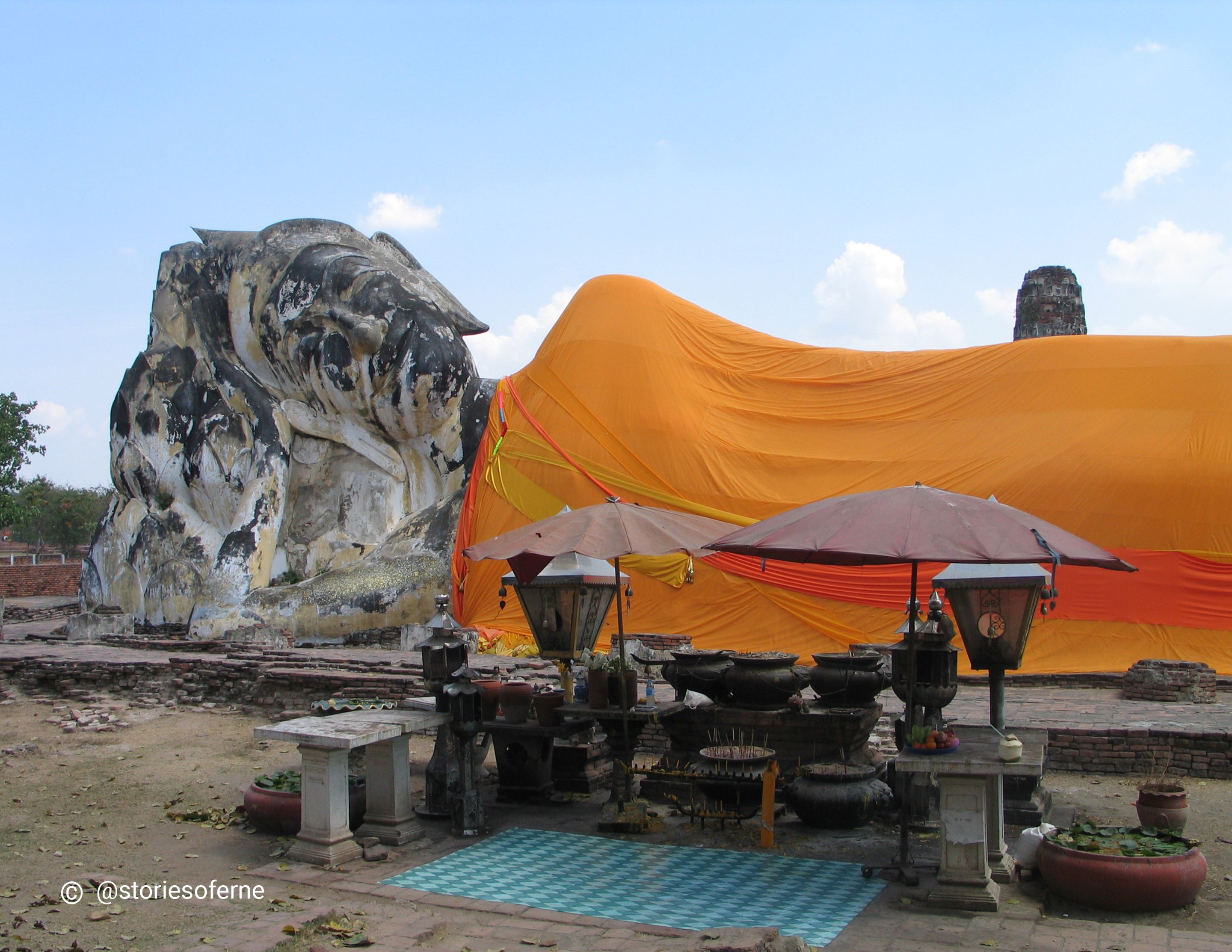 Since the old city was attacked by the Burmese army in 1767, it was never rebuilt. Today, Ayutthaya remains a protected landmark and was also recognized as a UNESCO World Heritage Site.
CHAO PHRAYA RIVER CRUISE. We were back to this famous river in Bangkok. But this time, it was a day cruise. In this yacht, you will have the opportunity to be fascinated by the city's exquisite architecture, coastal neighborhoods, towering bridges, and life on the river.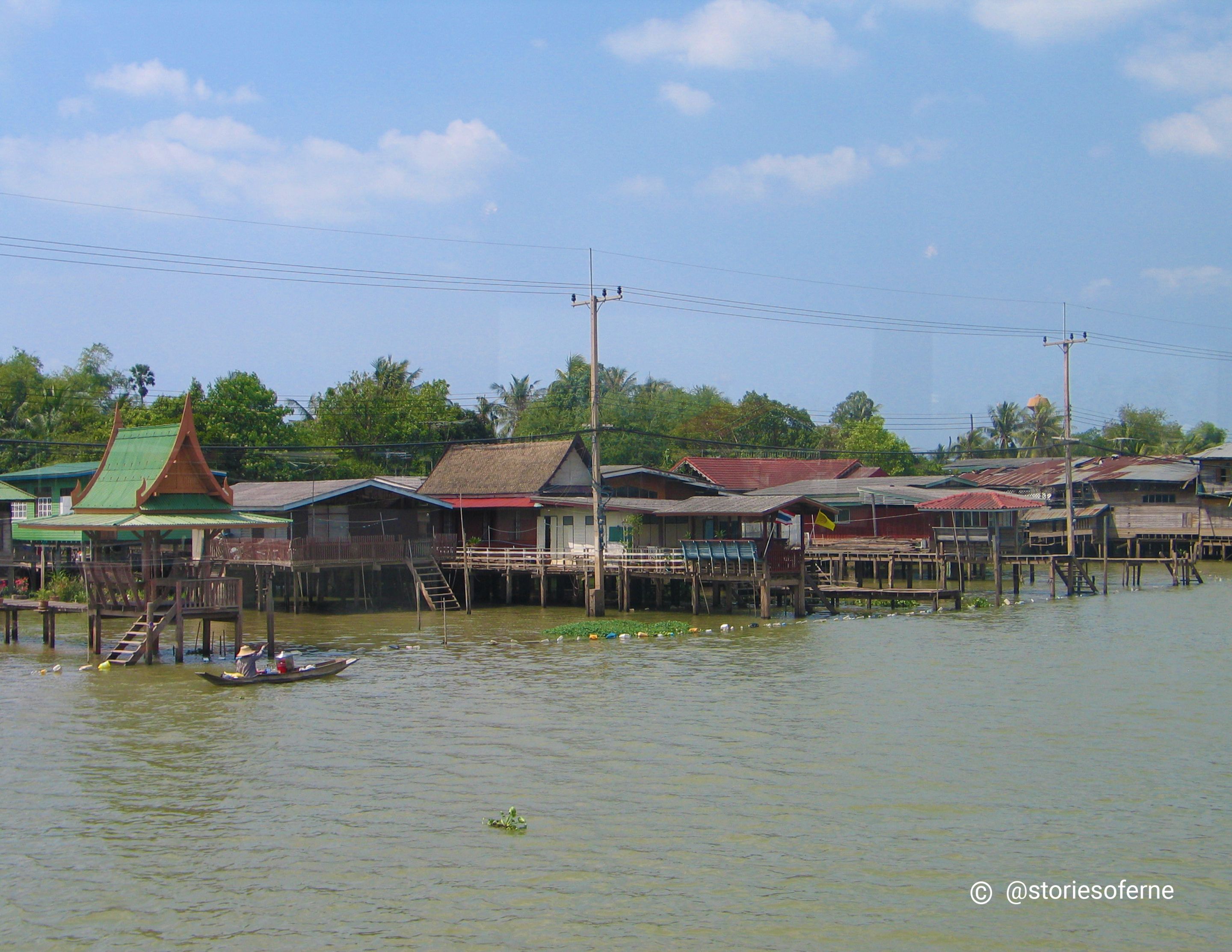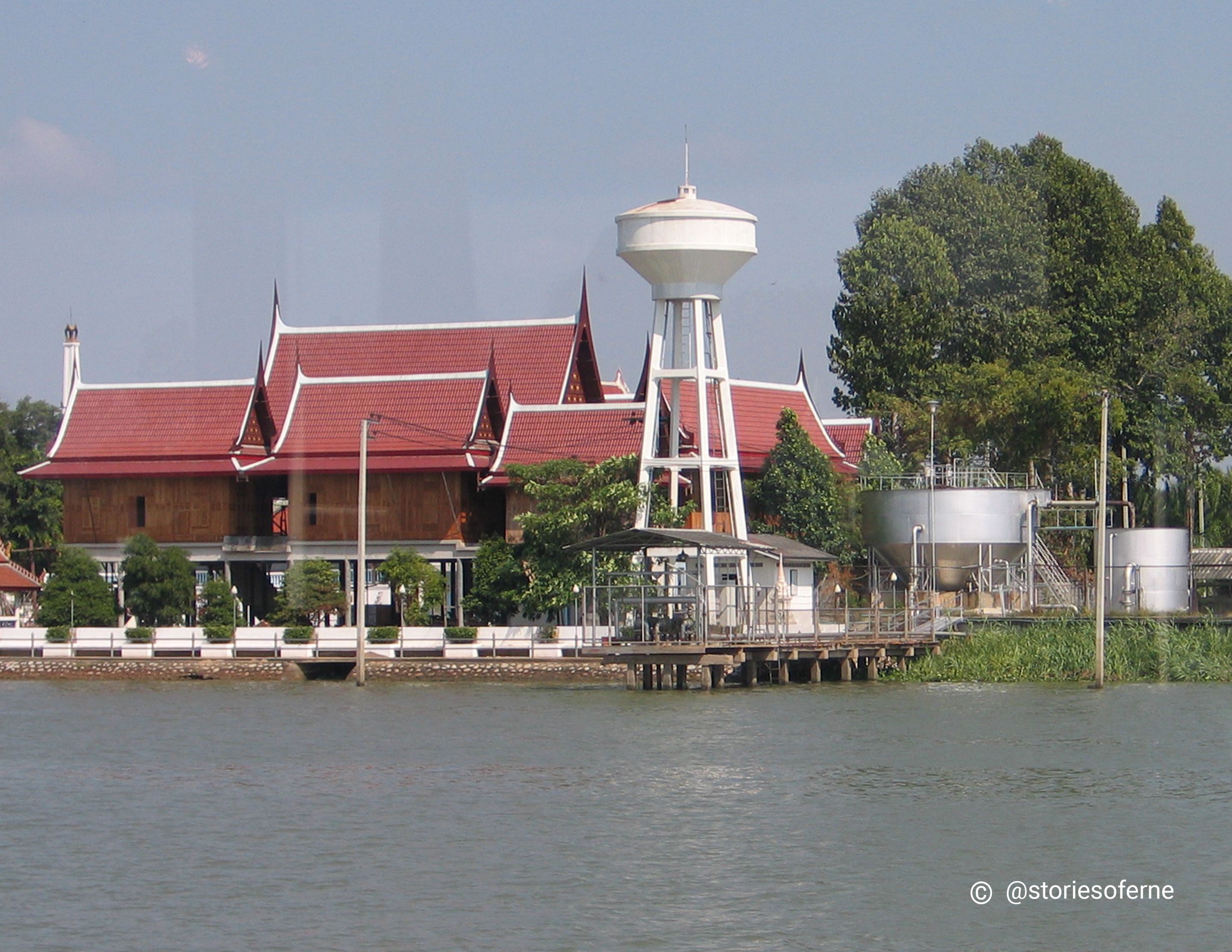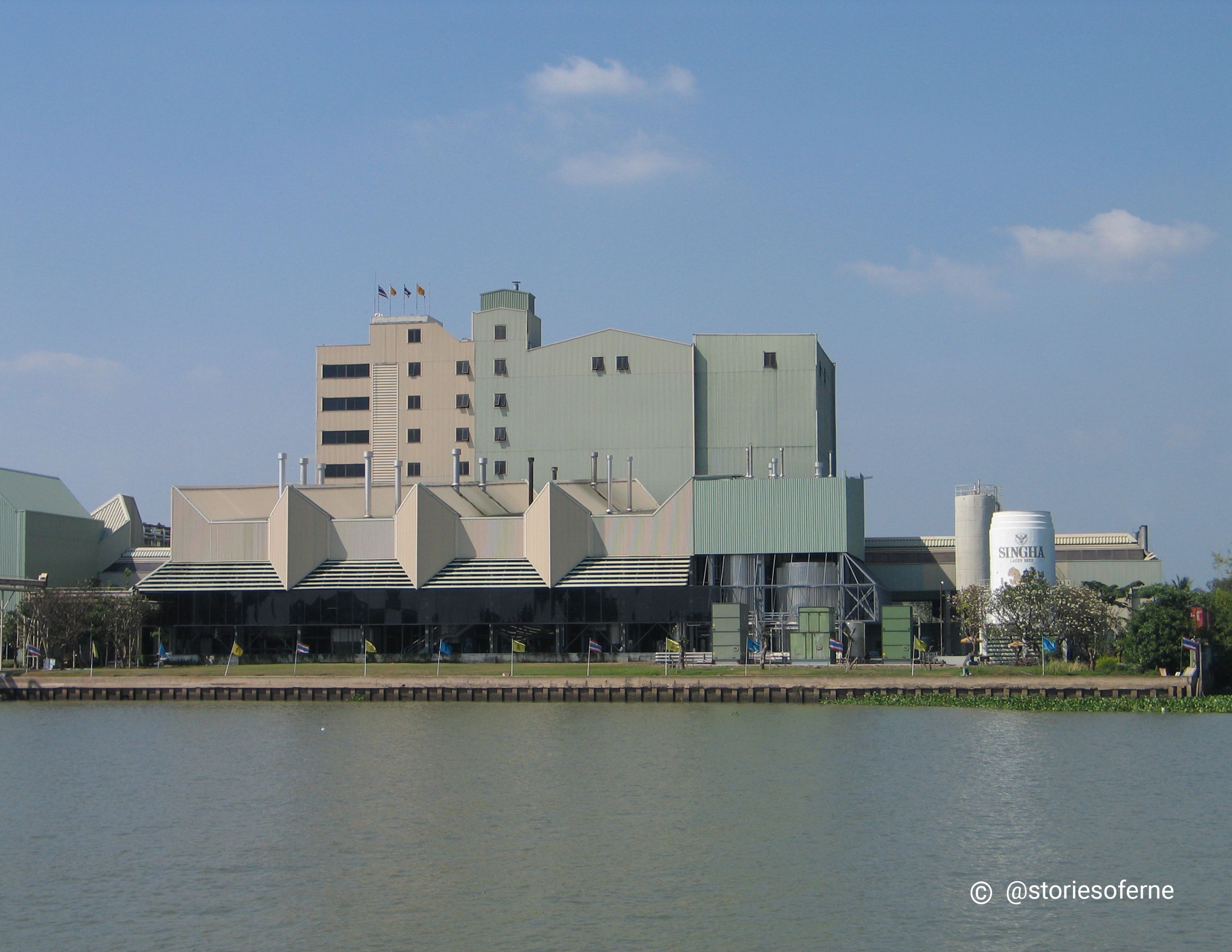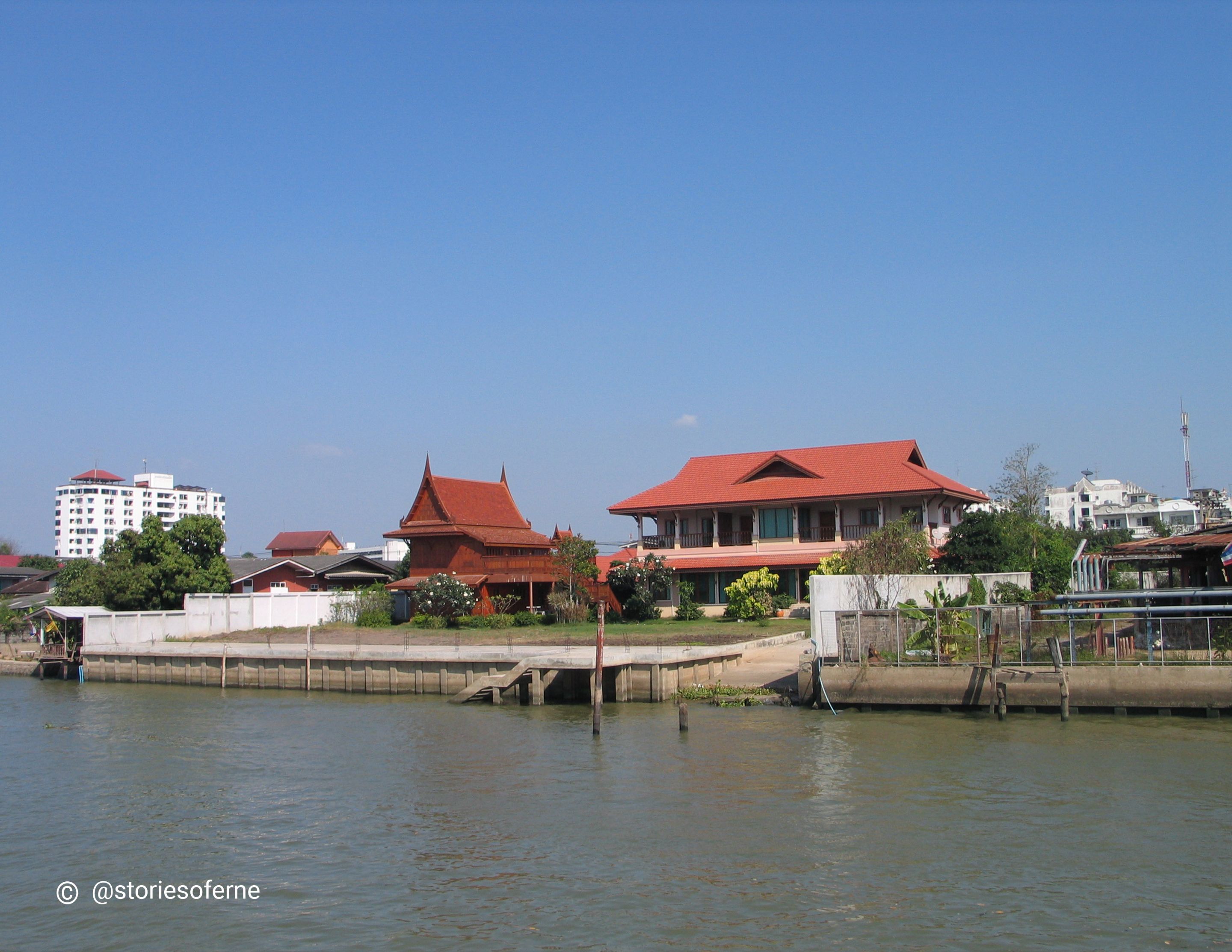 I decided to stay at the outdoor deck to bathe myself in natural sunlight plus had the chance to create new friendships and mingle with other tourists and foreigners during the journey. We were fortunate to have favorable weather during that day until the entire cruise was completed.
BANGKOK CITY TOUR. Just like other highly urbanized cities around the world, Bangkok is a thriving metropolis. Depending on your fancy, there were several things to do like merely sightseeing, shopping at their massive malls, strolling in their city parks, dining in their restaurants, visiting their temples, or passing the time by immersing yourself in their places of great interest.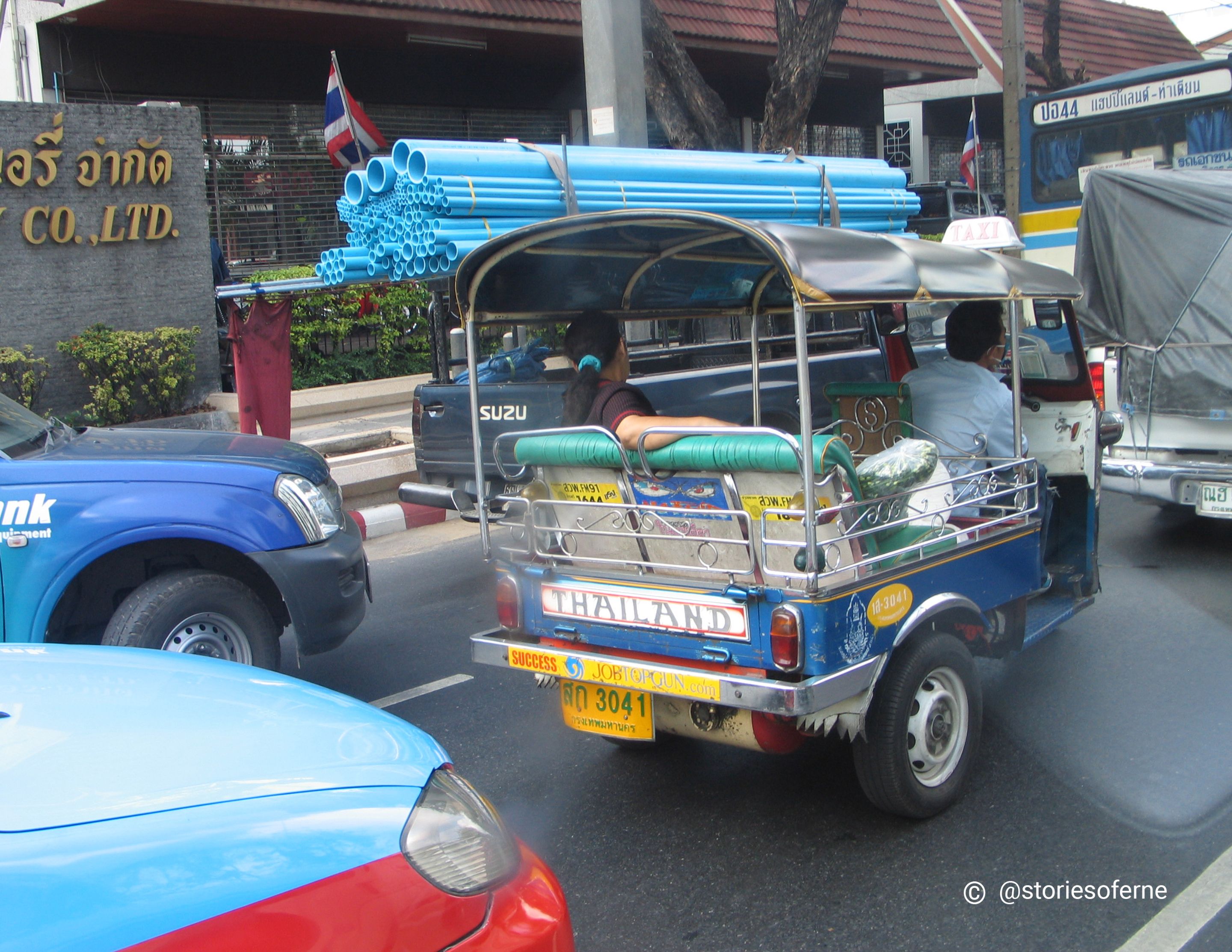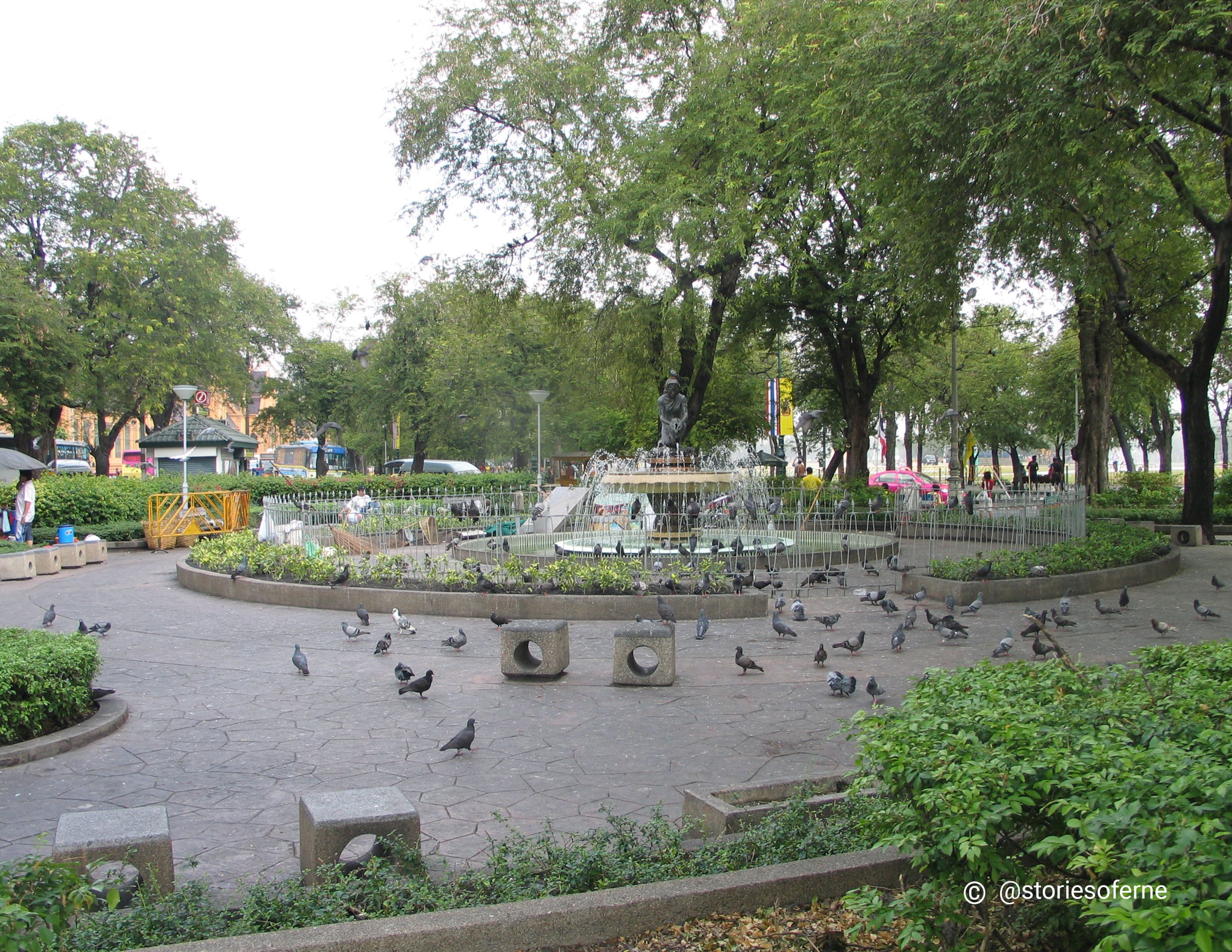 Bangkok's transportation network was modern and highly developed to accommodate discerning travelers from all walks of life. From taxis, buses, cars, and their train network, it's quite easy to get around the metropolis. If it's your first time there and find it overwhelming, you can always ask the help of the warm-natured locals who are ready to assist you with your needs.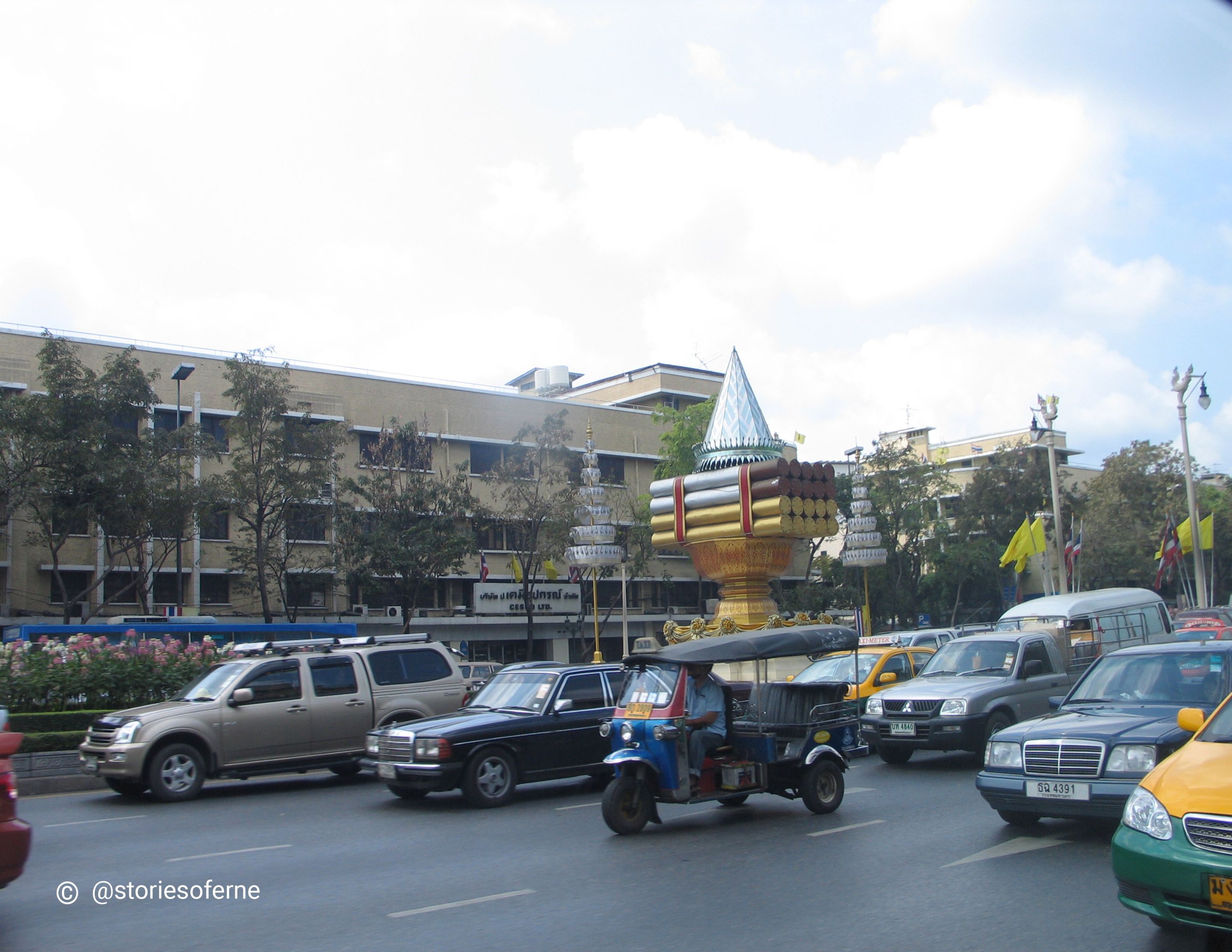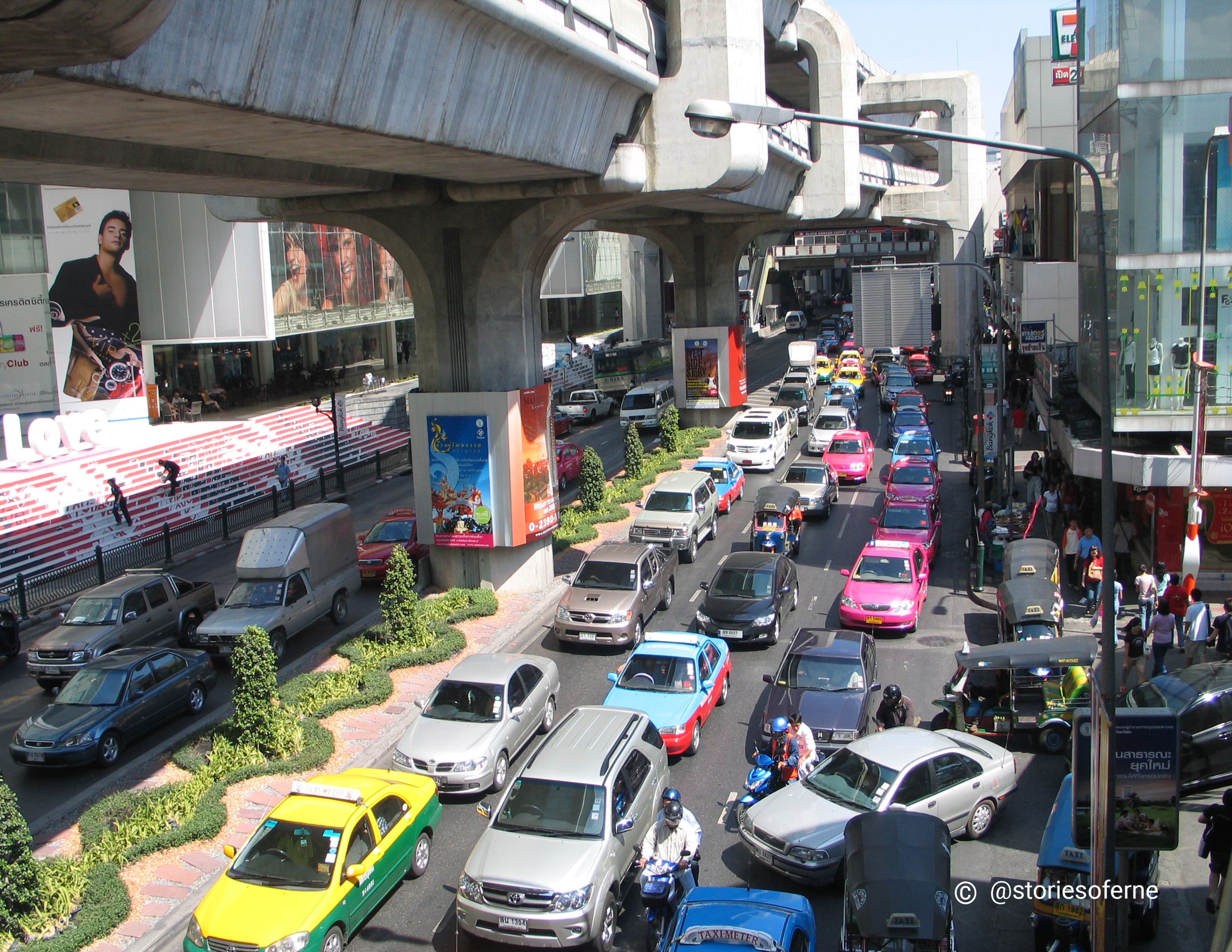 Most importantly, the best practical method for commuting around the metropolis of Bangkok is via a Tuk Tuk. In my experience, this is also the most convenient, practical, and budget-friendly alternative. Thus, what are you waiting for?
Future Visit to "Amazing Thailand"
"I'm impressed! You've been to many spectacular places in Thailand already, but most of the destinations you've explored were in Bangkok. I felt like traveling to the actual place during your detailed discussion and everything you've shown me here - this has even made me more excited that I can't wait to book my flight and accommodation. I'll definitely inform you as soon as we've finalized our travel itineraries for Thailand," she remarked.
"Hey Erne, you've been an excellent storyteller! And I couldn't be more grateful for your precious time, effort, and especially for agreeing to meet me for lunch today. Until next time, okay?" My female friend suddenly wiped her flowing tears, composed herself, and then looked at me with a big smile.
"Your friendship means a lot to me. And I'll do anything to make you happy!" We finally gave each other a tight embrace, kisses on the cheeks, bid farewell, and walked on our separate ways.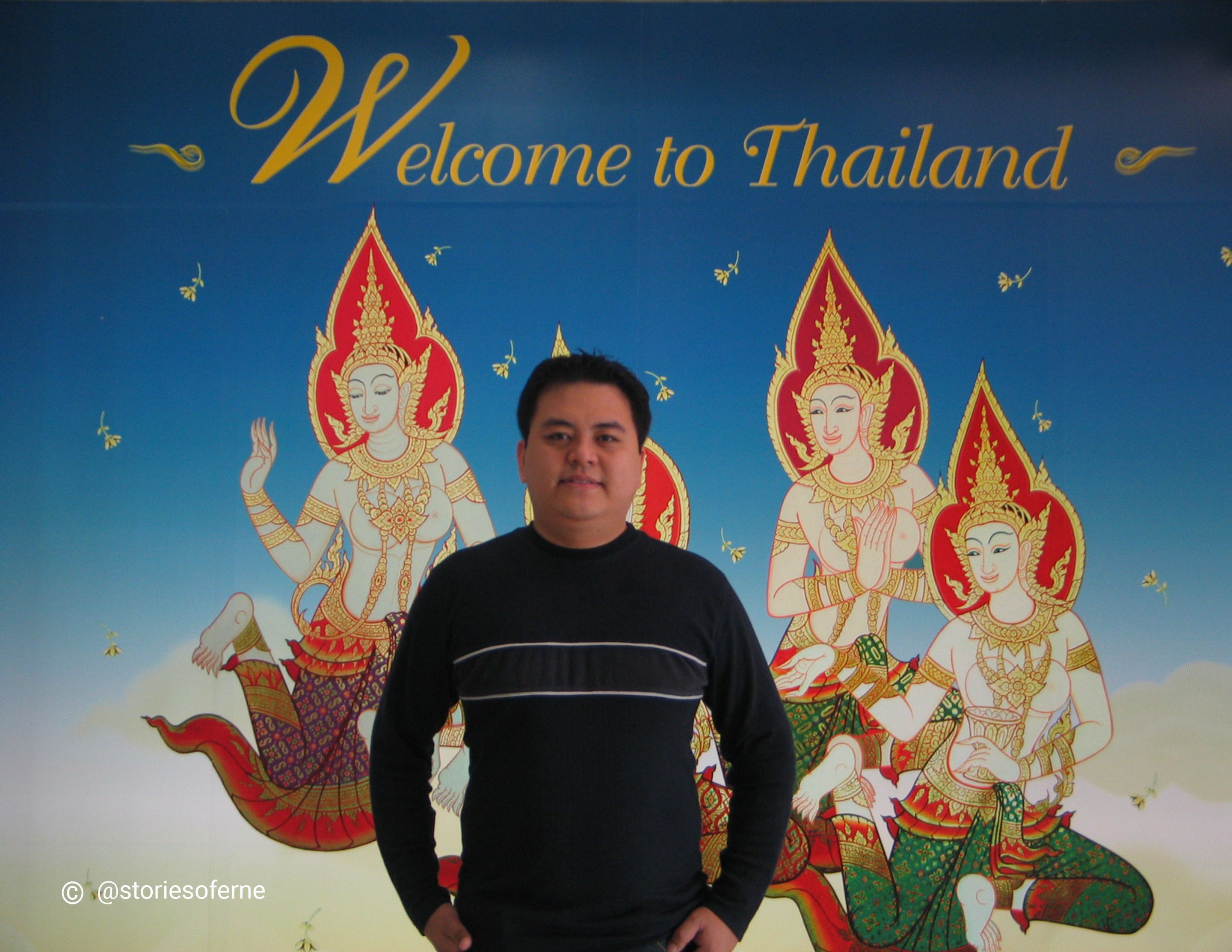 Do you love Thai food? Are you fascinated by their diverse culture, their wealthy history, their warm-hearted people, and most especially, their famous tourist attractions? Would you desire to travel to Thailand soon? Offer your thoughts in the comments below.
#Hive, have you been here?
Experience all my travel stories on the Pinmapple Map.
---



STORIES OF ERNE
Architect | Environmentalist | Lifehacker | Adventurer
Creator of Architecture+Design Community on Hive
Self-Expression Empowers Human Evolution™
© 2021 @storiesoferne All Rights Reserved