Luray Caverns: Earth's Inner Beauty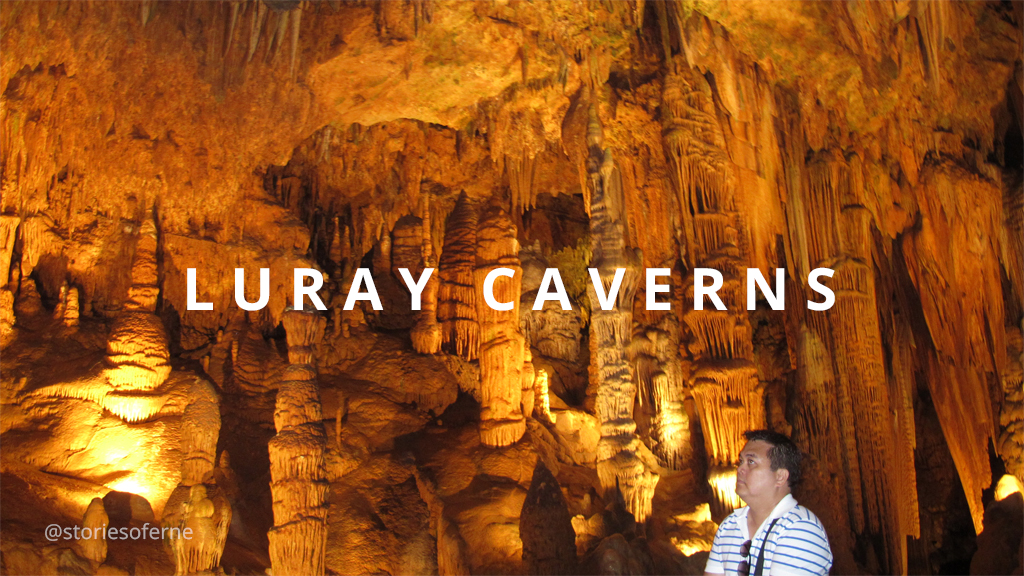 Caves. What's so special about them?
Some years ago, I used to accompany my cousins to the mountains for occasional hiking expeditions. Along the routes, we would investigate deep forests, flowing rivers, and waterfalls, plus would seldom run into wild animals. It was an adrenaline-inducing venture and was obviously a risky activity because our safety was on the line. However, what really attracted us were the dark holes, cracks, and mysterious crevices that led to the inner caves! These particular areas were where our real endurance and fear factor were stretched to the limits!
Here's an old photo of me almost hugging a large stalactite. I said almost since I only appeared to be holding the piece of limestone but I'm not actually touching it. We were not allowed to play around with these natural formations due to strict government regulations. This was captured inside an undeveloped cave on the island of Leyte in the Philippines.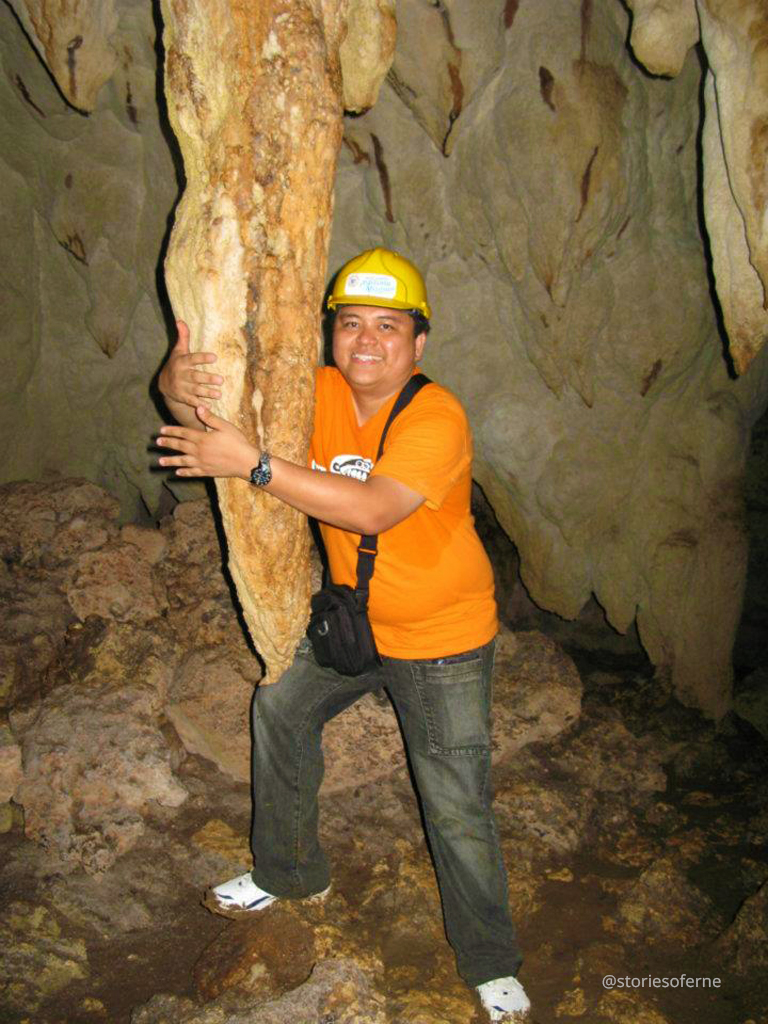 Why are our planet's caves extremely important? While aside from just being favorite dwellings for bats or for being laboratories used for research and recreational purposes, these inner habitats simply help in the proper management of underground water to prevent pollution and other toxic elements from poisoning our groundwater wells. Moreover, caves are also home to several other creatures and living organisms that stabilize our planet's continued growth and evolution. Hence, they play a major role in making our human lives better in the long run.
Unknowingly, my previous exploration of caves was merely minuscule and clearly ordinary compared to what I'm about to show you. But, first things first.
Are you claustrophobic? Does an enclosed or confined space like a natural cave terrify you? If that's the case, I'm afraid this post might not be for you. On the other hand, if you're the type of person who's a curious explorer and is willing to conquer the threshold of your comfort zone, read on!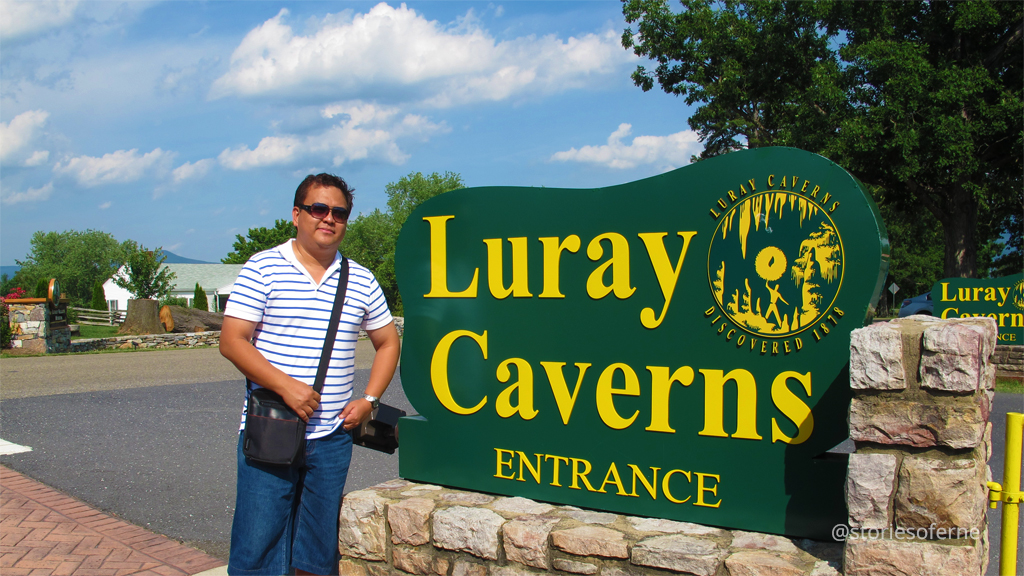 Recognized as the largest cave system on the east coast of the United States, the Luray Caverns is absolutely a unique kind of experience in itself! This was one of the awesome treats I've received from my loved ones during one of my previous travels to the eastern hemisphere of the North American continent. This famous wonder of nature is currently situated in the Shenandoah Valley, at the western side of the Blue Ridge in the Appalachian Mountains of the town of Luray in the state of Virginia, USA.
So stay with me - as I take you down, deep below the inner chambers of the underworld! Let's now descend and expose its hidden secrets!
A Subterranean World Like No Other
Did you know that the Luray Caverns was discovered by a few local men on August 13, 1878? They were Andrew J. Campbell (a local tinware expert or tinsmith), John "Quint" Campbell, William Campbell, and a local photographer with the name of Benton Stebbins.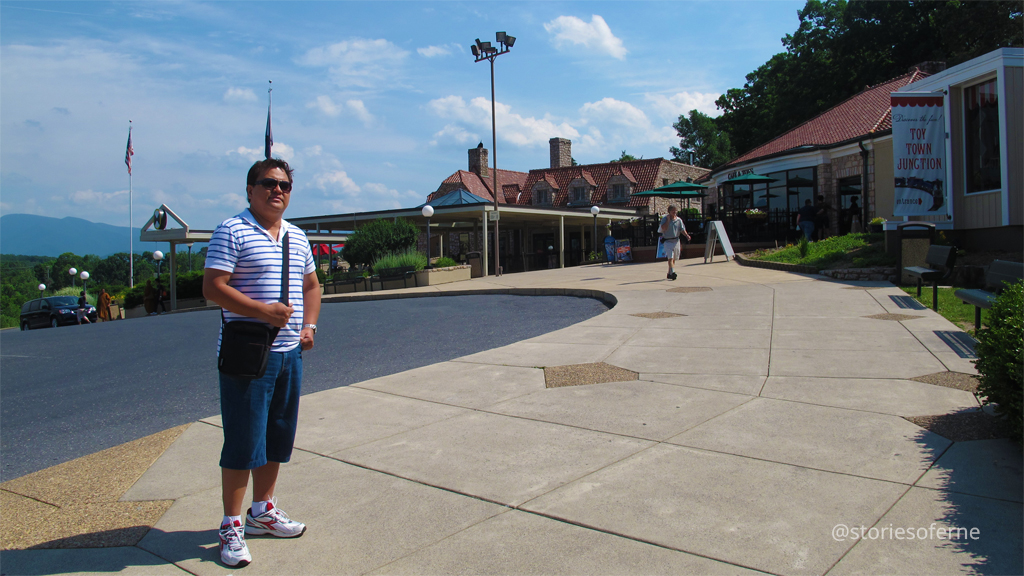 These pioneers noticed a peculiar limestone outcrop protruding above the ground and a sinkhole not far away that was emitting cool air. Realizing it was a cavern, the men immediately started to dig until it produced a hole big enough for the smallest individuals in the group to enter and explore the interiors with candlelight.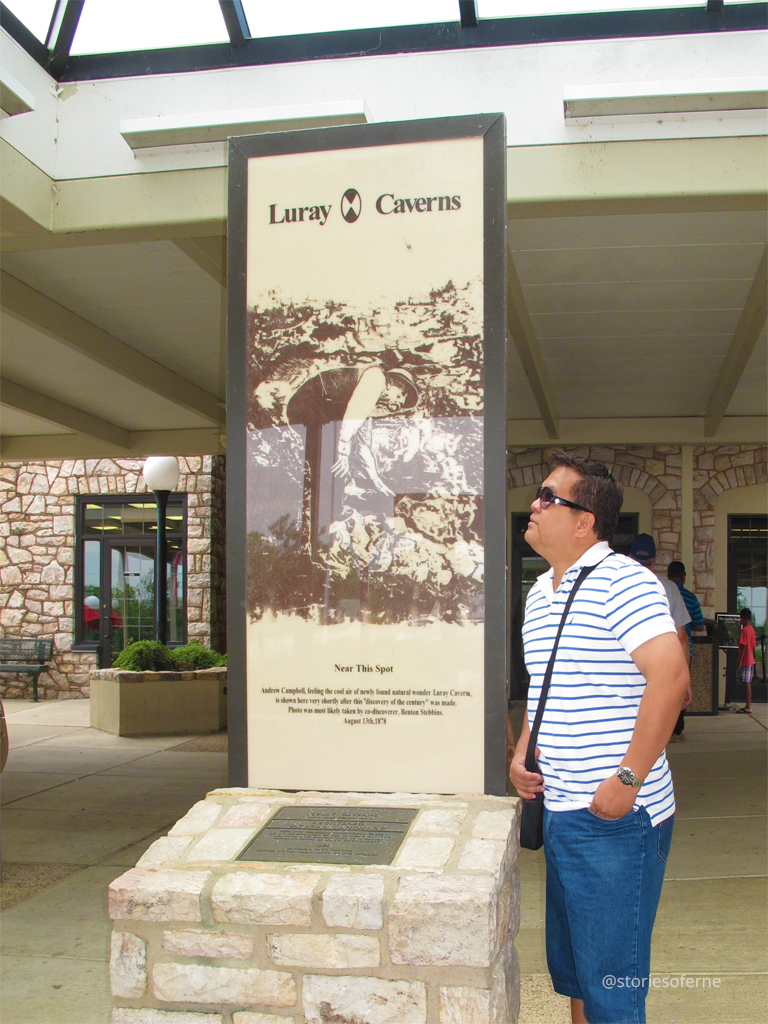 Despite its humble origins, the Luray Caverns is currently a protected U.S. Natural Landmark and has become a massive commercial success! It's the most visited geological landmark in America and is open to the public every single day of the year. Over time, millions of tourists have accessed its doors and were fascinated by its natural wonders!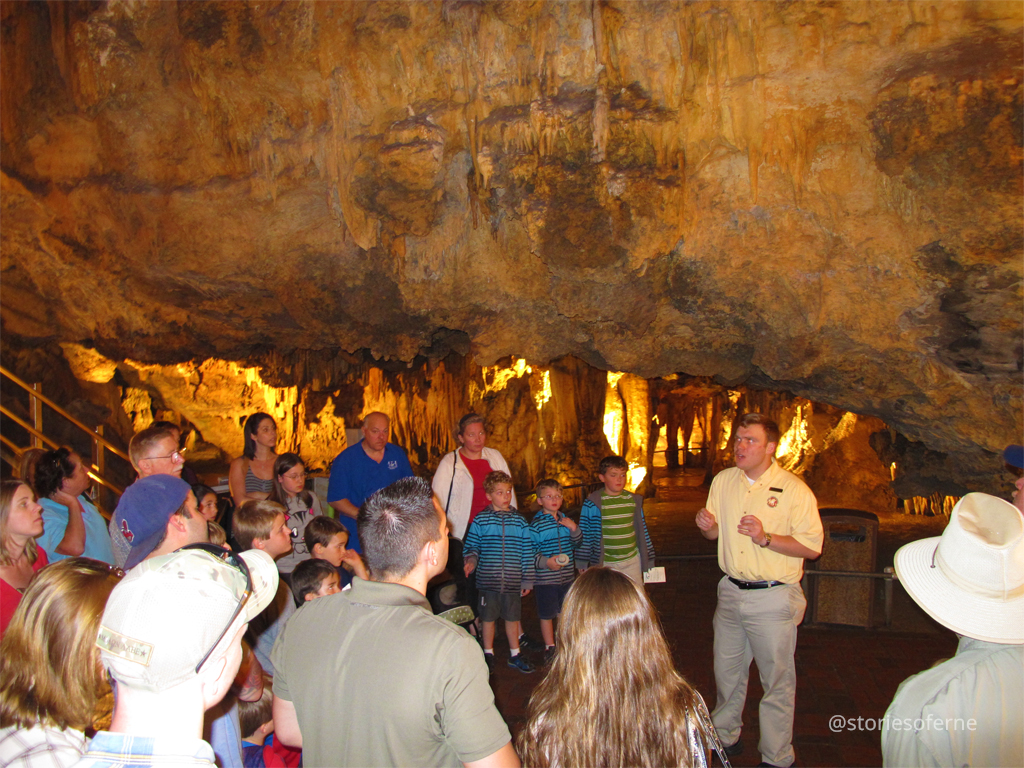 "OH MY GOD!" was my instant cry the moment I landed on the bottom of the cave's stairway entrance. Anyone would have reacted the same way as it was like entering an alien planet! The surrounding environment was visually-strange and produced a weird sensation on my physical being. Expecting it to be a dark and hot space (similar to how undeveloped caves would normally feel and look like), the overall temperature inside the caverns, on the contrary, was actually cold, had the perfect atmosphere for sightseeing, and was brightly illuminated to guide visitors as they embarked deeper into the vast expanse of the caverns. Amazing!
I brought with me a trusted companion and was joined by a small tour group during our memorable adventure below the earth's surface. Thus, my sense of safety was nourished at that time. No need to panic - at least!
The Cross Marks the Spot
The white sign with the cross you see was where the original discoverers of Luray Caverns stumbled upon this landmark many generations ago.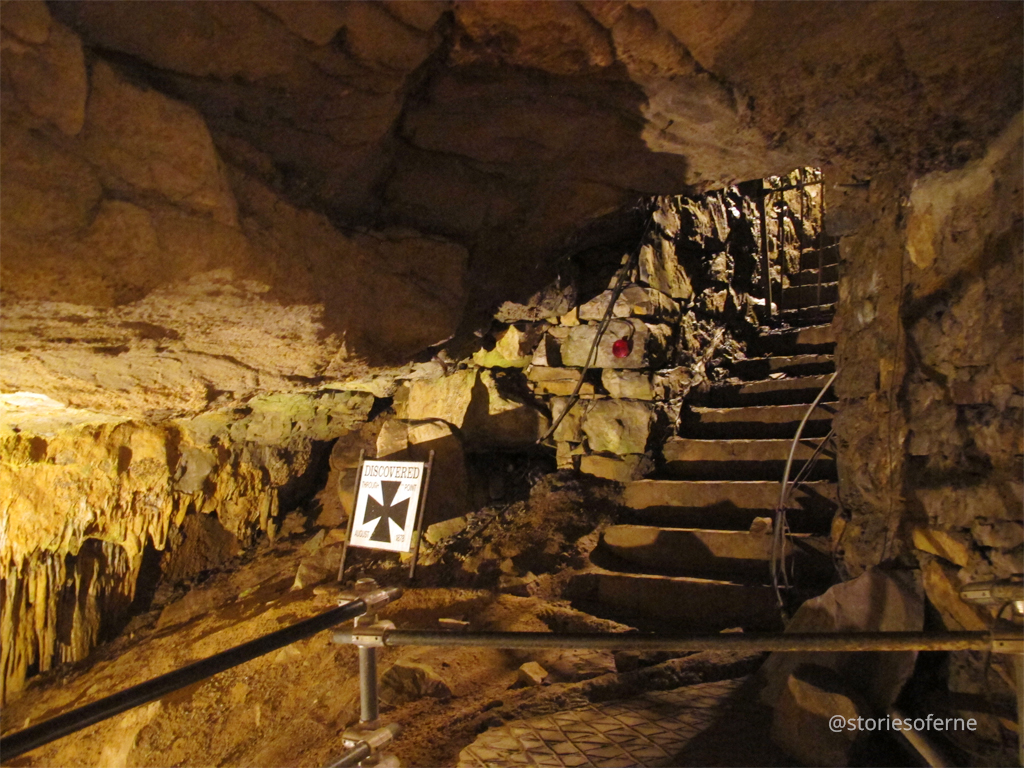 Who would have imagined that such a tiny opening would connect us to an underground universe of natural beauty, awe, and grace? Life is indeed full of unexpected surprises, isn't it?
They Even Have Names!
Like the realm of motion pictures, let's picture Luray Caverns as a gigantic movie set where all the actors, actresses, and other film crew are tasked to perform their specific roles. Each character will have a specific script to follow and are under the guidance of the director and writer similar to how Mother Nature would have perfectly crafted this natural environment.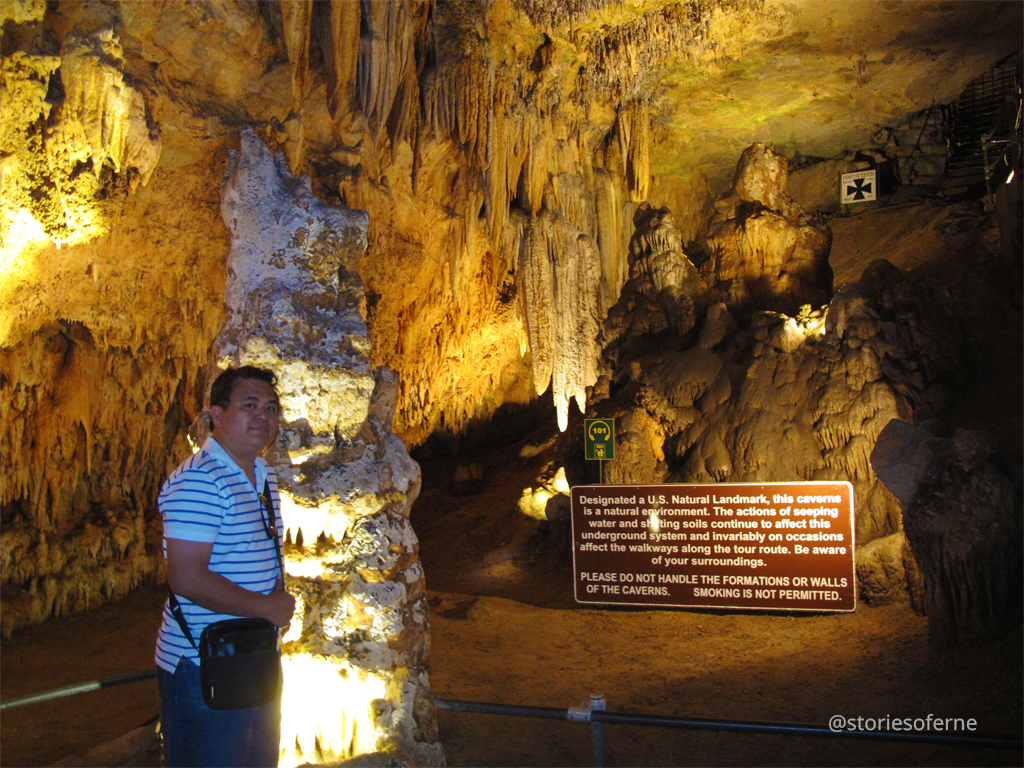 In this underground labyrinth, allow me to introduce to you these popular celebrities one by one. Perhaps you might find them interesting and would like to interpret them with your own perspective. So feel free to voice out your comments about these geological features and natural creations, whatever they may be.
Ballroom of Stalactites
Up next, we were suddenly welcomed by the majestic grandeur of the cavern's stalactites and stalagmites! No wonder it's called a ballroom due to its enormous size! "Never in my life have I seen a cave as massive as this one!" I told my companion as we both stared blankly at the formations above our heads.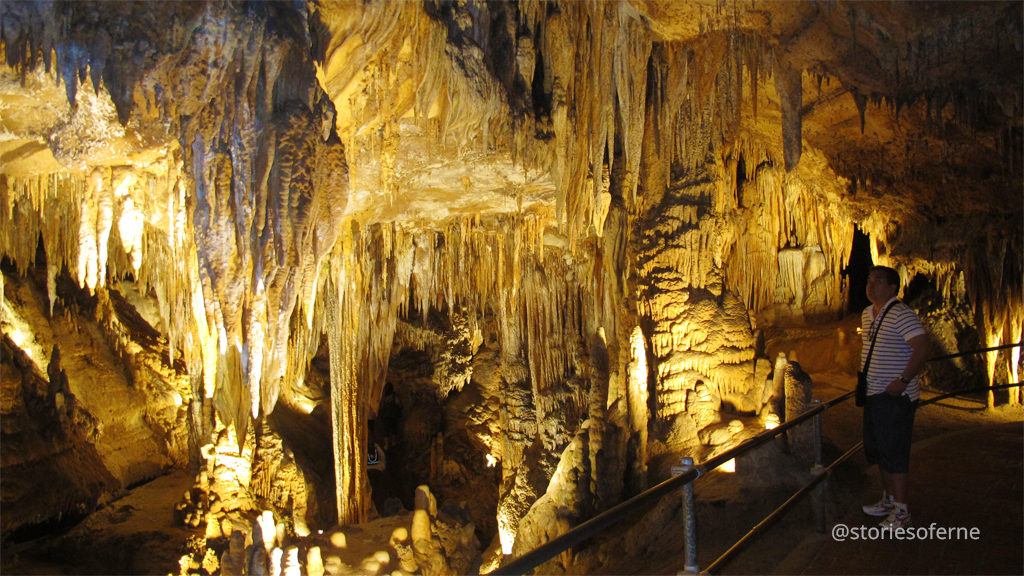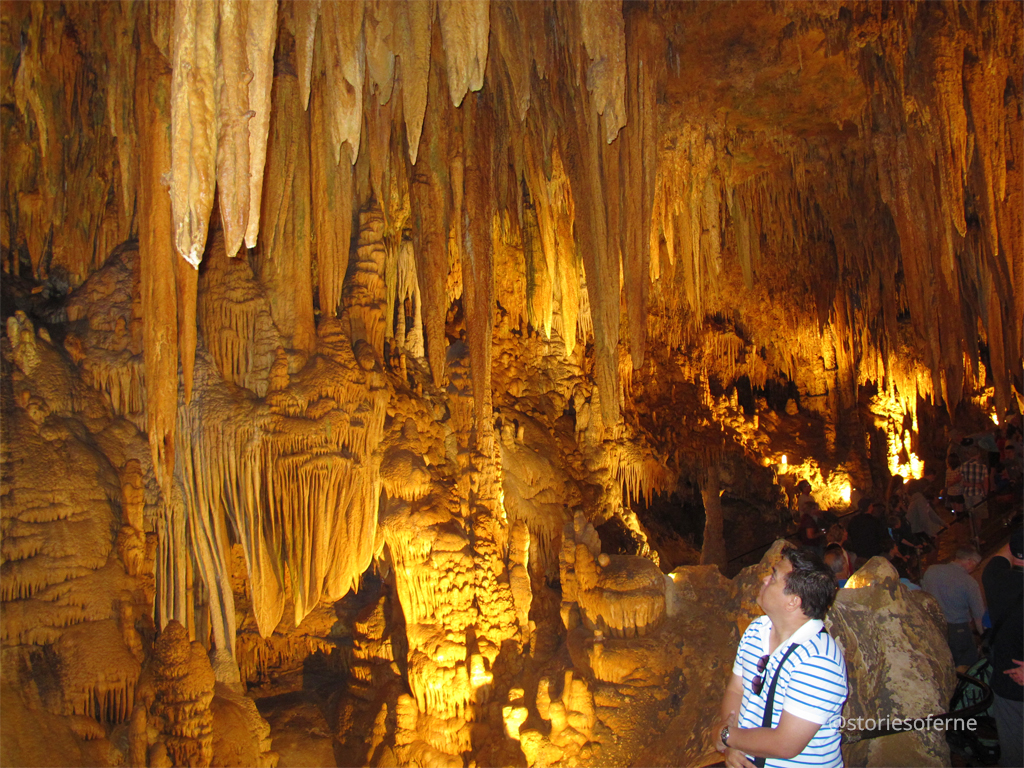 The interior chambers were ranging with varying heights of 9 to 43 meters (30 to 140 feet), were brightly lit by spotlights and ambient lighting fixtures, plus the entire cave network was interconnected by concrete pavements, bridges, corridors, and stairways.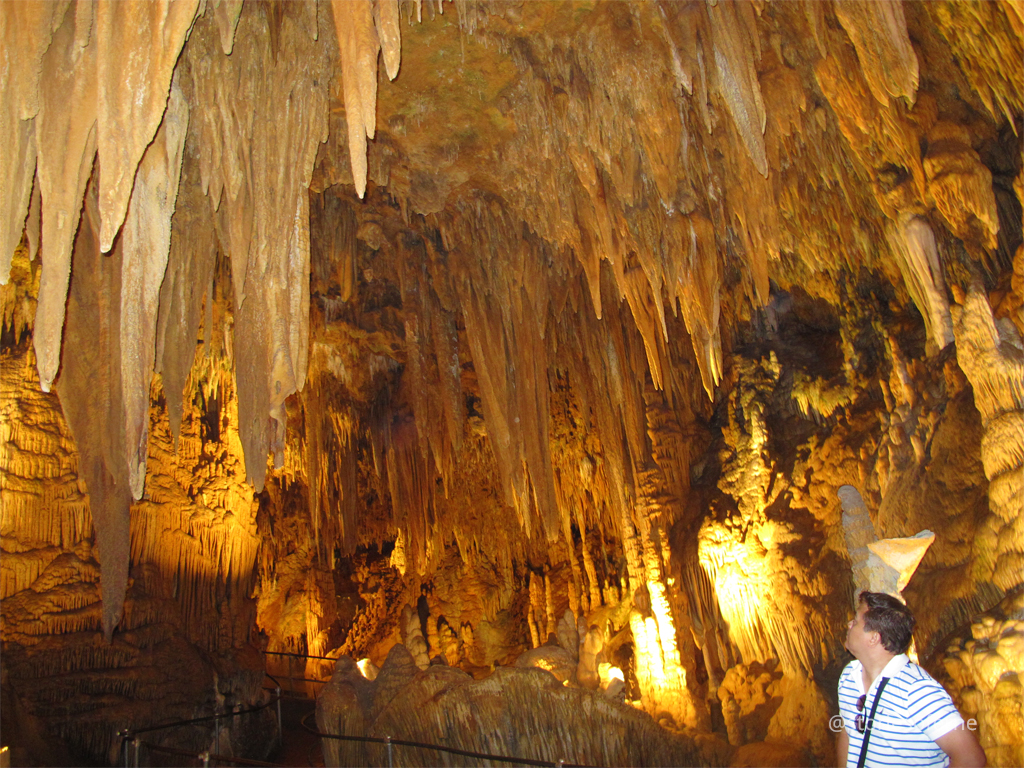 Inside these caverns, I witnessed a spectacular plethora of different systems of stalactites, stalagmites, flowstones, mudflows, columns, and reflecting pools. As a matter of fact, I never expected to discover so much beauty underneath the surface of the Earth!
The Great Stalacpipe Organ
May I present to you the world's largest musical instrument! This specific landmark of the Luray Caverns is probably what it's best known for and is its core attraction.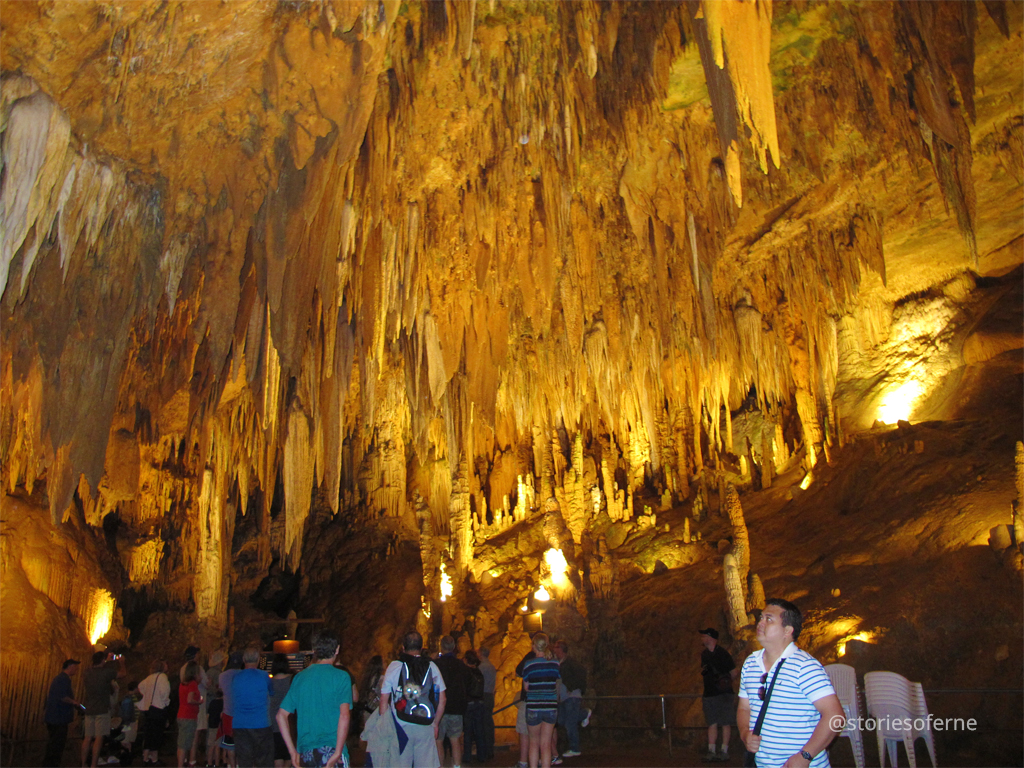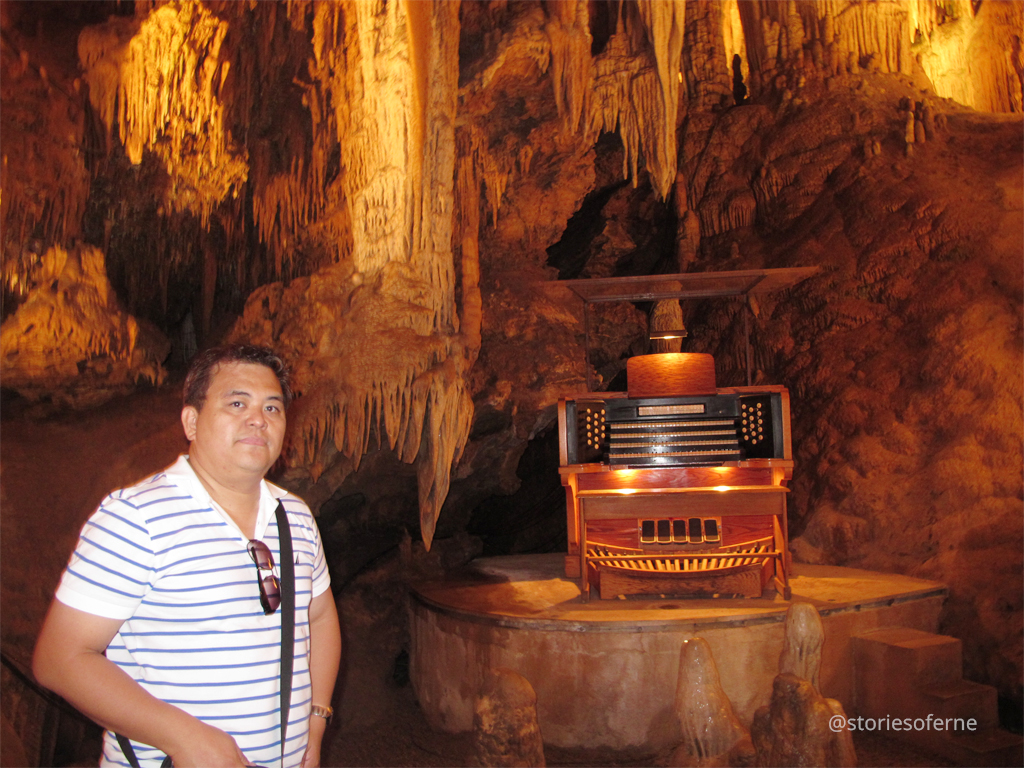 The ingenious technology behind this musical device consisted of rubber-tipped plungers (solenoid-fired strikers) that tapped 37 stalactites to produce sounds of different notes. (What? Such a complicated contraption, isn't it?) I stood still as I listened attentively to the distinct tones from the lithophone which were similar to the familiar sounds made by church bells, tuning forks, or xylophones from marching bands.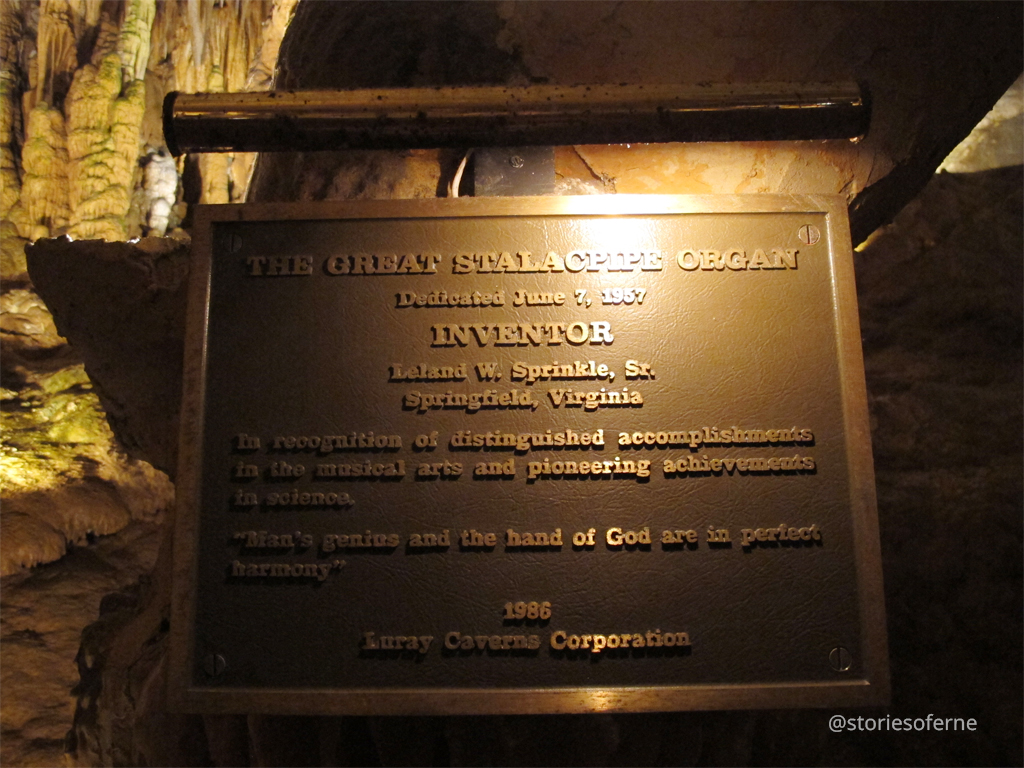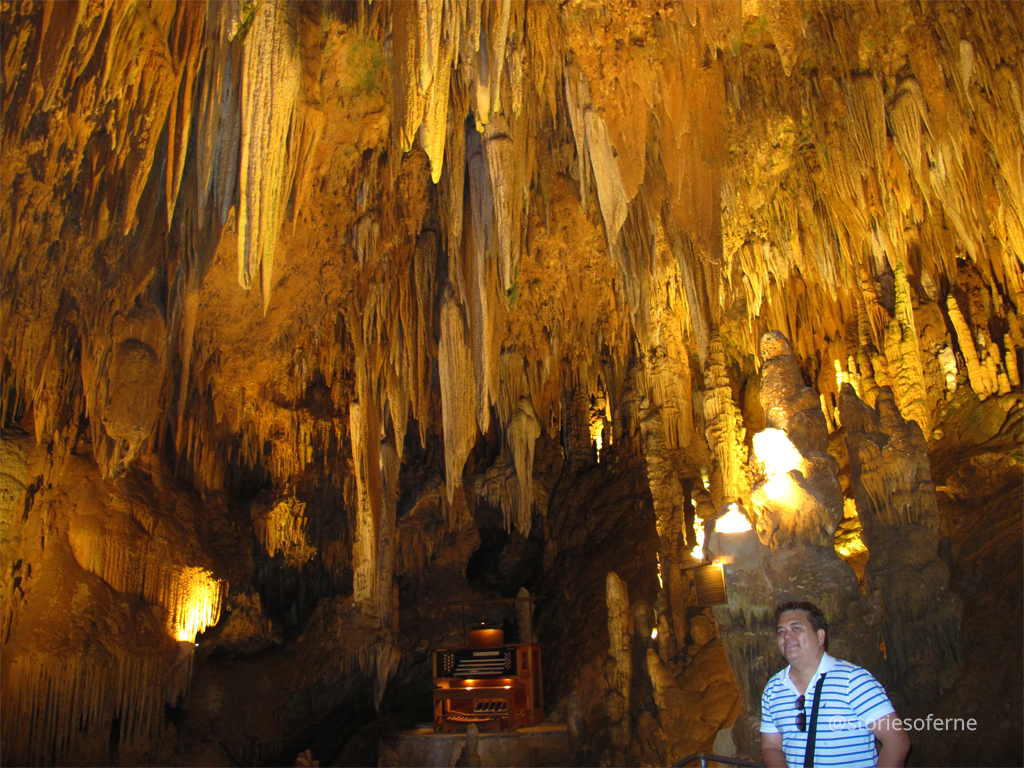 "Are the musical sounds I'm hearing right now real?" I asked my companion while continuing to stand stiffly on the same spot for as long as I can remember. The reverberating tones of the "Great Stalacpipe Organ" were similar to that coming from a cathedral's choir organ the echoed all over the space. It was certainly a spellbinding experience!
The Leaning Column
If you've been to Italy and saw the leaning tower of Pisa, the Leaning Column is the underworld's version of it. Not literally - but you get the idea!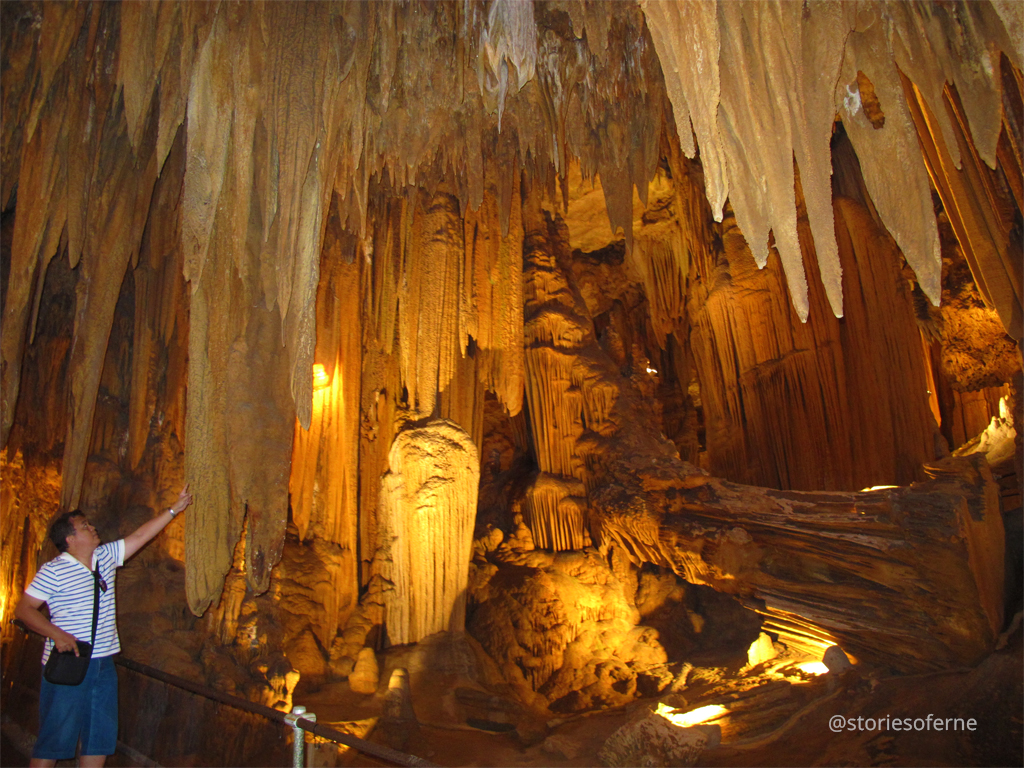 It's actually a large limestone stalactite that fell off the cave ceiling many years ago and stayed in that tilting position until the present era. Hence, the acquired name.
Dream Lake
This is probably one of the best natural mirrored pools I've encountered in the natural world. The water bed is extremely clear and crispy that it produced a reflective surface that's stunning to the eyes!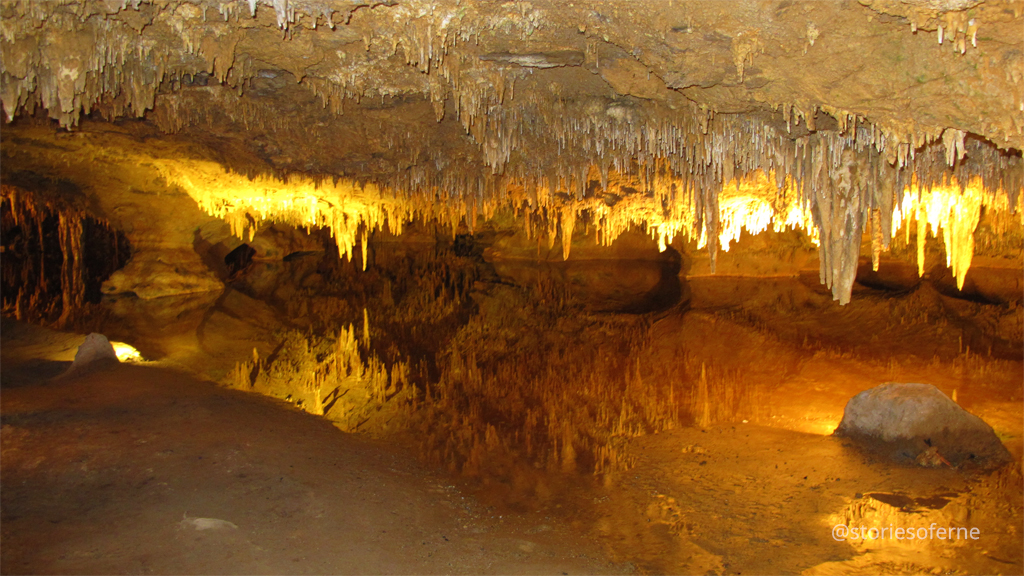 Called the Dream Lake, this natural body of water created the illusion of appearing deep but was actually just shallow with a depth of 510 mm (20 inches). Looks can sometimes be deceiving, right?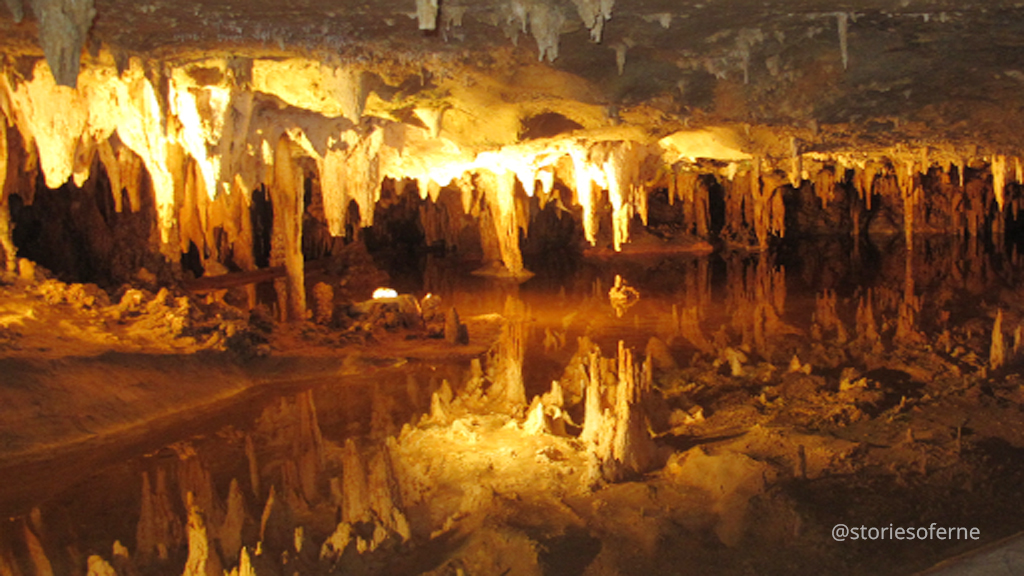 Anyone looking at this aquatic environment would surely be stunned by its trance-like effect!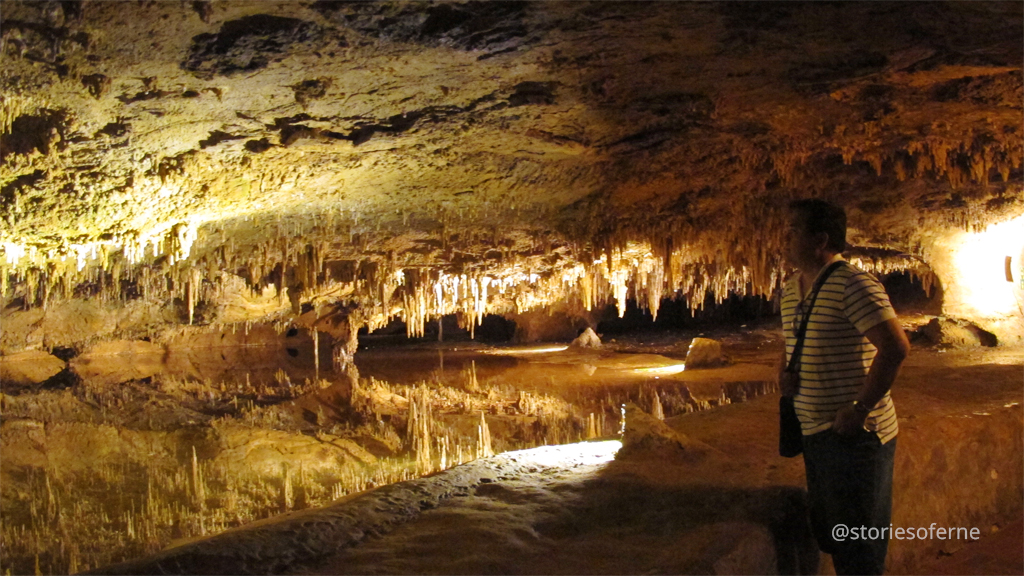 I for one was in a hypnotic state when I stood beside the lake. Time froze for a moment. It was the ideal location to meditate that I almost fell asleep! Was it time to dream? Maybe.
Giant's Hall
I thought I've already seen it all. But, when we arrived at this magnificent location within the caverns, my jaw dropped and my breath stopped for an instant!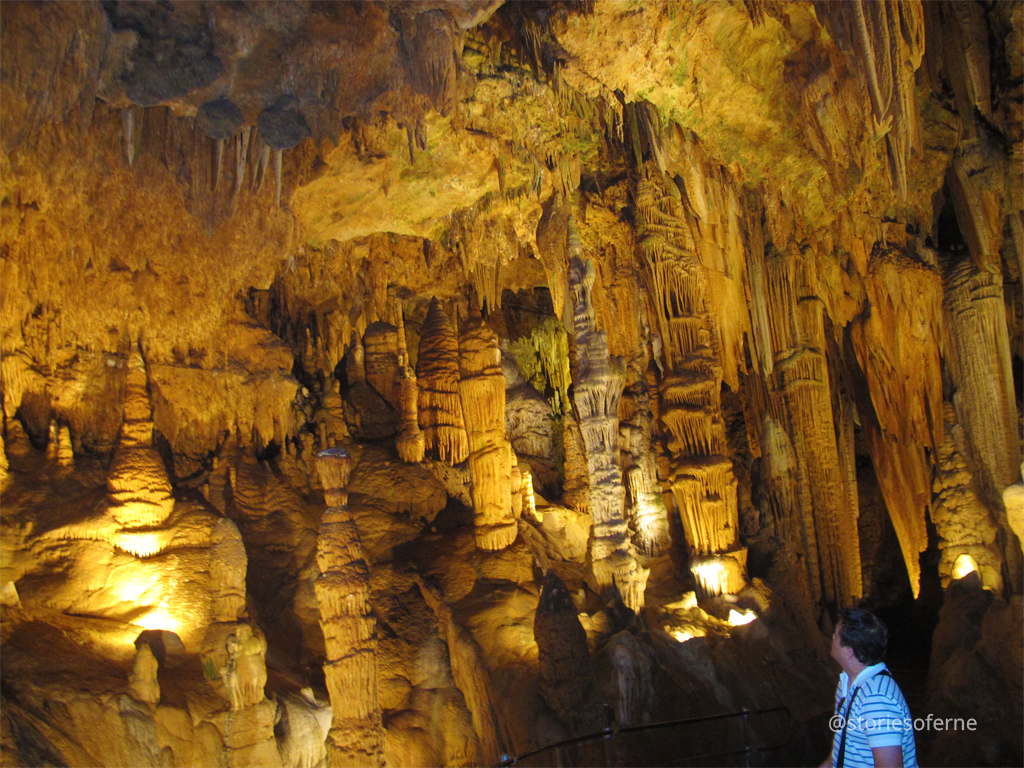 There in front of me were extremely tall golden pillars of rock formations that were around 10-storeys high! I was obviously dwarfed by these larger-than-life behemoths who seemed like they were about to pounce on me. How would you react if you were in my shoes huh?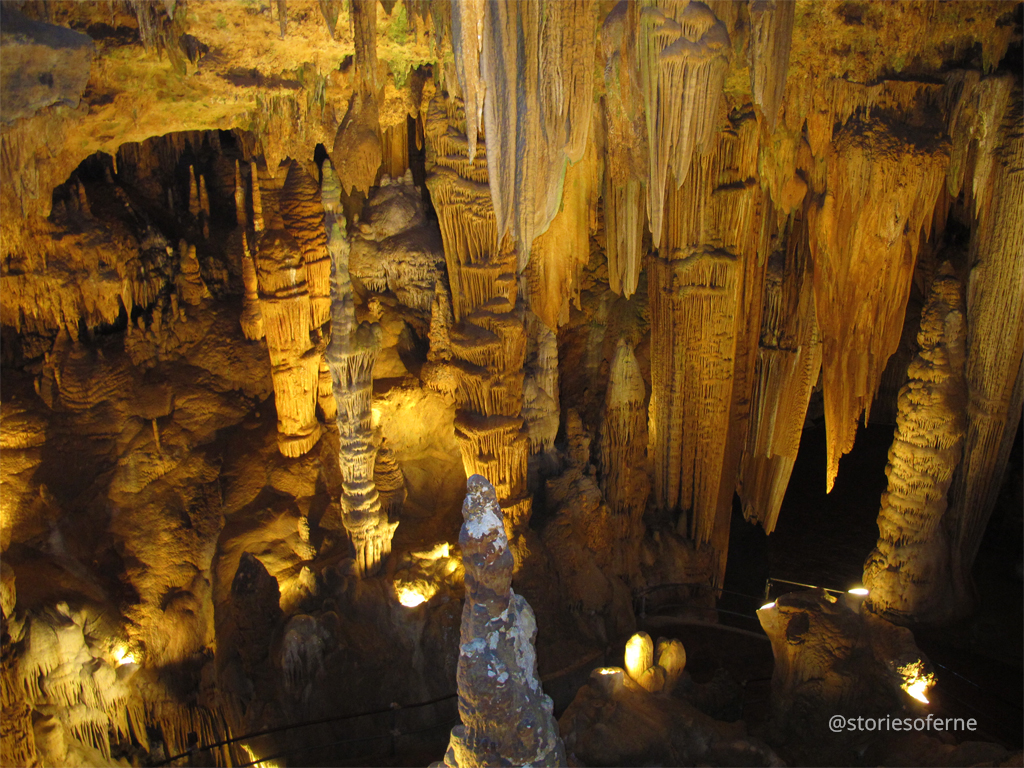 No wonder they called this area the Giant's Hall, a deserving tribute to such a beautiful spot like this one!
Saracen's Tent
Every once in a while, we came across exquisite flowstone draperies. These were highly attractive curtain-like natural formations that were delicately fragile, thin, and transparent that rays of light would shine through their distinctive surfaces.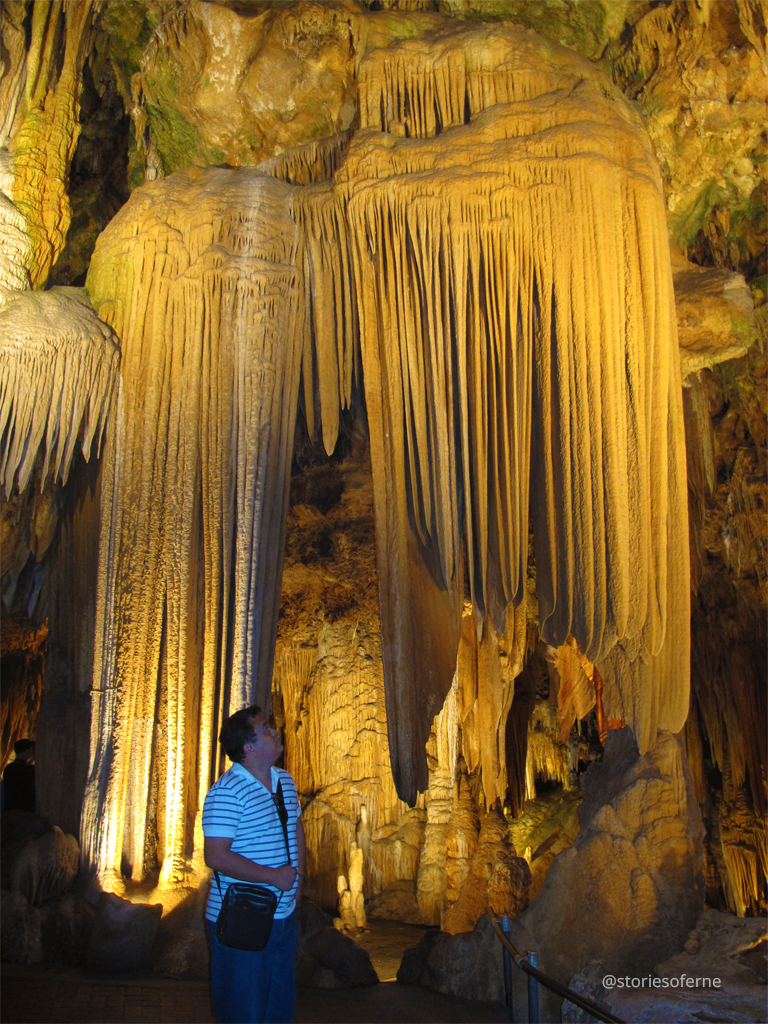 I had the delightful pleasure of meeting Saracen's Tent up close and personal! She was the most gorgeous and famous of all these flowstone draperies.
"I'm pleased to meet you too!" Straightaway, as she seemed to reply back to me with a dazzling smile.
Double Column
From the name itself, the Double Column was composed of 2 fluted gigantic pillars that stood side by side and were 7.6 meters (25 feet) and 18 meters (60 feet) respectively.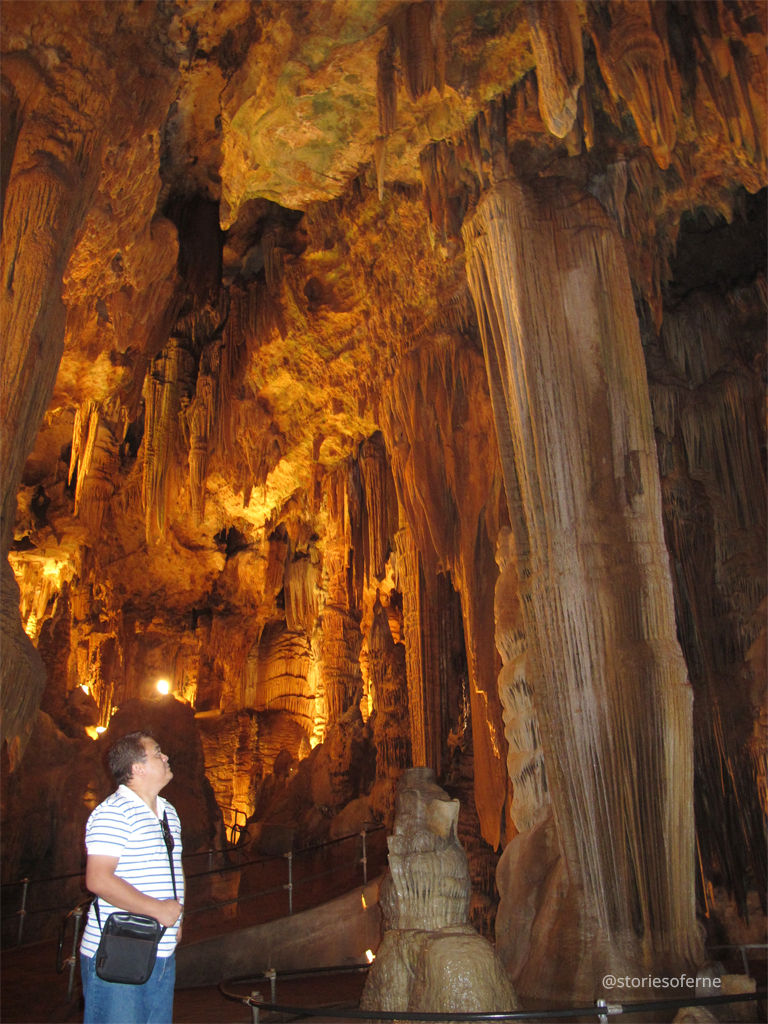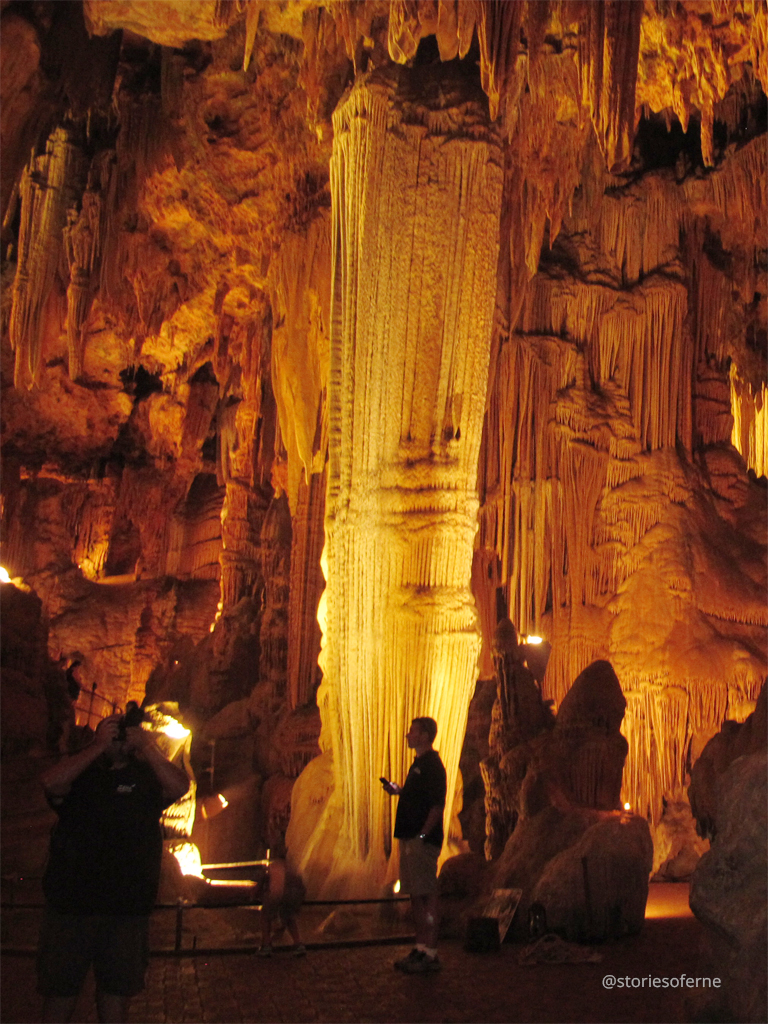 These 2 titans were made of snowy alabaster and were a sight to behold! Remarkable!
Pluto's Ghost
As we journeyed through the different chambers within the caverns, our creative imaginations were also running wild and boiling on their own.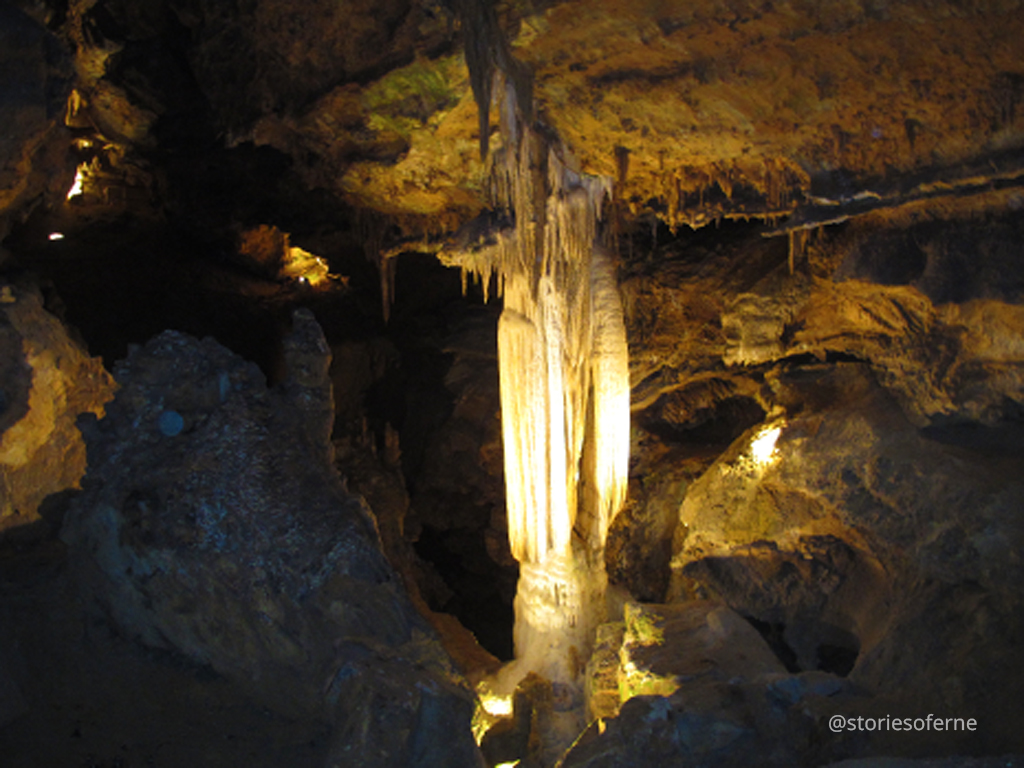 Why was that? There were times after blinking my eyes when I saw strange shapes that I thought were something but were actually nothing. Just like "Pluto's Ghost" which I mistook as a supernatural entity that came out of nowhere - the hairs on my skin suddenly stood up due to that eerie sensation!
Brands Cascade
"What an adorable sight!" This was my immediate response when I reached Brands Cascade!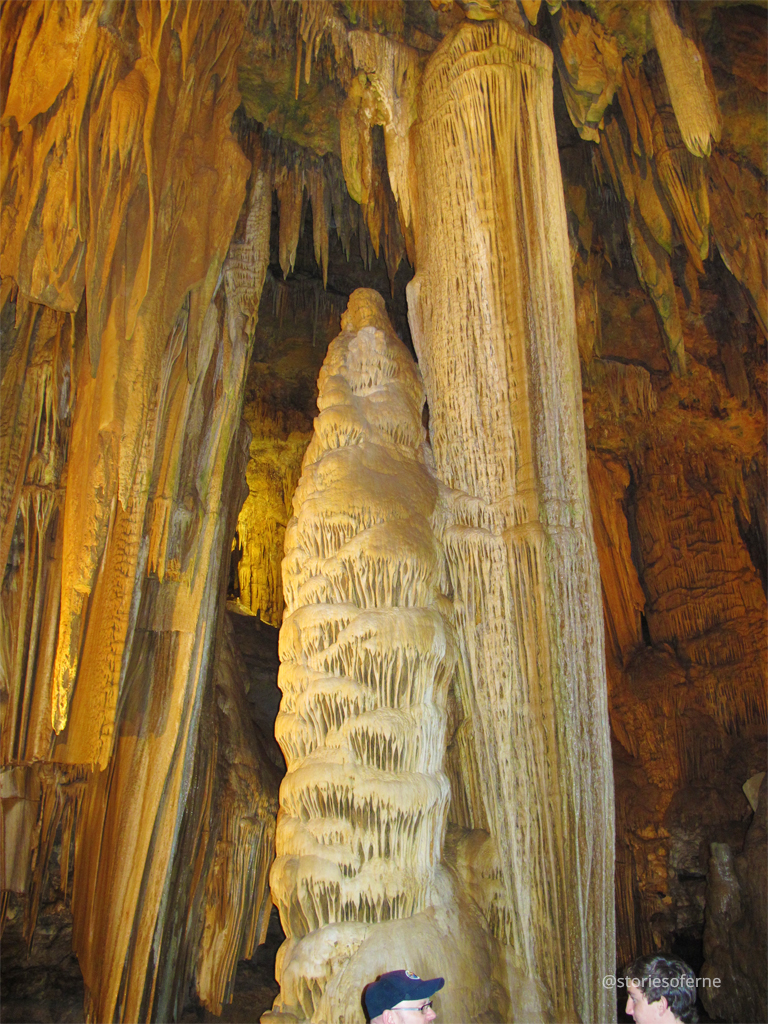 These were natural cascades formed by bubbling cataracts trapped in mid-air and converted into milk-white or amber alabaster sculptures of art This was another extremely tall pillar of rock that measured 12 meters (40 feet) high and 9.1 meters (30 feet) wide. To me, it looked like an enormous vertical wedding cake with overflowing white icings on it - literally!
War Memorial
We quickly passed through this important landmark to pay our respects to the soldiers who lost their lives during the war.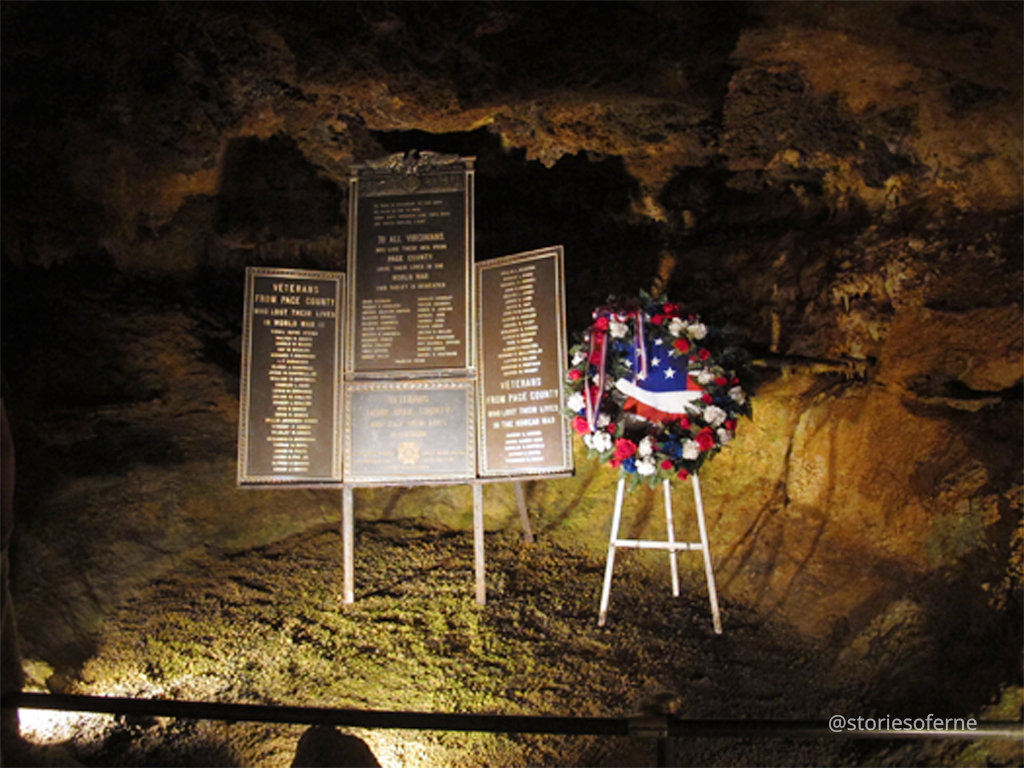 These courageous veterans from Page County had their names adorned on the memorial to serve as an honoring tribute for their outstanding service.
Frozen Fountain
As we ventured deeper into the caverns. the inside temperature dropped dramatically. I then rubbed my 2 hands in a rapid motion so as to produce heat to warm myself.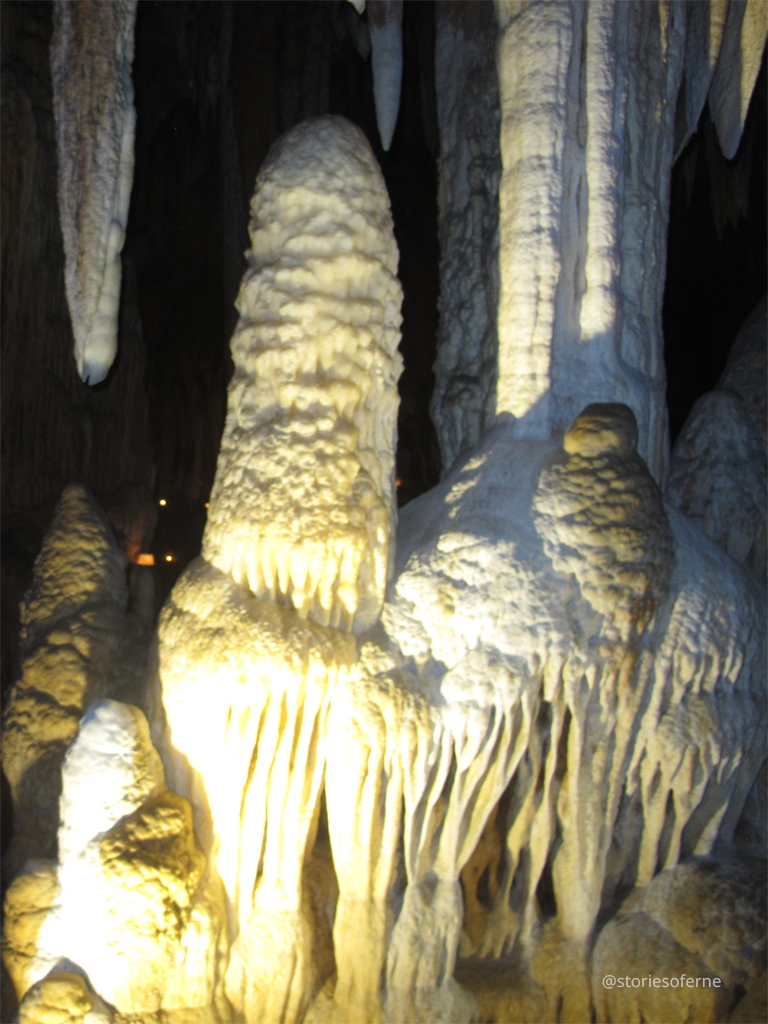 Next was a huge, rounded, and white fountain that got frozen in time. Hence, the name! I don't' know about you but, you might call it something else? (And no, I'm not being malicious here…haha!)
Wishing Well
It was time to visit the Wishing Well, another recognized celebrity within the caverns! It was a vividly green pond that contained coins of various denominations scattered all over the place.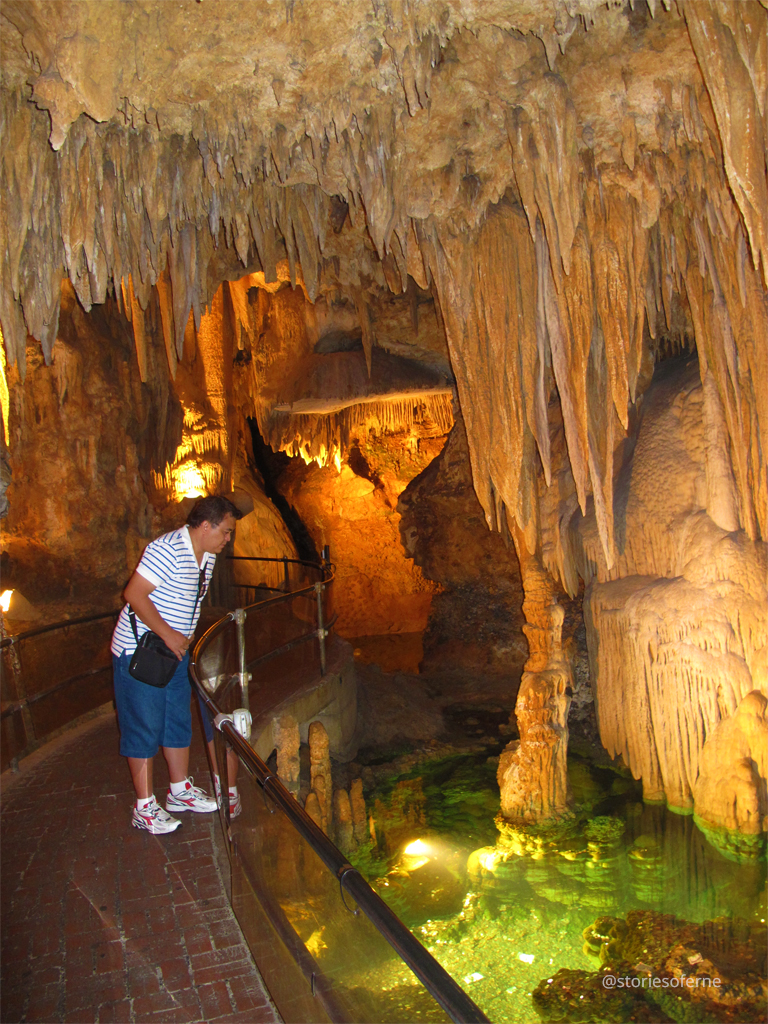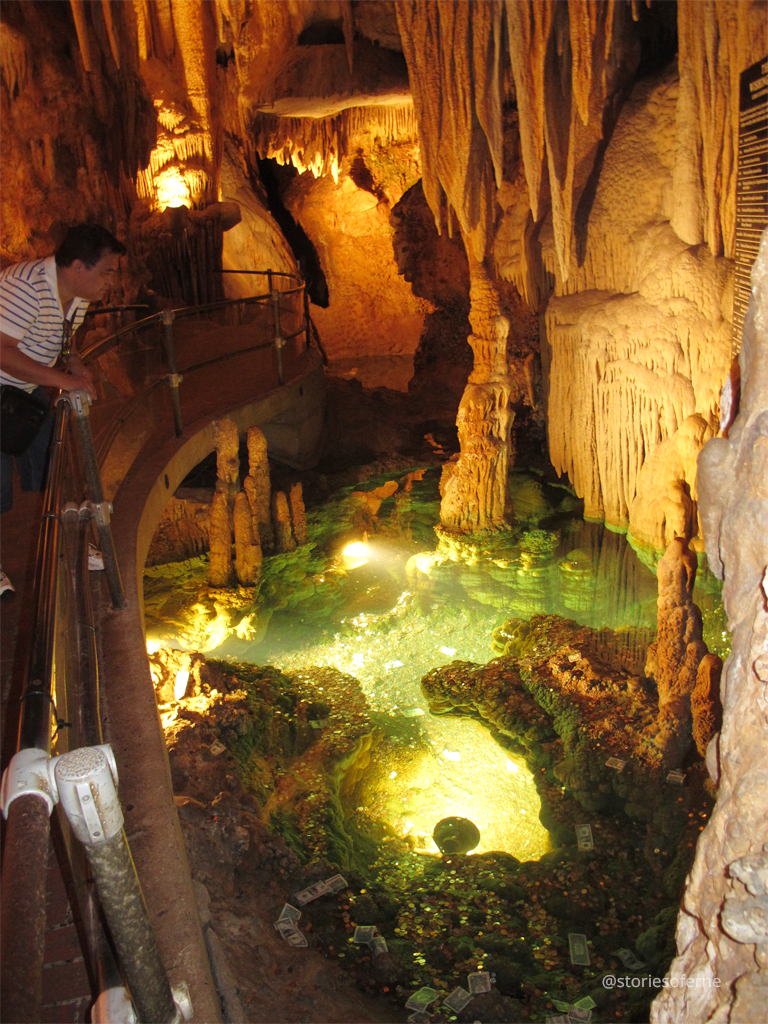 Like the Dream Lake, it also produced an optical illusion. While the pond appeared to be only 0.91 to 1.22 meters (3 to 4 feet) deep, its lowest level was actually 1.8 to 2.1 meters (6 to 7 feet) deep.
"Come on. let's drop a few coins before we leave," was my request to my companion as we continued with the tour.
Fried Eggs
How do you want your eggs cooked for breakfast - scrambled or sunny side up? The latter was what I saw in a nearby rock shelf. They were exactly how you would look at it, literally!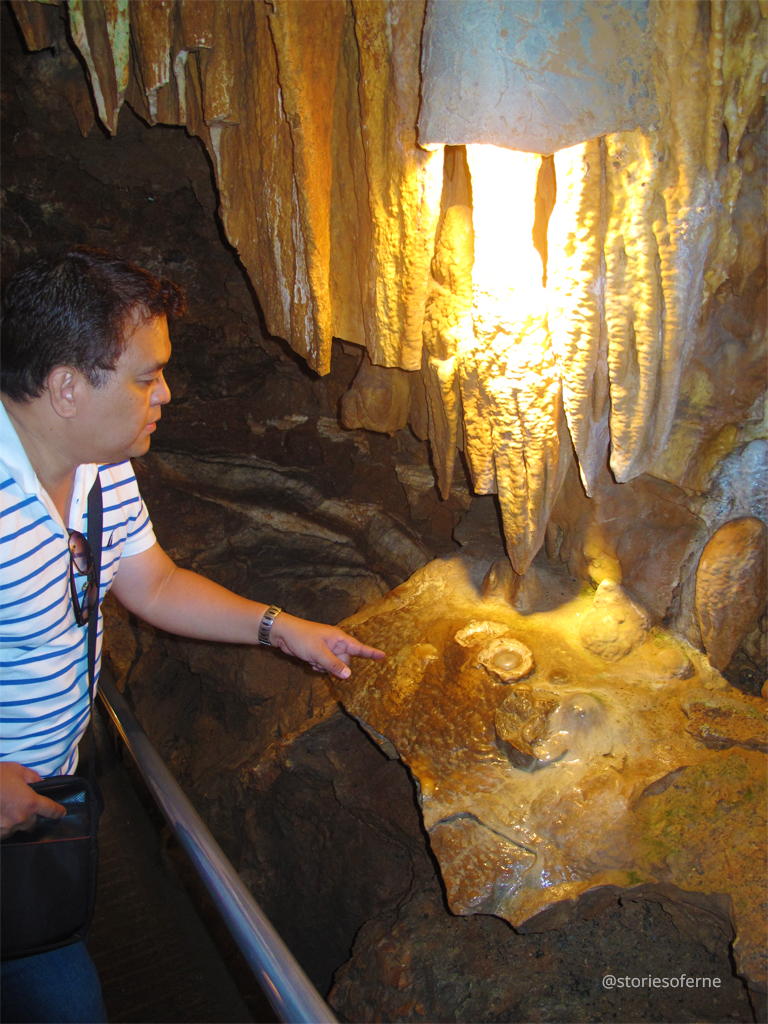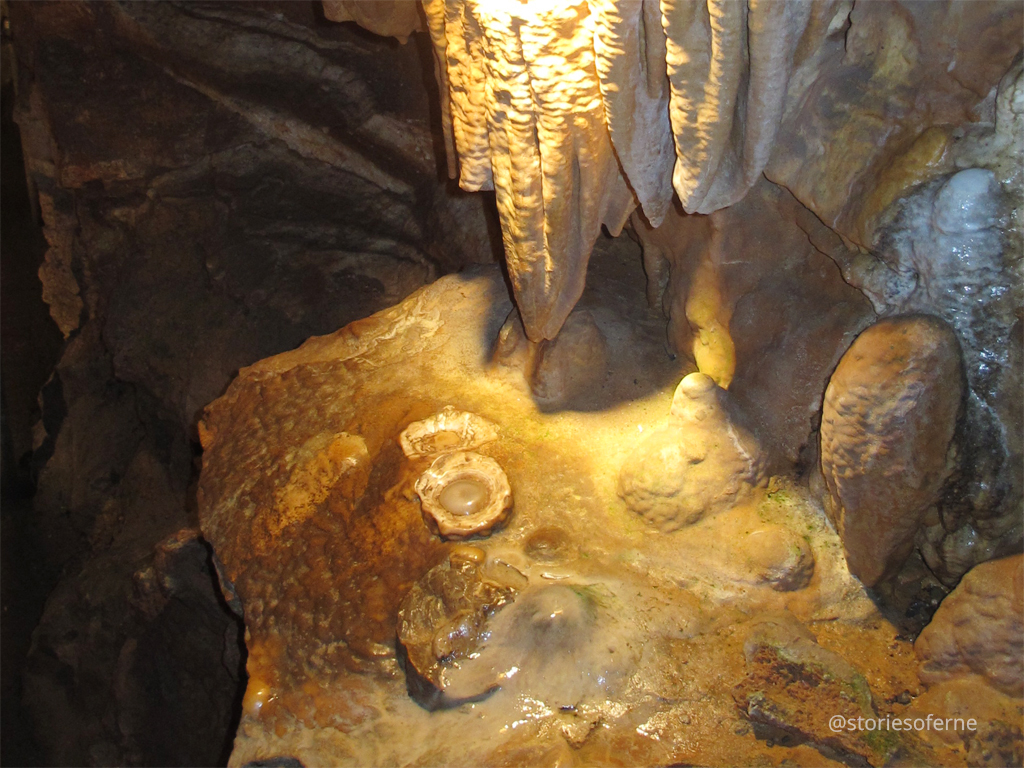 Perhaps Mother Nature didn't know what she was doing when she created these unique shapes in the first place but, because fried eggs are a common food, we ended up calling them the most suitable name they deserve.
Other Highlighted Features
There were other relevant celebrities inside this enormous cave whose names I might have missed or overlooked. Nevertheless, I still managed to capture some of their magnificent photos for your visual pleasure.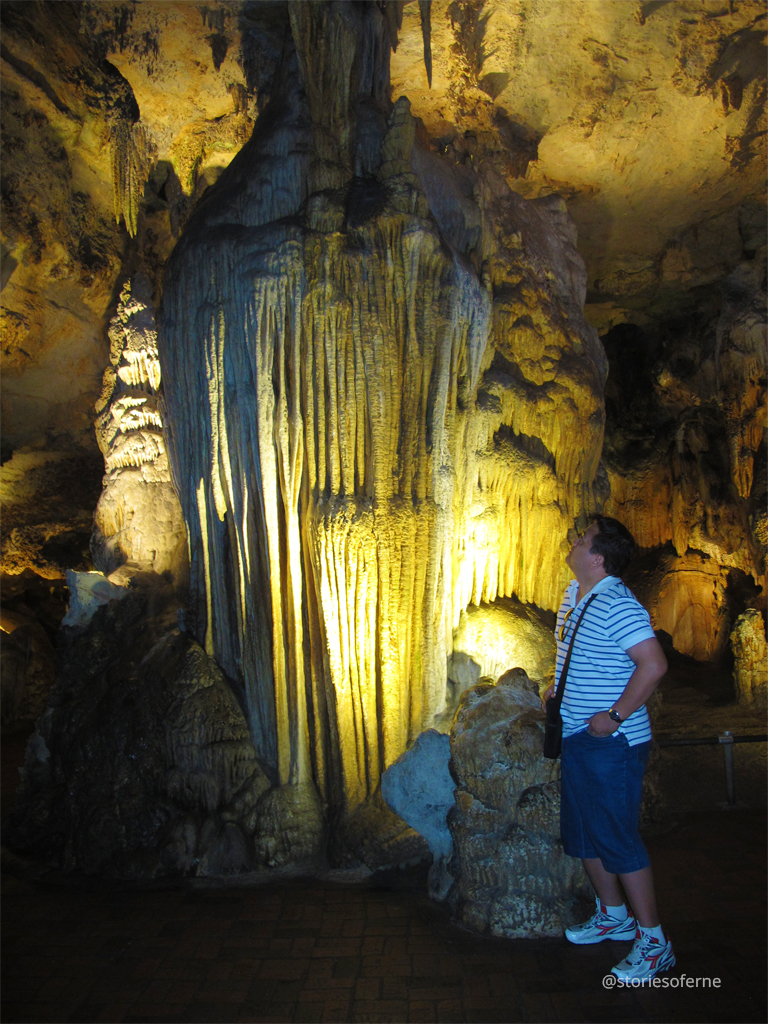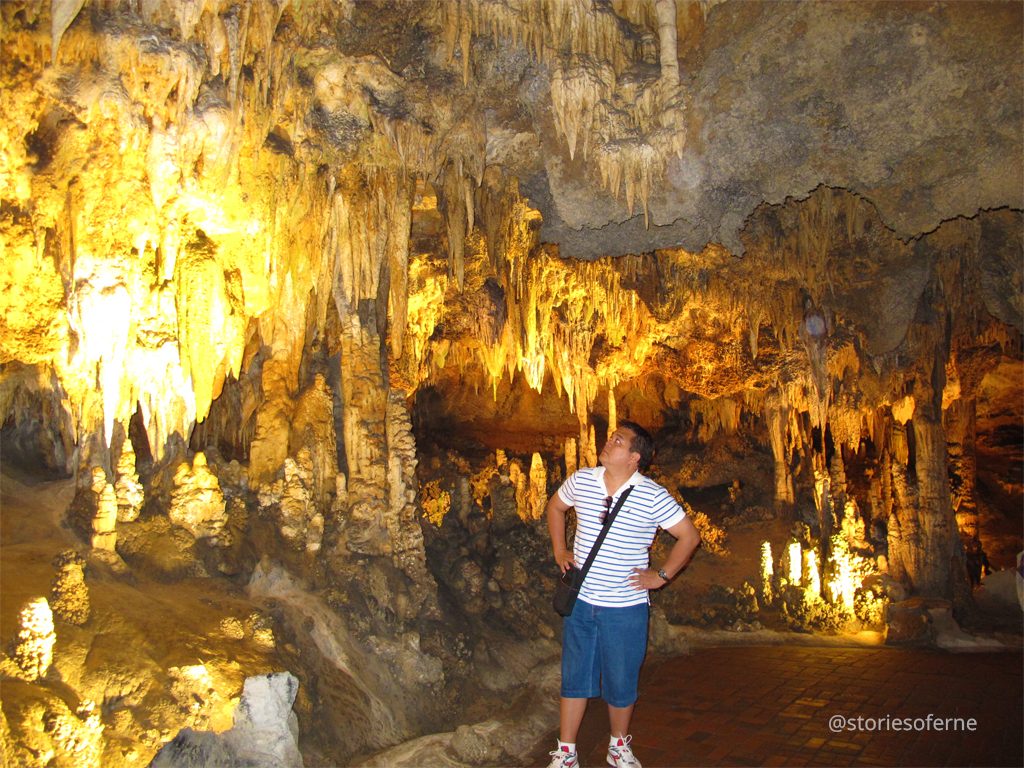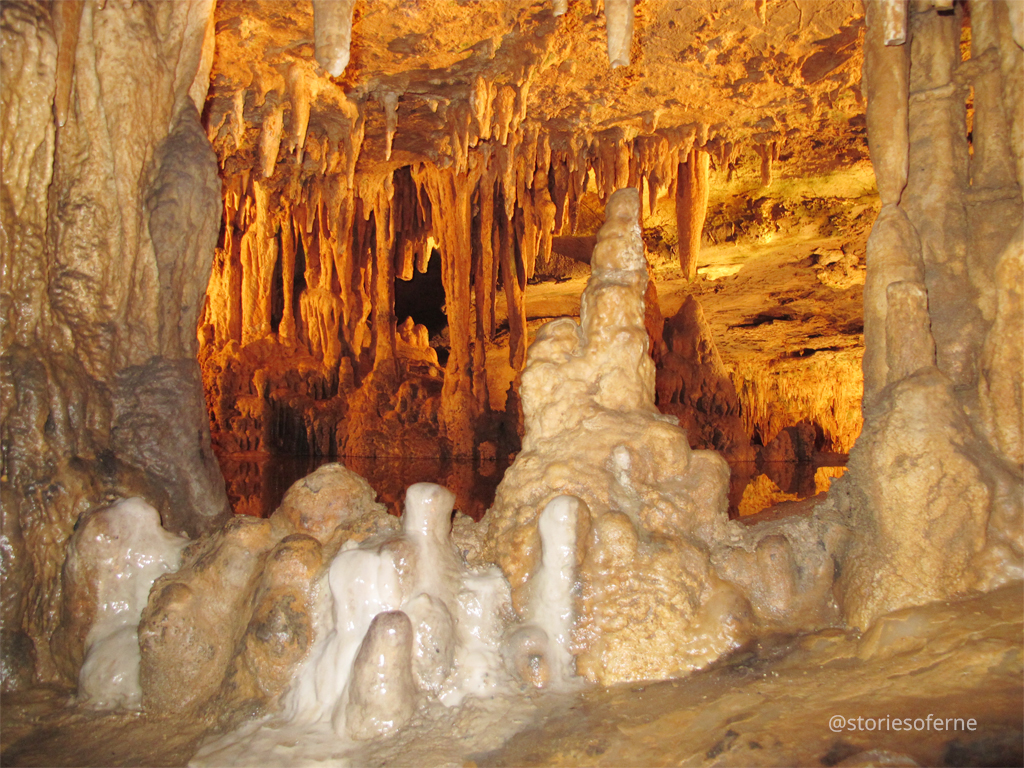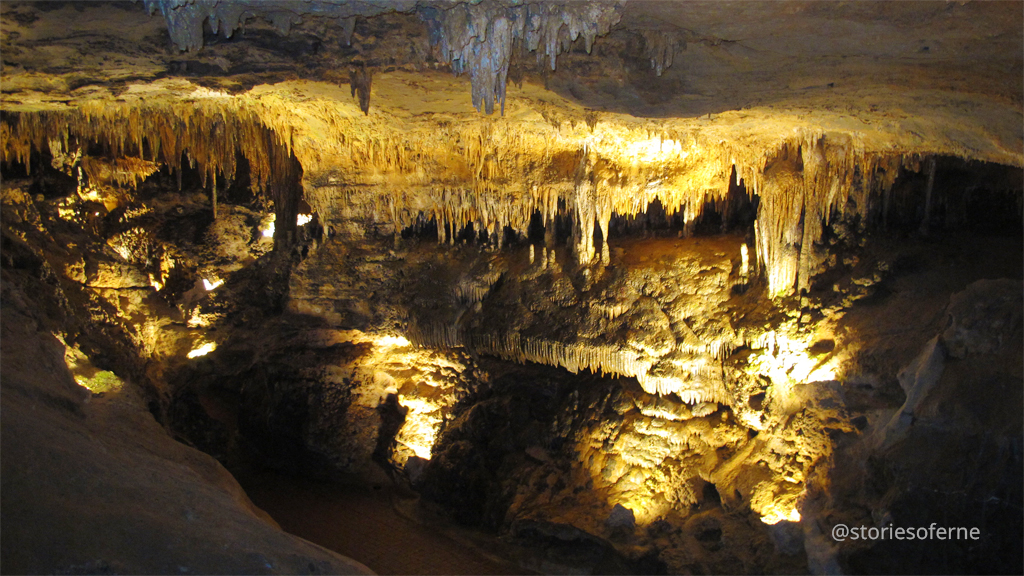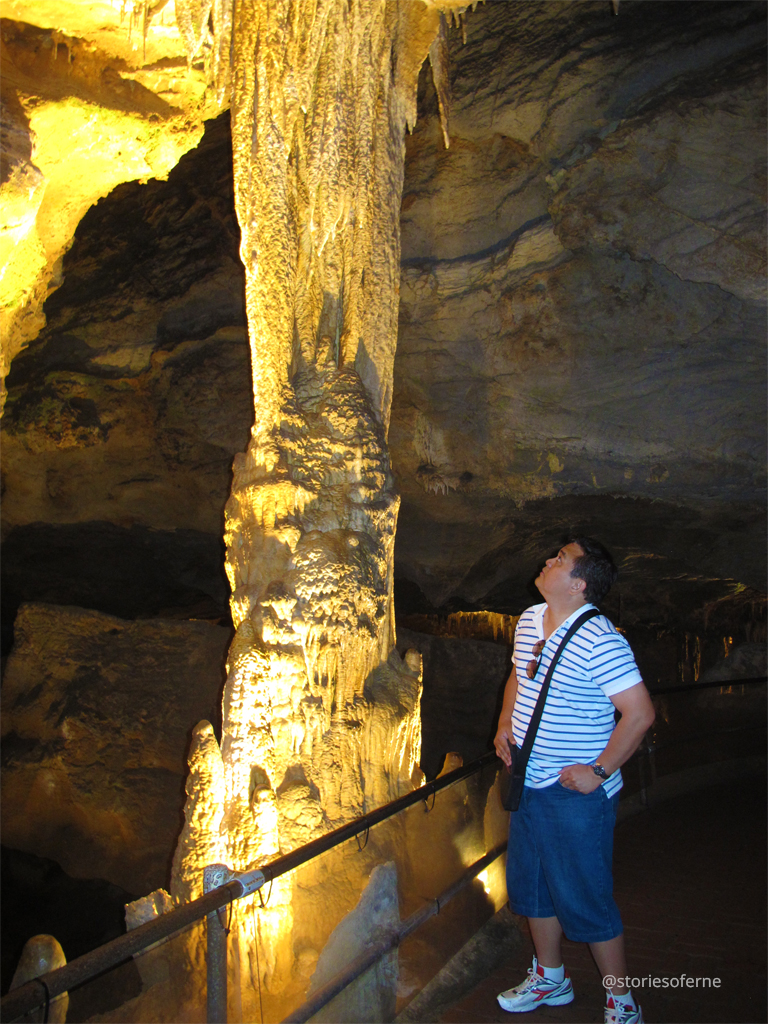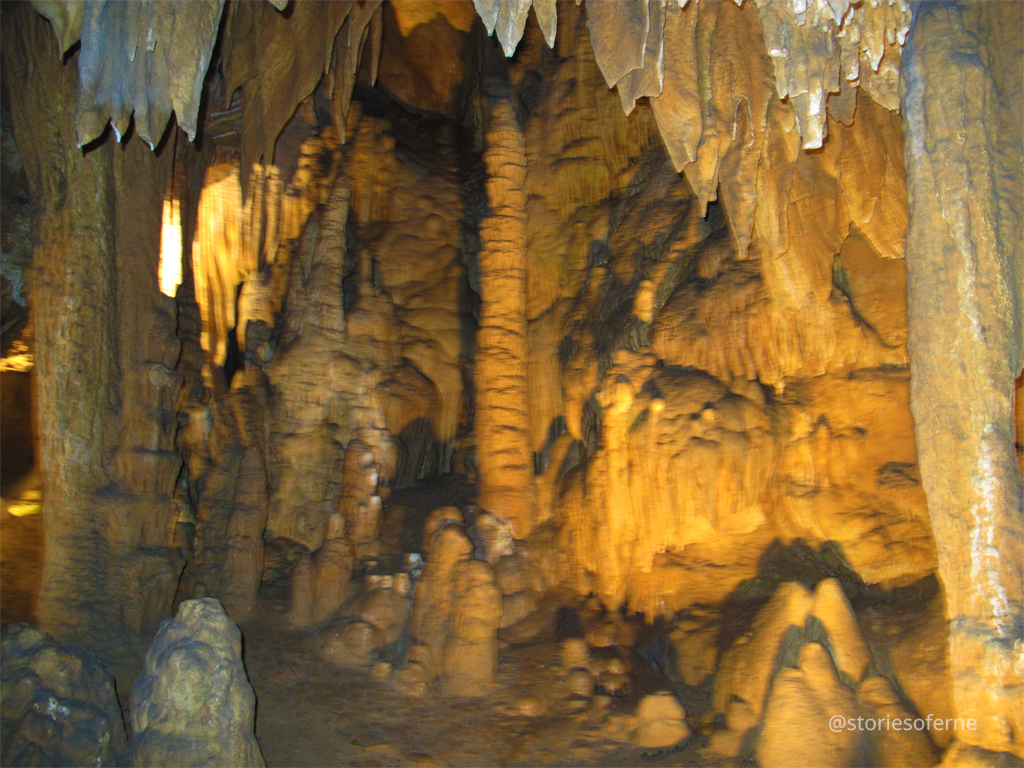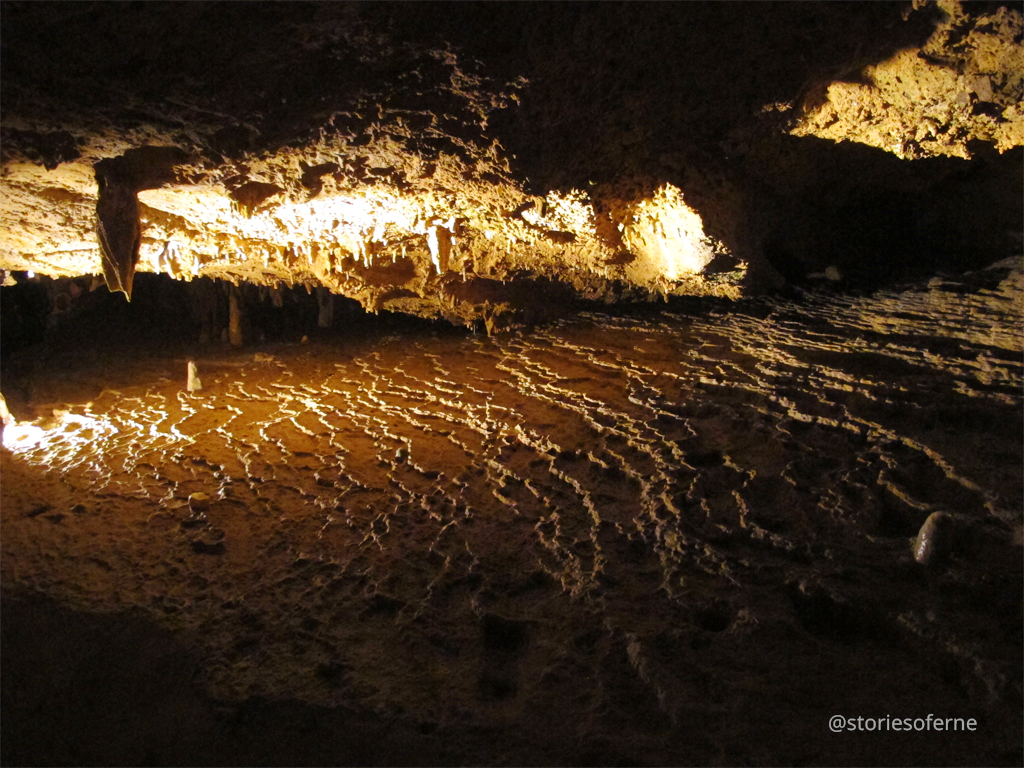 Most of these natural limestone formations had weird-looking shapes, and could easily trigger my wild imagination to come up with other appropriate or perhaps silly names to fit them.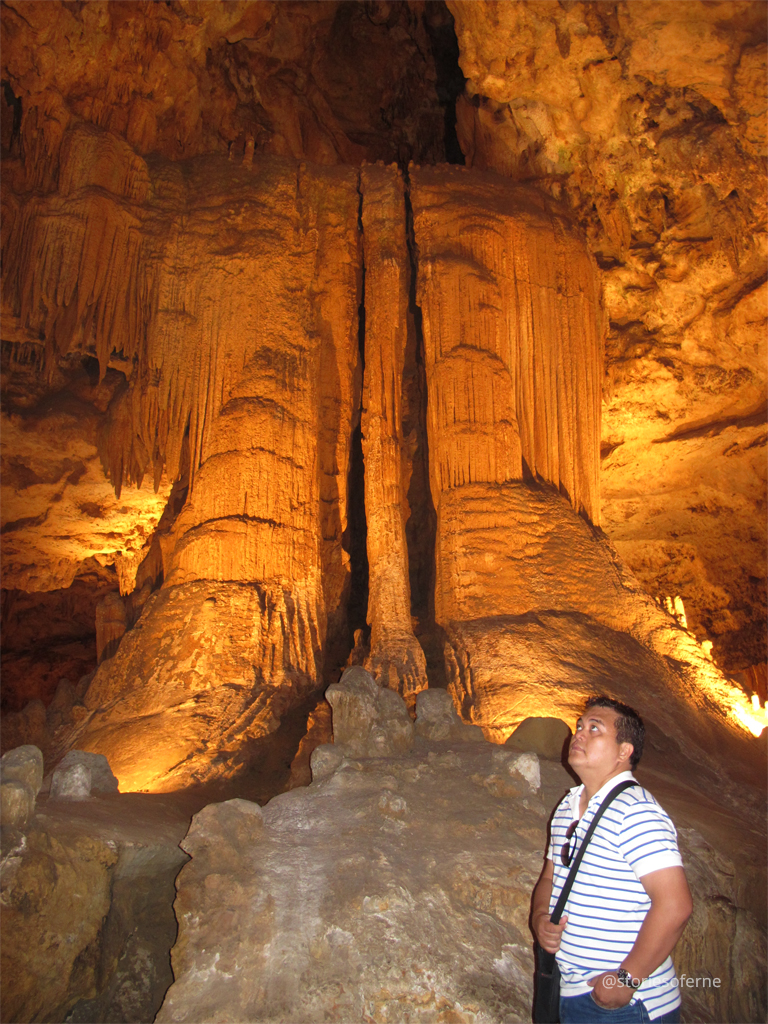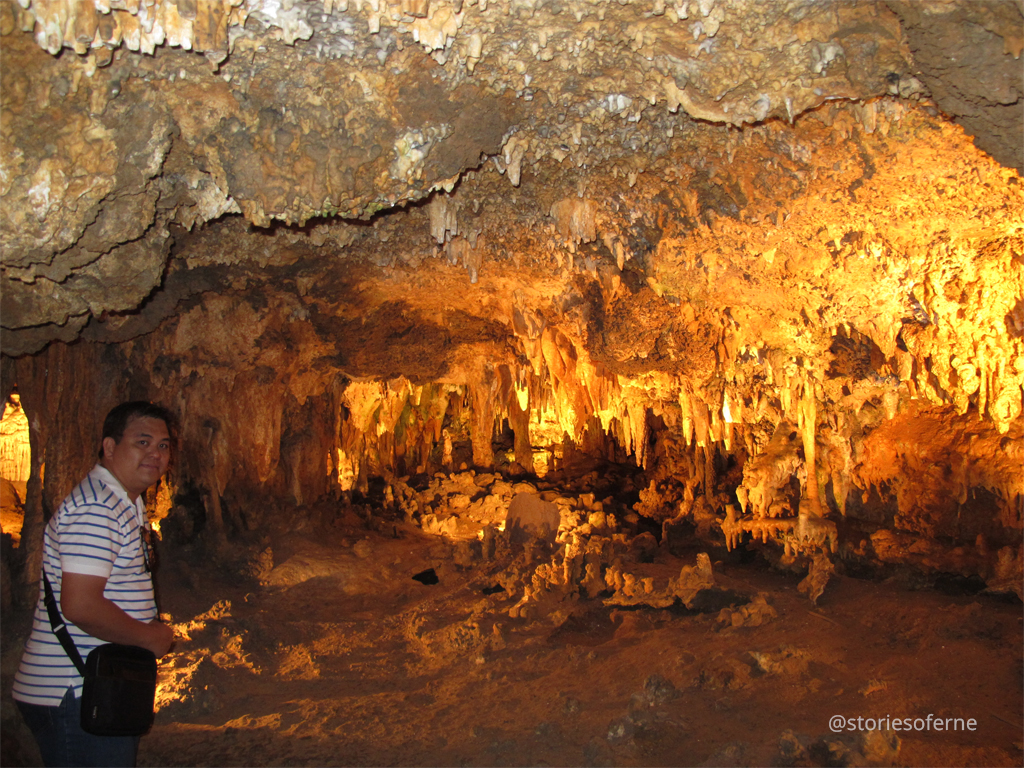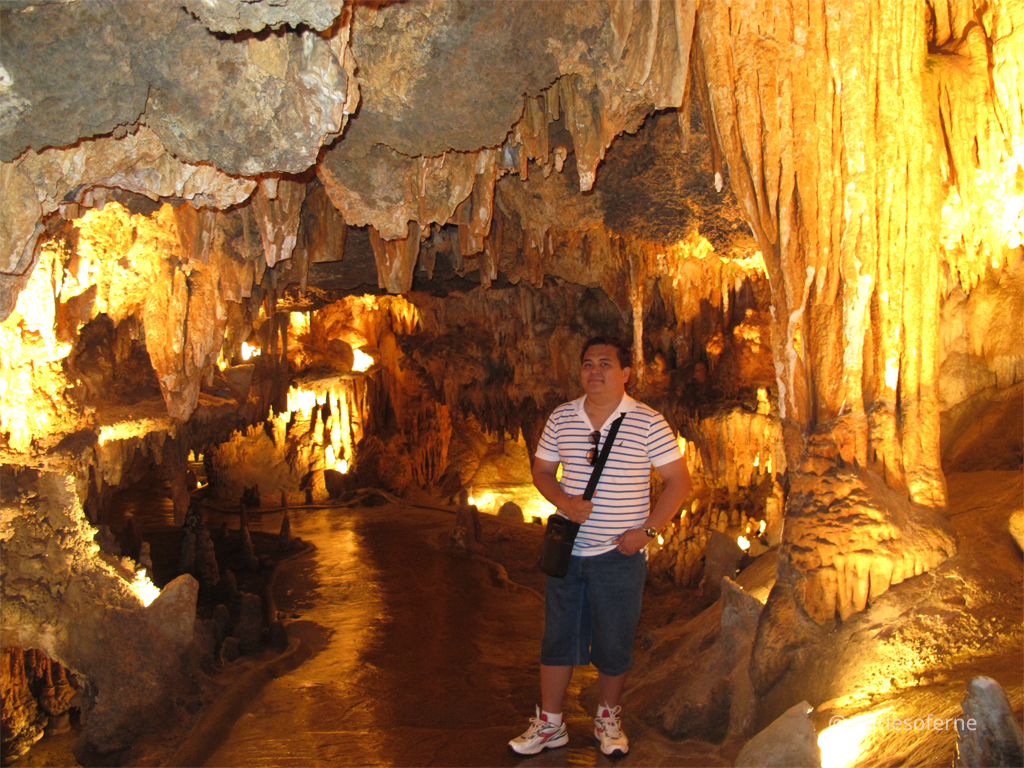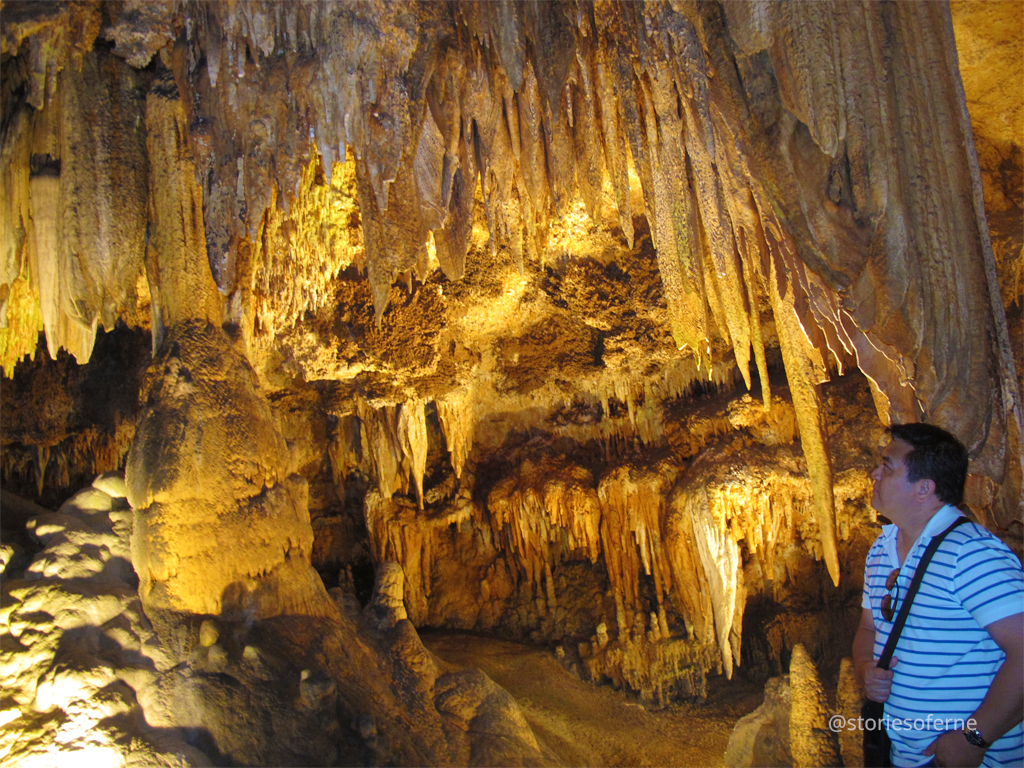 Overall, it took us around 2.4 kilometers (1.5 miles) to complete the entire trek inside the caverns. This tour duration usually takes around 45 minutes to 1 hour yet, it took me 2 hours to finish because we were fortunately allowed to stay behind longer than normal in order to take more photographs. Truly awesome and mind-boggling!
But Wait, There's More!
Aside from being the main attraction, the Luray Caverns also has additional spots for entertainment that the visiting public might be interested in. I was never expecting to see a classic Car and Carriage Caravan Museum there. Here are some photos for your eyes to feast on.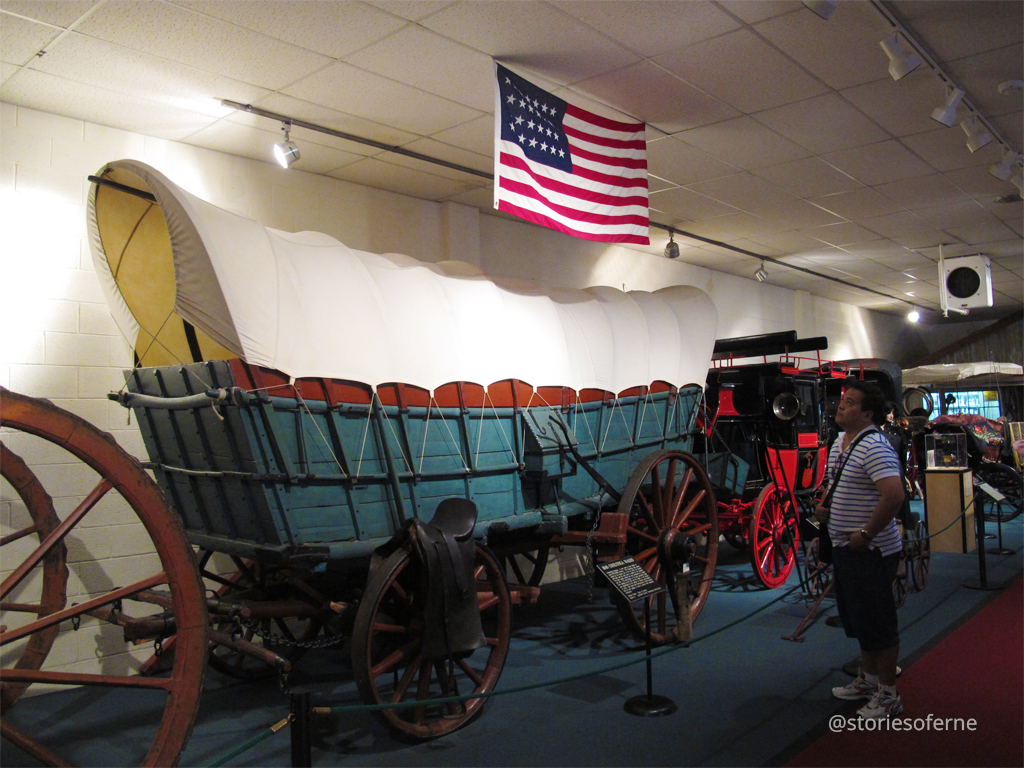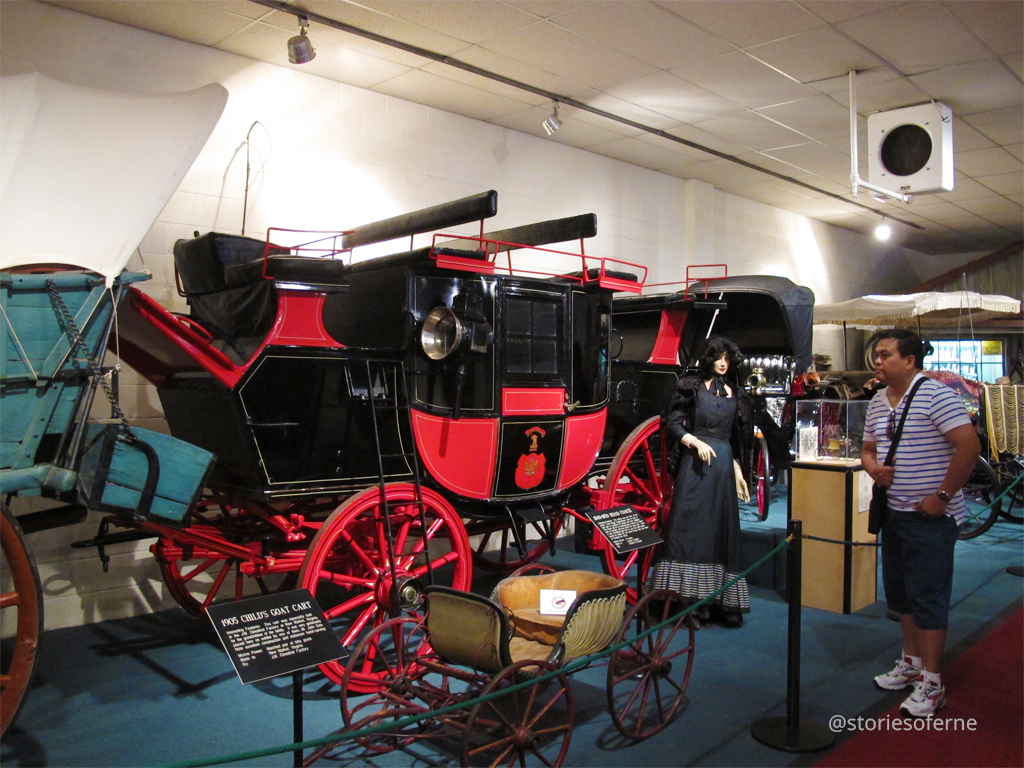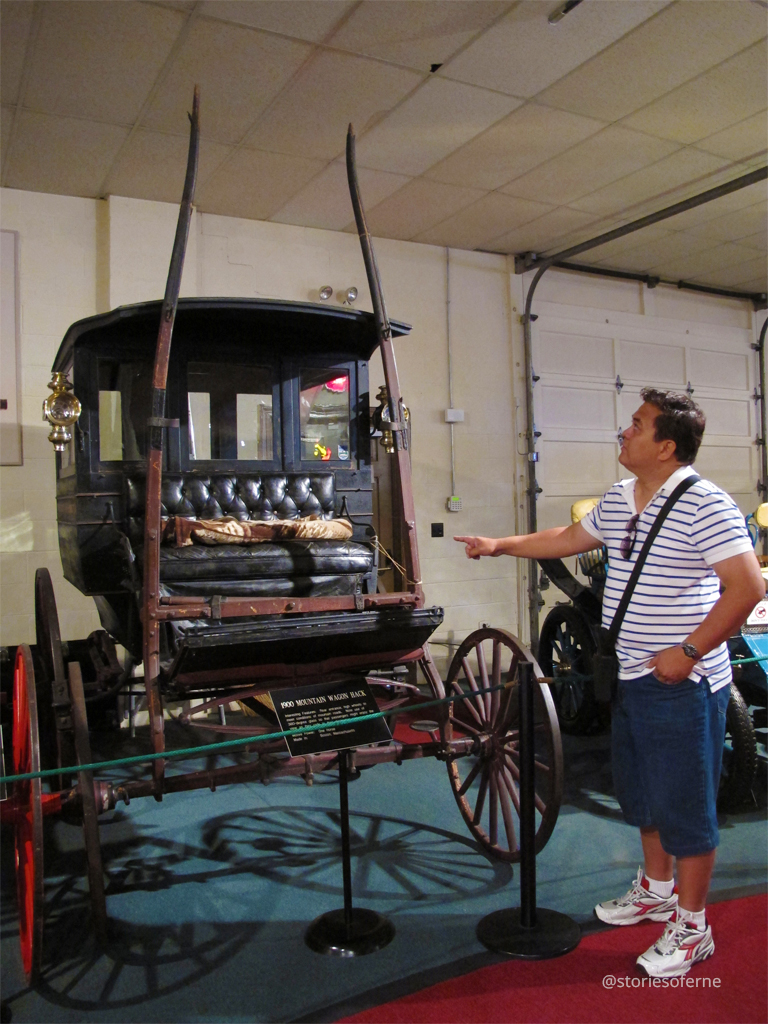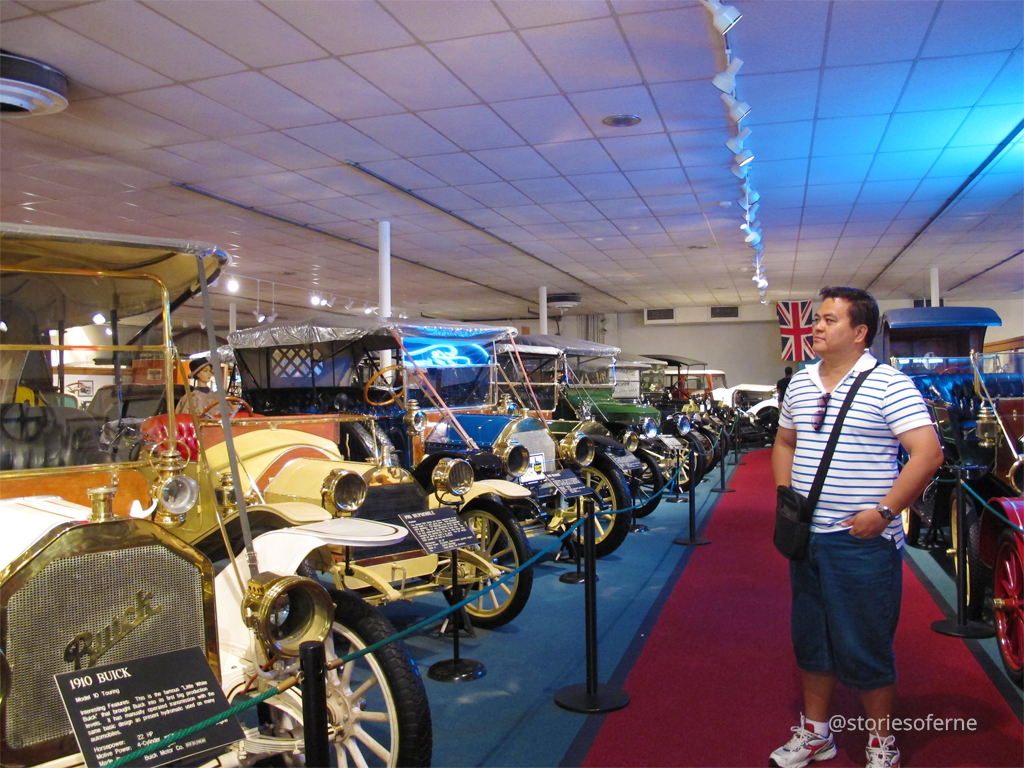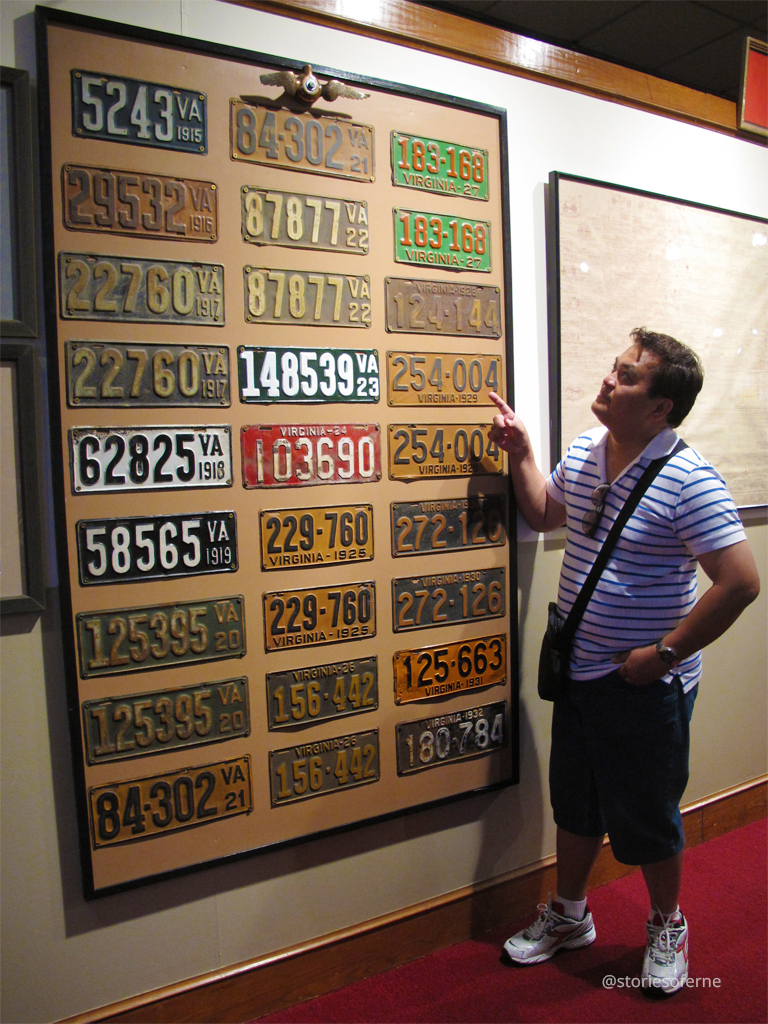 There were approximately 140 items about early modes of transportation exhibited there. Some featured vehicles included an 1892 Mercedes-Benz and a primitive Conestoga Wagon.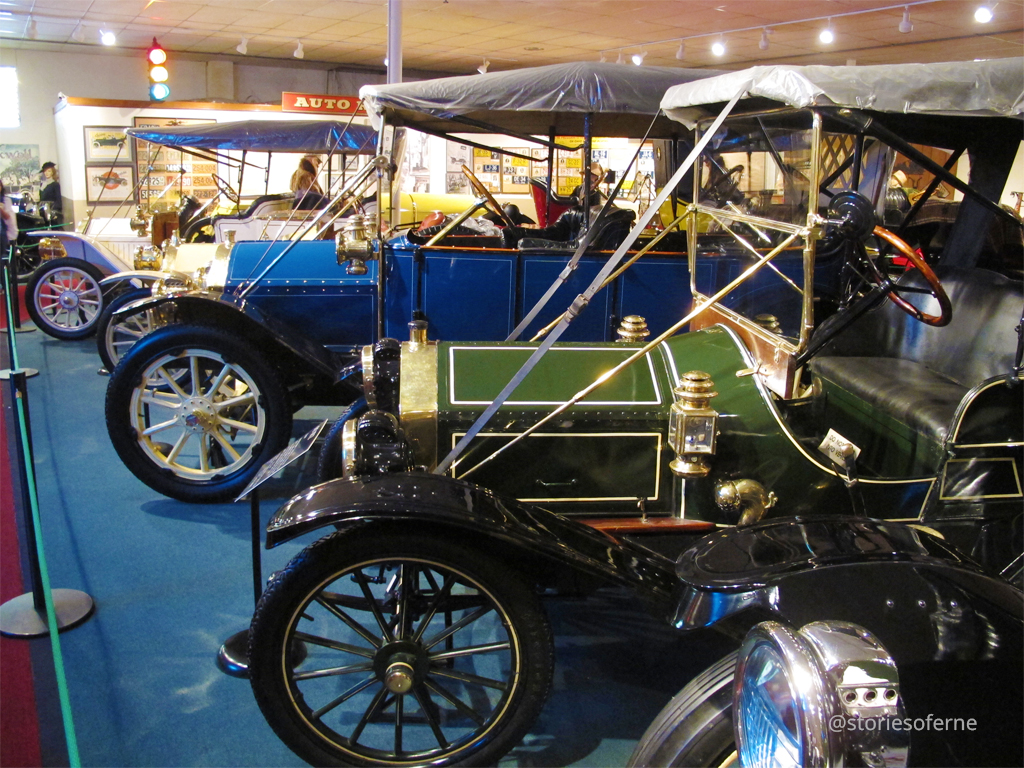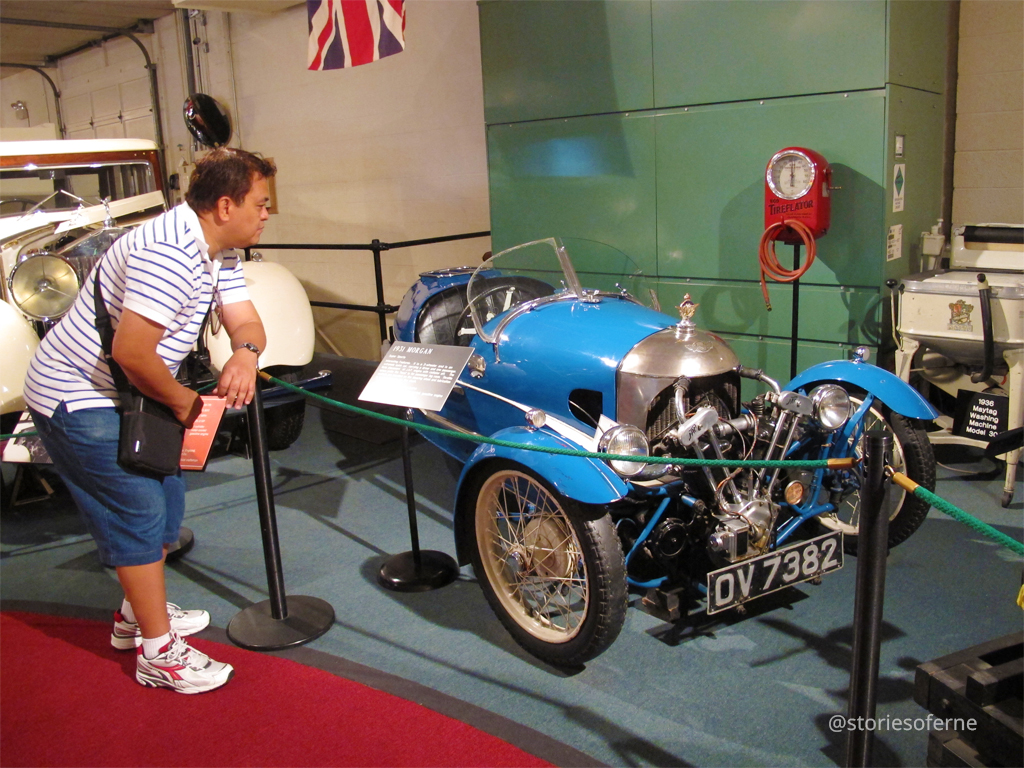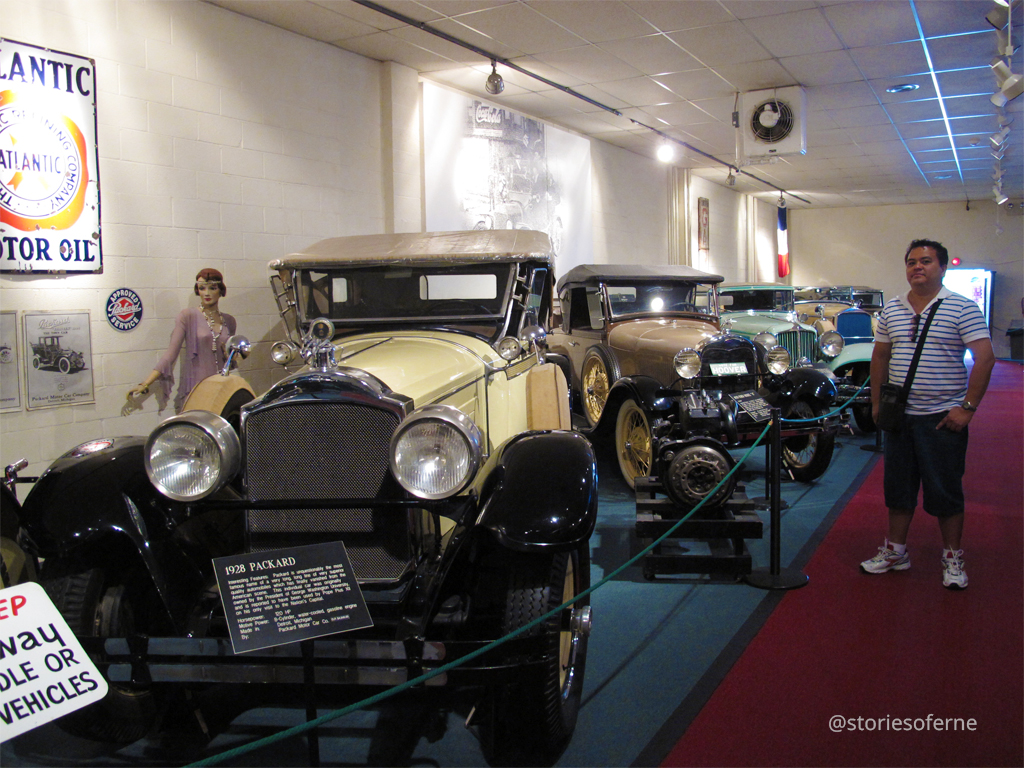 Being a car lover myself, this gallery of automobiles was an awesome treat and should not be missed if you plan to visit this place in the future.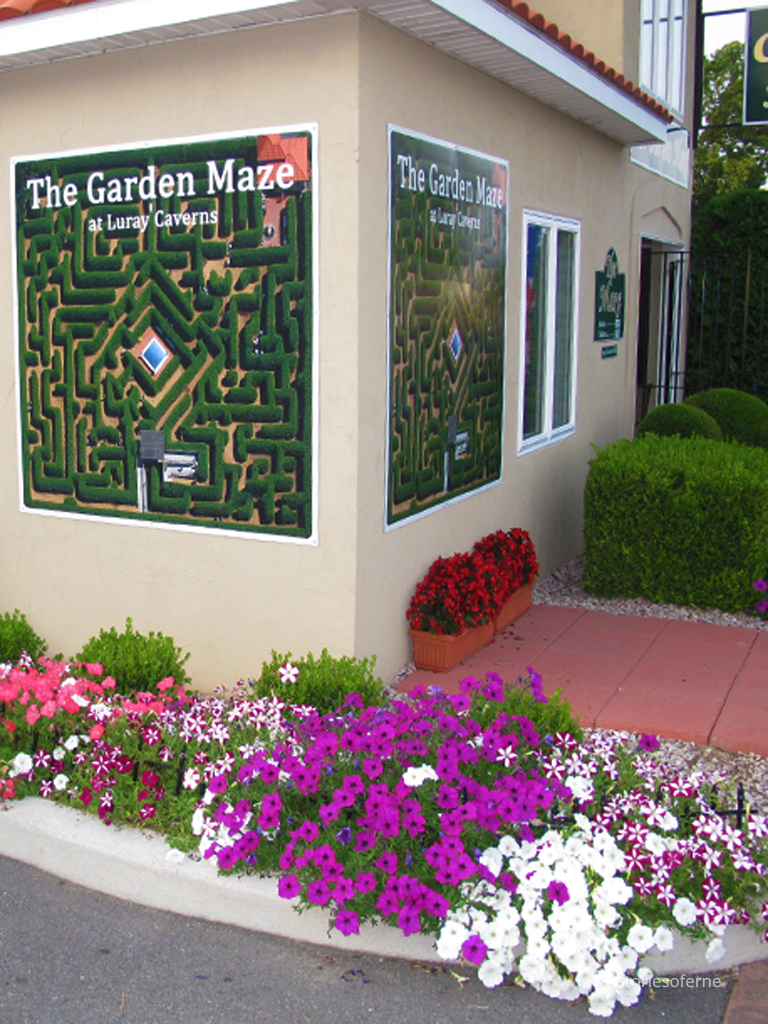 Just right after this exhibition hall was the Garden Maze, a garden labyrinth for kids as well as adults who enjoy the thrill of playing hide and seek.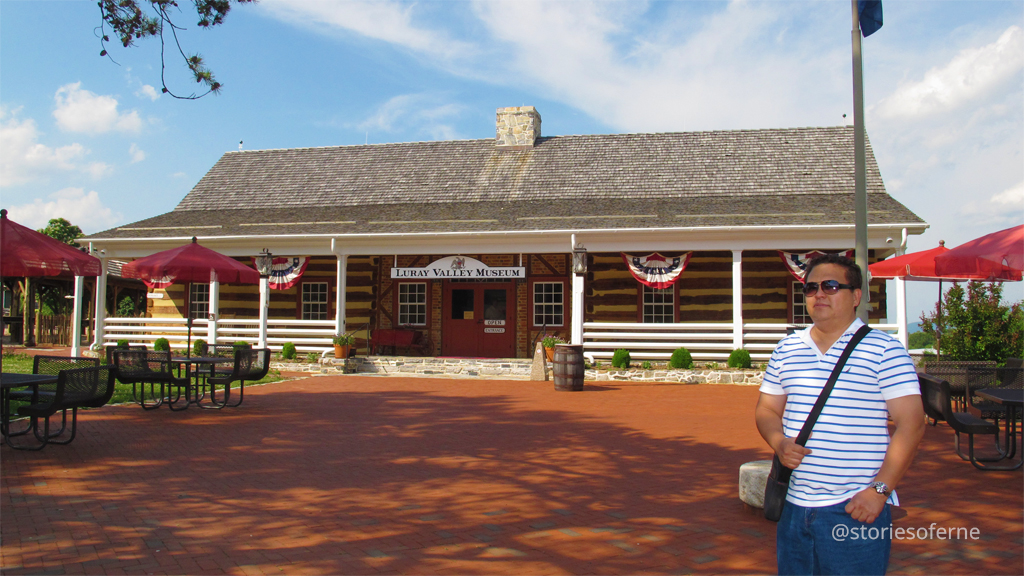 And just slightly up ahead and across the main road, I also found the Luray Valley Museum & Shenandoah Heritage Village. This gallery housed a collection of historic structures from the rural life of the Shenandoah Valley during the 19th century and other artifacts of interest like the patented dog-powered butter churn and the Zurich Bible from 1536.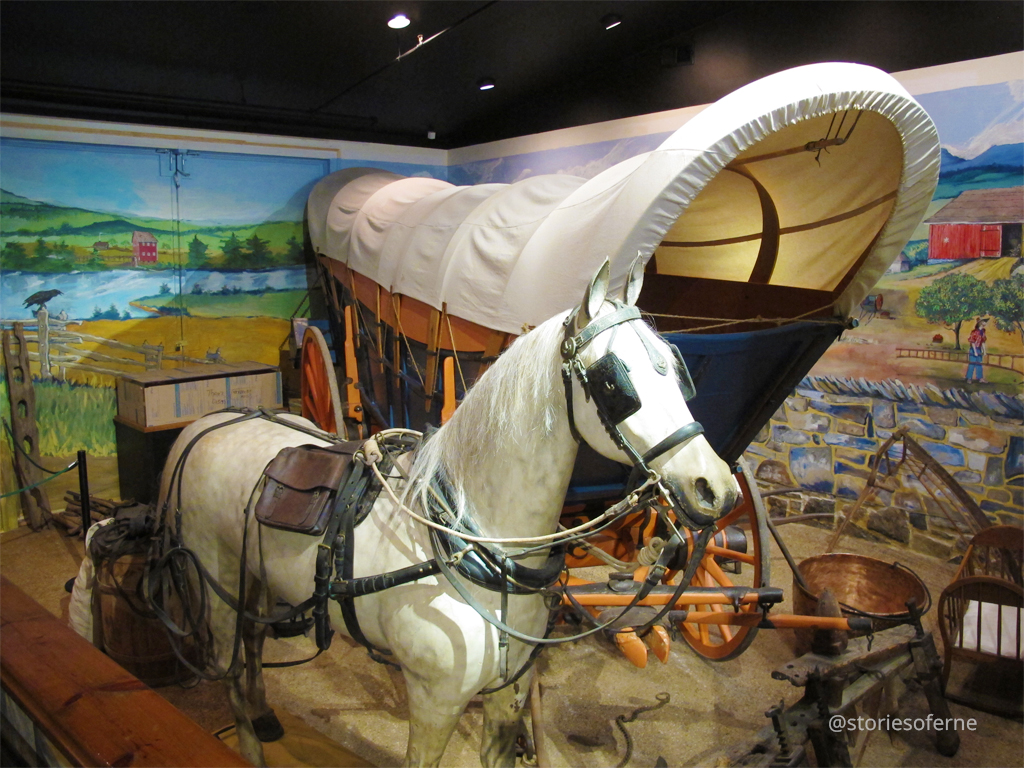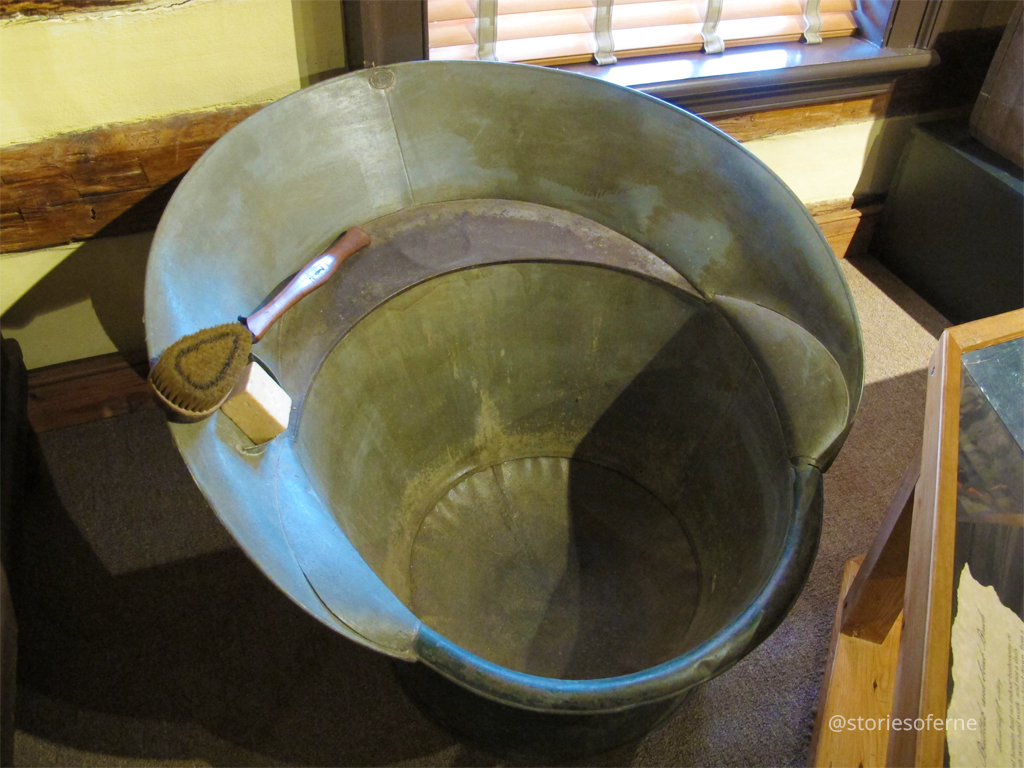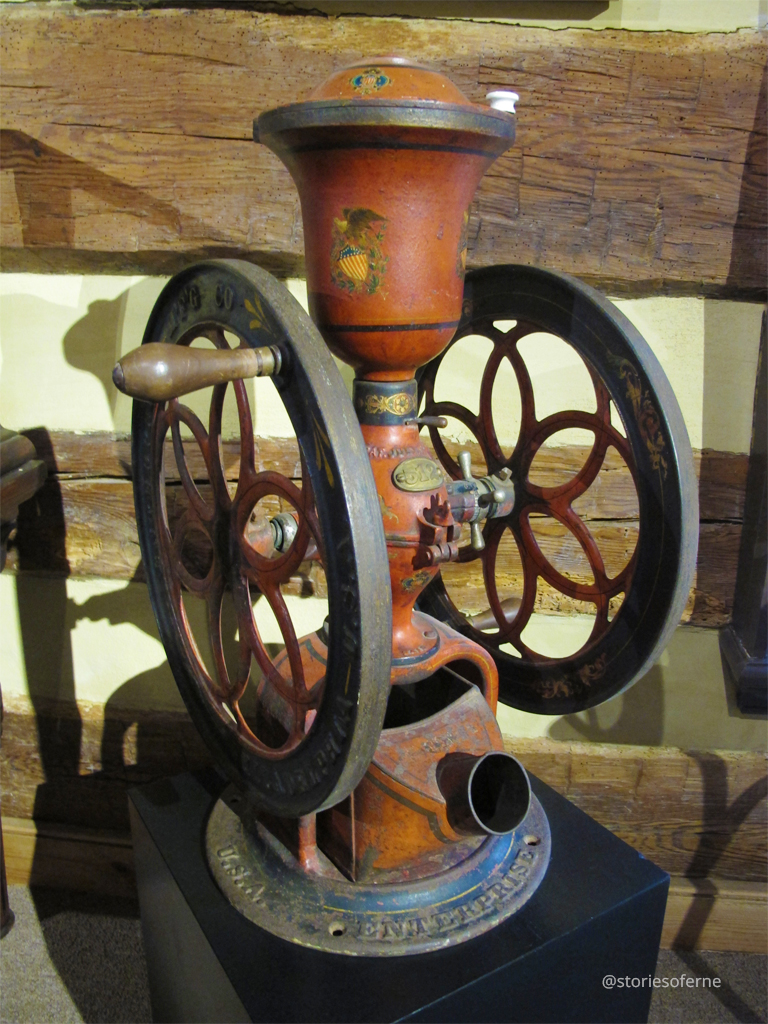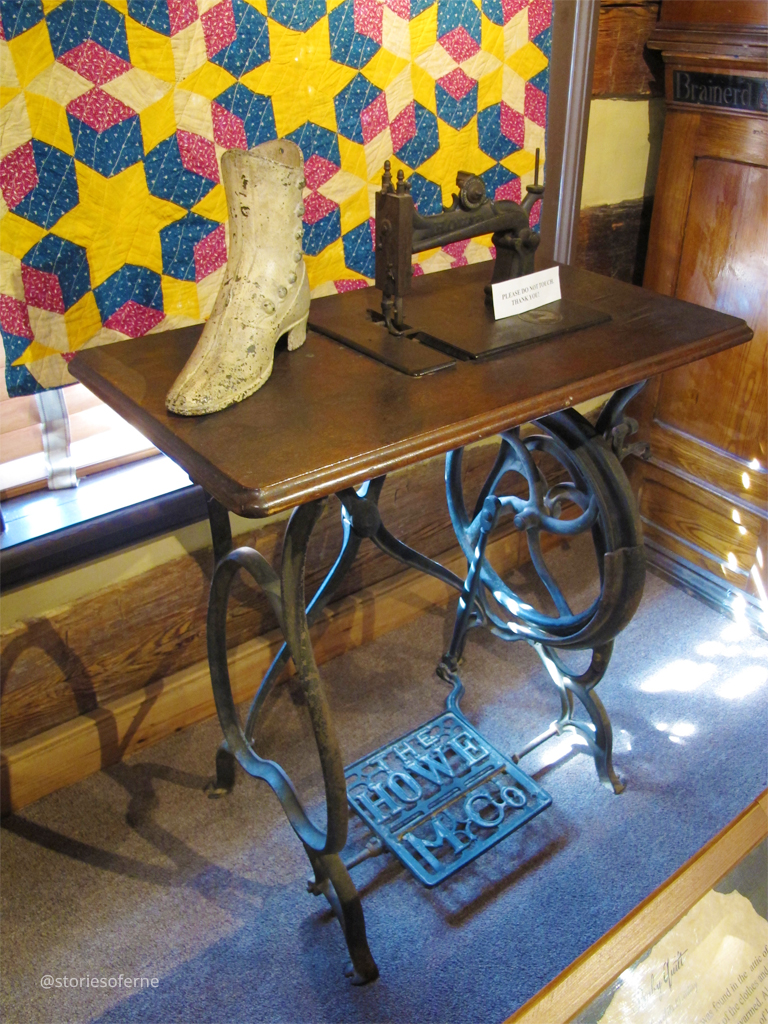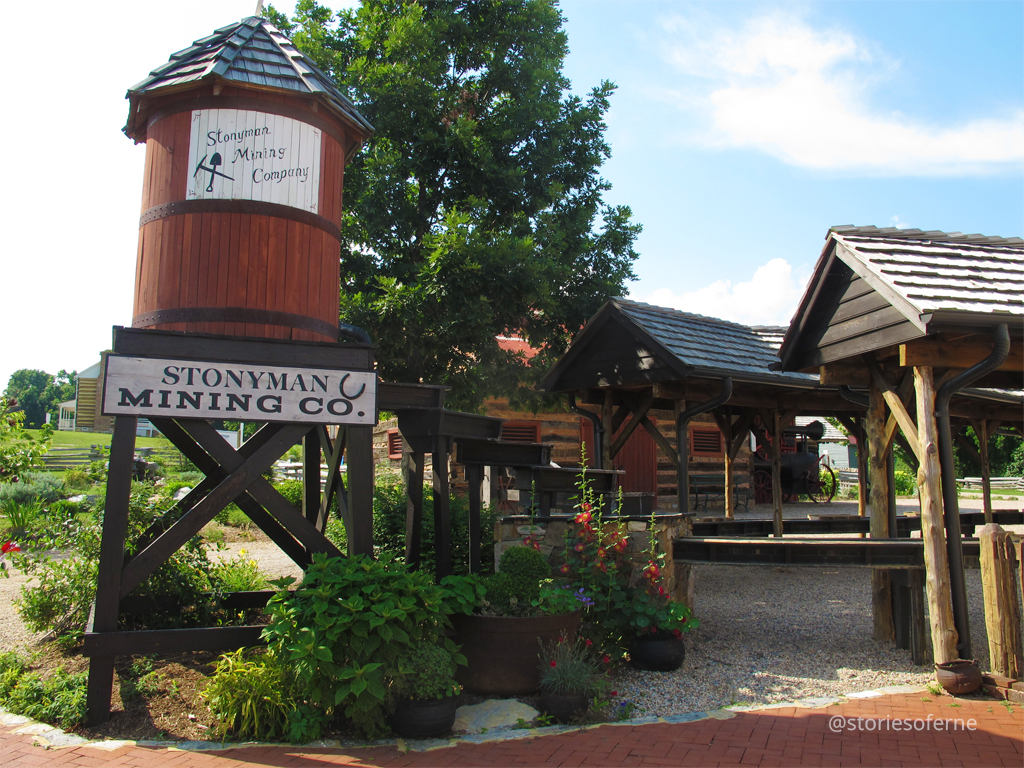 The entire day was absolutely well spent at this fantastic destination as it was truly something I've never experienced before! As a result, the long drive back home was not tiresome because it was filled to the brim with nonstop conversations about our memorable adventures at Luray Caverns.
Concluding Remarks
So how was it? Did you have fun with our tour of the Luray Caverns?
The various caves of Mother Nature may be hidden from us in plain sight. Yet, these silent heroes are one of those significant forces that work behind the scenes to ensure the ecological balance of our planet's natural ecosystem.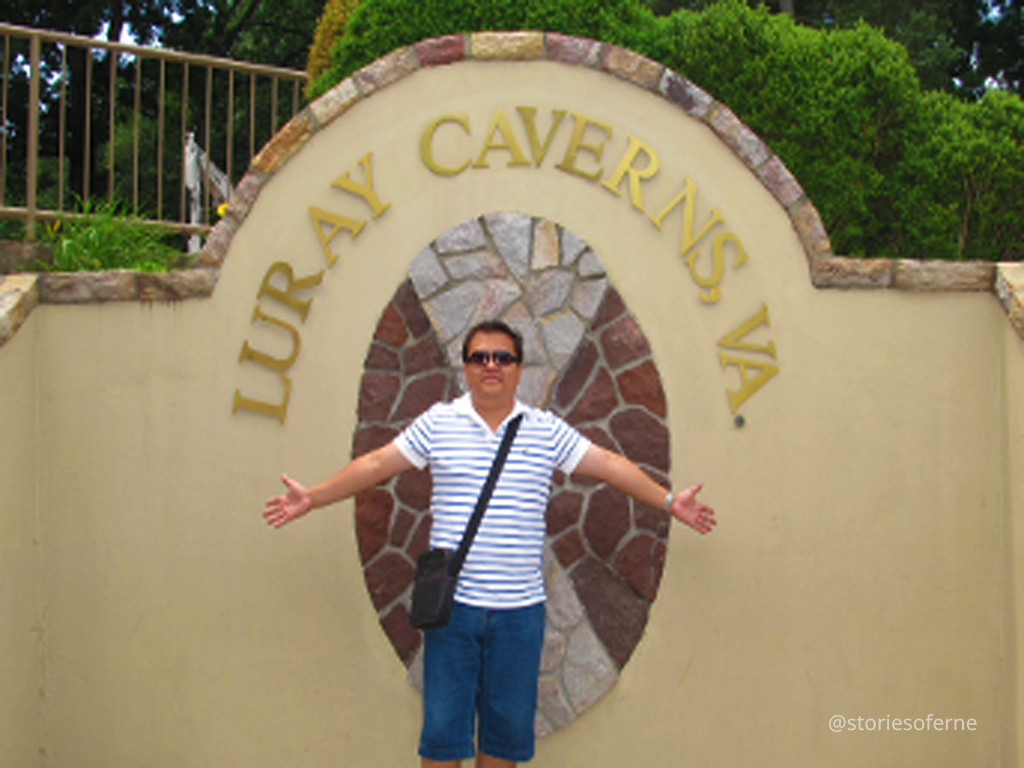 Therefore, let's not tamper or interfere with these marvelous works of nature instead, let's continue to collaborate in making our planet a more habitable zone for humanity to thrive even further. Rest assured, our collective efforts would make a difference and would be enjoyed by generations to come.
#Hive, have you been here?
---
ADVENTURE IS WHERE MY WANDERLUST LEADS ME.
@storiesoferne

Self-expression empowers our human evolution.™
Architecture | Design | Travel | Photography | Life
© 2021 @storiesoferne All Rights Reserved