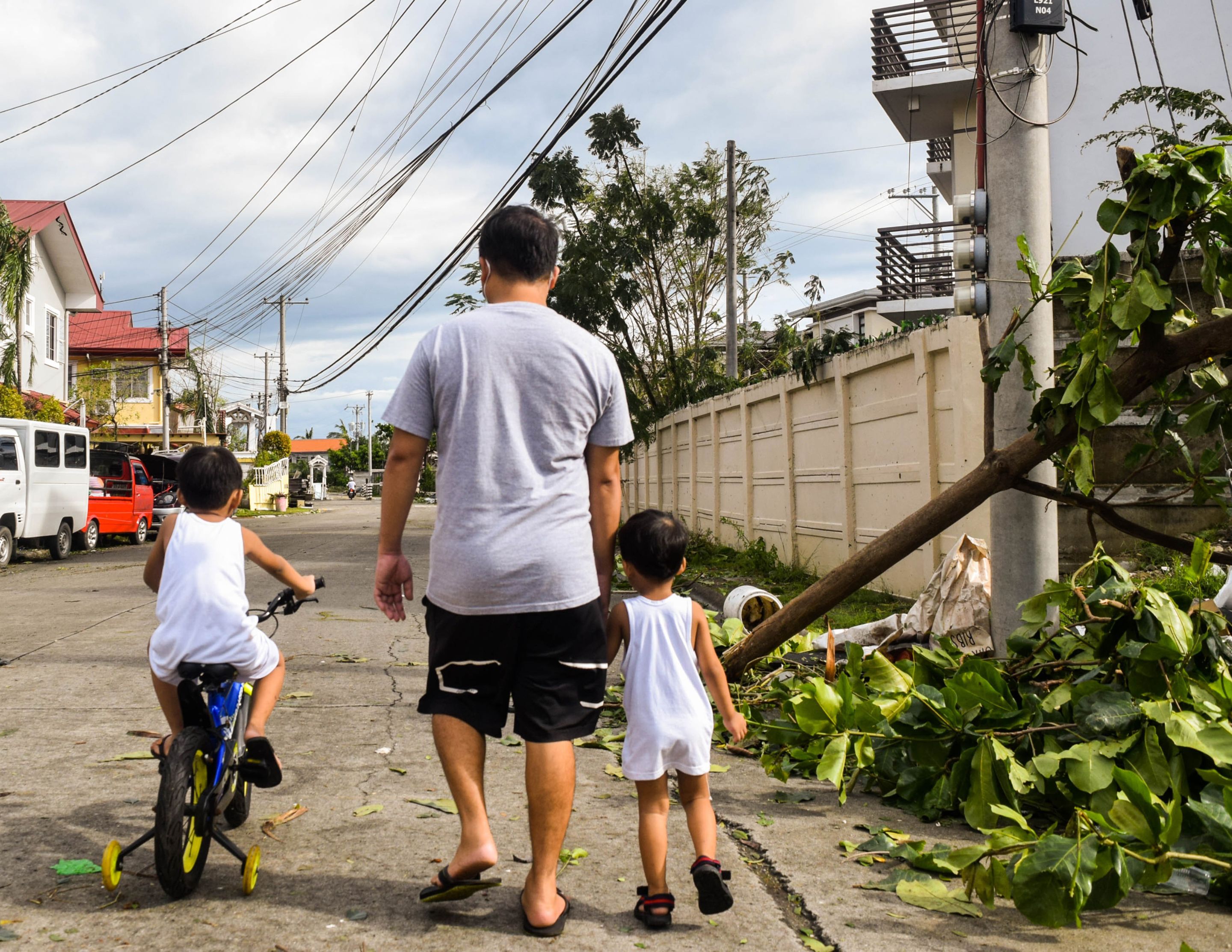 Braving Life's Tragedies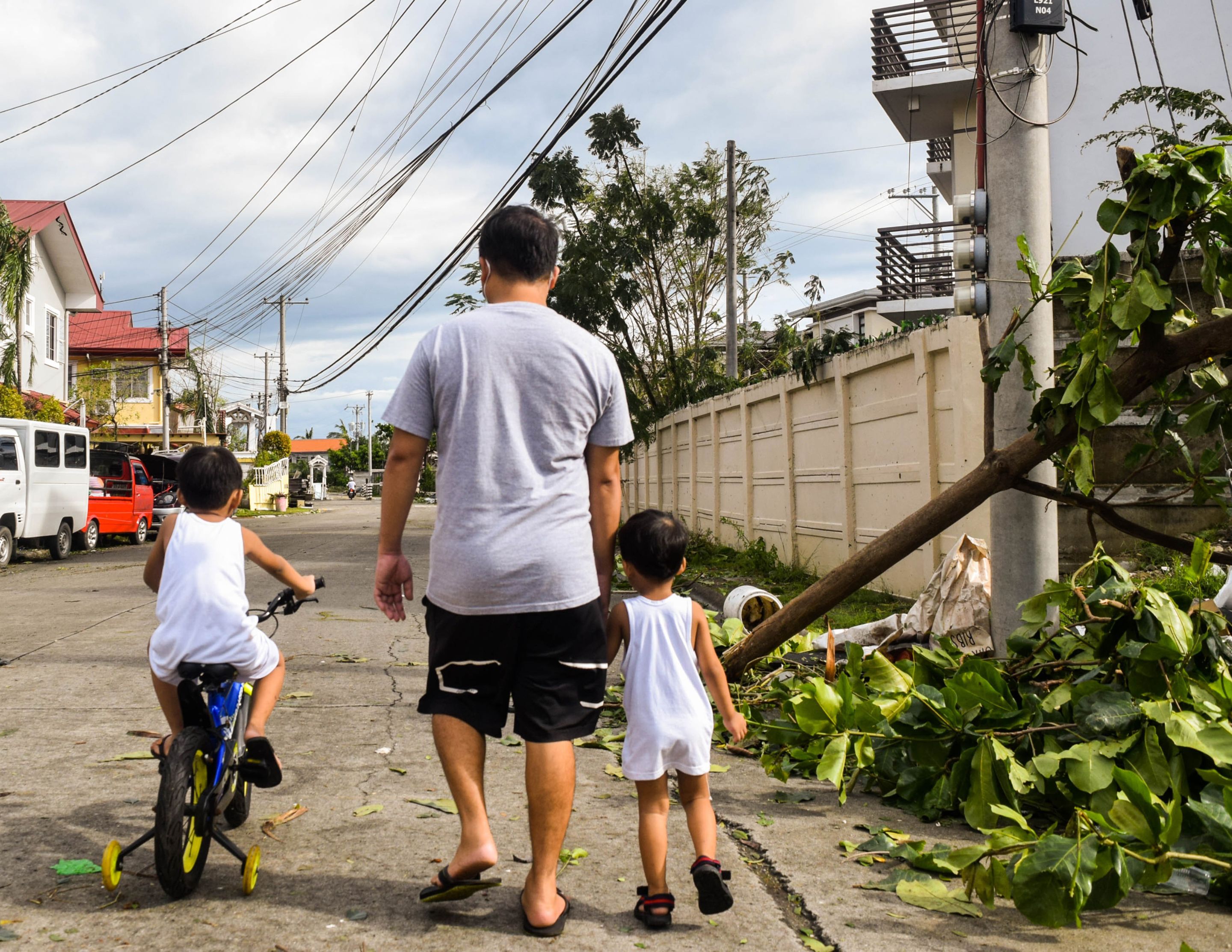 The Road to Recovery | Photo Credit
Page 1 of 11
We live in a world where we are constantly bombarded with adversities that challenge our physical, psychological, emotional, and spiritual well-being.
The time is 7 PM. It is Thursday, December 16, 2021, on the island of Cebu, Philippines. Super typhoon Rai (international name) locally known as Odette is reported to have already penetrated the eastern border of the Philippine Area of Responsibility (PAR) carrying wind speeds of 121 - 170 Kilometers Per Hour (KPH) according to predictions by the local weather stations. Signal no. 3 is hoisted over the province of Cebu including the neighboring provinces of Surigao, Leyte, Bohol, Siquijor, and Negros, a group of islands in the geographical section of the country
called the Visayas. Everywhere, it is pitch black as the power utility company shuts off electrical access to households and other establishments an hour earlier, anticipating the storm's arrival in our area. The streets seem to be empty as no vehicles are plying the thoroughfares. Not a single soul can be seen on them as well as people are sheltering for cover inside their homes, shielding themselves from the harsh elements that are about to strike any second now. All households are bracing themselves for impact.

Satellite image of Super Typhoon Rai (Odette) | Photo Credit
Page 2 of 11
I am having dinner with family members. And while the first few spoonfuls of hot food enter our mouths, we also listen to the battery-operated radio for news coverage and updates on the typhoon's whereabouts. The house interior is dark, but not as gloomy as the outdoors due to the illumination of candles and electrically charged LED torches within. Above us, the mighty winds are repeatedly whistling, producing screeching sounds that are enough to raise the numerous hairs on our skin.
However, there is one sound that is not present - the dreaded thing we hope not to hear.
For it is this particular audio vibration that signals that the storm is shifting for the worst. "This event will pass quickly and will be over soon, just like the storms in the past," is the assumption lingering in my thoughts. I did not care much about natural disasters back then. Perhaps because my parents were responsibly handling the emergencies, tucking me under their assured protection. Only faint flashbacks of trees uprooted, electrical utility posts dismantled from their locations, and flying roofing sheets crossed
my fading memory. The heavy gravity of its impact did not mean anything until recently. The harsh reality will be staring at me in the face. Soon.
Unexpected Turn of Events
Time flies fast. It is around 8 PM. We are still enjoying what is left of our somewhat cold dinner despite the uneasy feeling of the raging turbulence outside. Our pet dogs begin to bark unceasingly. With their large paws, they keep banging the main door, scratching relentlessly as if begging to enter. Having much pity, we allow these friendly creatures to take shelter inside the living room.
The powerful winds continue to whistle, roaring aggressively, a strange kind of music unheard of. Until we hear a fresh announcement on the radio. "Signal no. 4 with wind speeds of 171-220 Kilometers Per Hour (KPH) or possibly more is declared". We are stunned. Who would have expected the abrupt change in the storm's behavior? From an ordinary crisis, we are now dealing with a super typhoon. This has not happened before in my lifetime. What can we do, this is beyond our control? How long can we hold on?
---
Page 3 of 11
And in an instant, that dreadful sound that we all fear has now become crispy clear.
We can hear the continuous flapping of hard objects, not sure where they are coming from. Looking up, we discover that the acrylic roofing sheets of the house atrium are producing tremendously loud disturbance, with resulting effects that are deafening. Until one by one, these lightweight materials are peeled off, blown away, and are detached from their roof purlins, leaving an enormous hole on top. The sky is visible but is completely black. Massive drops of rainwater are pouring in, flooding the entire floor plus damaging some furniture, household items, and other important heirlooms. Everyone becomes busy plus are occupied in collecting excess rainwater, dumping them into pails and basins. I help in mopping the floor to keep it dry, yet it seems the storm is not terminating any time. This stressful occurrence continues for more than 4 hours until the early hours of the morning. No doubt, this is one of the longest evenings of our lives.
---
Page 4 of 11
The Storm is Only Part of the Battle
Tragedies are real, are they not? Yet some people find it difficult to face these challenges as if they do not want to accept the painful truth of adversity. As long as we exist as human beings, we could not escape this harsh reality. Does society even have a choice? Ever since our ancestors set foot on this planet, they have experienced 2 types of disasters depending on their main causes: natural and artificial (man-made). Let's dissect deeper into its anatomy.
Leading psychologists and social scientists define tragedy as a single happening, or a series of occurrences that may be experienced by one person or a group of individuals that have direct physical, mental, emotional, or spiritual consequences on one's condition.
When natural tragedies are concerned, they are usually the byproducts of nature, entities beyond human control.
Whereas synthetic or the intentional creation of catastrophes are typically planned, invented, and applied for the purpose of causing havoc to others, such as wars, genocide, criminality, deaths, and other destructively harmful practices. They could also be the result of human negligence, causing further harm to the populace and the environment.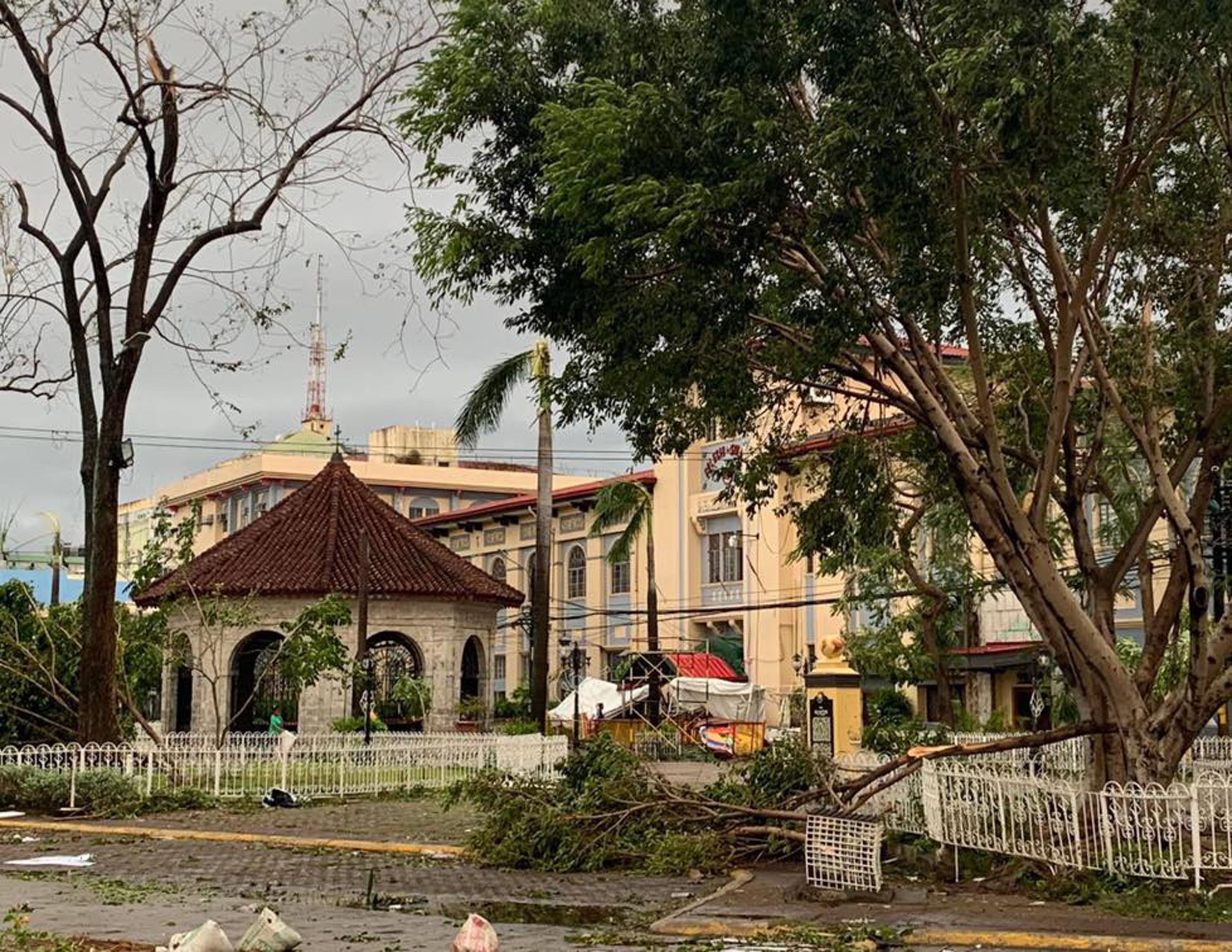 Magellan's Cross in Cebu City, Philippines | Photo Credit
---
Page 5 of 11
Which of these 2 events do you think is more excruciating to confront? Depending on the severity of its outcomes, that would entirely depend on the person's coping mechanism, attitude, and inner strength. Thus, for a natural disaster like a super typhoon like Rai (Odette), how should we react, or should we not? How much of the stressful trauma can we embrace further without losing our minds? Is it possible to quickly stand up after suddenly falling down?
It is now 10 AM the next day, Friday, December 17, 2021. There is an uncomfortable silence everywhere. Everyone at home is sleep-deprived and exhausted, not being able to rest well due to the extremely tiresome night before. Neighbors are also overwhelmed by the tragic event.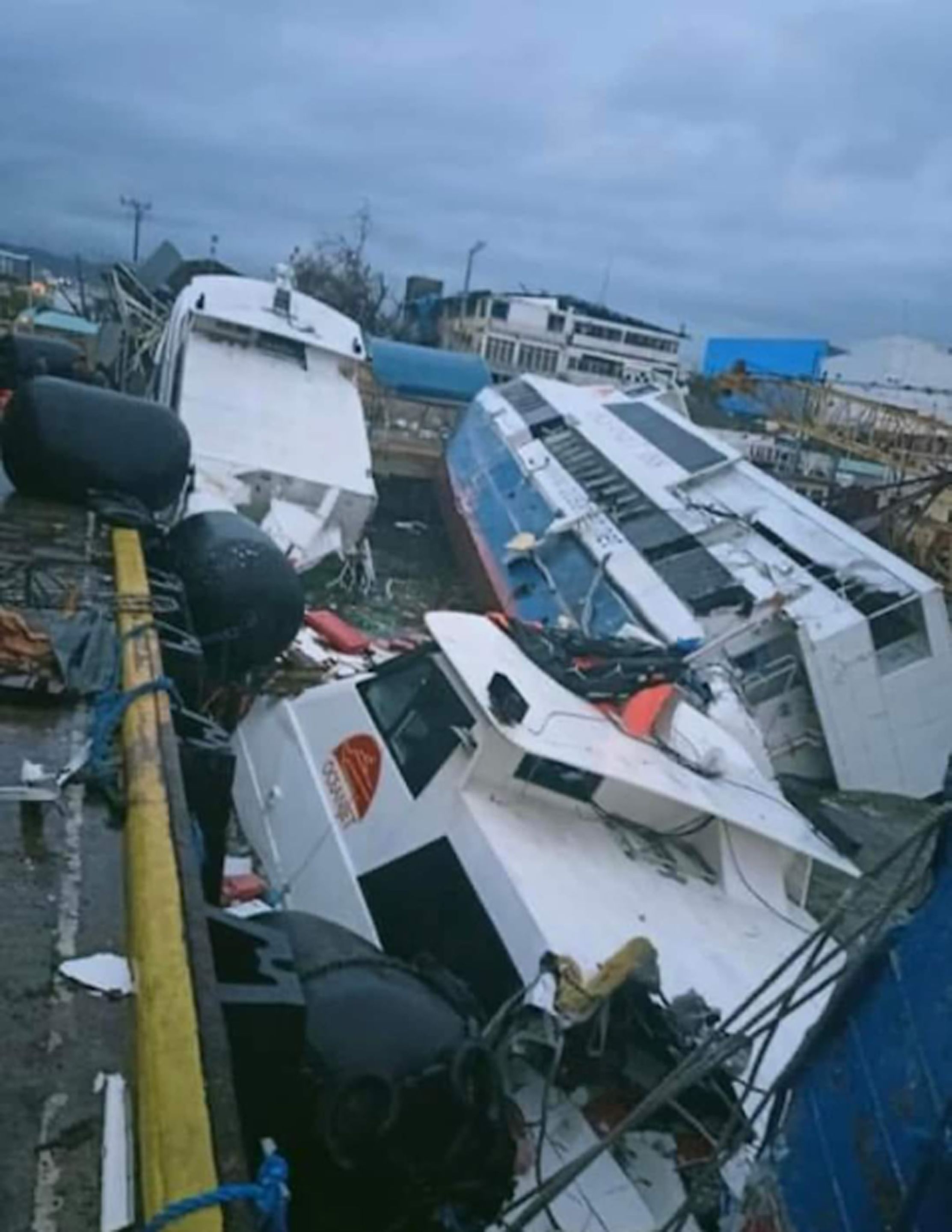 Disaster at Cebu Ports | Photo Credit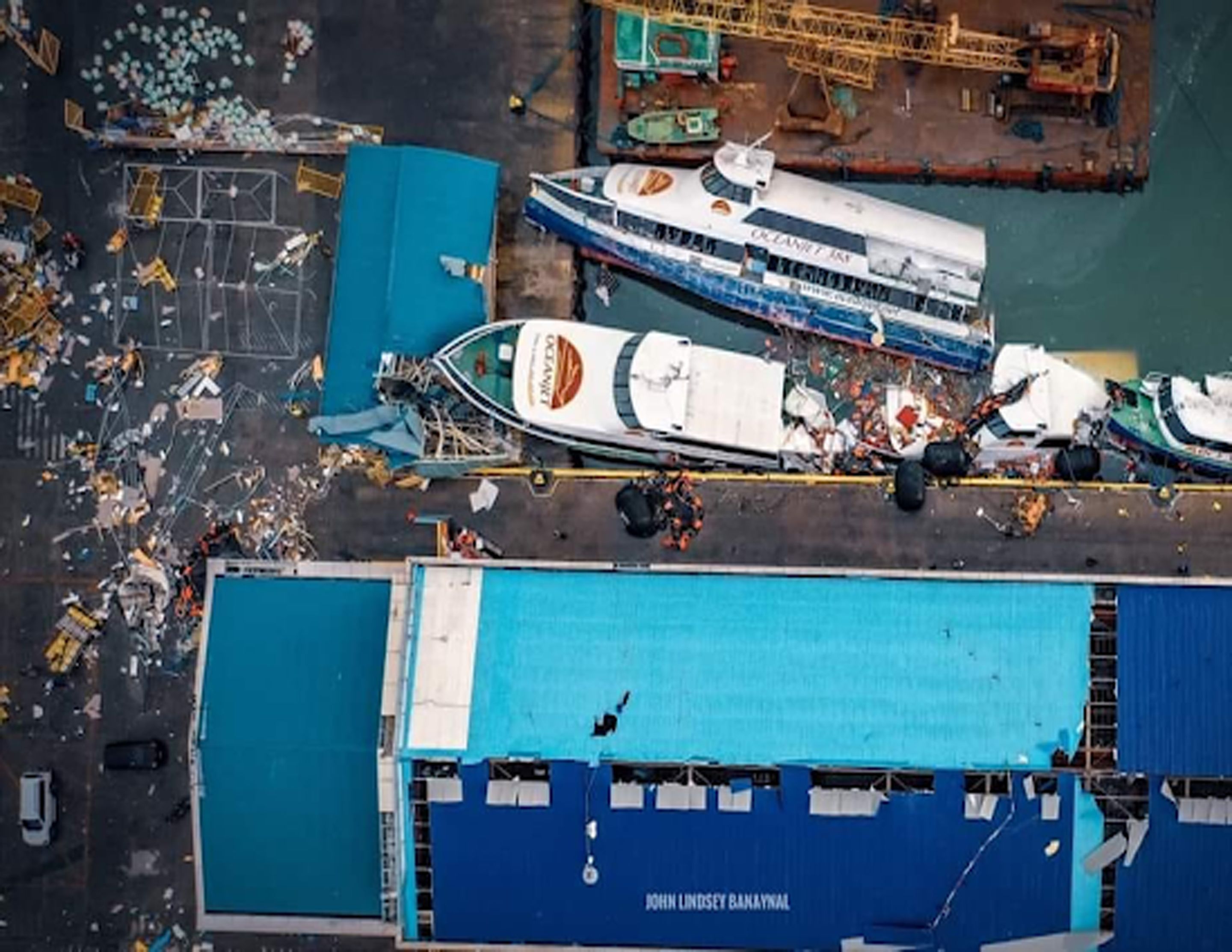 Disaster at Cebu Ports | Photo Credit
We begin checking service utilities one by one: electrical power, telephone network signals, water supply, and internet access. Not a single one is functioning. The feeling is similar to being plunged back to the dark ages. Instead of panicking, it is time to go back to basics. How else can we survive longer if our current resources are not managed properly?
Little did we know that a few days of waiting for everything to be back to normal would actually turn into weeks of utter frustration. During this period, which seemed like forever, we had to wisely budget our available cash as all banks in our city were closed for operations due to the unavailability of electricity.
Even ATM units were offline, not dispensing money. The financial sector was definitely at a total standstill. Moreover, the city's transportation networks, including domestic and international port operations were halted.
---
Page 6 of 11
Life was drastically frozen both on land and sea. No one was exempted, as every person became casualties of the storm.
These included the local government departments, healthcare facilities like hospitals and clinics, plus public and private institutions tasked for rescue activities all suffered a terrible blow and were obviously also victims of the catastrophe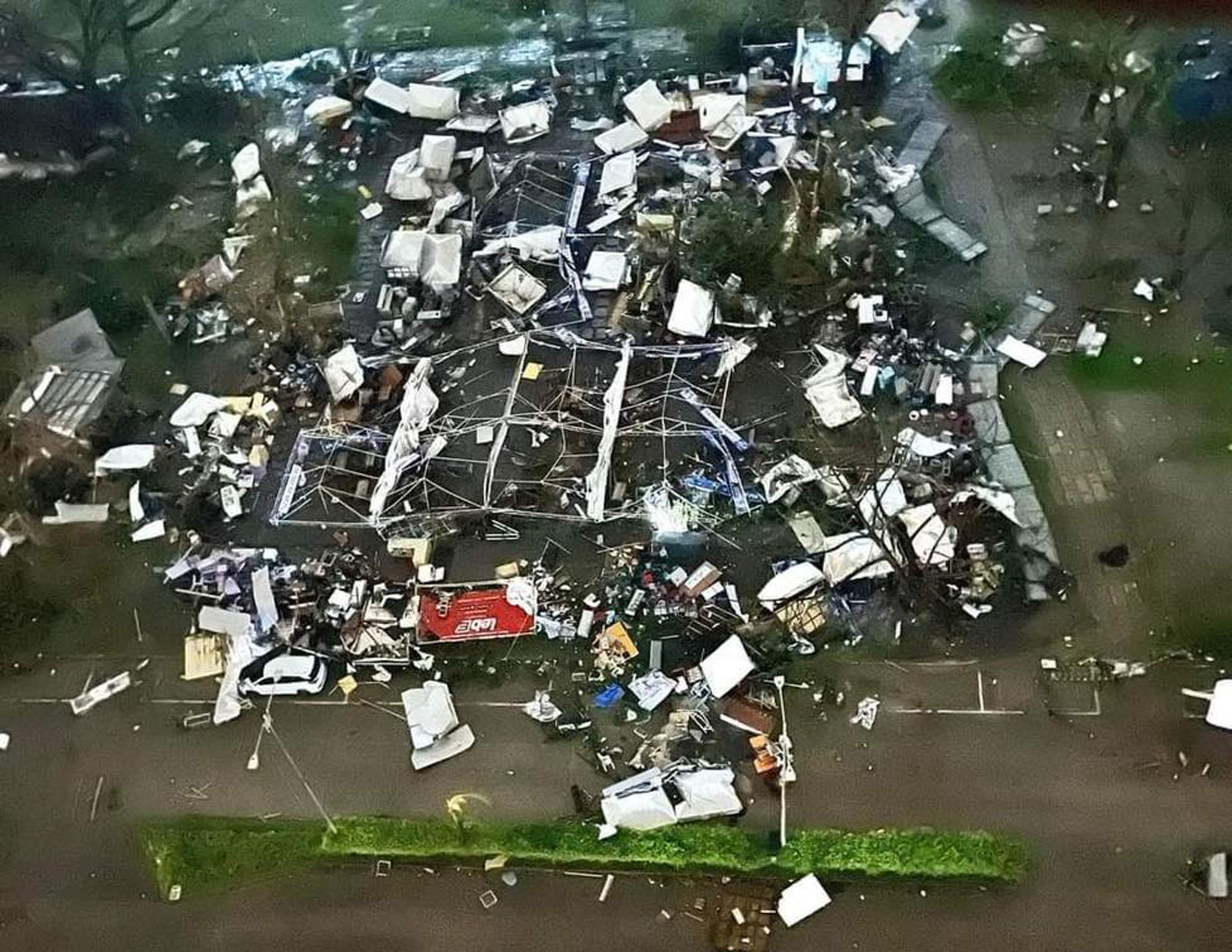 Destruction of Food Market in Cebu IT Park | Photo Credit
Food prices skyrocketed a few days after the super typhoon. Bottled potable water was scarce and became ridiculously expensive. People had to queue for several hours simply to avail of service water for washing, cleaning, and bathing. Even the cost of ordinary candles, plus gas-powered lamps used for brownouts at night spiked.
Unfortunately, this mundane paraphernalia was also the root culprit of 27 community fires in the metropolis of Cebu as reported, happening from December 17, 2021, until the year's end.
Citizens were certainly suffering everywhere and were in dire need of medical, physiological, and financial assistance.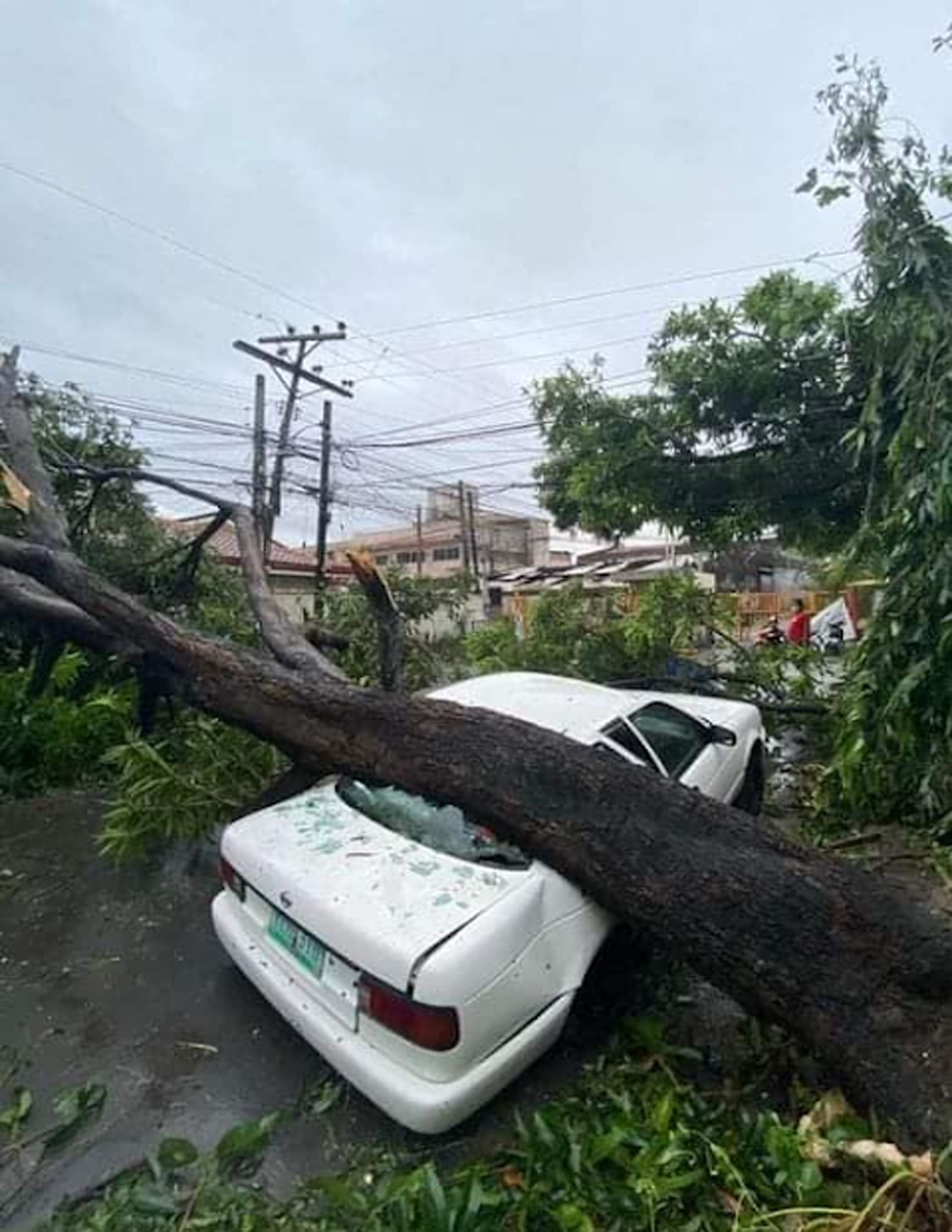 Roadside Disasters after the Super Typhoon | Photo Credit
While roaming the streets during the initial phases of the storm's aftermath, I could not help but shed lots of tears for people who were struggling to move on with their livelihoods. Some even had to beg for something to eat on the streets, while others had to scavenge on garbage dumps for anything valuable.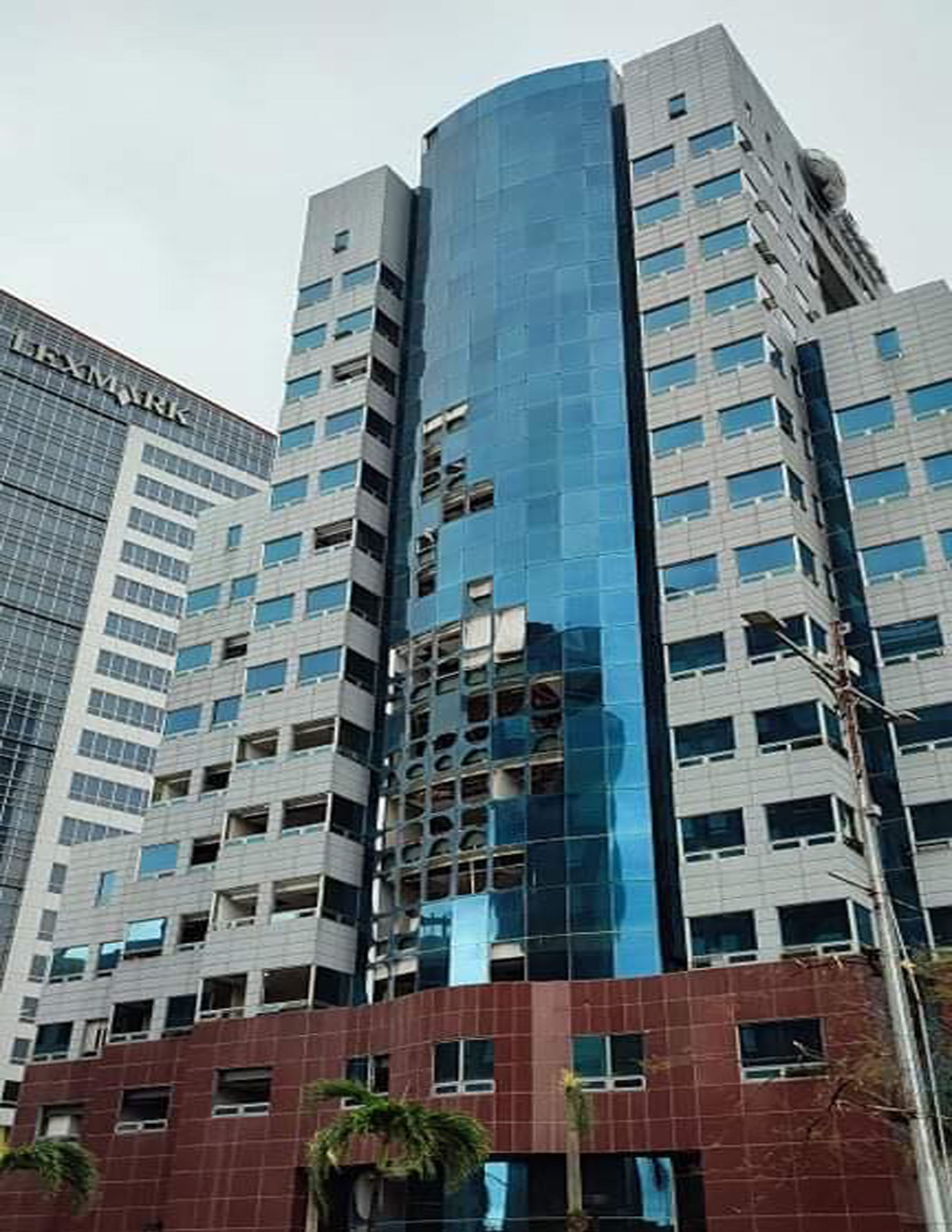 Building Facade at Cebu Business Park | Photo Credit
---
Page 7 of 11
There were plenty of houses that lost their ceilings and roofs due to the storm's destructive winds. A few skyscrapers, commercial malls, tall buildings, and other pertinent infrastructure lost their glass facades and window panels due to the storm's thundering impact. Most business establishments were closed for operations.
In fact, crime rates also escalated because individuals had no choice but to survive, thus resorting to heinous activities. Police enforcement and operations were completely disabled as well as they were also directly affected. Imagine the continuous inconvenience we had to face during these tragic scenarios.
Death or Transformation?
Communication channels were out of reach as telephone company towers and cell sites were destroyed and nonfunctional. Hence we could not connect with loved ones, family members, and vital contacts that could help. Later on, we likewise learned that sea vessels and other marine transportations on the ports were tossed like toys. I could not believe with my own eyes the moment I witnessed photos of these poor aquatic vehicles in their damaged states.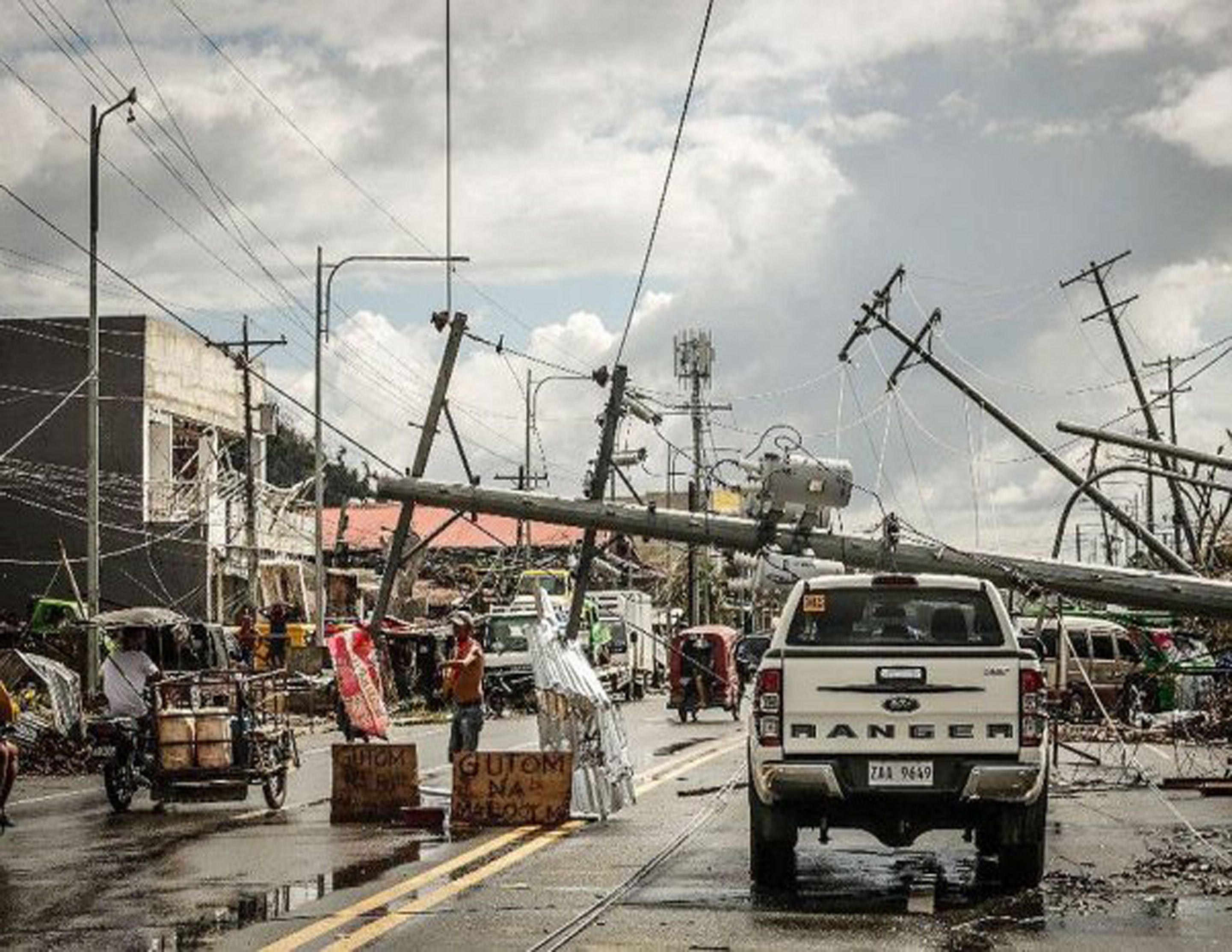 Fallen Electrical Power Poles | Photo Credit
We were fortunate that some government agencies, churches, and outlets had generator sets to energize their day-to-day routines. And a few were kind enough to offer free charging facilities for anyone wishing to power up their smartphones, batteries, and electronic devices.
I had to literally swallow my pride and hide my timidity aside merely to energize my personal gadgets in front of people I did not know. Even lining up with strangers to secure rations of water supplies was a truly humbling experience.
---
Page 8 of 11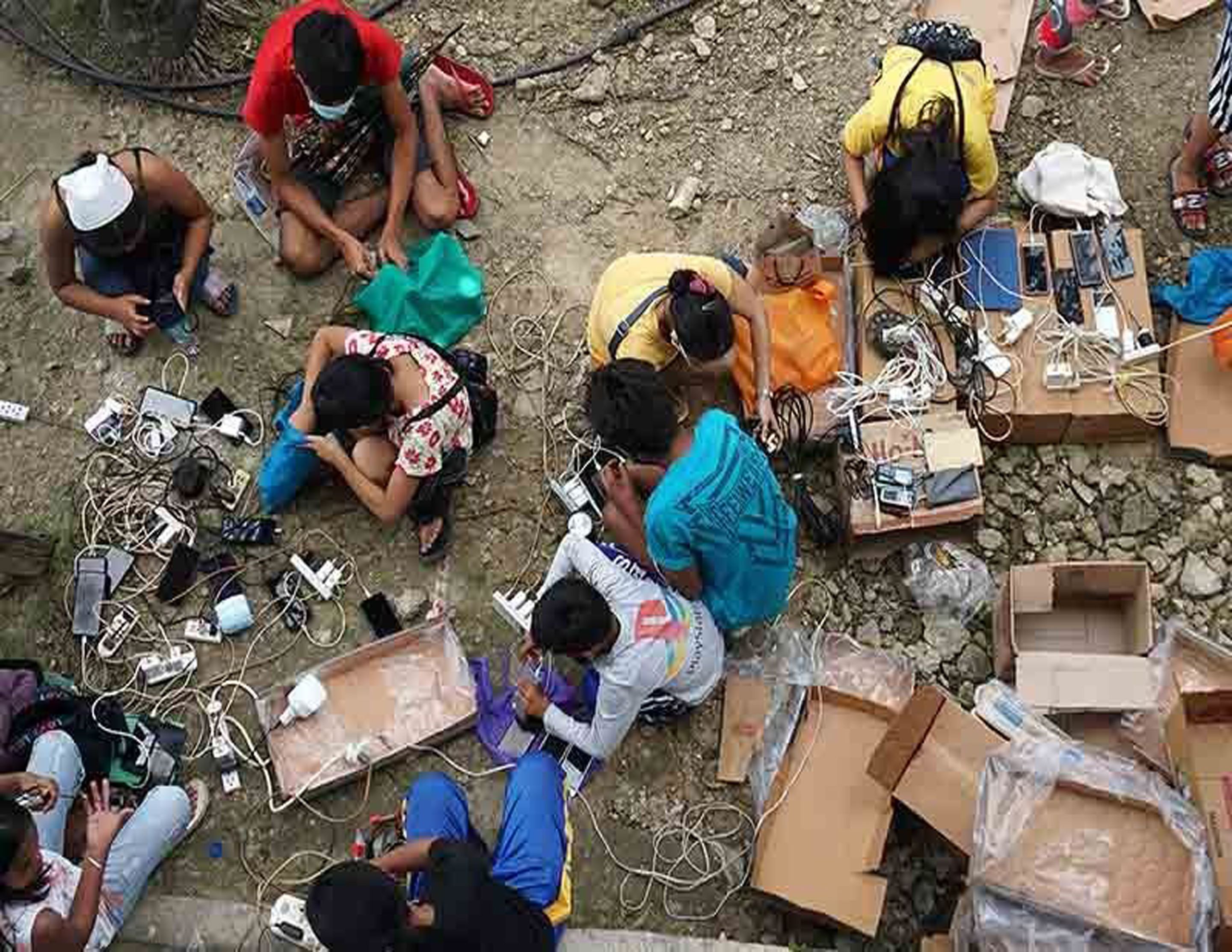 Free Electric Charging Stations for Victims | Photo Credit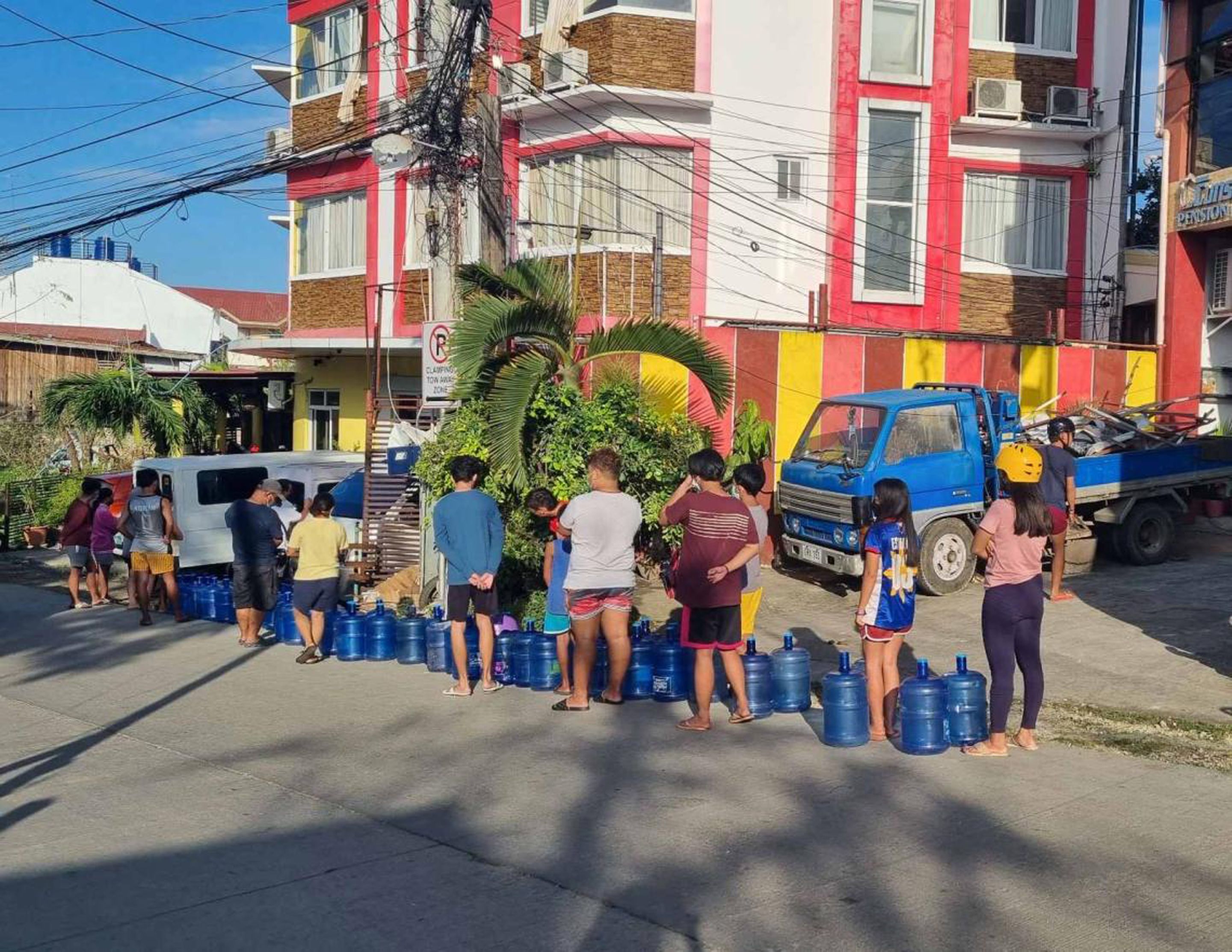 People Lining Up for Water Supplies | Photo Credit
However, there were even more difficult challenges ahead. The tremendous calamities caused by the aftermath of super typhoon Rai (Odette) were not the only major dilemma we were encountering. The poor health conditions of citizens were of utmost priority due to the proliferation of filthy trash recklessly dumped on residential neighborhoods, public roads, and crowded vicinities.
And before this natural disaster even happened, the current Covid pandemic was already a public threat of global proportions. With the current infectious spread of the Omicron variant, public and private healthcare have never been more significant than today. For anyone who has not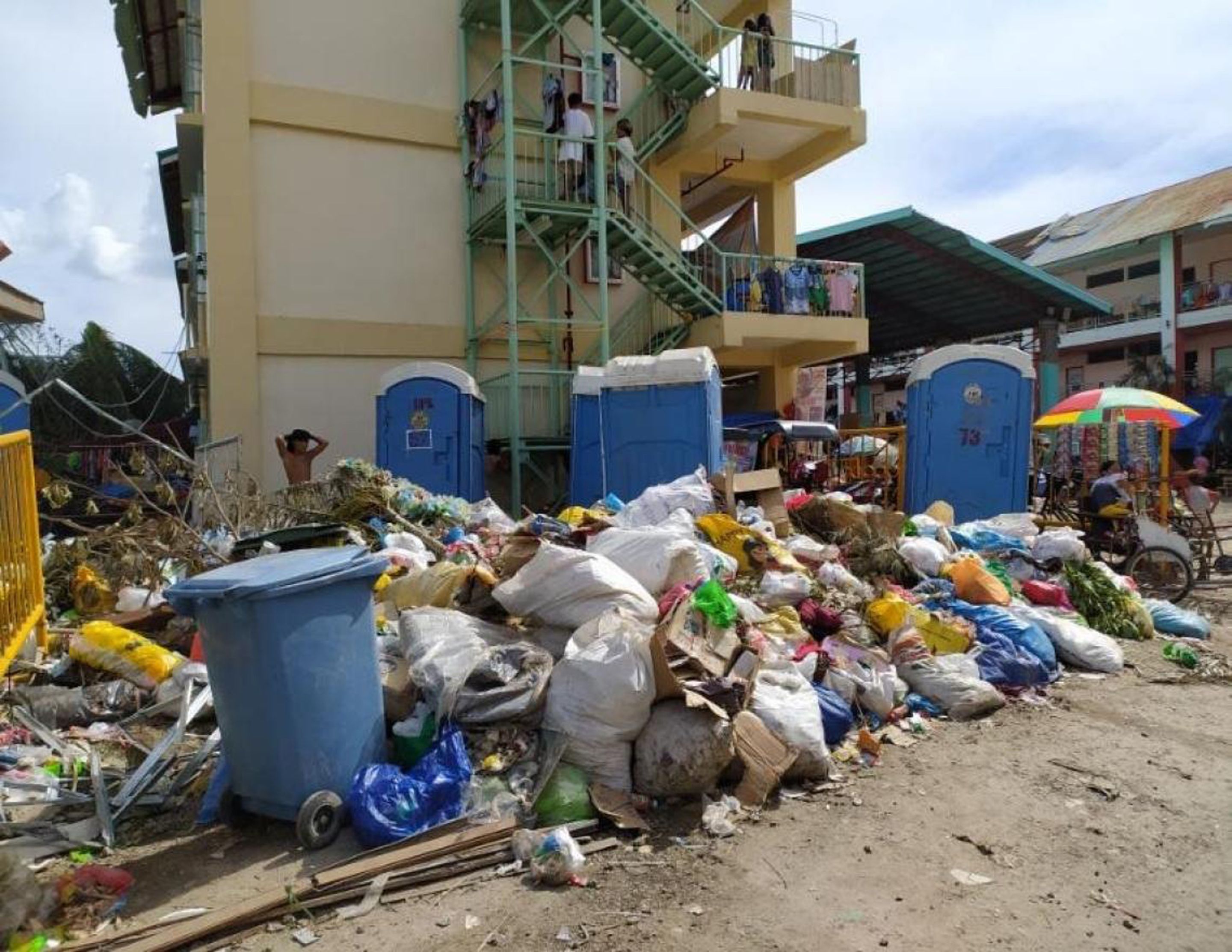 Public Health Hazard by Garbage Dumps | Photo Credit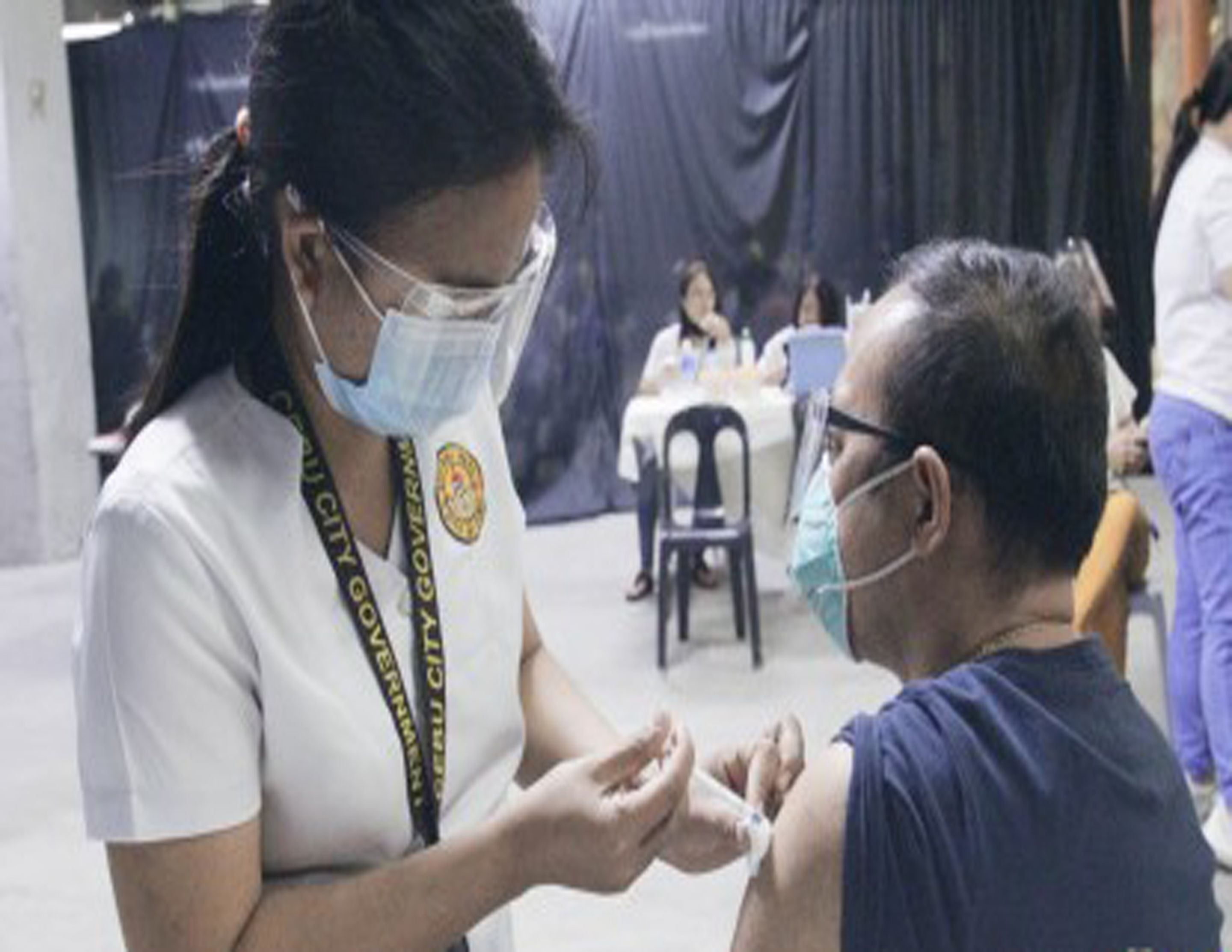 Cebu Covid Vaccination Program | Photo Credit
undergone a brutal catastrophe, being up close and personal with distress and suffering is not the end of the world. How you respond to these grim, toxic, and depressing situations makes all the difference in life. Would these overwhelming circumstances destroy you? Or would you allow them to alter your growth and development for the better?
Regardless of how disruptive the crisis is to your overall well-being, we have the choice to cope and overcome the disaster. We possess the freedom and the responsibility of redirecting the negativity of misfortunes, failures, and tragedies into stepping stones for positive outcomes.
---
Page 9 of 11
Instead of allowing gruesome events to ruin your positive outlook, you take them as crucial lessons that teach you suitable solutions to counteract upcoming challenges.
When Hope is Not Enough
While the promise of a better future is not guaranteed, there is nothing wrong with gaining assurance for a smoother journey ahead. The road you traverse may be filled with bumps, potholes, as well as detours,
yet know that they will constantly be part and parcel of the voyage. There is no such thing as a straight line in traveling towards your destination. And be sure to get ready, because a few of these unexpected encounters would be extremely tragic, to the point of testing your true patience, survival mechanisms plus capable thresholds for endurance. Arm yourself with the solid foundations of faith, perseverance, and optimism. They are surely fundamental in your rapid recovery from intense disasters.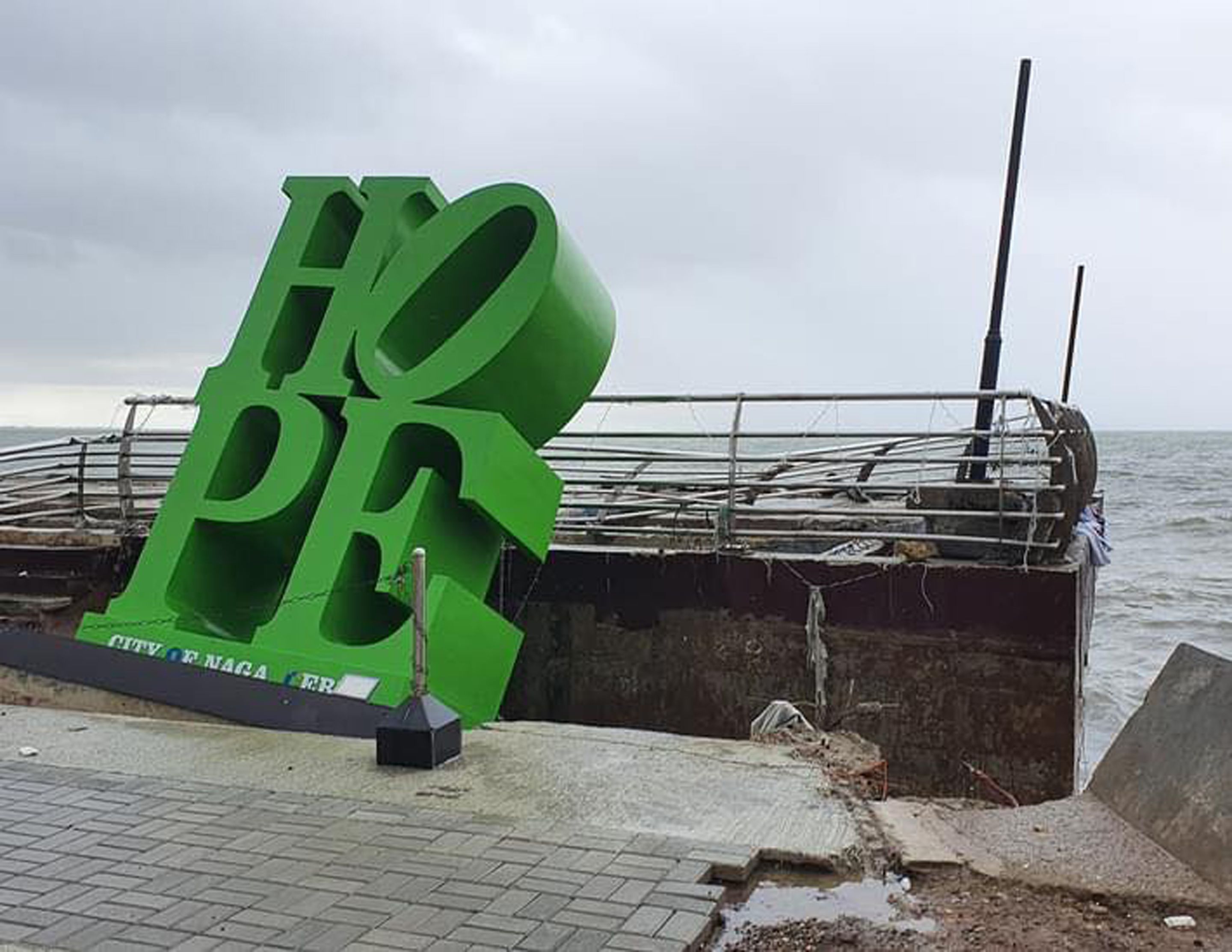 Damaged Boardwalk Signboard in Naga City, Cebu | Photo Credit
---
Page 10 of 11
Hope is definitely not sufficient to shield you from further adversities. Being assertive, courageous, and transparent simply helps in the combat against the resulting depression from mishaps, whether natural or intentional.
By becoming vulnerable, you unlock the doors for authentic healing and regeneration.
One way is to openly share your personal story with individuals you trust. They could be your closest friends, siblings, parents, or peers you could count on. By revealing the pains, realities, and agonies of your terrible experiences, you allow empathy to flourish in the relationships. Being secretive, closed-minded, and emotionally hardened would only do you more harm than good. Face failure with confidence. Learn to thrive in adversity. Rest assured, you will be on the road to recovery.
Rising From The Ashes
In my homeland, the war against hardships is not over, not yet. Nowadays, we are currently striving to rebuild everything that we have lost. Super typhoon Rai (Odette) was the worst natural disaster I have ever experienced in my lifetime. I am not saying that this would be the last tragedy to occur in the region.
As the Philippines is frequently visited by storms of different magnitudes throughout the year, some of us have been already been accustomed to these tragic events.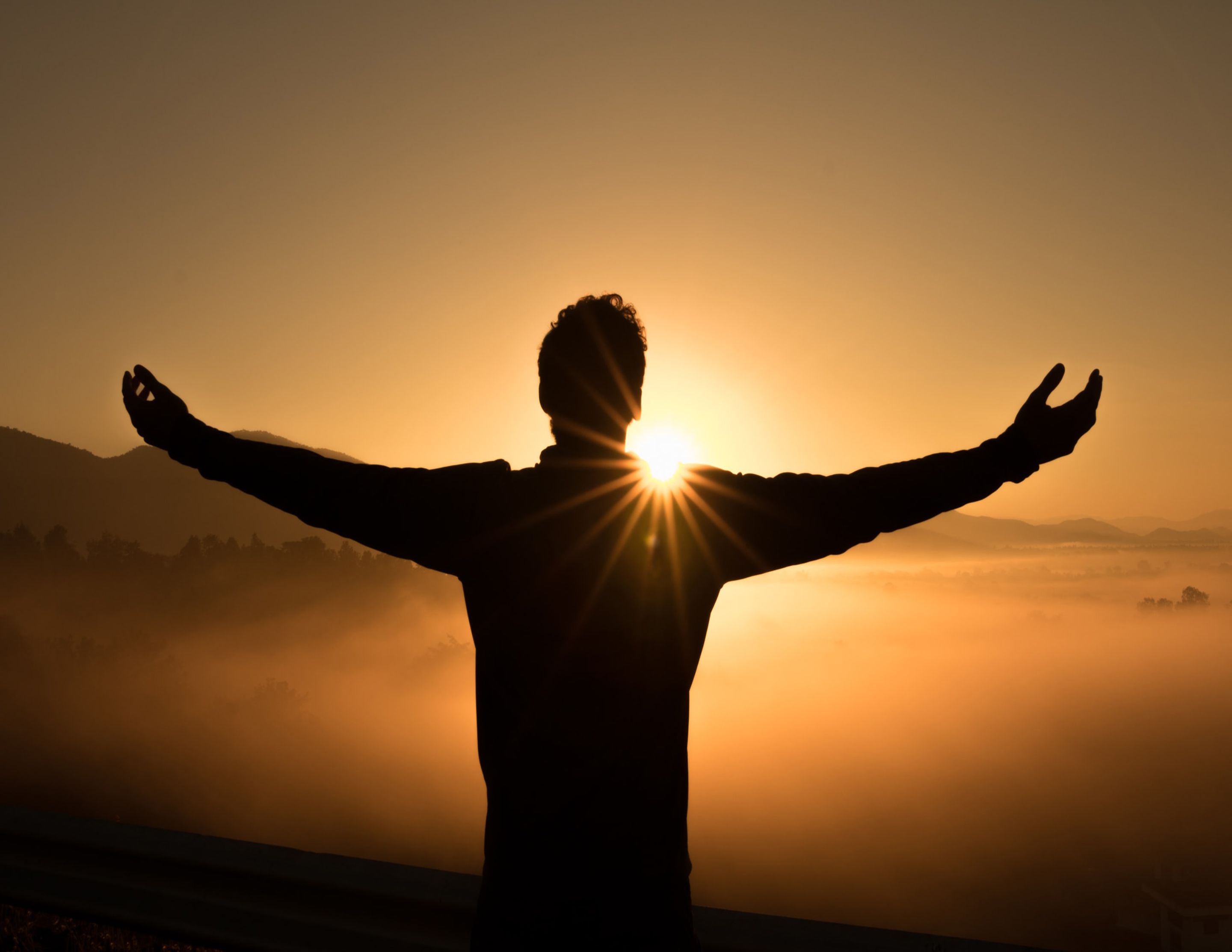 Stand Up and Shine against Adversities | Photo Credit
These horrendous calamities reinforced our human characters, sometimes inviting us to even smile amidst all these difficulties.
It is a common trait that I have seen among typical Filipinos who have become victims of misfortune, and one of which I am sincerely proud of.
Having a cheerful disposition, spreading joy to others, despite being trapped in the turmoil of destruction, is certainly a positive characteristic to cultivate - a significant virtue to uphold indeed as role models for our younger generations.
---
Page 11 of 11
Like the sturdy bamboo, we have developed the resiliency to adapt to the ever-changing landscapes of life. Nothing truly influences me more profoundly than this concluding quote.

#Hive, what are your thoughts on the tragedies of life? Have you experienced an overwhelming crisis? If so, how did you survive? Share your stories in the comments.
References:
All featured photos and images in this article are linked to their respective online sources.
---


STORIES OF ERNE
Architect | Environmentalist | Lifehacker | Adventurer
Creator of Architecture+Design Community on Hive
Self-Expression Empowers Human Evolution™
© 2020-2022 @storiesoferne All Rights Reserved