Batanes: The Cultural Treasure of Northern Philippines (Post 2-2)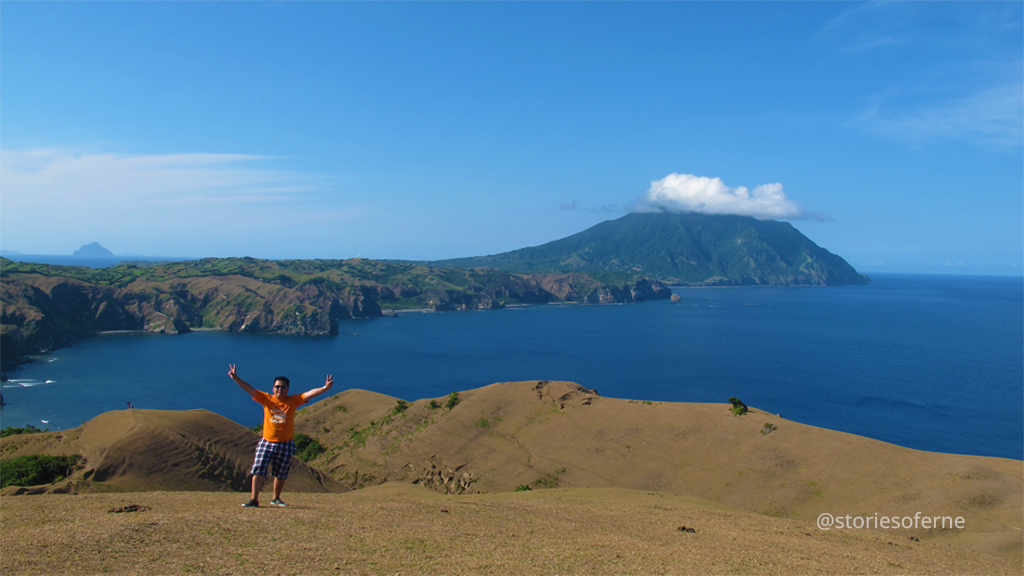 Hello Hive,
It's about time to complete the concluding half of this post. If you've missed the first publication, below is the link to that article for you to follow my once-in-a-lifetime-experience on this exotic destination.
---
To give you a brief recap of the previous travel story, Batanes, as you know, is the smallest province of the Philippines. If you look at the attached map below, it's an extremely tiny group of remote islands on the northernmost tip of the archipelago. For the rest of this marvelous location's background information, I'd appreciate if you'd read the details on the first half of this post.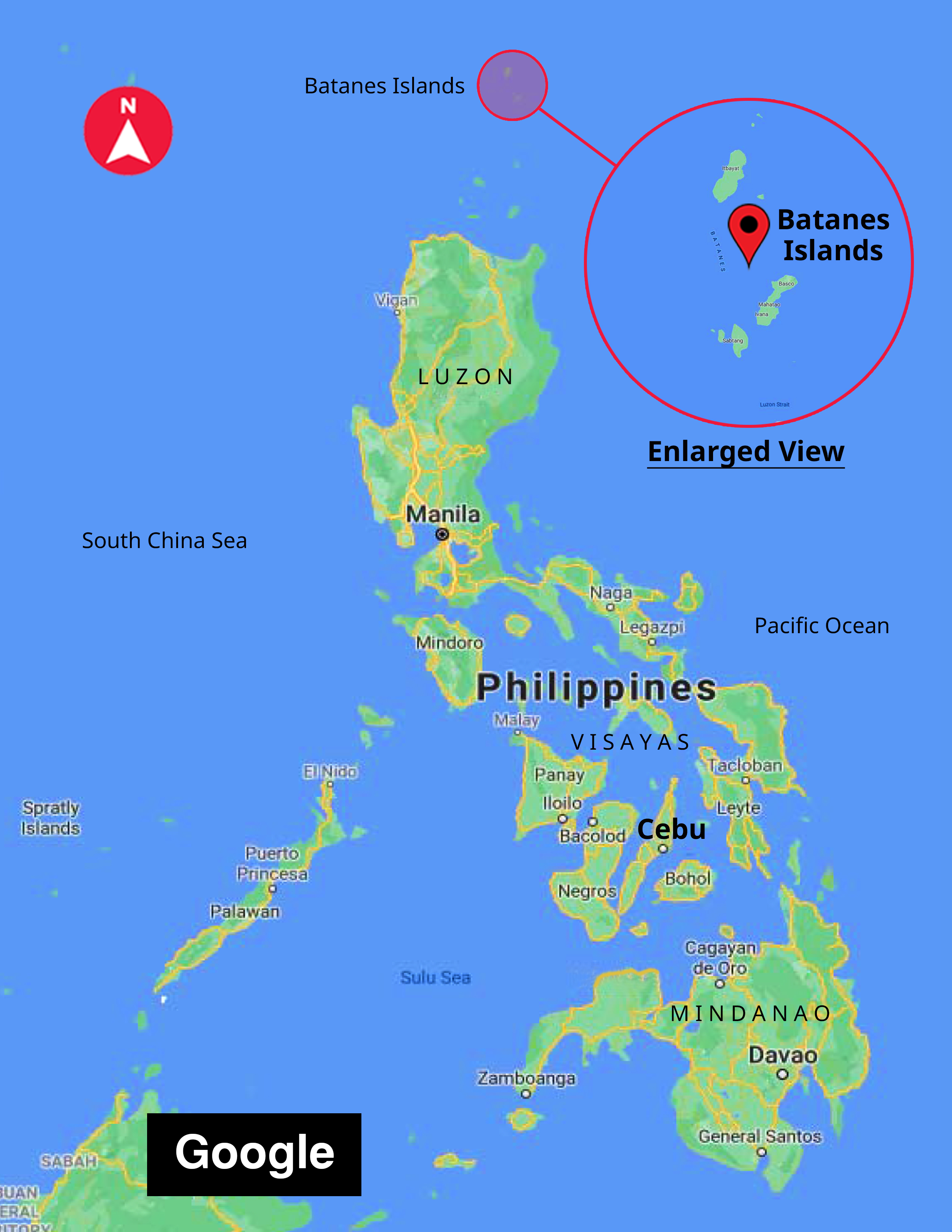 Let's jump right ahead on the continuation of our adventurous journey and experience the remaining wonders of this renowned cultural gem.
Guide Map of Batanes Landmarks
The last landmark that we left off on the previous post was Morong Beach (Number 15 on the guide map) where we had a sumptuous lunch and were fascinated by the famous natural stone arch. It was already dusk at that point, and it was time to for us to head back to the Port of Sabtang to journey back to the island of Batan to finish off our last destination for the day.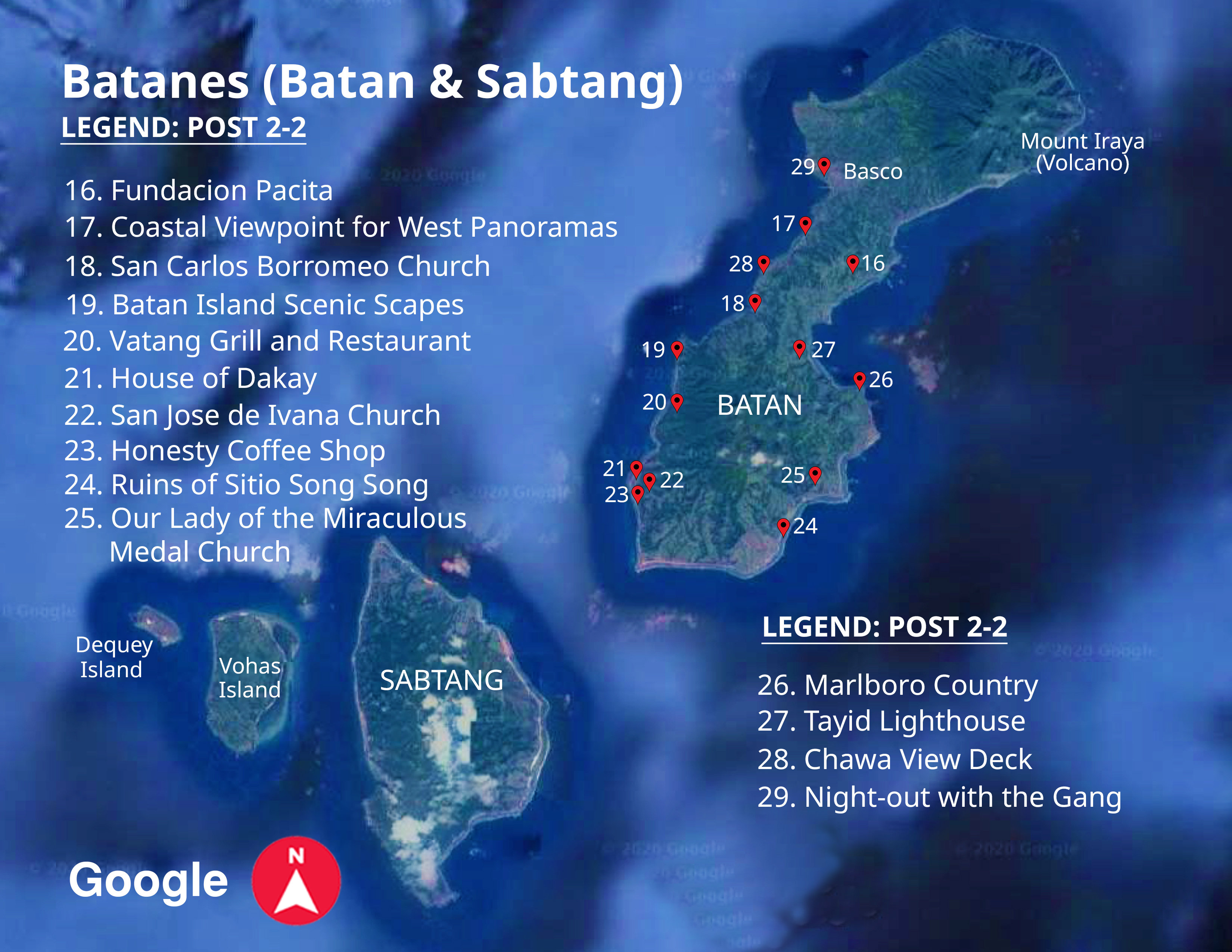 The current guide map kicks off with landmark number 16. And the remaining tour itineraries you see above for our Batanes trip would all be enjoyed on the island of Batan before flying back home from Basco Airport. So, whenever you're ready, let's go!
16. Fundacion Pacita
On the way to our next destination, we were greeted by the sun's warm yellow rays as it slowly set on the horizon. From a distance, I could also listen to the vibrating sounds of crickets and the swaying leaves as the sea breeze blew from beyond! The night wind was chilly and had just the right temperature as it smoothly caressed my face and skin.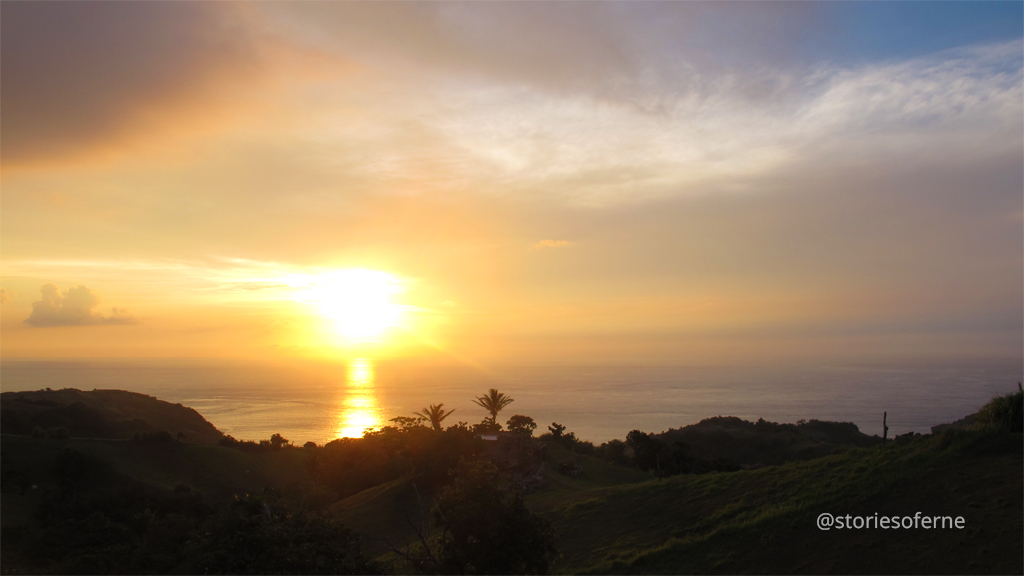 "This is still Day 2 of our Batanes escapade, but it's as if we've already been here for a long time!" I told my comrades as we were catching our breaths while admiring the surrounding sceneries. The overall ambiance had a romantic atmosphere. it was perfect for the mood we would like to have at our dinner place!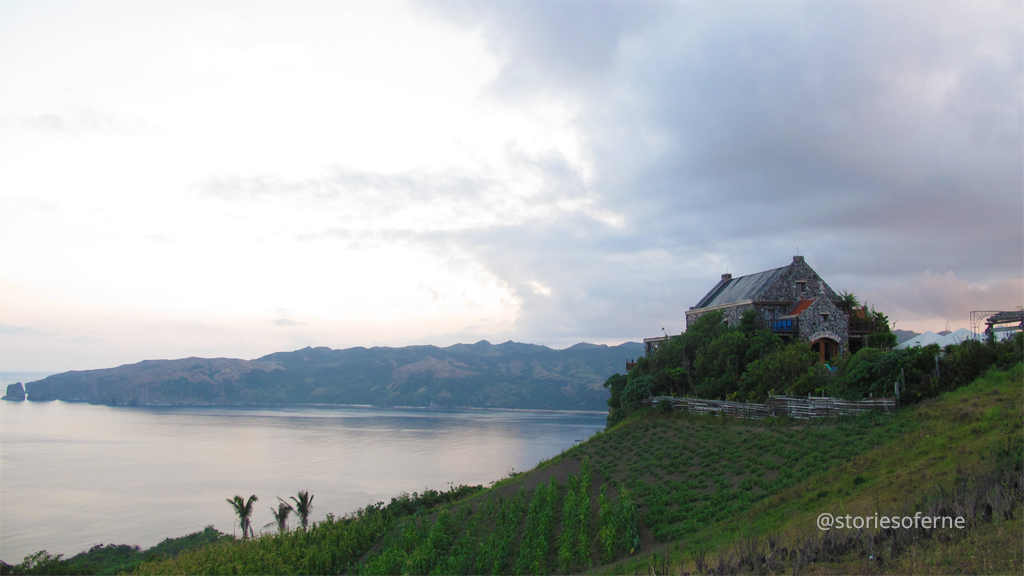 The Fundacion Pacita was eagerly waiting as she greeted us with a huge smile reflected on the welcome elements, arched entrance, and lush gardens of the site. We had our mouth-watering dinner first before we were granted the rest of the night to walk around and explore this outstanding landmark. (Indeed a great way to lose the extra pounds before going to bed…haha)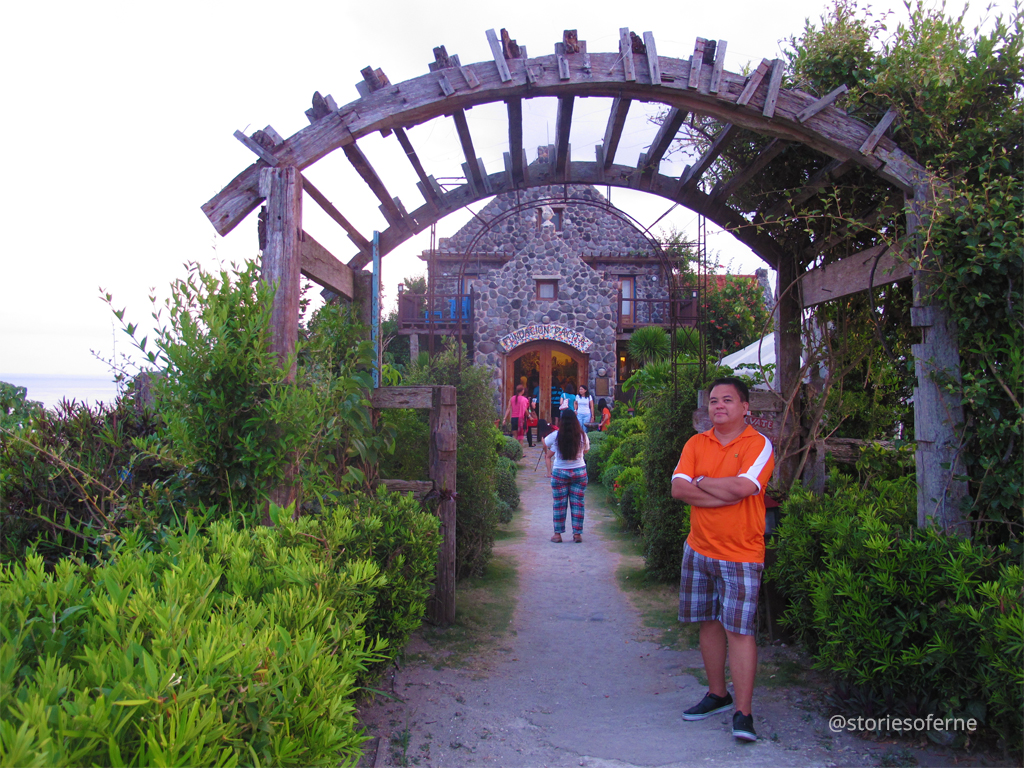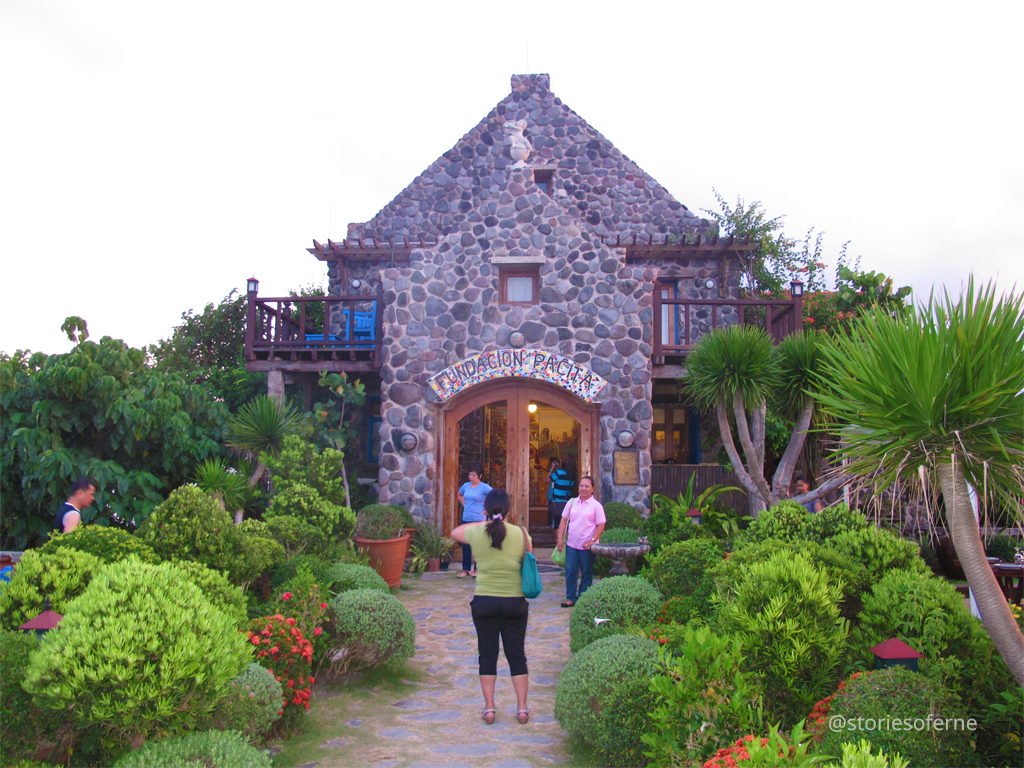 This Philippine-renowned hotel (nature lodge) and art house is currently owned by the influential Abad family and was the former studio of the late national artist Pacita Barsana Abad (October 5, 1946 – December 7, 2004).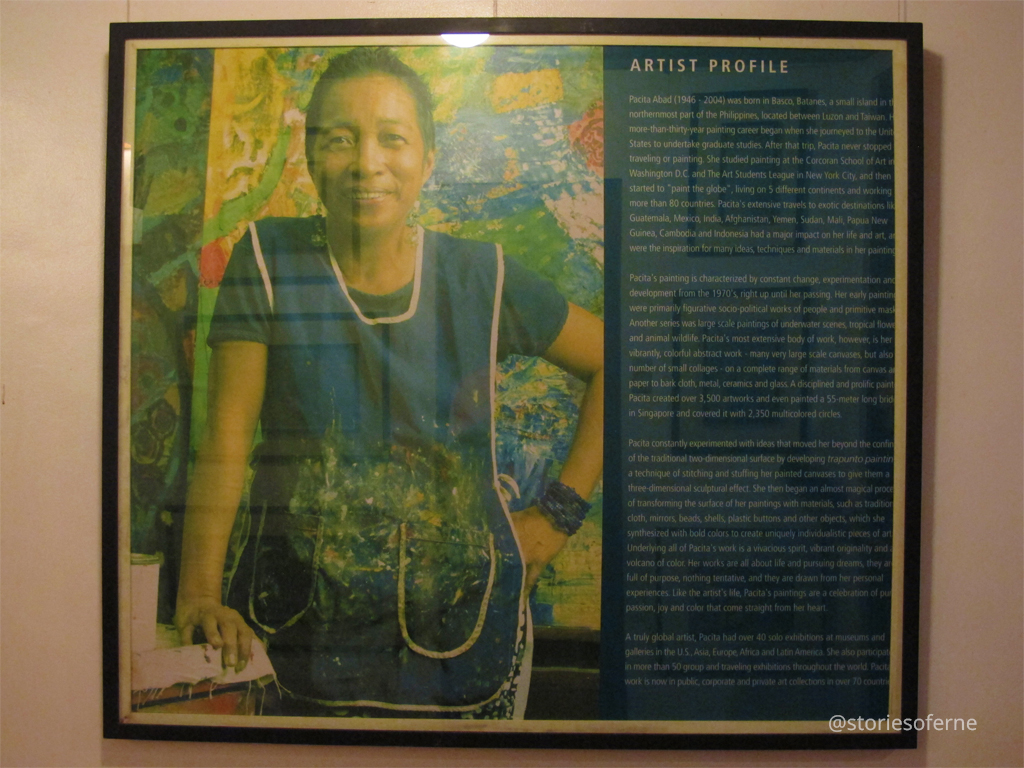 Pacita Abad was a true-bloodied Ivatan by birth and was globally known as a Philippine-American painter. She was backed by a 30-year painting career when she lived in the United States for her graduate studies. Her famous paintings were exhibited in over 200 museums and art galleries, plus also organized 75 solo shows on various international locations.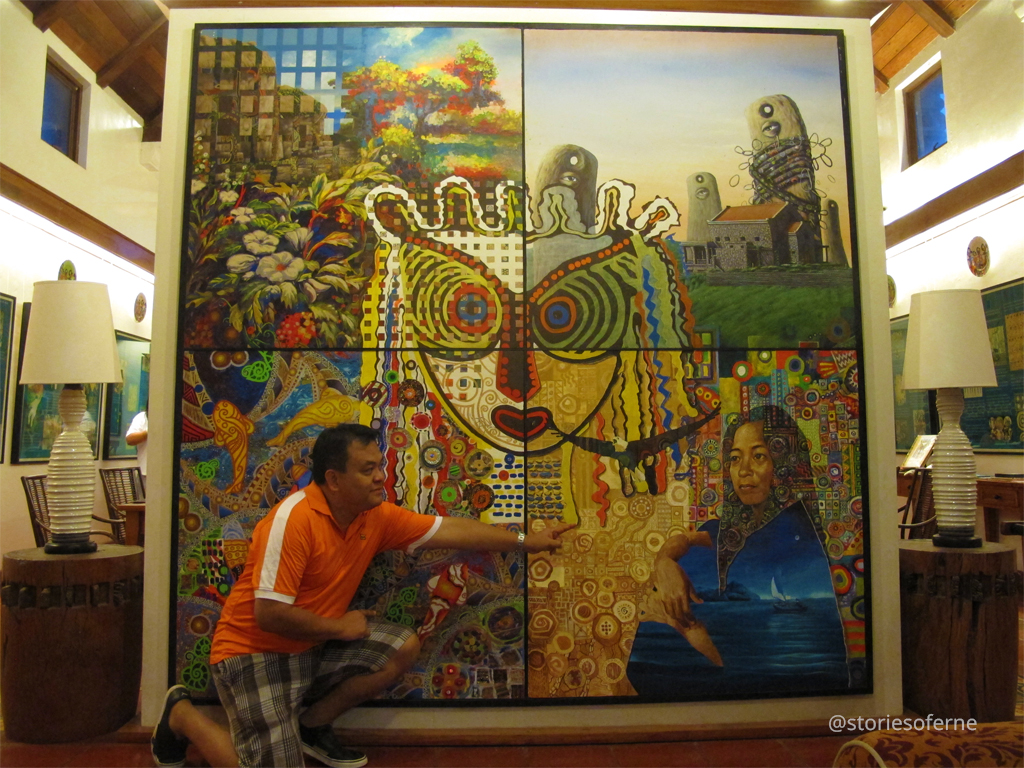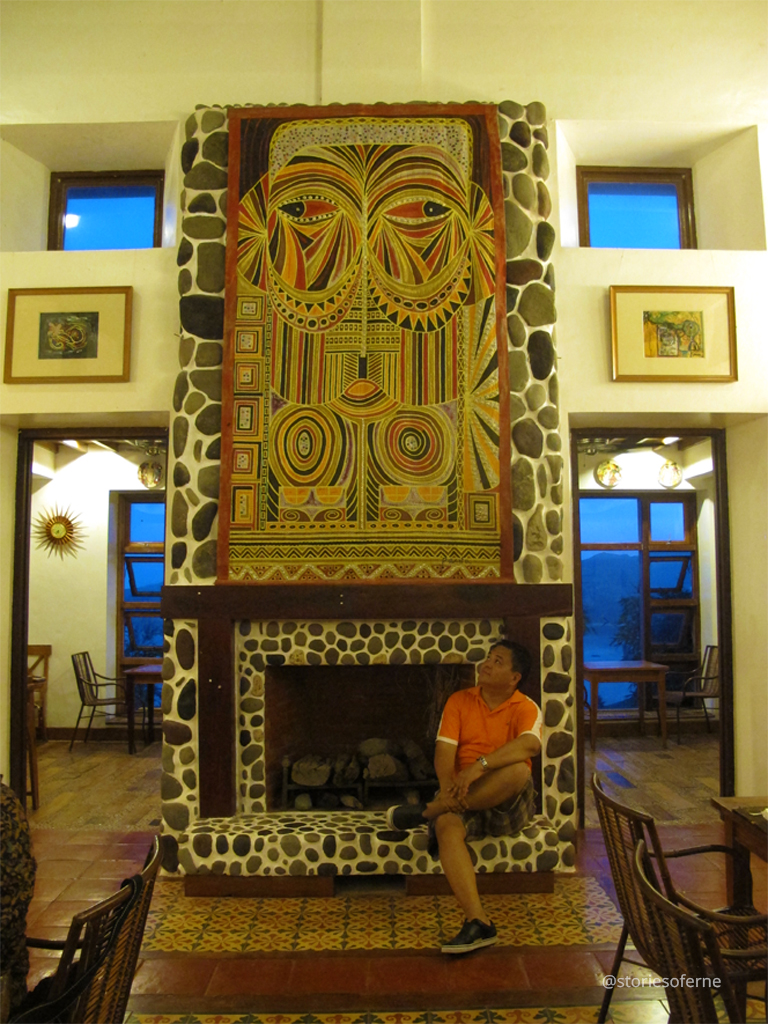 She personally crafted around 4,500 artworks in her lifetime. Her early painting styles were mainly humanlike socio-political portrayals of people and ancient masks. The trapunto technique was the unique style of painting she developed over the years which influenced several scholars of art.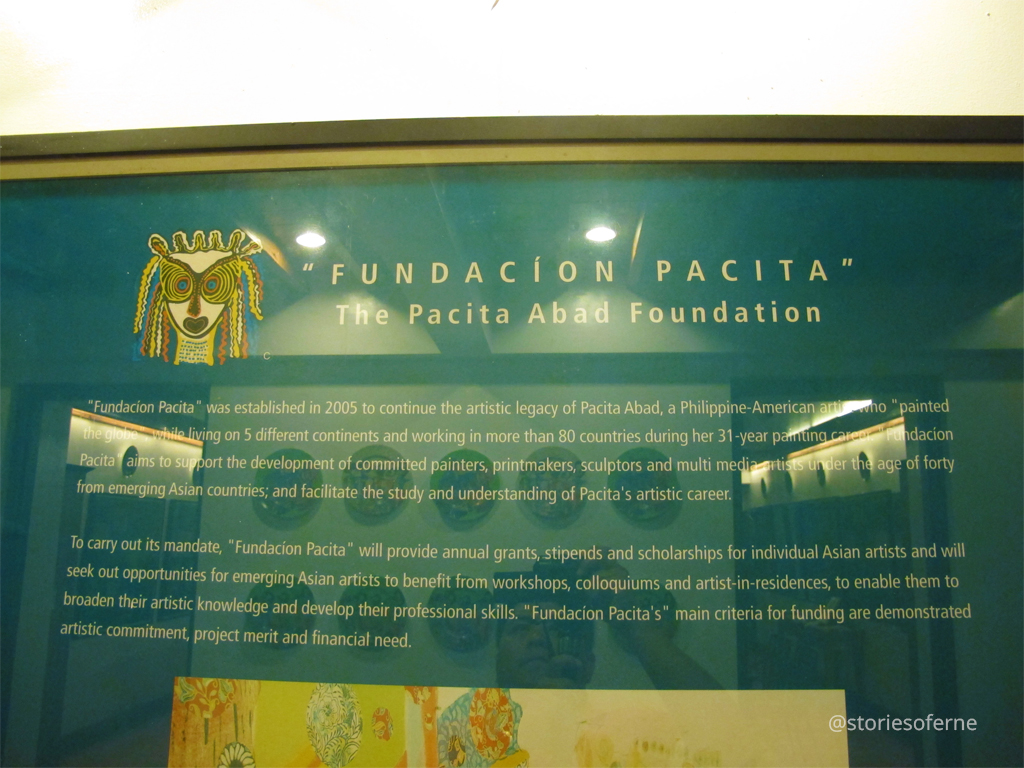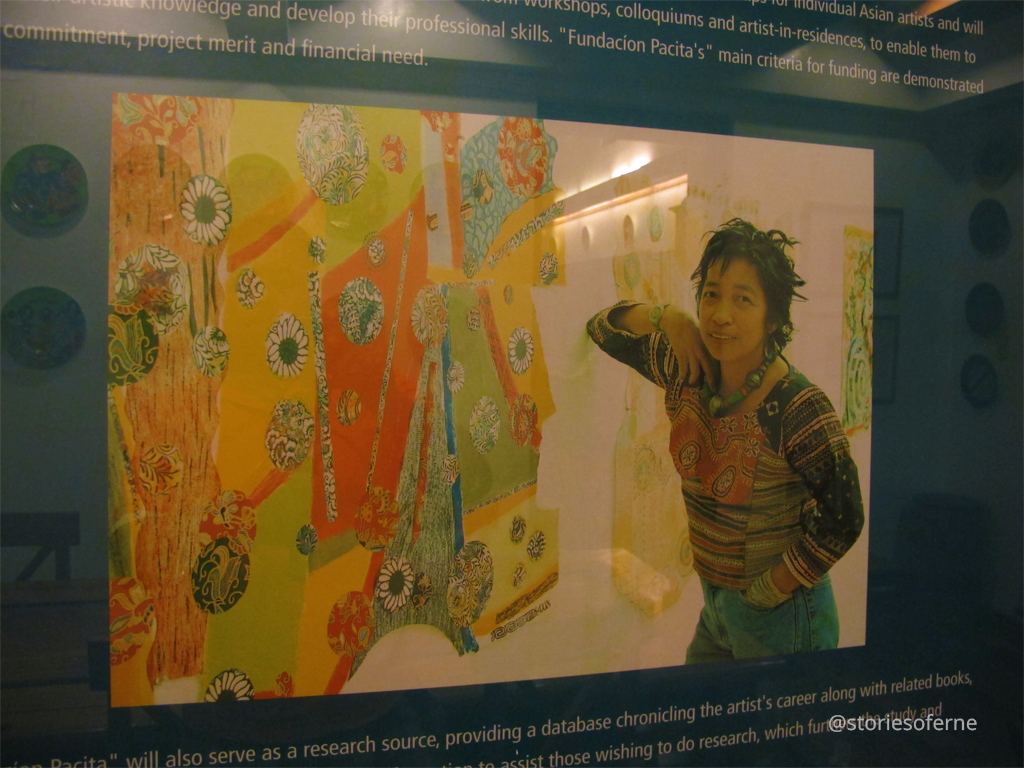 Other arrays of paintings she invested her efforts on were massive artworks of underwater settings, tropical floral motifs, and animals in their natural habitat. Her broadest body of work, on the other hand, was her colorfully vibrant works of abstract art - depicted on massive canvasses and also on smaller scale visual arrangements on a variety of different materials like canvas, paper, metal, glass, ceramics, and bark cloth.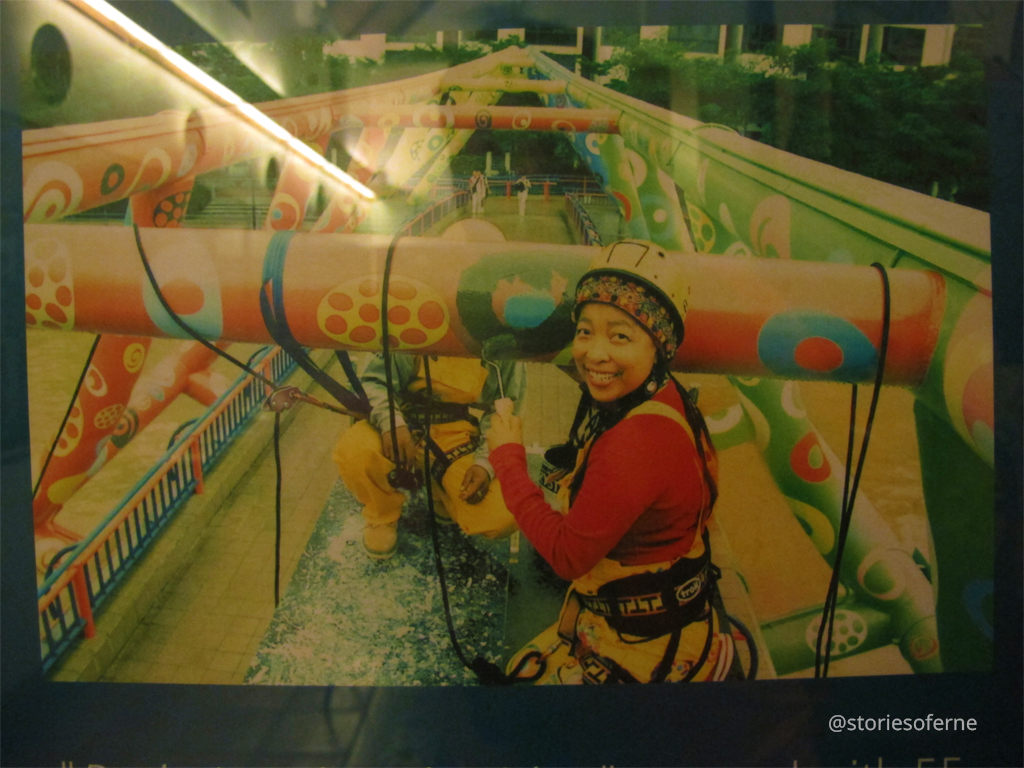 One of the best legacies she was known for was the painting work she did on the 55-meter long Alkaff Bridge in Singapore which she beautifully decorated with 2,350 multicolored circles, just a few months before her untimely demise. Pacita's life works are now scattered all over the globe in private, public, and corporate collections spanning 70 countries.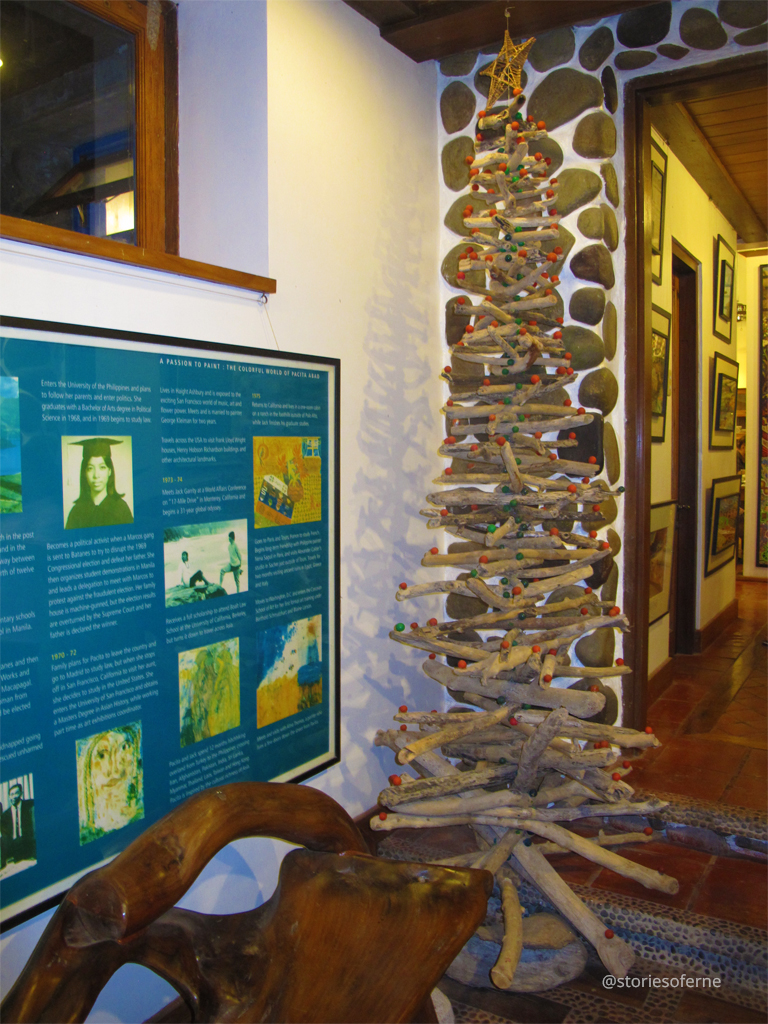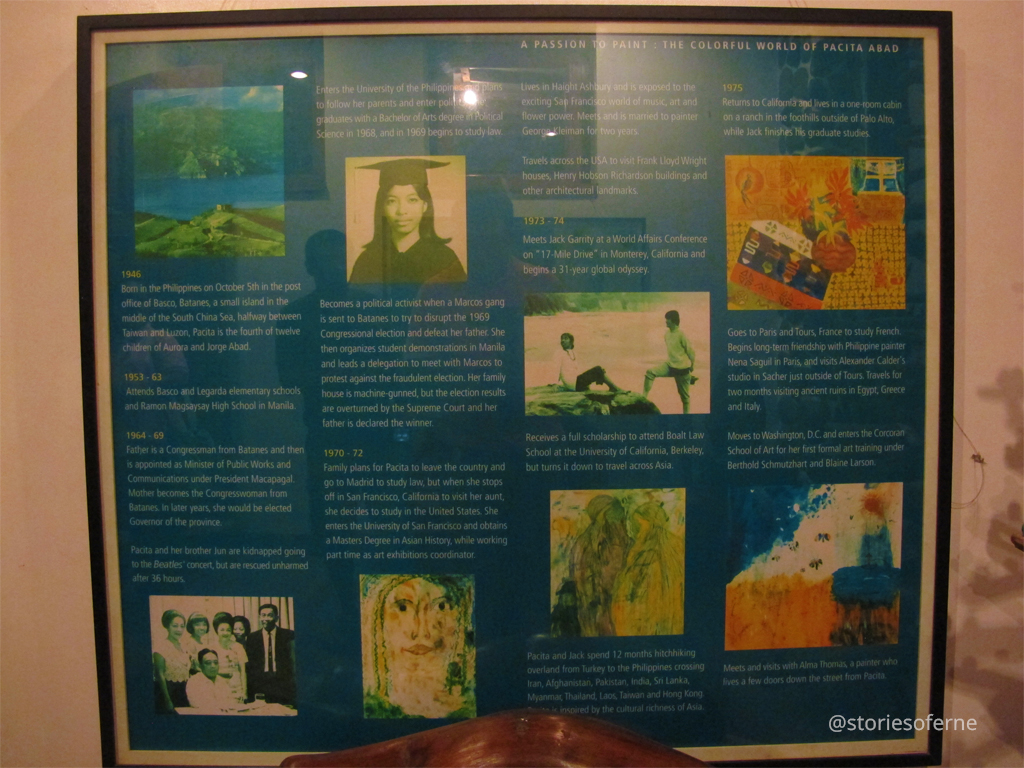 The illustrious landmark is the culmination of the momentous legacy left behind by Pacita Abad. Today, the Fundacion Pacita in Basco, Batanes is currently a Nature Lodge that was lovingly renovated by her brother, Butch Abad. As a matter of fact, a lot of domestic as well as international celebrities have already experienced the comforts and hospitality of this boutique hotel cum art gallery.
"Ahhh, what a memorable way to end the night!" I said to my companions as we went back to our designated accommodations.
17. Coastal Viewpoint for West Panoramas
As we began Day 3 of our Batanes adventure, we didn't waste time greeting the beautifully sunny morning with pictorials along the western coast of Batan island. This happened right after the hearty breakfast we enjoyed at our specific hotels.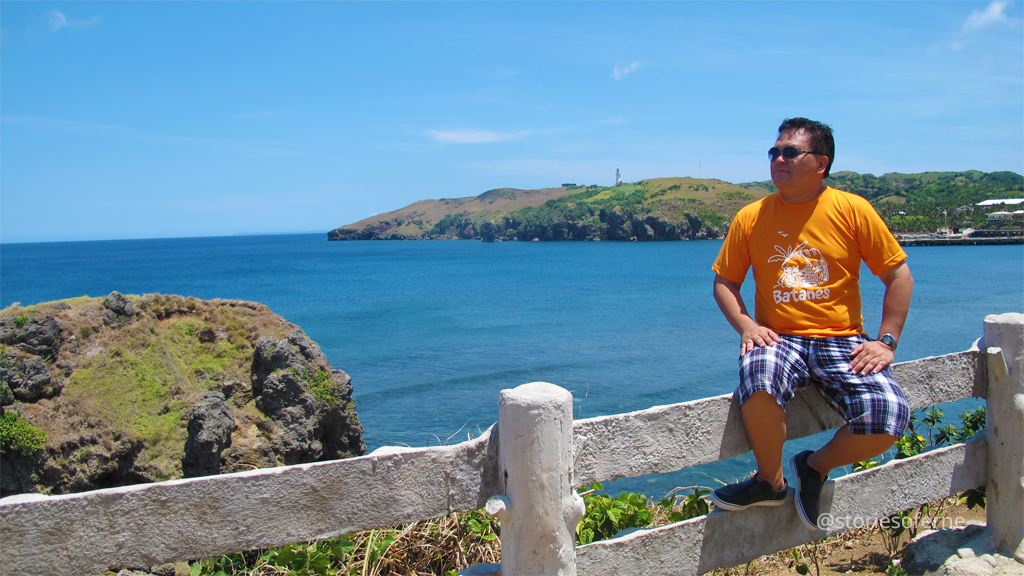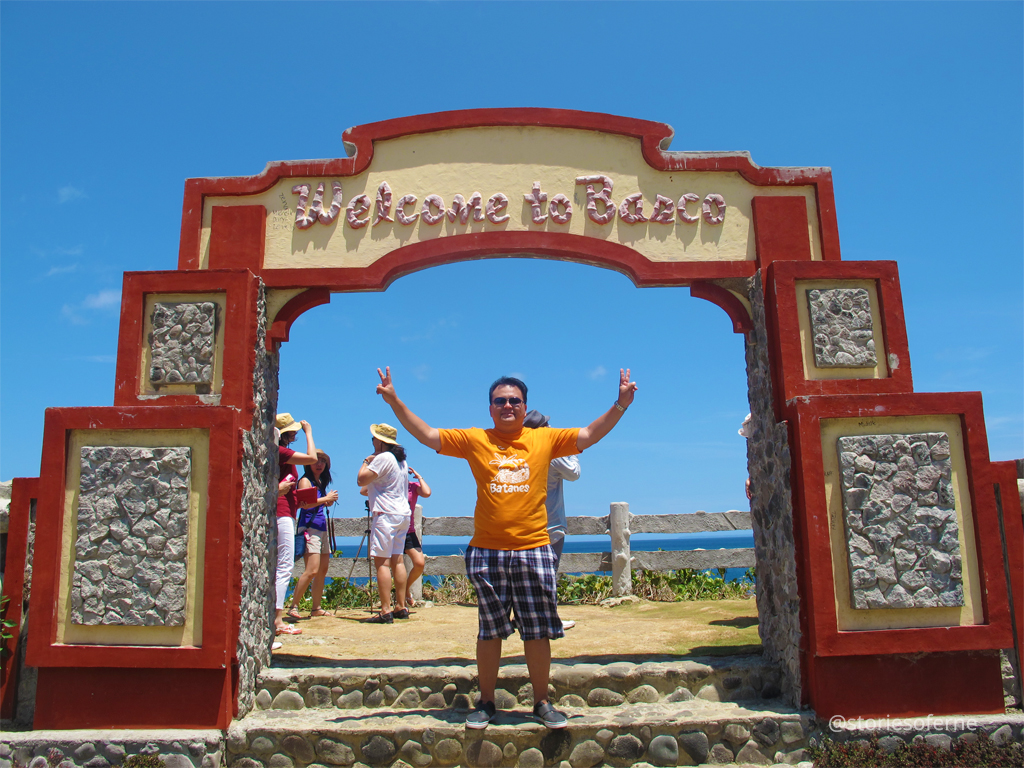 Both the stunning seascapes of the West Philippine Sea and breathtaking landscapes, as well as edgy cliffs of Basco and neighboring municipalities, completed the entire scenario.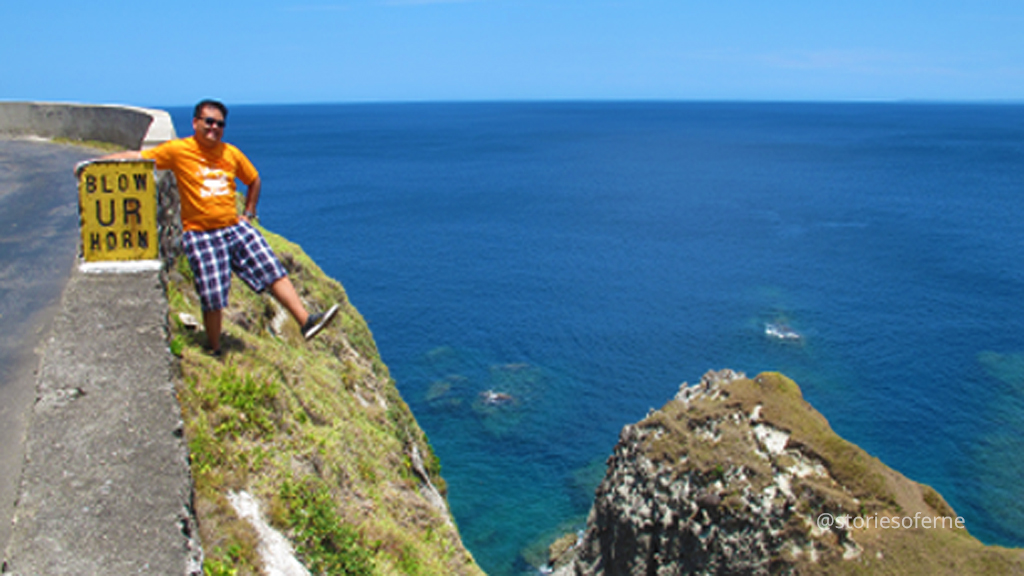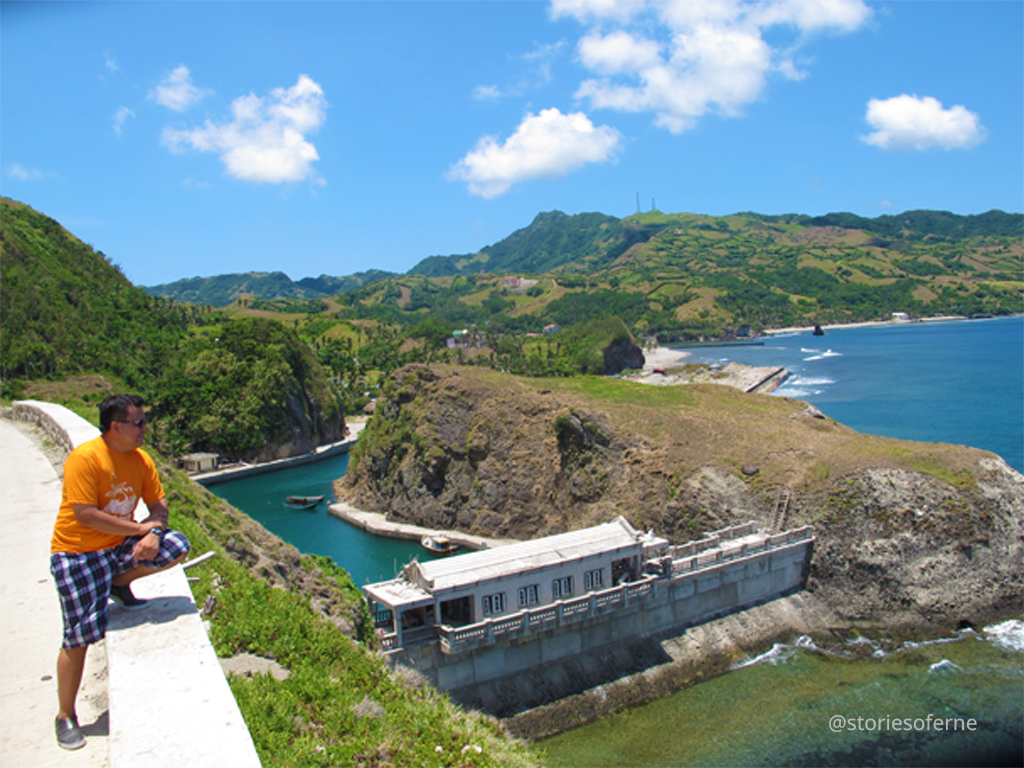 These opportunities to capture plenty of photographic memories were merely quick stopovers of the tour itinerary before we proceeded to our first official landmark of the day: one of the most important churches within the island.
18. San Carlos Borromeo Church
This sacred building, also locally known as the Mahatao Church, is a nationally-renowned Catholic church. Because of its architectural beauty and remarkable state of preservation, this holy edifice together with the attached convent at the side has been designated as a National Cultural Treasure by the National Museum of the Philippines on July 31, 2001. I kept on staring at all the church exterior and interior details to quench my design curiosity.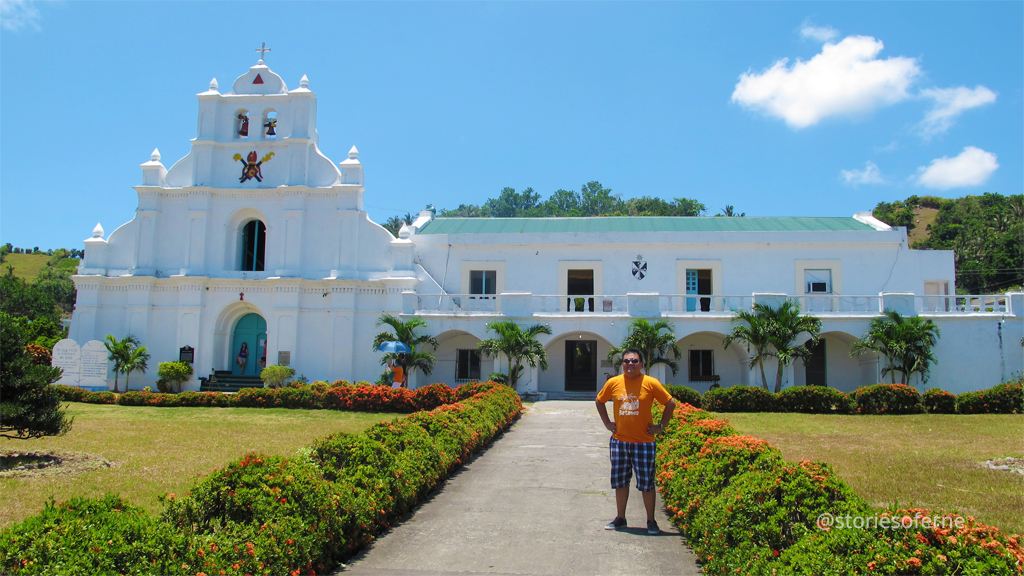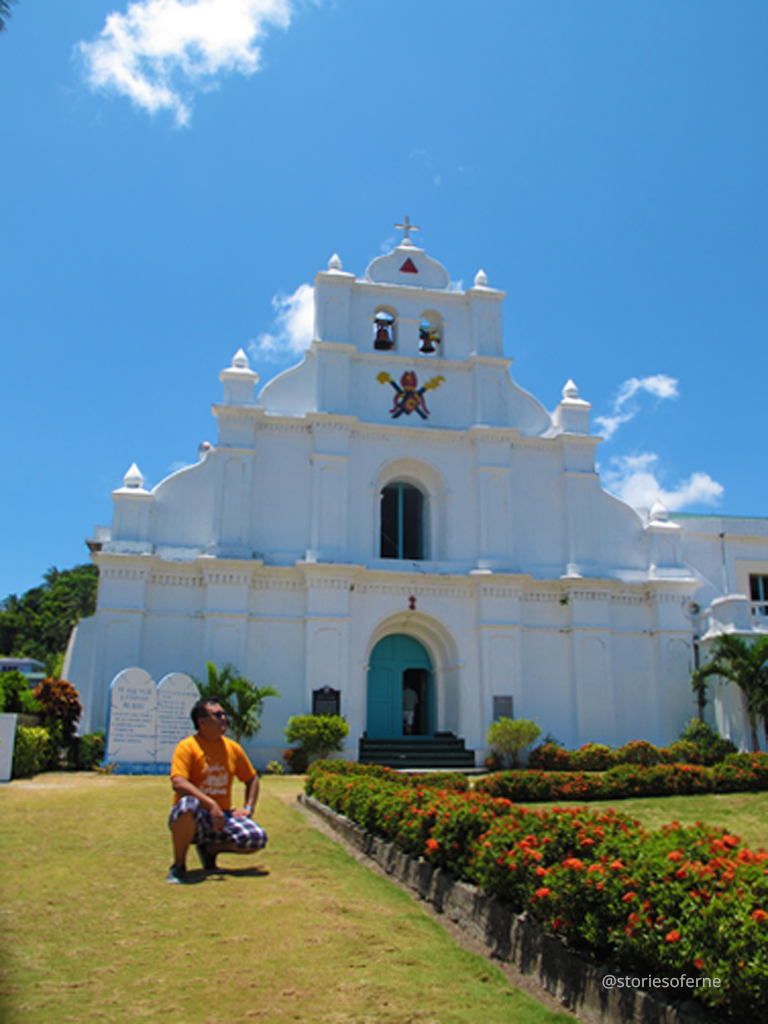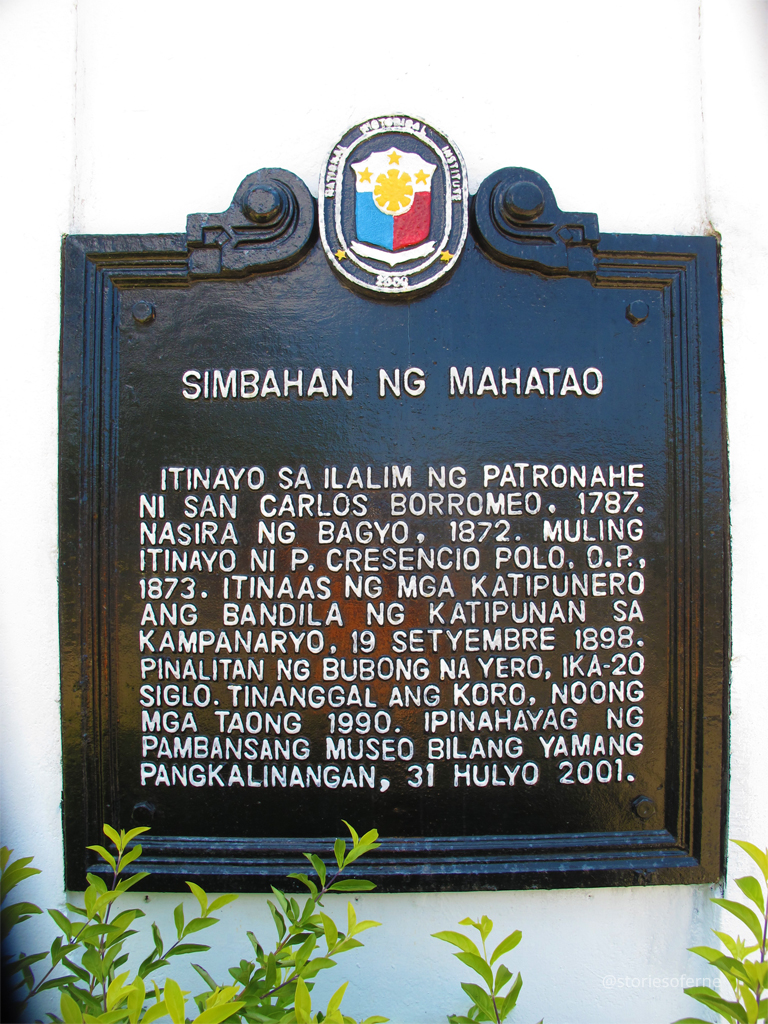 When the province of Batanes became part of the Philippine nation as a result of Spanish colonization, the town of Mahatao was converted into an ecclesiastical and missionary hub by the Dominicans in 1783.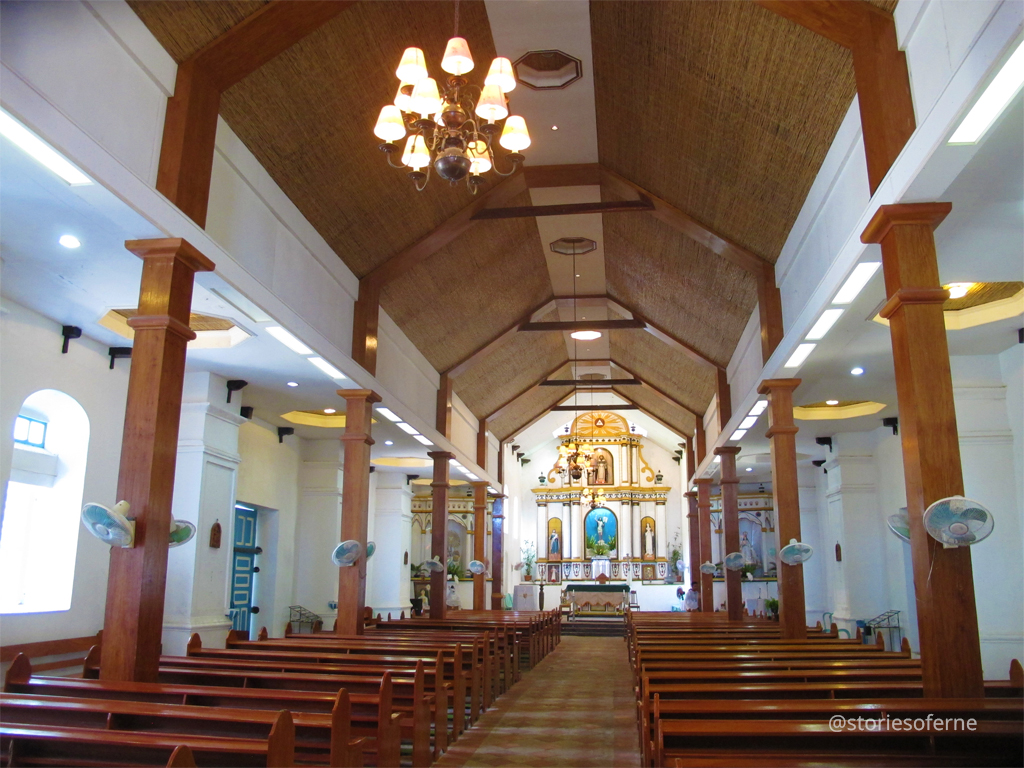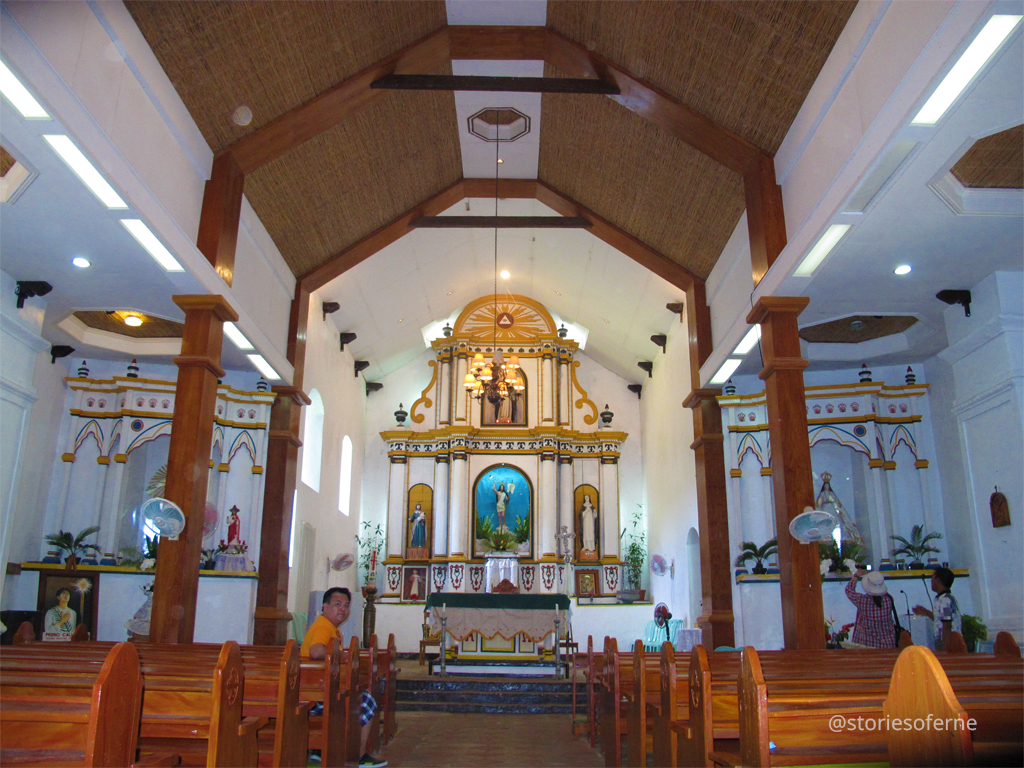 As I roamed around the holy grounds, my eyes became busy glancing at all the exterior and interior details while clicking away with my camera. There were only a few tell-tale signs of the place looking old and it seemed like the present building was recently constructed.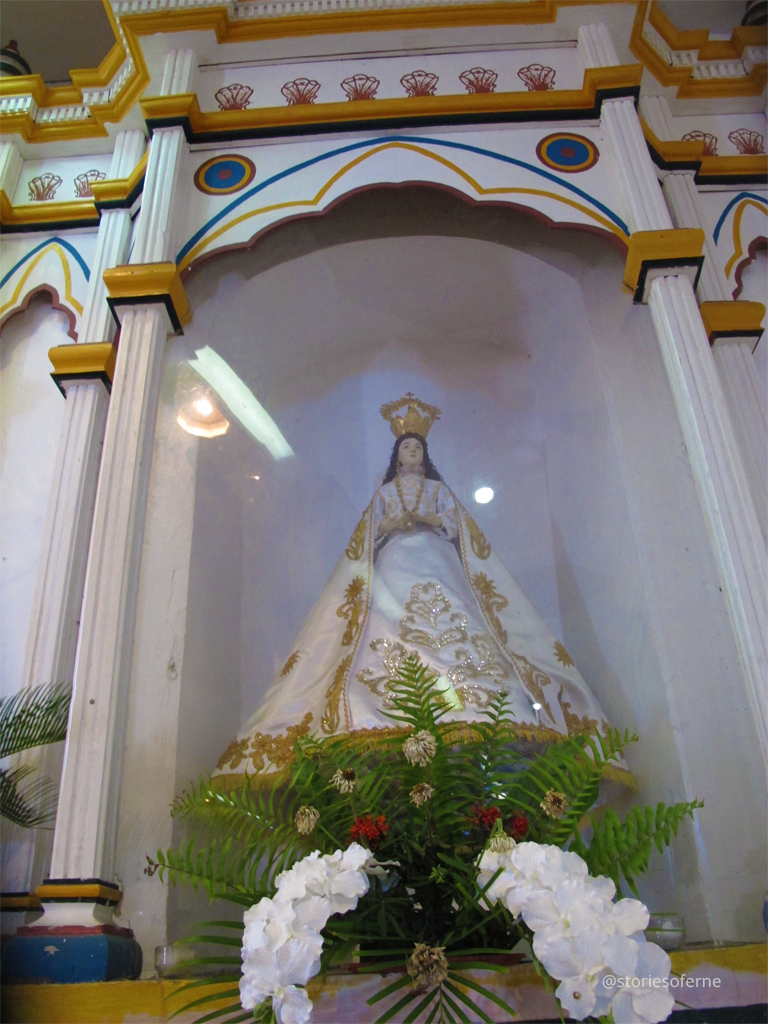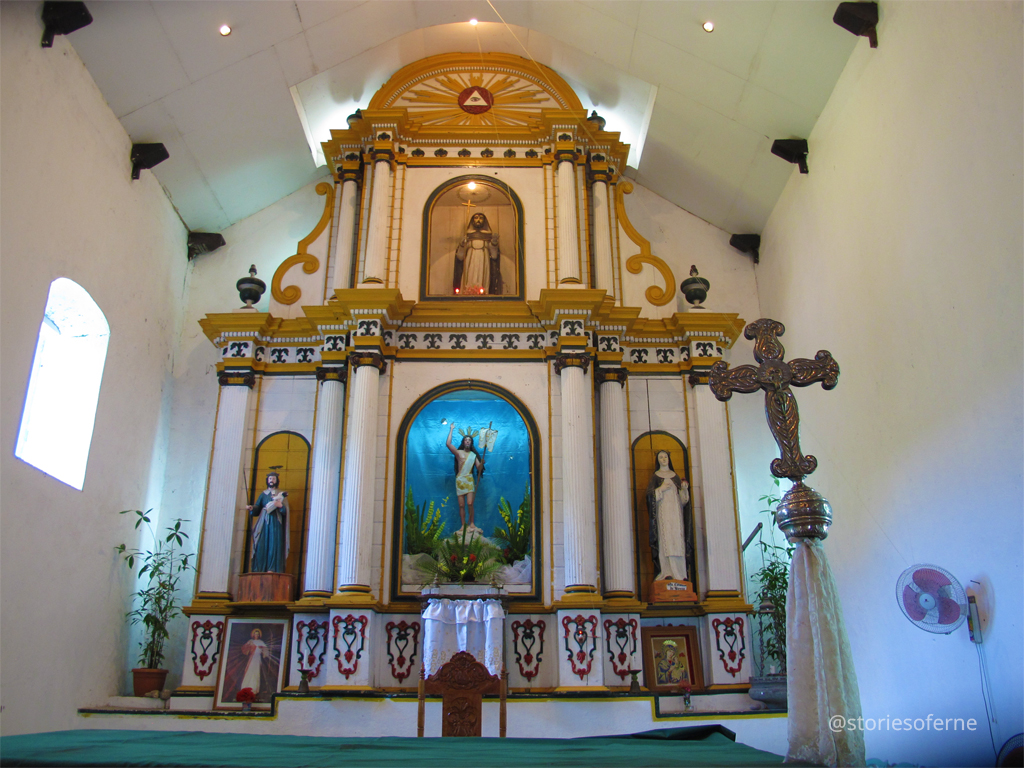 Despite its old age, the stone and lime building materials of the church were in near-perfect condition. I noticed that the structural elements were adopted from the Baroque architectural style where stepped buttresses, thick walls, and floral motifs of sunburst ornamentation painted in polychrome and gilt to produce a golden glowing effect.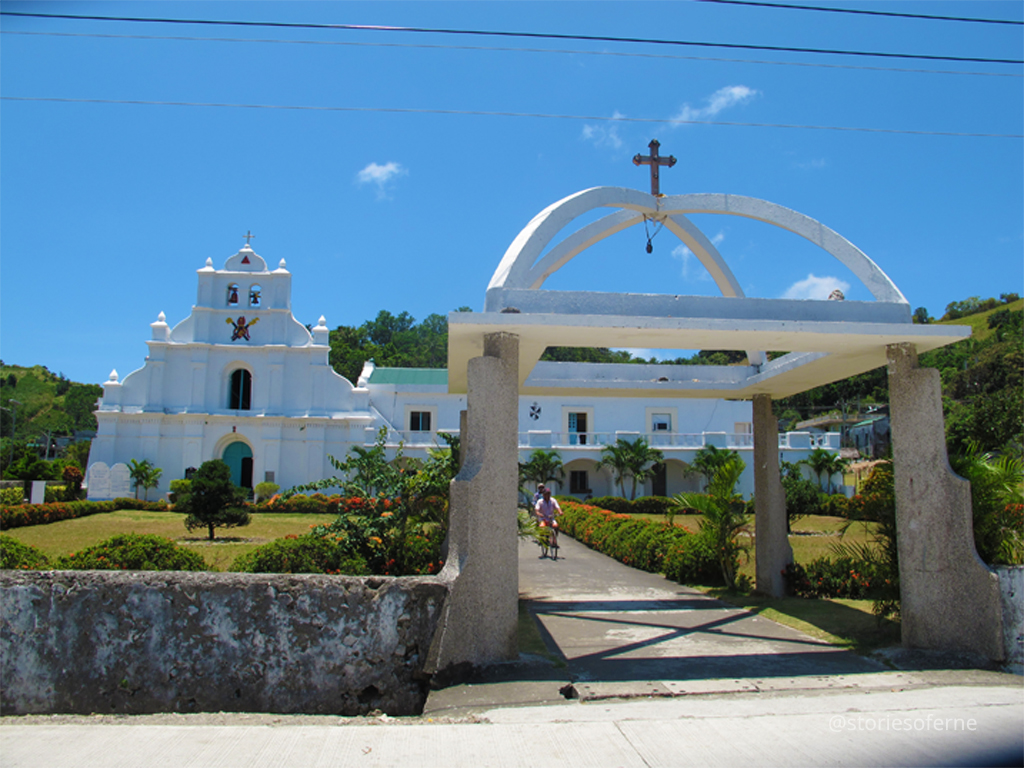 Moreover, the church convent at the right side was built with an open extended desk in contrary to the typical "volada" or cantilevered galleries usually found in the Philippines. I paid my last respects inside the Mahatao Church by leaving a little prayer before I went back to our tour vehicles for the next destination.
19. Batan Island Scenic Scapes
It was already early in the afternoon when we were still cruising along the western national highway of Batan island. As usual, we were mesmerized by the majestic beauties of nature that Batanes had to offer: pristine white-sand beaches, crystal-clear turquoise sea waters, bursting vegetation on the rocky mountains and hills, plus the endless horizons of bright blue skies!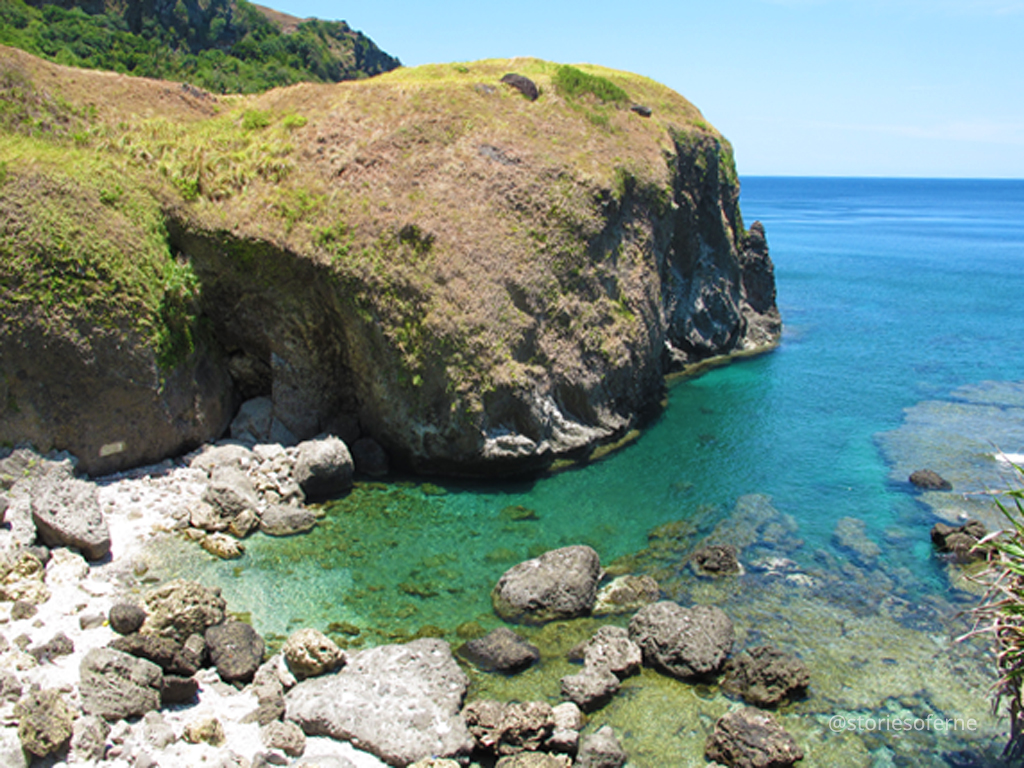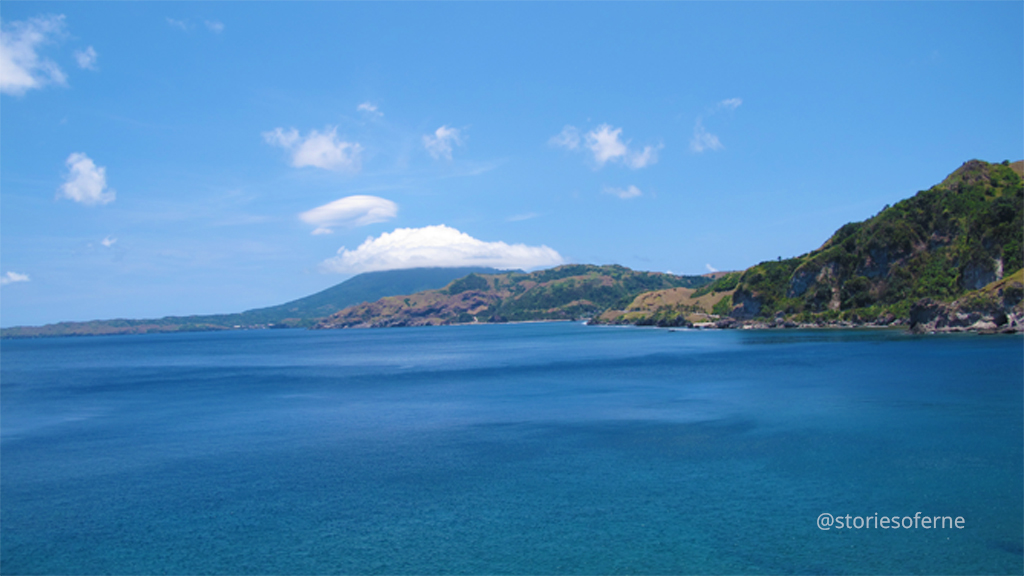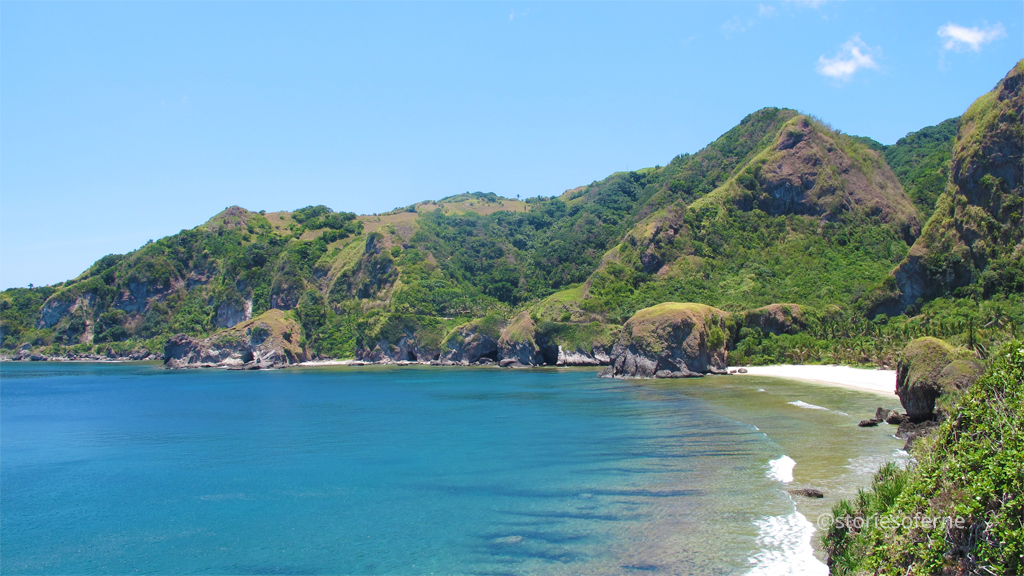 We could even vividly see Mount Iraya, the island's dormant volcano, in the background as our vehicle drove further away to our next stop. All of a sudden, my stomach started to produce weird sounds and you already know what that meant. It was time for lunch!
20. Vatang Grill and Restaurant
Fortunately, the dining establishment was already booked in advance. So our meals were all set for consumption. I had some of the island's delicious native favorites together with their locally popular seaweed soup.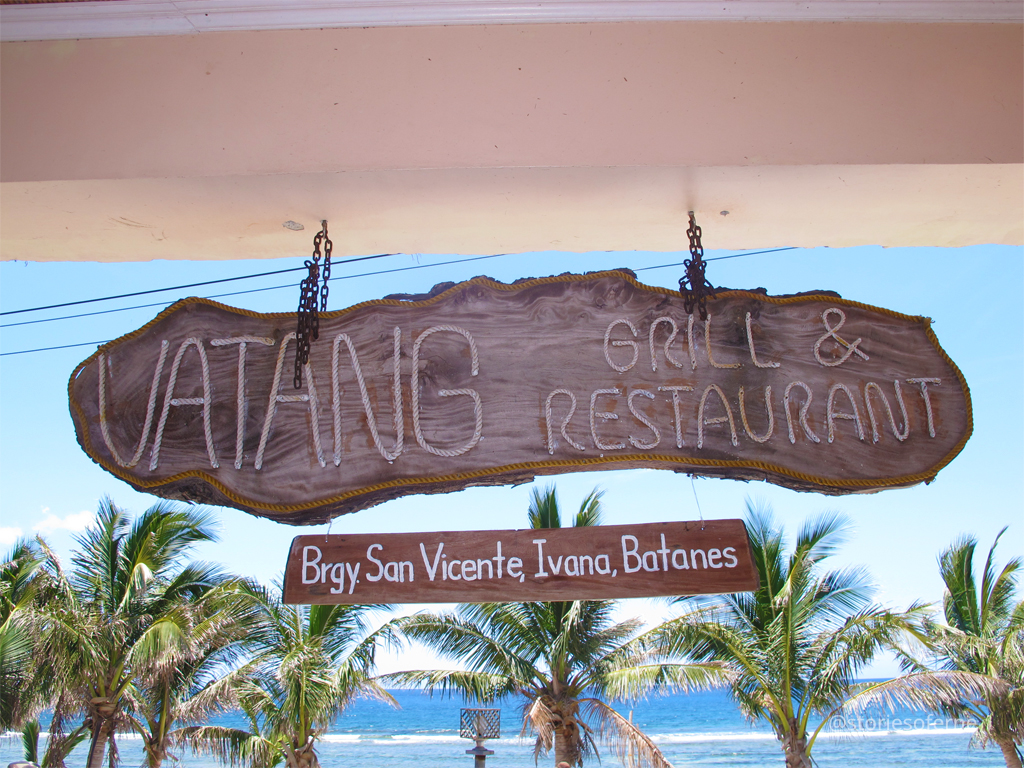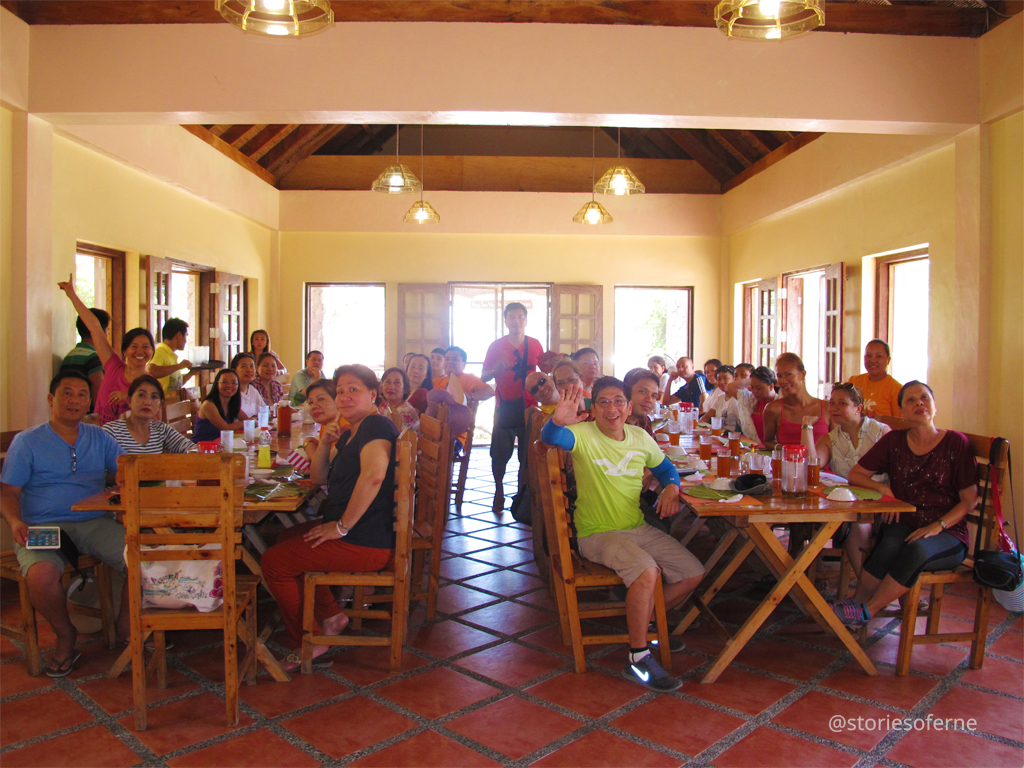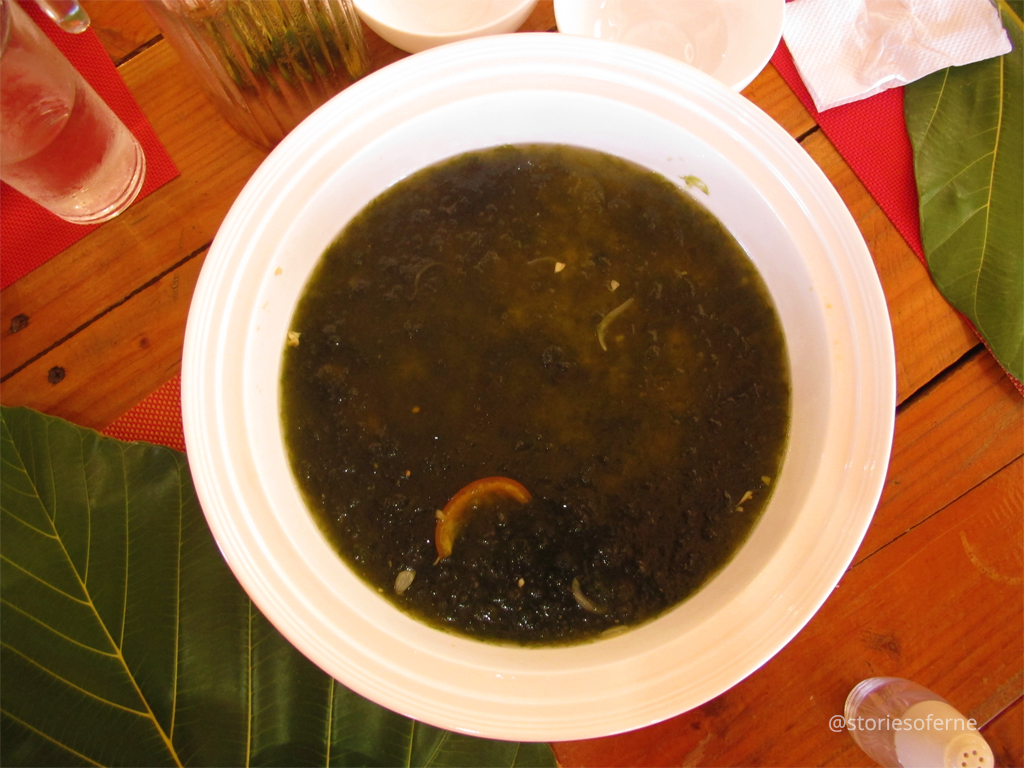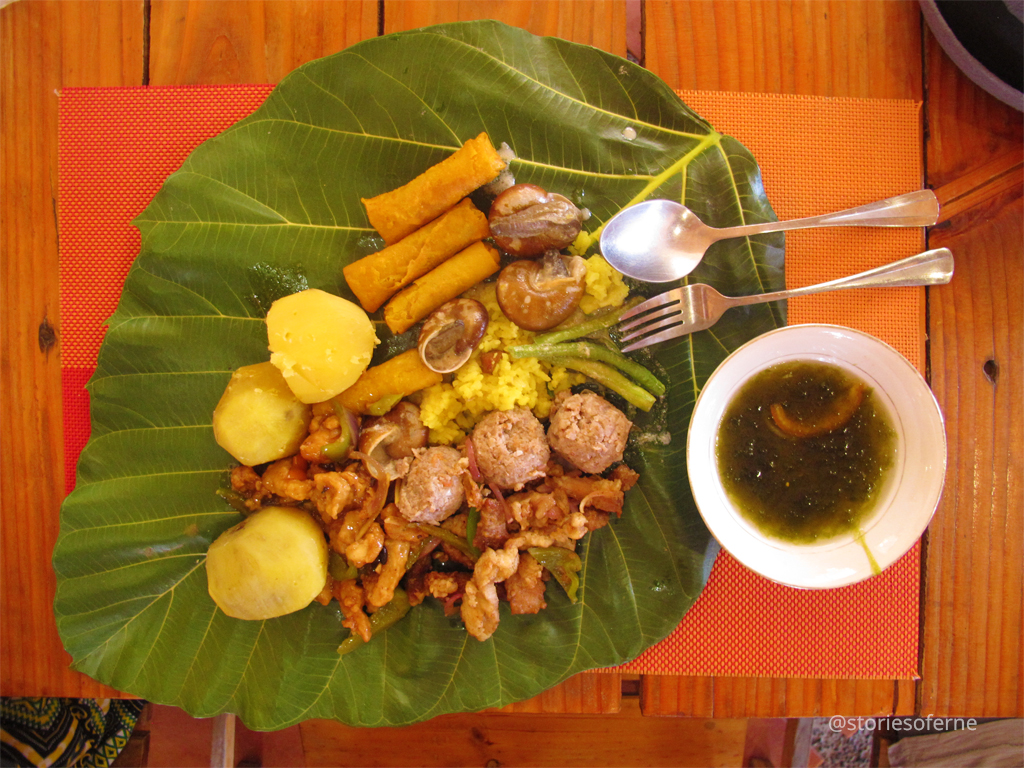 Our energetic tour group had lunch at the Vatang Grill and Restaurant, located at the neighboring municipality of Ivana, a decent-sized eating place that resembled a traditional Ivatan stone house, but in a much bigger scale. We fully stuffed ourselves well before we continued to our next landmark on the tour itinerary.
21. House of Dakay
If you had been in contact with other tourists and visitors who have already visited Batanes, the next destination is a major landmark that they would strongly recommend. We also had to pass an interesting sea wall that was made of local stones on our way to the said site.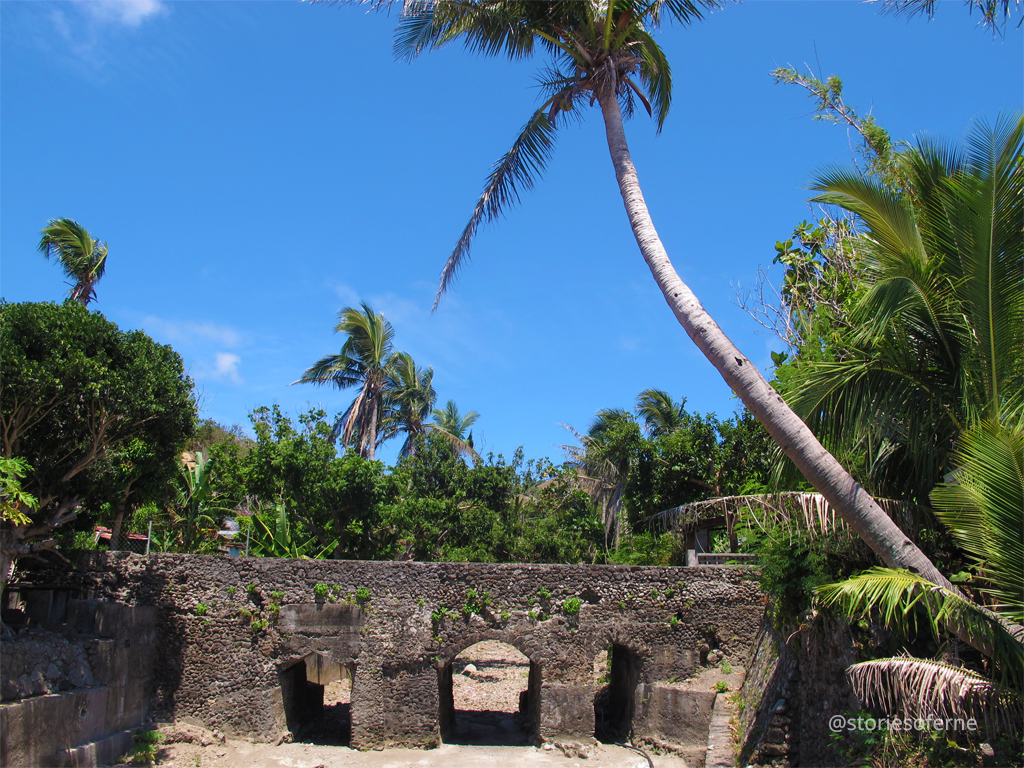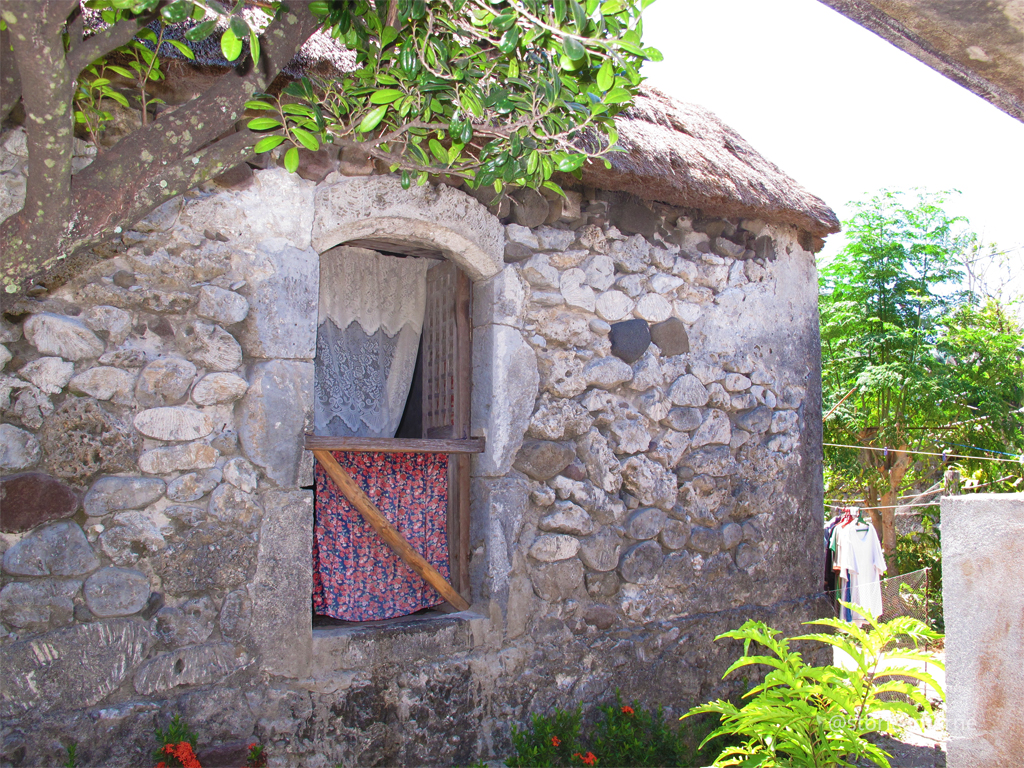 The House of Estrella, or more popularly recognized as the House of Dakay (Vahay ni Dakay in Ivatan) is the oldest habitable abode in the entire province of Batanes. It can be reached in the small town of San Jose de Ivana. My feet were becoming very restless so I ventured out and about this place to further investigate all the relevant details. As an Architect, this was one architectural treasure I was certainly inspired of and to be proudly called Philippine-made!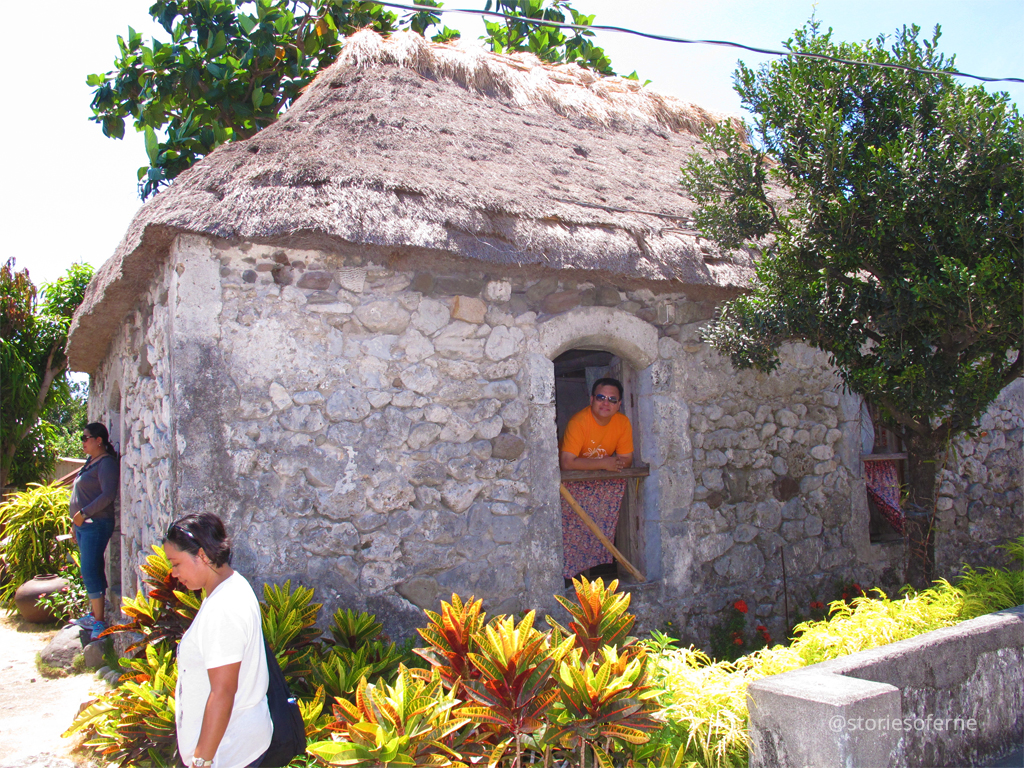 This humble-looking dwelling is not as grand you would expect. Yet, it simply contained all the valuable historic significance and architectural features for a traditional Ivatan stone house. You can only experience such structures on the island of Batanes and these couldn't be found anywhere else in the Philippines. Believe or not, I even met some of the living relatives of the House of Dakay as they were happy to converse and share with me their interesting stories.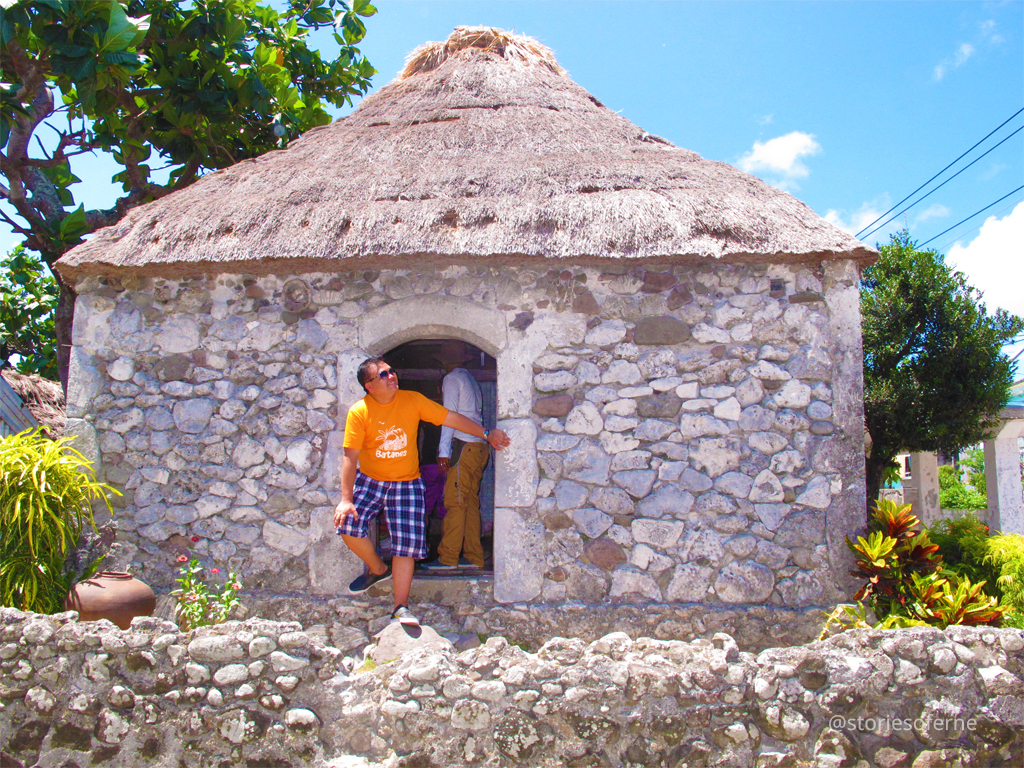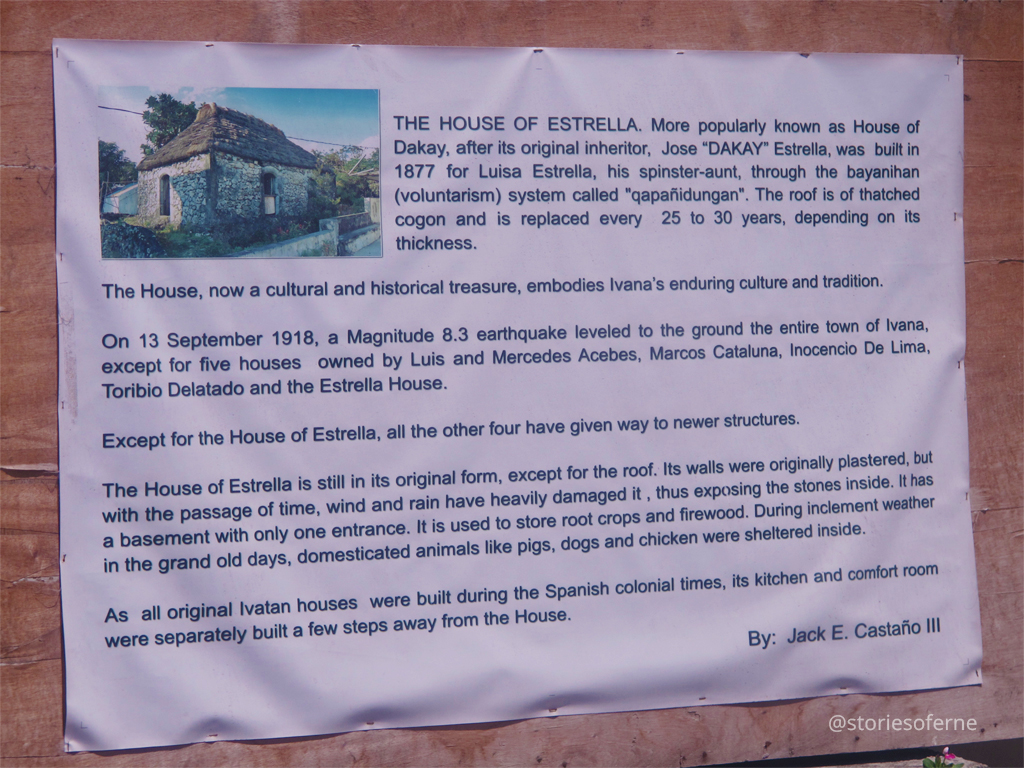 These iconic houses were built with thick walls and were basically constructed of brick and lime. Their roofs were covered with cogon grass, which is abundant in the province. As a result, these sturdy buildings had the proven stable capacity to withstand strong winds from typhoons that were common in this part of the country.
22. San Jose de Ivana Church
Our next highlight was another sacred edifice on the island of Batan. Also locally named the Ivana Church, the San Jose de Ivana Church is a Roman Catholic religious building dedicated to Saint Joseph. Like many other important sacred institutions, this church was officially announced as a National Historical Landmark by the National Historical Commission of the Philippines in the year 2008.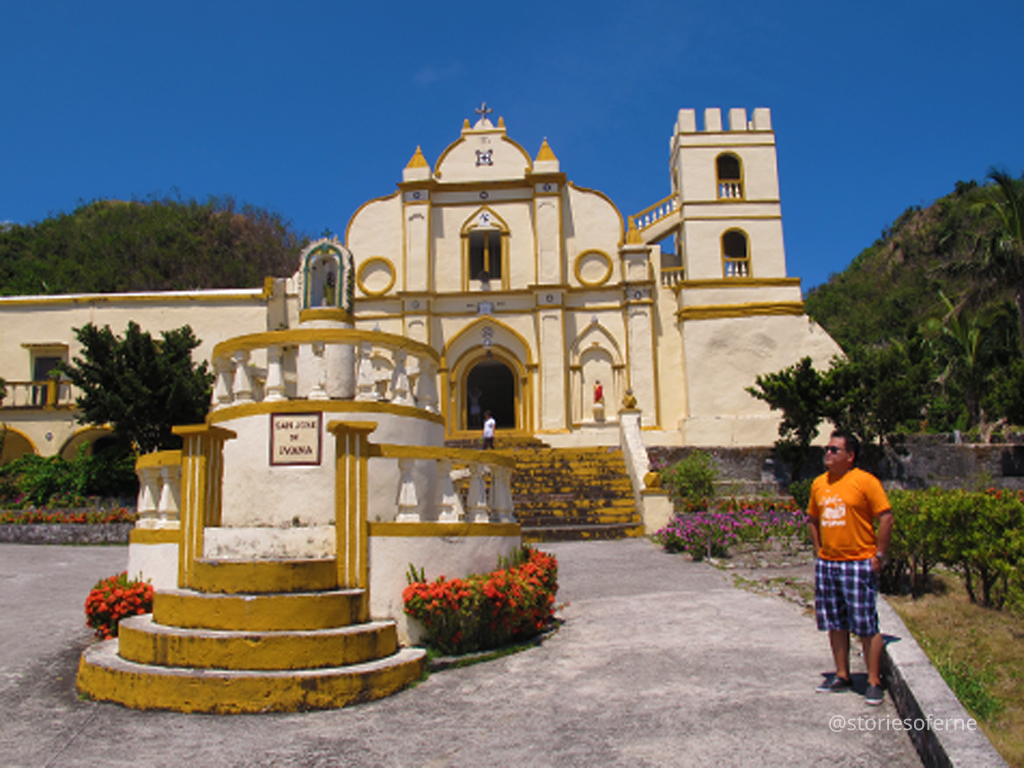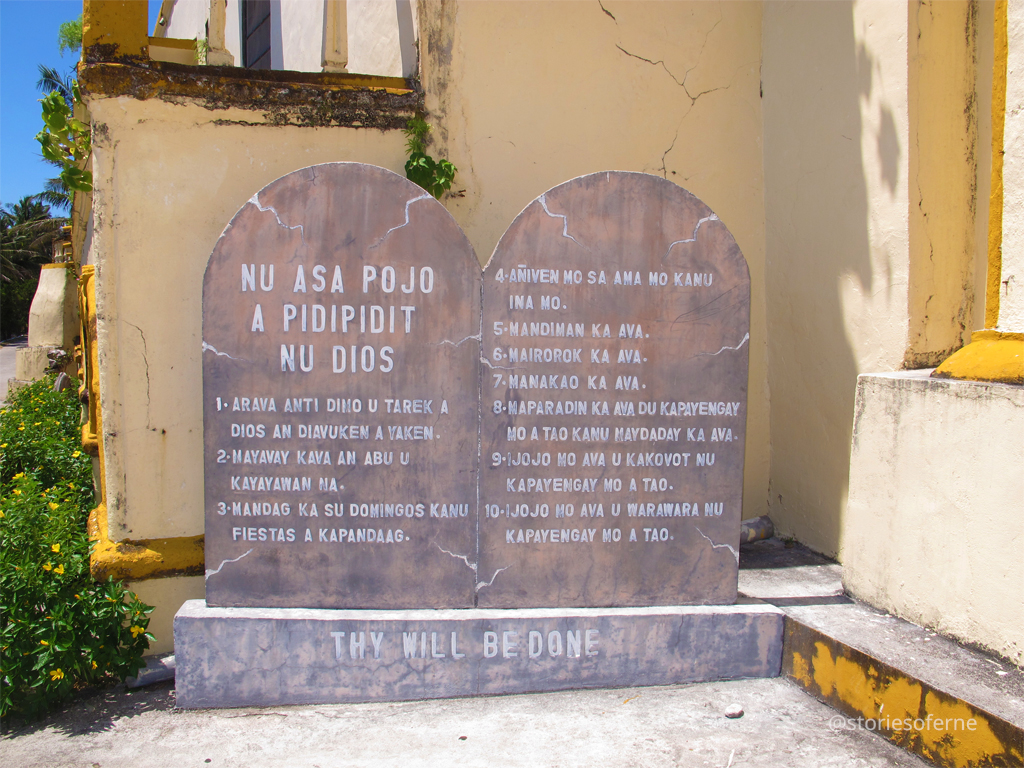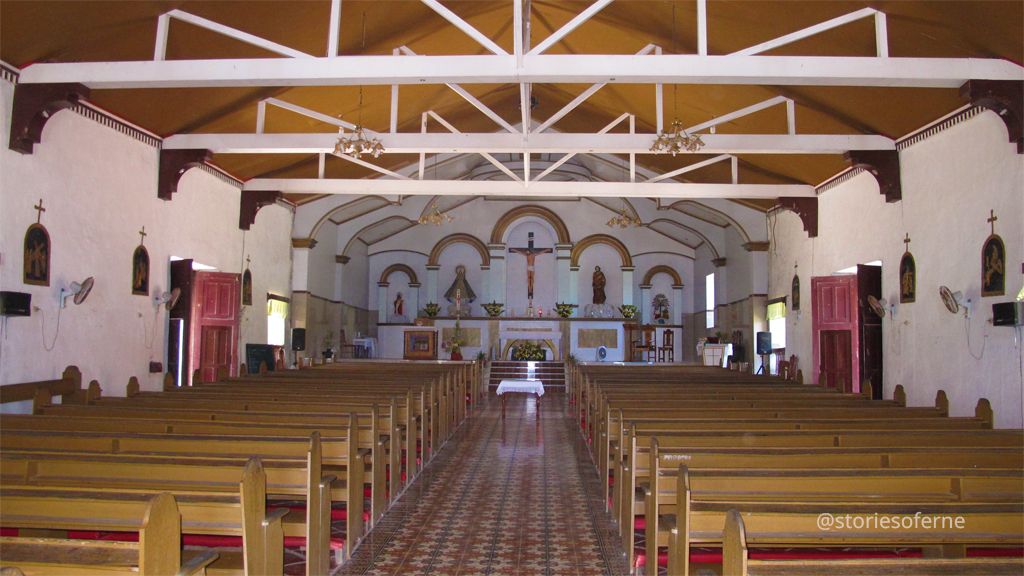 When I investigated the church grounds, my eyes were immediately caught by some old stone wall ruins which led me to walk closer to them for a thorough look. What I discovered standing in front of me were the relics of the original church that were abandoned due to the reduction of the previous active parishioners who relocated back to their hometowns after the force resettlements in the town of Ivana.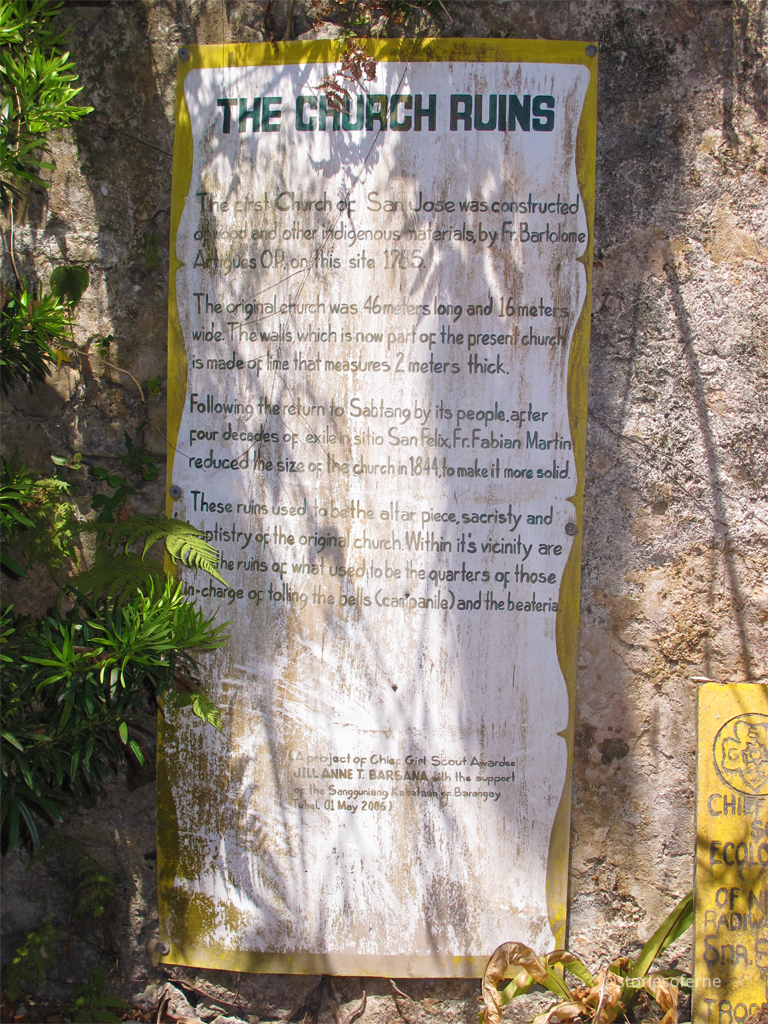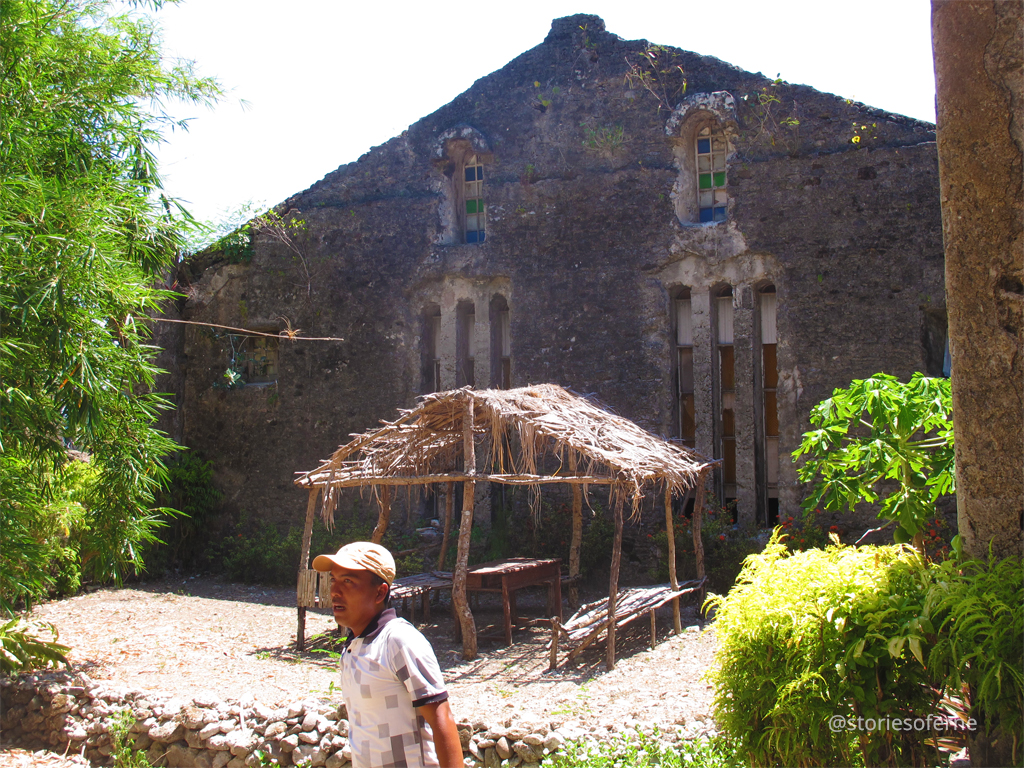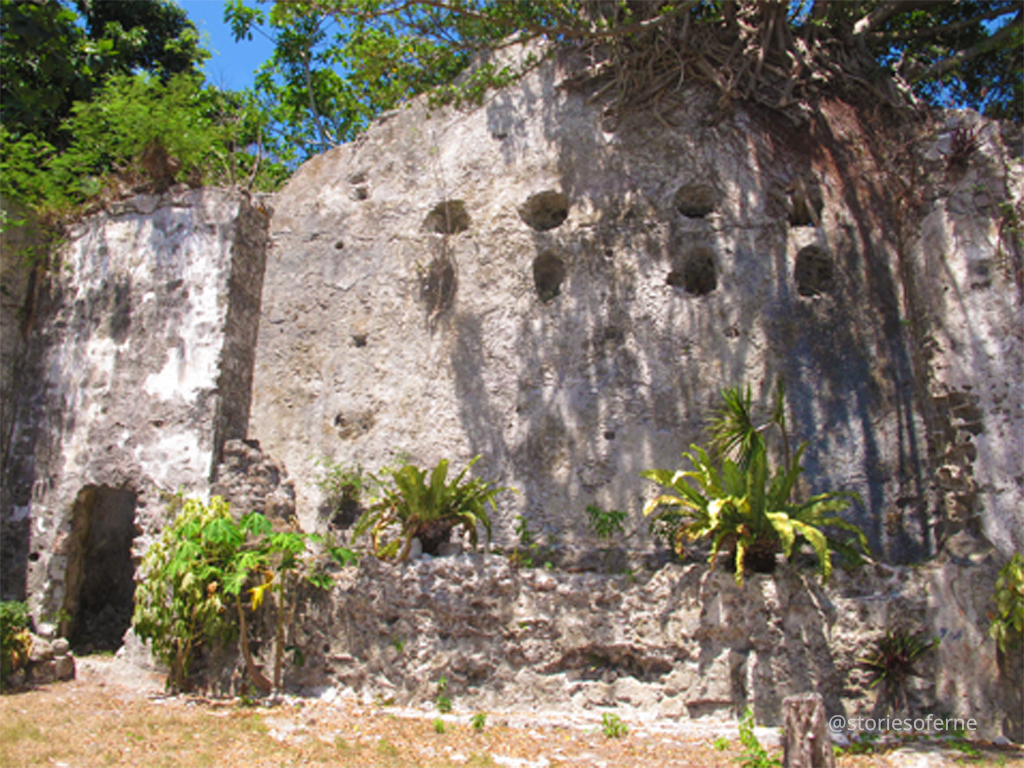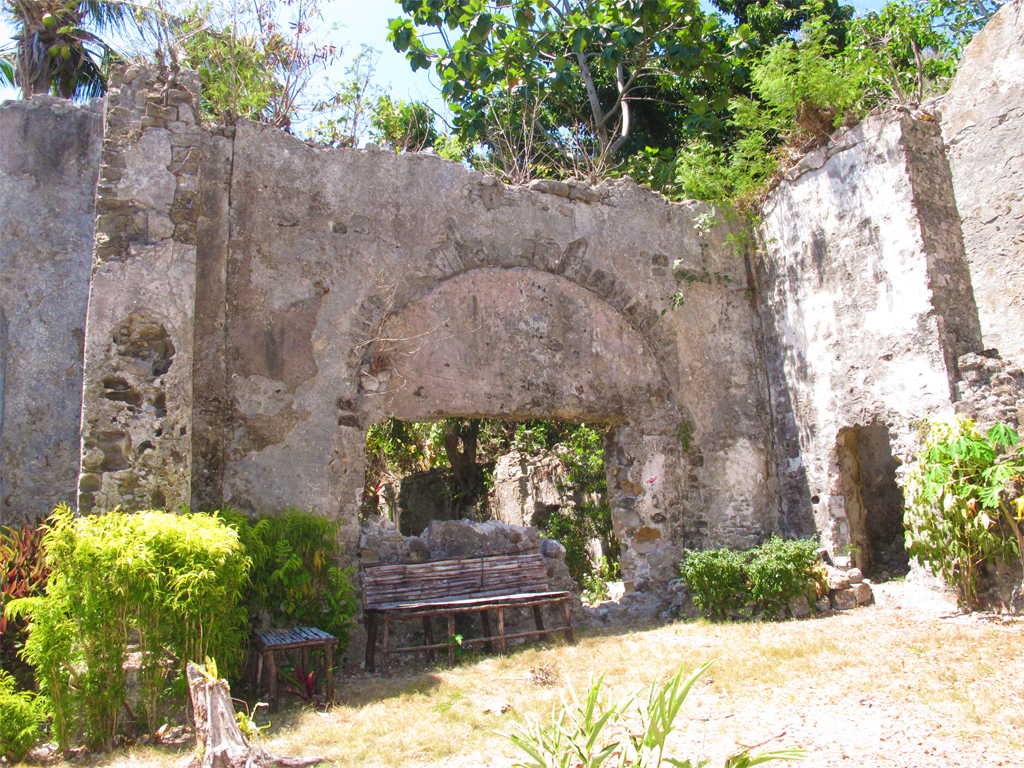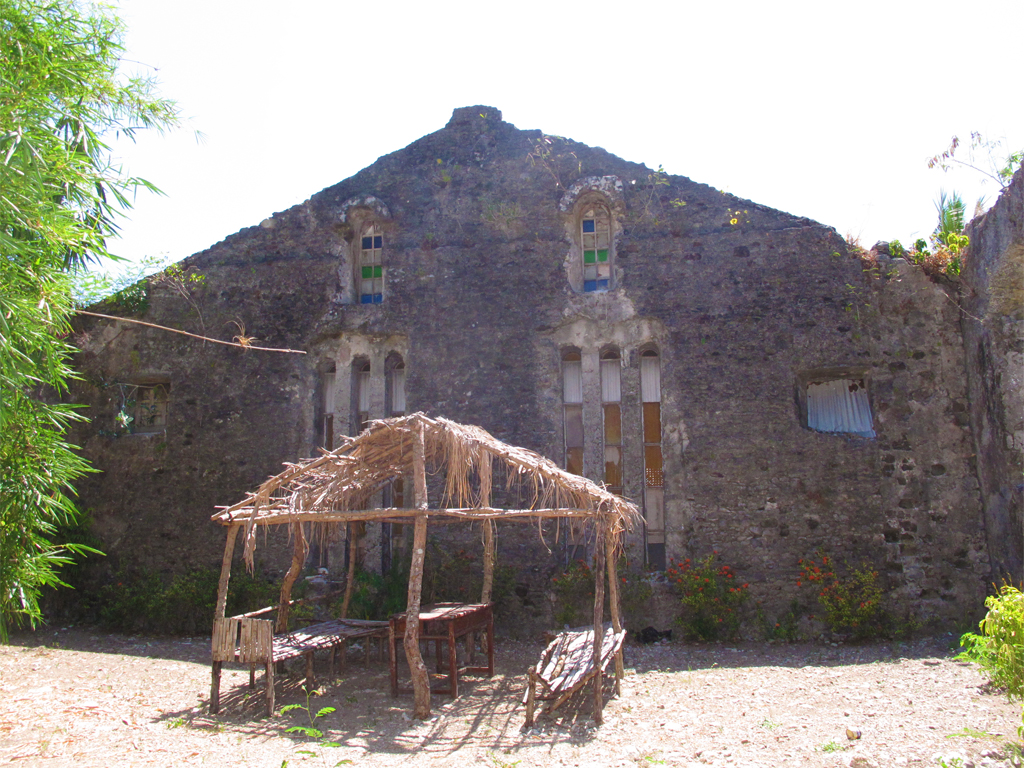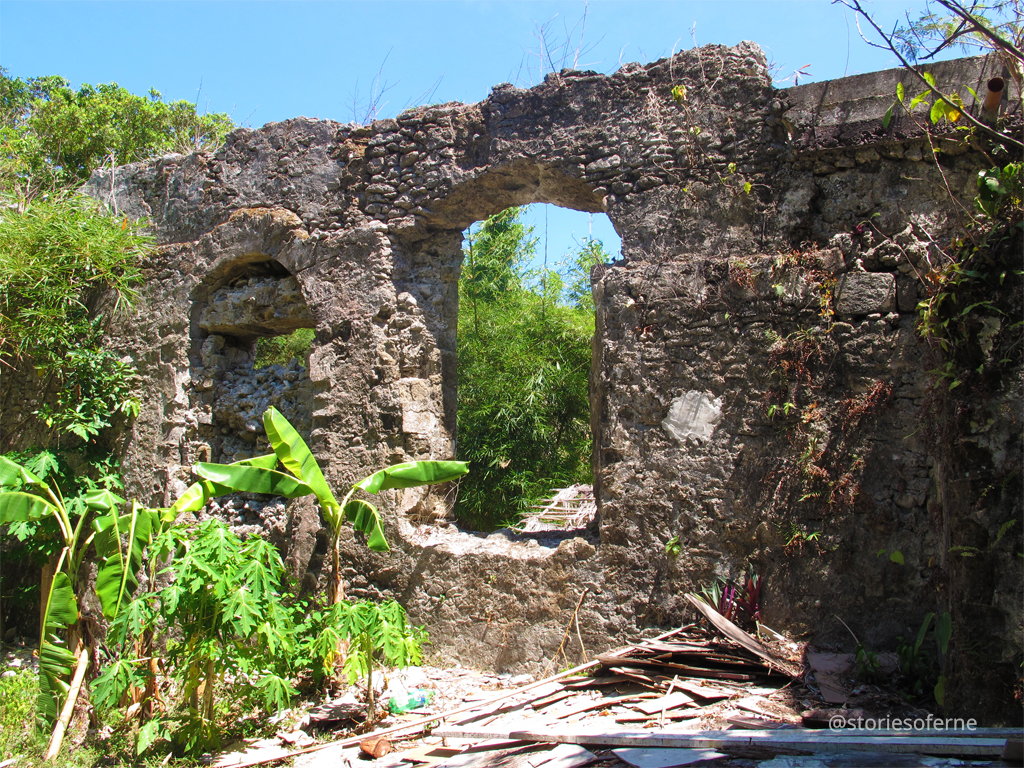 The first church edifice was actually a chapel established by the Dominicans in 1787 and was primarily intended to serve the people of Ivana, Sabtang, and Uyugan.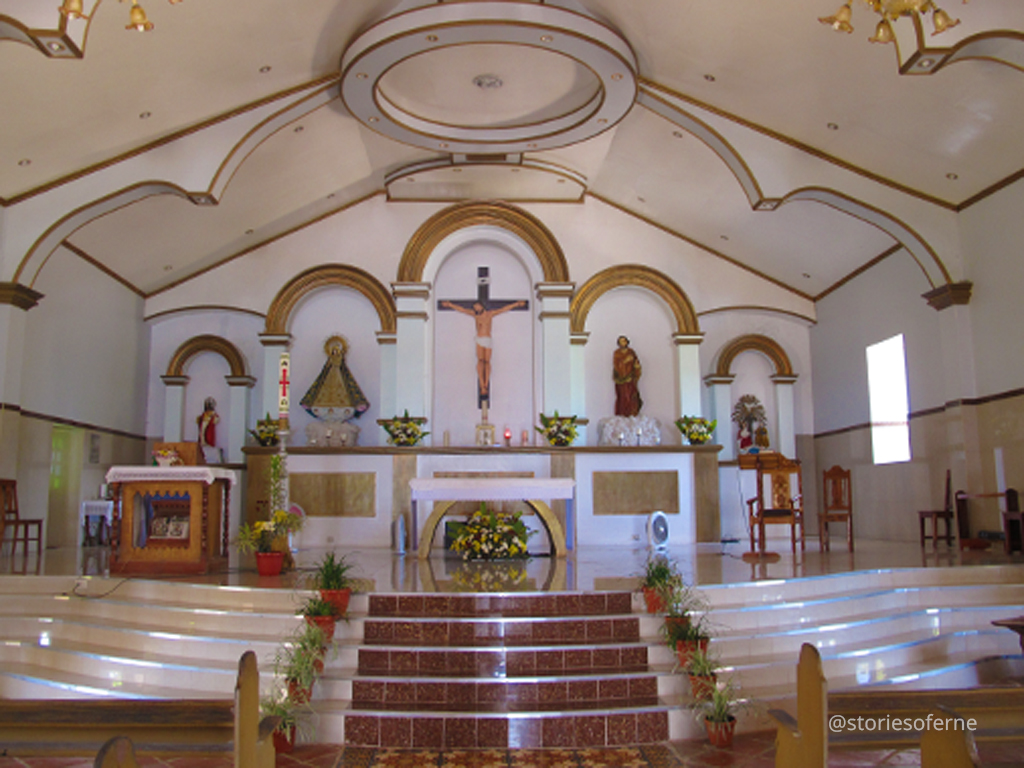 Today, the Ivana Church is situated in a convenient location as it can be easily accessed from the national highway and is a stone's throw away from the Port of Ivana, the start-off point to Sabtang Island.
23. Honesty Coffee Shop
The next highlight of our Batanes trip is one of the most talked-about tourist attractions of this province if not the entire Philippines. This landmark's reputation has been praised and admired simply due to its valuable characteristic: the virtue of honesty.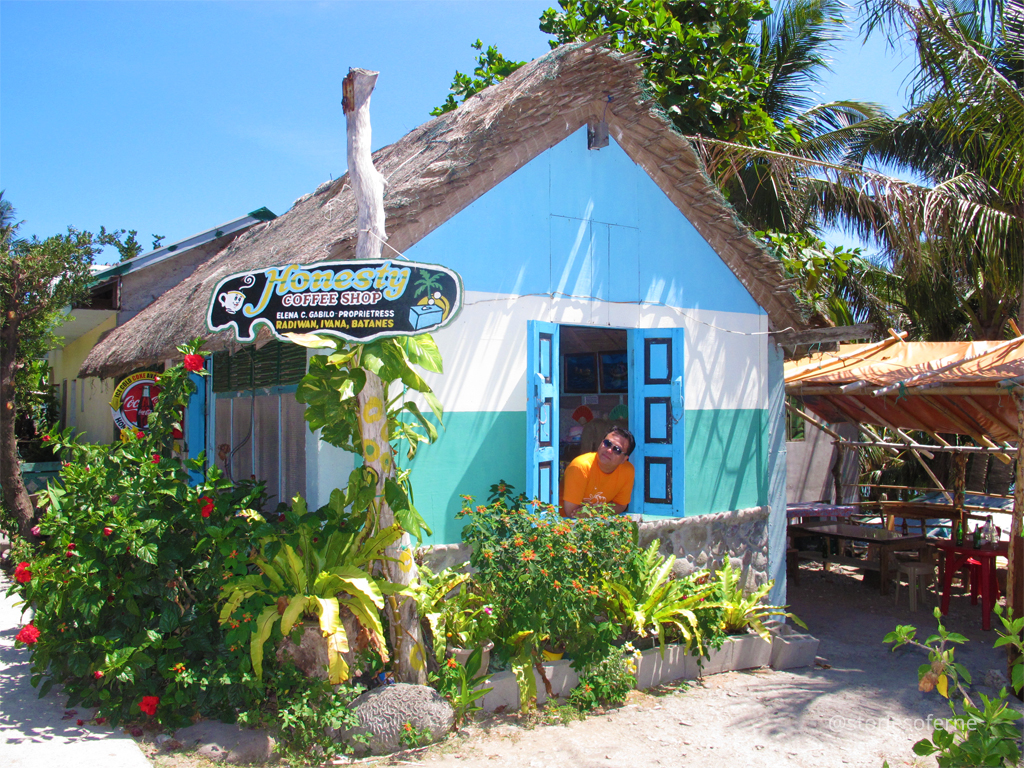 My feet were already itching tremendously as I left the Ivana Church for the next stopover. This time, there was no need to take our vehicles because it was just a short walk away from the local parish. Who would have thought that a modest store and café would initiate and revolutionize one of the best cultural practices for the nation?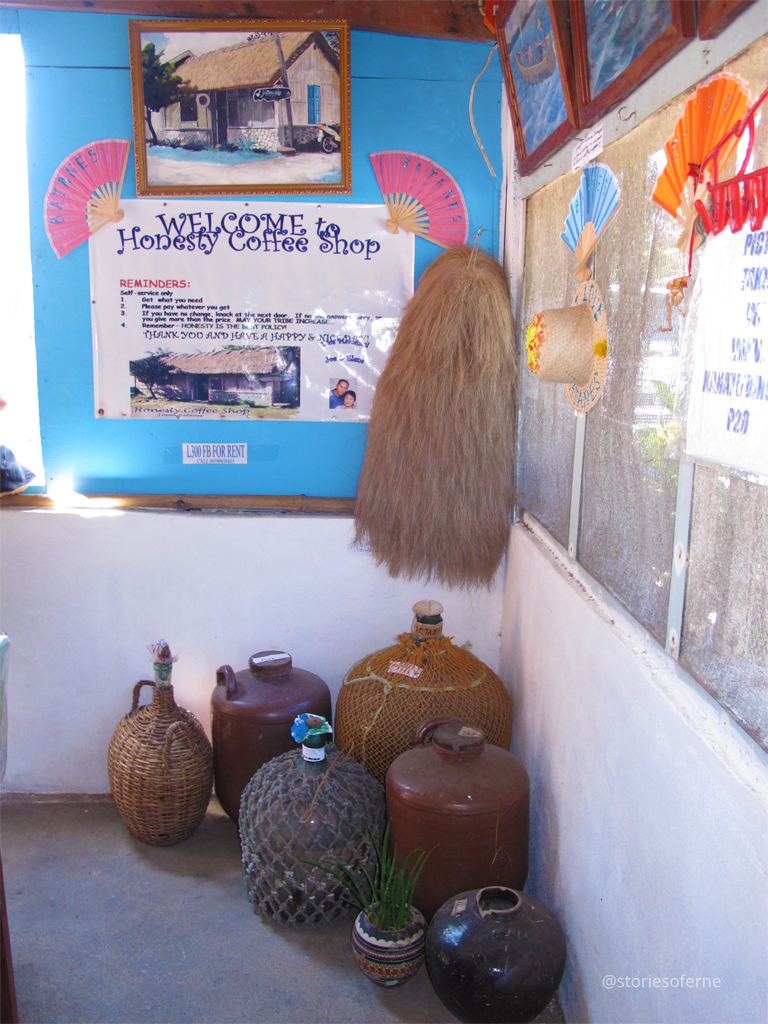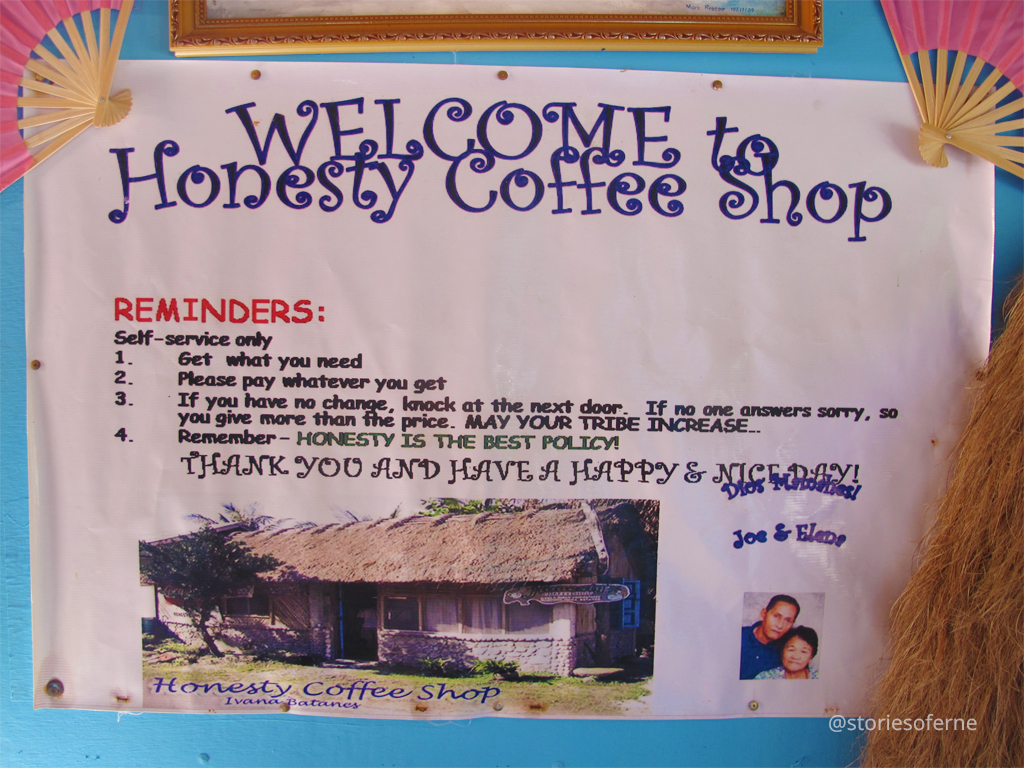 The Honesty Coffee Shop, also known locally as the Honesty Cafe or Honesty Store, sported an authentic Filipino Sari-Sari Store concept and had a one-of-a-kind commercial framework for its business model. The shop looked ordinary to me at first glance however, it had one feature that immediately struck me the moment I stepped inside.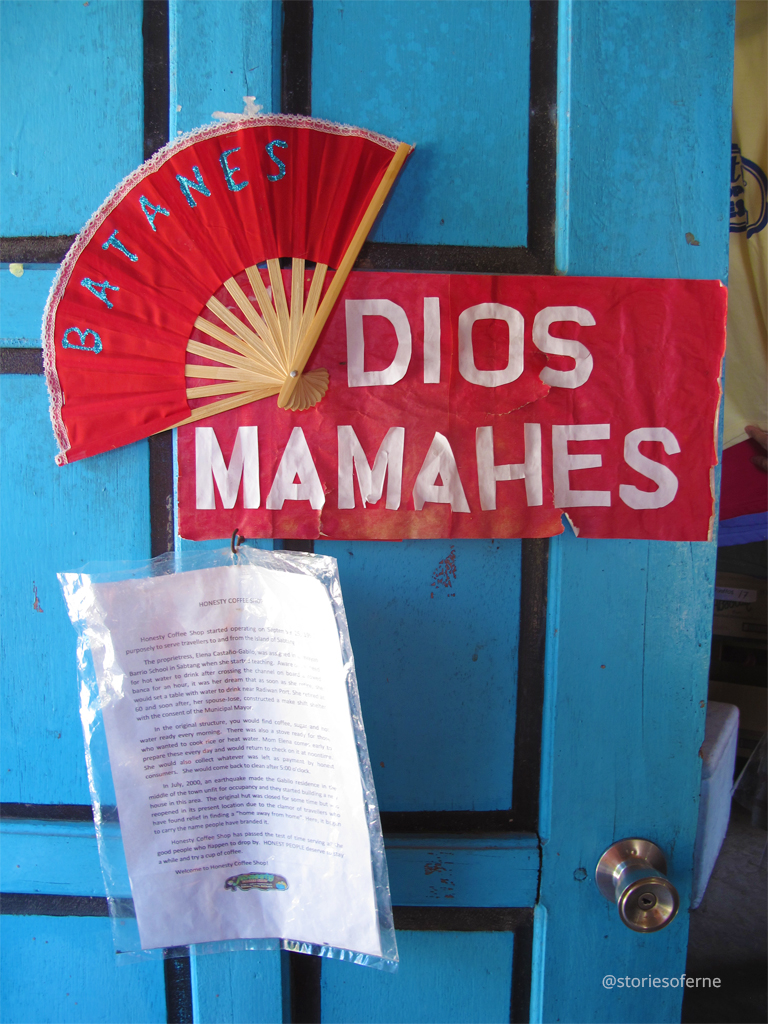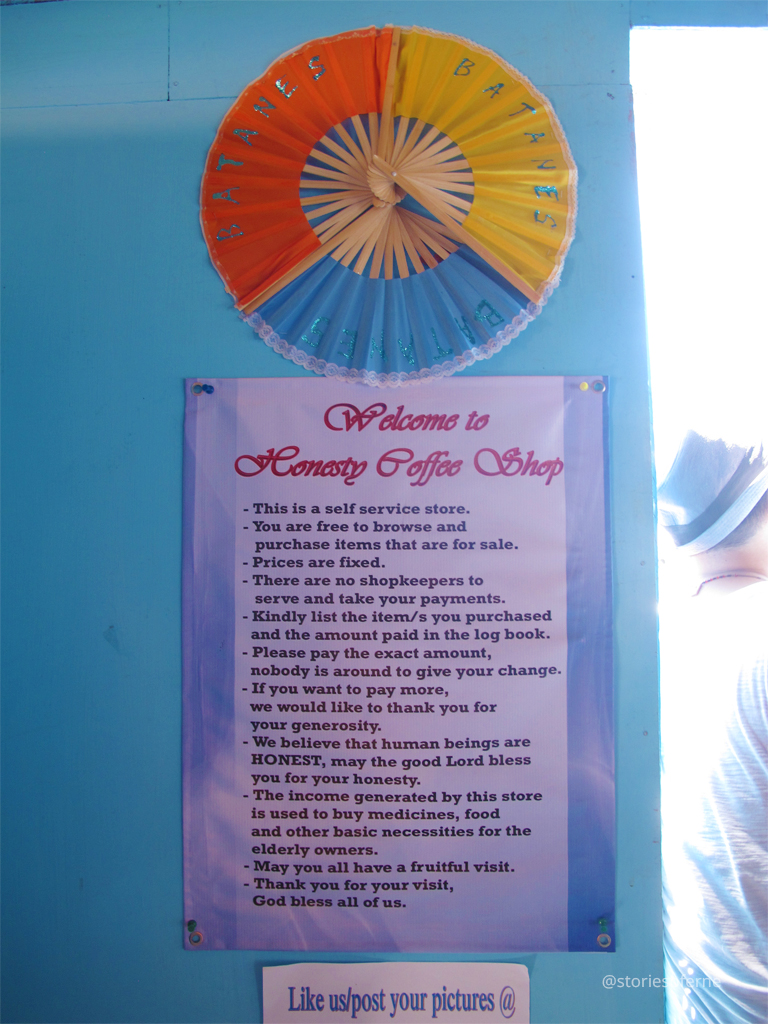 No one was watching the store! I mean there were no shop attendants, store employees, or owners who were manning the sales of their merchandise! We had the freedom to move around the premises and if there were merchandise that interested us, we paid for the purchased items by dropping the money into a locked yellow collection box. No one checked how much we deposited into that dropbox or if we needed change. Customers and other visitors were also encouraged to share their donations only if they wanted to.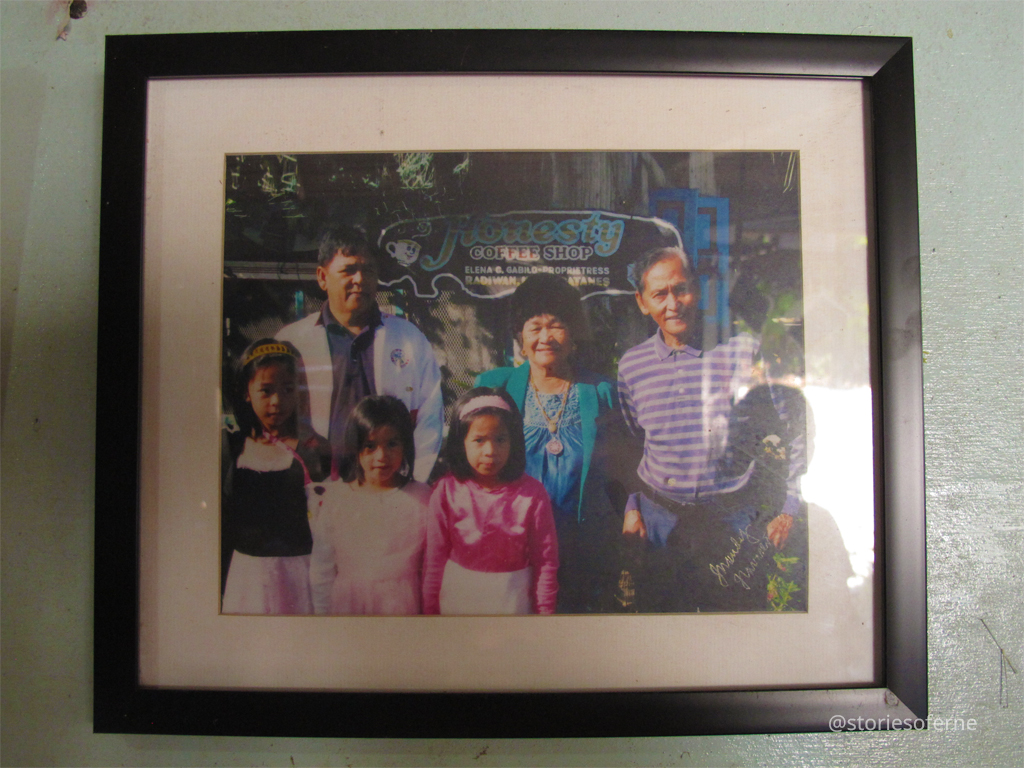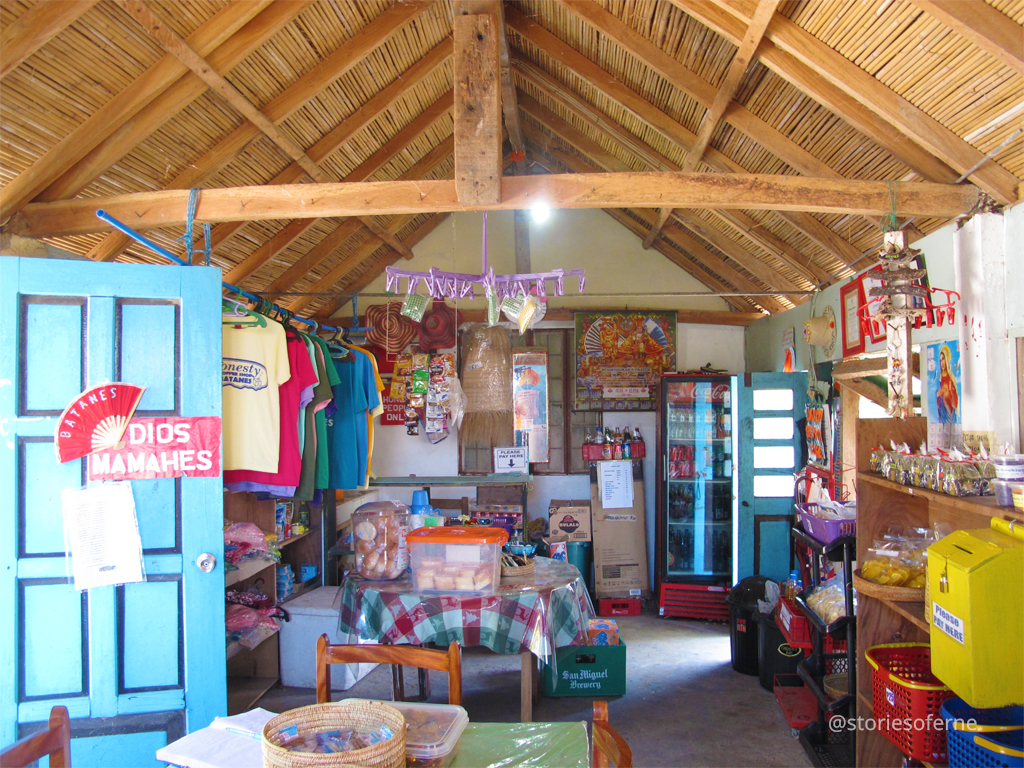 In the province of Batanes, the crime rate is literally zero and the moral weakness of stealing is almost unheard of! Unbelievable!
"Wow! That was the first time I tried something like that! Then I eventually understood why the store or shop was named Honesty. Is this virtue rarely practiced in our society nowadays? Why does it have to be transformed into a tourist attraction or a commodity? If only all of us would practice the precious virtue of honesty, then we could have developed more trust for humanity for us to experience better lives!" These were my lingering thoughts as we proceeded to the next destination.
24. Ruins of Sitio Song Song
Before we arrived at our next stop, we took quick stopovers as we cruised southwards along the breathtaking coastlines to admire the natural sceneries that abound. It was a picture-perfect opportunity to capture memorable photographs, so we invested some time there for panoramic pictorials.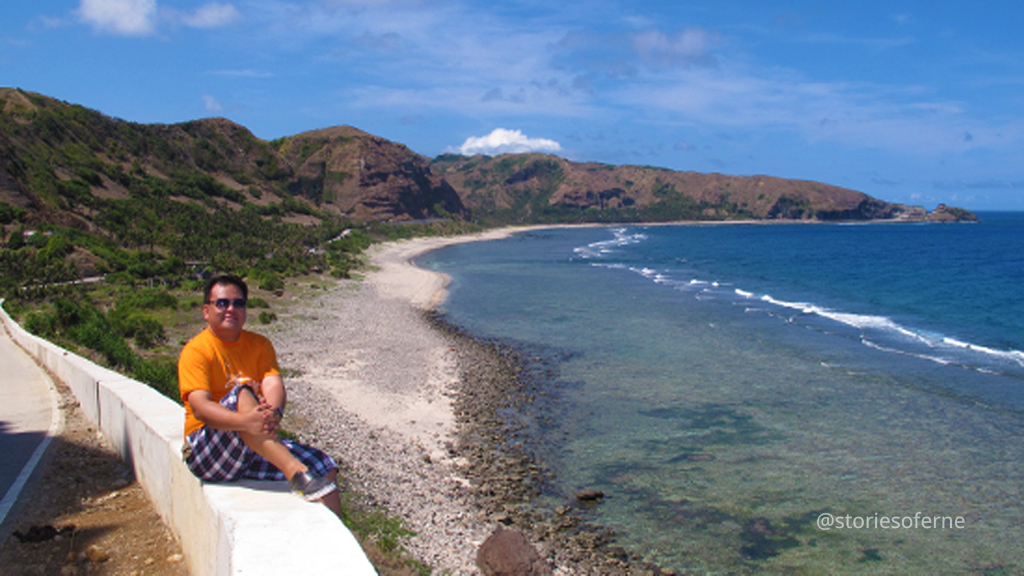 And then we reached the Sitio of Song Song. This is such a lovely-sounding name for a place, isn't it? As beautiful as it sounds, this local village had a tragic past, unfortunately. The entire area had been wiped out by a disastrous tsunami during the middle of the 20th century! The location has been abandoned ever since.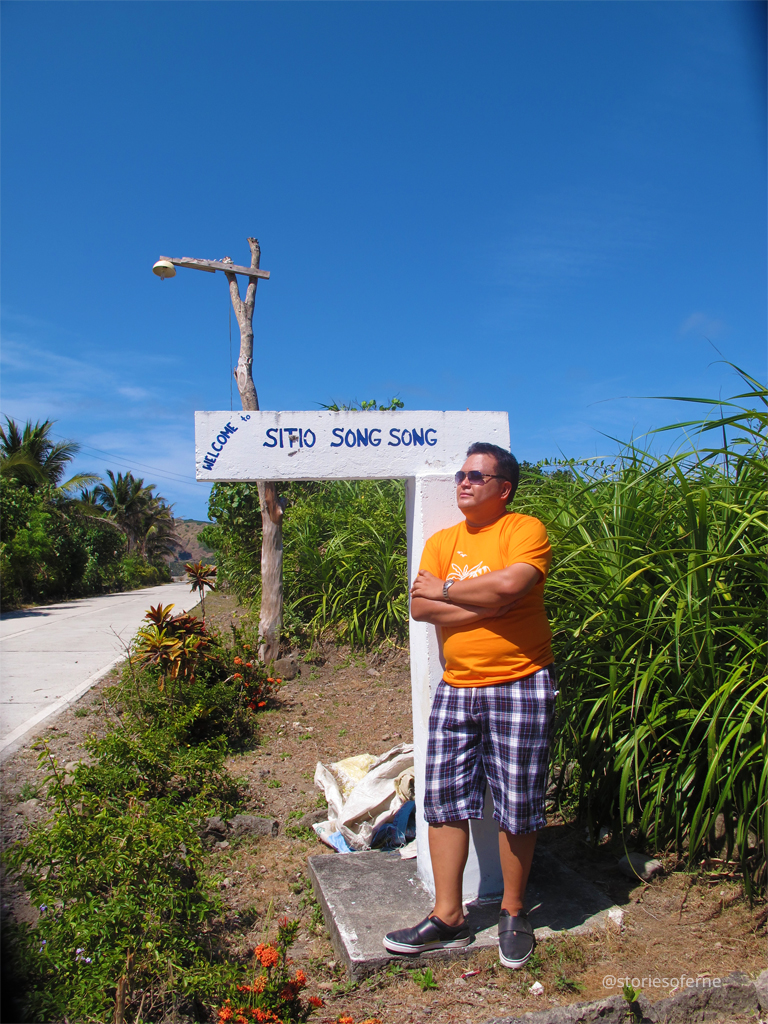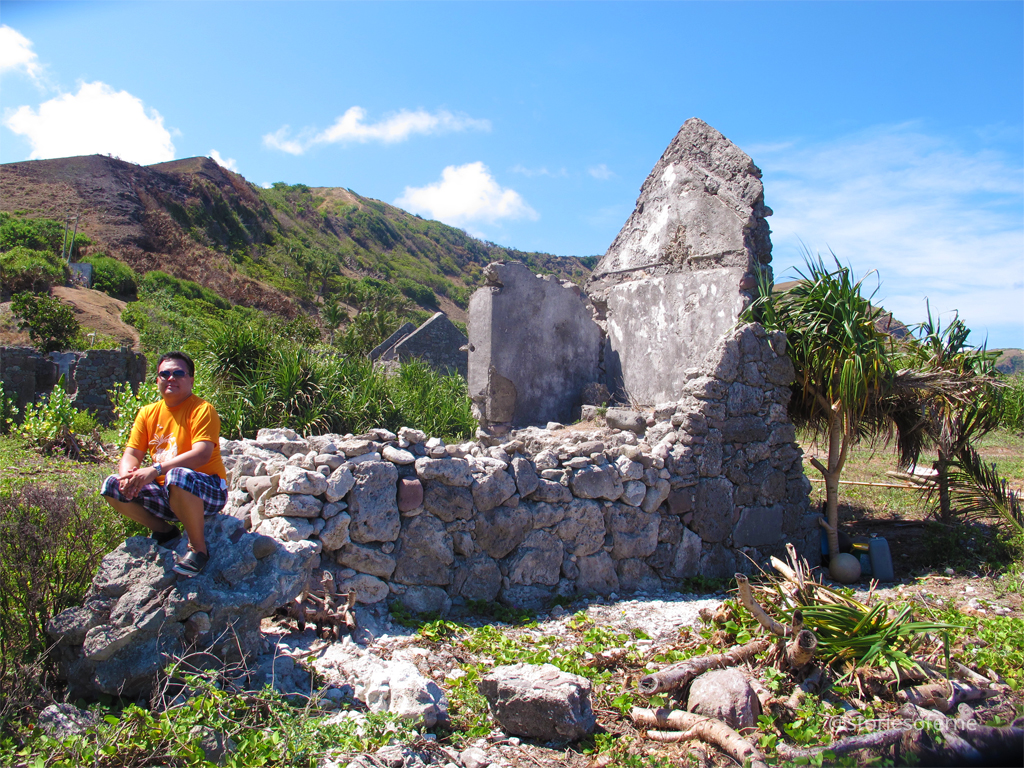 As I strolled through this ghost town caused by this massive tragedy, I could only gaze at the aftermath with tearful eyes as I imagined the enormous struggle the previous occupants must have been through. There was destruction everywhere!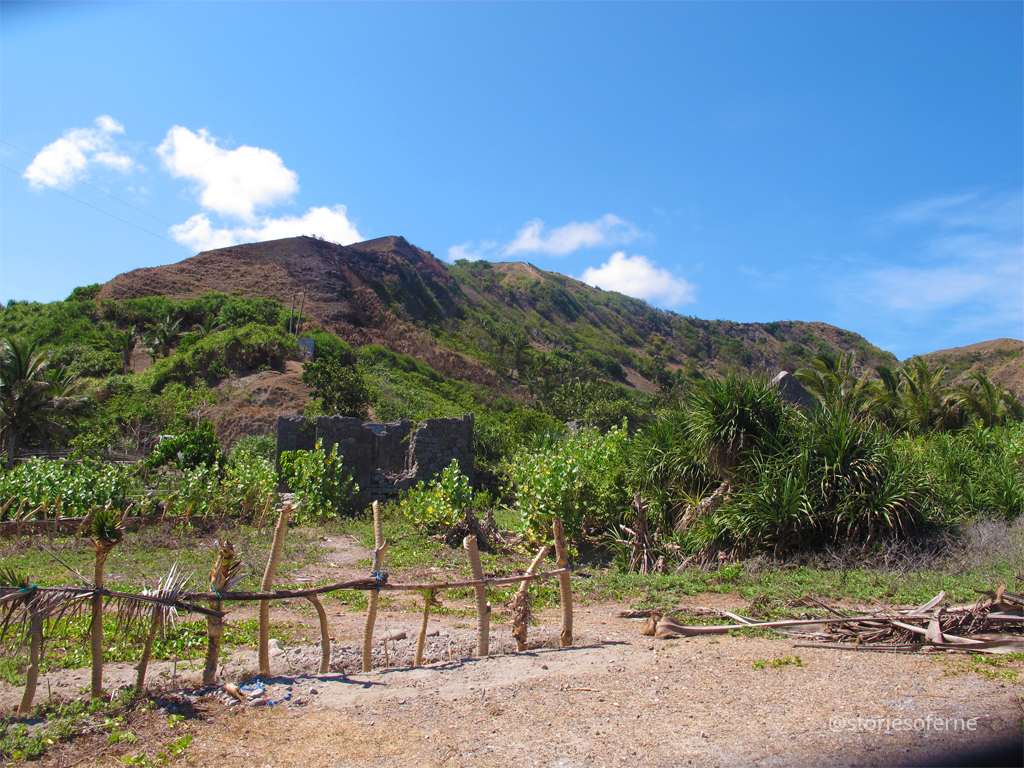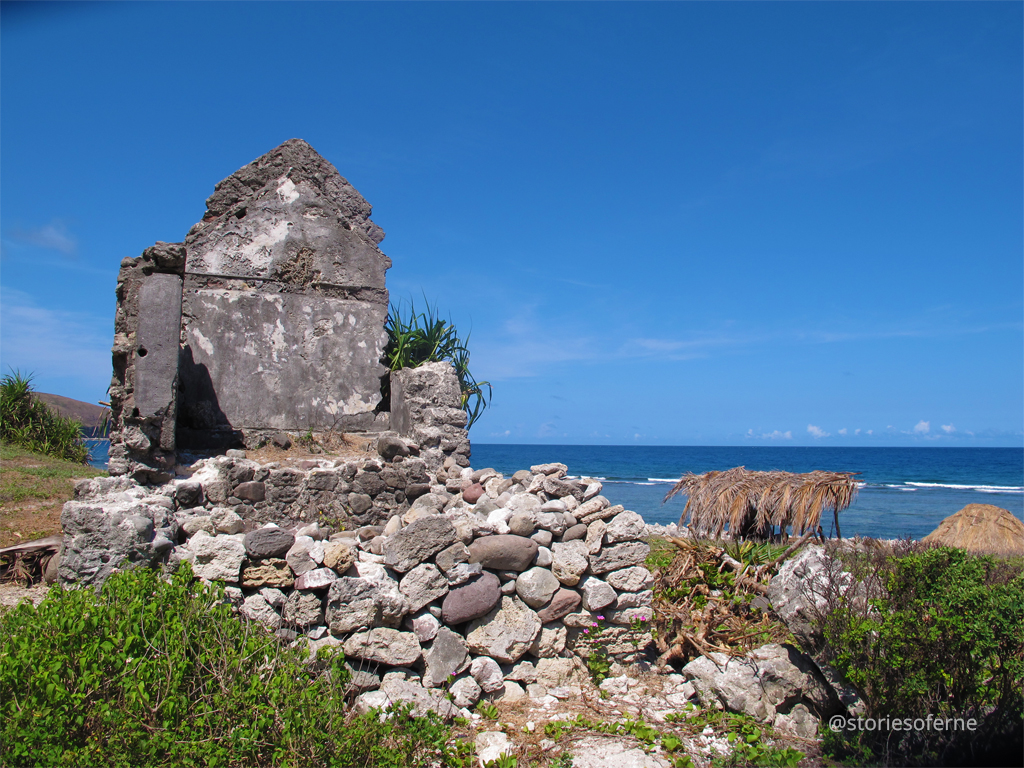 The ravages of time already took over the village ruins as what was seen in the thick vegetation sprouting all around and tall grasses that covered the once gorgeous vicinity. It was a devastating reminder of what the forces of Mother Nature can do to a man-made environment.
25. Our Lady of the Miraculous Medal Church
From there, we traveled to another holy place and had the chance to relax a bit after the previous hectic tours. It was a simple church and humble place of adoration where we spent a few minutes to rest, to pray, and to pay our respects.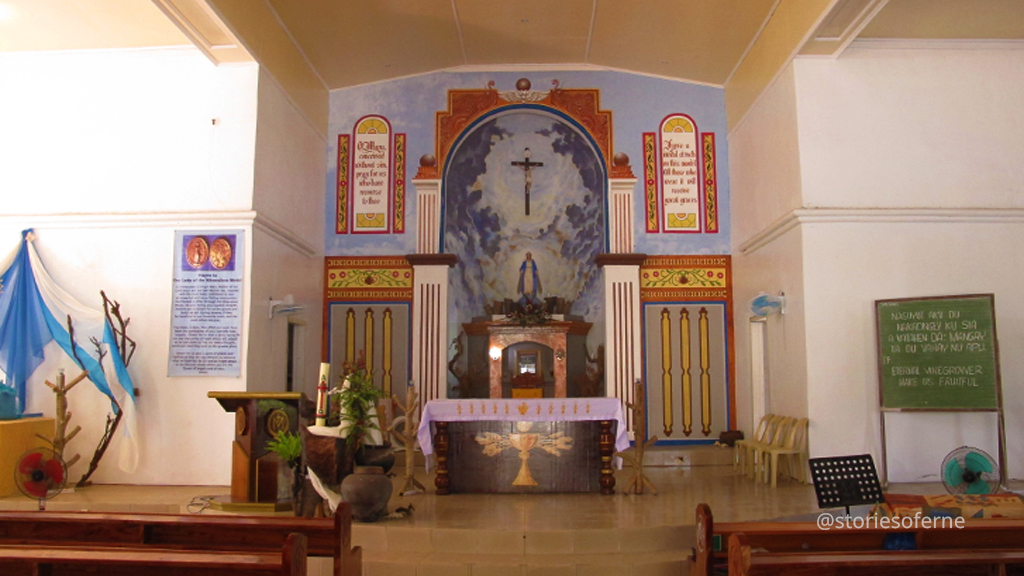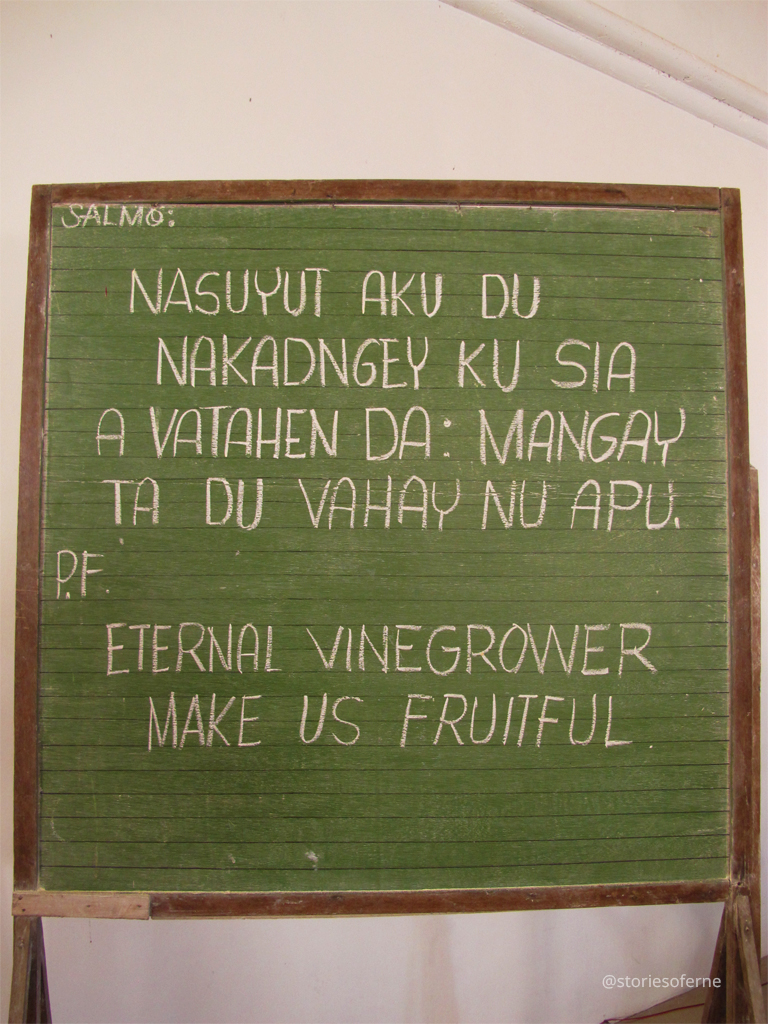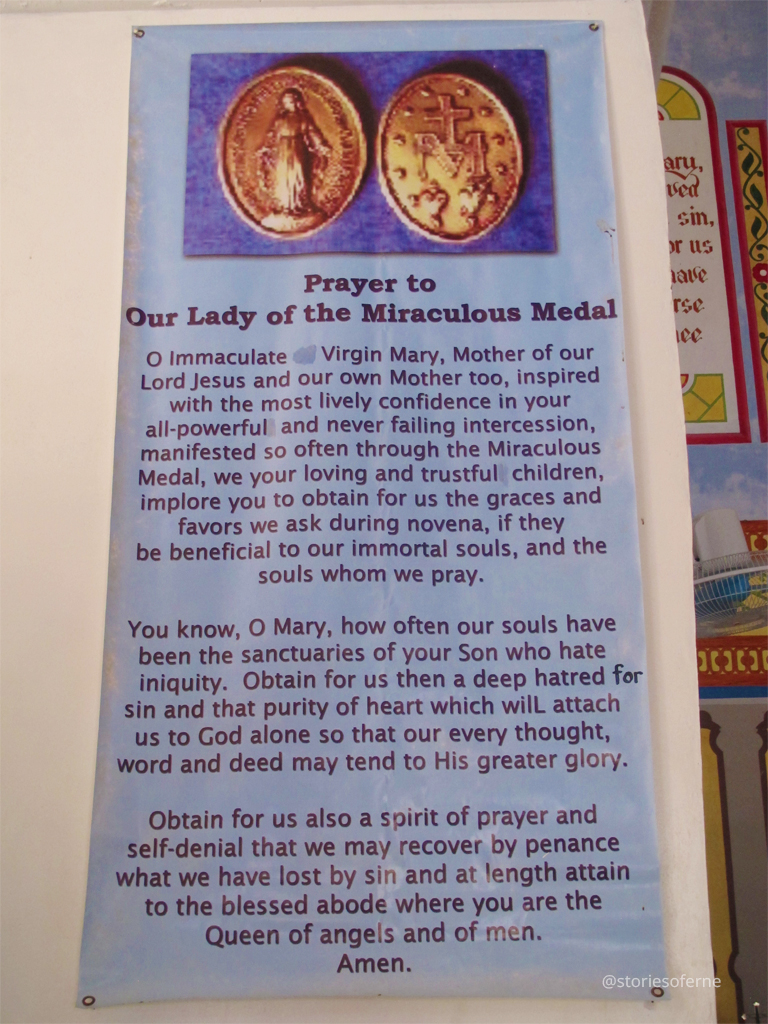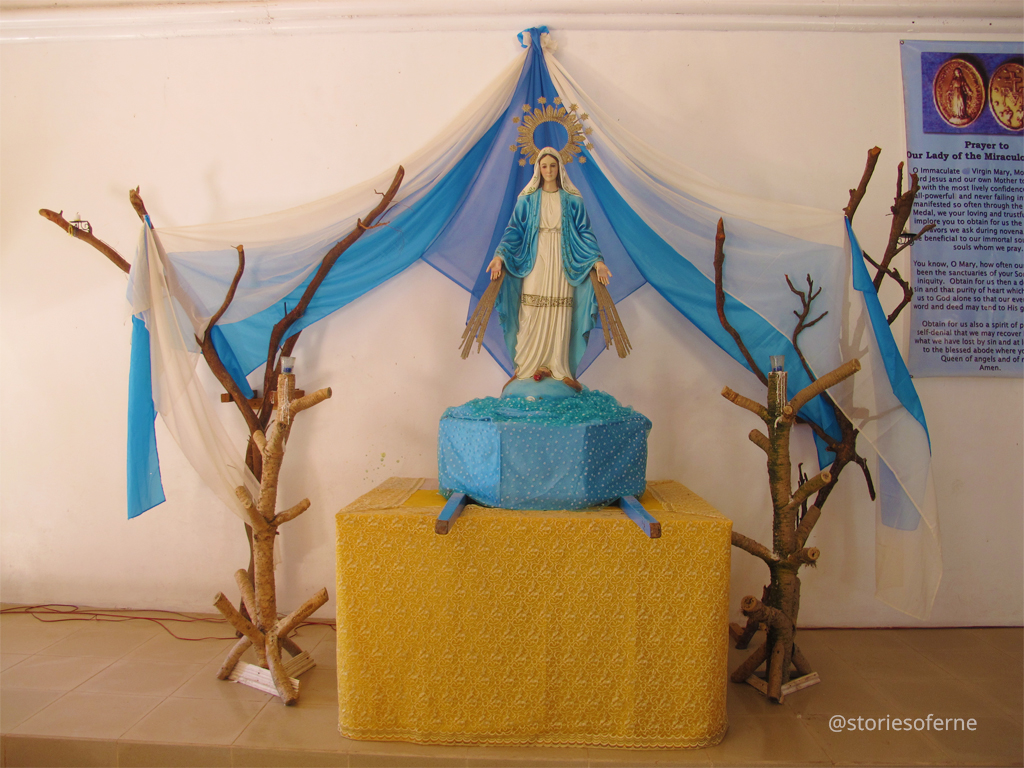 We were instructed by our tour guide to recuperate and regain our energies back because of the physical demands required for the next destination. We would need all the stamina and power we can get to fully enjoy what's coming ahead.
However, we were not told what the upcoming attraction was all about! It was supposed to be a secret. "Well, that's okay, we all love surprises anyway hahaha!" I giggled continuously while talking to our travel leader as we went back to our tour transportation.
26. Marlboro Country
The next destination was definitely one of the most sought-after tourist attractions in the entire province of Batanes. No wonder our travel hosts and organizers didn't want to spoil the surprise and ruin the fun!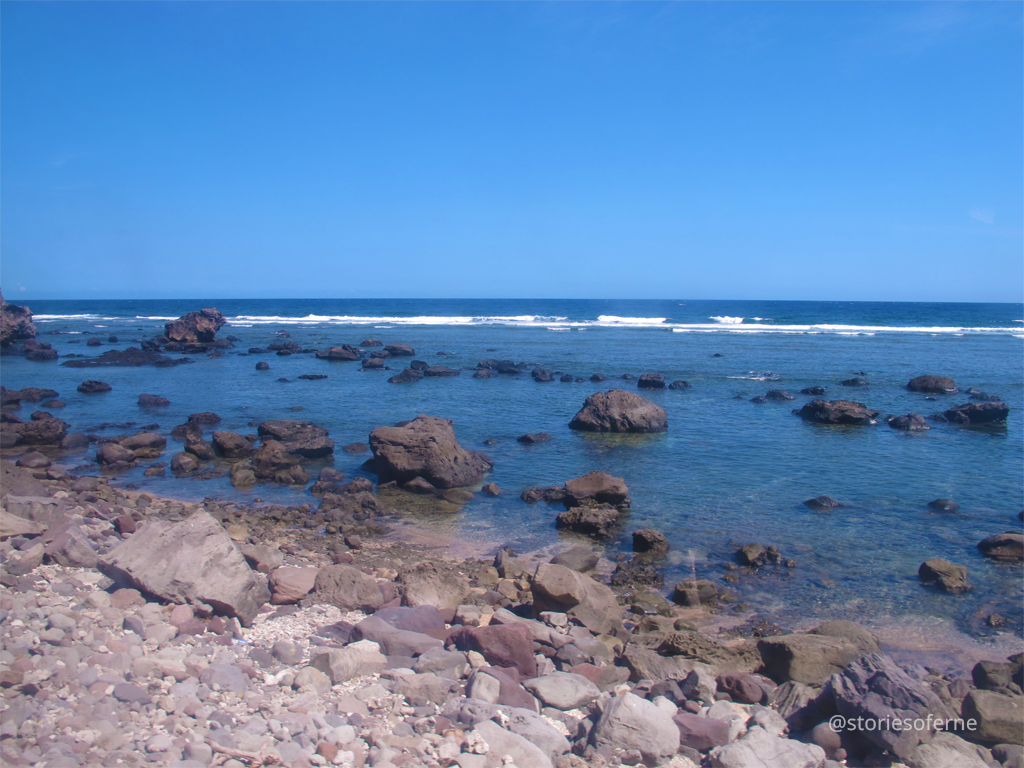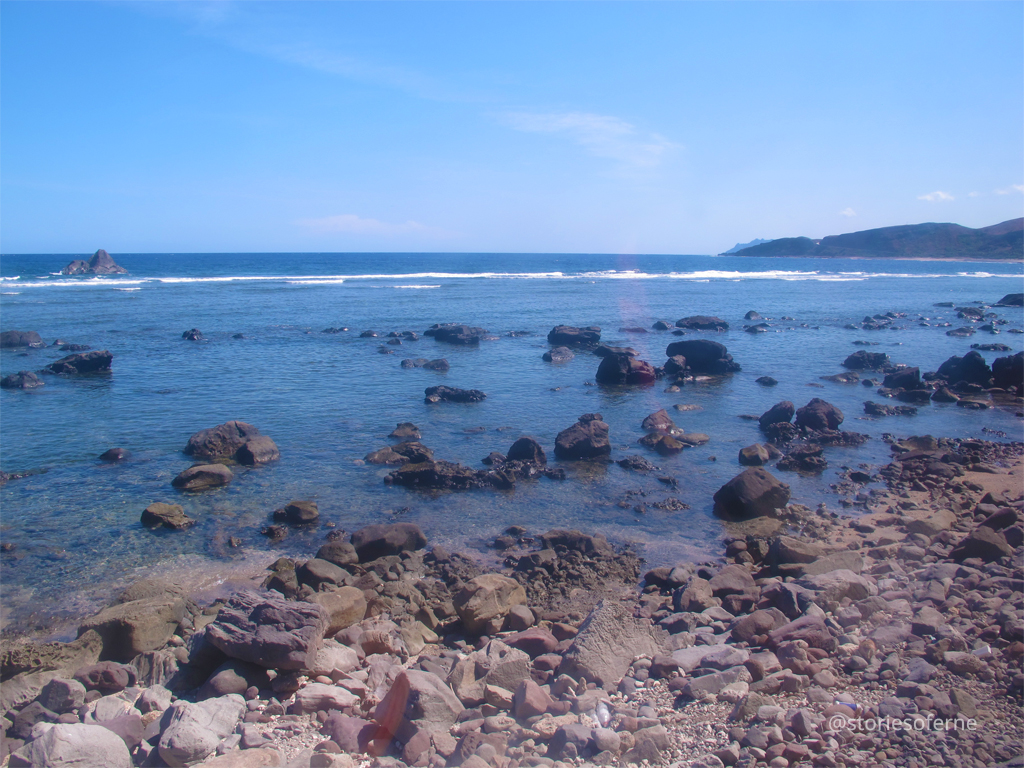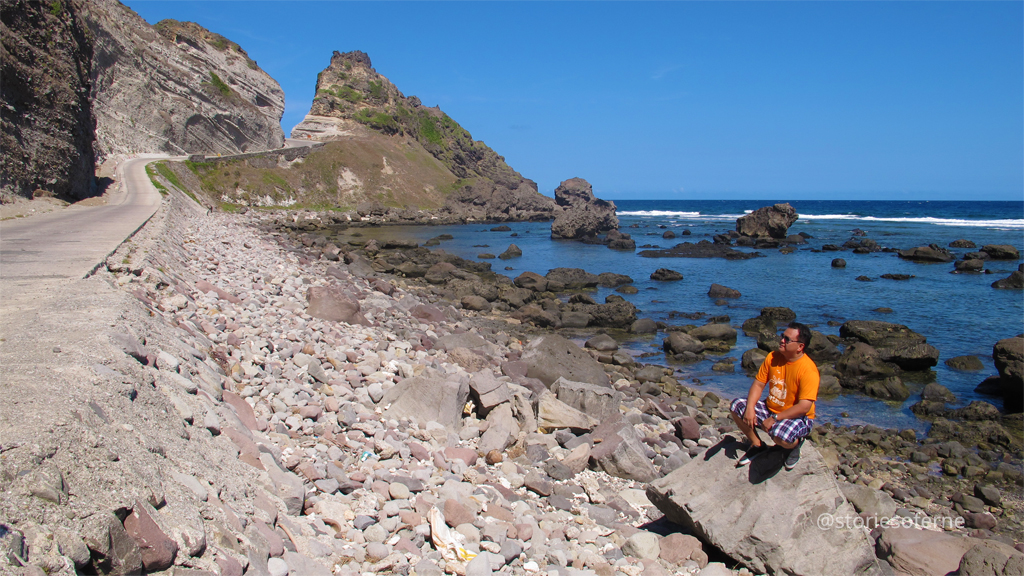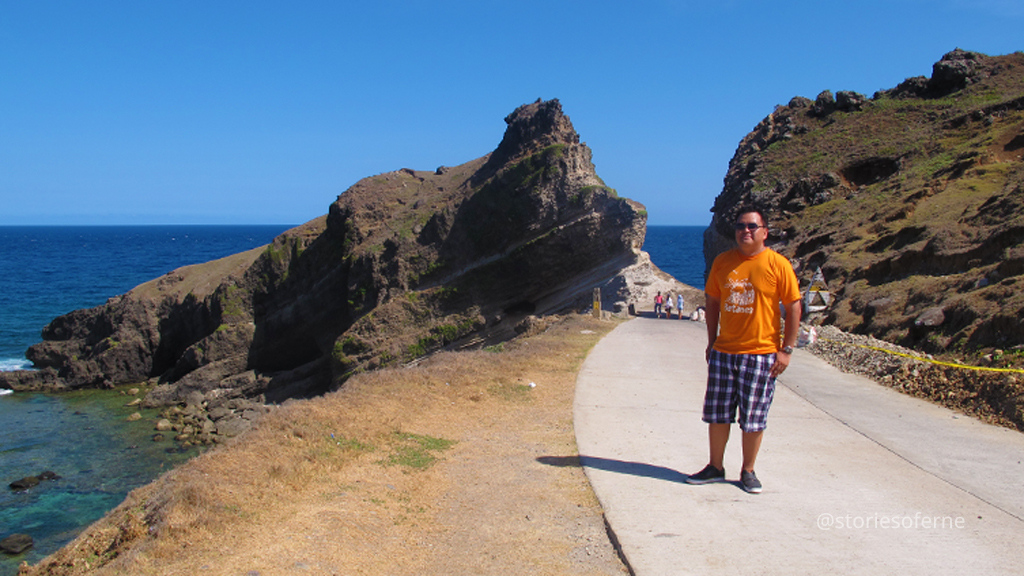 For lo and behold, there it was, as it welcomed us with a sunny embrace as we approached its jaw-dropping land and sea panoramas. It was like landing on the surface of the moon because of its strange -looking ground formations and rocky shorelines. But wait…We were only tasting the scrumptious appetizers and the main course was just coming around the bend and was about to be served!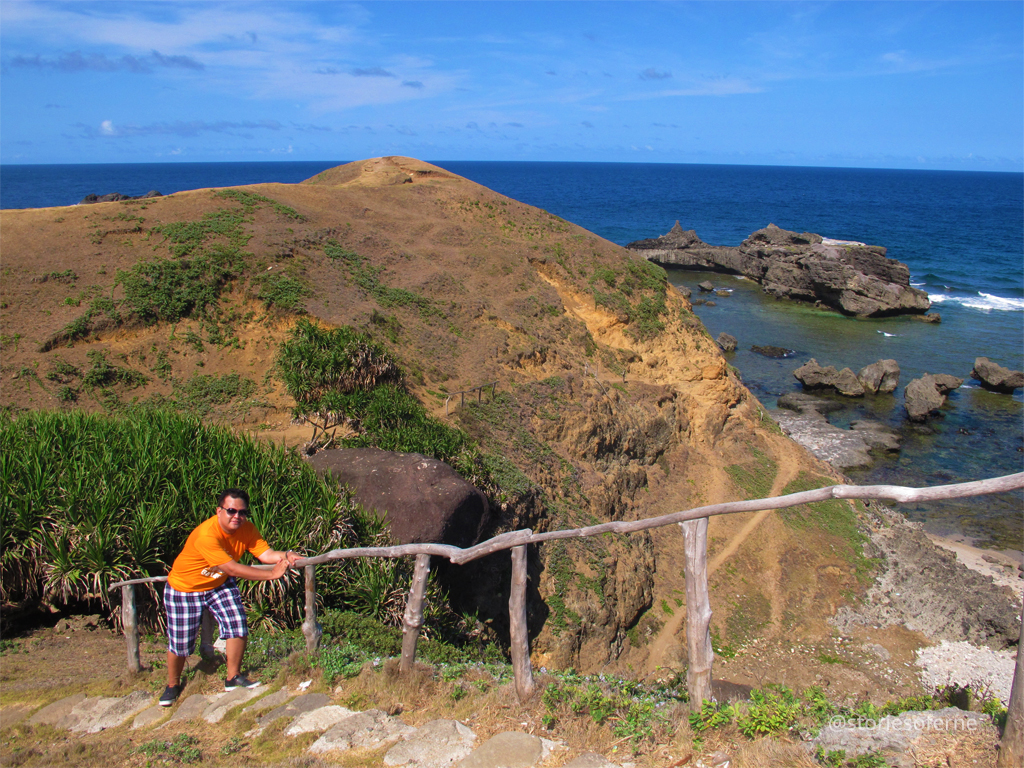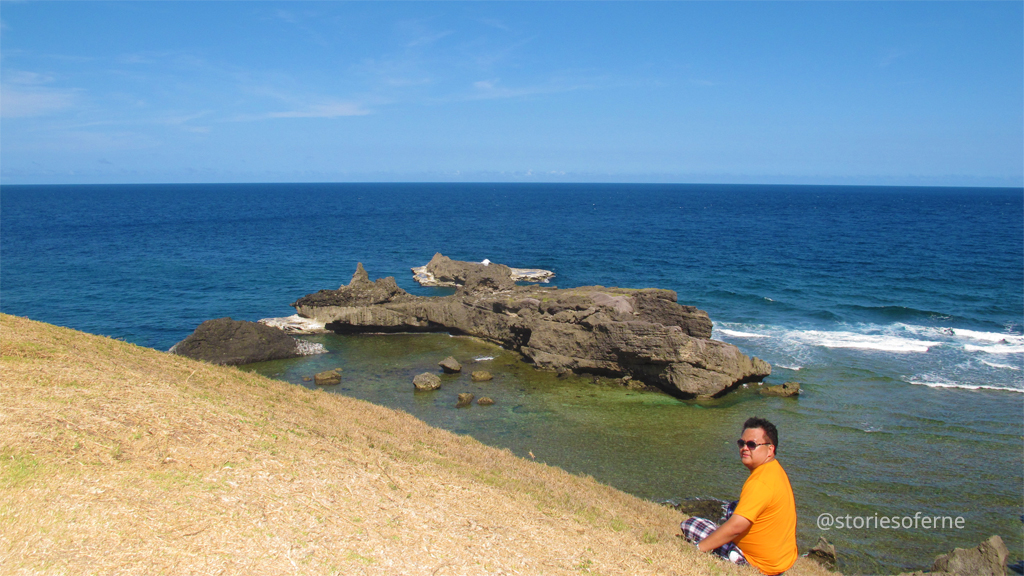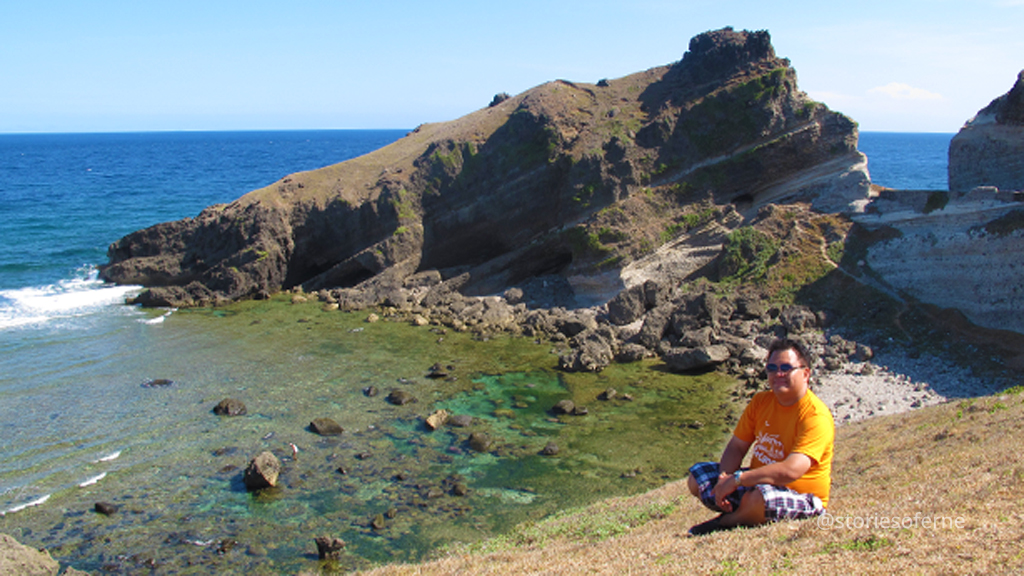 Welcome to the fascinating realm of Racuh A Payaman - another featured natural treasure on the island of Batan also locally called the Marlboro Country! Hailed as one of the best geological attractions in the entire country, I only scratched my head and asked myself, "Is this place real? Am I already fully awake and conscious of this marvelous wonder or am I still dreaming?" I'm pretty sure you would ask yourself the same question the instant you've stepped on this location.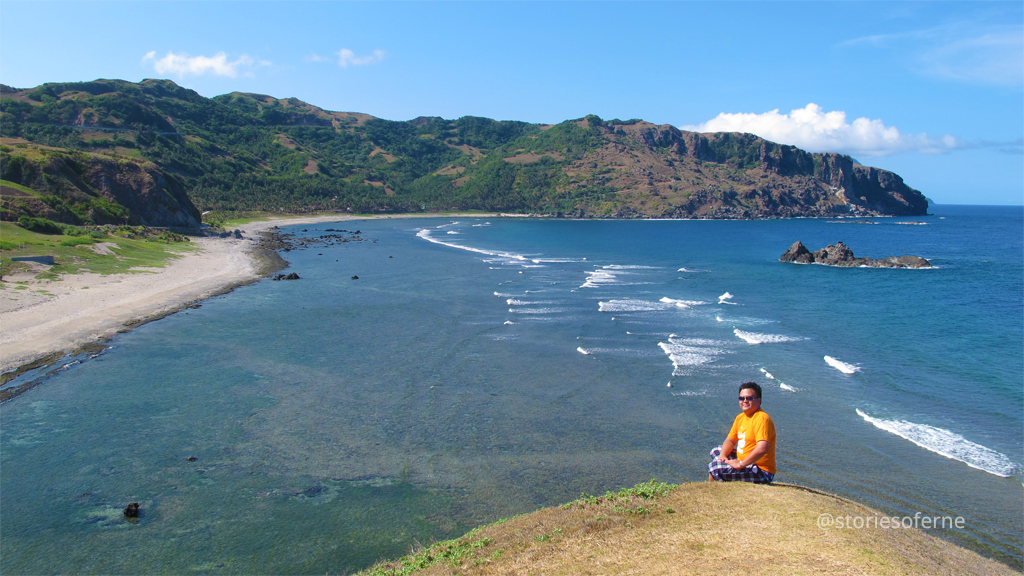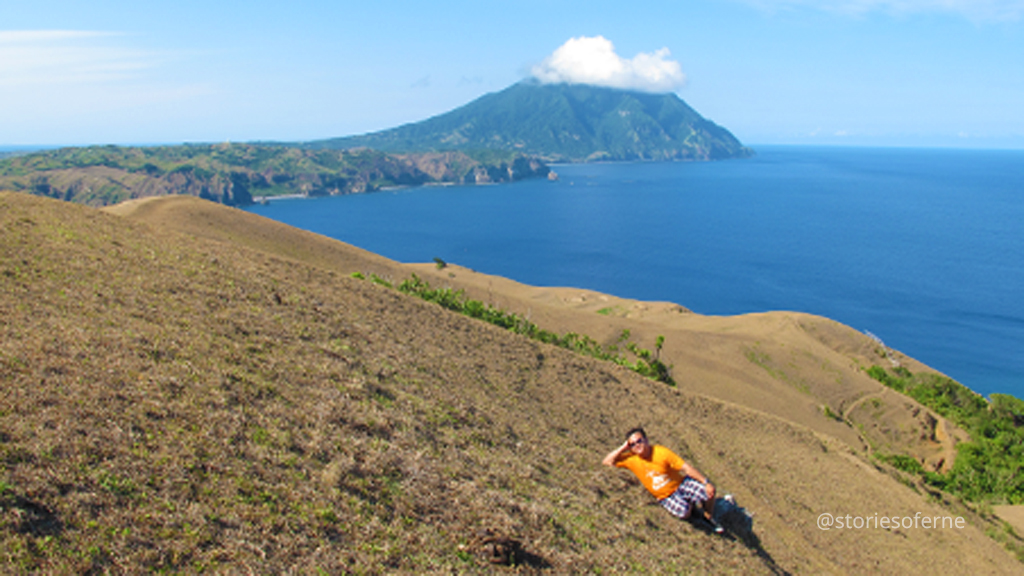 "Could it be that God has lingered in this part of the world for a while?" I conversed with my companions as they too were flabbergasted at the sight of the area. It was indeed one of our Almighty's majestic creations! You have to see this place with your very own eyes to believe it!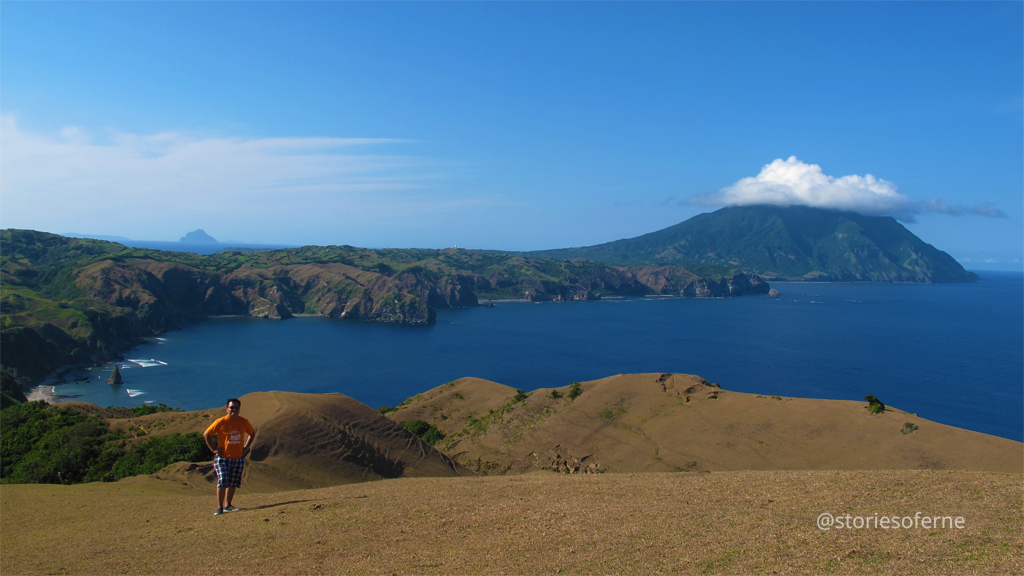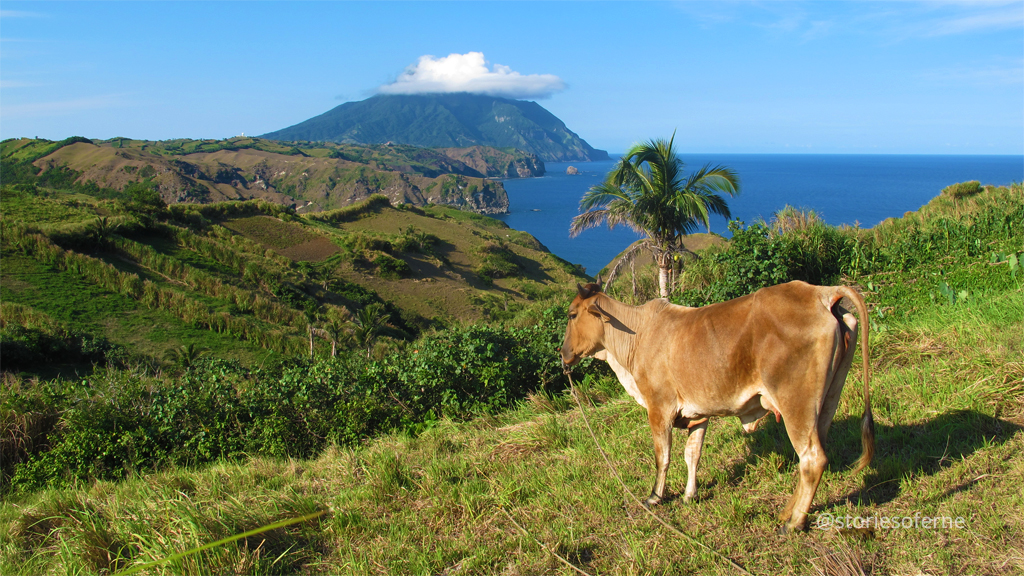 Furthermore, Marlboro Country was and is still is a favorite spot for cinematographers and photographers to film their movies or collect photographic memories. This attraction was simply stunning that we couldn't get enough of it! At the same time, this piece of land was the perfect location to commune with Mother Nature and indulge in all the ecstatic moments a natural landscape like this could provide! What do you think of this place?
27. Tayid Lighthouse
Still mesmerized by the previous landmark, we were obviously high on our heels and felt like floating on the clouds! It was time to come back to Earth and enjoy the next attraction. We then accessed the municipality of Mahatao where we noticed a beautiful lighthouse resting on top of a grassy hill. With its vibrant brick-red roofs, white tower, and stone walls, this vital element of architecture was not easy to miss!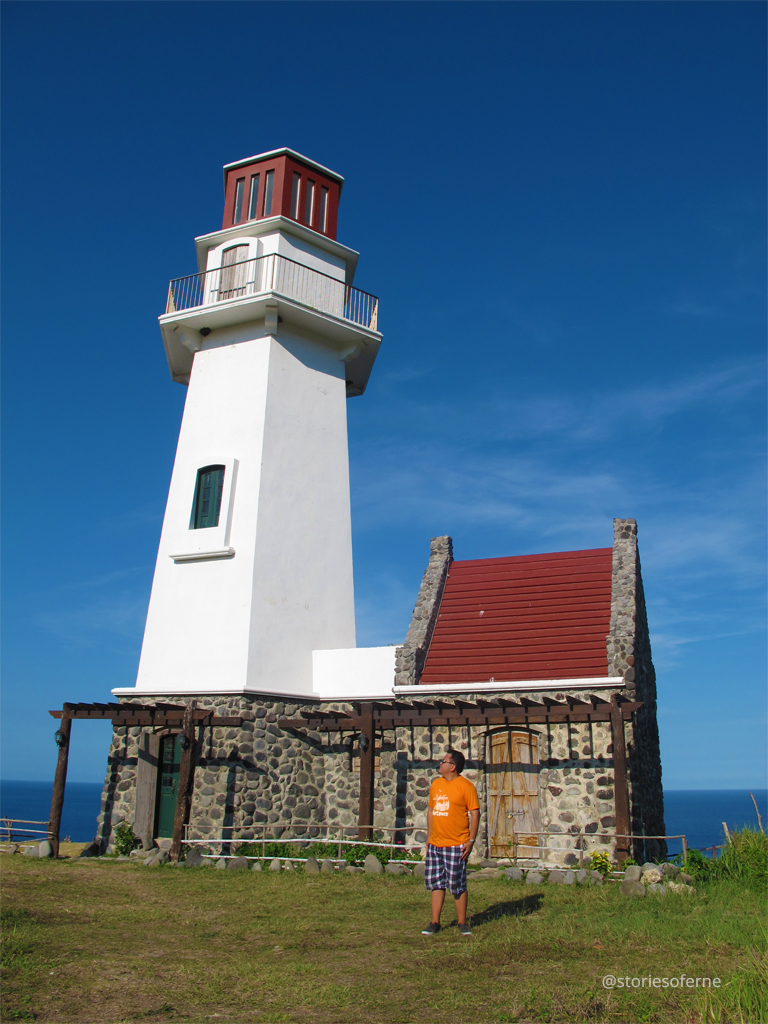 Locally named the Tayid Lighthouse, it is one of 3 operational lighthouses that were constructed during the early 2000s aside from the other 2 structures situated in the capital city of Basco and the island of Sabtang. It was an isolated hexagonal towering structure that was easily accessible if you had the appropriate vehicle. The surrounding areas were adorned by thick grass, heavy vegetation, and a healthy mountain atmosphere.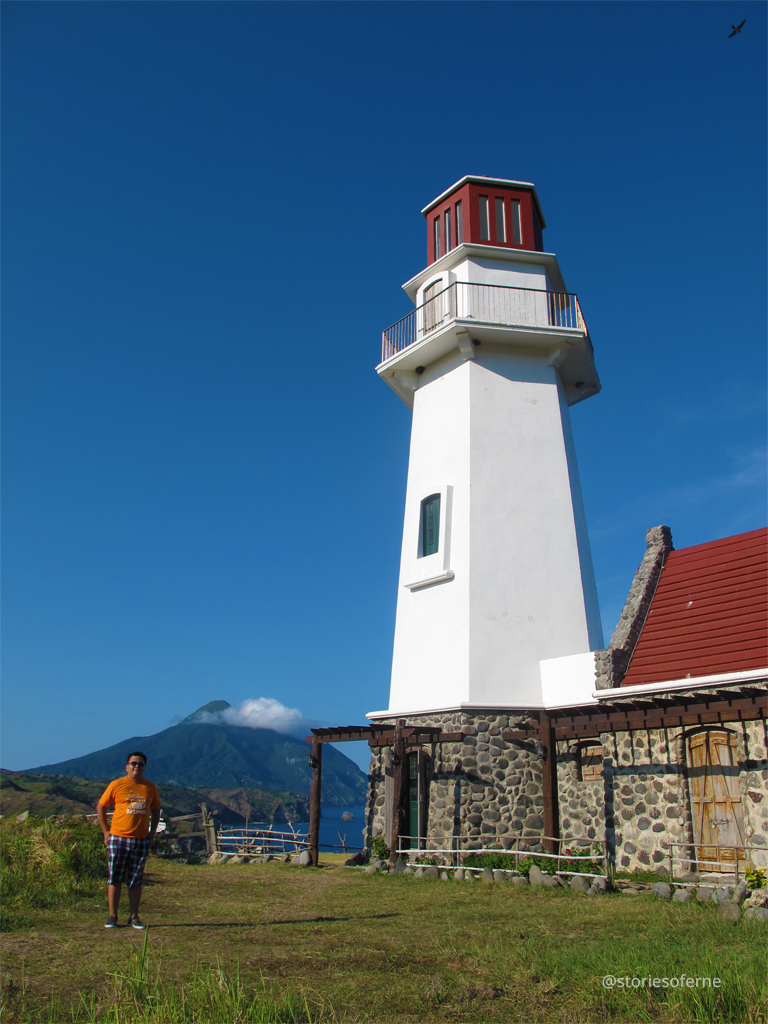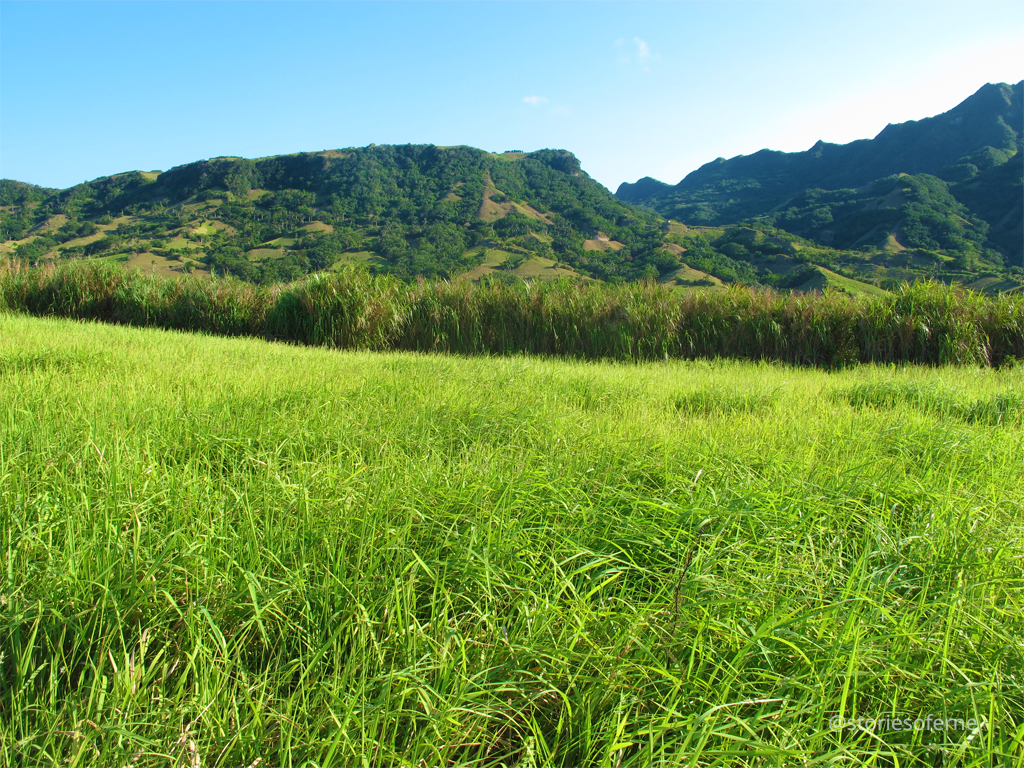 This famous beacon of light served as one of the significant guideposts for the voyage of seafarers across the risky bodies of water of the Pacific Ocean and the West Philippine Sea. The original Mahatao Lighthouse (located close to the San Carlos Borromeo Church) was around 200 years old and is usually overlooked by tourists due to its dilapidating condition.
28. Chawa View Deck
Our dinner for the evening happened to be a tremendously unique event. Why? It was because we were not having our meals inside a typical restaurant, hotel, or other related dining establishments. We were having our dining activity perched on top of a hill and overlooking the ocean! Could there be anything else more exciting than that?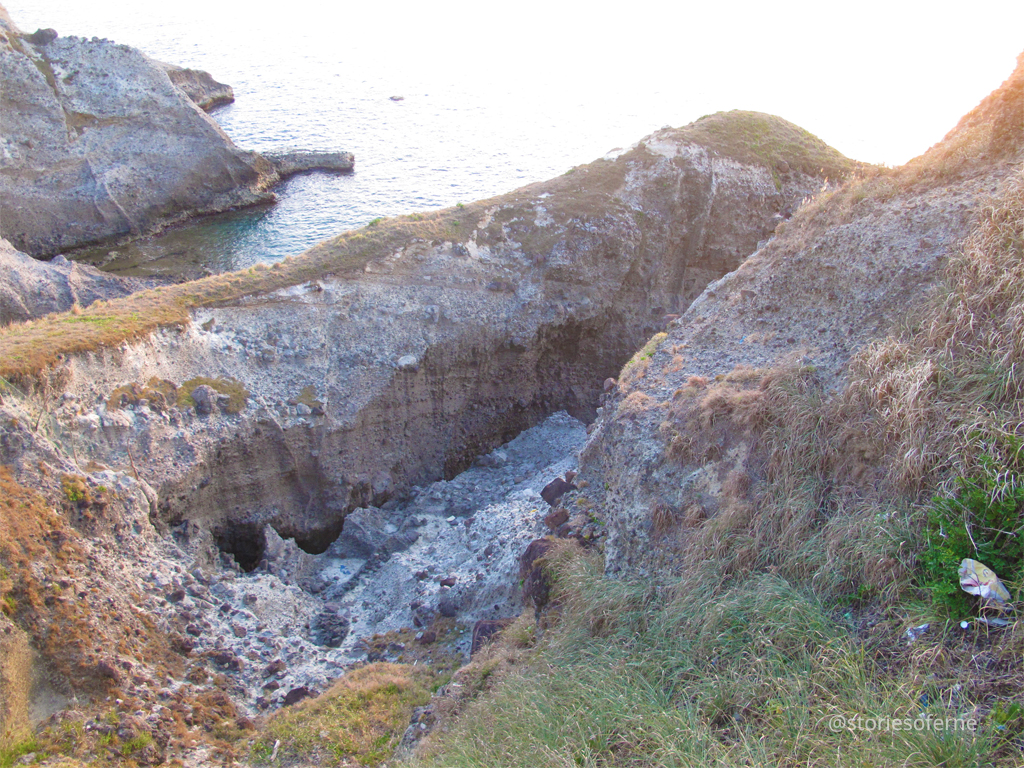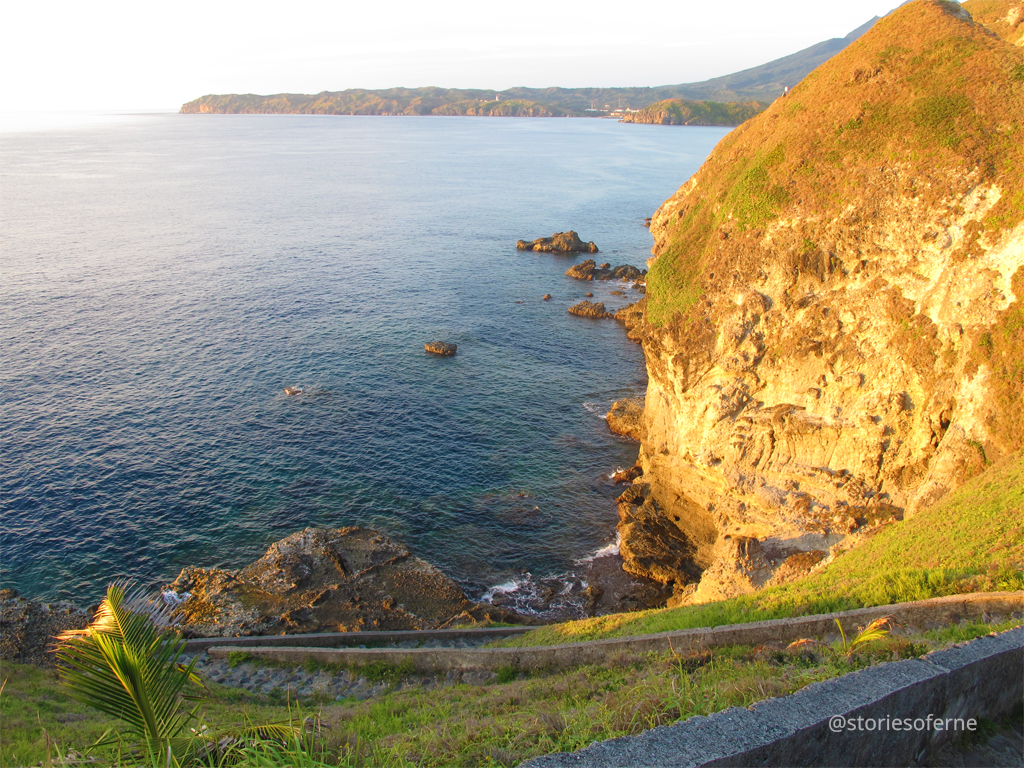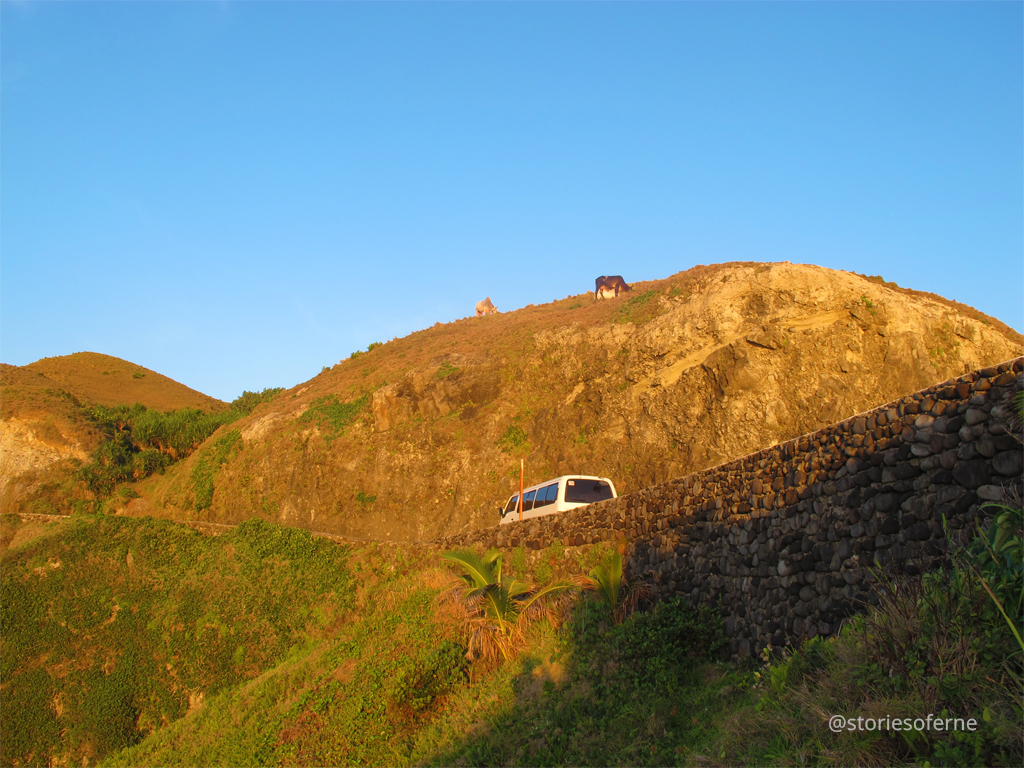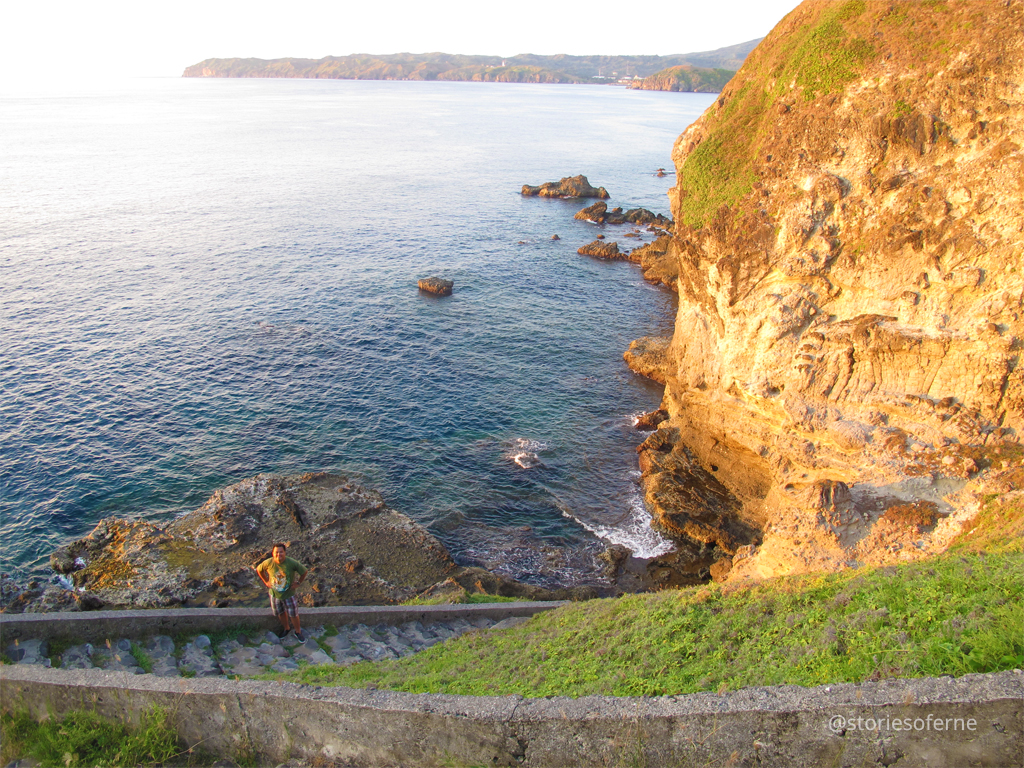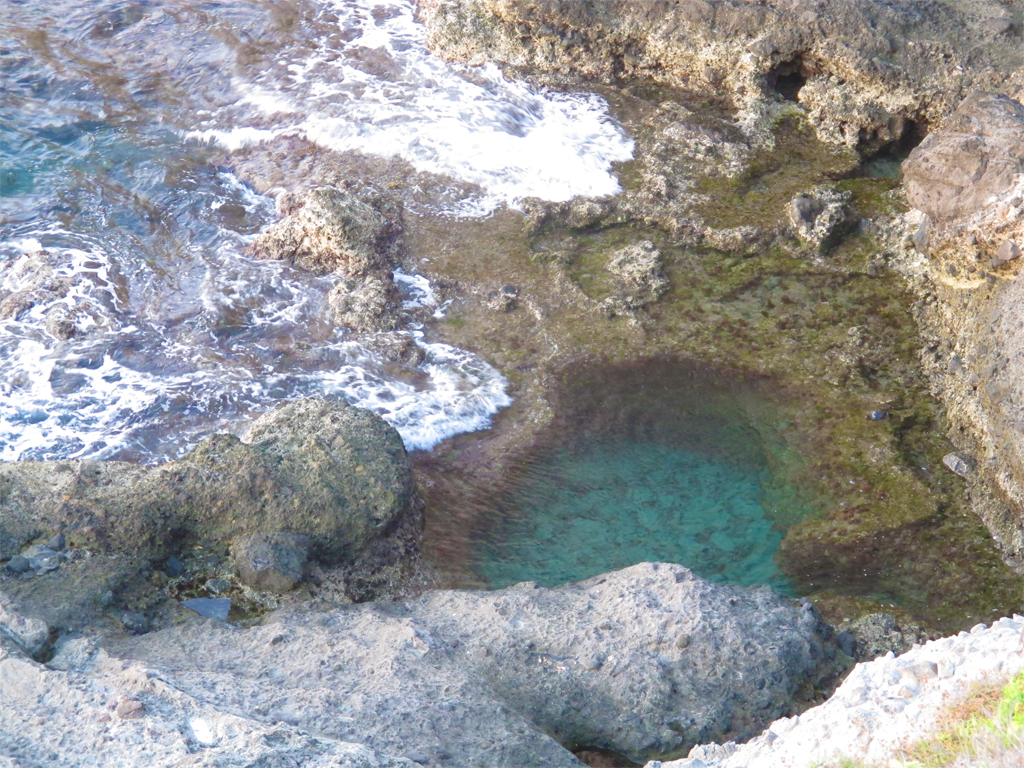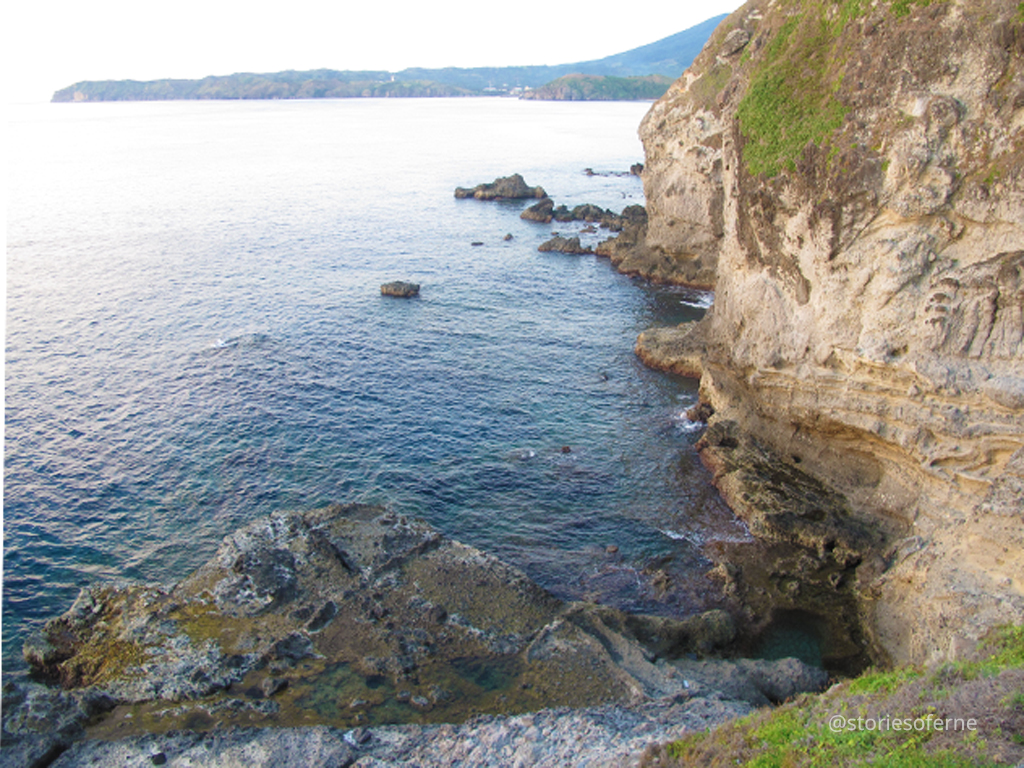 From our designated accommodations, we all assembled at this lovely spot called the Chawa View Deck. We arrived there before just minutes before sunset and had the chance to explore the surrounding terrains and shorelines. I didn't hesitate to go down the lower steps towards the rocky beach below to listen to the sound of the soothing sea waves, to touch the sand particles around, and to be blown away by the cool breeze. It was one of the most soothing sensations I've ever tried!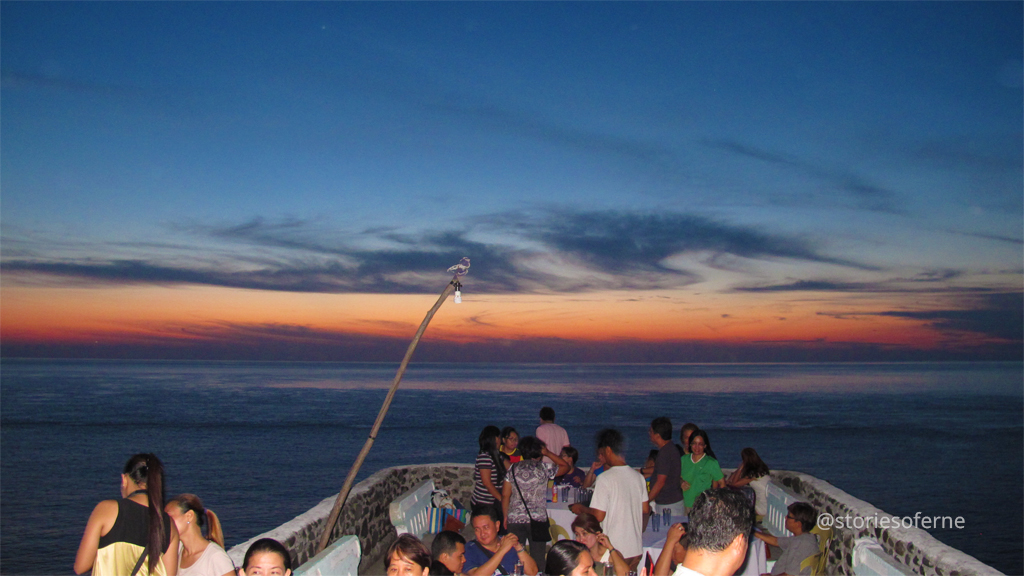 "What a glorious sunset!" I told my buddies at our dining table as my other travel companions were preparing for their meals. And then we continued staring at the far horizon to bid farewell to the setting sun and welcomed the beautiful evening. While enjoying our delectable dinner, we also gazed upwards towards the sky as we were illuminated by the bright starry night outside - aside from the glowing light fixtures installed at the site. The overall ambiance was romantic and was filled with cheer for the rest of the evening as everyone had a truly fantastic time!
29. Night-out with the Gang
It was the end of Day 3 and was our last night in the province of Batanes before heading back to the airport the following morning to return home. All of us were obviously flat on our feet and were looking forward to taking a much-needed break that evening! And of course, there was no better way to do that than watch a live musical band, sing video karaoke to our heart's content and moderately indulge in wholesome booze until the early hours of dawn! So, that was what we did to celebrate the unforgettable experiences we had on the islands.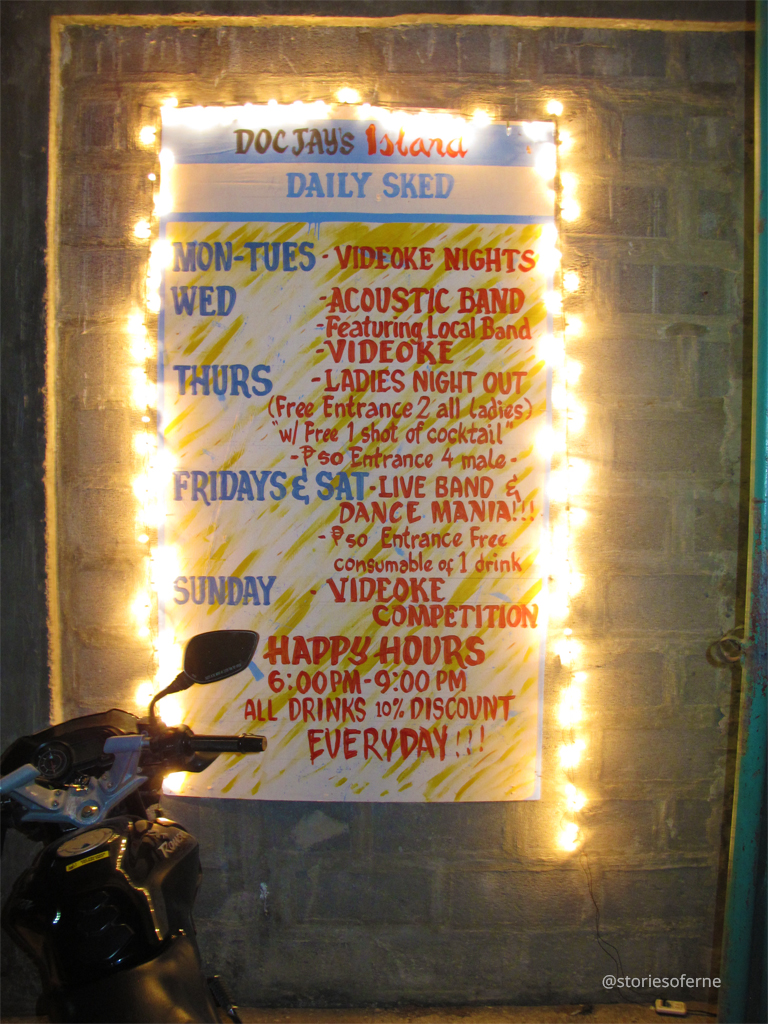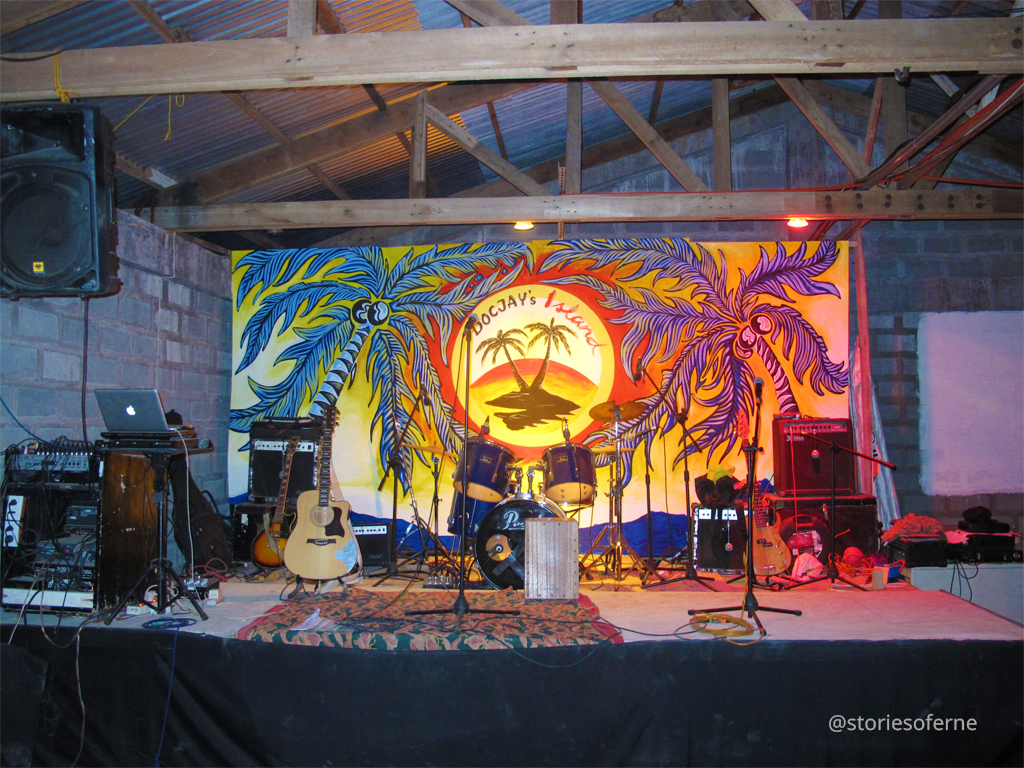 If I'm not mistaken, I remembered not sleeping that night! There were just too many joyous moments to be reminiscing about our trip as it was filled up to the brim with exciting adventures and wonderful memories. It was as if the dream of coming to an exotic location like Batanes was already presenting itself as a living and breathing entity!
My Concluding Thoughts
I'm speechless! I don't know what else to say! I might sound exaggerating, but I think I've already exhausted all the valuable stories I can write about Batanes. Not to mention the 2 lengthy, visual, and comprehensive blog posts I've dedicated for your reading and viewing pleasure up to this point. I do hope you learned something useful along the way and were entertained by my thoughts, descriptions, and narratives.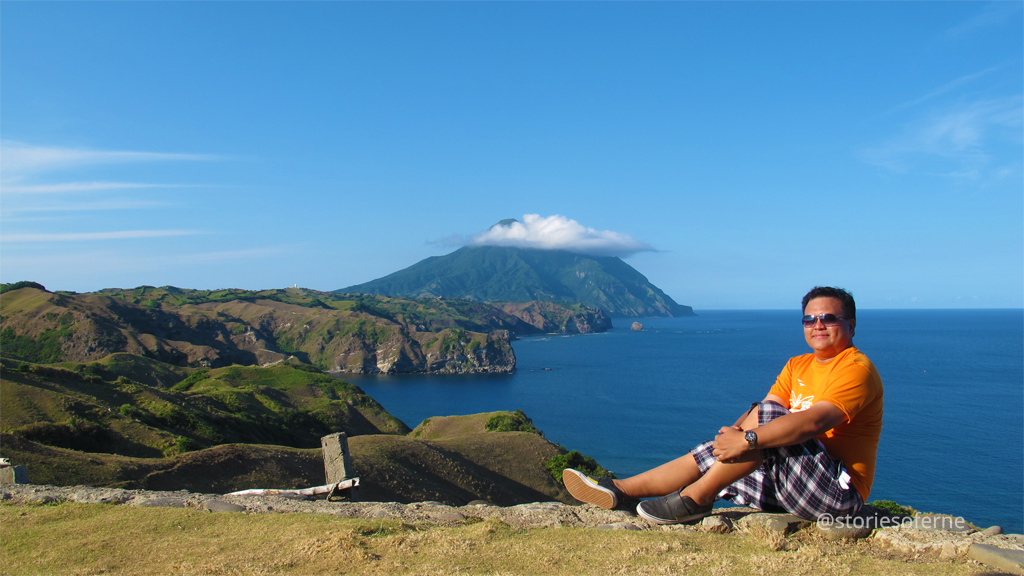 Well, if there's one important statement I could say, this would be it.
"I strongly encourage you to travel to Batanes! I mean it! The place may not be a perfect destination, but from personal experience, you will never regret this worthwhile trip - I can promise you that! And you can absolutely take my words to the bank!"
#Hive, have you been here?
---
Adventure is where my wanderlust leads me.

@storiesoferne
Self-expression empowers our human evolution.™