Architecture Moments™ 4: The Red Bull Hangar-7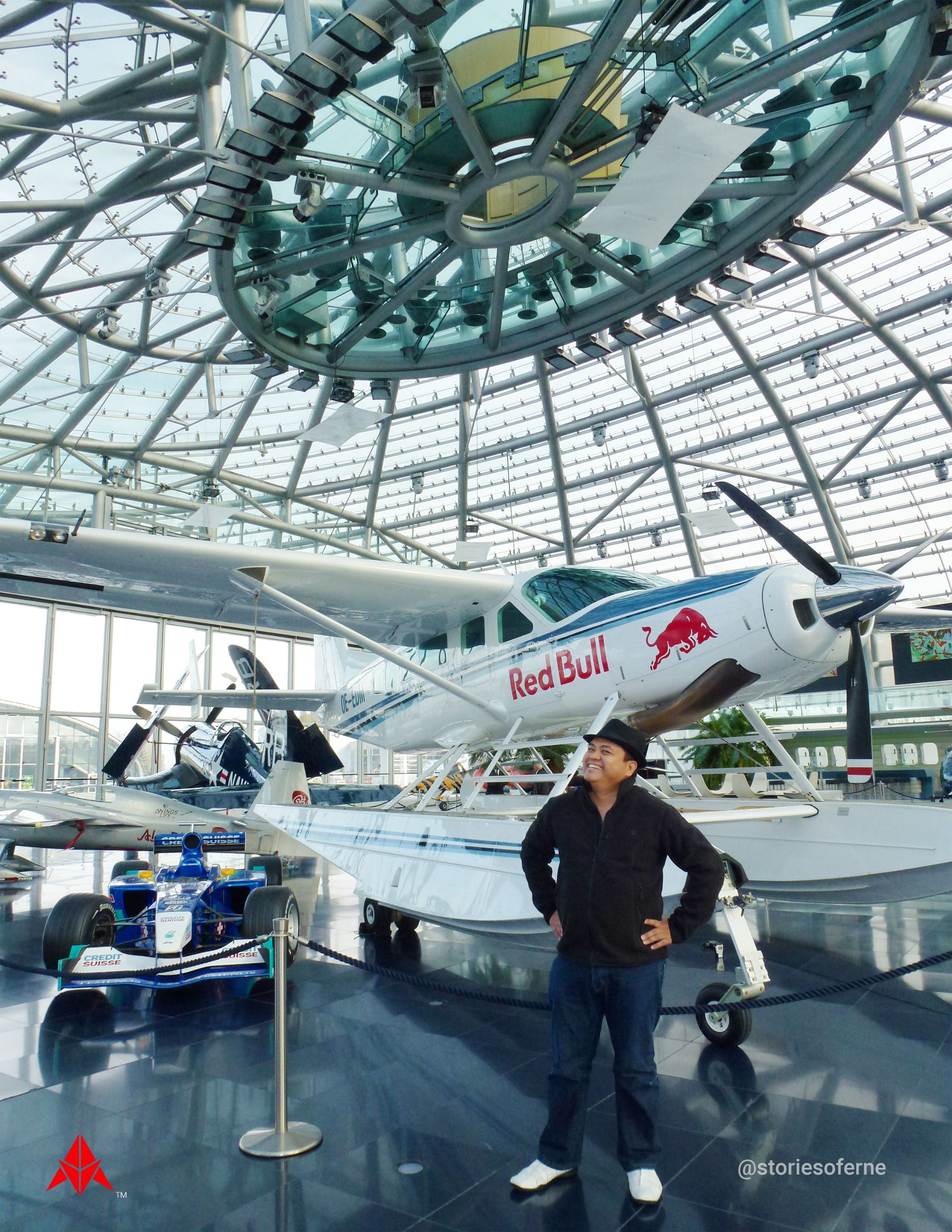 Welcomed by an Icon
Red Bull. Who doesn't recognize this world-famous brand? If you've been an advocate of energy drinks for a long time, you could probably be one of those who have already tasted their invigorating product. Said to have been introduced in 1987, this enterprise has the largest market share for that category on the planet.
During one of my European adventures, I was destined for the Austrian city of Salzburg after my dear kin surprisingly invited me to spend a holiday there. Now, who wouldn't desire to travel to Salzburg, the birthplace of the illustrious 18th-century composer Wolfgang Amadeus Mozart and the setting of the famous classic film "The Sound of Music"? Well, you could just imagine the biggest smile on my face when that trip was confirmed. And, my gosh, I was in for a special treat!
Welcome to Episode 4 of Architecture Moments™ as we're thrilled to feature a cherished architectural gem rooted in Austria's most inspiring city: Salzburg. We'll be exploring the Red Bull Hangar-7, the iconic museum and restaurants/lounges that house the remarkable ensemble of historical aircraft from the Flying Bulls plus amazing personal collections from Red Bull founder, entrepreneur, and billionaire himself: Dietrich Mateschitz. So, are you ready?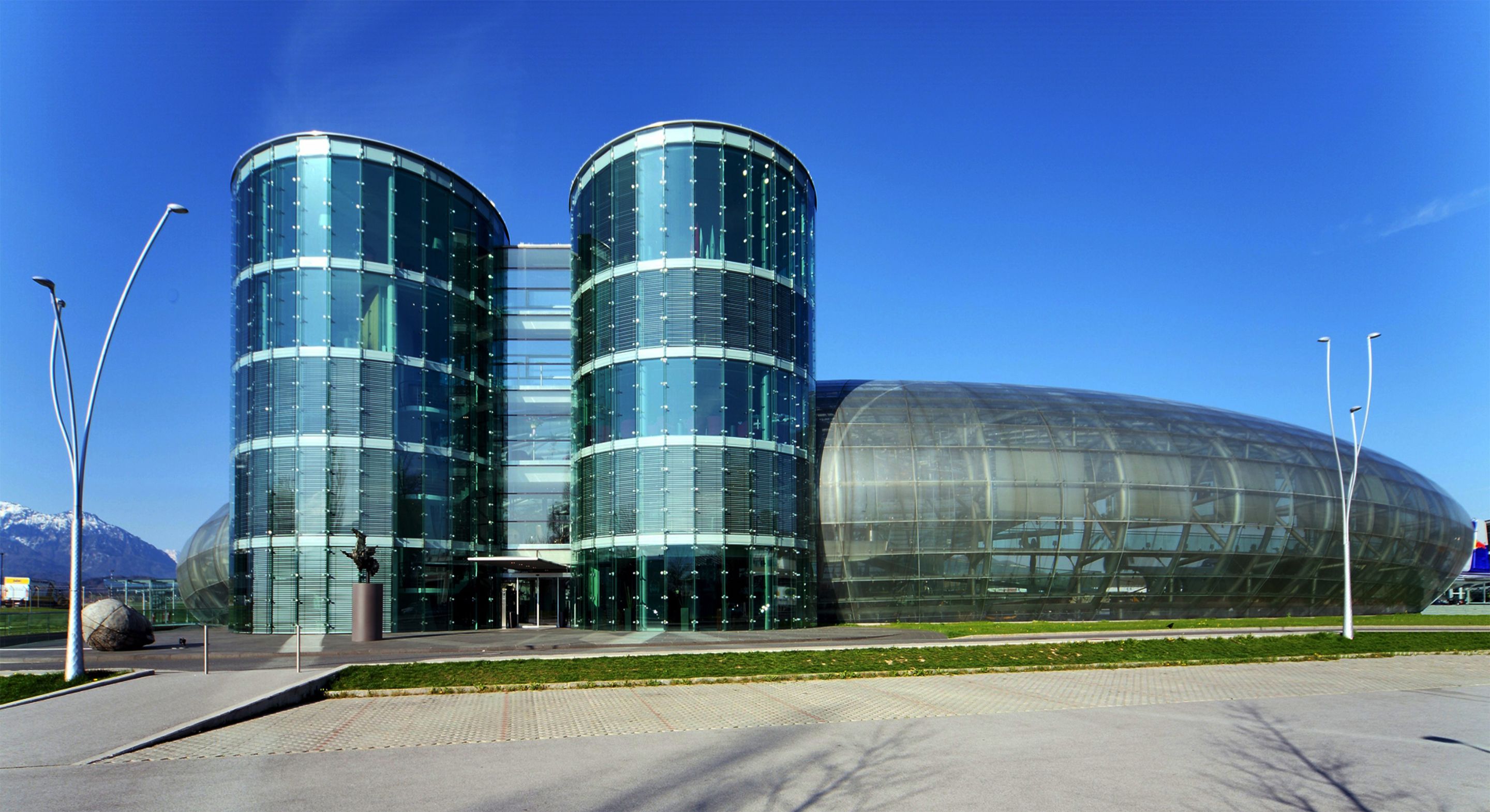 Exterior Facade of the Red Bull Hangar-7 | Source
"Welcome to Salzburg! How was your flight?" was my local host's opening conversation. After responding with delight and embracing them with warm hugs of appreciation, we immediately proceeded to our destination. My jaw dropped the second I saw the landmark's spectacular architecture of glass and steel. Glancing from a distance, the building consisted of a massive dome with 2 towers, and metaphorically, was designed to appear like a futuristic wing.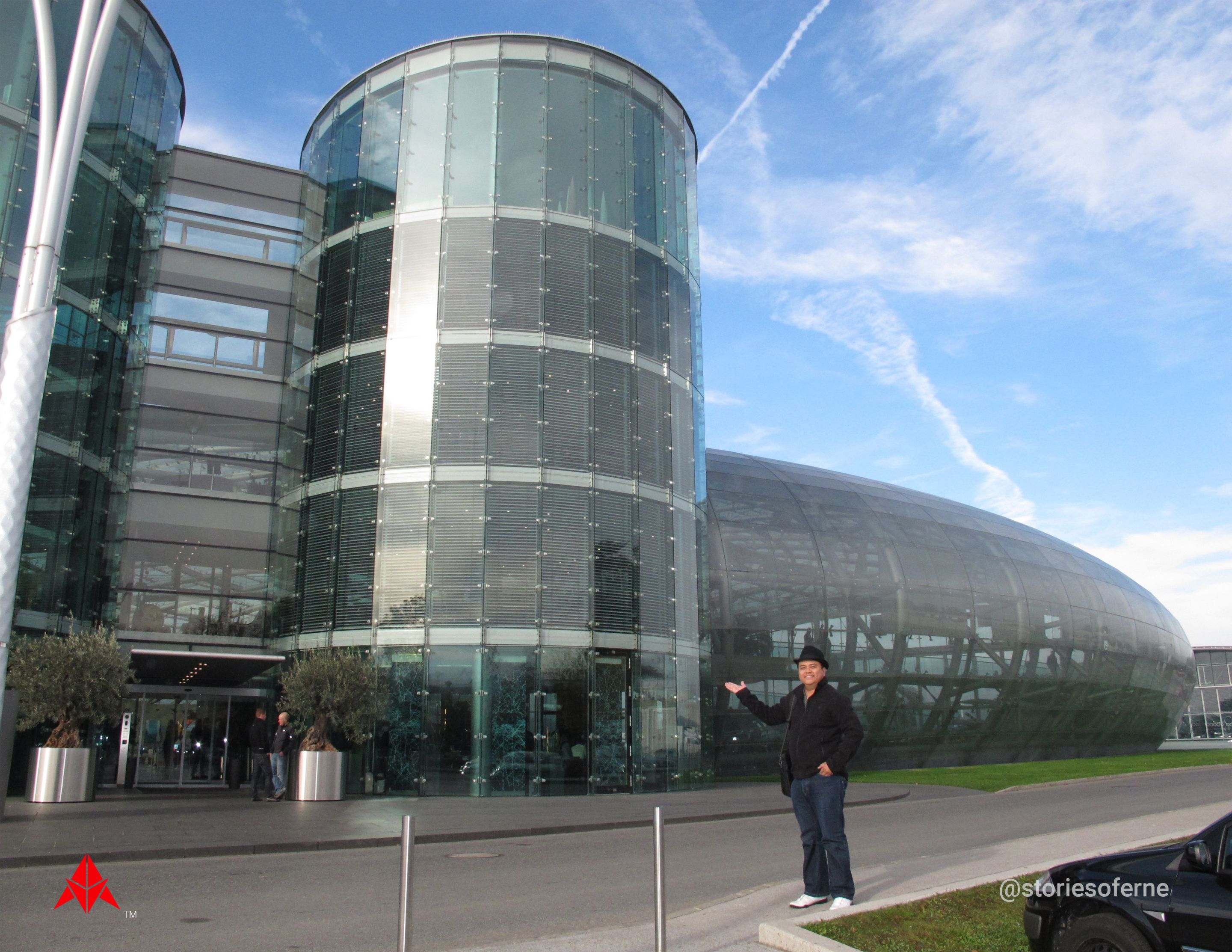 On the contrary, I perceived it to be like a modern Ladybug, an insect with a round outer shell but with two large antennas on its head. Perhaps, for ordinary spectators, this immense monument might also resemble an Unidentified Flying Object (UFO) that just landed at their airport, with an elongated mouth ready to devour the earthlings…lol. Sorry for my wild imagination yet, who knows? - we might have the same interpretation.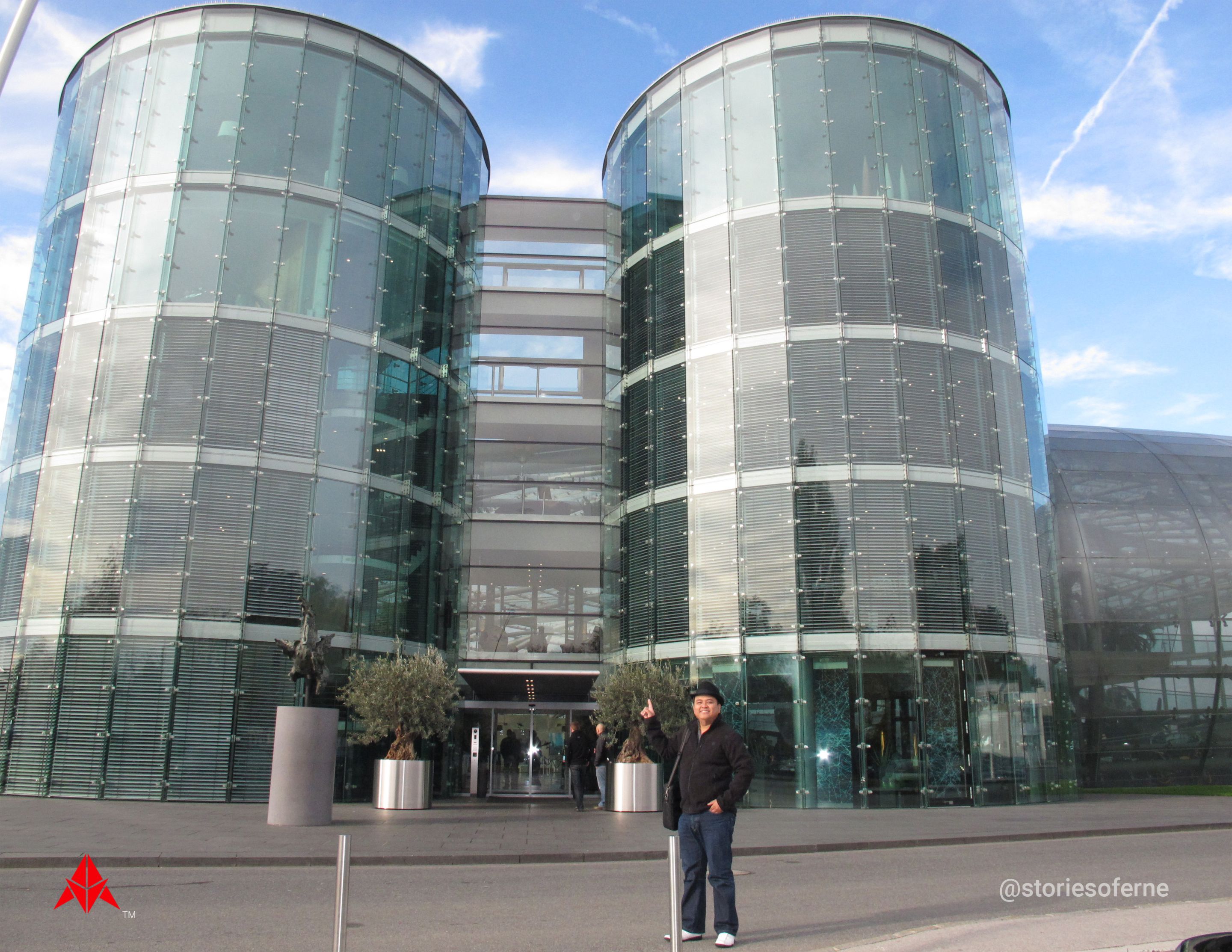 Approaching the entrance door of the facility, my feet were rapidly itching to get inside. But wait, let's take a quick look at this outdoor artwork. My best guess would be that it was the incomplete sculpture of the mythical winged horse called Pegasus. I was trying to reach it and feel the rough textures however, it was obviously too high for me.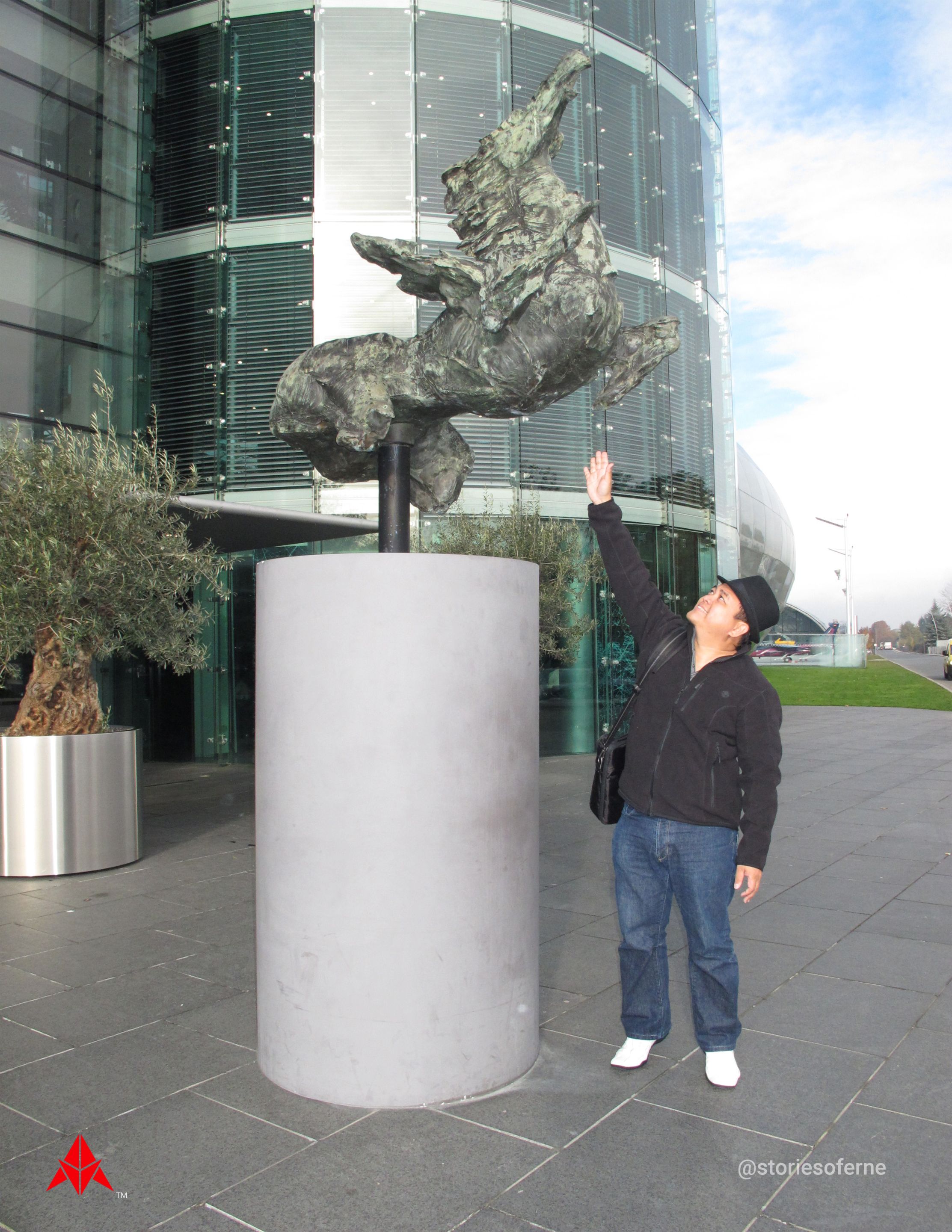 Since we were at an airport, that artistic piece was presumably a symbolic way to represent the power of flight and the aviation industry as a whole. It was now time to enter the portals to another world.
Mesmerized by Shiny Objects
How would you react to a sight like this?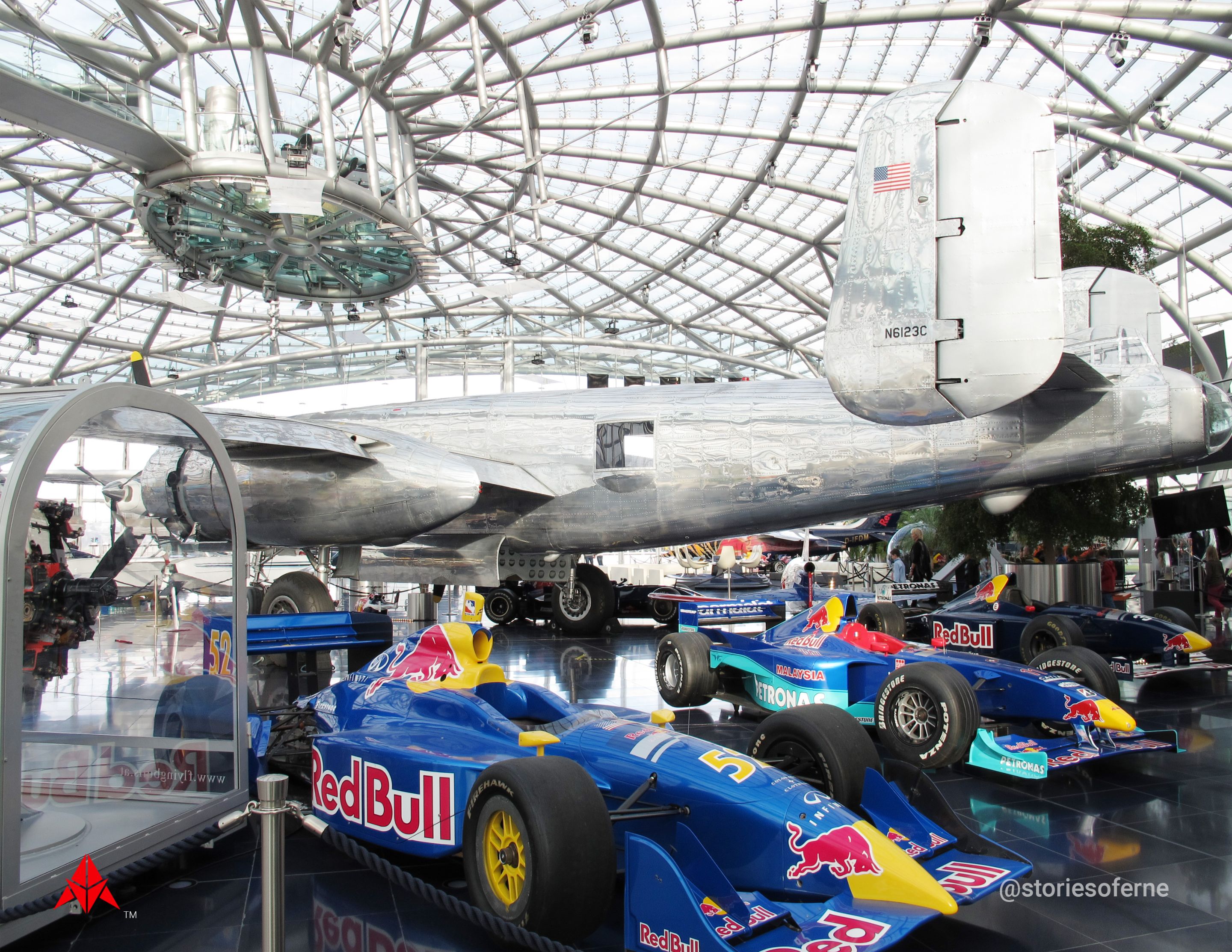 My emotions were all mixed up at that point and were about to explode but, I merely didn't know which one was the most resonating. Maybe "electrifying" would probably be the most suitable word to describe how I felt that instant.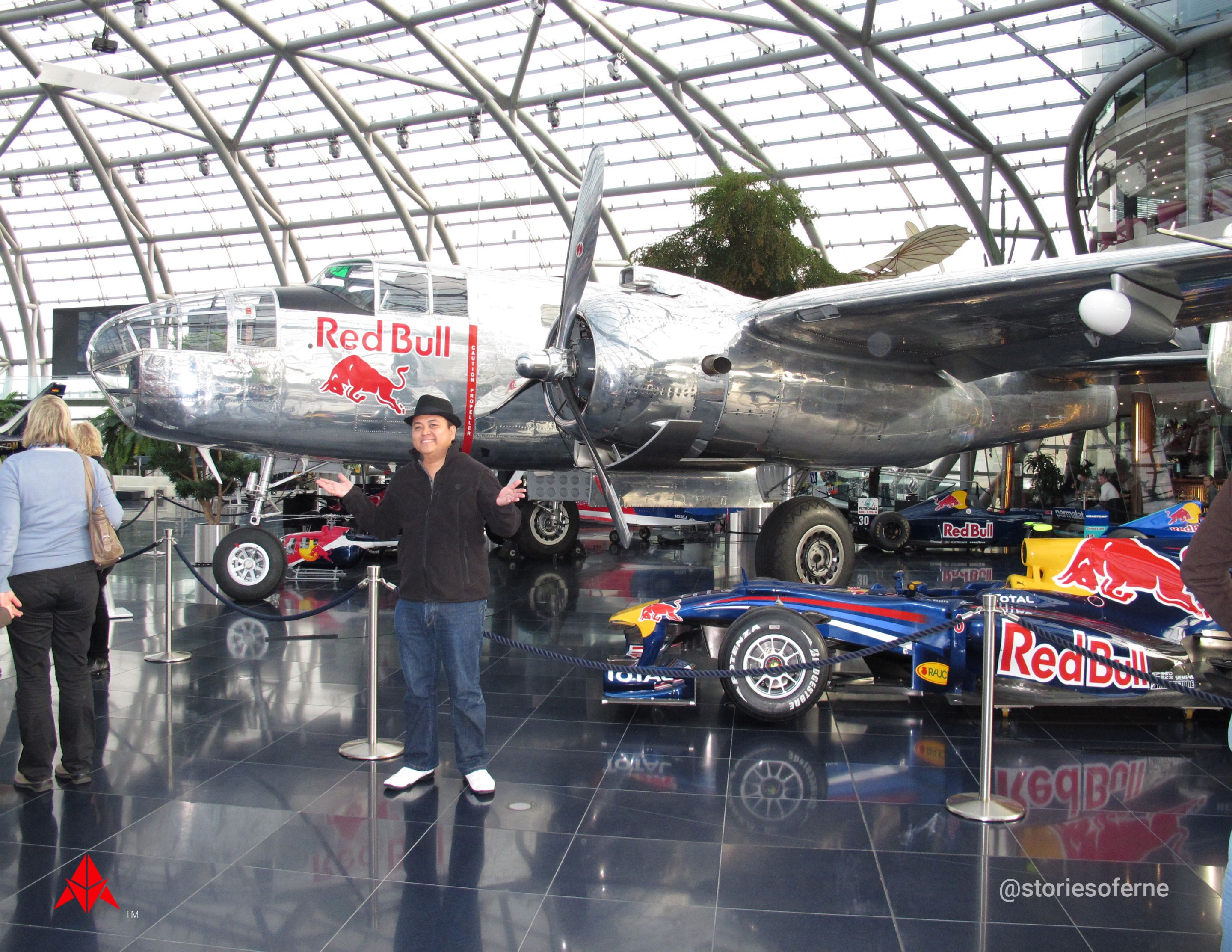 So many sophisticated "Toys for the Big Boys"! Before my eyes was a vast array of airplanes, helicopters, Formula One racing cars, contraptions, gadgets, and other technological wonders. I could literally smell the scent of polished metal everywhere. Without blinding reflections, the interior illumination had the advantage of the ample transparency of natural lighting, thanks to the clever umbrella of an enormous glass dome that allowed sunlight to pass through and beautifully glorify the gorgeous exhibits within.
And have I told you that some interesting artworks were also installed there? (We're going to look more into that in a bit.) Gliding fast across the grayish tiled floor, my curiosity quickly lured me to a clever gizmo that housed a driver's gaming console.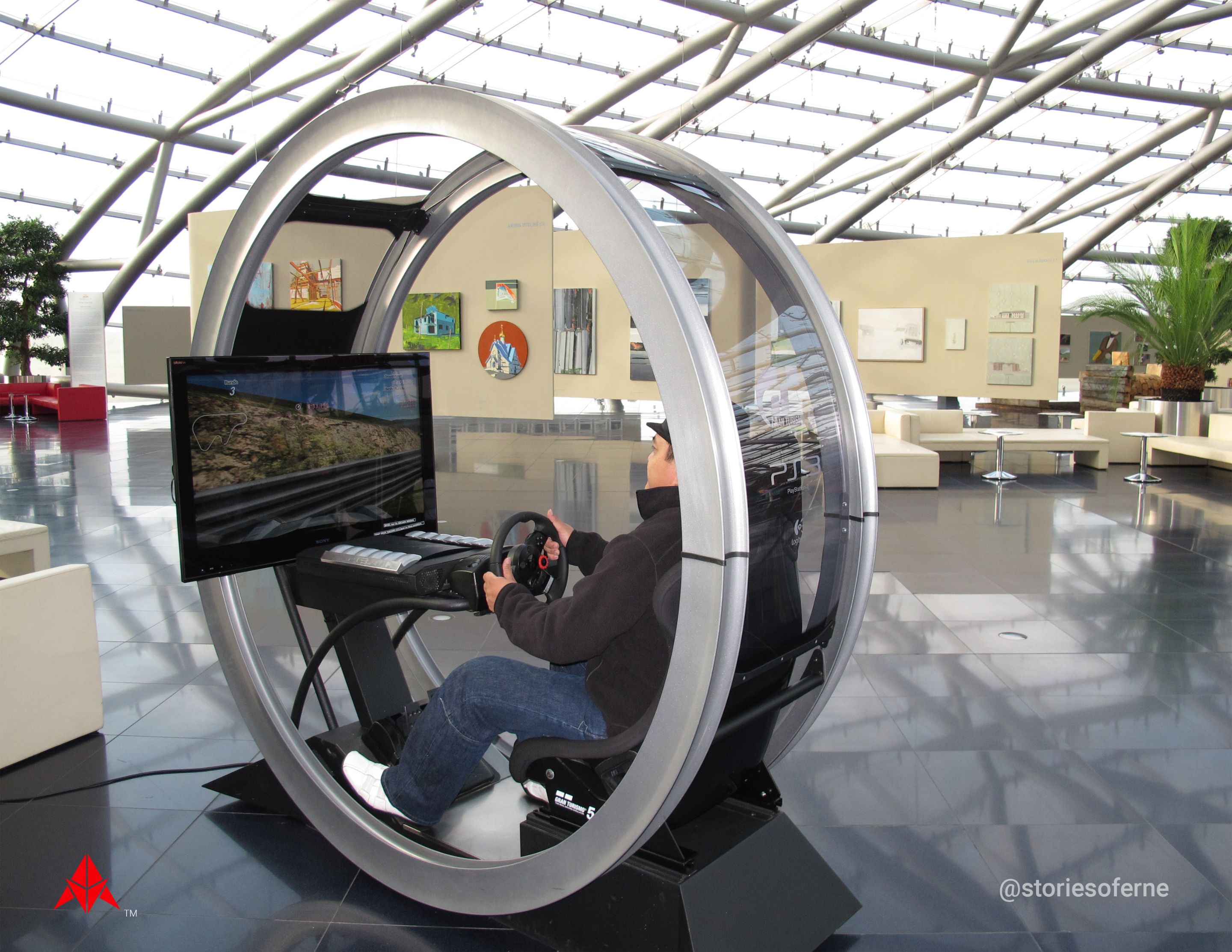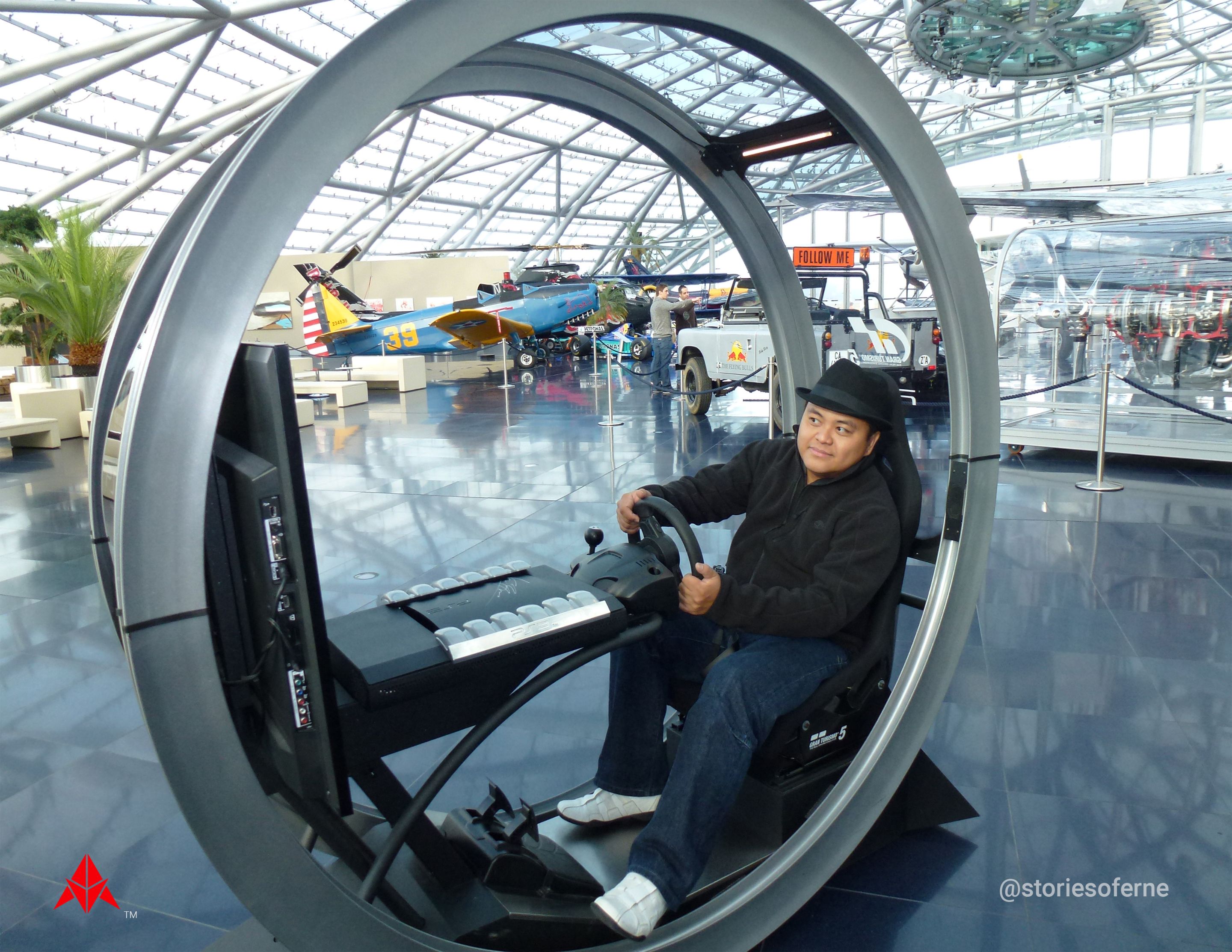 I'm not an active gamer however, I did enjoy gripping the leathery surface of the steering wheel and stepping on the foot pedals while trying out the racing game. I've previously tried the more advanced versions of driver's gaming setups where you literally move as if you were driving a real vehicle but, this particular console was not one of them. Regardless, it was still a fun experience.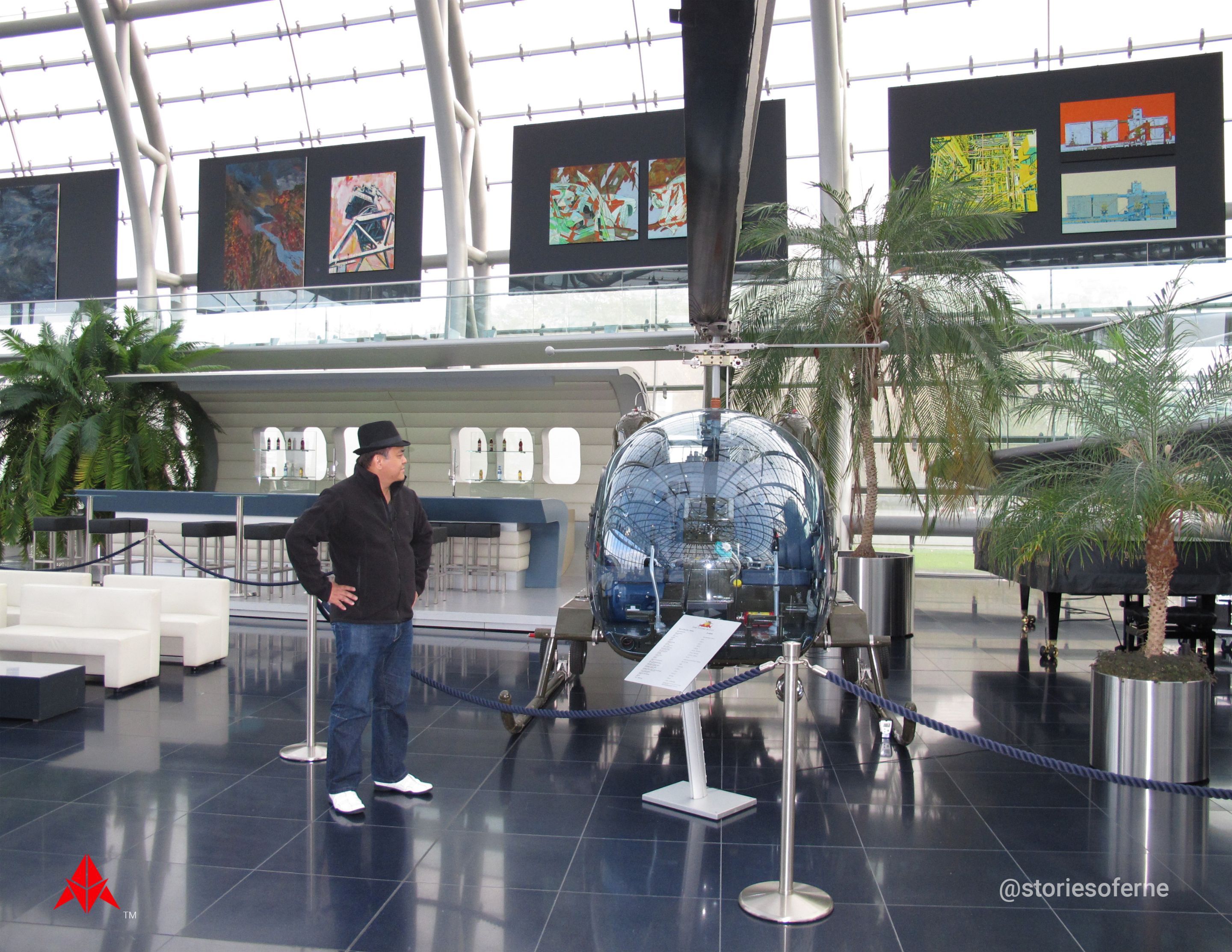 I've never seen a modern helicopter as tiny as this one. Compared to my physical build, this special aircraft would not probably be comfortable enough for me to pilot.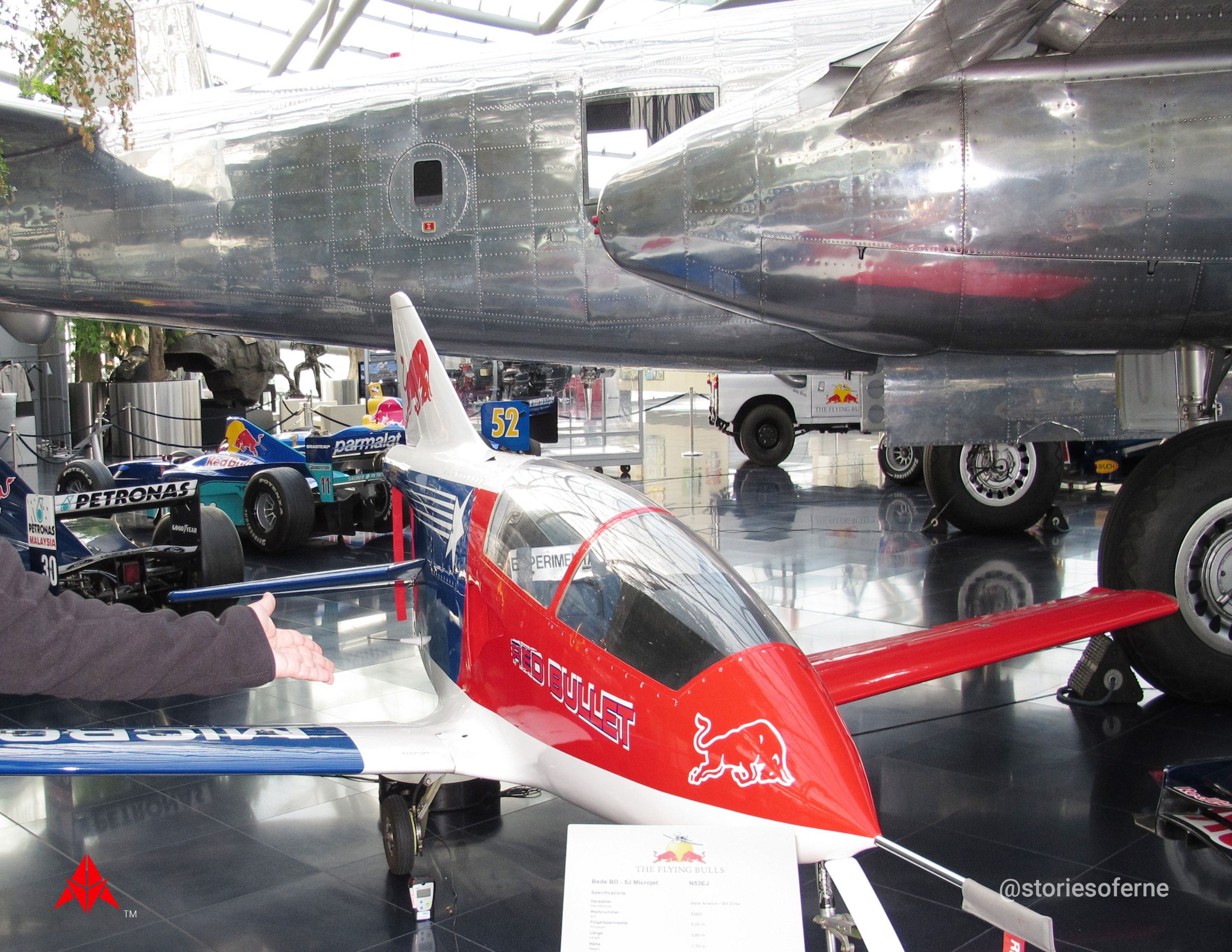 Even this mini-plane looks minuscule and would only accommodate people who have smaller statures. I simply couldn't fly a vehicle of this size compared to the possibility of enjoying a better experience with the largest aircraft on display there, the Douglas DC-6B plane, sporting a rudder around nine meters high.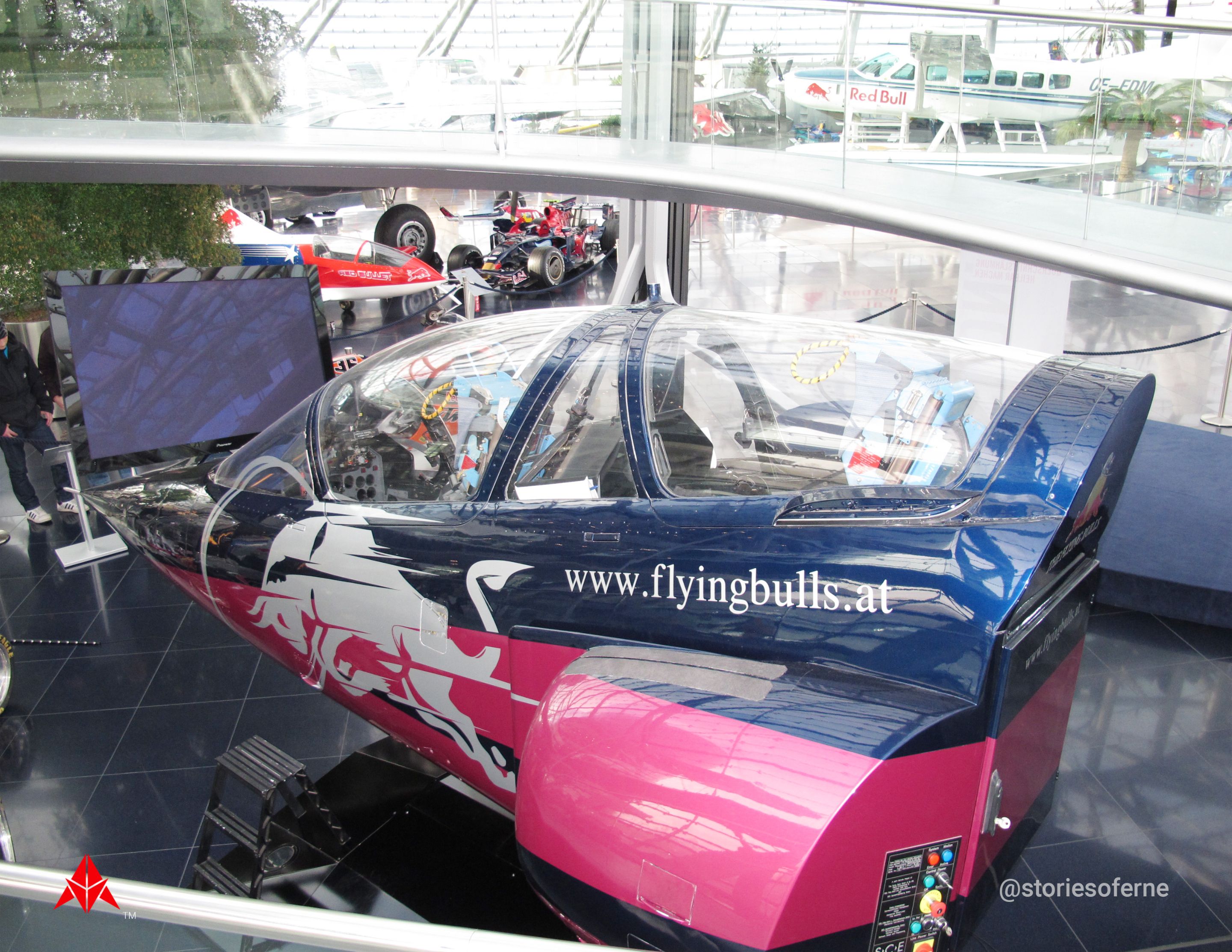 If you had a playful childhood, the next interesting toy looks like an entertaining gadget to tinker with. If you've been to the circus, theme parks, and mall playgrounds, these are the types of fun rides that children would love to play with, if I'm not mistaken.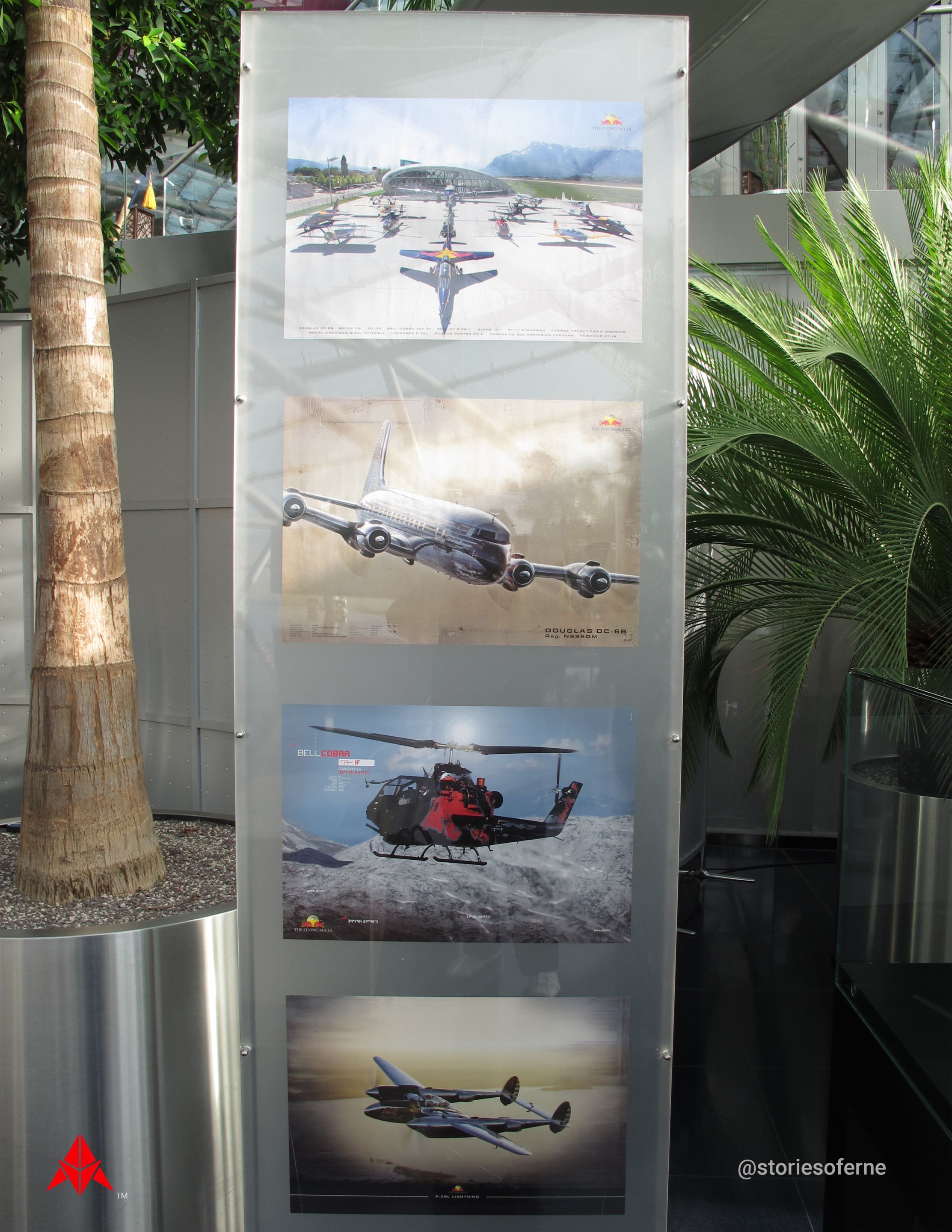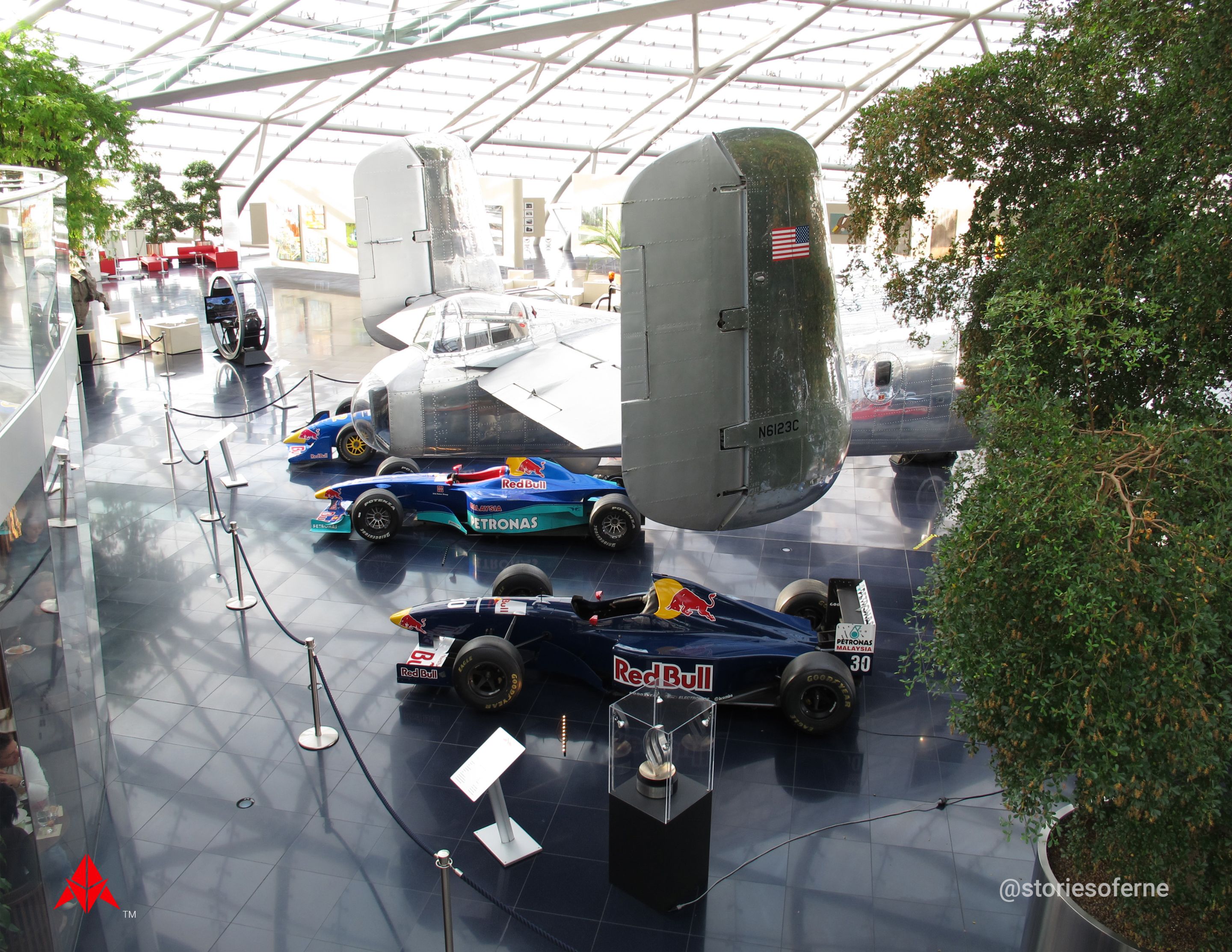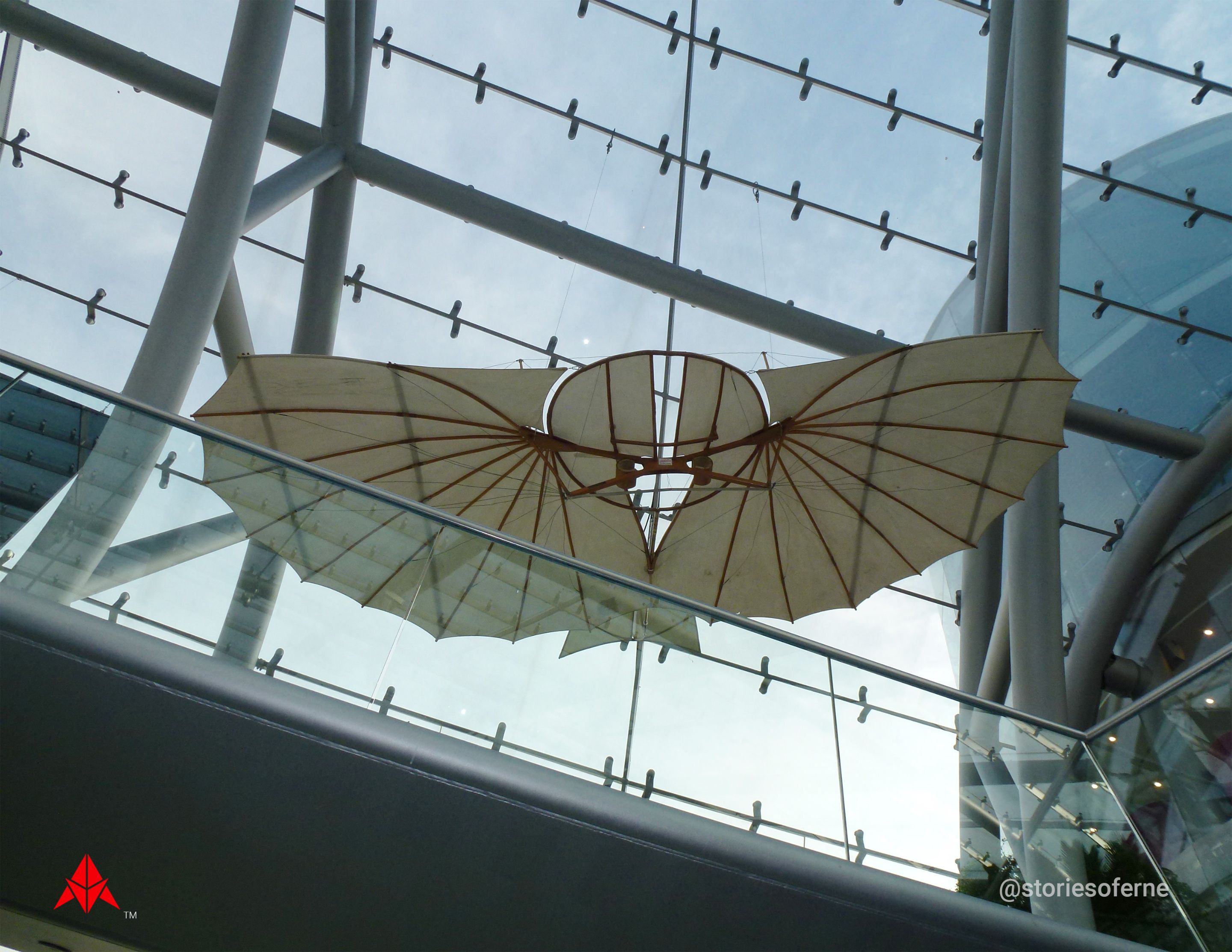 This museum was generally dedicated to our heroes in the sky and their respective memorabilia but, primarily on the Flying Bulls. "But who are they?" if you ask. These distinguished individuals are a gang of passionate aviation advocates who have strong interests in rare and historic airplanes, helicopters, and other collectible vehicles and gadgets for flying purposes. Not only do they indulge seriously in this professional hobby, but, they also had a direct influence on the fruition of Hangar-7.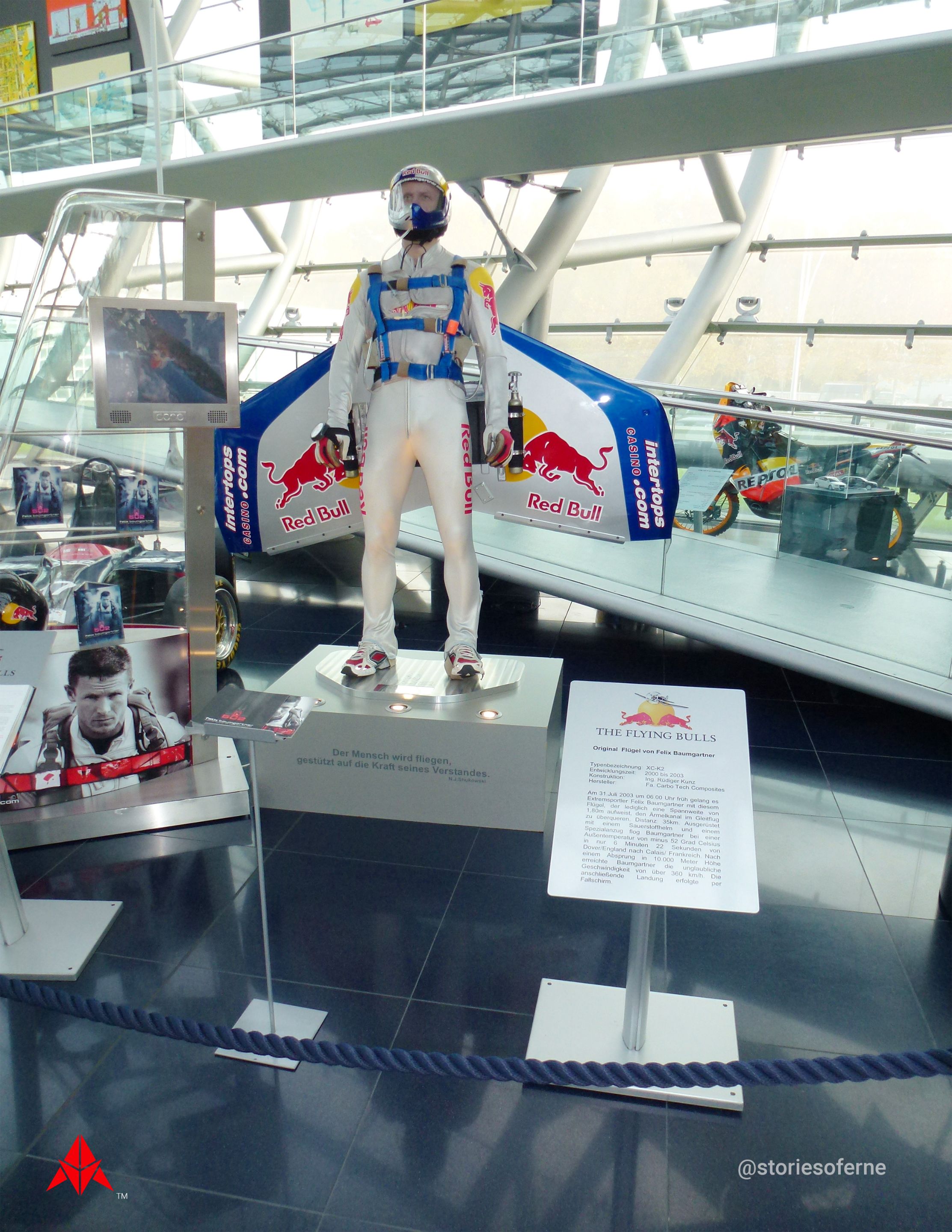 That's a flying suit, by the way. It was invented especially for the extreme sport of Wing Suit Flying. Wouldn't that be an exhilarating and adrenaline-pounding experience to master freedom on the skies? If you're a skydiver, that would be the perfect one to go for.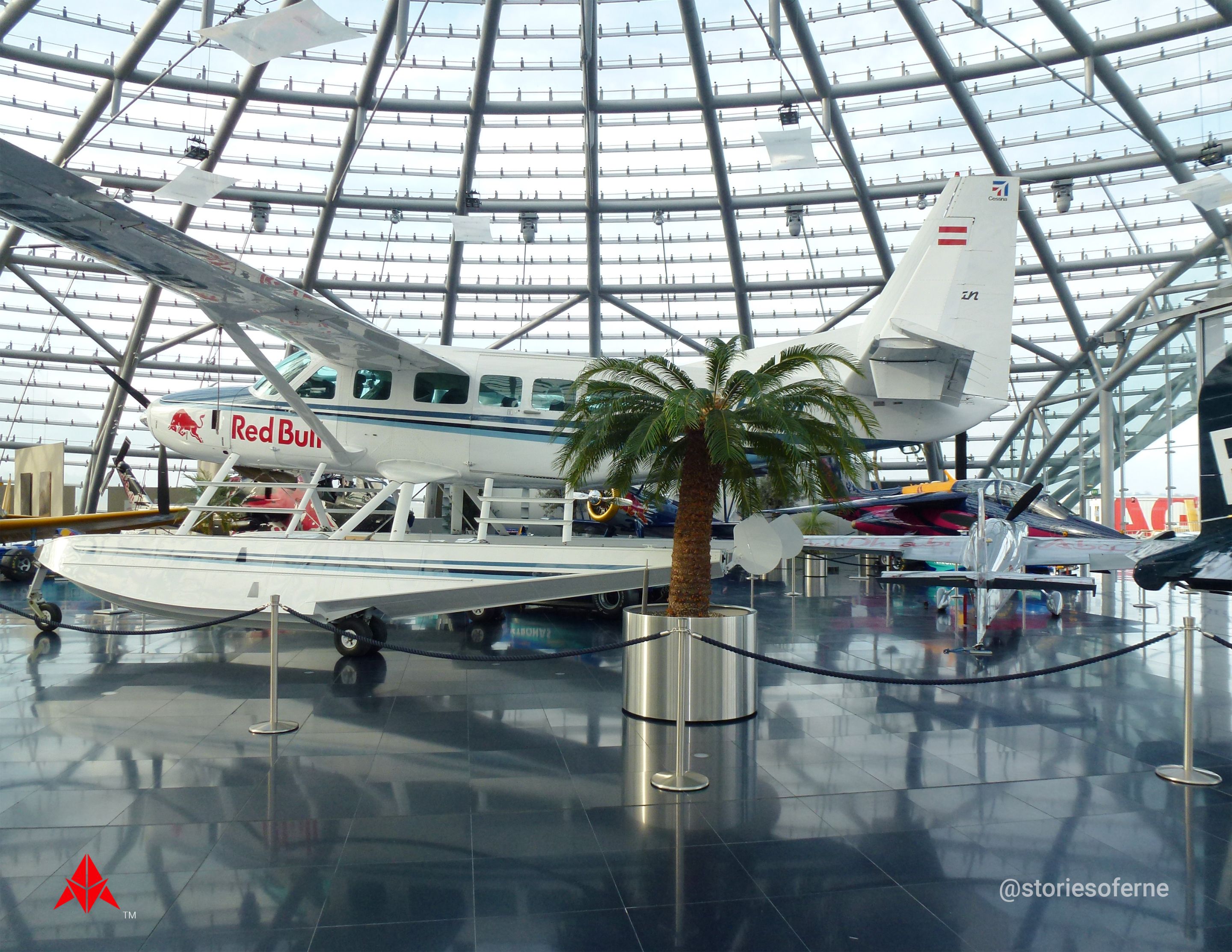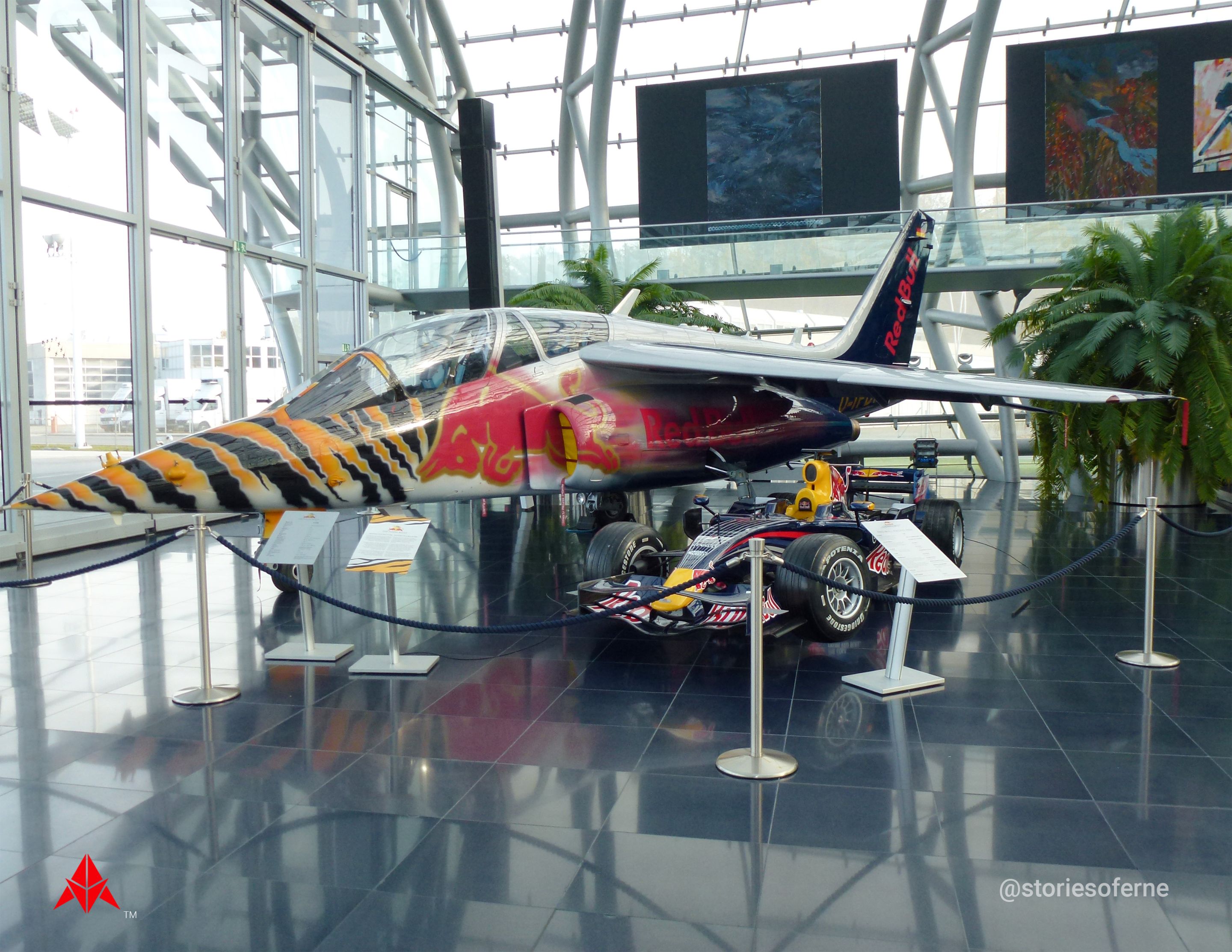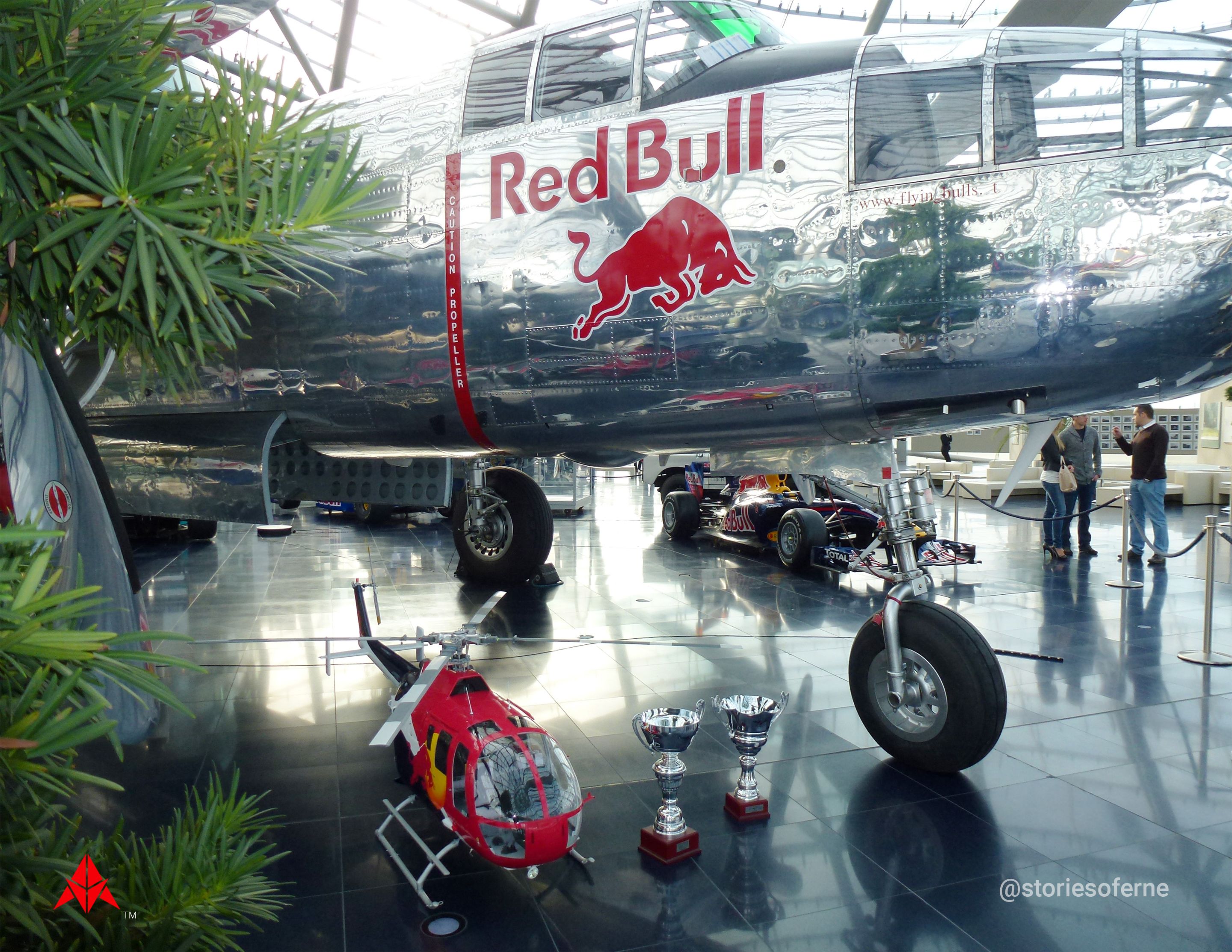 All these and more were eagerly waiting to be discovered at Hangar-7 for me to fully experience. All of these marvels of technology must have cost so much yet, aside from the price, the sentimental values and historical heritage of the collections are what truly count.
Walking further into the other interior spaces of the museum, I couldn't help but notice the impressive architecture and interior design that this marvelous landmark had to offer.
Impressed by Exquisite Art and Architecture
Hangar-7 was designed by renowned architect Volkmar Burgstaller and completed in 2003. He certainly knew the sophisticated tastes of the museum's owner thus he ensured to meticulously craft the entire building in such a way that it would offer a classy, elegant, and inspiring atmosphere for all its visitors and guests. Furthermore, he also made sure that the entire space would associate with the Flying Bulls by evoking the feeling of flying in visitors through the openness of the interior and its continuation to the skies outside that were achieved by the transparent glass enclosure. A truly ingenious concept!
Are you also aware that this museum not only housed a premier exhibition space but also incorporated a stylish bar, a relaxing lounge, and a Michelin-starred restaurant called Ikarus?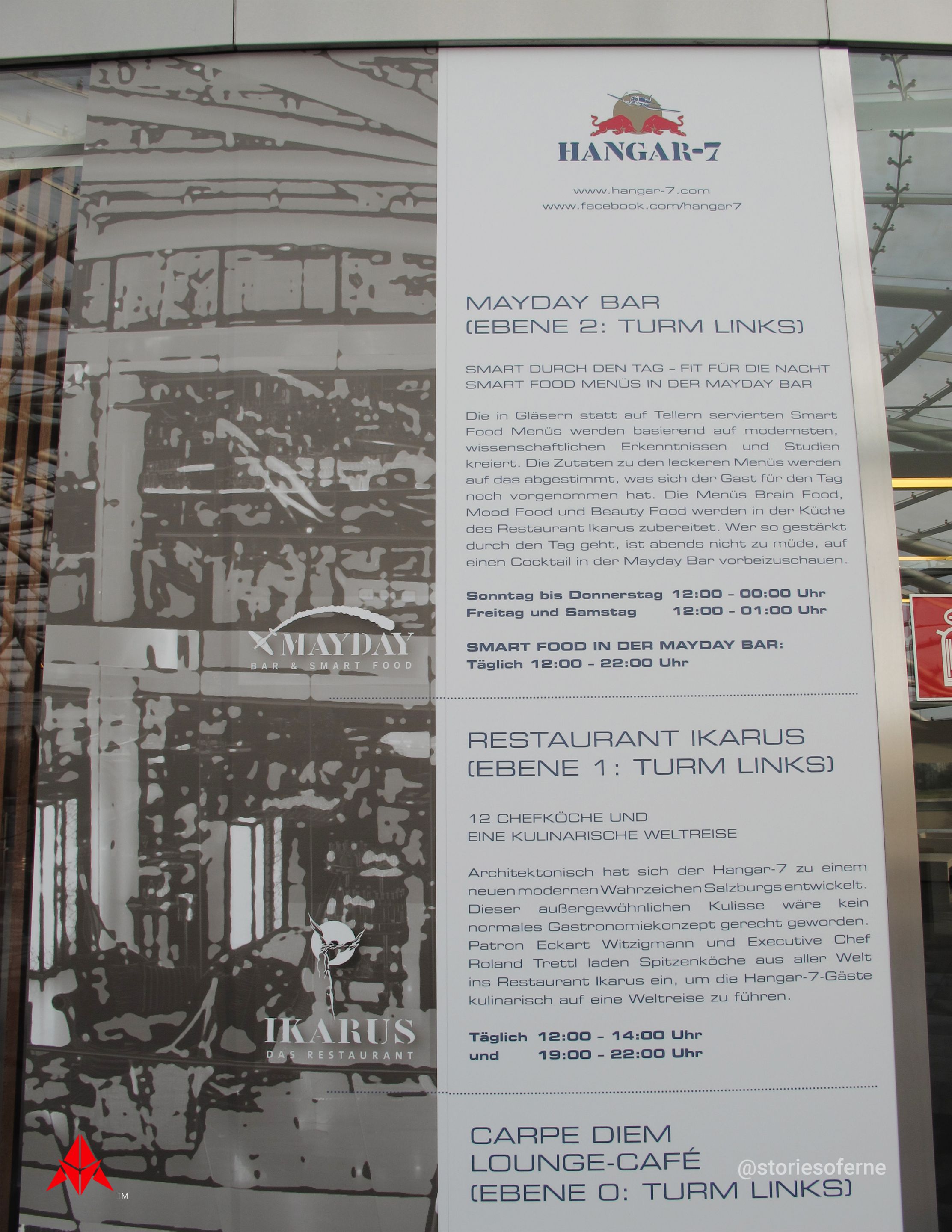 This exotic place was absolutely a massive feast for the senses! From being entertained, being served with warm hospitality, and being educated, what more could you ask? However, we're not done yet.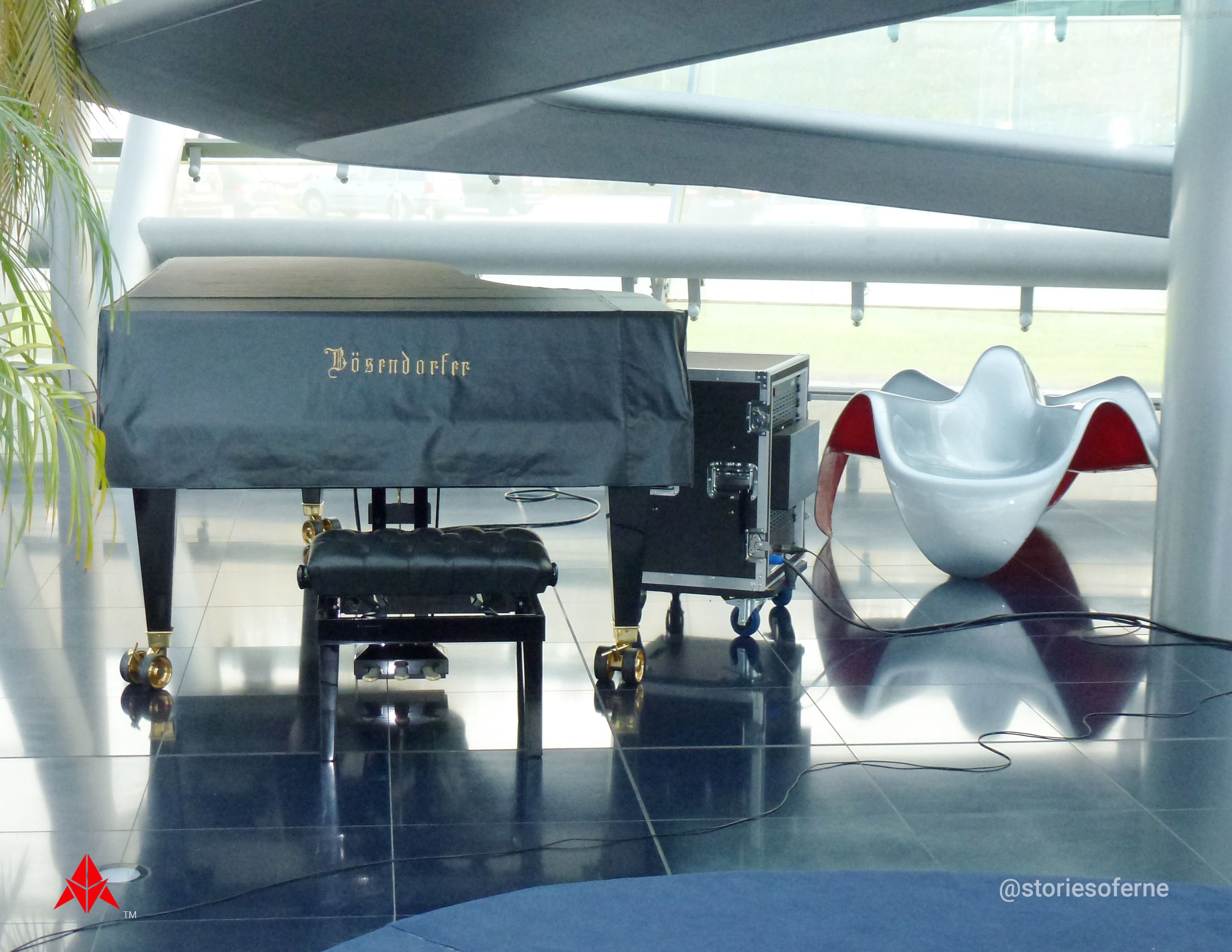 If you wish, being serenaded as well by interior piped-in tunes plus the sweet sounds of the grand piano while enjoying the surroundings is surely an added bonus. With beautifully soothing music for my ears, I could linger there forever!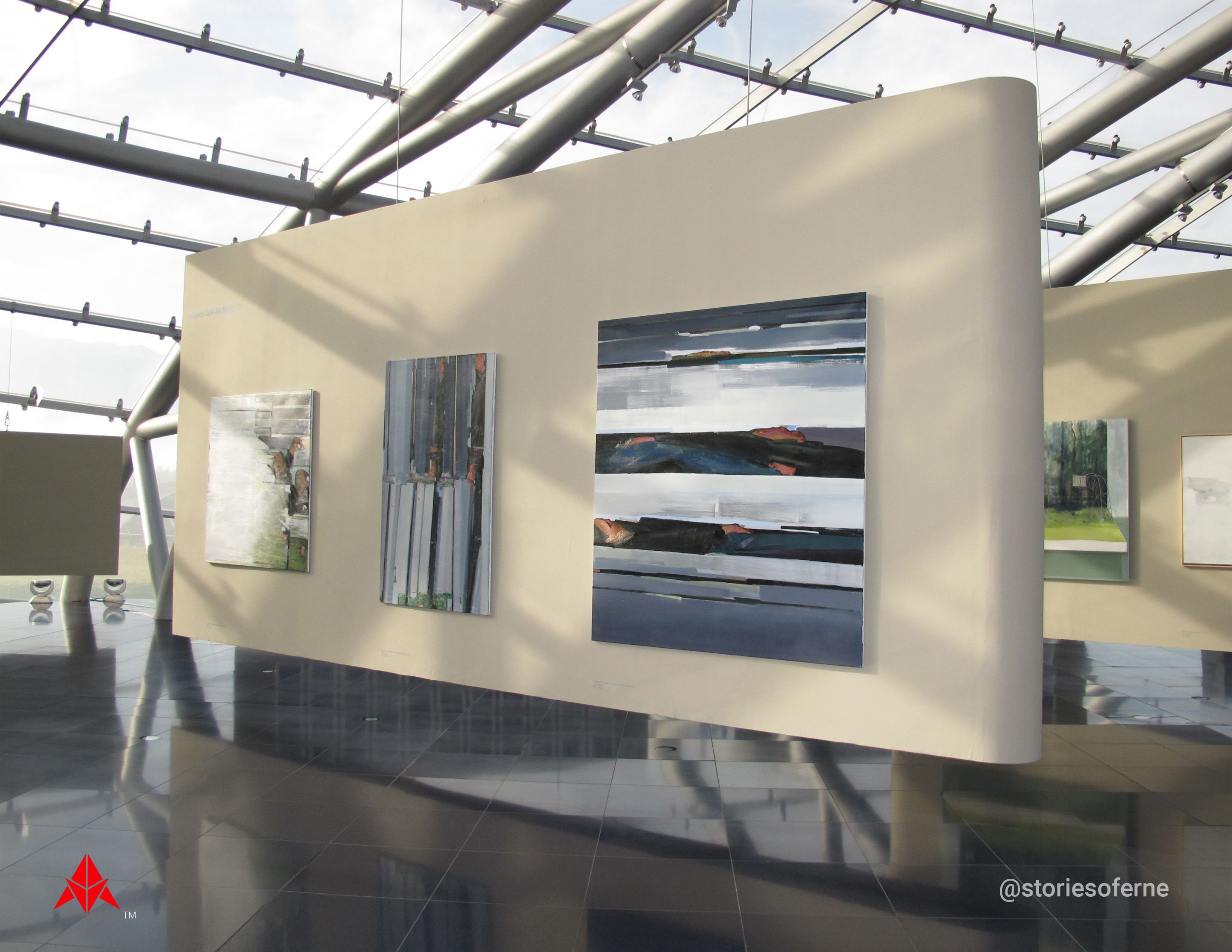 It's difficult not to miss the abundance of vividly colorful paintings, sculptures, and artworks that adorn the winding galleries in its spacious interior. You really needed to dedicate enough time to be able to savor each one. Now, look at me staring blankly at the floor with that silly pose for the camera - what could have been on my mind at that moment? Never mind, I forgot…haha.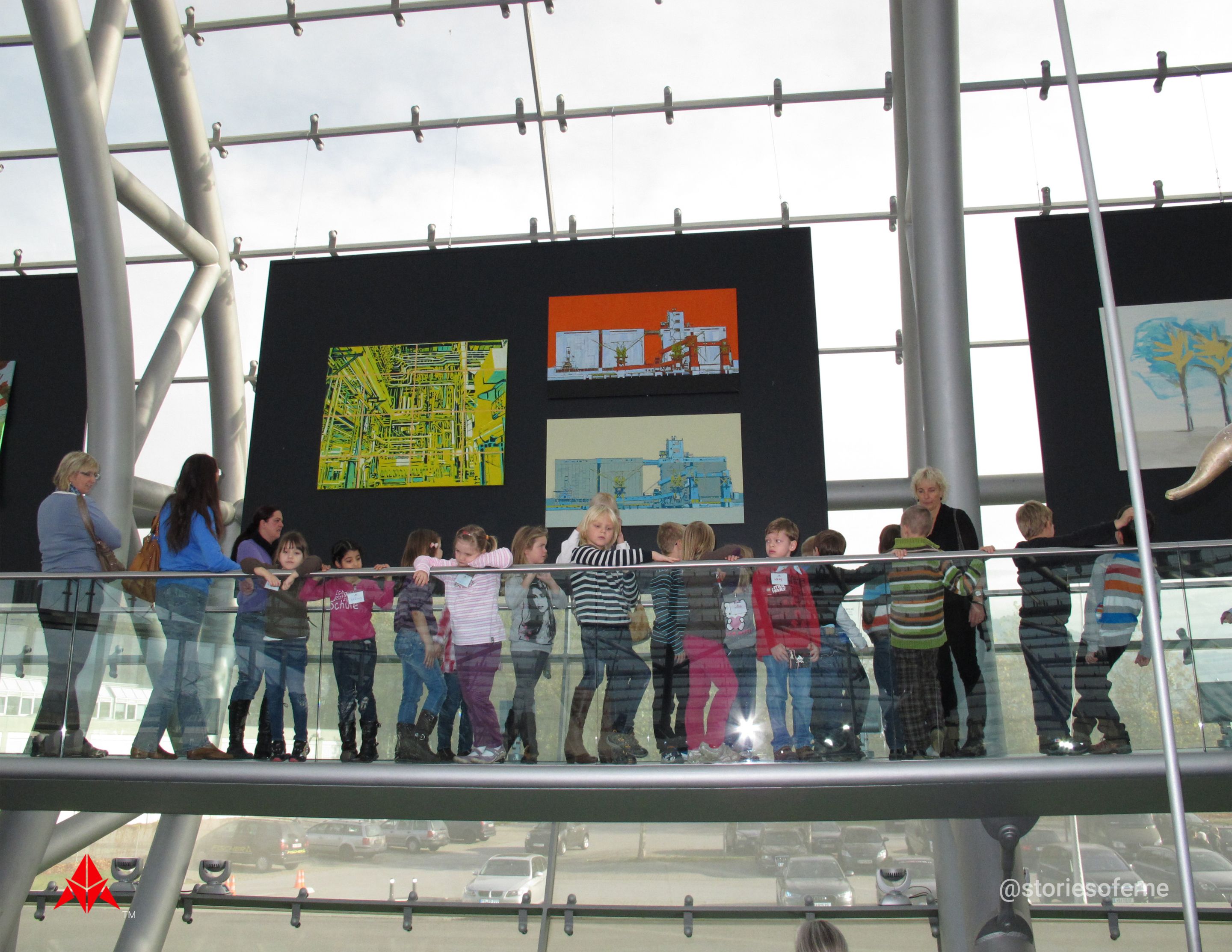 Aren't they adorable? Seems like these beautiful kids were having a field trip with their teachers. They were situated on the upper tier of the museum and were easily accessed through a curving ramp and footbridge from the ground level.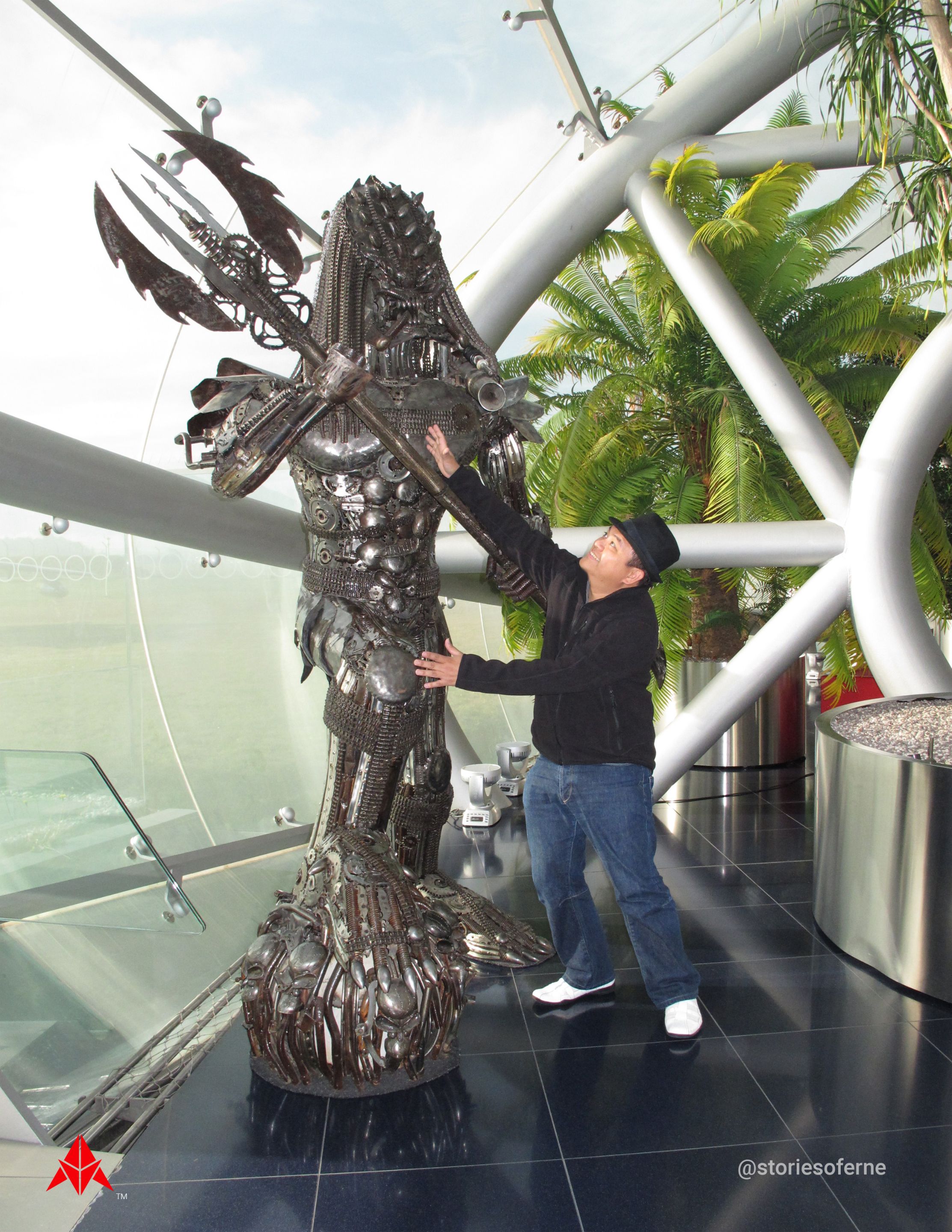 That dude looks like the alien warrior from the movie "Predators (2010)", remember? If this was his actual height, there was no way I could have defeated him in that film.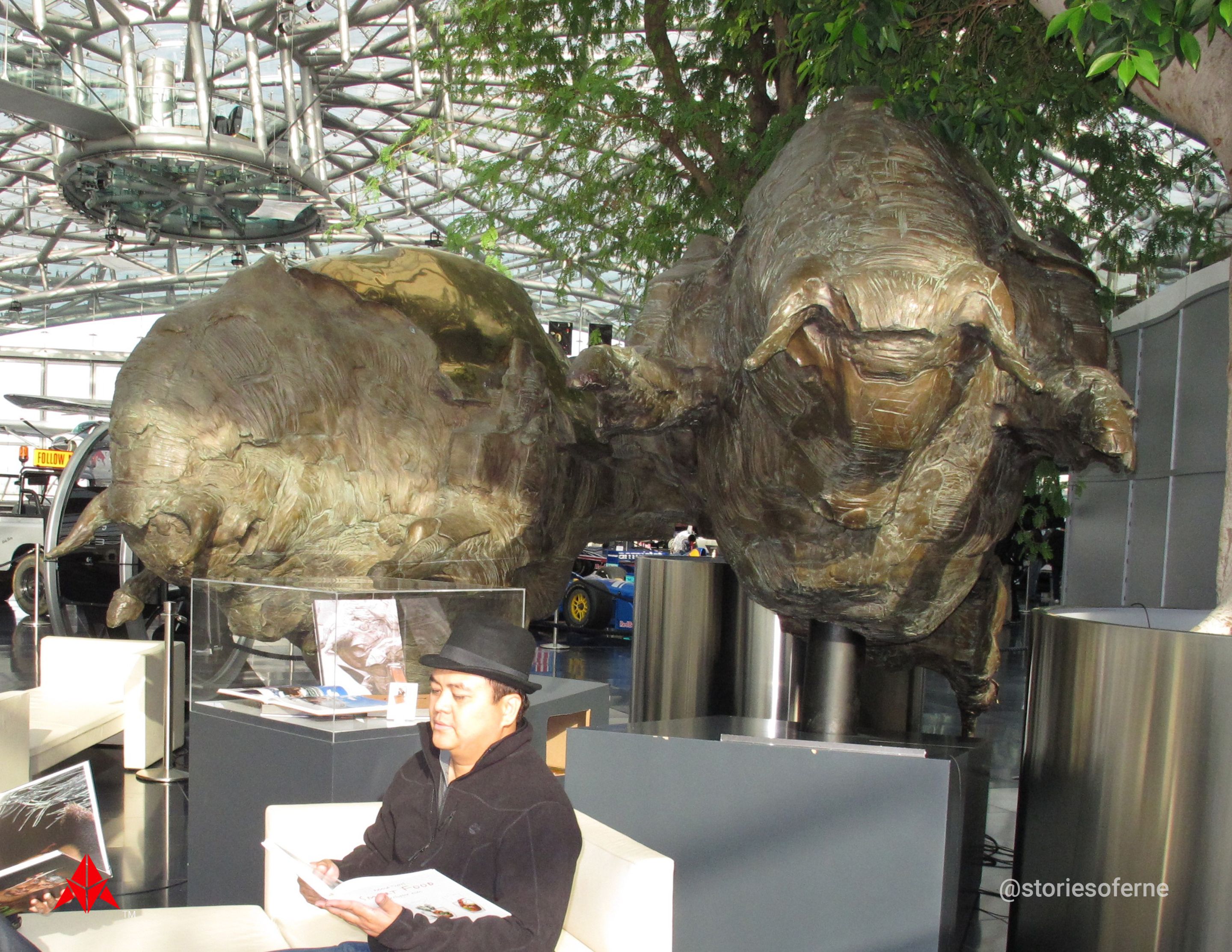 And of course, they also exhibited the metal sculptures of our favorite bulls. They appeared like they were molded in bronze based on their apparent color. Don't worry, they were harmless while watching over me reading a book.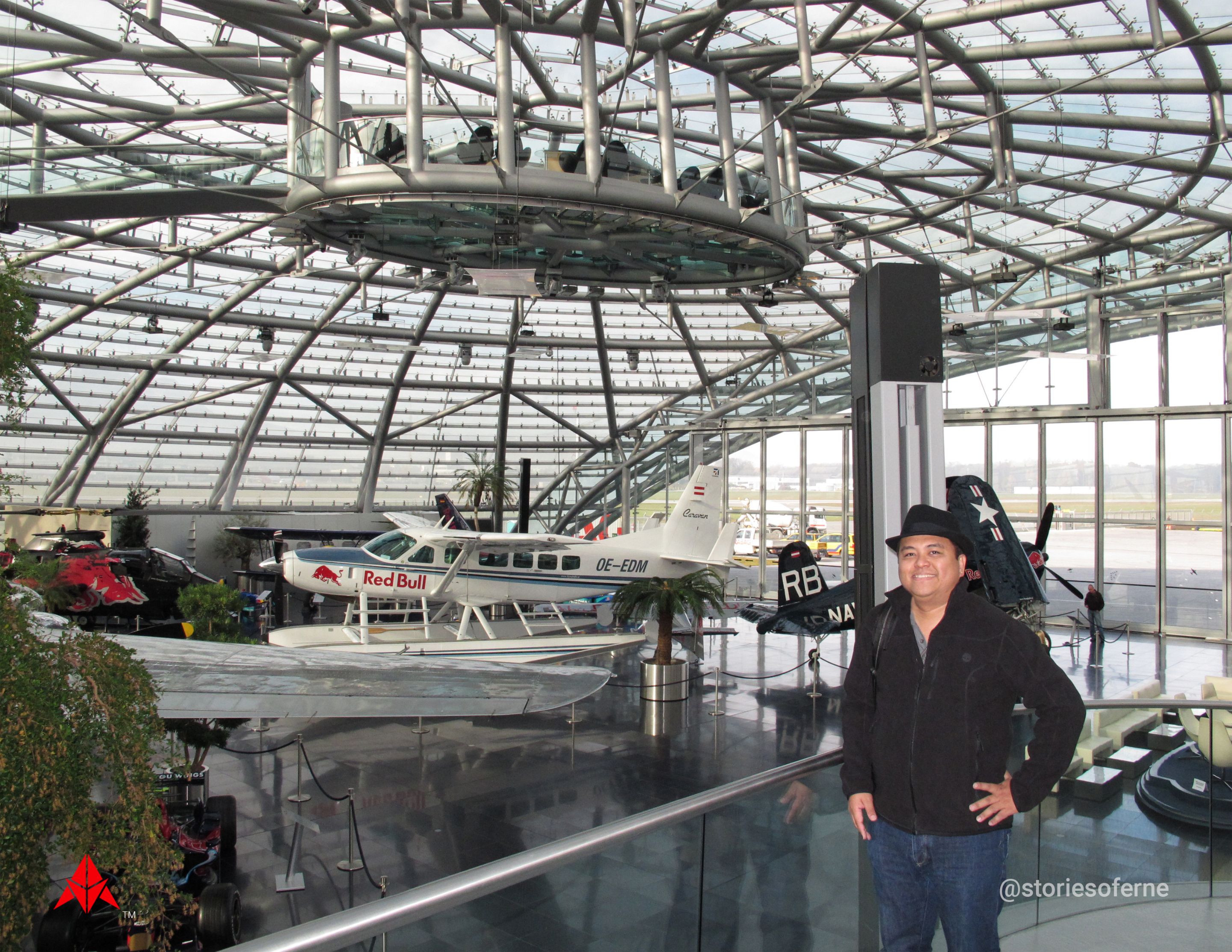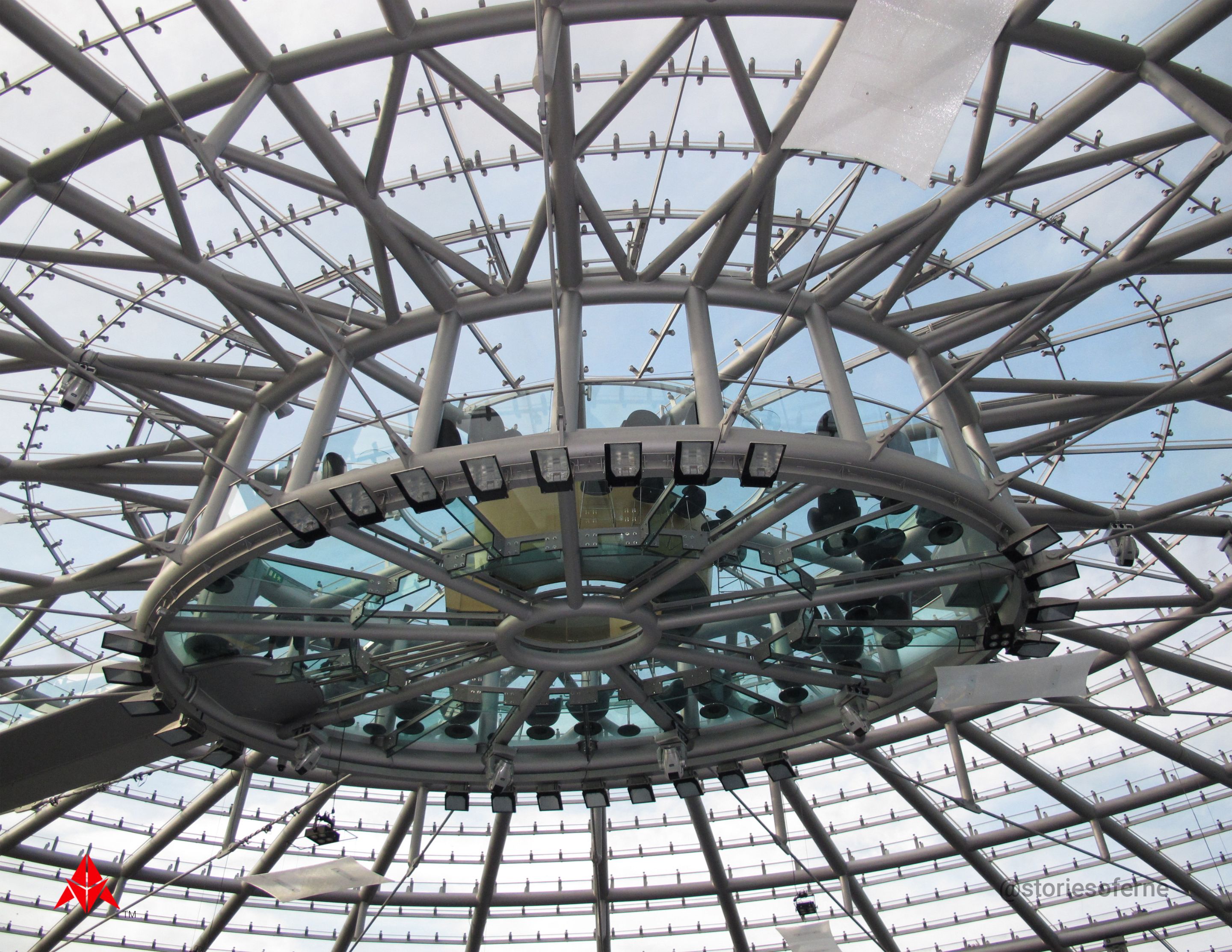 Moving to other spots around the museum, the interesting sight of the rotating steel walkways caught my attention. So I stationed myself at a specific point where I could see everything in its magnificent splendor. From that perspective, you could have a panoramic view of the entire collection being covered by its divine canopy, a heavenly symbol of the elaborate assembly of glass and steel hovering above them. And at its central peak was the innovative lounge called Threesixty Bar which can only be accessed through a winding footbridge from the ground floor. Wouldn't you want to chill out in a fabulous manner from that vantage point with spectacular bird's eye views of the entire building? Take a look at the close-up of that remarkable elevated platform. Amazing, isn't it?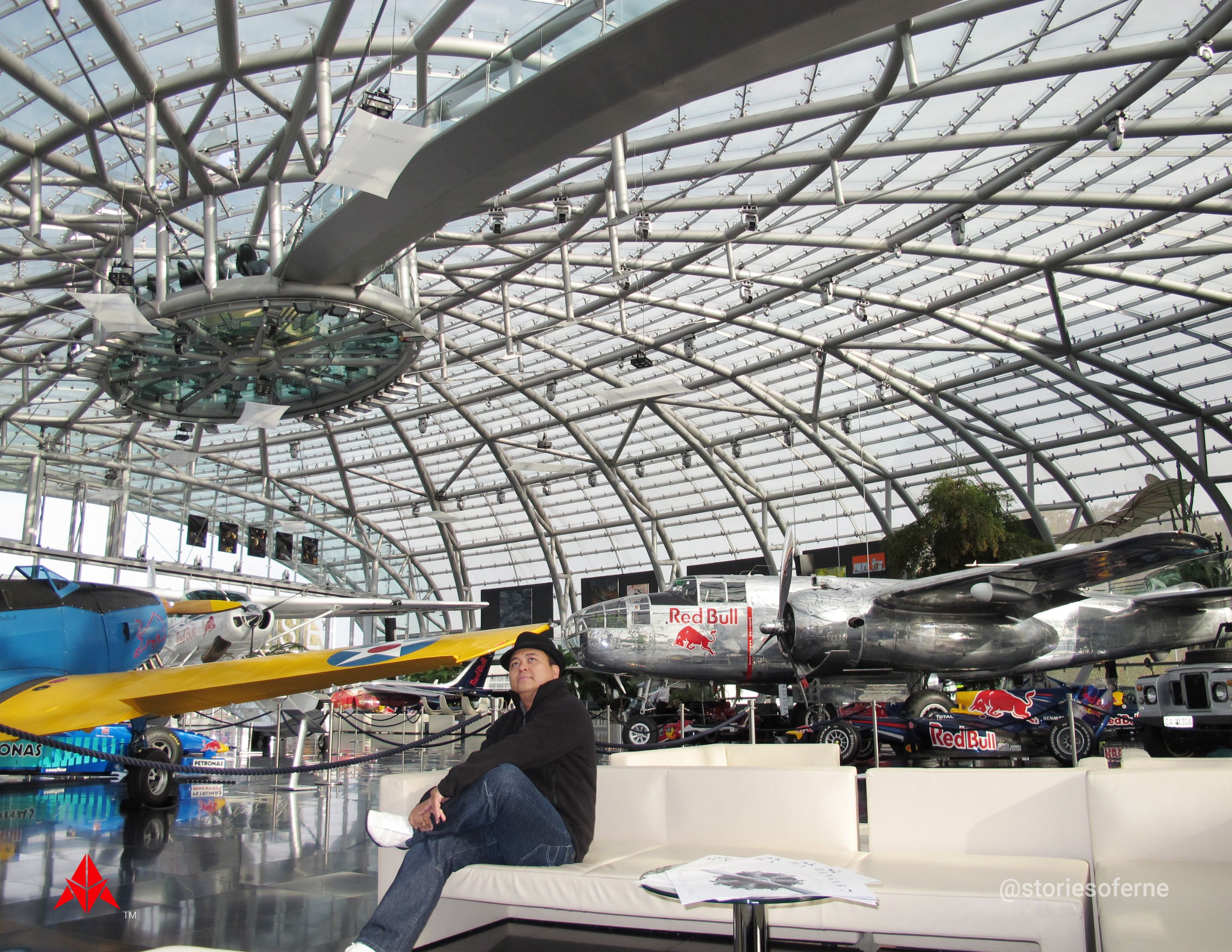 I'd advise you to spend at least 3 hours (the more time, the better) there to be able to digest all the marvelous offerings this museum had to reveal.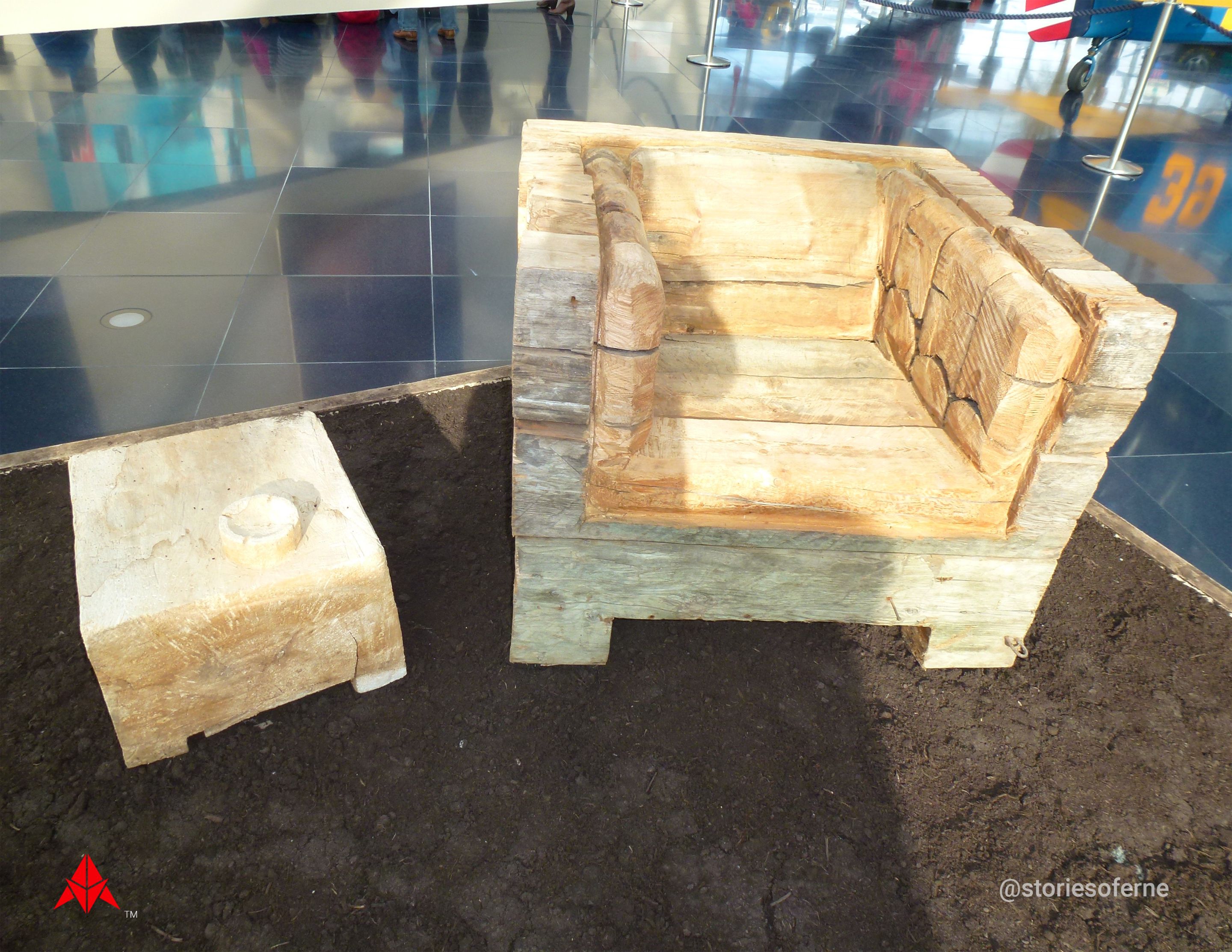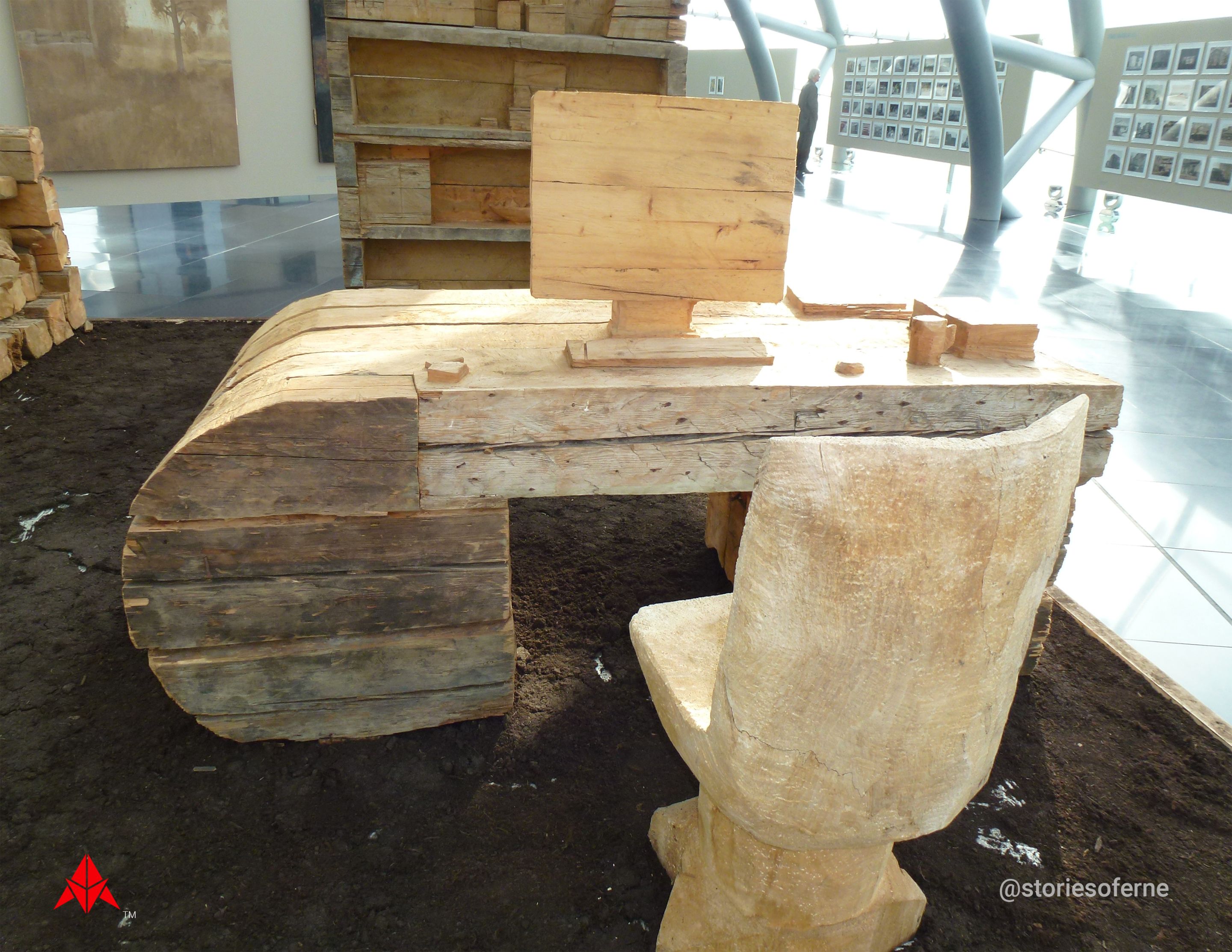 Moreover, there were also interesting pieces of furniture there displayed as sculptural artworks. I believe they were created out of wood and contributed to the warm atmosphere in the space.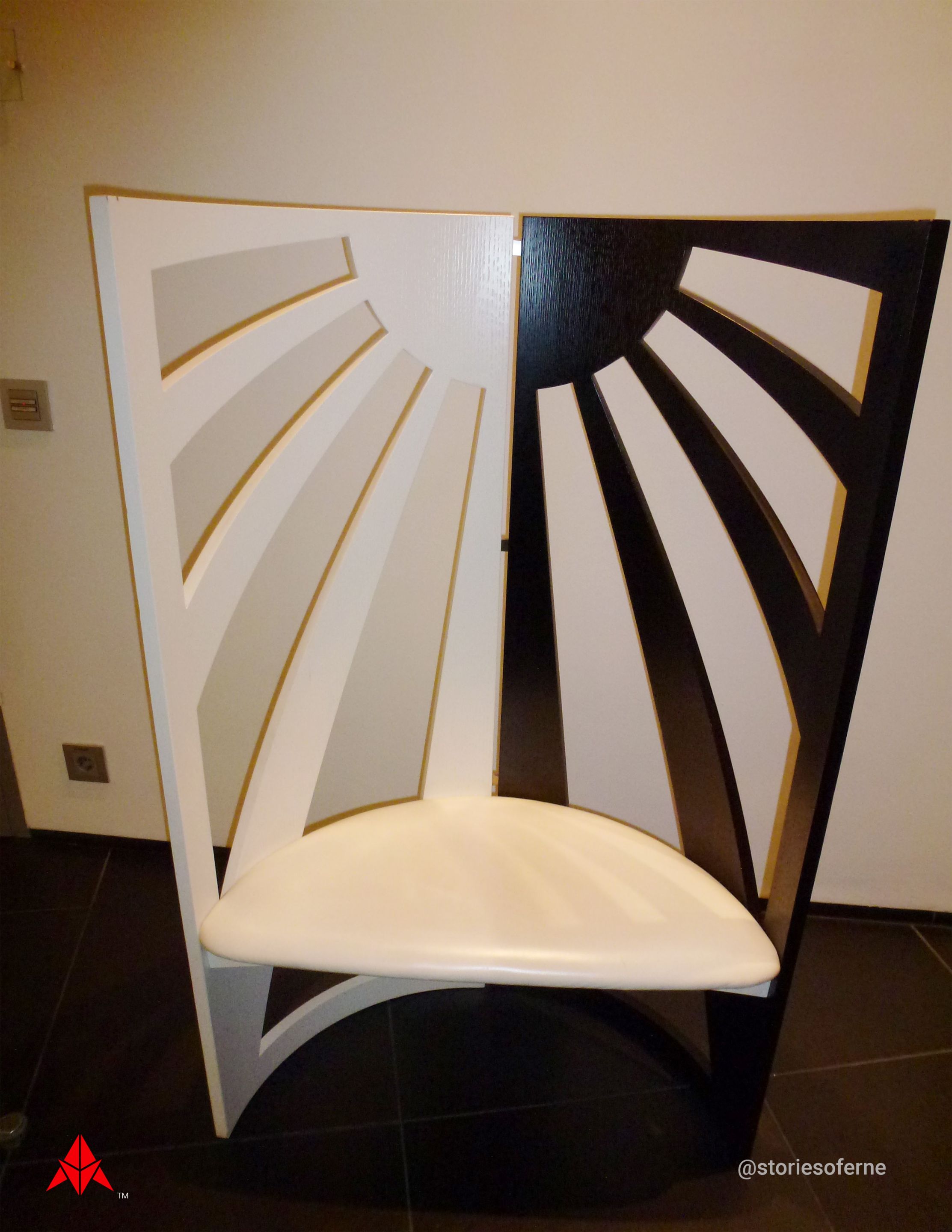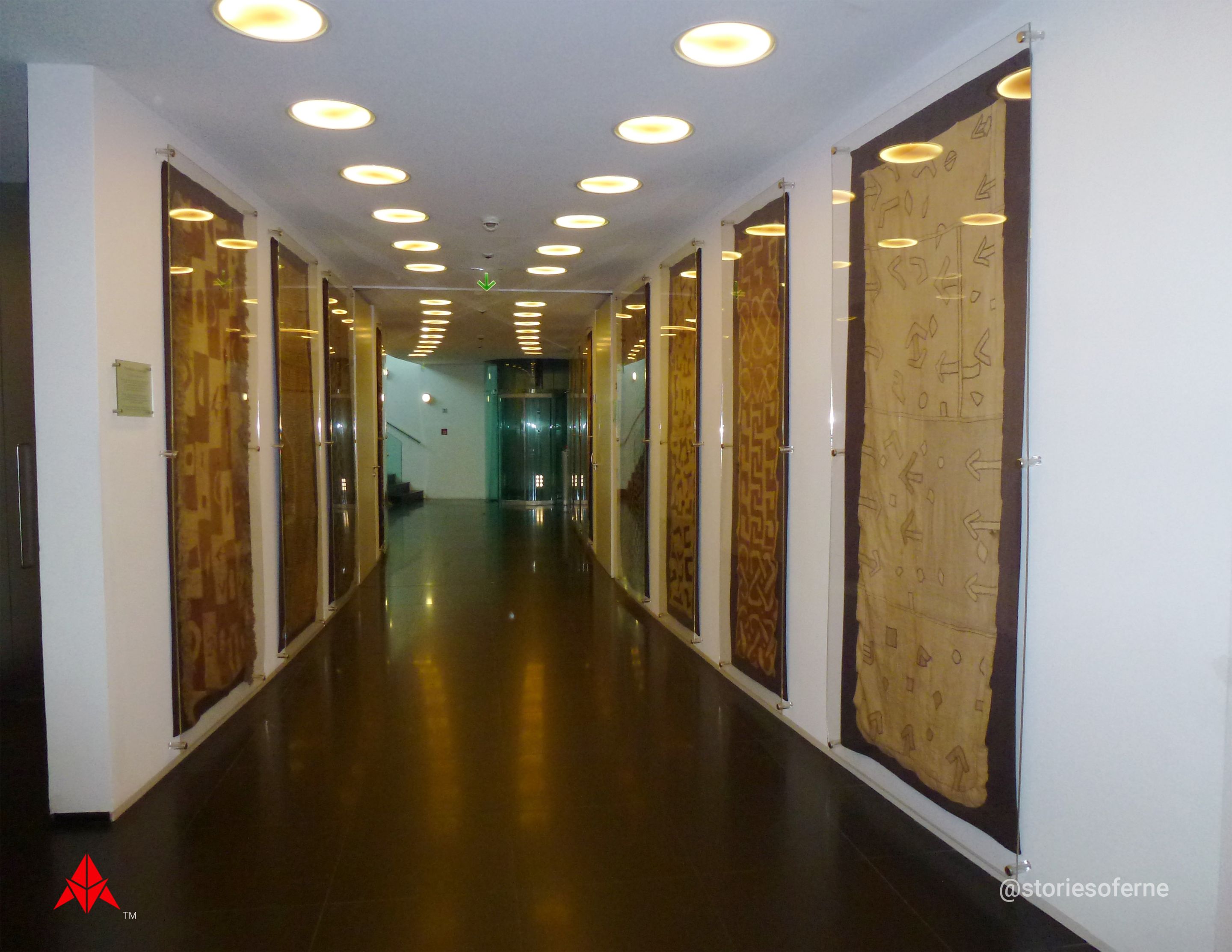 And while so much thought and careful planning were given to the architectural design details of the main exhibition area of the building, they didn't take for granted the auxiliary zones like public toilets and hallways. Every significant element of interior design was accounted for to complete the visitor's total enjoyment.
Influenced by a Celebrated Landmark
I consider myself blessed to have been introduced to this valuable treasure of architecture. Not even having wandered outside the airport of Salzburg yet, this memorable journey was one of the best first impressions I had of this famous destination.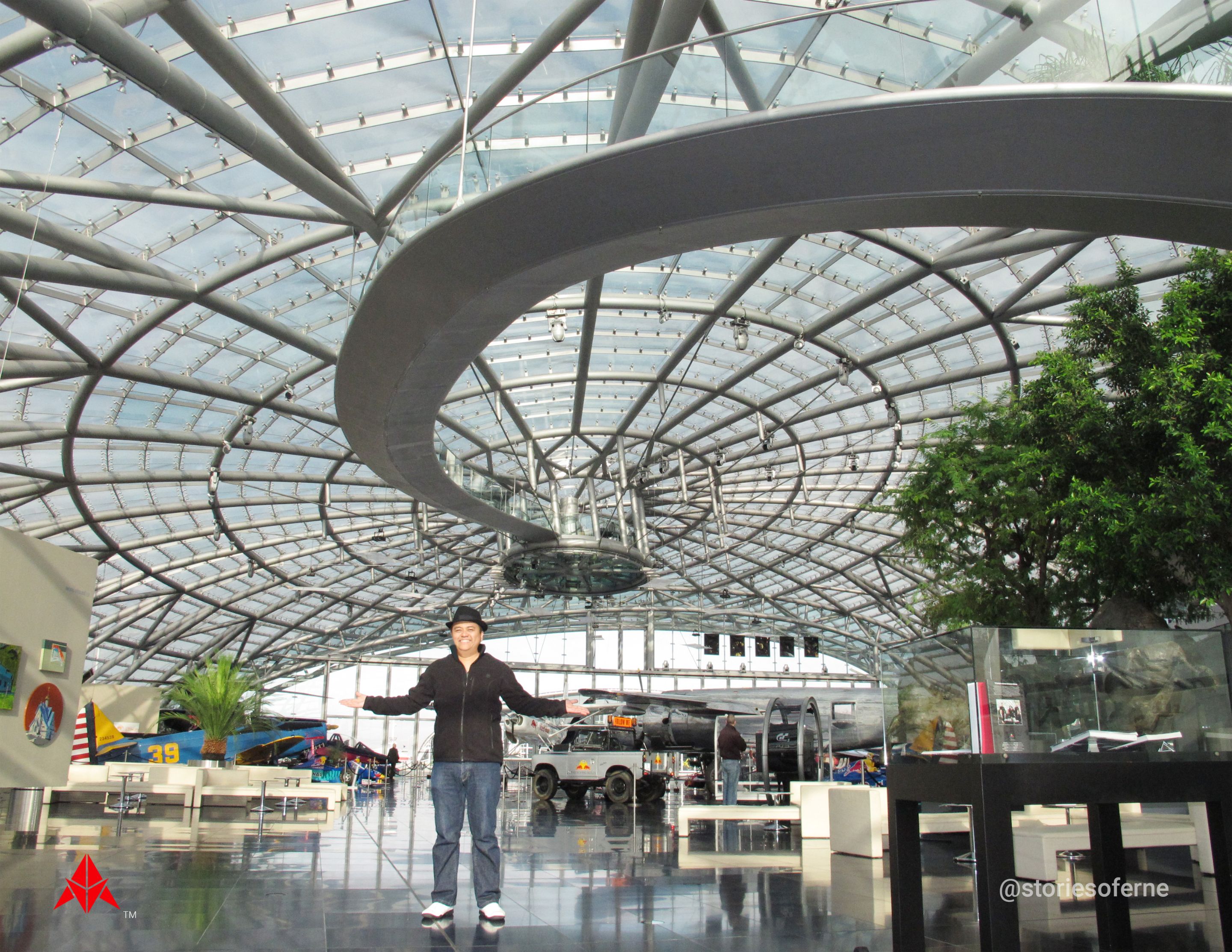 Stimulating, sensual, and insightful would be the three most appropriate adjectives I'd use in describing my overall experience at the Red Bull Hangar-7. It's definitely one of the few places in the world that have smartly combined architecture, art, cuisine, and learning into one fantastic activity. This prestigious landmark is a must-visit oasis in case you'll be traveling to Salzburg in the future. I promise you, no regrets!
#Hive, what can you say about the Red Bull Hangar-7? Let me know in the comments.
---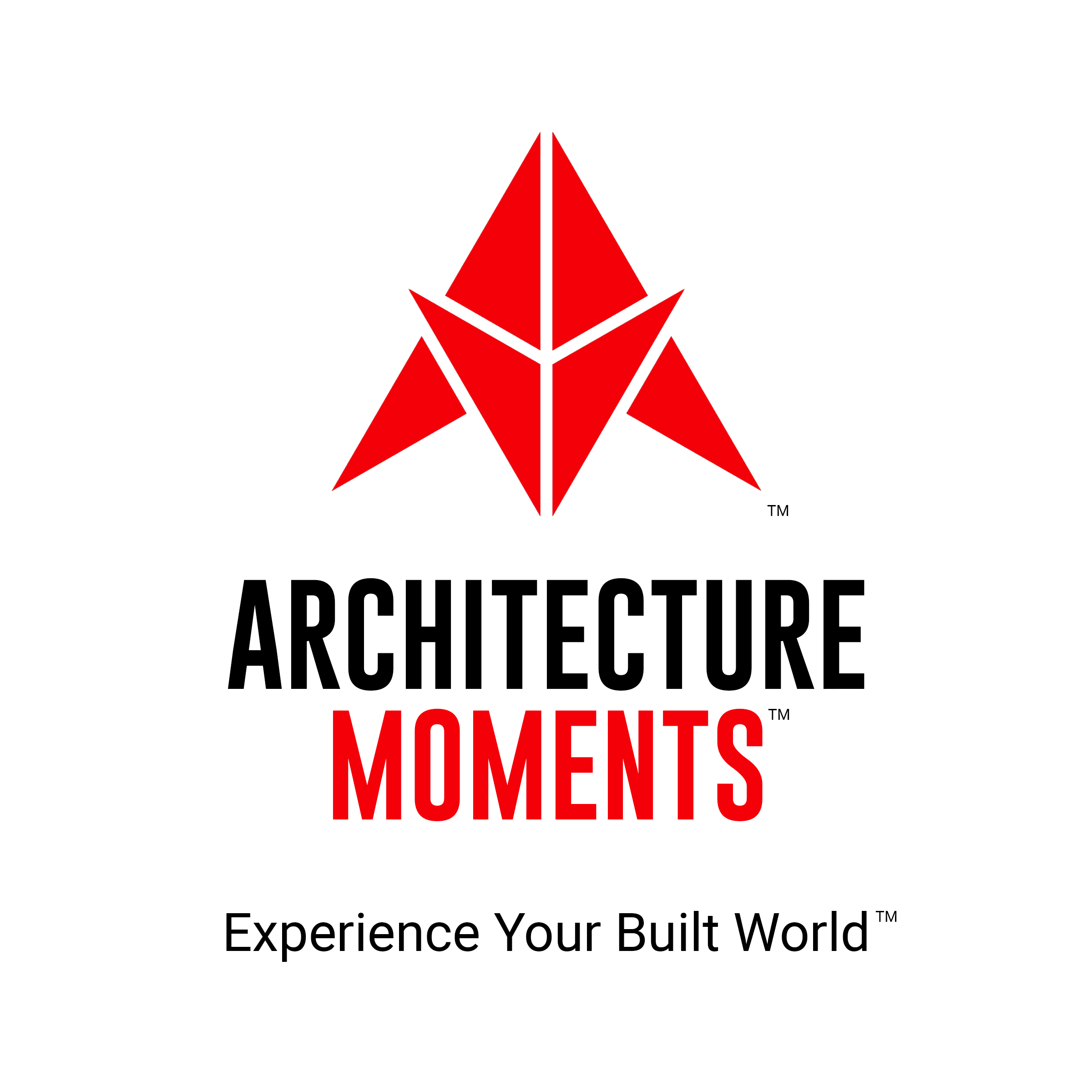 Self-expression empowers our human evolution.™
© 2021 @storiesoferne All Rights Reserved